Introduction
Looking for the best paintball gun for you? Check out our sweet comparison table below! So, you want to play paintball. All those cool videos of paintballs flying and people in fancy masks running around speaks to you Or perhaps it's something you've never tried before and you need a new hobby that gets the adrenaline flowing. Well, paintball does that.
But – if you really want to get into the game and have fun, you're going to need to know your gear – and that means knowing what to get, at what point of time, and why. Knowing your gear, and yourself will make your stuff go a long way, and every dollar you put into your gear will be well spent.
Top 5 Winners – Comparison Table
Marker
Type
Beginner friendly?
Empire Axe
electro pneumatic / speedsball

Beginner friendly: No
ROF customizable: Yes
Air regulator: Yes
Upgrades
available: Yes

Empire Mini GS
electro pneumatic / speedsball

Beginner friendly: Yes
ROF customizable: Yes
Air regulator: Yes
Upgrades
available: No

Spyder Fenix
electro pneumatic / speedsball

Beginner friendly: Yes
ROF customizable: No
Air regulator: Yes
Upgrades
available: No

Tippmann US Army Alpha Black Elite
mechanical / woodsball

Beginner friendly: Yes
ROF customizable: No
Air regulator: No
Upgrades
available: Yes

Tippmann US Army Project Salvo
mechanical / woodsball

Beginner friendly: Yes
ROF customizable: No
Air regulator: No
Upgrades
available: Yes
First things first – where do you play? Knowing where you play will simplify things a lot, and will be a major factor in deciding what kind or marker an gear to get. Indoor or rental fields usually are for Speedsball, fast action team based paintball matches over medium to short distances. These focus on the amount of paintballs one can fire mainly, and the weight of the marker.
Woodsball is usually played in large open spaces, or woods, as the name implies, and can take longer for a match. They usually focus on the markers being durable, sturdy, easy to use, but have a low rate of fire and are usually heavier due to their sturdier construction to withstand the elements and wear and tear.
After you've got that figured out, as a beginner, then look for a marker that suits you, and also the gear. If you're a veteran, it never hurts to know more!
Cut the Hype – Get What You Need
Every brand has its pros and cons. What you need really depends on your preferences, and your play-style and whether you play recreationally or professionally.
There's no point in purchasing a paintball marker that's meant for the open fields and larger environments where most recreational players go, if you live in the city and play in a smaller area.
Recreational players usually hold their paintball friendly matches in larger open areas with a variety of both man-made and natural barriers for cover. This is the most common form of environment that everyone plays paintball in. However, if you are into speedball, which is a match that takes place in a much smaller denser environment with inflatable barriers, you may want to look for a paintball marker that is customizable for that environment.
Play-style
Finding out your play-style is essential to getting yourself the right paintball marker, and most, if not all of the other factors hinge on this, apart from the environment you are going to be playing in.
Do you like to run around and shoot a lot? Or would you prefer to hang back, and hide, and fire a few stealthy shots from cover? Maybe both? Whatever your play-style, it is vital to consider it when choosing your paintball marker, as the wrong type can hinder your enjoyment and appreciation for the sport.
Weight
Weight is a factor to seriously consider, especially if you are going to be running around a lot with your paintball marker. A lighter weight while always more desirable, should not hinder you from choosing heaver paintball markers with add-ons that suit your play-style and environment, especially if you are into sniping across long ranges or military simulation.
Another point to note is add-ons such as scopes, bipods, and barrels. These can be removed and added whenever you need, and keep in mind that these can drastically affect weight and mobility during your game.
Price
This almost goes without saying that it's extremely important. However, do consider that if you are completely new to paintball, do keep in mind that apart from your paintball marker and any add-ons you will want to get, you'll need a mask, and a hopper and maybe pads.
Also, keep in mind the costs of maintenance whether you play regularly or not, especially the cost of compressed air or C02, depending on your preference. Since some paintball fields give free compressed air, it might be cheaper to invest in a paintball marker that uses compressed air.
Shooting Efficiency
Shooting efficiency is more of consistency, and accuracy of the paintball marker.
A measure of how efficient a marker is, is the accuracy of the marker at hitting a target, and the consistency of that accuracy in hitting the target on semi-auto and full auto modes.
Semi-auto fires one shot per each time the trigger is pulled, as fast as the fire rate capabilities of the paintball marker, while full auto fires a stream of paintballs as fast as the fire rate capabilities of the paintball marker when the trigger is held down.
Mechanical or Electro Pneumatic?
Mechanical markers are usually what you see being rented out at paintball fields, and for beginners, due to their lower cost an ease of maintenance, however, that said, the large amount of mechanical markers available on the market aren't exactly for those looking to excel on the field performance-wise.
Due to the firing mechanism, mechanical markers don't give as much accuracy, or consistency and use up compressed gas way faster compared to electro pneumatic markers. However, their much lower cost price is a plus point.
Electropneumatic markers provide better consistency in the amount of gas used, allowing for more paintballs to be shot, and also as a result, consistency and accuracy of the shots. The amount of force needed to pull the trigger is also highly reduced since the firing mechanism is electric. However, electro-pneumatic markers are usually priced much higher.
Accessories
Accessories are the other major part of a paintball marker that lots of beginners overlook. Customizable markers such as the classic Tippmann Custom 98 allow for a ton of accessories, and when purchasing a marker, compatibility with accessories is an important factor before making a purchasing decision. The right accessories combined with the right marker can make all the difference, giving the performance of a similar top end brand marker for a fraction of the cost, and giving you the envy and respect of other players.
Barrels
Barrels are an important accessory, and many new players and veteran players have on hand one or two new barrels to replace the stock barrels that come with their marker. Stock barrels are barrels that come with the marker as part of a standard set and usually need an upgrade, unless it's from a very good brand. Barrels help to increase accuracy and range, and barrel replacements are usually longer as a result.
Folding/Collapsing Stock
For players who like to have something to bolster their marker against, and especially those who want to modify their markers to look like real guns for military simulation matches or friendlies, this is a must. Also, it helps for those who feel that it acts as a buttress against any recoil.
Scope
A scope is an add-on that many players, both veteran and new to paintball, find indispensable, especially over longer ranges. It helps to magnify and get a better view of the playing field – watch out for return fire though!
E-Triggers
This accessory is specially used to modify mechanical markers into electro pneumatic markers. While not all brands carry them, they are extremely useful for notching up your game, especially when you want to upgrade your marker's fire rate and fire modes, such as 3 ball bursts, semi-auto, auto-response, full-auto, and turbo.
Hoppers
A hopper is also important when upgrading a paintball marker. A hopper is the big plastic container that the paintballs go into, and there are three basic types that are in use. The gravity fed hopper, the most common type, the agitator hopper, and the force-feed hopper.
The type of hopper you use affects the fire rate of your marker, and force feed hoppers are the most expensive and offer the best fire rate, followed by the agitator hopper, then the gravity fed hopper.
Brands
Review of the Top 5 Paintball Guns on the Market
Empire Paintball Axe Marker Review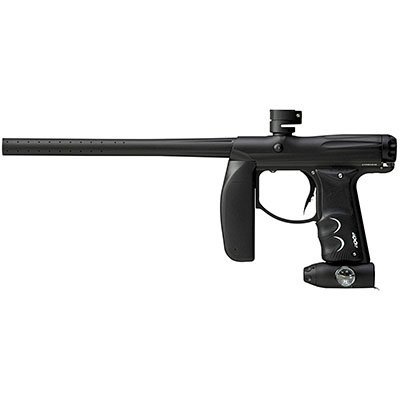 The Empire Axe is thus named, for its simplicity for strip cleaning, its sheer firepower, and almost no recoil or kick. The Empire axe can be modified to fire at 300fps, and veterans will know that this velocity, is optimal.
The low recoil combined with the high FPS and fire rate, mean that you can get up to 3 hits on another player with ease. On top of that, for competitive players, the Empire Axe has a reputation for not 'chopping' balls, which means more consistency in the fire rate and less wasted paintballs.
Click here to read full review of the Empire Paintball Axe Marker
Empire Paintball Mini GS Marker Review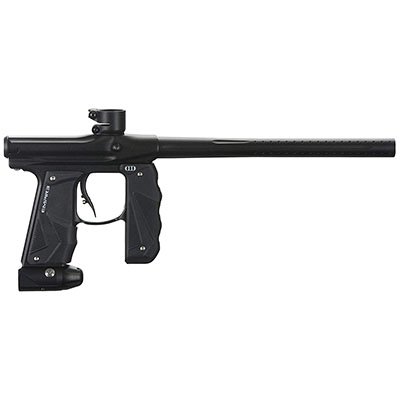 The Empire Paintball Mini GS Marker is a step up in the game. Big firepower, small package – literally.
This model only weighs under 2lbs, and with an extremely high fire rate, and easy maintenance of only 3 parts, the barrel, breach and bot, one can see why it's a winner. Add on that the Empire Invert Mini is very quiet, you can bring it for a game of nightsball and not be heard.
However, beginners beware, the gun is a big investment compared to other markers, and such performance does not come cheap.
Click here to read full review of the Empire Paintball Mini GS Marker
Spyder Fenix Electronic Paintball Marker Review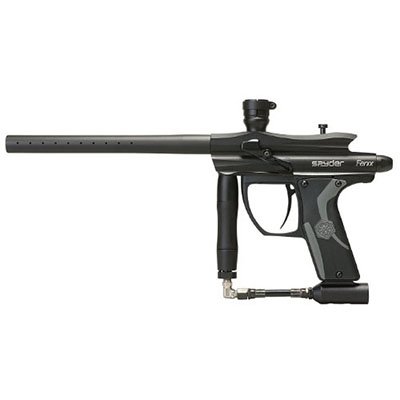 The Spyder Fenix is a good mid-range priced paintball marker, with an electro-pneumatic firing system. The key strengths of the Spyder Fenix is its design and weight distribution, which is well distributed. Veterans of the sport know this is vital, and it does'nt hurt that the Spyder Fenix 2012 has a nice look to it.
On top of that, it is beginner friendly, being very easy to field strip and clean, and also the recoil is notably lower than other markers in the same price range. The display for setting fire modes is very intuitive and that helps, along with the illuminated safety, this marker can be used in a night game with no problem.
Click here to read full review of the Spyder Fenix Electronic Paintball Marker
US Army Alpha Elite Paintball Marker Review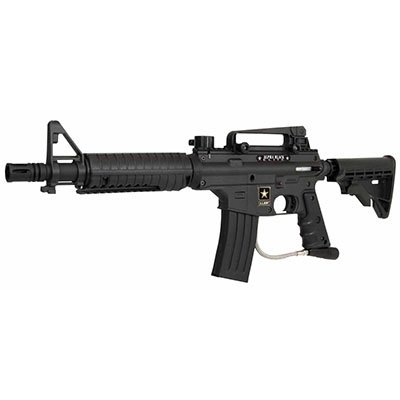 The US Army Alpha Elite Paintball Marker is something many people dream of using and have done so, and it is one of the most affordable military simulation paintball markers on the market right now. This is due to the simple reason that it is meant to be for military simulation and training, and as accurate as possible to an M16 rifle, and at an excellent price.
Manufactured by Tippmann, this model is available for purchase online, and it looks great. Constructed from plastic, and in a matte black accurate finish, it is so realistic that it is used by the US Army in training exercises to teach fire control and squad teamwork, and as a result s also an official licensed product.
This model however, as a result of its accuracy only allows M16 add-ons, and is also quite heavy, up to 20 pound with accessories.
Click here to read full review of the US Army Alpha Elite Paintball Marker
Tippmann U.S. Army Project Salvo Paintball Gun Review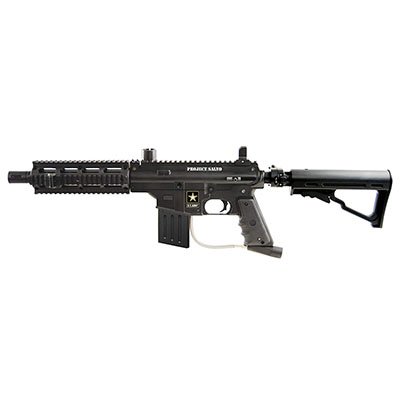 The Tippmann US Army Project Salvo is based off the AR-15 and as a result looks really cool, and at the price it retails at is an excellent marker for beginners and Military Simulation enthusiasts.
This model is highly upgradable, so great if you want to use it as a starting marker to get into paintball. Another point to note is that although this marker is mechanical, it is highly accurate, unlike other cheap mechanical markers – you just have to find the right velocity to fire at.
Click here to read full review of the Tippmann U.S. Army Project Salvo Paintball Gun
Conclusion
All in all, just remember that if you're starting out in paintball or a veteran that wants to try something new, you need o understand what you want, and your play-style, or how your play-style is going to change.
Once you've got that figured out, then you will have a much better understanding of what you need to get. Also, if you're not sure, look at other players and ask them for their experiences during tournaments or at friendly matches – the community is friendly and will want to share their experiences!