Introduction
Looking for the best outdoor play set for 2-year-olds? A playset can be a great way to keep your toddler entertained and having fun outdoors but you definitely should do some research before just buying any old set.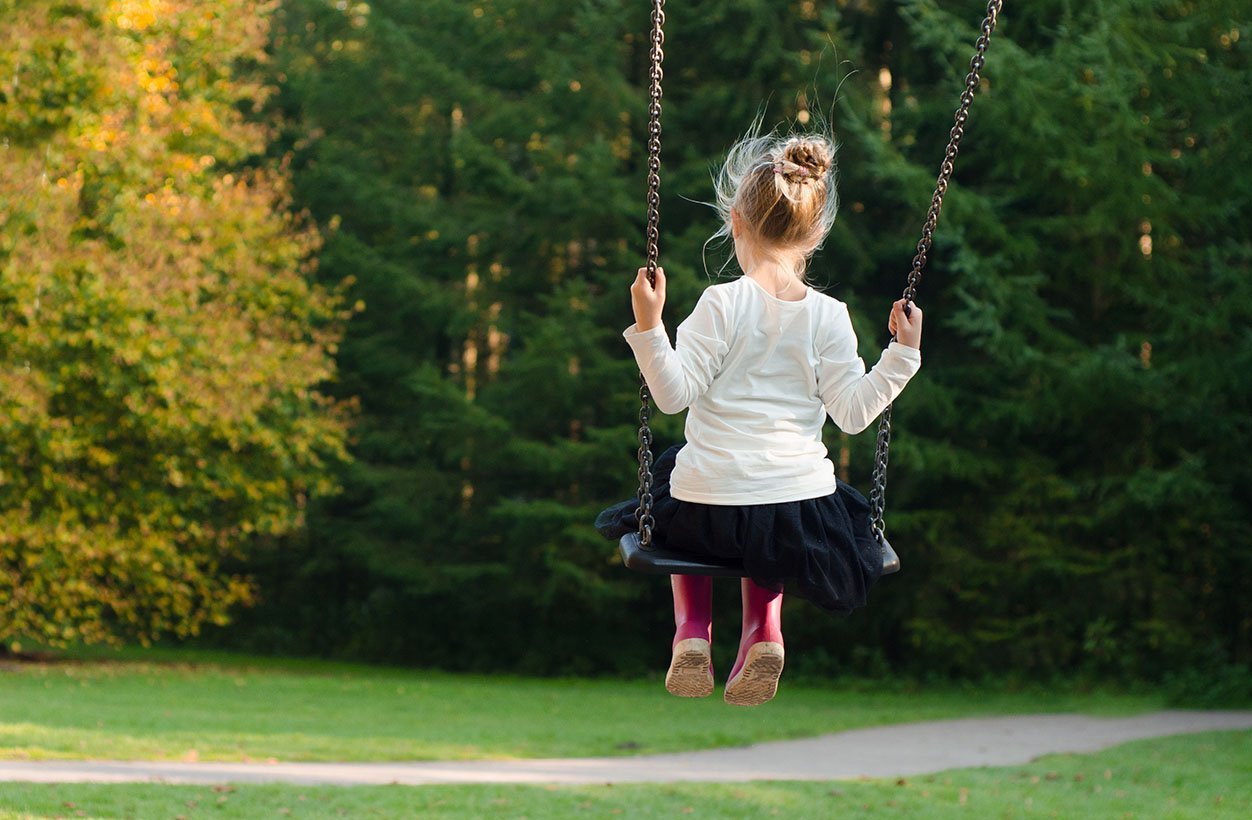 When it comes to the best playsets for a 2-year-old you really have two basic options. You can go with a toddler playset that is specifically geared towards children ages 2-5 years old or you can go with a more traditional kid's playset that may be a little large for them now but they can grow into it and use it for the next 9-10 years.
Your choice depends on what you feel comfortable with as well as the size of your backyard and your budget.
If you are looking for a play yard inside your home we can refer to this review on our site.
Best Playsets for Backyards
If you have a two-year-old, another option for your backyard can be a larger playset that is designed for children up to around 11 years old. Most of the recommended ages on these types of backyard playsets tend to be 3 years old, so your child may be close enough in age that they can use the equipment with proper adult supervision and have no problem.
If you have ever taken your toddler to your local neighborhood park they most likely have played on the same type of equipment that would be on your backyard playset. Some parents don't feel comfortable with their tot on these larger playgrounds, but most find that younger kids do well with them.
Here are some of the best outdoor playsets for kids that will grow with your child. These aren't the largest playground sets you can buy but instead are a great size for younger kids but can still be used by the older kids as well.
Step2 Clubhouse Climber Play Set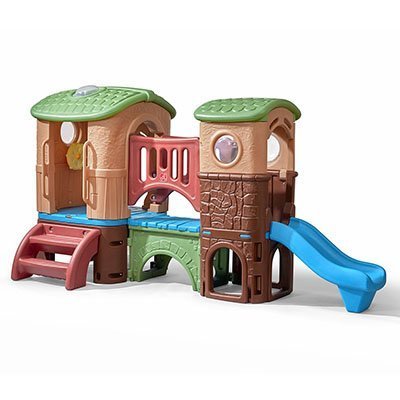 This is one of the best selling toddler playsets as it offers so much to do for kids and is great for multiple children.
Just some of the activities and accessories on this set include:
2 slides
Bridge connecting playhouse and lookout tower
Crawl-through tunnels underneath
Rotating steering wheel
Sure-grip handrails to help smaller children
This is a pretty large playset for toddlers ages 2 and up. It has a max weight of 240 pounds so several children can play all at once. Step2 is known for its quality outdoor playsets and toys and this is definitely a durable, sturdy set that will last quite a few years.
Step2 Play Up Jungle Gym Swing Set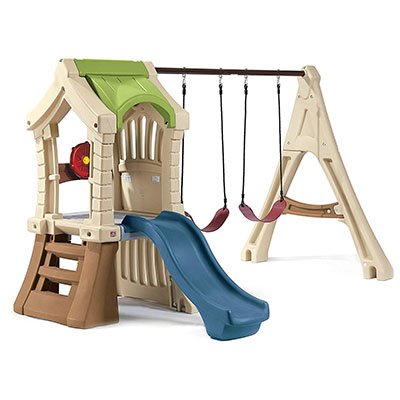 If you are looking for a toddler swing set with a playhouse area, then this set may be a better option for you. Also, this playset is slightly smaller than the other set above and maybe a better option for smaller yards.
Included in this playset you get:
2 swings
Slide
Treehouse themed raised clubhouse
Steering wheel for imaginary play
This playset is definitely recommended for younger ages as it's not that large inside of the clubhouse area and with too much weight on the swings the supports will start buckling.
It is only recommended for ages 2-5 years old, but many buyers have noted that their 1.5-year-olds have had no problem playing and swinging with parental assistance.
Backyard Discovery Somerset All Cedar Wood Playset Swing Set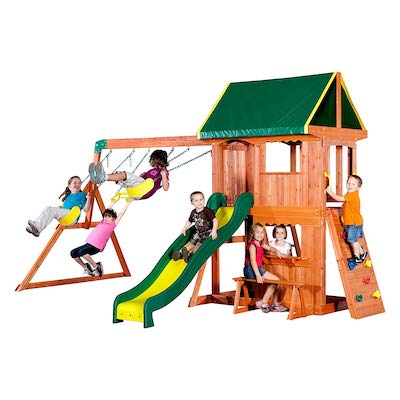 This is one of the best selling smaller wooden playsets that are perfect for toddlers as well as children up to ten years old. This is a great option because the platform clubhouse area is slightly lower than other sets and parents like it because it won't take up their whole yard.
That doesn't mean there isn't tons of stuff to do and play with on this playset.
This backyard playground includes:
Play deck with canopy cover
Sandbox area underplay deck area
2 belt swings
2 person glider swing
Climbing wall
Ladder up to platform
8-foot playground slide
This set is made from all cedarwood and is super sturdy and stable. The cedar wood actually makes it naturally resistant to mold and mildew damage.
Another thing to keep in mind is that you can change out one of the belt swings to a toddler bucket seat that you can buy separately. This may be a good option for a younger 2-year-old or if you have a toddler and a baby at home.
Sportspower Mountain View Metal Swing Set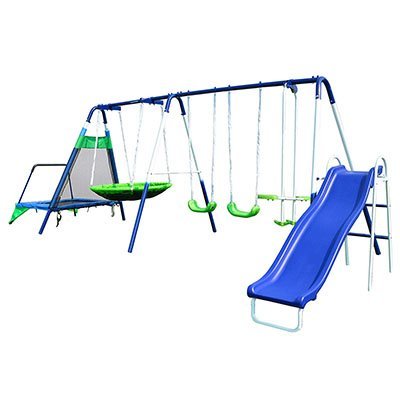 This is a great option for an inexpensive outdoor play set for a two-year-old. This is not only a metal swing set but it also comes with a mini-trampoline as well.
There really is so much to on this playset, that your child will never be bored outdoors. The set includes:
2 swing seats
Flying saucer swing that can fit 2 kids
2 person glider
Slide
Mini trampoline with handlebar
Kids really go crazy over the flying saucer swing as they can lie down as you push them through the air. It's also nice because you get the attached mini trampoline rather than just a simple swing set.
You'll find that this metal swing set cost less than some of the outdoor toddler playsets above and it can be used until your child reaches 100 pounds. Keep in mind that you will need to buy a ground anchor kit for metal swing sets to go along with this but those aren't that expensive as well.
Little Tikes Jump 'n Slide Bouncer Review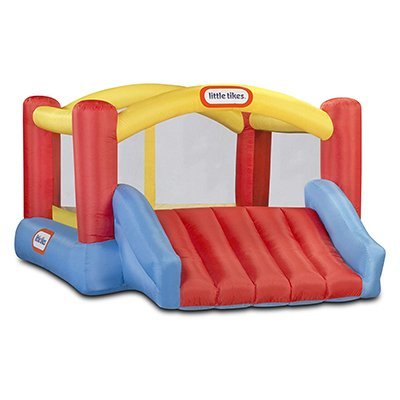 This inflatable jumper bounce house is one of the best things you can get if you have an active toddler or a younger child.
Items included in this set are:
106.2 x 137.7 x 65.7 inch inflatable bouncer house
34 x 26.25 inch trampoline
1 blower
This is a durable bouncer house that can hold up to 250 lbs and up to three kids, while the trampoline can hold the weight of 55 lbs. It is recommended for ages three to six.
While the bouncer is for outdoor use only, the trampoline is recommended for indoor use, although if you monitor your kids, they could play outside, as well.
Gorilla Playsets 01-1064-Y Outing Wood Swing Set Review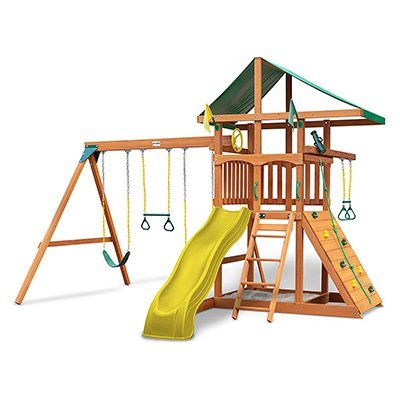 If you want to bring a park to your backyard for your kids to play in, this big Gorilla playset might be the right thing for you.
This set includes:
2 belt swings
2 trapeze swings
Alpine wave slide
Built-in sandbox area
Rock wall with climbing rope
Safe entry ladder
Steering wheel
Telescope
These ten activities are more than enough to provide your kid with an all-day-long playtime! It is an excellent way for your kids to have fun outdoors, while also practicing their stamina.
The entire playset has a height of 10 feet 5 inches, so we would recommend keeping an eye on your toddler.
Big Backyard KidKraft Andorra Cedar Wood Swing Set Review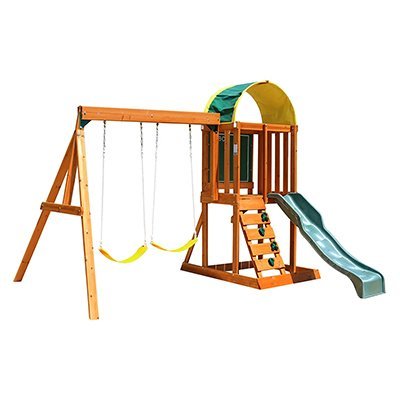 This backyard playset is a great option if you want your kid to have a great time in a park-like environment, but don't want to get something that will take the bigger part of your backyard.
Included in this playset are:
2 belt swings
Canopied play deck
High-rail wave slide
Rock wall
Sandbox
Vinyl chalk wall
Nothing can help your kid experience outdoors like a good swing set with a play deck and a sandbox. This is a great way for an older toddler to have some fun while enjoying some fresh air activities.
This playset can hold up to seven kids that weigh no more than 110 lbs each.
Conclusion
When it comes to the best outdoor play set for 2-year-olds, it really does depend on what type of backyard playground you are looking for. The toddler playsets are great for individual play where you may not need to help them up and down through all the activities.
On the other hand, some parents prefer spending the money on the larger outdoor playsets so that their toddlers can continue to use the playground for at least 6-7 more years rather than just maybe 1-2 more years.
The best playset for your toddler may just depend on the size of your backyard as well as how well you know your tot.
Last Updated: 27th Dec, 2020