Tippmann U.S. Army Project Salvo Paintball Gun Review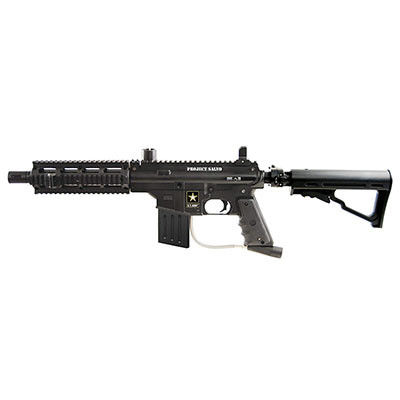 AR-15 Training Marker
The Tippmann US Army Project Salvo marker is based off the AR-15 firearm used by the US army. It's meant for military simulation enthusiasts, and also for firearms training simulation on team tactics and the like.
This is all supported by the fact that it is another licensed product under the US Army line of products by Tippmann.
Combining accuracy, durability and ease of use, the Tippmann US Army Project Salvo is a great gun for woodsball, but should be avoided if you intend to play speedball due to its low fire rate and weight; that was meant to simulate an actual AR-15.
The model uses the common .68 calibre paintball, so it won't be a problem finding or purchasing paintballs online or at your local store, however try to use better quality paintballs as it affects the firing mechanism. The firing mechanism system used is the semi-automatic open bolt blow back system and it utilizes a variable and flexible C02, or Highly Pressurized Air, or Nitrogen supply. It has a cycle rate of 8 balls per second, and while not very high, keep in mind that this is meant for woodsball, and not speedball.
It comes with a standard stock barrel of 11 inches, or 28 cm, and an effective claimed range by Tippmann of 150 ft. and over, or 46 meters. However, take this with a pinch of salt as effective range usually depends on several factors, namely player skill, weather and wind conditions, and air pressure used. The standard stock hopper or loader that comes with the marker uses a gravity feed system to load the balls into the firing mechanism, and is the slowest, thus you may want to consider purchasing an electronic hopper or cyclone feed hopper to boost the fire rate.
Size Does Matter
Many players like that the size and die cast aluminum receiver construction gives the assurance of a sturdy reliable marker which it does. Taking into account that with the extra magazine, where you can chuck some lubricant, a few extra screws and allen keys, and also perhaps a 200 round hopper, its quite heavy. However, you can remove several parts from it, or make the entire model less bulky.
The stock for one is collapsible, so it's great for those players using face masks. Also, a side point is that the barrel shroud, although sturdy, may get in the way of barrel replacements or modifications, although the stock barrel itself is ported, so although not completely silent, is quieter compared to its other Tippmann counterparts.
Keep in mind that with all the picatinny rails available, customization options are almost endless. Want to add in a foregrip? Done. Sights? Also available. What about a bipod or tripod, if that's your thing – also possible. This is one of the best things about the Tippmann US Army Project Salvo, however, keep in mind that accessories add on weight.
Exceptions to the Rule
A few things to note about the Tippmann US Army Project Salvo though. One is that they don't come with the cyclone feed hopper/loader as mentioned above. This is a sticking point for some people since other models in the US Army product line range are compatible or come with an e-grip at least in any package.
Due to the stock barrel, a recommended upgrade is the E-grip, or electronic response trigger. It helps to improve mileage on the amount of shots per tank, and response times for shots fired, and fire rate with fire rate options. A flatline barrel system is also recommended to improve accuracy at range, especially if your playstyle demands it.
All in all, if you want a sturdy, durable reliable marker from Tippmann that's well known for its extremely wide range of available accessories, get one of these. Just keep in mind that if you are a speedball player transitioning to woodsball you may find this a bit cumbersome to use, and the fire rate is going to get take some getting used to.
However, with the choice of a foregrip, tactical light, red dot sight and even bipod or tripod, you can modify this marker into a long range hunting rifle style marker, not a sniper marker yet, but close enough.
Last Updated: 7th Sep, 2019