Choosing the Best Rowing Machines: Concept2 vs. WaterRower vs. Stamina
Best w/ Water Resistance
WaterRower Natural
Best w/ Air Resistance
Stamina ATS Air
For Budget
Stamina InMotion
What is a Rowing Machine?
Rowing machines are training and fitness equipments, used mainly by those who participate in the rowing sport to train their muscles, physical fitness, endurance and mental adaptability to the sport. A rowing machine basically consist of a sliding seat or a sliding back rest, two retractable handles, foot rests, and stands for the machine. Rowing machines provide are an awesome fitness equipments and they increase fitness by building muscles in a safe and low-impact way, while also burning off calories.
There have been many evolutions, reforms and redesigns to indoor rowing machines, and they are now highly-refined and sleek exercise equipment. The presence of a rower in your home, and you taking a look at it daily, might just be the only motivation you need to lose weight and get your muscles shaping up in a challenging but comfortable way, as you might not even have to visit the gym.
What are the Benefits of Rowing Machines?
Here are 5 benefits you can enjoy from using a rower:
Rowing machines help in cardiovascular workout, which is a great form of workout that helps the heart and helps the body's blood levels.
Rowing helps to strengthen major muscles in the body; it helps, by working around 9 body muscle groups one stroke at a time.
Rowing is a very good calorie burning workout, and you can trust it for weight loss.
Rowing is a low-impact exercise that is just a challenging as any higher impact exercise.
Rowing machines can be the cheaper alternatives to standard gaming equipments, as there are very affordable rowers that would meet your requirements and serve purpose.
Rowing Machine Terms You Should Know
There are quite a number of rowing machine terminologies we think you should know, especially if you're a newbie to fitness rowing machines. Some of them include:
Handle/Handgrip: It is also called the bar, and it is one of the most important features of the rowing machine. It is what you hold on to, to carry out the rowing exercise itself. Most times, it is padded for extra comfort.
Rail: This is the central beam for the seat to motion back and forth, according to your row/stroke motion.
Resistance Mechanism: Like explained earlier, it simply refers to the type of resistance present in a rowing machine. This single feature separates one rowing machine from another.
Deadspot: Refers to a slight period during the pull, that you don't really feel any form of resistance. Better rowing machines don't have dead spots, as you'll have resistance all the way throughout your strokes.
Folding Model: Simply refers to the models of indoor rowing machines that fold up for easy storage. Not all indoor rowing machines fold up but the ones that do, are better choices as they consume minimal storage spaces.
Flywheel: It is connected to the retraction chain and spins when you pull back on your stroke. This can give you a feeling of an oar moving through water and it is mostly found on air resistance rowers.
Stroke: It is simply one full rowing action comprising of four phases which are:

The Catch
The Drive
The Finish
The Recovery

Display: In a bid to get a feedback on your workout sessions, to know how well you're improving and how intense your sessions are getting the display which shows you your rows count, distance covered, speed, time and even calories burned is used.
Rowing Machine Features That You Should Know
When purchasing a rowing machine, there are definitely some features to consider. These features vary from brand to brand and from equipment to equipment but they are not to be ignored, as they would ultimately come together to be the determining factor on which fitness equipment you strike off your shortlist and which one you finally decide to purchase.
These features include:
Type of Resistance: Even with similar designs, most rowing machines differ in their types of resistance. As there can't be any form of rowing workout without the resistance feature, it is important to know which kind of resistance the equipment you're contemplating on purchasing has. The resistance is the basis of your workout and it is can determine how effective your workout is going to be. The commonly known types of resistance include:

Air resistance
Water resistance
Magnetic resistance
Hydraulic resistance

It is imperative you know that each type of resistance has its unique rowing feel and their various benefits, so for emphasis sake, resistance is surely a feature to take into consideration.
Comfort: It doesn't make any sense to start a workout without feeling any comfort or sync between you and the fitness equipment. The best rowers will have a comfortable seat, non-slip handles / handle bars, fluent retracting chords, firm and good foot pads, and easy adjustability.
Noise Level: Indoor rowing machines are generally noisier than one another but silent machines stand preferred more than their noisier relatives. Although, some users like the rushing noise that gives them the "Oh yes! I'm working and I can hear it" feeling.
Space Consumption: Quite rightly, you'll need a good amount of floor space dedicate in your home to safely and comfortably set up your rowing machine but it wouldn't be logical to go a hefty long equipment that takes up about one-third the total percentage of your total living room floor area. The length of Rowers varies, and they are usually rather long and narrow.
Max. User Weight: Better than many other fitness equipments, Rowing machines are known to be able to handle much higher weight. The rowing machine is an equipment of low gravity and the less moving parts are to becoming stressed by heavier users.
Storage Features: This can tell on the mobility and the storage space consumed. There are some equipments that can fold up easily with just a few adjustments and it's always a huge plus to be able to easily store your rower easily. Knowing your equipment's storage feature is very important. There are rowing machines that can be disassembled and can be stored with easily apart easily to be able to put it in your closet, or in other storage areas.
Row Computer / Monitor: The display monitor is a feature of most rowing machines and it serves as a feedback mechanism for your workout session. Display monitor tells you information like the total time you've spent working out, the distance you must have covered if you were actually in a boat on water, the calories you've burned, rows count, and so on. Some advanced monitors give you workout options, and display your hear pulse rate. Overall the display monitor is a very essential part of the rowing machine.
Ease of Assembly: Most people face nightmares assembling their machines, especially for the first time of use. Some rowing machines make the process as lenient as possible, while some make sure you have the feeling of dashing through a maze. Make your research to make sure you're buying a piece of easy-to-assemble fitness rowing equipment and not some rocket science puzzles.
Warranty: It is only logical that you get a decent warranty that covers both the equipment itself and the parts. Some products put your mind at rest on this, while some doesn't. Whatever the case is, keep one eye on the product warranty.
Design: There are different rowing machine brands with their various designs and even the same brands with various designs. If for instance you are impressed with the reviews on WaterRower Oxbridge rowing machine in cherry with s4 monitor and you're impressed but it turned out that you don't like the design, there might still be other WaterRower products that would fit your design taste. Design is a crucial feature that shouldn't be ignored.
Rower Price: Finally, it all boils down to the price, and here is the point where you could just easily find yourself torn between product affordability and functionality. The wide variance in price can keep tossing your decision back and forth. Just keep in mind that with fitness rowers, high end machines require a fatter budget and might not require replacement or maintenance for a really long time, while mid-low end devices might squeeze into a small budget but theirs is the maintenance and after a long while, replacement issue. Although that isn't to say there aren't fitness rower that sits pretty in the gap between affordability any functionality.
The features mentioned above are very important things to consider when buying a rowing machine. Again, they are what would come together to determine which indoor fitness rowing machine you purchase and which one you cancel out. It is a very wrong move to just jump on the first rowing machine presented to you and part ways with your hard earned money. Research comes before purchase, especially when items like fitness rowing machines are concerned.
Brands
Our Top 10 at a Glance
There are various types and kinds of Rowing Machines but it is only logical you go for one that strikes a fine balance between price and function. The best Rowing Machines aren't necessarily the costliest, as you'll soon find out.
Concept2 Model D Indoor Rowing Machine with PM5 Review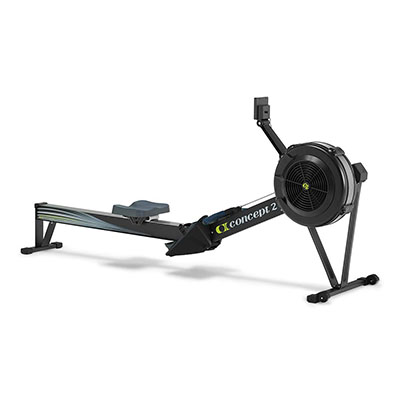 A Quick Overview
The Concept2 Model D is arguably the most popular rower in the indoor rowing machines category. For many good reasons, the piece of fitness equipment leads the pack of many other fitness rowing machines in the world. You're 80% sure of seeing this ultra-popular air rower at most gyms. Leaving hype aside, the Concept2 Model D Indoor Rowing Machine with PM5 is one of the best home indoor rowers you can purchase. It is ergonomically unequalled and expertly constructed.
When folded and raised upright, it somewhat looks like the alphabet "D" and that is the least of its features. This rowing machine rows smoothly without any retraction drag or hitch. The simple air resistance technique this amazing piece of rowing machine uses is to have you pull a nickel-plated chain out of the fan flywheel and you get your workout all covered by pulling against the air pressure the fan inside the flywheel generates, which gets increasingly higher as you pull.
What's in the box?
Performance Monitor 5
Model D User manual
Performance Monitor Quick Start Guide
Tools and illustrated assembly instructions
A quick look at the product features
Indoor rowing is an effective full-body, low-impact workout; Flywheel design minimizes noise while maximizing a smooth feel
Includes the Performance Monitor 5, giving you accurate, comparable data for every row; Adjustable monitor arm
14-inch seat height, nickel-plated chain, adjustable footrests and ergonomic handle
Easily separates into two pieces for storage. Caster wheels make it mobile
Requires footprint of 9 x 4 feet; 500-pound capacity; 5-year frame warranty
Description
The Concept2 Model D Indoor Rowing Machine has a very nice design, that sees it disassembled into two separate parts. It has a sturdy build and it doesn't need any overly intermediate routine maintenance. It's really not much surprise since the Concept 2 brand is known for their super durable products.
There's the single well-crafted handle beam that ensures comfort and firm grip, the fully padded 14-inch seat, the very firm foot straps and the foot hold which has its foot pocket to ensure there's nothing like a foot slip. The flywheel comfortably stands like a pivot and the very large and clear PM5 display shows the user every single piece of required information about the workout session.
The PM5 monitor can display your workout performance in either "total distance and time", or as "splits". "Total distance and time" is an approximate; while "Splits" is a way of seeing a more real-time pace calculation and how well your session is going. The PM5 monitor which features a LogCard and USB cable to connect the PM5 to a computer. It measures 96 X 14 X 24 (l/w/h) and weighs in at 69 pounds.
General Features
Quick-release frame lock.
Flywheel and Spiral Damper for adjustable resistance.
Latest PM5 Performance display Monitor with the following features:

Strokes Per Minute (SPM)
Calories Burned
Distance Covered
Heart Rate
Pulse Meter

Aluminium rail capped with stainless steel track for smooth seat movement.
Non-slip padded handle bars.
Noiseless air resistance chord retraction.
Flexfoot foot pedals with firm foot straps.
Caster wheels for transportation.
Adjustable monitor.
Easy assembling and storage feature.
Pros
The design features, solid sturdy structure, and customer feedback makes it the most purchased indoor rowing equipment on the market.
It's noiselessness makes your workout more efficient without much distractions.
The Concept2 Model D Indoor Rowing machine is arguably the most durable rowing machine you can lay hands on.
The display is large and you can easily adjust your preference without too much inconvenience to your workout session.
The PM5 monitor is a workhorse device that is easy to use and it makes working out, a better experience.
Cons
The air resistance technique might need some getting used to, if you've been using other resistance equipments for a long period of time.
The Concept2 Model D indoor rowing machine isn't very affordable.
Our Verdict
The Concept 2 Model D is a well-designed piece of equipment that would work just fine for both the new user and the advanced user. It simultaneously workout all your muscle groups, giving you the best cardio and general fitness exercise. It doesn't cause injury or overstrain muscle groups; which is another reason it's one of the most popular indoor rowers in the world.
Although it's neither the most expensive nor the cheapest, if you don't mind seeing it as a long-time investment, then you should consider getting it ahead of other indoor rowing machines.
WaterRower Natural Rowing Machine in Ash Wood with S4 Monitor Review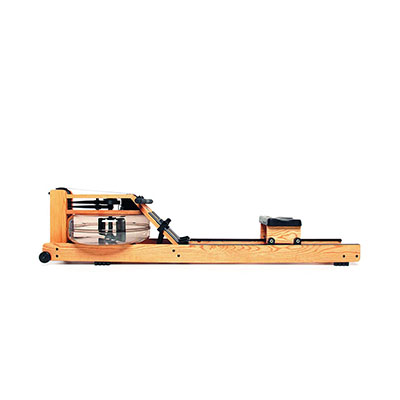 A Quick Overview
The good and sometimes confusing thing about water resistance rowing machines is that even though some of them don't look like much, the price attached is sure to send a signal that there's more to it than meets the eye. The is exceptionally true in the case of the WaterRower Natural Rowing Machine in Ash Wood with S4 Monitor, as the amazingly hand-crafted piece of fitness equipment uses the very well preferred water resistance technique to give you a feel of what real rowing feels like.
"I just need to close my eyes during my workout sessions and I immediately think I'm in a boat" said a customer when giving his feedback on the Natural Indoor Row Machine with S4 Monitor. Its water resistance ensures you have a smooth and quiet workout and it is very suitable for both users that are new to the fitness rowing machines, and advanced users. The Natural Rower in Ash Wood with S4 Monitor allows you chose your workout level yourself. The faster you row, the higher the resistance and a slower rowing results in a more lenient water resistance is. It stands up to the Concept 2 E model quite good.
A Brief Look at the Features and Specifications
Handcrafted rowing machine with "water flywheel" that replicates actual rowing feel
Flywheel sits in enclosed water tank to provide smooth, quiet, self-regulated resistance
Series 4 performance monitor tracks workout intensity, stroke rate, heart rate, and more
Solid ash and stained honey oak construction absorbs sound and vibration
Stores upright; measures 84 x 21 x 22 inches (W x H x D) and weighs 117 pounds
Description
The fitness equipment is sturdily designed with strong Ash Wood, while the Honey Oat stain and finish in Danish oil does well to give it enough aesthetics to place at one corner of the living room. The woody material isn't just an aesthetic option, it also guarantees that vibrations are evenly distributed and better absorbed and you can enjoy a smoother and quite work out.
It doesn't consume much space after assembling, and the ergonomic seat and dual rail models promise stability, safety, and a smooth operation during workout sessions. It has full sensor handgrip bars that allows it give you a feedback on your pulse rate. The WaterRower Natural Indoor Row in Ash Wood with S4 Monitor measures 84 X 21 X 22 (w/h/d) and weighs in at 117 pounds (with water).
The Series 4 Performance Monitor is a easy to use, user-friendly companion that allows you track your workout progress, showing you information such as the distance, calories burned, miles per hour, stroke count, heart rate, time, and intensity (m/s).
General Features
Sturdy wood design ensuring durability.
Smooth and quiet water resistance technique.
Padded handgrip for workout comfort.
Manual resistance adjustment (depends on rowing speed)
Can carry up to 350 lbs. user weight.
Ergonomic seat with dual rail.
Firm foot straps and foot pedals.
Works out over 86% of total muscle groups.
Series 4 Monitor display (calories burned, distance, speed, calories burned, time, etc.)
Pros
The water resistance technique ensures that you don't do much on maintenance.
It is foldable and that makes up for its easy storage.
Gives you a feel of real-life rowing.
Can be easily used by any user category.
Cons
Not very affordable at $1,160.
The position of the display monitor is not totally convenient.
Our Verdict
If you don't mind the price, or if you can just see it as a fitness and health investment, then the Natural Rower in Ash Wood with S4 Monitor is one of the best water resistance rowing machines, and one you should really consider if your budget allows you.
Stamina 35-1405 ATS Air Rower Review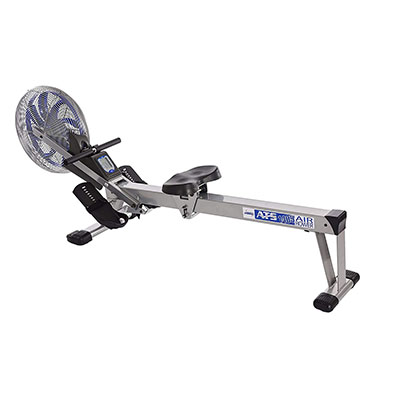 A Quick Overview
The Stamina 35-1405 ATS Air Rower is a very unique stamina product with a weird product name. Stamina has quite some impressive products that beat expectations but sadly, this fitness machine doesn't do much justice to the $400 attached to it. The Stamina 35-1405 ATS Air Rower is still a nice rower and has quite some impressive features. As a matter of fact, its features overshadow its negatives.
The Stamina 1405 – 35-1405C Air Rower uses the air resistance to deliver adequate workout experience which is suitable to both the beginner and the advanced user. The fitness equipment has a padded handle and seat, and impressively it doesn't use a retraction chord, it uses a chain; which means unlike some rowing machines' fabric belt wearing issue, this would not suffer the same fate… Although the chain sometimes gets stuck about 10 -15 minutes into your workout which can make it frustrating (Update: Stamina has gotten around after too many user complains and fixed the error).
A Quick Look at the Features and Specifications
Multi-function electronic performance monitor displays speed, distance, time, and calories burned
Comfortable foam padded molded seat slides easily on ball bearing rollers
Over-sized chrome seat rail for smooth sliding seat
Folds for storage; wheels for easy portability
Measures 78 x 31.5 x 19.75 inches (W x H x D); weighs 73 pounds; 3-year frame warranty
Description
The Stamina 1405 – 35-1405C ATS Air Rower is simply designed to take care of the basics. It is made of solid steel material and the elongated foot base ensures extra sturdiness and firmness while it's in use. The seat is wide enough for full support and well-padded for comfort. The angled rail makes for a good rowing action. The adjustable nylon foot strap and the wide and pivotal foot plates would suit all sizes of feet.
Air rowers are mostly noisier than the other types, and this one didn't stray too far away. So if your aim is to quietly steal a workout session without anyone's knowledge, this fitness rowing machine might let you down. The Stamina 35-1405 ATS Air Rower model folds up into a compact size, consuming minimal storage space and is easily moved around.
Its LCD display monitor is very easy to use, giving you accurate feedback information on your workout progress. It displays information like time, distance, stroke rate, speed, and calories burned. It has a maximum user weight of 250lbs. It measures 78 X 31.5 X 19.75 inches (w/h/d) and weighs in at just 73 pounds.
General Features
Its sturdy build ensures firmness and durability.
Smooth Air resistance technique.
Multi-function display monitor to track time, distance, speed, row count and calories burned.
Padded wide seat and handgrip beam for extra comfort.
Large foot plates and really firm foot straps for any foot size.
Metal rowing chain for durability & strength.
Angled seat rail for easy seat return.
It has a maximum user weight of 250lbs.
Affordable for its $400 price tag.
Pros
Affordability is the first we like about the Indoor Rower. Costs just $400 for its features.
It has wheels for easy mobility and is foldable for easy storage.
Its sturdy steel construction material ensures durability.
The display monitor is easy to use.
Cons
The monitor looks cheap and sometimes might need moving closer to read.
It is noisy, even for an air rower.
The retraction chain jams after around 6 minutes of use.
Our Verdict
Although the Stamina 1405 – 35-1405C ATS Air Rower has a few obvious drawbacks, it is one of the most sought of air rowers on the market. The cool features it has overshadow its drawbacks, making it pardonable and what's more? It is very affordable.
Velocity Exercise Magnetic Rower Review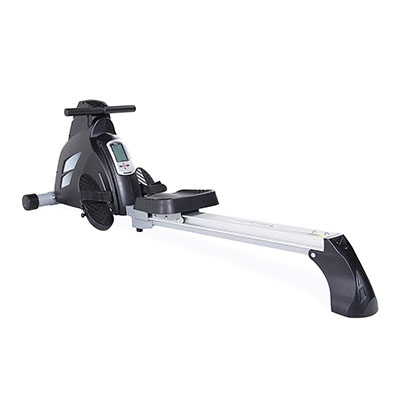 A Quick Overview
The Velocity Exercise Magnetic Rower is a very popular indoor fitness rowing machine which is for the right reasons, the choice of many fitness enthusiasts. It uses its adjustable magnetic resistance technique to deliver an efficient low-impact workout to your body muscle groups. Asides from other attractive features, the price of the Velocity CHR-2001 Magnetic Machine for rowing is the first surprising feature – at $550, this fitness equipment seems under-priced, considering the features that came with it.
To have your full body workout covered, it features a Drum Magnetic Control (DMC) System and an electronic tension control which makes just suitable for an advanced user and a user who's just starting to understand what rowing machines are. Magnetic resistance rowers guarantee a quiet fitness session and the balanced build of the Exercise Magnetic Ergometer ensures it durability. It stands on a fairly very reasonable scale when compared to the Concept 2 D model .
A Brief Look at the Features and Specifications
Resistance: DMC System (Drum Magnetic Control)
Electronic tension control
Large PU molded saddle & Foldable and space saving
The machine comes equipped with a heart rate monitor chest strap to monitor your heart rate for intense cardio training
Beam: Anodized Aluminum Profile + rectangular tubing support. The maximum weight capacity for the Rower is 275 lbs.
Description
The Velocity Exercise CHR-2001 Magnetic Row machine is creatively designed your muscles from your back, arms, and feet, to your abs, chest and shoulders. It has 12 adjustable programs to choose the one that best suit you, which are displayed on the large easy-to-read LCD display, titled a bit upwards so you can track your workout session progress without any distraction. The display gives you an accurate feedback on information like your rowing time, distance covered, calories burned, pulse rate, etc.
The fitness equipment has an anodized aluminium handgrip beam with rectangular tubing support to a non-slip comfortable grip. The seat is designed to also ensure comfort with its polyurethane material and the foot straps ensure your feet stays firm on the pivotal foot pedal to ensure stability and efficient workout of your leg muscles.
The Velocity Exercise Magnetic Rowing machine measures 45 X 30 X 11 (l/w/h) and weighs in at just 75 pounds. It consumes very minimal storage space after being folded, and is easily moved around.
General Features
Drum Magnetic Control System for adjustable magnetic resistance.
Electronic Tension Control.
Large Polyurethane moulded saddle.
Foldable for storing.
Maximum User Weight: 275lbs.
Balanced frame for enhanced durability.
Anodized Aluminium Beam & Rectangular Tubing Support.
Heart Rate Monitor Chest Strap.
Affordable at $550 price range.
Pros
Magnetic resistance rowers need less maintenance, compared to other types of ergometers
The heart rate monitor allows you to choose a recommended workout program.
The PM5 monitor is really easy control.
Once folded, it's less than half the length.
It has wheels for easy mobility.
Cons
Some customer that the seat took some getting used to.
A more detailed manual might result in less assembling time.
Position of foot strap might cause ankle irritation, making you more careful.
Our Verdict
The Velocity Exercise Magnetic Ergometer is a really awesome indoor fitness product that wouldn't take much time after use for you to know exactly why the $550 is a bargain. For a fitness equipment of its features and design, you should really consider getting the Velocity Exercise Magnetic Row machine if you can afford it.
Stamina 1215 Orbital Rowing Machine with Free Motion Arms Review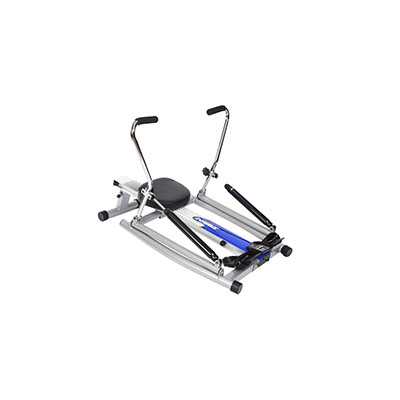 A Quick Overview
The Stamina 1215 Orbital Rowing Machine with Free Motion Arms is one fitness equipment that is sure to serve your fitness requirements perfectly if you don't have too much space to spare. The portability of the machine is the striking feature about it, which makes it usable in an amount of space that won't work for some other rowing machine including some other Stamina products.
This amazing piece of fitness equipment is sturdily designed to guarantee durability, while using its hydraulic resistance technique to simultaneously work your total muscle groups, including your butt, arms, back, legs, abs, and so on. You get a better workout feel, thanks to the noiseless fully padded gliding seat that adjusts according to your routine movement.
The Stamina 1215 Orbital Rowing Machine with Free Motion Arms is indeed one of the best indoor rowing fitness machines you can get for its $250 price tag and its features make sure you get value in return for the money you invested to it.
A Quick Look at the Features and Specifications
Resistance: Smooth hydraulic cylinder resistance
Precision extruded aluminum beam, deluxe ball bearing roller system
Single button multi-function monitor shows speed, distance, time, row count, calories burned, and miles rowed
Adjustable tension controls
Increase the beam incline for a more intense workout
Comfortable, thick padded seat
Pivoting foot plates for added comfort
Rowing arms fold for storage
Warranty: 5 years on frame, 90 days on parts
Dimensions: 48 x 32.5 x 27.75 inches (LxWxH)
Description
The Stamina 1215 Orbital Rowing Machine with Free Motion Arms uses hydraulic resistance technique and the handgrips have a more versatile and free arm movement motion, a feature that isn't common in many other rowing machines. It doesn't only just move forward and backwards; it moves in a somewhat semi-circular motion also. It has adjustable tension controls and you can change the inclination of the beam for a more intense workout – Pro users particularly find this option welcoming.
The single button monitor makes sure you keep an eye on your workout session, displaying information like the row count, time, distance, miles rowed, speed and calories burned. Both the seat and the handgrips are fully padded to ensure you don't feel inconvenienced in any way during your routines.
The Stamina 1215 Orbital Rowing Machine with Free Motion Arms has full anti-slip balance footing, ensuring it doesn't move while it's in use. The foot strap keys your foot firmly to the foot pedal and the gliding seat doesn't make any noise. It measures 49 X 14 X 7 (l/w/h) and weighs in at just 67 pounds. It has maximum user weight of 250 lbs and it is easily foldable and movable.
General Features
Adjustable level of hydraulic resistance.
Free motion arms for a more intense workout.
Fully padded, non-slip grip handle bars.
Comfortable gliding seat (working the thing and abdominal muscles).
Firm foot straps and large pivoting pedals.
250 lbs user weight carriage limit.
Balanced floor guarded equipment frame.
LCD Monitor display (row counts, calories burned, distance, time, etc.)
Affordable equipment for a $250 price tag.
Pros
The fitness equipment is very portable and uses minimal floor space.
Gives a total workout experience with its free-arm motion.
Sturdy design ensures durability efficiency if well maintained.
One of the most affordable fitness equipments under $300 (considering its features).
Delivers low-impact aerobics exercises for muscle toning, fitness and wright loss.
Cons
Compactness results in a small drawback in sturdiness.
Some users have complained that the display monitor isn't wide enough
Hydraulic equipments require more constant maintenance.
Our Verdict
The Stamina 1215 Orbital Rowing Machine with Free Motion Arms if you're tight on both space and cash. It delivers excellently for a machine of $250, especially with its free arms motion movement. A great fitness investment!
Kettler Favorit Rowing Machine Review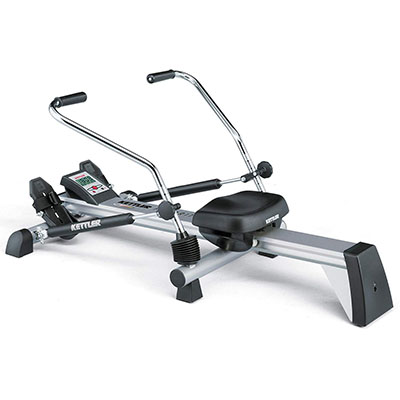 A Quick Overview
The Kettler Favorit Rowing machine is another statement of superior quality from the Kettler brand. The German company has done well to maintain the name it has made for itself for some of its pretty though product designs. The Kettler Favorit Rowing Machine is designed to give a user the total rowing fitness experience through its total body workout, delivering low-impart work out, and ensuring you reach your fitness goals, via the most comfortable route.
Whether it cardio exercises, muscle toning or even weight loss, the Kettler Favorit Rowing Machine is definitely up to the task. The fitness equipment uses the hydraulic resistance technique and it comes fully equipped with a lot of features like the wide and comfortable gliding seat, fully padded handgrips, a well-positioned LCD digital display, and convenient anti-slip foot pedals. The $400 price is a great deal for this machine.
A Quick Look at the Features and Specifications
Rowing machine to help you stay in shape and train in your own home
Two hydraulic cylinders with continuous resistance and a comfortably ergonomic seat
Training computer provides info on time measurement, number of oar strokes, speed of strokes, distance covered, and more
Program for desired distance covered and stroke speed; visual and audio signals
250-Pound weight capacity; measures 49 x 31 x 10-Inch
Description
The Kettler Favorit Rowing Machine is designed with durability, comfort and aesthetics in mind. It uses the hydraulic resistance technique to deliver full workout to every muscle group from your arms, legs, back, butt, thighs, abs, and so on. The handgrip comes integrated with heart rate sensors that give you an accurate and recommended feedback on your workout session.
The LCD display shows vital information like the distance covered, heart pulse rate, rows count, speed, distance, time, frequency, energy consumed, and calories burned. The machine is equally suitable for new users and advanced users alike. The gliding seat and handgrip are fully padded for comfort, the foot strap is firm and the pivoting foot pedals is large enough. The machine measures 49 X 31 X 10 (l/w/h) and weighs in at 52 lbs.
General Features
Hydraulic resistance (resistance adjustment: 1-50 knurl marks on each oar).
High resolution LCD digital display.
Infrared earlobe clip sensor measures pulse rate electronically.
Additional (but optional) feature of a Polar T34 chest strap heart rate monitor that wirelessly transmit to the computer.
Anti-slip pivotal footplates.
Fully padded seat and non-slip handgrips to enhance comfort.
Carbon steel frame and powder coated.
Maximum User Weight: 285 lbs.
Pros
Like most other Kettler products, the machine is built to pass durability assessments.
Smooth and comfortable work out.
It has a good warranty for medium budget equipment.
Good display monitor feedback.
Heart rate clip comes with the machine.
Very affordable for a device of its features.
Cons
The hydraulic resistance mechanism needs more maintenance, compared to other resistance techniques.
The resistance level is as easily changeable as it should be.
If you're a tall user, you might want to check other products as this might not be very comfortable.
Our Verdict
The Kettler Favorit Rowing Machine is a good buy for those just familiarizing to rowing machines. If you're looking for something that can sit at the corner of your living room and give you the needed motivation, then this fitness equipment, at $400 would do just that.
WaterRower Club Rowing Machine in Ash Wood with S4 Monitor Review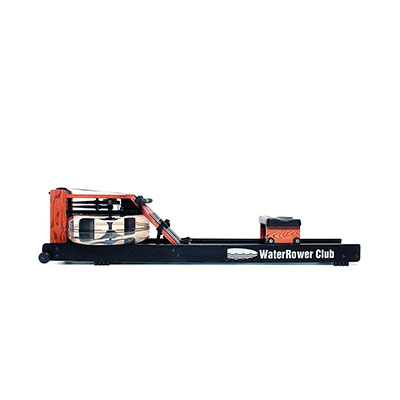 A Quick Overview
Although not everyone can afford WaterRower's unique fitness rowing machines, their fitness are very well worth the price. The WaterRower Club Rowing Machine is a handcrafted fitness rowing machine that is designed from solid natural ash wood and stained with rose and black stains with a Danish oil finish. The Ash wood, while it adds more aesthetics to the machine, serves the function of absorbing vibrations and sound while its in use; thus adding more sturdiness and balance to the machine.
The flywheel paddles give you a feel of what real rowing as it moves against the water resistance technique employed in the WaterRower Club Rower. This fitness machine is designed more for the advanced heavy users than beginners; although you can still find your way around working out with it as a newbie to fitness rowing. It matches up to the Concept 2 E model quite well.
A Brief Look at the Features and Specifications
Handcrafted rowing machine with "water flywheel" that replicates actual rowing feel
Flywheel sits in enclosed water tank to provide smooth, quiet, self-regulated resistance
Series 4 performance monitor tracks workout intensity, stroke rate, heart rate, and more
Solid ash construction absorbs sound and vibration; designed for high-traffic areas
Stores upright; measures 84 x 21 x 22 inches (W x H x D) and weighs 117 pounds
Description
The WaterRower Club Indoor Rower doesn't only give it all to physical appearance, you get value for your money with its features. It features a water resistance technique and an additional flywheel to give you a real-life rowing experience with the paddle movement in the enclosed water tank. The water tank is made of polycarbonate material making it 'indestructible' and extremely durable.
The water resistance technique removes the hitch of manually adjusting resistance levels. For higher resistance, you simply have to rows faster, while slow rowing gives you a more lenient work out.
The seat and handgrip beam are fully padded to give you an ergonomic feeling during workout sessions. The WaterRower Club Rowing Machine is able to withstand an impressive 1,000 lbs. What's more? It comes equipped with a Series 4 display monitor that gives you an accurate feedback of your workout progress. Information displayed includes stroke rate, distance, heart pulse rate, and duration. The S4 Monitor also has additional features like the AutoStore, Zone, Zonebar, Autopreview, QuickStart and QuickSelect, all which are so easy to use.
The WaterRower Club Row measures 83 X 24 X 21 (l/w/h) and weighs 117 pounds. For a price of $1,160, the WaterRower Club Indoor Rower is cool value for your money.
General Features
Ash wood structure with Danish oil finish.
Self adjustable water resistance.
Well balanced sturdy structure, ensuring durability.
Padded seat and handgrips for extra comfort.
Can carry up to 1000 lbs. user weight.
One of the best life like rowers at $1,160
Pros
Superb design, structure and features.
Wood material reduces vibration and adds more durability.
It can stand upright, giving room to better storage.
It is really easy and quick to assemble (around 10 -15 minutes).
Very detailed monitor feedback.
Cons
No monitor backlighting makes it uneasy to use in lowlight.
The faster you row, the noisier it gets. Some users might like it, most have complained about it.
Serves advanced users better than newbies.
Our Verdict
The WaterRower club Indoor row is an attractive value for money. If you can see the money as an health investment, you total body muscle groups would surely thank you for it. It can also serve as a piece of interior décor in your room or living room. You don't just get a super rowing machine for $1,160, you get an aesthetically likeable product.
Stamina InMotion 35-0123A Rower Review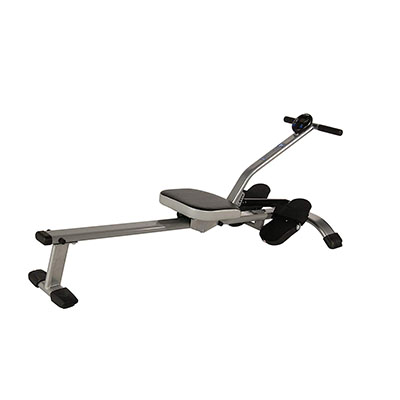 A Quick Overview
The very first thing that strikes users about the Stamina InMotion 35-0123A Rower machine is the portability, then its affordability. The Stamina InMotion Rower fitness machine is superbly built to give any fitness enthusiast the ultimate work out experience and it doesn't cost a limb. The design of the Stamina InMotion is a little like the '90's rider fitness equipments but of course it is much more user friendly.
This fitness equipment can be said to be convenient as you simply get to 'sit-and-pull' and it also has various hydraulics resistance levels which changes the angle of the piston to increase the level of its resistance. The comfort, design, features, function, ability, and price tag makes the Stamina InMotion Rower one of the most purchased fitness machines and one that has a lot of positive reviews. Aside from a few complains, which would be mentioned below, the Stamina InMotion is a great buy for almost any level of fitness enthusiast.
A Quick Look at the Features and Specifications
Solid Steel Construction
Five levels of resistance
Comfortable stitched seat
Pivoting foot plates with adjustable closure
Easy to store
Description
The Stamina InMotion rowing machine is also known as Stamina-35-0123A which many customers have said the last four figures stands for how easy it is to set up and use the fitness equipment. It has 5 different levels of hydraulic resistance which you can easily adjust to find the level that suits your work out best. The Stamina InMotion rowing machine can withstand a user weight of 250lbs.
It has pivotal foot rests which is a very important feature. The straps hold your feet in place and the pedal is anti-slip. Most affordable rowers use hydraulics for the resistance mechanism, since they are inexpensive.
The LCD display shows information like the amount of calories burned, the strokes count, and your session and times. The machine weighs just 29 Pounds, and its dimension is 53.5 X 19 X 11 (l/w/h).
General Features
5 Levels of adjustable resistance.
Comfortable stitched seat.
Firm pivotal footplates with adjustable straps.
Can carry up to 250 lbs. user weight.
Works multiple muscles (legs, abs, back, arms, etc.)
Smoothly retracting rowing handle bars.
Monitor display (rows count, calories burned, time, etc.)
Good price value at $85 price range.
Pros
Durable: The Stamina InMotion Rower's foam paddings, accompanied by a solid steel construction ensure it stands firm on the ground and it's weather resistant.
Affordable: The price is one thing many customers check for befor even going ahead to go through the functions and features and the Stamina InMotion Rower at a price range of $75 – $85 sit pretty between function and price.
Easy Storage: Easy storage is one of the highlights of this indoor fitness equipment. It took less than ten minutes to disassemble and assemble, and it being lightweight means it can be easily stored in any manageable space.
Design: The padded handle bars and seat, the LCD display monitor, the firm foot pedals and the weight makes the overall design a plus for buyers.
Cons
Advanced users and some other users who aren't new to rowing fitness equipments might find the Stamina InMotion rower too lightweight and might still move a bit while in use.
Changing the resistance means you have to stop your work out for second, which some users don't find encouraging.
Over time, the piston may begin to drag, especially if it's not well maintained and it can be pretty annoying when in use.
Our Verdict
If you don't mind the hydraulic resistance, and you don't mind the movement solely on the handle bars, then the Stamina InMotion Rower would work fine for you; especially if you're on a tight budget.
Common Mistakes You Shouldn't Do with Your Rowing Machine
Mistakes, especially at the first time of use, can make you have the wrong impression about fitness rowers. So quickly, here are a few mistakes we implore you to avoid while using a fitness rowing machine to avoid damage to the machine or worse still, injury to yourself.
Do not use a fitness rowing machine (especially for the first time) without ensuring you have fully and correctly set it up. Be double sure.
Don't use the fitness rowing machine without shoes on. It is simply dangerous and unethical.
Always carry out periodic maintain of the machine. Always keep it clean and oiled (if it needs oiling). Don't just focus on the monitor, retraction chamber and handgrip bars. Maintain the whole machine.
Use your legs for motion. Relying too much on your back and arms would only result in cramps or muscle pull.
Always wear your sports clothes when using the rowing machine. Failure to do so might not only damage the machine (especially the rail beam), you could injure yourself.
Final Verdict
Rowing machines are some of the best health and fitness equipments and as agreed by fitness experts, they provide the best total body workouts. Rowing machines works all your muscle groups at one go; something not many fitness equipments can do.
Purchasing a rowing machine that would fit your fitness level, your storage space, your workout area and most importantly, your budget is a really confusing ordeal (yes, we know) but we hope this review has in some way, helped to put most of your questions to rest.