Introduction
Rowing is the better way to get in shape than exercise. For those who want to buy one, my unbiased rowing machine review will help you to find the best one that fits you and your budget. There is a wide range of machines available in the market hence you may find a little bit confusing a good one. The machine you may select depends on the availability of space at your home, your fitness goals, your budget, and time how long you want to retain it. I have made it easy for you to find depending on the above factors.
Purchasing a rowing machine is a major investment. So, you need to be aware of all the features, pros, cons, and everything before deciding to buy the equipment. The best rowing machines are the ones that offer quality construction and also durability with various other features that help maintain cardiovascular fitness. There are a lot of models to choose from. Many rowing machines are light enough to be easily moved from one room to the other, and some rowers can even fold up for easy storage.
In comparison with the stationary bike or treadmill, rowing machines are superior in terms of burning calories and toning up your body, because it provides an intense workout for full body. Rowing not only burns a high amount of calories during the activity but also continues burning calories for some time even after you have stopped working out. This is called the "after-burn effect", which is seldom seen in other exercise equipment.
Types of Rowing Machine
There are 4 different types of rowing machines based on how they generate resistance, the intensity of the generated resistance, and their functional design. All rowing machines have similar designs but what makes them different from each other is their way of providing resistance. Resistance is the most important factor which makes your workout effective. There are 4 types of resistance that rowing machines have:
Air Resistance
This is the best kind of resistance with the best technology in the market right now. Air rowing machines are equipped with air flywheels and provide resistance through them. They come with a resistance tension option that helps in making the workout more difficult by adjusting the amount of air that is allowed to pass into the flywheel.
Water Resistance
Water rowing machines are popular amongst athletes and professional rowers because of the friction and resistance it generates. They have a water-filled flywheel for increased resistance. It gives a similar experience of rowing in the water.
Hydraulic Resistance
Hydraulic rowing machines are the most common ones. If you have just started rowing and are on a budget then these machines are the ones that you should go with. These machines are powered by cylinders with oil which makes them light weighted and easy to store. These machines also include handlebars that provide arm workout as well, that the other models are not equipped with.
Magnetic Resistance
Magnetic rowing machines are the cheapest options, they are light and simple to use. They have an adjustable resistance system and are quiet and smooth. These are ideal for an exact measuring of a workout and also provide very accurate resistance.
Each type of resistance has its own benefits and gives a unique rowing experience, so choose the best that suits your comfort and needs.
Factors to Consider Before Buying
Resistance: As I have earlier mentioned that there are four types of machines based on resistance. They are Hydraulic, Air, Water, and Magnetic. Here I will tell you which one you should go for and why.
Price: These machines have varied price ranges. The top range machines cost from $1,000 to even $3,000. These high-cost rowing machines are usually seen in Gym and Fitness centers. I have listed some best machines under $1,000 and under $500, which are running flawlessly for me and some of my friends who bought them.
You might wonder if I say that there machines under $100. If you are under tight budget then you can prefer under $100 to $500, or else go with top range as they have extra features packed with them.
Size: If you are buying for home purposes as the vacant place will be less, then you need to go for a less space occupying machine. Or else, for professional use you can get one with occupying more space.
Comfort: The other factor that shouldn't miss is the comfort. Though some machines look good, have more features they may not feel comfortable. As you row daily, the machine should feel comfortable with padded seats and handlebar. While reviewing every machine we check the comfort and rate.
Extra Features
Air: These are the most common type of machines. These machines are equipped with fly-wheel. The resistance level can be adjusted with a notch that enables you to row hard and with comfort levels. These machines use fly-wheel to generate air resistance as you pull the handlebars away. These generate high noise and also adjustment of air resistance is difficult. The most common Air Rowing machine is Concept 2 Model E.
Water: These model machines seem to row using actual water. The machines lack resistance adjustment, but it is possible by rowing at a faster pace. These being the costliest machines and also heavier than others. Check out our Water Rover reviews which helps you to decide which one to choose. Mostly, these types of machines are suitable for outdoor.
Benefits of Rowing Machine Workout
If losing weight or getting rid of excess body fat is your goal, rowing can be your savior. Following a healthy diet along with rowing can help drastically in losing weight.
Rowing Machine is the most popular among the fitness equipment.
It lets us the entire body and is great for cardio, as well. It is suitable for men and women.
As they come with adjustable resistance they are suitable from beginners to intermediate users.
It is also perfect for home workouts. 
First and foremost it works the entire body by stimulating the rowing motion.
As they come with a sliding seat the efficiency of the exercise is even better.
It is great for working the core muscles: The core muscles are used constantly in order to stabilize your body during the motion. By rowing regularly it can strengthen and tone your ab muscles as well as the lower back.
It also works your legs: Since you have to push yourself back on the machine your legs are worked. It trains all your leg muscles such as the glutes, hamstrings, and quads.
Benefits include: Weight Loss, Cardio Benefits, Stress Reduce, and Muscle Toning.
Brands
Best Rowing Machine Reviews
Sunny SF-RW1205 Health & Fitness Rowing Machine with 12 Adjustable Resistance Review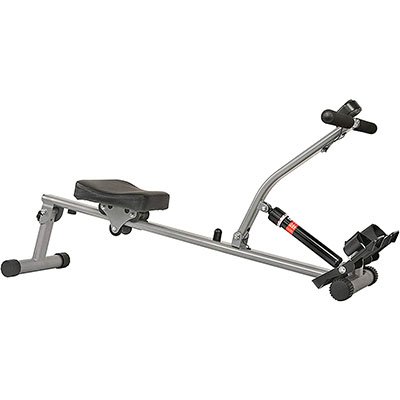 The Sunny SF-RW1205 has set a new standard in home fitness rowing machines. It offers all the features that anyone can ask for at such a budgeted price. It provides amazing cardio workout along with building muscles and burning calories. This rowing machine is highly recommended because of its top-notch features at such an affordable price.
It is a hydraulic resistance rowing machine with 12 adjustable resistance levels to choose from. It is perfect for beginners and intermediates alike due to the adjustable levels. You can easily adjust it to your level and workout and gradually increase the levels, with the increase in your stamina. It provides low impact exercises that are great for a full-body workout. It targets multiple muscle groups such as back, arms, legs, abs, gluts, etc.
Pros
Great rower beginners
Affordable price
Ease of assembling
Smooth and sturdy with even rowing
Compact and lightweight
Adjustable resistance while on the seat
Cons
Insufficient resistance for professional rowers
Basic monitor with no backlit
Not comfortable for tall users
Verdict
At such an unbelievable price, the SF-RW1205 rowing machine has received numerous praises for being easy to use, safe, and extremely comfortable. It is one of the cheapest rowing machines you can find, but nevertheless, it is very stable and sturdy with robust construction and can go on for years.
At such an affordable price, it offers great resistance with quiet and smooth rowing.
Stamina BodyTrac Glider Rowing Machine 1052 Review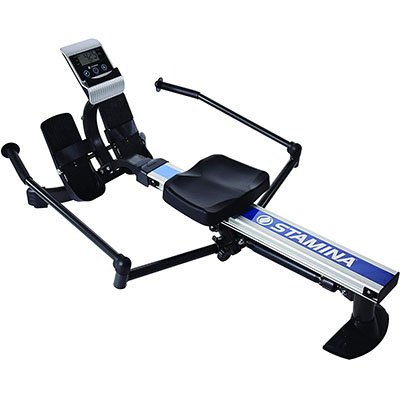 Stamina Body Trac Glider 1052 is another best and the most affordable rowing machines in the market. It is a very strong contender in its price range for the features it offers. It has a hydraulic resistance that is usually quiet and makes no noise. The resistance is adjustable and the gas shock is placed just below your seat for your convenience while adjusting. It has 12 levels of resistance to choose from, that can suit the needs of all body types and people. It is a low priced rowing machine with a lot of benefits.
You can adjust the resistance level according to your rowing speed, starting from level 1 and gradually up to the 12th level. This machine provides a stimulating full-body workout and is a wonderful rowing machine with great resistance for beginners.
Pros
Solid and sturdy construction
Steel frame
Compact design
Very lightweight
Easy storage facilities with transport wheels
Adjustable resistance for different fitness levels
Dual handles that simulate rowing with a full range of motion
Long gliding track and comfortable seats
Safe hand gliders
Easy assembly
Cons
Foot-strap design which is rather uncomfortable for placing feet
Un-adjustable resistance level while the machine is in use as the gas shock gets heated up
Possible leakage of gas shock
Sunny SF-RW5515 Health & Fitness Magnetic Rowing Machine Rower Review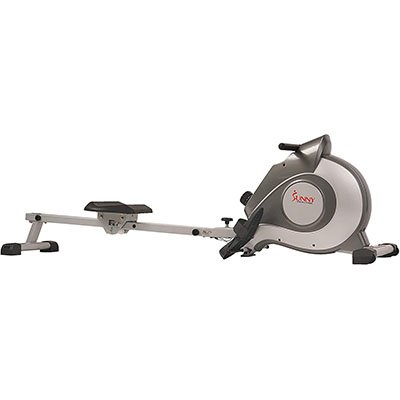 Stay in shape with the top of the line Sunny Health & Fitness SF-RW5515 Magnetic Rowing Machine. This rowing machine provides a full-body workout by targeting all the major muscle groups like arms, back, legs, abdominal area, glutes, etc.,
It provides an intense but enjoyable rowing experience in the comfort of your own home, at such a reasonable and unbelievable price. It provides all kinds of low impact aerobics and the cardiovascular exercise and also allows you to lose weight and keep in shape. It can burn a lot of calories in a single day.
Pros
Strong and smooth resistance
Reasonable price
Comfortable seat and sliding
All heights and weights capacity
Extremely quiet
Foldable and easy storage
Cons
No advanced features in the monitor
Large footprint
The very small warranty period
Kettler Stroker Rowing Machine Review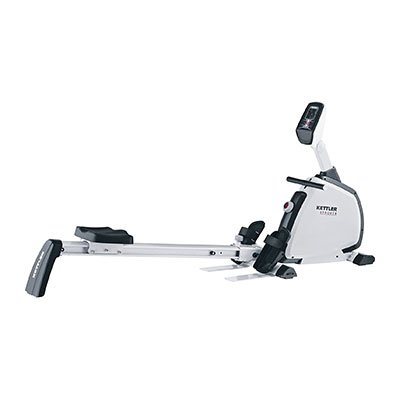 The Kettler Stroker Rowing is a physically well designed and relatively compact machine. This machine is also known as "Multi-Trainer" and is made in China by a German company. This stylish rowing machine uses manual magnetic resistance controls and is less challenging at the upper levels. It delivers a great workout.
The Kettler Stroker Rowing machine not only functions as a rower but also as a multi-trainer, making it versatile that suits a variety of fitness needs. This exercise equipment has a lot of benefits at a relatively affordable price tag. You can never go wrong by adding this machine to your home setup.
It is an entry-level rowing machine for residential use. Its key factors are a powder-coated steel frame and a wireless heart rate monitor. It is foldable and has 1 handed rowing operation. It supports additional 8 exercises along with rowing. This mini fitness station is best for beginners and intermediate rowers.
The Kettler Stroker rowing machine is a smart choice for rowing enthusiasts. It has a convenient LCD display and the ability to track your heart rate through a near clip. The rowing machine has a good design and the build is solid which could last for many years. The magnetic resistance has a good range for a number of workouts. It is an excellent choice for fitness freaks and people who work out at home regularly.
This Kettler Stroker looks like a top-of-the-line rowing machine and is a perfect addition to your home gym. It is a well-designed rowing machine that offers a great workout and helps its users in improving their fitness level and cardiovascular health along with strengthening muscles. This rowing machine has made it to one of our top picks of the best rowing machines.
Every single thing about the Kettler Stroker rowing machine is smartly designed and very intelligently implemented. This is a kind of exercise equipment that will last for years and years with no degradation in quality. The performance of this Stroker rowing machine will never disappoint its users.
Pros
The magnetic resistance of this machine provides silence and smoothness while working out
Uses a single-handle design that supports 1 handed rowing operation.
The resistance levels of this machine can be changed easily.
Heart rate measurement can also be done in this rowing machine with the help of a third party ear clip.
The rowing machine also enables to take a pulse recovery fitness test.
The KettlerStroker rowing machine's battery has a recovery program that measures the change in your pulse rate after exercise. It also provides a cardio wellness score of 1 to 6 based on the pulse rate measurement in order to track your fitness.
Verdict
The Kettler Stroker rowing machine is a mid-range rower that packs in a lot of features. It has so much to offer. It is quiet, smooth, and has a very good rowing position, and most of all, it will last for years. It is worth the price to have such a versatile piece of exercise equipment at home that not only saves time from gym visits but also cuts the associated costs while giving the same performance. It is great value for money.
Along with the long warranties, the Kettler USA's customer service is always readily available. This is one of the top brands to consider for quality rowing machines.
Concept2 Model E Indoor Rowing Machine Review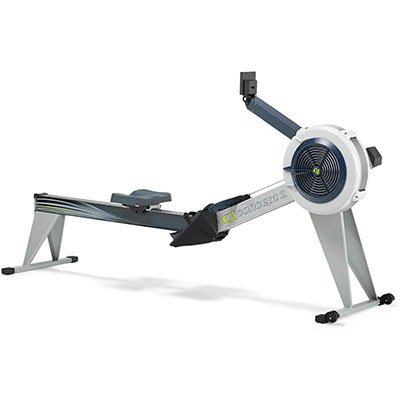 Concept2 presents different kinds of rowing machines through which a great deal of exercise can be enjoyed. The noise generation is minimized through the presence of flywheel. The smooth feel maximized so that you would love to continue your rowing journey for long sessions. The unit comes with Performance Monitor 5 through which highly accurate readings are obtained. The highly calculated approach can be accomplished so that your needs are met without fail.
The data can be compared across every row. There is an adjustable monitor arm, 20" seat height, and nickel-plated chain which will let you make the most of your investment. The rowing machine can be used by many persons as the footrest can be adjusted as per the needs of users. With the availability of an ergonomic handle, there will not be any stress on your body. The cardiovascular workouts can be performed in a systematic way so that weight reduction and muscle gain will happen as per your needs.
The unit can be divided into two pieces for storage purposes. In order to make the unit mobile, castor wheels are provided. The footprint required to use the Concept2 Model E Indoor Rowing Machine is 9 x 4 feet. The capacity of the machine is 500 pounds. The frame comes with a 5-year warranty. The aesthetically pleasing rowing machine will give you great confidence and it will remind you that you are working with a purpose on it. The model is solid as well as sleek.
The frame height is 20 inches. It is coated with a glossy finish. The kit includes a user manual, a quick start guide, and assembly instructions. There is a 2-year limited warranty on parts.
Pros
Can be installed at the fitness center or home gym
Higher frame size so that you can climb up and down very easily
The stability and solid feel are very much enhanced through the one-piece leg design.
Can track useful data such as speed, distance, pace and calories burned in an efficient way with the Performance Monitor 5
Automatic backlit illumination when you start the rowing operation
User-friendly menu
No strain on knees, ankles and other parts of the body
You can manage games, workouts and multiple languages with the help of powerful menu
Heart rate monitoring can be integrated with other devices through the wireless Bluetooth connectivity
Cons
It occupies a large space when assembled. The storage space is less when parts are detached.
Should go through the assembly instructions carefully so that it can be used for your needs without fail
Verdict
Concept2 Model E Indoor Rowing Machine will give you great freedom to do rowing workouts without any burden on your knees and ankles. After performing the operations, you will be able to monitor the number of calories that are burned on a daily basis. Your targets can be reached very efficiently by following the regular workouts as per the plan. Concept2 Model E Indoor Rowing Machine is a high-quality machine that can be deployed at home or gym. If you follow the manufacturer's guidelines, the machine can be used for many years without any issues.
BodyCraft VR500 Rower Review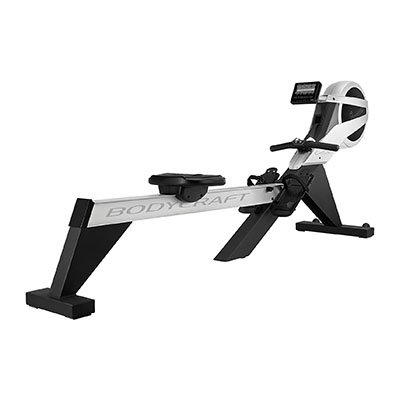 BodyCraft VR500 Commercial Rower offers adjustable resistance. You can have great enjoyment with noise efficient and lightweight rowers. In fact, the best quality workouts are offered through the resistance offered by the rower. There are various kinds of models in the market.
BodyCraft VR500 commercial rower is the best rower with which all your workout needs will be fulfilled without fail. The unit comes with a black mask LCD with LED-backlit monitor. The display and keys are visible so that you can make the most of your time and money. The magnetic resistance is produced through the electronically controlled eddy current. There are remote resistance controls that offer ergonomically correct comfort. For grip, the aluminum handlebar is provided.
The adjustments will be done very quickly through the quick-adjust foot straps. You will also find deluxe adjustable heel rest. The rower can be easily managed with the easy fold and roll system. The heavy-duty I-beam monorail is made with very high strength T13 Aluminum. The product is designed and manufactured after a great deal of research. All the latest technology is incorporated so that commercial rower can be managed very easily.
The company produces the finest rowing simulators in the market. Industrial grade bearings are used so that there will not be any noise during the operation of the rower. The dimensions of BodyCraft VR500 Commercial Rower are 98.5" x 20" x 38.5". The weight of the product is 101 pounds. In order to burn fat in a very efficient way, you should have routine workouts. When you burn the fat, the muscle mass will be enhanced so that there will be higher energy levels. The unnecessary fat will be eliminated from your body so that you will have great satisfaction.
The readings can be observed on the machine and you can program it as per your targets. You can find out the progress on a daily basis. The number of calories burnt can be noticed and you will find weight loss which will be very accurate. The heart rate monitor will work even though you stretch your legs. The soft and durable handlebar will allow you to use the machine as per your convenience and you will perform workouts without fail.
Pros
Ergonomically designed contoured seat
Precision extruded aluminum track
The most seasonal rowing machine available in the market
Clean performance
4 user profiles can be maintained
12 program profiles can be managed very easily (including 4 racing, 4 heart rate, 2 intervals, and 1 custom)
Consistent resistance will be offered throughout strokes
Cons
You should be energetic to use the rowing machine
Large footprint
Verdict
BodyCraft VR500 commercial rower is made with air and magnetic resistance. There are 32 levels of adjustments during rowing from buttons on the handlebar. You will find a very soft, durable, and comfortable handlebar. The operations that can be performed with the rower is very great. You will be able to get the best performance as the magnetic resistance based rowing machines deliver the highest performance on a consistent basis.
You can go for BodyCraft VR500 commercial rower without any hesitation if you are not concerned about the price. The rower will deliver the highest performance in an effortless manner so that fat burning will be efficient. In order to make the most of your time, effort, and money, you can go through the reviews. There is a number of satisfied customers. BodyCraft VR500 commercial rower is meant for commercial operations so that athletes, sportsmen, and various people who are aware of health will use it to build strong muscle. You can purchase the product without any hesitation.
WaterRower Natural Rowing Machine Review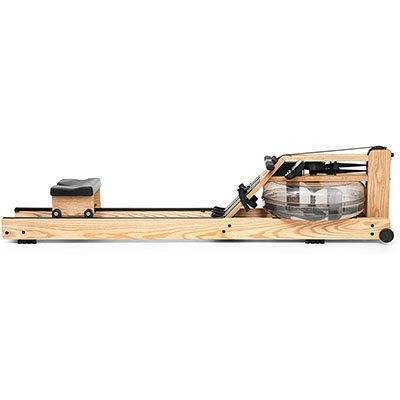 The WaterRower Natural Rowing Machine comes with Series 4 performance meter. Your workout intensity can be tracked very easily. The intensity, stroke rate, heart rate, and many more parameters can be gauged in a very efficient manner. The sound is well absorbed by the honey oak construction which is made up of solid ash and stained honey. The vibration is also arrested in an efficient way.
The dimensions of the WaterRower Natural rowing machine are 84" x 21" x 22". The weight of the unit is 117 pounds. The rowing machine is prepared with solid ash wood. It is finished with the honey oak stain and Danish oil. The dynamics of the boat are emulated in a very efficient way through the water flywheel. You will get great physical and psychological benefits with the workouts done on the rowing machine.
There will not be much stress on your knees when you perform workouts on a well-designed rowing machine. A WaterRower Natural rowing machine will certainly fit into your needs so that you can make the most of your time, effort, and money. Your rowing experience will be taken to the next level with WaterRower. When compared with other products present in the market, the WaterRower Natural rowing machine will deliver very high performance. There will be great change in your physical and mental health. There will not be much noise while operating the machine. Thus, you will be considerate towards children, pets, and neighbors as you for your routine exercising routines.
Pros
Same principles that govern the natural boat will be used
A smooth ride is provided through two paddles which are enclosed in a tank of water
There are no moving parts. Hence, no scope to wear out
comes with a self-regulating resistance system so that motor need is eliminated
More resistance is provided through the increased drag
The resistance will be less intense when you paddle slower
There is no limit to your rowing power as it is dependent on your strength
No jerks are produced during the rowing operations
Cons
The machine is expensive. However, if you are serious about weight reduction and would like to gain muscle mass, you can choose the WaterRower Natural rowing machine.
The monitor can be upgraded to give better results
Verdict
The WaterRower Natural rowing machine is a great natural aid through which weight loss can be attempted in an efficient manner. You can enhance muscle strength so that there will be great change in your body. The muscle burning capacity of the rowing machine is higher than aerobics. As the rowing machine will give you great workout performance without any strain on your knees, ankles, and hips, you can use the same for your benefit without any issues. Hence, you can purchase WaterRower Natural rowing machine so that muscle mass can be enhanced and weight reduction can be achieved.
This natural rowing machine is made up of superfine patented technology. There will not be any noise during the operation. There will not be any jerks that take place through the conventional boating operation. Thus, the drawbacks of the conventional boat riding experience are eliminated and the best features of boat peddling are presented through the WaterRower Natural rowing machine. It is a value for money product through which you can shed weight without any side effects. The muscle mass will be very much enhanced and it is possible to emerge victorious in various competitions.
LifeSpan RW1000 Indoor Rowing Machine Review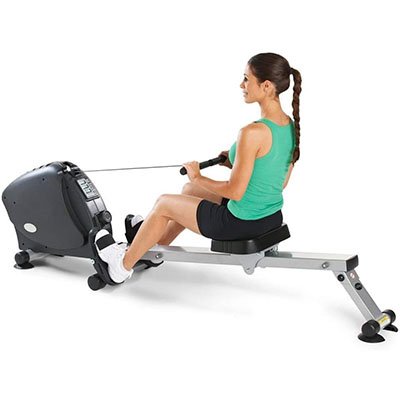 LifeSpan Fitness RW1000 Rowing Machine provides a very smooth rowing experience. This is achieved through the eddy current produced by the drive system. The 16.5 flywheels will accomplish the task so that you can perform cardio workouts very easily. The unit comes with a solid steel frame. The dimensions of the rowing machine after assembly include 90" x 18.5" x 23". The weight capacity of the machine is 300 pounds.
You can monitor your progress on the LCD monitor. The speed, time, distance, calories, and strokes per minute can be calculated very easily so that you can make the most of your time and investment. The non-impact and full-body workout machine will help you shed weight in an efficient manner. The drive system will be very quiet so that there will not be any annoyance to your kids or pets. There are five levels of adjustments. You can make adjustments manually without any issues.
The rowing strap will not be loose as the no-slack retrieval system is employed. The strokes, strokes per minute, and other parameters can be found very easily with the computer monitor. If you would like to save storage space, it can be folded after completing workouts.
LifeSpan Fitness RW1000 Rowing Machine comes with a 5-year warranty on frame, 2-year warranty on parts and one year warranty on labor. The rowing machine has achieved an award for excellence in 2008. The compact design will let you accomplish weight reduction in a systematic way. When you depend upon a reliable product, the weight reduction can be achieved without any complications. You should choose resistance levels as per your weight and capability. By going for lower resistance levels, in the beginning, you can resort to higher resistance levels in a systematic way.
If you cannot afford a very expensive rowing machine, LifeSpan Fitness RW1000 Rowing Machine is the best choice as it has all the features that are present in a high-end version. Your fitness needs will be fulfilled in an efficient way when you have access to high-quality fitness equipment. There are no issues with the rowing machine as most of the customers suggest it to others as well.
Pros
Fives levels of resistance give great versatility
The maximum user weight is 300 pounds
Comes with magnetic brake resistance
No-slack retrieval system
5-pound flywheel for smooth riding
quite drive system through eddy current mechanism
reputed company for innovation, quality and community responsibility
Cons
The pull mechanism can be improved. It is made up of a strap of fabric
The monitor performance can be improved
Verdict
LifeSpan Fitness RW1000 Rowing Machine is great fitness equipment through which you will be able to do various kinds of exercises in an effortless manner. It is a value for money product. LifeSpan Fitness RW1000 Rowing Machine fares well among the competitors. The company manufactures high-quality fitness equipment and it will consider all user issues and they will be addressed in a systematic way in every new launch.
If you go for LifeSpan Fitness RW1000 Rowing Machine, all your needs will be fulfilled in an effortless manner. The weight loss will take place in expected lines. The unit is very compact and it will not occupy much space when it is folded. You should be able to shed weight in a controlled manner without any strain on your body. The resistance levels can be adjusted as per your requirements. The simple digital display will last for a long time so that your progress can be tracked without fail.
FITNESS REALITY 1000 PLUS Bluetooth Magnetic Rowing Rower with Extended Optional Full Body Exercises and MyCloudFitness App Review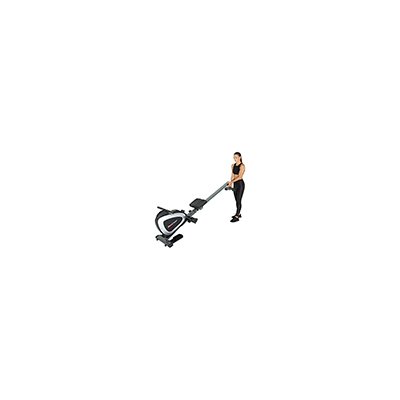 The FITNESS REALITY 1000 Plus is one of the best rowing machines that embraces modern technology, such as Bluetooth and mobile apps. In fact, this is one of the best-priced machines with such features you can get on the market.
When it comes to the nuts and bolts, this machine also has some quite decent features that can match much more expensive models. It has a comfortable, big seat, the handle is well-padded and wide, and the beam is sloped and just the right height for climbing on and off it without any issues. If you are a tall person, you'd be happy to know that this beam is long enough to support users up to 6'6'' in height!
Pros
Affordable
Easy to assemble
Quiet
Great for taller people
Wide seat
14 magnetic resistance levels
Great footrest
Cons
Inaccurate metrics
Rough pull
Hard to fold up
Verdict
The FITNESS REALITY 1000 Plus is a great budget-friendly option for those looking to find a decent rowing machine. While it isn't the most high-quality product out there, it is still durable and sturdy. It is also one of the best options if you are a taller rower.
This rower machine also has a great Bluetooth App that can help you track and save results on your smartphone.
Health Benefits of Rowing Machine
Here are the top 12 health benefits of using a rowing machine listed below.
Easy Aerobic Exercise: Exercise should be fun, ¡t should be easy. That is exactly how exercise is when you use a rowing machine.
For All Age Groups: One rowing machine can be shared with anyone of any age. There is no age barrier to using a rowing machine.
Weight Loss: Rowing exercises are one of the fastest methods of losing weight. One research showed that one set of exercise can kill 600 calories in an hour if done right.
Upper Body Care: If you have fascinations for your upper body, the rowing machine will help you. It builds the top muscles to make you look like a bodybuilder.
Lower Body Workout: Similarly like the Upper body, the lower body workouts are easy to do in a rowing machine and helps you to build critical muscles on thighs and hips.
Convenient: With a rowing machine, you don't have to be on the topwater to have that fun. Rowing machines bring the same fun at your doorstep.
Endurance: These machines make you work hard without letting you know that you are actually working hard. Thus, the exercise is always more effective on a rowing machine.
Affordable: It doesn't cost a fortune to go ahead and buy a rowing machine. They are cheap compared to the benefits that they offer.
Easy to Learn: You don't have to spend a month learning the art of rowing machines. You can learn everything within five minutes. Learning ¡s easy and so is working out on a rowing machine.
Super Fun: 80% of people do not continue the exercise with different exercise machines simply because it is not fun enough. You do not have that problem with a rowing machine. They are great fun!
Conclusion
With all these amazing rowing machines at such reasonable prices, we can now say that you do not need thousands of dollars in order to purchase a good quality rowing machine. You can get a high-intensity full-body workout and all the other benefits of a rowing machine at many affordable prices. So, get one of these great rowers for your home gym and get started with your workout sessions. All the above-mentioned rowing machines are excellent for all your home-fitness needs and what's more, they fit within your budget. These budget rowing machines will suit both your financial and exercise needs alike, giving you a fit body and well-maintained health.
Last Updated: 30th Jan, 2021