Empire Paintball Mini GS Marker Review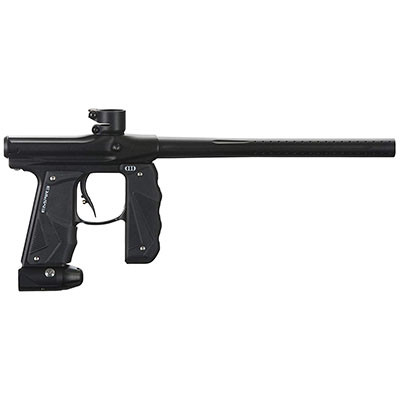 The Empire Invert Mini by Empire is one of the most revolutionary top end performance products designed for speedball. Fast and quiet, it makes taking out your opponents a breeze due to its silent and high rate of fire.
Add to that the three new patented technologies Empire has included in this marker model to give it an edge in performance and you can see why it has a ton of fans.
The Featherweight
The Mini comes in a plush box with foam cut-out, when you pick it up, don't let the name fool you. It may be called the mini, and it's less than 2 pounds of weight, but that doesn't mean it's too small for normal sized people. It's just lighter, faster, quitter, and shoots better. The finish of the gun is soft, powdered metal and makes it feel like sanded wood, a quality finish to prevent scratches.
Also, take notice of how the gas line isn't visible. That's because it's all contained in the internal housing. That means no more damaged or dirty gas lines to fumble around with. You can also carry the entire set with the hard carrying case which is lockable. Also, unlike other brands, it has a clamp on feed-neck system for the hopper or loader system.
Fire Class
The Empire Invert Mini comes with a Cocker threads, so keep that in mind if you want to replace the 12 inch barrel. It also uses a rubber tipped bolt that is supposedly easier on paintballs and prevent breakage. The construction of the Empire Axe Mini is also great here – the foregrip is where all the electronics are contained, and the mechanical bolt firing mechanism is at the back, so no issues right there.
This is great, especially since chopped balls can clog or damage the electrical solenoid circuit board system, leading to costly repairs and maintenance, or may even need a replacement, all of which will add to the cost of ownership in the long run.
The Empire Axe Mini has a fire rate capped at 20 balls per second. That's a mid-range fire rate for a mid-range priced marker for this model. Keep in mind that this is for speedball, and with this fire rate, usually most rental speedball fields will allow the marker to be used. Higher fire rates or pressure may not be allowed due to safety reasons. There are several fire rates available on the Empire Invert Mini, the NXL, PSP, NPPL and Millennium fire modes, and the standard semi-auto and full auto.
NXL fire mode is when the first three trigger pulls result in semi auto shots, but on the fourth trigger pull onwards, the fire rate increases and is capped at 15 bps. To maintain this fire rate, the user must fire at a minimum fire rate of 5 balls per second.
PSP is the same as NXL fire mode, except that on the fourth trigger pull, if the trigger is held down, the fire mode goes fully automatic, with the fire rate capped at 15 balls per second. Millennium mode is similar to NXL mode, except that to maintain full auto mode, the fire rate must be a minimum of 7.5 balls per second, and maximum fire rate is also capped at 15 balls per second.
The Lowdown
The Empire Invert Mini, while a great marker, has several points that could be improved upon. Some users may not see the need, but for a marker in this mid price range we'd like to see some flexibility and improvements.
The feedneck clamp to the hopper, needs a thumb screw for easier adjustments. While we understand that this is a stock clamp, it could be improved as making the tension for the clamp adjustable would be very useful for keeping the hopper/loader in place.
The trigger pull is not adjustable – when compared to other brands, this is surprising, since for such a great marker, all the hardware and software seems to be in place, except for this small but important part of the user experience. While we can't have it all, we're surprised this was left out.
Grips – while some people find them extremely to their liking, the grips were not swappable, possibly due to the interior solenoid being housed near to it.The firing modes are another issue, they're not that easy to access or get used to, but for a great performance marker like this a little practice should do the trick.
Last Updated: 7th Sep, 2019