Spyder Fenix Electronic Paintball Marker Review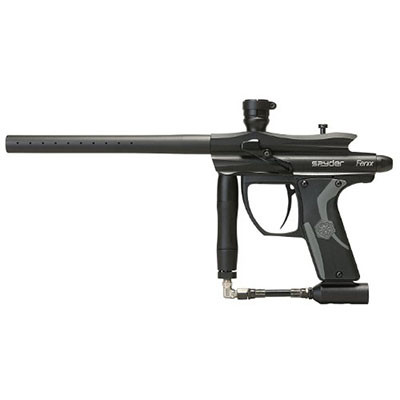 The Spyder Fenix makes this list not just for its affordability, but also for its ease of use and intuitive handling, along with its great looks and well-balanced design.
For a marker within such a price range, and being electro pneumatic, it has few competitors that look or handle as well as it does. However, it may be a bit loud and customization of this marker may not be that easy for everyone.
The Spyder Fenix out of the box looks fantastic, with its anodized matte finish and aluminum construction – it not just looks good, it's sturdy. The aluminum construction cuts down on weight without sacrificing any durability, and makes it almost scratchproof. Very useful, especially in woodsball, when diving for cover, you don't want to scratch and damage your brand new marker.
The matte finish also helps – it doesn't attract a lot of attention, and especially at night, as you don't want to be spotted so easily and a shiny marker can give away your position.
Bells and Whistles!
The Spyder Fenix comes with a regulator. While this is a little known item of importance, it converts the pressure in your air tank to a pressure acceptable for firing, making sure that the amount of pressure is constant. This in turn helps with the consistency of your accuracy in your shots. Although the regulator is a stock regulator, its still a good add on.
Accuracy is almost not an issue with this model, although it is a good idea to change the stock barrel. The fire modes are available in 4 configurations, semi-auto, 3 shot, 6 shot, and full auto. The selection of the firing modes is available via the CAMD display, and even at night, its easily visible and easy to change it quickly.
Also another great plus point is the illuminated safety, makes it easy together with the CAMD to operate at night. This model has a fire rate capped at 14 balls per second, and while not the fastest, is great, especially for this price range. This also makes a louder shot than usual so newer players need to factor this into planning their playstyle, especially in night games.
The trigger is another thing to take note off, especially if as a beginner, this option is unknown usually. This marker allows for customization of the trigger pull distance which is a handy option. This really depends on player preference but most players will use this.
Performance Pros and Cons
Recoil is there, but for this price range, it is almost unmatched. The recoil is low, but it will probably not affect performance, even for beginners. The weight of this model comes in at 4.4 pounds, and while not the lightest and some players may find it heavy, is good enough for speedball and woodsball. The weight however, adds to the overall feel of the sturdiness of the construction, and keep in mind it is well balanced so it should not be so much of an issue.
The Spyder Fenix is available for use with both Highly Pressurized air, HPA, or C02. That's good, since some people prefer HPA for its cost effectiveness, and some rental paintball fills refill those for free, while others prefer C02. Flexibility in both is always a good thing, although most people usually stick with one.
While some electro-pneumatic markers are not customizable or hard to customize, this is not the case with the Spyder Fenix. Although some players and beginners may find it hard to open and upgrade, when familiar, the amount of upgrades available will make this model worth every penny spent. On top of that, for field stripping and cleaning, which is an especially important feature, as there is no point in not maintaining a marker, is very easy here – another plus point for beginners and intermediate players. Just pull a pin, and it's good to go.
A sticking point however, for most people are the grips. The stock grips that come with the marker, although upgradeable are not the best. It is recommended to upgrade the grips as although they suffice in the short term aren't going to last long.
All in all, the Spyder Fenix punches hard for its weight class and price range, and is a great electro-pneumatic marker for intermediate and beginner paintball players. It's affordable, sturdy, accurate, and easy to use. A few upgrades can bring it a long way and much further, for a much lesser price and risk compared to top end paintball markers.
Last Updated: 7th Sep, 2019