Introduction
If you are in trouble of walking reasonable distances and there is little time your family members can support you to move, you might consider buying a mobility scooter. A mobility scooter is a kind of wheelchair with electric motors that help you to move easier. Sometimes, it is called an electric scooter too.
Before jumping to choose any mobility scooter, you should think ahead of several factors about your health status as well as the scooter's features and benefits, so you can select the best model that fits your situation.
In this guide, we will help you go through these factors so that you can have better buying decisions after all.
What to Look for When Choosing a Mobility Scooter
What type of mobility scooter you should choose is dependent on your demands and living conditions; that's why you need to consider essential factors that affect your usage.
You have limited space: When you need a mobility scooter for using indoor mostly, or when your door width is below 1 meter, then you should choose a model that is compact, lightweight, and easy for maneuvering around. Because you are using indoor most of the time, you do not need a scooter with high speed or long drive range (those model for using on-road and they are more expensive). Last but not least, pay attention to the clearance (the distance from the floor to the lowest point of the scooter, the higher, the better).
You need to travel frequently: When you need a mobility scooter for traveling, especially to travel by plane, you should choose a mobility scooter that is lightweight, foldable, and has a battery that complies to the airline regulation (not all scooter's battery can be carried on air). Those mobility scooters for air traveling is a bit expensive compared to regular models. In case you are in a tight budget and you do not travel by airplane, then you can choose a scooter that is lightweight, foldable (or detachable), which can fit in a boot-car. This type of scooter is cheaper than those for air traveler, so that you can save up to $1000.
When you need a mobility scooter for run errands and go to the grocery: There are quite many mobility scooters that can perform very well when running both indoor and outdoor. When choosing a scooter for this purpose, you should select the unit which has great wheels so you won't feel bumpy when running on rough terrains (ideally, it should have a suspension coil). Besides, the scooter with the basket will be an advantage so you can store things easily (some types of scooters allow you to install rear basket, front basket, and back basket). Last but not least, because you use the scooter on the road, therefore you need to choose a scooter which has an extended battery use and higher max speed so you won't be afraid the battery shortage when you are on the road
When you are a big person: Every mobility scooter will have its maximal weight support, ranging from 265 lbs to 350 lbs., therefore; if you are a big person, you need a scooter that can support your weight and your belongings. For example, if you are 300 lbs., you need a scooter that can support up to 325 lbs.
When you need to drive for long-range: A standard mobility scooter can support a max driving range of roughly 10-15km; however, certain types can go up to 50 km per single charge. If you need to drive for long-distance, then consider choosing the scooter with the highest max speed.
Best Mobility Scooter Reviews
Drive Medical Spitfire Scout 4 Compact Travel Scooter Review
Recommended for daily use indoor, outdoor even on rough terrain.
The Scout Compact Travel Power Scooter, 4 Wheel from Drive Medical, is a compact, lightweight, and easy-to-dissemble mobility scooter. The scooter is steady for running in rough road conditions. It is detachable into five pieces so you can bring it when traveling too. There are a lot of features that will maximize your comfort levels, such as padded swivel seat, backrest and armrests, anti-tip wheels, and stable steering column in a delta shape. Most users choose this four-wheel travel scooter because it is affordable and very comfortable when using.
Pros
It has most of the accessories, such as rear baskets, cup holders.
The battery can be upgraded to 20 amps.; this is a great plus point because not many models can do that
It can be used for a long time before re-charging, quiet when running, comfortable when sitting, and steady on rough terrain.
Cons
Some users said it 94 pounds weight is a bit heavy, but actually, it is a lightweight model.
Verdict
The Scout Compact Travel Power Scooter is a great mobility scooter at the bargain price (at $750 range ). The scooter delivers nonparallel comfortability when using and steady even on a rough road or snowy condition. It is suitable for people who need to use daily for going outdoor to groceries or parks on their own and casual travel trips.
Pride Mobility S74 Go-Go Sport 4-Wheel Electric Mobility Scooter For Adults Review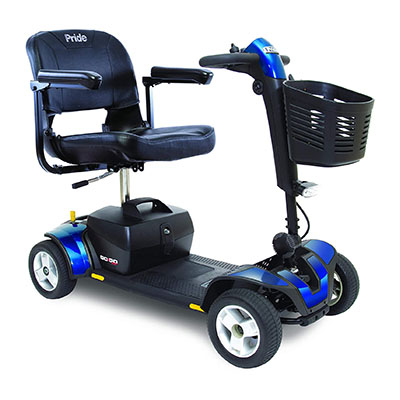 An affordable option for a bigger person
The Pride Mobility Go-Go Sport 4-wheel Electric Travel Scooter Heavy Duty S74 is a lightweight mobility scooter for a large person. While most of the four-wheel scooters can support 300 lbs. max, this four-wheel model can carry a person with maximal 325-lbs. Similar to other top-rated four-wheel models. It is designed with great features such as detachable into five pieces, adjustable upholstered seat, backrest, and armrests to let users feel comfortable, delta tiller for easy control, and a lighting system included. So you can run when it is dark outside too.
Moreover, this model comes with a lot of accessories, so you do not need to buy separately. Rating 5.0/5.0 from users claiming it is the most satisfied four-wheel model. One downside is the price (above $1000), but it is worth the quality of the device.
Pros
Lightweight but can support a large person.
Luxurious materials for seating
A lot of accessories are included.
Cons
Verdict
Pride Mobility Go-Go Sport 4-wheel Electric Travel Scooter Heavy Duty S74 is a perfect four-wheel mobility scooter when money is not of your concerns. The model is more luxurious than Scout Compact Travel Power Scooter, 4 Wheel, and it can support a larger person.
Drive Medical Spitfire Scout 3 Compact Travel Scooter Review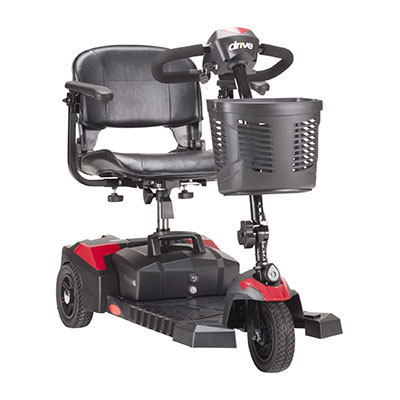 Recommended for daily use indoor, local outdoor travel, durable and steady, most affordable.
The Scout Compact Travel Power Scooter 3 Wheel is another option that is also one of the most excellent mobility scooters, which is designed with three wheels to be more compact and portable for using indoor/outdoor. The main difference between the four-wheel model is that it is smaller in size, lighter in weight. This three-wheel model is aimed for use on typical terrains while its counterpart can be used on rough terrain too. Therefore, consider the geography of your local road, the three-wheel model can be a better version.
Pros
Small, compact, and durable, which is very significant for daily use and have a greater portability
Simple to use, a good battery, and extended warranty time
Cons
It is not for rough terrain use. Also, the maximal speed is only 4.25 miles per hour.
Verdict
The Scout Compact Travel Power Scooter three wheels are the best value mobility scooter for daily travel, and its portability is highly appreciated when traveling. It is lightweight, compact, and easy to use, which is highly recommended as a device for everyday mobility. For those who want to travel, this Scout Compact Travel Power Scooter three wheels gives more advantages than the four wheels version.
E-Wheels EW-36 Full-Sized Scooter 3-Wheel Review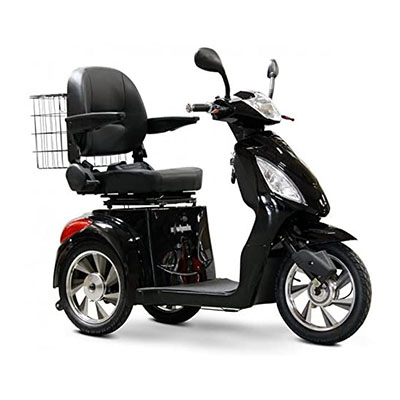 It is recommended for a long drive (maximal 45 miles run per one charging time).
The EW-36 Full-Sized Scooter – 3-Wheel is an excellent option for long drive range as its maximum drive range is up to 45 miles in a single charge. If you are aiming for a less charging model, robust performance, and maximal comfortability with a large padded seat, armrests, and more, the EW-36 Full-Sized Scooter – 3-Wheel is the best one. However, because it is a heavy-duty mobility scooter, you should bear in mind its weight is 200 pounds.
Pros
Drive range (45 miles) in a single charge
Comfortable padded seat, large basket, rear shock absorbers
Best for a large person (it can support up to 350 lbs)
Ready to use as it is fully assembled
Anti-theft function.
Cons
Not for traveling
Expensive
Verdict
The EW-36 delivers a more robust, heavy-duty performance. If you are about to travel for long-distance and you want a faster device, the EW-36 a better choice.
Easy Travel Elite Folding Lightweight Travel Electric Mobility Scooter Review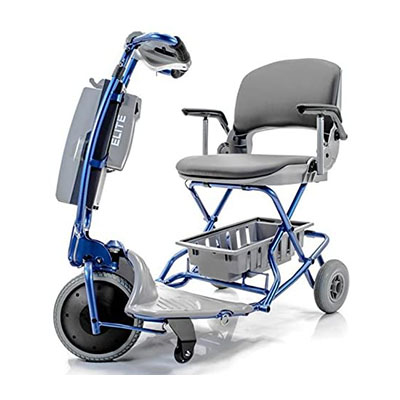 It is recommended for travel and a weak person, extremely lightweight and versatile, fit for boot car.
The unique design of the Easy Travel Elite Folding Lightweight Travel Electric Mobility Scooter makes this model the greatest one for traveling. Instead of placing the motor under the seat like most of the scooter, this device has an in-wheel-motor installment. As a result, the steering control is easier to use, save more spaces, and lighter in weight compared to all other boot mobility scooter. Thanks to its uniqueness, the Easy Travel Elite Folding Lightweight Travel Electric Mobility Scooter has a five-star winning award in Excellent Design. You can fold the device and put it into the luggage quickly.
Pros
Smartest design with most excellent portability, design
Steady performance
Very lightweight and fit to a luggage
Heavy-duty nylon travel cover included
Cons
There was no complaint about this mobility scooter in any aspect today. The only issue that has been covered so far is that there was only one customer who bought the device by a second-line agency, and she gets a bit of trouble working with them. So, please check accordingly to by directly from the first-line manufacturer (Luggie is the manufacturer name, to be precise).
Verdict
The Easy Travel Elite Folding Lightweight Travel Electric Mobility Scooter is much more an "elite" scooter device that is easy to use and to take part in and put back. It is the most excellent option if you want to bring a mobility scooter when traveling.
Factors You Should Consider Before Buying a Mobility Scooter
A mobility scooter has a lot of variations in size, type, motor power, speed, collateral support, price, weight, and more. The best mobility scooter does not need to be expensive, but it has to give the utmost needs to your situation. Now let's go through them one by one.
Your mobility
It means your ability to move, such as walking, sitting, standing, adjusting your body from other places to the mobility scooter, and how you feel when sitting on the scooter (is it comfortable or not).
Your ability to move or walk
This consideration implies how long you can walk or stand on your own. Some persons can walk for short distances without feeling tired, but others have a less tolerance level.
Your ability to stay balanced
It would help if you counted how easy you can stay steady and in a good position when using the scooter.
Your weight
If you have a large-weight, you should aim to choose the mobility which is designed for a large person to ensure you are safe when using it. Usually, the mobility scooter parameters will show the maximal weight it can support in the machine's description.
Your perception ability
It can be unsafe if you lose sight or perception. In this case, using a mobility scooter alone is dangerous, and I highly recommend you should look for another alternative. These internal factors are significant contributions to the choice of the best mobility scooter, so you need to think about them throughout, not only at the current stage but in later one up to five years later. Because a mobility scooter is not a cheap vehicle, you should plan if your health is on deteriorating progress.
Dementia and the use of mobility scooter
Dementia is a kind of brain illness that will progress persistently year by year, causing impairments in thinking, remembering ability, and losing sight. For people with dementia at the first stage, using mobility is possible. However, when the illness gets worse, especially when they are getting confused about using the scooter's functions, I advise stopping to use the vehicle.
Sight impairment and the use of mobility scooter
To a person with bad eyesight, you should take the minimal visual test. If you are about 6/24, it is ok to use the mobility scooter. Although there are no regulation requirements about eyesight ability, you should assure to be able to judge the spaces, see the roads, pavements, obstacles, pedestrians, and so on.
Your mobility and the use of mobility scooter
Nowadays, there are a lot of changes to help you to transfer from and out of a mobility scooter easier. If your mobility level is low, you should check the scooter with the below functions:
Swivel seat: some mobility scooters have swivel seats installed within so that you can transfer very quickly. (Otherwise, you can order a swivel seat separately if your model does not have)
Armrest: some models have the fold-able armrests, which allows better support when you transfer
Movable tiller: the tiller (control column) can move forwards, giving you more spaces when getting in.
Your comfortability when using the scooter
Your comfortability when using the mobility scooter is much dependent on the seated position and how you balance yourself on it. Several features support your comfort, such as:
Contoured and padded on seat and backrest
Adjustable seat height and backrest
Space of the seat should be large enough even when you wear thick clothing for winter but not too large, causing you to sway when seating.
Where you want to travel with the mobility scooter
This consideration is also another critical factor. This consideration will define what type of scooter you need. You can ask yourself.
You want to use the mobility scooter indoor or outdoor.
You want to travel with the mobility scooter for a short distance or a long trip.
You travel area situation (pavements, curbs)
Classes of Mobility Scooters
Mobility scooters are divided into two types (legal regulations put them into class 2 and class 3 of invalid carriage), which are different in weight and speed. Generally speaking, Class 2 mobility scooters are smaller, lightweight for indoor/ outdoor use, but the pace is slower than Class 3.
Main Features of Class 2 Mobility Scooters
Smaller in size
Lightweight
Less powerful motor (slow speed)
For using indoor/ outdoor
Can be foldable
Can not be used on a road
Have mode for climbing curbs (outdoor models)
The maximum speed is about 4 miles per hour.
They can have three wheels or four wheels.
Notably, the use of Class 2 mobility scooters doe not require to register a legal license with the authorities.
Main Features of Class 3 Mobility Scooters
Bigger in size
Heavyweight
More powerful motor (faster when moving)
Can only be used for outdoor
Can be used on a road
Can travel for a long-trip
Can not be folded
The maximum speed is 8 miles per hour on-road and 4 miles per hour off-road.
Must register a legal driving license
Last Updated: 12th Dec, 2020