Introduction
These days, parents are more and more worried about their kids' development, so that they always try to discover many interesting and helpful ways of entertainment for their children. As a result, the invention of a balance bike will not disappoint you as you can teach your child to know a new skill and even play with them afterward. By doing this, you can establish a close-knit relationship with your kid while they are young. Hence, I am going to introduce you to a list of top 10 best kids' balance bikes that you can consider for your beloved son or daughter. You could also check out this post if you are also considering a kick scooter for your toddler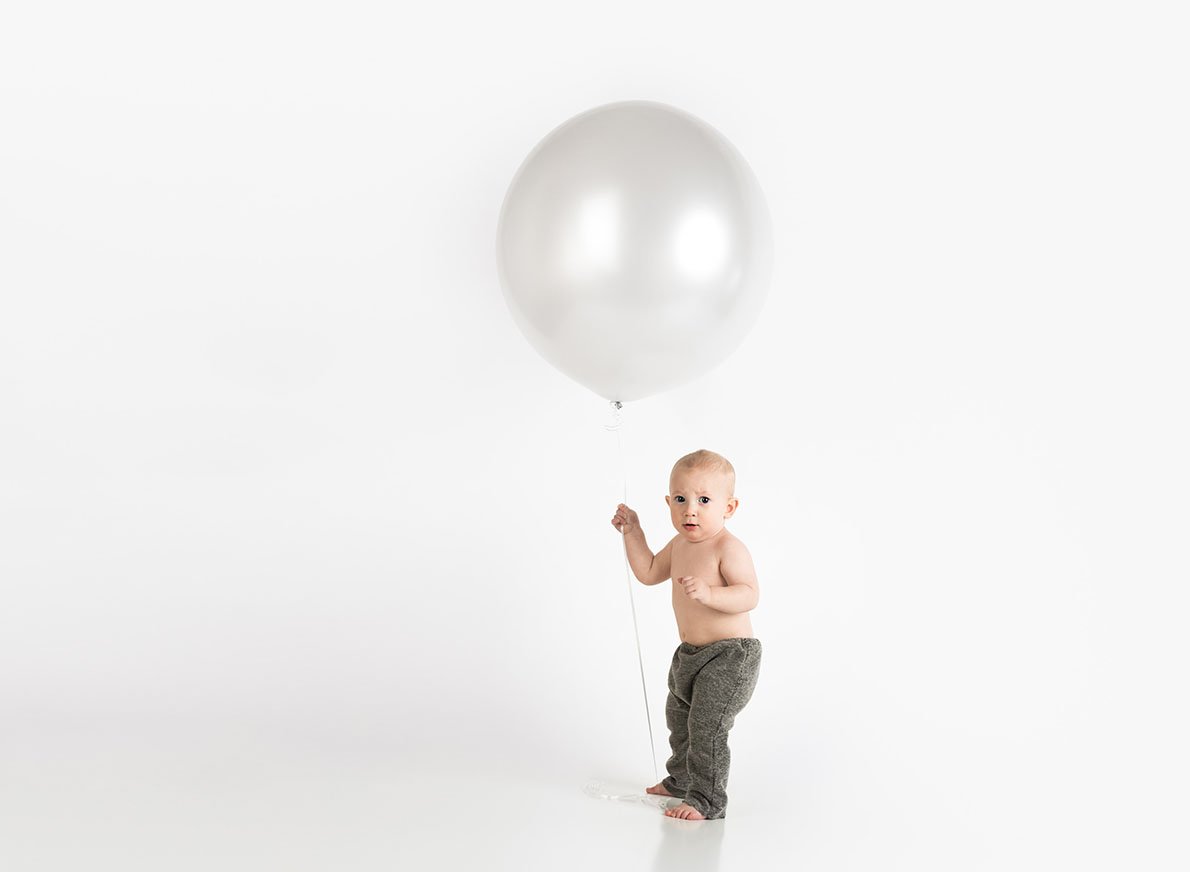 What Is a Balance Bike?
A balance bike is considered as a small bike for toddlers which has no pedals. However, it is equipped with rather fat pneumatic tires. Most bikes come with only one brake, although many toddlers will slow down using their feet at first. When your child is a bit bigger, you can remove the pedals from their normal bike and transform it into a balance bike.
Why Should You Buy a Balance Bike?
In general, there are many reasons to choose a balance bike rather than one with stabilizers or a trike as your child's first bike. Most cycle instructors agree that it is best to learn how to balance first before trying to pedal.
In particular, your child will have more control over their balance bike, then learn to steer and slow down properly. Once they have mastered lifting their feet, you can help them to steer the bike by getting them to lean as well as move the handlebar gently.
You need to notice that a standard retail bike normally weighs 20 pounds or more while most balance bikes weigh less than 12 pounds and often less than 8. It means that your son or daughter will be able to easily maneuver their balance bike, which is important for both the process of learning balance and confidence level.
Kids are often afraid of a big and heavy pedal bike; however, their anxiety is significantly reduced with the balance bike because they can easily control this one. Many people criticize the high price on some models of the balance bike, but the majority are quite affordable for every family.
For every parent, it is not a waste to purchase a bicycle for your child that is manufactured for the purpose of teaching them to keep the balance and exercise regularly. Furthermore, balance bikes are usually made from high-quality materials; therefore, they are very lightweight and durable.
However, there is a drawback that many critics point out about kids' balance bikes. If these bikes are so good at teaching balance, the kids will not need them for a long time. It is true that the kids will learn to balance very quickly on a balance bike, but surprisingly, most kids will not immediately abandon their balance bike after mastering balance.
Kids find propelling themselves along with their feet a perfectly suitable way to get around the neighborhood. They are likely to stick with the balance bike even after they are ready to ride on a pedal bike as it is easy to get around on a balance bike. The bike is so light, which makes the child easy to push around on grass or uphill.
Most importantly, the balance bikes can easily catch the attention of any parents since they will fit into any car boot compared to normal bikes with pedals. For busy mom and dad, buying a balance bike for your children seems to be important and beneficial for your kids to learn how to play the great outdoor activities and enjoy their time outside as well. Simultaneously, the parents can have a break while inside, do the housework or go outside and enjoy valuable time with your children.
Riding a bike is a very special activity that most children will enjoy, and balance bikes offer the opportunity for younger children to get on a bike and to gain their balance. All of these will help them prepare for when they want to ride a proper bike with pedals.
How to Teach Your Child to Ride the Balance Bike
A balance bike is ideal for any young toddlers because they help them learn their balance, reinforce their coordination, and also give them confidence when they need to move onto a pedal bike situation. While they may initially be unsteady on the balance bike, I am sure that it does not take long for them to learn the principles of using their feet as well as waiting to balance themselves.
The way to get your child to be a confident cyclist is to start early. This means that if they are happy with walking and running, then from the age of about two, they can start playing on a balance bike for sure. Here are some tips that you can consider when teaching your child to get started with their balance bike.
Wearing a helmet for your child
If you choose for your child to wear a helmet, make sure that it is on properly. The helmet needs to cover the child's forehead, and the strap should be tight. This will protect your kid's head in case there are any accidents that happened during their biking practice.
Checking the bike
Then, you should check the whole bike properly for your child since they will get on the bike once you give them without noticing anything. For instance, you have to ensure that the tire should be pumped up, and the seat should not be wobbly. Moreover, do not forget to check the brake to ensure that it should work.
After that, you can teach your child to lean the bike towards them and then swing their leg over the top. Both of their feet should be flat on the ground as well as both of their hands should be on the handlebars. Make sure that the child can reach the brake comfortably.
Teaching the child to ride the bike
Firstly, you can tell them to walk slowly with the bike, and when they want to stop, they can stop walking. They should walk for a while and push on the ground using their feet. Remember to look where they are going instead of looking at their feet.
Your child needs to sit up and look straight ahead. You need to notice that it helps to have someone up ahead to look at since toddlers are easily distracted. By doing this many times, your child will naturally pick up speed. Whenever they want to slow down, just put their feet down.
As your child gains confidence, try to encourage longer steps by saying, "push, push, glide." You should choose a very gentle slope and then encourage them to lift their feet off the ground. Practice makes perfect so that you should be patient with your child, tell them to try this again and again.
After this stage, you can show them how to squeeze the brake gently, play simple games such as shouting to stop together with go slow and fast to help keep this activity fun. You need always to stop before your child is tired, bored, or hungry. A toddler can only cope with about half an hour of cycling practice.
Normally, when your child is around four years old and has been regularly using a balance bike, you will find the transition to ride a pedal bike without stabilizers fairly straightforward since they have already learned to balance, steer and brake at the same time.
Brands
Our Top Best Kids' Balance Bikes
Strider – 12 Sport Balance Bike, Ages 18 Months to 5 Years
First of all, I am going to introduce a balance bike from Strider, which is quite suitable for kids from 18 months to 5 years old. You cannot ignore the simple but elegant design of this wonderful bike when you have the first look.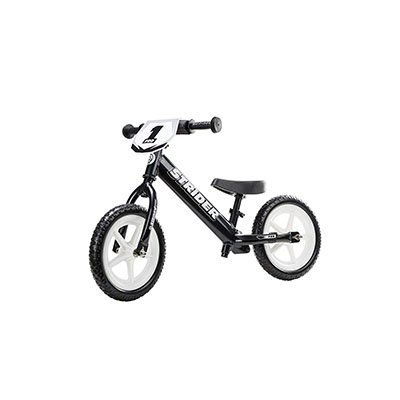 Moreover, it has multiple colors that can satisfy both your son and your daughter. Furthermore, Strider focuses not only on the appearance but also on the quality of this balance bike. You can see that it is made of flat-free EVA polymer tires, very light wheels as well as the good footrest.
Besides, you can adjust the seat and handlebars according to your child's posture. Also, you can perform the height adjustment by using the additional seat post. Thanks to the padded seat, you should not worry about your child's comfort when sitting in this balance bike for long. Therefore, with this incredible bike, your kid can have the best experience of balance before using the pedal bikes at an older age.
Strider always provides the best service for every customer without charging more costs. Last but not least, this brand offers two years of warranty, so that you can feel more secure to buy this gift for your baby.
Pros:
Simply look and high-quality materials.
2-year warranty
Equipped with tool-free adjustments
Cons:
The wheels are hard to replace in case there are any problems.
Quite expensive when compared with the other brands
KaZAM v2e No Pedal Balance Bike
The second place among the best balance bike is KaZAM v2e No Pedal. At first sight, you can notice that the footrest design is straightforward and stable for young kids. This type of design will be able to improve the balance ability as well as enhance the way to seek for the gravity center.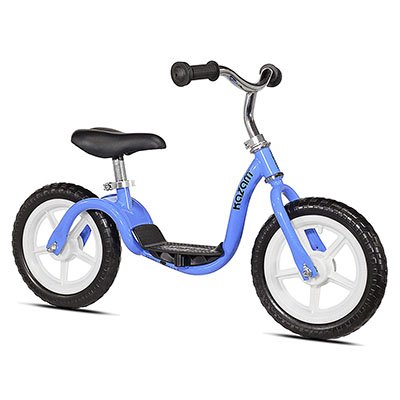 Moreover, you can easily adjust the seat and handlebars for your child in case they are not comfortable with the current situation. In addition, the KaZAM model is recommended for kids who are up to 5 years old.
Also, you can use this bike for a long period of time since the materials are quite good, including the puncture-resistant tires. All of these fantastic points will definitely trigger your passion for buying this good for your precious child. Bringing this model back home will make your kids more confident with outdoor activities and gain more confidence with the society.
Pros:
The footrest is stable and easy to step in.
Great materials
Adjustable seat and handlebars
Cons:
Not recommended for small and young kids
Balance Bike for Kids – 2, 3 & 4-Year-Olds – Lightweight Banana Bike LT
Going to the next product, I am sure that you cannot neglect the fantastic features of Lightweight Banana Bike LT. This item is improved with 2017 design with a number of amazing features that you cannot predict. From the bearings, the seat, the headset, the bracket to the handlebars, all of them are fully updated and easy to use.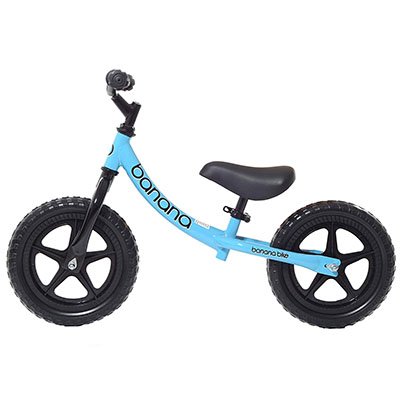 Undoubtedly, Lightweight Banana Bike LT is an ideal bike for little kids since they can get used to controlling their bodies to have the balance day by day. For a short period, your child will absolutely feel relaxed and exciting about their first biking journey. The plus point of this bike is that it is very light and easy to handle so that both boys and girls can travel on this item for sure.
Furthermore, you will not regret once purchasing this bike for your kids since it is better than the pedal bikes. In addition, you do not need to inflate the tires since they are produced with EVA Foam. As a consequence, Lightweight Banana Bike LT will become one of the wonderful presents for your child on their birthday or Christmas occasion.
Pros:
Lightweight and flexible for either boys or girls
Updated model with more amazing features
Nice design and color choice
Cons:
The wheel axle is not good.
Poor bearing arrangement
Strider – 12 Classic Balance Bike, Ages 18 Months to 3 Years
Next, I am going to show you another product among the best balance bike, which is called Strider – 12 Classic. Firstly, you will be strongly impressed by the classic design and decoration since it is straightforward and pretty. If you are looking for a safe and beneficial model, this model should be on your mind at once.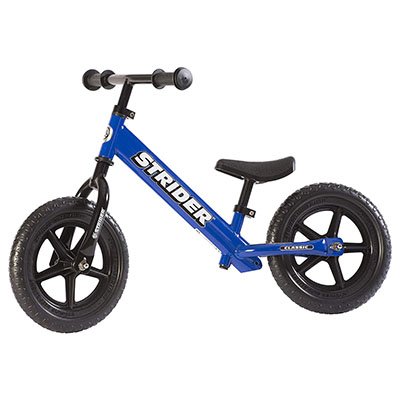 Strider's goal is to provide the most effective product for the customers so that their balance bikes will give your child the best transition from getting the balance to using the pedal bikes in the future. Additionally, this model is manufactured with a tailored seat for toddlers, which is the special feature of the Classics when comparing with the others in the same brand. You can have a mini-saddle seat to fit your child's hip perfectly if he or she is about 18 to 36 months old.
Forgetting about the fear of riding a bike and falling down, your kid needs the real experience in order to get accustomed to the whole new world. Thus, make sure that Strider – 12 Classic will be on your list when your child is ready to have fun.
Pros:
Offer the tailored seat for 18 to 36-month-old toddlers.
Adjust the seat height with the seat post
Classics model with cute colors
Cons:
Schwinn Balance Bike, 12-Inch
The fifth-place that we need to mention among the best balance bike will be Schwinn Balance Bike, 12-Inch. This product is unique to others since it is designed with air tires and tubes, which can reduce the weight of the whole bike. Therefore, your child can easily carry or handle this bike around the neighborhood or going up hills without any difficulties.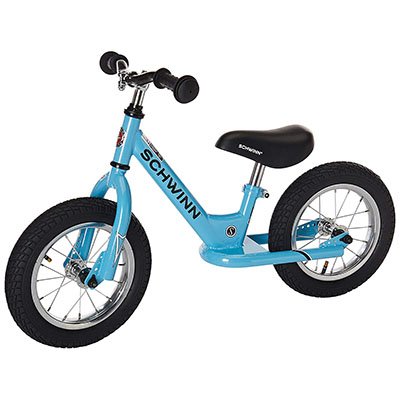 Besides, you can see the floor frame that can help your kids keep the balance safely when playing outdoor. If your kids are little, you can adjust the seat height so as to make them sit the most comfortable during the practice time. When they get a bit bigger, you can fix the height again, so that the kids can have the most comfort.
By doing this, your child can maintain their confidence as well as get to know how to balance sooner. Lastly, the bearing is well made with high-quality components and lasts very long. As a result, it is very worth purchasing this model as soon as possible for your kids.
Pros:
Good-quality frame and bearing
Air tires
The height is easy to adjust.
Cons:
The paint is easy to scratch when using for a while
Chicco Red Bullet Balance Training Bike
Going the next one, we are going to talk about Chicco Red Bullet Balance Training Bike, whose looking is very cool and fashionable for every kid regardless of their gender. You can definitely teach your child how to gain a strong balance with this incredible item. Moreover, the lightweight frame will inspire your kids more and more during their bike practice.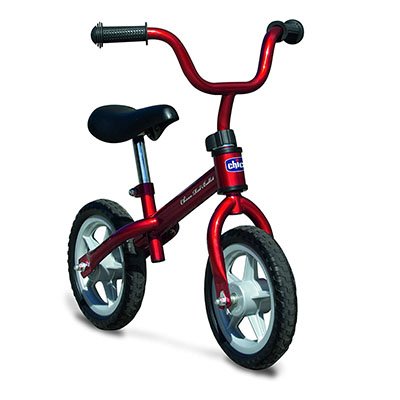 Furthermore, you can adjust the frame according to your kids' size so as to maximize their satisfaction. By doing this, you can help your baby to enjoy their outdoor time and then feel more comfortable with healthy activities in the long run.
Besides, the tires are pretty soft, so that it will not increase the weight for the whole bicycle and give you smooth rides. Hence, you can feel secure that your child will not ride a heavy bike for a while. However, you need to be careful since this product is suggested for those kids who are over three years old. Thus, if your child is in this age range, you can buy the Chicco Red Bullet Balance Training Bike for them.
Pros:
Lightweight frame
Cool design and great color
Cons:
Not suitable for kids under three years old
TheCroco – LIGHTEST Aluminum Balance Bike, (4.3 lbs), Ages 1.5 to 5 Years
Next, we are going to describe the lightest aluminum balance bike from TheCroco. Seeing from the name, you can imagine that this bike is super lightweight and portable since its frame is made of aluminum. As a consequence, this model will be much lighter than the others in the market nowadays. Also, even the smallest riders can have such control when riding this bike as well as improving their balance skill gradually.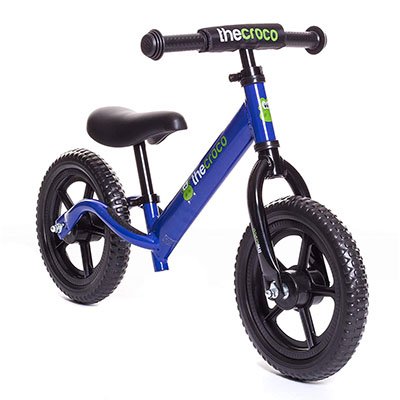 The seat can be adjusted for kids anytime, so you can make them as comfortable as possible. In case your children are very excited to ride this bike, the padded seat and handlebar can absolutely provide the most satisfaction in a long time.
As you may know, rubber tires seem to make the balance bike heavier, so that TheCroco tries to avoid this drawback by producing this item with EVA polymer tires. In addition, your child's ankles will be strongly protected with soft handgrips even when they have some accidents by mistakes.
Pros:
Ultralight with aluminum materials
Safe for ankle strikes of your children
Easy to assembly
Cons:
The seat angle is not adjustable.
Balance Bike for Kids – 2, 3 & 4-Year-Olds – Lightweight Banana Bike LT
I have to say that Lightweight Banana Bike LT will never disappoint us with this new version. If your child is between 2 and 4 years old, this model has gained a reputation for being one of the best bikes for them with no doubt. You may remember that we have gone through this brand before, but this time, we will tell you more about this pink model, which is chosen for daughter.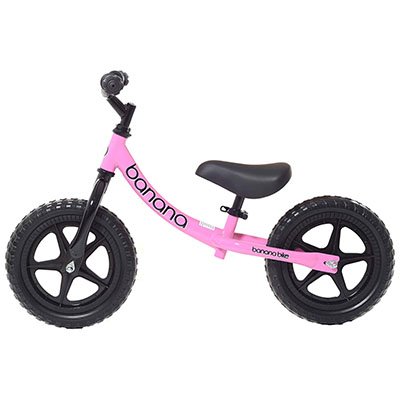 With the original banana shape, I am sure that your kids will become greatly immersed when first looking at this model. Moreover, the color is very bright and appealing, so that your children will be eager to use this bike for a long time even when they can change to a pedal bike.
As a result, you can buy this product and give it to your daughter on her birthday. They will certainly appreciate your love and start their biking journey right away.
Pros:
Durable and high quality
Nice color for girls
Cons:
The axle is not proper.
Poor bearing arrangement
Cruzee UltraLite Balance Bike (4.4 lbs) for Ages 1.5 to 5 Years
Cruzee UltraLite Balance Bike is very famous for providing a variety of great colors to choose from while shopping. Being well-equipped with two high-quality wheels, your child can learn how to master their balance first and to enjoy the great atmosphere at the same time. There is an incredible point that you need to remember that this model is produced with a lifetime warranty so that you do not need to worry about any technical problems in the future.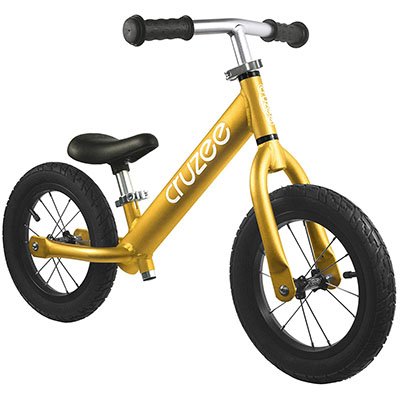 Besides, Cruzee UltraLite Balance Bike has gained its popularity as one of the lightest balance bikes in this industry for a diversity of years. With this wonderful feature, this bike can deliver the best comfort and safety to your child after using it for a short time.
Cruzee UltraLite is very confident that their product can satisfy every user; thus, if you have any complaints, you can return the product and get your money back at once without any challenges. Thus, why don't you give your child this great opportunity to experience the best balance bike?
Pros:
Wide range of color choice
Lightweight and safe
Lifetime warranty
Cons:
Quite expensive when compared with other brands
TheCroco Lightweight Balance Bike Review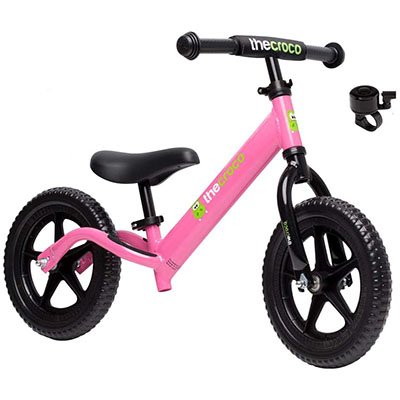 Another one of the best balance bikes for toddlers is TheCroco Lightweight Balance Bike for Toddlers and Kids. It comes in two versions, Premium and Basic, and they have some minor differences.
Both models have flat-free tires made from rubber foam, as well as soft hand grips, padded seats for extra comfort, and sturdy bearings. They also have safety-end screws that ensure additional protection for your child.
However, while the Basic version is made from stainless steel, the Premium one is manufactured from aluminum. This makes it very lightweight, but at the same time, extremely durable. Also, the less the bike weighs, the easier it will be for your child to control it. Keep in mind that the Basic bike is still much more lightweight than other models made from that same material. Premium bike also includes adjustable handlebars, and it's rust-resistant.
TheCroco Lightweight Balance Bike is designed to help your kids focus on balance and skill instead of just pedaling. This can help them improve their coordination and focus. Also, the product is very comfortable for parents, as well, as the bike is easy to assemble, and you don't need tools to make it work.
Pros
Very lightweight
Designed to help your child focus on balance
Easy to assemble
Cons
It might be too small for larger kids
Conclusion
In summary, I hope that all of the information related to the top 10 best kids' balance bikes will help you gain more knowledge as well as understanding about this topic. After that, you can decide on the most suitable one for your children regarding preferred design, affordable price, and high quality. However, in case you are in need of any advice, please feel free to keep in touch with me anytime, and we can discuss your concerning matter together.
Last Updated: 30th Jan, 2021