Introduction
Sport hunting requires several factors in order to be successful. One of the most important being ability to blend into an animal's environment without being noticed by sight or scent.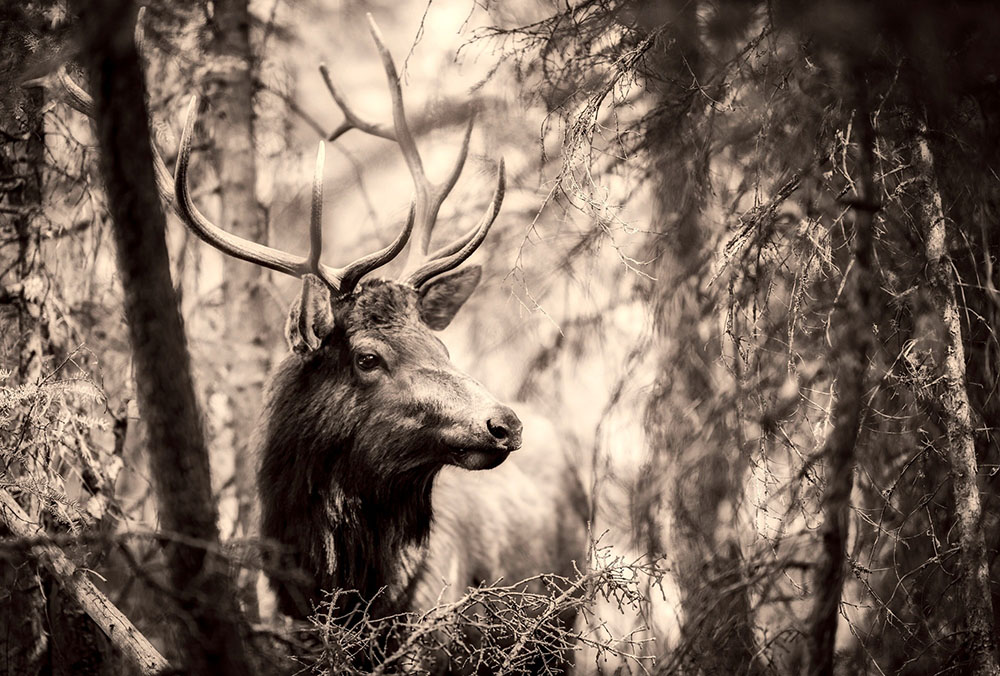 "In order to be a stealthy hunter, it helps to have the right equipment."
One of the main items to have is a good, dependable tree stand that can not only hold you in the tree, but provide a comfortable seat in the process.
Because I can't tell you how many times I have been sitting in a tree, and all I could think about was when I could get down because the climbing tree stand was so uncomfortable that my back and legs were hurting immediately. Comfortability and a high quality design are two of the biggest ranking factors when it comes to choosing and reviewing which stand to buy.
Being Up High Gives You an Advantage
A popular item for bow hunters is a climbing tree stand. It allows you easy access of the entire hunting land, not just one spot! Some of the best climbing tree stands have the comfort of a rocking chair, while still being safe and light enough to carry.
How You Hunt Helps Determine Your Choice for a Tree Stand
If you are a serious hunter and plan to put in many hours in a tree stand, choosing one that provides room and seating comfort is extremely important. The last thing anyone needs while up in a tree is an aching back, especially when you consider the climb back down.
While some tree stands seem pricey, the quality of the materials used and the comfortable seating features can help you understand the reason for a higher cost. Before you make a final choice for a tree stand, taking the time to consider your hunting habits is always a good idea.
The following are reviews and facts about some of the top selling, top ranked, and in our opinion the best tree climbing stands on the market. Take a look at our reviews of the strengths and weaknesses of each model, and decide for yourself which one would work best for your hunting trips.
Brands
Best Climbing Trees
Summit Viper SD Tree Stand Review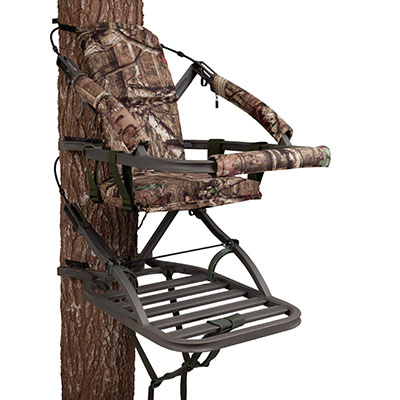 The Summit Viper SD tree stand, costing about $250.00USD, offers some amazing benefits for the serious hunter, sound deadening technology being one of those benefits. Sound deadening technology incorporates the use of paint that absorbs sounds, allowing it to lose its acoustic effect. Imagine the sound of a hollow aluminum pipe being slightly banged and think about it echoes. This is an effect you certainly do not want along during a hunting trip.
With Summit's sound deadening technology, you do not have to worry about the sounds of the frame echoing through the forest if you drop an object on it or accidentally hit it with your weapon. Other great benefits you can enjoy using the Summit Viper SD stand includes:
Lightweight, easy to carry, weighing only 20 pounds
Easy and fast folding
Simple to assemble safely on trees using a 4-point harness system
Stand include pads, ropes, additional hardware and straps
Withstands up to 300 pounds
Comfortable, adjustable padded seat
While the cost of the Summit Viper SD stand is higher than some other stands, the features make it worthwhile, especially when you bag a big ten point buck and do not have a back ache from sitting in an uncomfortable stand all day long.
Ol Man Multi Vision Steel Tree Climber Review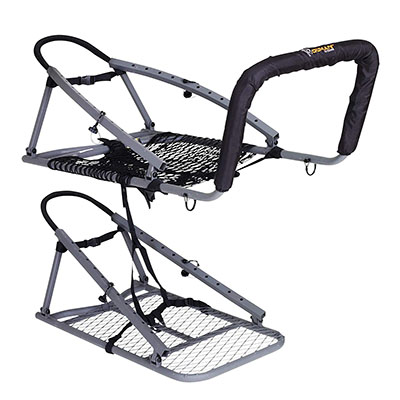 For around $160.00, the Ol Man Multi Vision Steel Tree Climber has a lot to offer in durability and comfort while also providing a safe and secure feeling while high in a tree. This stand comes complete with a specialized 21" mesh seat made with ComfortTech materials for providing you with extreme comfort for those times you may be sitting for a long time waiting for a deer.
The Ol Man stand can handle up to 300 pounds with a standing platform of 18" x 32" and weighs 29 pounds, making it easier to carry than some other stands. For the price, you cannot beat the durability and comfort of this tree stand. When choosing a tree stand, keep in mind the importance of durability and high quality materials, especially when it comes to the harness for keeping you safely in your set while in the treetops.
Summit Goliath SD Tree Stand Review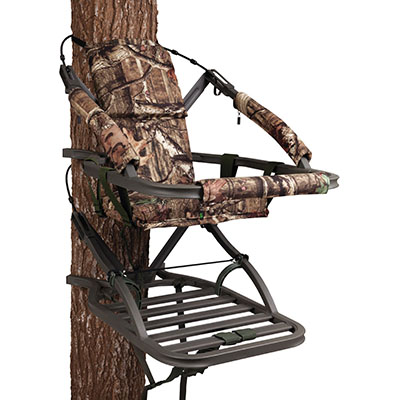 The Summit Goliath SD tree stand weighs only 21 pounds, but can withstand up to 350 pounds, an excellent two way benefit.
For a cost of around $320.00, hunters can enjoy a stand that features Summit's sound deadening technology and exceptional 4 point safety harnessing system in addition to a five year warranty as well.
For the hunter that weighs over 200 pounds, the Goliath SD will be the perfect choice because you can carry along your weapons and day pack of food and water without worrying about collapsing your stand and falling out of the tree. Spending the day in this stand is easier due to the very comfortable padded seat design, enhancing a long day in a stand waiting for a shot.
Which Climbing Treestand is the Best?
For getting the most out of your hunting trips, I recommend the Summit Goliath SD tree stand for a couple of reasons despite its higher price. This stand is light and will allow you to reach greater heights without a heavy burden. Bear in mind the higher up in the tree you can get, the less chances you have of your targets smelling your scent. The seat on the Goliath is also large enough to allow you turning room as well. Placing your stand on the side of the tree opposite of the place you expect deer to come from is a good idea, so you want plenty of room for maneuvering.
If you prefer to set up your stand ahead of time, choosing this stand will also allow you to the benefits of long lasting durability during rough weather conditions. Hunters planning to stock their freezers should keep in mind long hunts are best when you can remain comfortable, making the Goliath the best climbing tree stand due to the extreme comfort. Add in the sound deadening technology used in the manufacturing of this stand and you have several reasons to spend the money for getting one, especially if you hunt on a regular basis and in many kinds of weather conditions.
Last Updated: 12th Dec, 2020