Introduction
You're out on the lake. The early morning sun is beginning to emerge over a row of trees in the distance. A cool, gentle wind is rippling the still surface of the water, causing your boat to gently rock back and forth. Peering into the depths, you can make out the shadowy shapes of fish flitting back and forth.
There's something primal about fishing. It could well be that the urge to fish is built into our DNA. For centuries, the demands of survival forced humankind to figure out ways to capture and consume fish.
Today, most people view fishing as a chance to relax and engage in a hobby that has nothing to do with a computer screen. For solo anglers, fishing is a meditative experience. For others, fishing is all about spending some quality time with close friends or family members.
If you like to fish, you're in good company. Fishing is a popular sport all over the world. Wherever there is water, you're likely to find a fisherman. In the United States alone, over 50 million people call themselves anglers.
Man Versus Fish
Though fishing is relaxing, it's also challenging. Any experienced angler can tell you that fish aren't stupid creatures. They have a keen sense of smell, lightning-quick reflexes and instincts that are hard to fool.
Fish have internal ears that can sense even the tiniest vibrations. Additionally, a unique sensory organ called the lateral line allows fish to detect nearby movement. Their torpedo-like shape allows them to slash through the water with ease. Rugged scales and a layer of protective, slimy mucus helps fish defend against attackers.
Fish have millions of years of evolution on their side. We humans, however, can use our brains – and our fishing gear – to lure them into taking the bait.
The Anatomy of a Fishing Rod
Fishing is an art. Your fishing rod is your paintbrush. Just as painters use a variety of different brushes depending on what it is they want to paint, anglers use a variety of different rods to catch different species of fish.
It's impossible to fish without a fishing rod– well unless you use a net. But where's the fun in that?
Let's review some standard fishing rod terminology.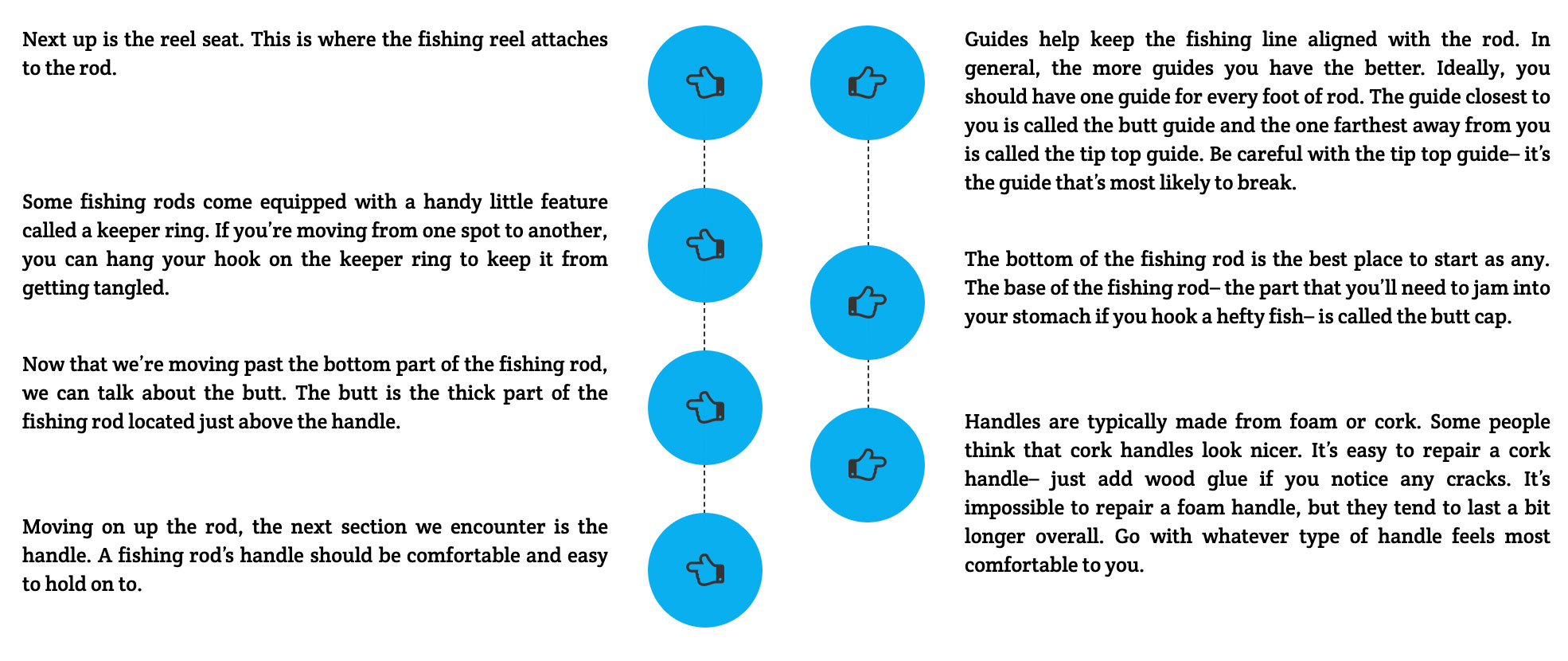 What Should I Expect to Pay If I Want to Buy an Awesome Fishing Rod?
Though expensive options are definitely out there, you shouldn't pay more than $200 USD for a fishing rod. Even pros like George Poveromo of George Poveromo's World of Saltwater Fishing fame use rods that cost less than 200 bucks.
On the other end of the spectrum, it is possible to find a cheap $10 fishing rod. If all you need is a plastic pole to stick in the water so that you can hang out with your uncle, go for it. On the other hand, if you intend to catch some fish you'll need a better quality rod, or if you want to cheat a little, get a fish finder along with a good quality rod.
If you're trying to save money, shop around online, or browse our review section. If you do your research, it's possible to get a decent fishing rod for around $20 USD.
What Are the Benefits of Buying a High-Quality Rod?
Nothing is more frustrating than having to call off a fishing trip because your fishing rod broke. Low quality "cheapo" fishing rods will get you through one or two days of fishing– if you're lucky.
On the other hand, well-made fishing rods are built to last. You don't have to spend much extra money to upgrade to a quality rod.
Plus, quality rods are easier to use compared to second-rate alternatives.
High-quality rods are equipped with single-piece, stainless steel guides. The more guides you see on the rod, the better off you'll be. Well-placed guides distribute tension, allowing the fishing rod to curve nicely instead of bend at sharp angles.
All good fishing rods come with warranties. One year is the standard, but some companies offer five-year warranties.
Both cork and foam grips work pretty well. Cork grips have a classic look and they last as long as foam grips as long as you remember to wear gloves when you handle your rod. Oil excreted by sweaty hands tends to erode cork handles.
Spinning, Spin Casting, and Bait Casting. What's The Difference?
Most beginners start out with a spinning rod and then graduate to other types of rods after they get the hang of fishing basics. Spinning rods equipped with a spinning reel are super easy to cast. Also, spinning rods are lighter in comparison to other types of rods.
Spin casting rods are even easier to use than spinning rods, but because of their comparatively low gear ratio, it is very hard to reel in anything but small fish. Bigger fish tend to get away because spin casting reels lack gear systems. Because spin casting rods contain simpler parts, they tend to last longer than spinning rods. A spin casting rod is a great choice for children and amateurs.
Bait casting rods are ideal for catching heavy fish because they come equipped with thicker fishing line that doesn't break as easily. Also, the rod itself is longer and sturdier. It's easier to cast long distances accurately with bait casting rods. The ability to cast from a long-distance helps catch some types of fish that are sensitive to vibrations caused by boat movement and talking.
Fast Action vs. Slow Action
If a fishing rod is made from a rigid material, it'll pull back fast when you exert force on it– that's why they call graphite fishing rods "fast action" rods. A stiff "fast action" graphite rod is great for reeling in large fish, but it's a disadvantage when you're trying to catch smaller stuff. Additionally, graphite rods will shatter if you yank on them too hard.
If you want to be able to tell when smaller fish are nibbling your bait, you need a "slow action" fiberglass rod. Fiberglass rods are heavier than their graphite counterparts, but they're also flexible and difficult to break.
If you're just starting out or aren't sure what you want to fish for, it's a good idea to purchase a high-quality composite rod that can be used in any fishing situation so that you can try fishing for several different types of fish. If you find that you're great at catching a certain species, you may consider getting a specialty rod made just for catching your favorite type of fish.
Brands
Best Fishing Rods
Shimano Solora 2 Piece Spinning Rod Review
IShimano, a company located near Osaka, Japan, is most well-known for producing bicycles and has partnered with Lance Armstrong. Their fine craftsmanship in cycling translates to an equal talent for precision in fishing poles. They're the perfect blend of technology, well-balanced materials, and comfort. All that, and a price which means you'll be can fish from a jetty and worry about hooking that great bass, rather than whether you'll have to take out another mortgage if you damage your expensive rod!
Line this rod up next to more expensive ones like Clarus, St. Croix, and G-Loomis, and it holds its own with confidence. The Shimano Solora 2-piece rod is one of the rare circumstances where you get more than what you paid for.
Shimano's Solora's 2-piece rod is available in multiple lengths — 5-foot, 6-inches; 6-foot; 6-foot, 6-inches; and 7-foot. With a cork split grip, this rod will last you a long time. Like many Shimano products, it's beautifully crafted. The line is escorted up the rod by aluminum oxide guides, and use the EVA butt cap to support the rod against your body when fighting those larger fish. Sensitivity is rare in 2-piece rods, but the Solora is sensitive enough to feel small fish bites, while also strong enough to tire out the larger fish. Use it in saltwater (followed by a thorough rinse) and freshwater.
The Shimano Solora 2-piece is a great main rod for beginners, or as an additional backup for seasoned fisherman. It's extremely affordable while handling like rods in much higher price tiers. It's beautifully crafted and designed to last a long time, never losing its strength. The action is great, it casts with great ease and the power of it is unexpected.
The Shimano Solora can most easily be purchased on Amazon. It ships in a strong tube which can be reused to store it.
Berkley Cherrywood HD Spinning Rod Review
When shopping for a good quality fishing rod, it's vital to keep in mind what will be needed in the crucial moment to make that final catch. A sturdy, comfortable grip, durability, stability, and sensitivity are all things that a buyer should look for in their rods.
The Berkley Cherrywood HD Casting Rod is advertised as an extremely sensitive, durable, and comfortable hybrid design, and certainly delivers on all fronts. Not only can users expect a long lifetime of use from Berkley Cherrywood HD Casting Rods, but when compared to competitors, many satisfied customers have testified to preferring this design above other, more expensive, and complex brands. This design of rod comes in a variety of lengths from 5.6 feet all the way to 7 feet, depending on user preference and intended use, and comes in a distinctive detailed metallic red with a natural look cork grip and complementary black fittings.
A closer look at the build and features of the rod can reveal just why this rod is so popular amongst those who've tried it. The inclusion of SS304 guides tailored for this rod offer superior support to those typically used by competitors, with 20 times the strength and 55% reduction in weight when compared to traditional aluminum oxide guides. These are far from small differences. Within their range, this feature is enough to set these rods apart.
The Berkley Cherrywood HD Casting Rods are specially designed not only to be lightweight yet durable but for comfort and grip. This model features a natural look cork handle to aid palm friction and stability, while at the same time maintaining the balance of the structure, allowing for dynamic movement at crucial moments. The handle's crafting is subtle and simple, yet highly effective, providing an excellent base to assist users in landing their catch. This design, complete with the inclusion of these particular guides, has been factory tested and quality assured, and is guaranteed to be a trustworthy companion to your fishing excursion.
As a result of designers of the Berkley Cherrywood HD Casting Rods focusing on both user experience and structural stability, these rods allow for an effortless fishing experience, without concerns for grip quality or dynamic endurance of the hardware. These rods work with you and your personal body dynamics, as opposed to being a tool that users find themselves compensating for in their style of fishing. Consequently, not only does this mean that the Berkley Cherrywood HD Casting Rods are likely to become a staple of user's hardware, but that they're likely to allow fishing to be more immersive and stress-free.
At the given price, the Berkley Cherrywood HD Casting Rods are an excellent investment in quality hardware. Unanimously popular with anglers, these rods will provide a wonderful experience to anyone wishing to give them a try. Their effortlessly well-constructed design works flawlessly and allows for a sleek, sturdy, and well-rounded rod. It is sure to become a favorite for all who invest in it.
Eagle Claw Featherlight 5/6 Line Weight Fly Rod Review
This ultra-lightweight, budget-priced fishing rod is perfect as a beginner's first fly rod or to supplement a professional's collection. It is an eight-foot-long rod made from high-quality fiberglass. Many fishermen and women are making the switch to fiberglass rods, and for just 20 dollars a rod it's not expensive to experience the improvements in comfort, durability, power, and comfort all for yourself!
A little bit about the specifications of this rod: it features an aluminum and cherry wood reel seat, supports 5- or 6-weight line, and has a comfortable cork grip for long fishing sessions. It weighs in, incredibly, at under 5 ounces – all 8 feet of it! This rod performs well for veteran fishermen who appreciate ultra-light actions as well as for beginners. Another advantage is the ultra-tough fiberglass rod is built to last; even the rowdiest, clumsiest children will have a hard time damaging this rod.
This rod casts incredibly smoothly with 5-weight and 6-weight line. Those who enjoy impressing their friends with their fly-fishing marksmanship and those who are hoping to improve their aim alike can benefit from this ultra-lightweight, ultra-smooth casting fly rod. Although the rod does not come with a fly reel, it is incredibly easy to install one on the cherry wood reel seat. This has the added advantage of cost-effectiveness: with the ease of installation, it's a breeze to switch fly reels between rods even on the go, so there's no need to spend money on buying a high-quality reel for each rod. This is one of the many ways that this is an extremely budget-friendly option without sacrificing versatility or quality.
Loaded up with an Eagle Claw Granger 567 reel and 6-weight line, this is a perfect rod for fishing bass and trout. It is tough enough to handle the big ones and performs best in small creeks and ponds. Rainbows and panfish are also excellent targets for this rod! A small caveat for buyers is that some reviewers claim that certain parts of the ferrule come loose after extended use. However, all of these problems are minor and can be fixed easily. Most reviewers do not notice any problems, however, even after extended use.
Graphite rods have their advantages, but this $20 rod can outperform even $100 graphite rods in many general applications. All in all, it makes a lot of sense to opt for this budget option if a highly diversified arsenal of rods is not financially viable – and even if it is, it's a great all-around budget buy. It will not break, and even if it does it is cheap to replace – perfect for children and grandchildren. Only planning on taking one-rod fishing? This $20 rod may surprise even the saltiest sea dog.
Many fishermen and women swear by Eagle Claw rods, and this product is a perfect middle-of-the-road option for somebody looking to buy their first glass rod, their first fly rod, or even their first fishing rod altogether. In addition to that, it is well-respected by connoisseurs and veteran fishermen and women. Anyone who uses this ultra-lightweight, super-sleek, mega-durable rod is certain to be the envy of all of their friends and the terror of the seas! You might as well call it the rod from God, ladies, and gentlemen because this is the real deal.
Shakespeare Micro Fishing Rod Review
Shakespeare has become a fantastic company over the years. Whether you're a tourist on their first fishing trip or a professional angler, they have products that will exceed your expectations. Shakespeare's Micro Spinning Rod is no exception.
To start off, the weight of this rod is incredibly light. This makes for very smooth casting. With 6 pound line on the reel, you will find yourself casting 20 or 30 yards with no effort. Having a rod that doesn't hinder your cast distance is indescribably nice. Slowly reeling in your line, and getting a feel for where the fish are, is what most fisherman like to spend their time doing. Not quickly reeling it in, constantly trying to get a better cast. If you've ever used a junk rod and reel, you know how frustrating that can be. Unless you pair the Shakespeare Micro Spinning Rod with a bottom of the line closed reel, you're not going to be worried about anything besides the fish.
Another great thing about their Micro Spinning Rod is the sensitivity. Shakespeare makes a lot of products, and one thing consistent between them is sensitivity. This rod, made out of graphite, allows you to feel everything happening to your bait. You can tell when the hook is scraping across some rocks on the river bed, you can tell when it is in a patch of algae, and you can tell when a fish is tasting your bait. With beginners, this may not mean a whole lot, but with a little bit of experience, it can make a big difference. With Shakespeare's Micro Spinning Rod you can tell when fish are trying to just get a sample of your bait. If you learn exactly when the opportune moment is, then you can use this to your advantage; you can catch a lot more fish. All you have to do is use the rod to set the hook into the fish's mouth.
Graphite is such excellent material. It really makes this rod a bargain for the price. Not only does it allow a beginner to set a hook like a pro. It also makes casting a breeze, as long as you have a decent reel. For under 25 dollars you will not find a better rod. In every way, Shakespeare's Micro Spinning Rod performs like many 50 to 80 dollar rods. For river, pond, or lake fishing it will meet most of your needs. However, you're not going to catch an alligator gar with this thing. It's a great rod, but it doesn't perform miracles. It has an intended use, the rod is absolutely perfect for catching trout. It's also great for any similarly sized fish out of the lake. After using this rod for these fish, you'll learn what you want to use for catching a 20-pound catfish later on.
This pole is recommended for almost any beginner fisherman. For the more experienced fisherman, it is still recommended. A better pole cannot be found for a cheaper price. The graphite rod, cork handle, and stainless guides combine to make a work of art. Shakespeare is continuously doing very well at this.
Abu Garcia Vendetta Series Casting Rod Review
The Abu Garcia Vendetta Series Casting Rod is a great choice for those using casting rods. This series has been updated with a new design featuring added strength and durability. You can really feel it's added strength – you're not going to have to worry about your longest cast breaking your brand-new rod.
Some technical specifications first. The rod is made of 30-ton graphite with a nice well-balanced design that uses IntraCarbon technology. This technology uses very fine layers of multidirectional carbon fibers in the rod. These layers increase the compression strength of the rod, lessening the risk of failure when the rod is under heavy load. Due to using this new technology, the rod is lighter with more sensitivity. The 30-ton graphite means that the fibers used in the fiberglass are stiffer and are more efficient in transmitting vibrations to your hand so you can really feel what's going on as you're fishing.
Its one-piece aluminum screw-down hood makes for a solid connection. Guides are made of stainless steel with zirconium inserts for added strength. The rod comes with a Texas-rigged hook keeper so you use it with all kinds of bait. It comes with foam grips in a split grip design.
The best feature of the Vendetta Series Casting Rod is its long casting range. It was easy to cast long with lures within its rated casting range. Even better, it still performed to spec with lures above that range. Very easy to cast, although you may have to adjust your fingers a little on the grip. Sometimes it can be a little awkward casting.
The second best feature of the rod has to be its power. It is so strong that you can really lean into it while casting without having to worry if it's going to snap.
The Abu Garcia Vendetta Series Casting Rod has solid customer reviews on Amazon and elsewhere. One guy even bragged he had already caught three fish with it before he posted his review. The complaints seem a little overblown.
The only real product drawback that people mentioned is a somewhat fragile tip. Some users have complained about it breaking easily due to how fragile it was. Others have dismissed this complaint and said they had absolutely no problem with it, so your mileage may vary. The other complaint people had was the rod being broken in shipment. From reading the reviews, it seemed the issue was the rod not being packed right for shipping. This is probably due to inexperience in shipping fishing rods. Make sure you purchase it from a fishing-friendly vendor that knows how to pack a rod. Most of the shipping complaints seem to have centered on vendors that sell everything and are not geared to shipping items out of the ordinary like fishing rods.
The rod does come with a two-year manufacturer's warranty. There is a ten dollar service fee when you send your rod in, but you're covered otherwise. Prices for the various models range from about $60 to $120, depending on the exact model and features. All in all, a solid value for the money. We'd highly recommend this rod.
Maintaining Your Fishing Rod
Here are a few simple maintenance steps you can take that will extend the life of your fishing rod dramatically.
Wash your rod and reel off with vinegar and water after you fish. This step is the most important one on our list! If you don't wash your gear, it'll rust.
When you load your fishing rod onto your boat, secure it in a safe place so that it doesn't get bumped around.
Remove your fishing line before storing your fishing rod.
Store your fishing rod properly. If you lean it against something, it'll bend.
Look closely at your guides and sand them if you notice any chips or cracks. Chipped or cracked guides are the main reason why fishing line breaks during a catch.
Use a toothbrush to pick out any dirt or sand before you store your rod.
If you own a portable fishing rod, be sure to keep the joints lubricated. Friction wears out the protective coating that manufacturers apply to the inside of fishing rod joints.
Always wear gloves if your fishing rod handle is made from cork.
---
Last Updated: 2020-12-13 by Tumay Kilinc