Introduction
Your experience in playing paintball may be a good one or bad depending on a number of factors, one of them being what type of paintballs or 'paint' you use to load your marker with. Most of the times, the whole experience of playing such a game is ruined and becomes unpleasant in the event of a paintball and the marker not working together quite the way they were supposed to, for a number of reasons; such as the balls being of bad quality, breakage or because they were either too small or too big.
Made from a gelatin-based outer shell with water-based paint inside; a high in quality paintball will be able to effectively withstand the force of a marker's firing mechanism and break only upon contact with the target. Bad quality paintballs or those that are not of the same size as the marker, often end up as a sticky mess inside the contraption, which is why choosing the right balls of paint is also very important.
Best Paintball Reviews
Wrek Elite .68 Premium Review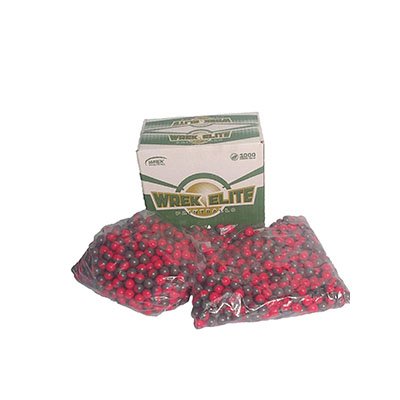 With the paint's color faintly resembling vomit, you will certainly have the upper hand while hitting your targets with these paintballs.
Made from premium quality material, these paintballs will wreck your enemy's chances of winning a game of paintball.
Ideal for woodsball, the balls are rigid and can be shot through thick foliage with no chance of breakage.
Salient Features
Made from red/silver outer shell
Contains a yellow-colored water-based paint
A box contains 1000 paintballs
Ideal for playing woodsball
Valken Infinity .68 Paintballs Review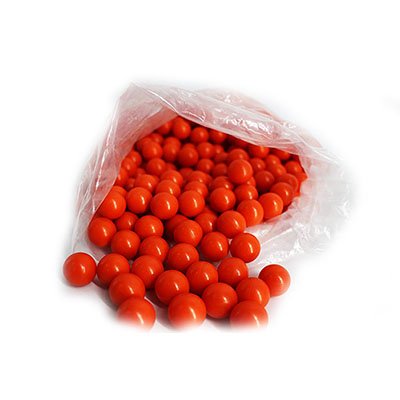 Consisting of a much thicker shell as compared to other paint balls, Infinity has a knack of manufacturing paint balls that are durable and are the most ideal ammunition for entry-level paintball markers.
Especially designed so that the majority of the players can afford good quality paintball ammunition that performs up to the mark, these little balls of paint are the best that you can get in the market.
Salient Features
The paintballs come in mainly white/white and yellow/yellow, and orange/orange
The orange-colored ones fly straighter and are slightly heavier than the other two
Highly durable and doesn't break while in the box or in the marker
Bursts on impact
Ideal for playing paintball and woodsball
Compared to the other two, the orange-colored balls hurt more on impact and are very effective at hitting the target spot on
JT Toxins .68 Paintballs Review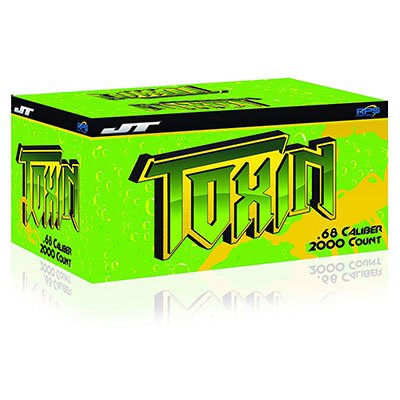 Laying a big value on providing quality and performance, JT has put a brand of paintballs into the market that more than makes up for its size.
The standard .68 caliber offers players an almost consistent quality, along with much higher durability and accuracy as compared to other paintball manufacturers.
The outer shell comes in different colors and a plethora of water-based paint colors for the inside can be chosen. You can be sure that these paint balls won't irritate or harm the skin in any way.
Salient Features
Sized .68 caliber paint balls
2000 paint balls in a box, made from RPS technology
Designed especially for recreational play
Consists of a green outer shell with an inner bright yellow water-based paint for the purpose of maximizing marking visibility
Comes in an other variety of colors as well
Can be used in all weathers
JT Splatmaster .50 Paintballs Review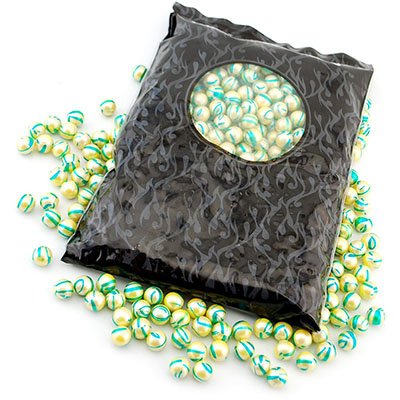 This premium quality paint ball by JT, the new SplatMaster, surely marks the spot! Specifically designed to ensure the convenience of cleaning and maintenance, the JT Splatmaster paintball ammunition also has the added quality of being stain resistant.
The standard-sized box comes with a total number of 1000 balls of paint and compared to the .65 caliber paintballs, these don't hurt as badly.
Salient Features
50 caliber paint balls
Comes as 1000 balls per box
Consists of an orange-colored outer shell and yellow water-based inner fill
Makes for easy maintenance of marker if ball breaks
Stain-resistant
Last Updated: 30th Jan, 2021