Introduction
What is a rangefinder? The rangefinder is an irreplaceable part of the inventory of every professional golf player. The name says for itself – this device serves to calculate the accurate distance from the player to the targeted object. There are a lot of different golf rangefinders: laser, GPS, cheap, expensive, good quality and not. After making a lot of researches, we've created this list with the best golf rangefinders reviews in 2021 which you can choose for your purposes. We tried to take in a count all factors which can influence your choice. So let's get down to business!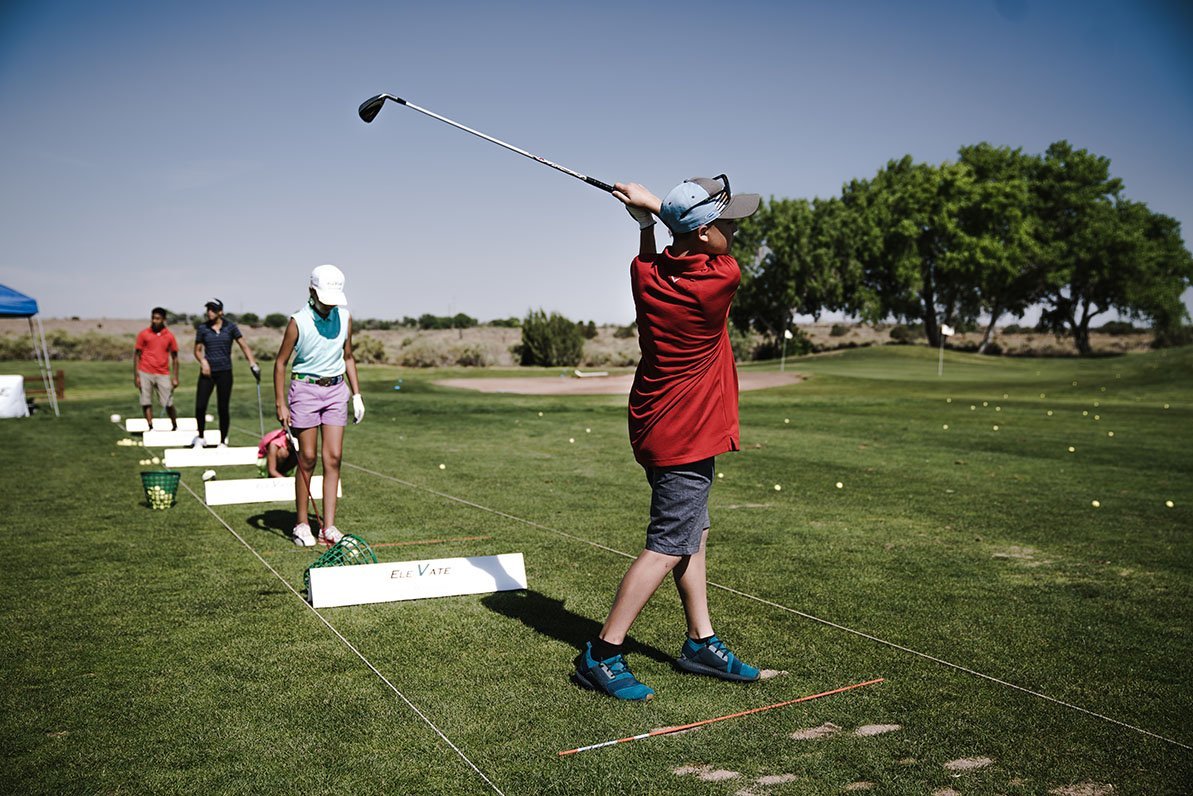 Which Type Of Golf Rangefinder Is Best For You?
Desperate to up your golf game? Laser rangefinder may just do the trick. This surely should get your hopes up, but it will be unrealistic to think the laser rangefinder will help you correct your swinging technique or posture; that you will have to do by yourself or get a qualified coach. However, the laser fortified range finders will most definitely give lots of information about your overall gameplay.
Golf Laser Rangefinders
Golf Laser Rangefinders make use of laser beam technology to measure the distance in golf course accurately, such as hazards or the green. Unfortunately, laser golf range finders are yet to be available on devices such as smartphones and tablets, so you are going have to make do with the stand-alone device.
Advantages: Thanks to laser technology, golf laser rangefinders help to determine the exact range of the target. You can do this by simply pointing the range finder at the pin from the ball position, and the total distance will be automatically calculated and displayed. The precise measurement given by laser rangefinders makes them better than regular GPS rangefinders.
Limitations: When playing on an unfamiliar golf course, golf laser range finders can be a liability since they do not give enough information on the entire golf course. All you get while using them is an exact measurement of the distance from your position to the pin. You are going to have to deal with guessing out the information about the greens and fairways by yourself.
Golf GPS Rangefinders
Just like the laser rangefinders, they also help golfers to figure out the distance of certain fixed points on a regular golf course. There can also be built alone, but unlike the laser powered range finders, they can be installed as applications on devices such as smartphones, tablets, etc. that have GPS capabilities.
Advantages: GPS Rangefinders are mostly cheap and easy to use. They are available as an application on devices such as tablets and smartphones which are GPS enabled, which make them handy and useful. Equally, they give the very good measurement of distances on a golf course and also have updated information on thousands of golf courses around the world. This feature is useful when you are playing on an unfamiliar golf course.
Limitations: As dynamic as GPS golf rangefinders can be, they are limited because they make use of satellite feeds. What happens when these feeds are unavailable, or signals are weak. Besides the significant number of trees found on golf courses tend to interfere with satellite signals; if this happens, you will completely be in the dark when you are playing on an unmarked golf course. Also, charges from companies for using their satellites services are pretty on the high side, which makes using a GPS somewhat expensive.
Golf Rangefinders with Slope
These are special golf range finders that not only aid the measurement of distances but also the calculation of slope on the golf course. They come in various shapes and sizes and could be the difference between you and the next golfer in a golf course. As useful as these devices are, rangefinders that can measure slope are not allow in competitions.
Advantages: Ordinary golf rangefinders leave you with some information out, and you are left to guess this information for yourself. On the other hand, golf finders with Slope measurement feature help increase accuracy by eliminating any form of guessing. You can get the correct distance on a golf course even if it is interrupted by a slope, uphill or downhill. The general estimation of the slopes and elevations provided by these devices give you an edge over other golfers on the same golf course.
Limitations: The major disadvantage of golf range finders with Slope measurement feature is that they are not endorsed most standard competition. If you really cannot use the device to give you an edge in a real competition, what then is its use? However, you can use rangefinders with slope measurement features on a normal golf training session, and that is it.
Long Range Golf Rangefinders
Regular golf rangefinders measure distances accurately to a certain degree, but the distances are usually limited and short. Long range golf rangefinders help to bridge this gap by enabling golfer measure long distance with a degree of accuracy. These are pretty useful in golf courses that are extensive and wide thanks to their magnification capacity.
Advantages: Long range golf rangefinders are meant to help amateur golfers find accurate measurements of long distances on a golf course. Golf games could sometimes lead to the use of large distances, hence, having long range golf rangefinders can be pretty useful especially for amateurs that are just starting out.
Limitations: Unfortunately, most long-range golf rangefinders do not have the capacity to measure short distances. Hence, if you happen to find yourself in a golf course that doesn't need a long range golf rangefinder, it becomes pretty useless. Having both a regular golf range finder and a long-range golf rangefinder could solve this problem.
Tips to Choose The Best Golf Rangefinder
There are several options when it comes to choosing a golf rangefinder, therefore, making a mistake is likely. To avoid this possibility, there are several features and specifications to look out for before making the final decision on the rangefinder you want to buy. Below are some points that you will find useful.
Things to Check Before Buying
Features: Here, you need to look out for the golf rangefinder that offers the most advanced feature such as Jolt Technology, Vivid Display, etc.
Max Distance Range: The higher the maximum range (at least 1500 yards), the better. Sizes of golf courses are different, hence, having a golf range finder with a much higher distance could prove vital.
Size and Weight: The best golf rangefinder should be small and light-weight. Go for golf range finders that won't add to your baggage.
Price: Fortunately for some, the price is not an issue when purchasing items, but if you are like the rest, you better have an eye out the price.
Mistakes to Avoid Before Buying
Unknown brands: This is pretty much straight forward, avoiding rangefinders who lack the much-needed popularity and credibility will save you future "a headache" while using the device.
Not reading reviews: Reading reviews is the shortest way to know what previous and current users of the product feel after using it. You can make reasonable judgment and decisions from the information they give.
Buying from unknown stores: Where you buy your range finder from is almost as important as your choice for a perfect golf rangefinder. Ensure that you only patronize credible stores.
Bad Research: A quality research on a particular product will always make sure that you automatically get a quality product in the end. Never work based on assumption be sure of what you are buying.
Best Laser Golf Rangefinder Reviews
Here, we will take a rather but concise look at some of the best golf rangefinder in the market. This should help you narrow down your choices and give you an idea of the rangefinder you will settle for. Below are some of the best golf rangefinders in the market.
Nikon Coolshot 20 Golf Rangefinder Review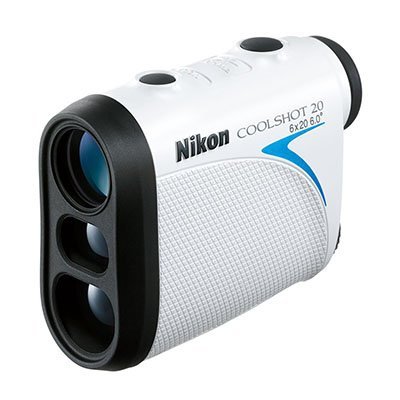 Advantages: The biggest advantage that the Nikon Coolshot 20 has over other rangefinders is that it is probably the smallest and lightest. The impressive 6x magnification is just a plus on other high-quality specifications that the Coolshot 20 boasts of. Also it's worth mentioning it is weather-proof.
Limitations: There isn't much to say on its CONs because it hardly gives issues even when a beginner or an amateur is making use of it. The Nikon is a sure 5-star golf range finder.
Conclusion: I am pretty sure you can't wait to get your hands on a Nikon Coolshot 20, well no one can blame you for that. It is user-friendly, light and most importantly, cheap. This probably the best deal you will get when you want to make a choice of a golf rangefinder.
TecTecTec VPRO500 Golf Rangefinder Review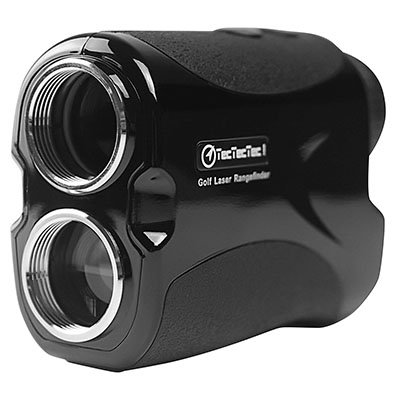 Advantages: This is relatively new version but has some of best features a good golf rangefinder should have. It is water-resistant with the capacity to automatically turn off after moments of idleness. It is tournament approved and covers a 540 yards distance to the flag. It also scans the horizon while covering distances farther behind the target object. Lastly, it is light-weight and highly affordable.
Limitations: The only pitfall when it comes to this particular product is the construction and design. Subsequent versions should feature a more handy design that will make usage a lot easier.
Conclusion: The VPRO500 may not be a household name when it comes brands that manufacture golf rangefinders, but its features and specifications meet the minimum requirements for a quality and rangefinder. It is certainly worth a try at least if you are up for trying new things out.
Bushnell Tour V4 JOLT Golf Laser Rangefinder Review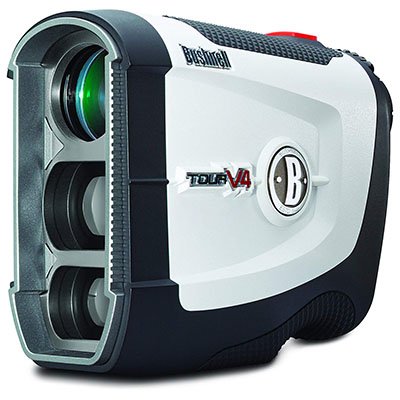 Advantages: Regarding advantages and benefits, the Bushnell V4 Rangefinder is one to look out for. It is fortified with an impressive JOLT Technology and an accurate 1-yard distance measurement. The range of 5-1000 yards (400+ yards to a flag) is distance every golfer will love his/her rangefinder to have. You do not have to worry about water spoiling it and spoiling the show in the process as it is water-resistant all round. The design is impeccable, and the two warranty that covers the product guarantees a "win-win" situation
Limitations: Unfortunately, the Bushnell V4 is not quite user-friendly. Beginners may have to struggle to cope with the fact that they have to keep jumping from one mode/function to the other.
Conclusion: Asides the little pitfall, the Bushnell Tour V4 Rangefinder is an absolute treat for a golfer, especially for the amateurs. The design is great, features and specifications are top-notch, overall it is a great range finder for a great golfer.
Nikon ACULON AL11 Laser Rangefinder Review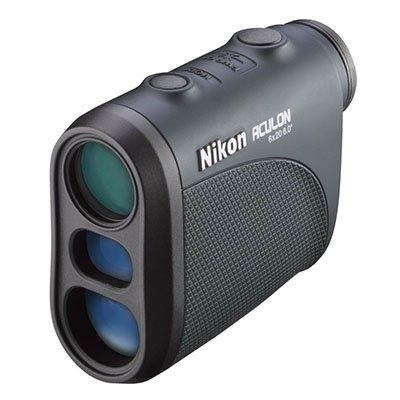 Advantages: Nikon is known for producing high-quality rangefinders, but the ACULON AL11 is probably the best among the rest. It is compact and little weight even though it has got a great design. With the impressive LCD display, rest assure, you will not miss anything plus you can use it whether in a wet or dry day since it is fully water-resistant.
Limitations: The long-range measurement is not what it is supposed to be, and you probably will not find it fun to use if you have to figure out long distances.
Conclusion: For the price, the Nikon ACULON AL11 is probably a really good choice for a range finder especially of you are not going to require long-range measurements.
Bushnell Tour V3 Laser Rangefinder Review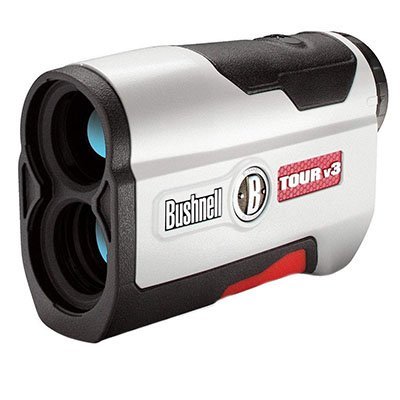 Advantages: Another product from Bushnell and this time around they stuck with the what they know works, and it is pretty cool I must say. As expected, it runs the JOLT Technology, and it is equally very fast. The Tour V3 will give you a corresponding reading. Picking up targets is very easy thanks to its Pinseeker technology, you will never miss a target.
Limitations: If not the Jolt technology which it interferes with the device usage, the Bushnell Tour V3 is a perfect golf rangefinder. Beginners will have issues getting around the frequent and inconsistent delay caused by the tech.
Conclusion: The Bushnell Tour V3 is sold mostly for $300, depending on your budget, that is a good bargain.
Callaway 300 Pro Golf Laser Rangefinder with Slope Measurement Review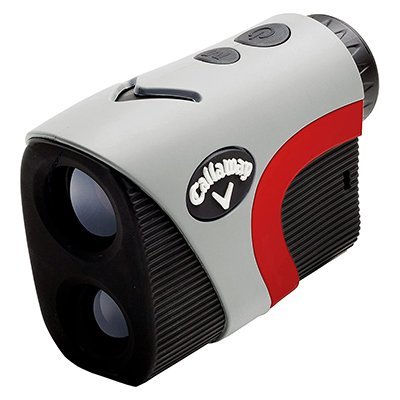 Advantages: The Callaway 300 Pro Golf Laser Rangefinder offers 6x magnification and range of 5-1000 yards, with the great accuracy of +/- 1 yard. It can automatically calculate the adjusted distance of a slope, while also measuring its precise angle. Two features it offers are the Pin Acquisition Technology that can lock onto the 300-yard distant pin, and the BIRDIE feature delivers an audio signal that will confirm the acquisition of the flagstick distance.
Limitations: The target locking can lag sometimes, so it is advised you make sure the target is locked a few times. Other than this focusing issue, this rangefinder doesn't have many cons.
Conclusion: This is one of the most precise rangefinders out there – assuming it locked on the pin correctly the first way. If you have patience to double check everything, with this purchase you'll invest in a great product.
Conclusion
Getting to the peak of your golf game is only a perfect golf rangefinder away. Of course there are several choices to make, but I am pretty sure the guidance in this write-up has helped you streamlined your choices to the perfect rangefinder meant specifically for you.
Last Updated: 30th Jan, 2021