We can't deny that many of us love fishing. Spinning the reel is a satisfying manoeuvre for anyone who enjoys fishing. Without a fully functioning spinning reel, the quality of fishing will be drastically reduced. You can find a standard spinning reel from any local store as it is a very common item. But you may find those reels look somewhat like a toy, plasticky and of poor quality. If you are not aware of what a top quality, full spinning reel looks like, then this post will inform you about the best spinning reels and their features. If you are specifically looking for Shimano spinning reels, check out this post.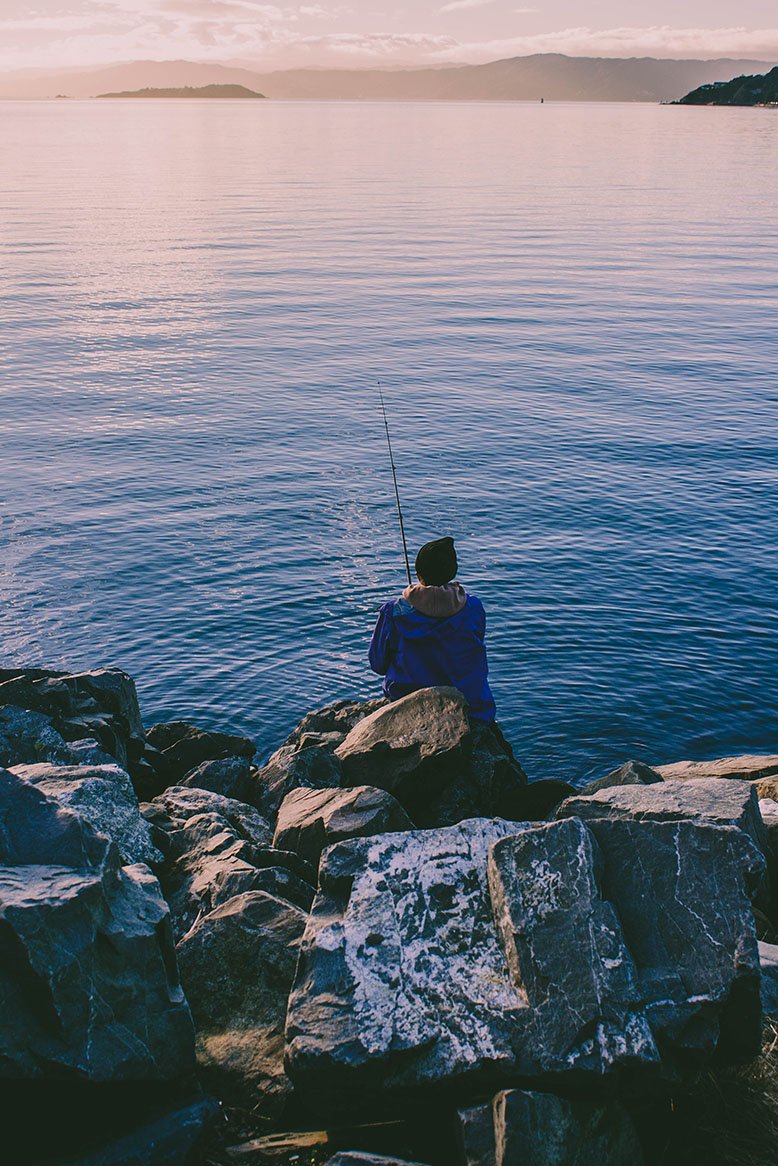 What is a Spinning Reel?
A spinning reel is a common item for  fishermen as fishing is pretty challenging without this. This is basically the most important part of the rod. The name says everything about it; Spinning reel is the spinning part of the rod and in your line, it allows you to cast easily and it is required to reel.
Different types of Spinning Reel
On the market, different options are available regarding spinning reels. Spinning reels, Baitcasting reels and Spincast reels are few of them. All of them are used for the same purpose, but they are unique in their own way. Before choosing, you should know about your skill level as this is a very important factor in order to make your final decision. 
Spinning
Most anglers will say that spinning reels are better than other reels. With this reel, backlashing is rare. You can easily land in your targeted area and it is easier to cast when compared with other designs. However, the only problem with spinning reels are, they are flat to line twist.
Baitcasting
For the professionals, baitcasting is the best option to go for. Higher gear ratio and hauling power are the strong features of these reels. It is often harder to cast. However, to catch a big fish, this one should be your first choice.
Spincast
This reel is the best for the beginners, unluckily, these reels are not the strongest in the world and are prone to damage when under heavy tension. Nonetheless, if you are a new angler, you should go for this option.
Considerations Before Purchasing a Spinning Reel
Choosing the perfect fishing reel is an important decision. Before purchasing a spinning reel you should ask questions like: "What types of fish am I going to catch?" and "What types of water will I be fishing at?" are a few of the considerations. A fishing reel comprises of many different parts, such as;
Line Spool.
Reel foot.
Crank.
Reel handle.
Drag adjustment.
Level wind.
Line.
Reel handle.
The guideline below will help you to find the perfect fishing reel.
Reel Body
Reel bodies are made of aluminum and graphite or a combination of both. The aluminum reels are more flexible than graphite and is also stronger. On the other hand, graphite reels are lighter. If you are going to catch a fish in saltwater, graphite reels are the perfect choice due to its corrosion-resistant features.
Weight
Another important factor to consider is the weight. A lighter reel will give you less strain in your wrist and forearm. So, while purchasing a reel, it is wise to consider the weight of the reel. Also, when you are looking for a reel online and comparing reel weight, make sure that you are comparing the same size reels.
Reel Size
Selecting the perfect reel size is as simple as deciding the fishing line size you aim to use most frequently. If you would like to use a lighter line, you should choose a small spinning reel. You can check on the spinning reel, for example, if it says "6 LB/90 yards", then the reel is perfect for 4 and 8 pound lines.
Reel Gear Ratio
Reel gear ratio means, if you rotate a single turn on the reel handle and if the bail rotates around the reel 4 times then the reel gear ratio will be 4 :1. And 4 :1 is a slow speed reel. 6 :1 is a high speed and 5 :1 is a medium speed reel. A high, low or medium speed reel should be aimed at the type of fishing you are looking to do.
Dragging System of the Spinning Reel
A very important factor to consider is the dragging system of the spinning reel. A good dragging system can apply pressure to a hooked fish and during the fight, helps in letting out the line. If the dragging system is not strong enough, there will be a chance to break the reel line and let the fish go. Make sure that the reel has a flexible drag. There are two types of dragging system; One is "front" and the other one is "rear".
Bearings of the ball
Choose the reel which has the most ball bearings. A spinning reel with at least four ball bearings is the most useful one. Usually, the greater number of ball bearings the reel contains, the better the reel will perform. If the reel does not perform well, you will face problems during fishing.
All of the above considerations are essential, because if you miss any one of them you will face a problems while fishing.
Comparison Chart of the Fishing Reels
During fishing, a spinning reel is the most common reel. A quality spinning reel is not so expensive and the value it brings to your fishing game is unmatched. Below is a comparison table between the Baitcast, Spincast and Spinning reel:
| Type | Pros | Cons | Best for | Price |
| --- | --- | --- | --- | --- |
| Baitcast | It has no twist in the lines. The Dragging system is very strong. For a long fight, it is perfect with high gear ratio. | Quite hard to cast and frequently backlashes. | Perfect for catching big fishes. | Within high range. |
| Spincast | It is the most cheaply reel among all. Very normal build. | Dragging system is lower. Unendurable and tears up line. | Perfect for the beginners. | Cheap |
| Spinning | Most versatile one among the all fishing reels. Very easy to cast and backlashes are quite rare. | Line twist is very high. | Baits are smaller. | Medium. |
Brands
Top Rated Best Spinning Reel for You
It is an important decision to find out the perfect spinning reel, especially if you have so many options in your hand. We will help you choose the best spinning reel from the list below.
Penn Battle II Spinning Reel Review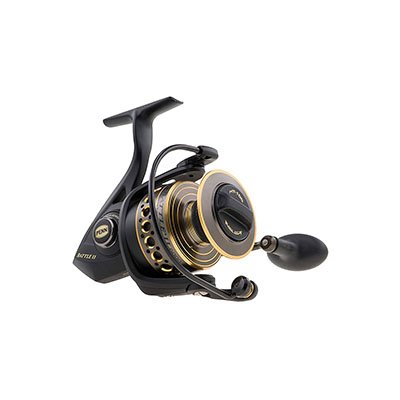 Finding a perfect spinning reel is always confusing and Penn Battle II Spinning Reel can assist you. Selecting a high performance saltwater fishing reel like this, removes any confusion. Because this marvelous spinning reel has 9 different size variations with a host of cool features, making this the most attractive choice among fishermen. That's why I decided to write an unbiased review on this vastly functional spinning reel.
The first model can cover 220 yards (201 meters) and its gear ratio is 6.2:1, where model two has 200 yards (183 meters) coverage capacity with 5.6:1 gear ratio. We have listed all additional important features, advantages and disadvantages below.
Highlighted Features
Open face spinning reel.
9 different size variations with two different models.
Comfortable large spool and rotor.
Aluminum made heavy duty bail wire.
Drag washers made of carbon fiber.
Anti-Reverse Bearing With Instant Work Capacity.
Gear Ratio 6.2:1 and 5.6:1
Rubber gasket helps not to slip your reel.
180 to 200 Meter Capacity with 37″ highest retrieving capacity.
Pros
5 ball bearing used in the reel.
Ambidextrous spinning reel that is perfect for both left handed and right handed people.
Corrosion resistant metal made body ensure long lasting performance.
Increased Drag Pressure System makes this spinning reel more superior.
Most of the people love its awesome line capacity.
Specially made freshwater spinning reel.
Comparing with other Penn Battle product, this is more improved and supports offshore as well as onshore fishing.
Cons
It would be better if the manufacturer took care of the weight issue. Comparing with another spinning reels, this one is little bit heavy in weight.
Though there has two different models available, the manufacturer should include some color variations as well.
Penn Spinfisher V Spinning Reel Review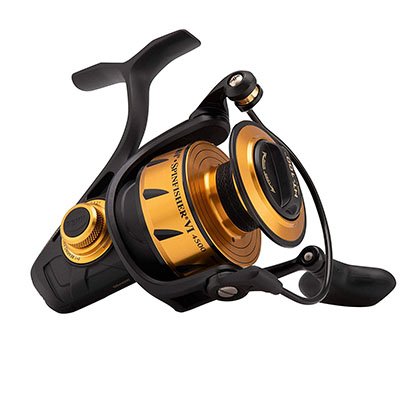 Identifying any spinning reel is hard if you are a layman in buying fishing accessories. To get more accomplished, elegant, polished and amazingly functional spinning reel for saltwater, you should read the features of Penn Spinfisher V Spinning Reel. Features of the Penn Spinfisher V saltwater fishing reel are insane and force you to pick this reel for its decent look.
Full metal body, 6 ball bearings, techno-balanced rotor, and side plates are some mentionable features that will blow your mind. Another good feature is the slammer drag system which has an anti-reverse system embedded with instant working capacity.
This product has a manufacturer warranty that helps you getting concrete and long support from the company. Before you order the product, you should read the warranty manual. Visiting the product page will help to build buyers confidence if needed, because you will find numerous positive reviews left by happy customers. This is one of the many signals showing product quality.
Highlighted Features
Excellent water tight design.
Full Metal body, sideplate, and Techno Balanced rotor system.
Machined and anodized aluminum Superline spool.
5 Shielded stainless steel ball bearings.
Instant Anti-reverse bearing system.
Truly sealed HT-100 slammer drag system.
Pros
Size variation can be a big advantage offering higher versatility.
Meticulously crafted with high attention to detail.

Maximum drag ratio and line capacity empower your fishing.
To fight with deep sea fish, you need a big game reel and this one is perfect to fight with the fish like marlins and tuna.
Slip resistant rubber gasket used that increase the ease of use.
Multiple lines used in the reel that notify you when you have 1/3 or 2/3 line left on your spool.
5 ball premium quality shielded bearing that is stainless steel made.
Cons
Materials are made in China and lower in quality.
Shimano Stradic FK HG Spinning Reel Review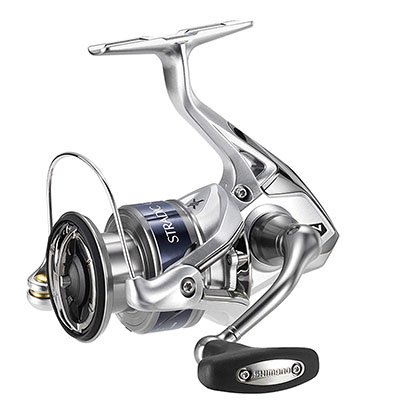 Shimano brand introduced a new technology named "Hagane" and implemented it into this reel. Because of this technology the strength, robustness, durability and reliability of reel has increased. The full interior body is protected perfectly. This reel is very powerful as well as the durability, because of Hagane's cold forged drive gear, combined with X-Ship. Its weight is only 8.30 oz and gear ratio is 6.0:1
Highlighted Features
Available in different sizes.
Strong anti-reverse, Can handle heavy cranking.
Advanced cold forging technology.
Hagane cold forged drive gear.
The most reliable name in fishing.
Pros
The Drag system is really smooth as silk.
Lightweight thus you can easily catch fish.
It contains a lot of drag to haul in the big ones.
Cons
The spare part of this reel is not available in the market.
You need to manually close the bail every time.
The length of the handle is little bit short.
People who close the bail with the handle they might not like this reel.
Shimano Spirex RG Spinning Reel Review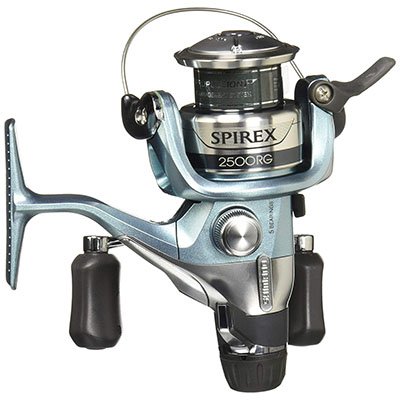 It is a newly designed reel by Shimano. This reel has a few special features that make it easy to use for one-handed casting. These features make the reel as smooth as silk. Its gear ratio is 6.2:1 and weight is 9.9 ounces. It has shielded stainless steel ball bearings with a lightweight graphite frame, side plate rotor, and cold forged aluminum spool.
Highlighted Features
Available in different suitable sizes.
Power roller III and quick fire II one-handed casting system.
Rubber handle grips.
Very lightweight graphite frame and side plate rotor.
Varispeed oscillation and propulsion line management system.
Pros
It gives a smooth performance while fishing.
The both rear drag and fighting drag are easy to handle as they are easy to adjust.
The fast casting system is efficient.
Cons
The distance of cast is not great.
It is a little bit heavy.
KastKing Sharky III Fishing Reel Review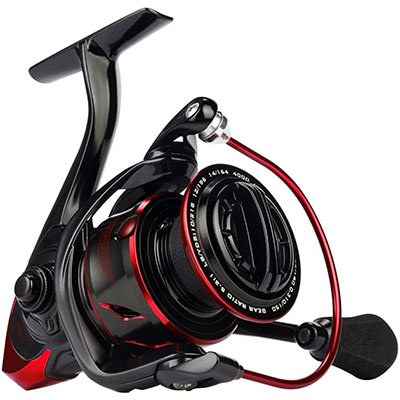 Finding a spinning reel with the best value for the price is hard, but KastKing Sharky III Fishing Reel is close to it. This reel won't let you down, even after years of use. As its name says, this is the third KastKing Sharky model, and it's a well-updated version of both previous product versions. Unlike Sharky and Sharky II, Sharky III is suitable for all fishing environments. It comes with a unique KastKing Intrusion Shield System that serves as a protection for the entire reel's structure.
This model's fun and useful addition is the anti-twist line roller that will keep the fishing line from tangling. And if you aim for bigger fish, you should know that this spinning reel has a great weight capacity. It can hold up to 39.5 lbs! This is more than most similarly priced models.
Highlighted Features
Aluminium handle
Weight capacity 39.5 lbs.
Comes in sizes from 1000 to 5000
Smooth and quiet performance
E.V.A. grips allow a slip-free experience
Gear ratio 5.2:1
Comes with KastKing Intrusion Shield System (K.I.S.S.)
10+1 double-shielded high-quality shielded ball bearings made from steel
Great for all environments
Pros
Has 11 double-shielded bearings, more than most similar models.
Its K.I.S.S. protection system does a great job of ensuring durable and long-lasting performance.
Anti-twist line roller reduces fishing line tangling, so you don't have to worry about wasting time on anything but fishing.
The product is rather lightweight
You can use it in both saltwater and freshwater environments, as it's resistant to water damage
Doesn't require backing line capacity
Quite upgraded compared to Sharky and Sharky II model in every field
Cons
Isn't suitable for people who use the reel with the right hand
Customer service could work better
KastKing Summer and Centron Spinning Reels Review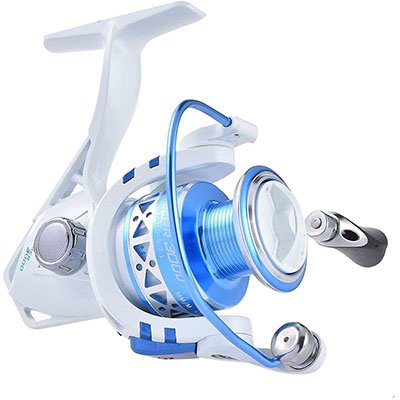 If you're looking for a spinning reel that is affordable yet stylish, KastKing Summer and Centron Spinning Reels might be perfect products for you. Both of these reels have all the useful features at a very reasonable price. They're lightweight and narrow so that they won't take up too much space. This makes them great for both beginners and more experienced users. Their weight capacity is 17.5 lbs. which is pretty good. At the same time, their main shaft is made of hardened metal, so they are great for fish combat.
We cannot talk about KastKing Summer and Centron Spinning Reels without mentioning their looks. They both have a modern design, further enhanced with blue and white (Summer) or black and blue (Centron) colors. The handle is aluminum, and the overall material is graphite. This makes them relatively durable. They also have a pretty strong power launch lip and can hold quite a lot of line, even compared to many much more expensive models.
Highlighted Features
Aluminum handle
Lightweight
Weight capacity 17.5 lbs.
9+1 quality ball bearings
Strong C.N.C. machined aluminum spool
Pretty and unique design
Comes in sizes from 500 to 5000
Power launch lip
Both have a precision machined pinion gear and perfect mesh drive gear
Pros
Narrow design makes them very compact
Extremely lightweight
Great for both beginners and experienced users
Affordable – great value for price
An excellent number of ball bearings
An exceptional drag system makes fishing effortless
A very unique appearance that will make you stand out
Can be used both by left-handed and right-handed users
Cons
Could be a bit more durable
Not suitable for saltwater
Final Words
We hope we could help you choose the spinning reel you need and provide some solid information to take away from this The spinning reels mentioned above are well designed and high performance, so that not only professionals, but also beginners can start fishing by using these reels. They are simplistic to use and with high durability, offer excellent value to any level of fisherman.
Last Updated: 12th Dec, 2020