Safety can never be compromised, especially if it pertains to important members of your household. Our furry little friends, no matter how small or big, are never left out in sharing your love as a family so why leave them without any security? With a Pet Camera, you can keep an eye on your pets with you being outside the confines of your home and give them the safety they need.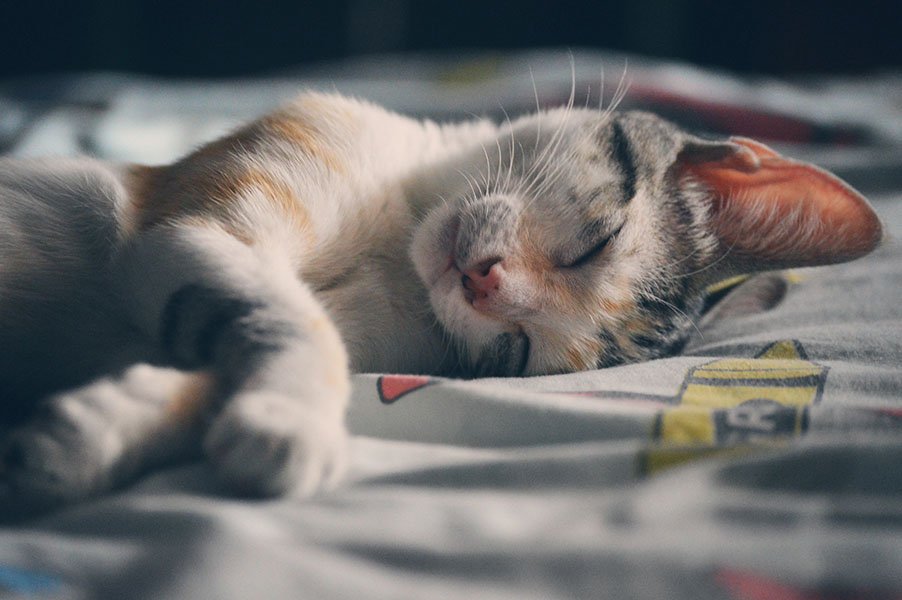 Why Get A Pet Camera?
No matter how your pet acts, they constantly need surveillance to keep them content and happy so they don't feel left out. Be it an older pet or an anxious one, a Pet Camera will keep you constantly updated on their behavior and needs. Many pet cameras offer amazing features like treat dispensers, night vision, and much more so you help calm your pet whenever wherever you may be.
Different Types of Pet Cameras
Companies offer many different kinds of pet cameras. Looking at the shape of the pet cameras, few designs dominate the pet camera market, such as:
Indoor Pet Cameras: These pet cameras can be set in any room and can be moved easily to change positions. Some companies offer excellent 360 motion sensors for the cameras, while others remain fixed in one spot.
Outdoor Pet Cameras: These cameras can be attached to walls to give an excellent view of any motion through its sensors, these cameras can also be used indoors.
Besides the design, some of these cameras offer advanced and exclusive features that are particular to some companies. For Example, Two-Way communication, easy installation, weather resistant, Infrared red night vision, and so forth. To find out the best pet camera, read the reviews given below.
Best Features in a Pet Camera
Manufacturers keep adding the best features to the pet cameras so they can suit your family needs. In no particular order, here are some of the best pet camera features to look out while buying a pet camera.
Live Streaming
This feature allows you to watch your pet roam and play around the house 24/7 through a live feed from the camera to your phone.
Treat Dispenser
Show your pet some love by giving them their favorite treat with only one tap on your phone.
Motion Activation
This feature allows you to be prompted when there is motion near the camera. Now you can keep an eye on your pet when it's on the prowl while you're not home.
Night Vision
With this feature, your pet can enjoy outdoor adventures alone without you worrying since the camera will give live night feed to your device.
Mobile App
Most pet cameras have a mobile app that allows you to manually control the features of the pet camera, however, there are some devices that are automatic and record the daily lives of your pet.
Interactive Games
Innovative in its stance, many of the newer models of pet camera offer games like unique laser pointers that allow you to play with your pet through your phone without being in the same room or area.
Brands
Pet Camera Reviews
So let's have a look at the best pet cameras on the market.
Petzi Treat Cam: Wi-Fi Pet Camera & Treat Dispenser
The Petzi Pet Camera offers interactive features that are as fun as they are easy to use. No matter where you are, you can watch and treat your pet as you see fit. This pet camera can be set on a table or attached to a wall, whichever suits you best. The wide-angle camera allows you to take high-quality photos and videos of your pets whilst you are away. The quality of the video feed can be set up to 720p.
You can also use the treat launcher to give them something to look forward to. Only treats smaller than an inch fit into the dispenser, to make the process easier Petzi sells dry treats that easily fit into the dispenser. You can also send your love through an audio message to keep their anxiousness at bay. The Petzi pet camera can be controlled with the app, available for both Apple and Android devices.
Best Features of Petzi Treat Cam
High quality live feed videos and pictures
Audio messages with little to no trouble
Treat dispenser
Pawbo Life Pet Camera: WiFi HD Video with 2-Way Audio, Treat Dispenser and Laser Game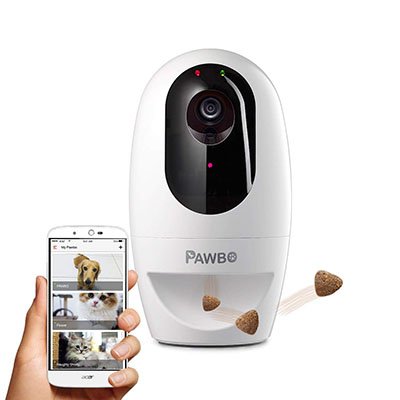 Keeping the extravagant design to the minimum, this pet camera offers some of the advanced features out there. Pawbo definitely ranks high in the best pet camera ranks. The set-up process is one of the easiest out in the market. It offers 130-degree wide camera view with a revolving foot that offers HD 720p quality for the live feed and photography.
Not only that, but it also allows you to play with your pet through the laser pointer, which has a manual and an automatic mode. You can also set a ringtone that alerts your pet for a treat through the dispenser or for playtime through the laser pointer. All in all, no love is lost between you and your pet through this interactive pet camera.
Best Features of Pawbo Life Pet Camera
Ringtone alert for your pet
High-quality photography and live feed
PetChatz HDX Premium 2-Way Pet Treat Camera, HD 1080p Video, Motion/Sound Detection Smart Video Recording, Aromatherapy, Streams DOGTV, Compatible with Alexa, Designed for Dogs and Cats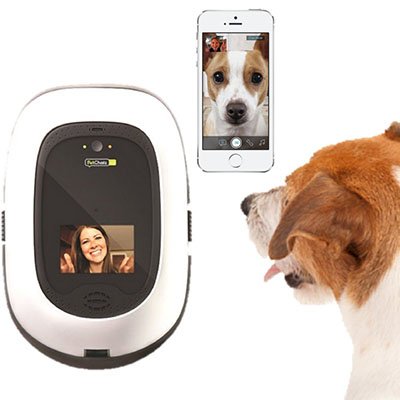 Unlike other pet cameras, the PetChatz pet camera offers two-way video and audio communication with your fuzzy friend. Unique in a number of features, this device offers exclusive features not found in other devices. Now, you can easily converse with your lovable pet through the live two-way video and audio feed.  It also gives out soothing scents to calm your pet. This pet camera activates through sound and motion control.
Another key feature is the PawCall button that allows your pet to call you by placing its paw on the button. Not only can your pet contact you on its own, you can also schedule video calls that can show the pets availability through the button. By pressing the button, the two-way audio/video system is activated.
Best Features of the PetChatz HD Pet Camera
Two-way Audio/Video system
Interactive call button
High-quality video and audio feed
Nest Security Camera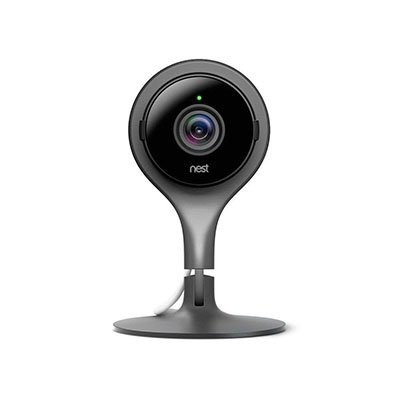 While this camera does not support any pet games or feeder feature, Pet parents can, however, get instant alerts of any activity in the area where the camera is set up. The design of the camera is sleek and slim, which can be easily set indoor and outdoor. The camera allows 1080p HD video quality with a 130-degree view that can be active day and night.
The alert system allows the pet owners to have a quick look on the activity with the snapshot sent with each alert. This pet camera also allows you to talk to your pet or anyone at home through the two-way audio communication feature. The night vision is crisp and with a good camera set up, it can easily show the whole room. Next Cam also offers exclusive features like Nest Aware feature that allows automatic recording in response to the motion sensors, you can also set up activity zone areas for more precise recording.
Best Features of the Nest Security Camera
Instant alerts and snapshots
Smart recording via ICloud
24/7 1080p HD video quality
Zmodo Pivot 1080p Wireless Security Camera
Get stunning video quality with the HD 1080p camera that can rotate on its axis. Zmodo Pivot 1080p Wireless Security Camera also offers additional 16 GB storage space so you can record and watch your pets daily life with ease. Quick in action, the motion sensors are exceptionally sharp and instantly move the camera towards any motion and record a brief clip. Your phone will be alerted before you are able to see the clip itself.
Pet owners can take a sigh of relief with pivot controls, it will record any doors or window opening so you can be aware of any burglars or pet escapades. Zmodo offers two unique and exclusive features in its pet camera device, it will check the humidity and temperature and give you alerts regularly, this can also act as an alarm in case of a fire. Not only that but you can also coo to your pet and share a moment with the two-way audio jack.
Best Features of the Zmodo Pivot 1080p Wireless Security Camera
HD 1080p video quality
Temperature and Video Check
Door and Window Sensors.
Arlo Smart Home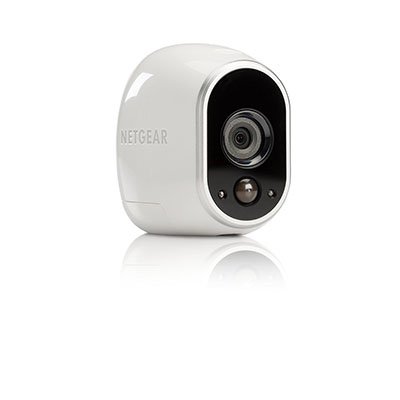 This camera system is made to accommodate larger homes with minimum hassle with the wireless technology. This smart home system offers up to 5 camera kit that is connected with a base station. The set-up is super easy to use, while the mounting is even easier. The magnetic mounts can be easily attached to walls, it also has a tripod adapter that has increased the mounting possibilities so it can fit your needs. It performs as an excellent pet camera with HD 1080p camera, which is activated by motion sensors.
The video quality has three settings high quality (highest), balanced (medium), and best life (reduced). The quality of the video will manage the battery life of the pet cameras. This pet camera can be used as a surveillance camera for burglars and can be mounted outside with no problems as it is completely weatherproof. Never let your pet out of your sight, even at night, with the night vision feature. The live feed of the video will be sent to your phone via the app.
Best Feature of the Arlo Smart Home
Hassle-Free Home system
Discreet camera design
HD 1080p Video quality
Dropcam Pro Wi-Fi Wireless Video Monitoring Security Camera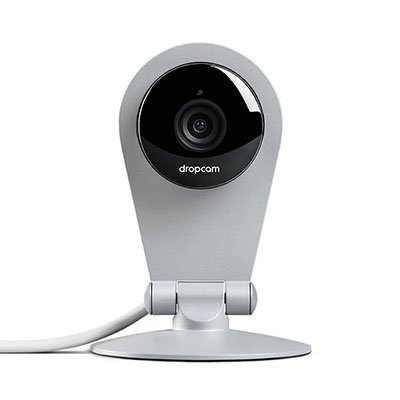 Dropcam is one of the best pet cameras in the market, it has phenomenal optics and sharp video quality that is unprecedented in any other pet camera. The set-up for the camera is extremely easy and you can instantly get live feed through the Low Energy Bluetooth feature or Wi-Fi connection. The camera allows 130-degree view diagonally, in addition to zoom and night vision feature.
Pet owners can rest easy with this intelligent pet camera that does not let you miss any highlight of your pet's activity. The smart recording allows you to save any activity in the area directly to ICloud so you don't miss any highlight of the day, the CVR feature one the selling feature of this pet camera. The recording clips are saved as a timeline for easier access. You can also share a moment with your pet through the two-way audio jack and connected 24/7.
Best Features of the Dropcam Pro Wi-Fi Wireless Video Monitoring Security Camera
Sharp video quality with instant alerts
The Cloud Video Recording (CVR) Feature
Instant set-up
Conclusion
Setting up a pet camera can take a lot of stress off your shoulders. With little to no effort, you can keep an eye on your pet, feed them, and play with them, even if you're not tech savvy. The multiple features of the pet cameras in the market allow you to choose features that will suit your need. Choosing a good pet camera can take quite a while, hopefully, the reviews helped shave down a few hours of your search and made it easier for you to select a pet camera.
---
Last Updated: 2021-01-30 by Tumay Kilinc