Introduction
What is the one airsoft/paintball playing gear that we don't even think twice about when investing in our equipment? Knee pads! These are perhaps the most underrated pieces of gear that while clearly being very important, are often ignored by players.
In actuality, good quality knee pads will protect your knees and joints from injuries and abrasions while not only playing airsoft/paintball but also while biking, hiking and a number of other outdoor sports. Be sure to invest in a pair of good quality and durable knee pads!
Brands
Best Tactical Knee Pads for Airsoft and Paintball
Alta AltaFLEX Knee Protector Pad Review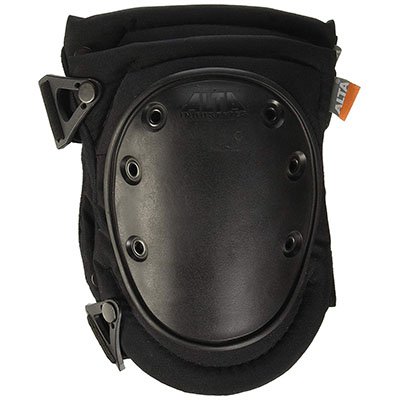 Even though the packaging of this particular brand of knee pads clearly states that the Alta Tactical AltaFlex Knee Pad can, in no account, be used for athletic applications, still its popularity is largely among those who take part in outdoor sporting activities, whether for fun or competition.
Fitted with comfortable and thick padding, these pads are quite durable and can also be adjusted according to size.
The material of the kneepads isn't what many would come to expect, instead of being of rigid and plastic-like material; these are made of an incredibly flexible and hard rubber material which is sturdy as well.
The upper strap consists of flexible elastic that fits snugly against the lower quads and above the knee, while the lower strap is an adjustable Du Pont Cordura made strap.
This highly versatile and comfortable knee pad allows for swift movement and bending of the knee and is an ideal piece of gear for paintball and airsoft players as well as construction workers who will surely appreciate the comfort and quality of the Alta SupeFlex Knee Pads.
Salient Features:
Comes in Coyote Tan
Made in the USA
Assembly isn't required
Size can be adjusted
Brand: Alta Tactical
Dimensions: 1x2x2 inches
Weight at the time of shipping: 13.6 ounces
BLACKHAWK! Advanced Tactical Knee Pads V.2 Review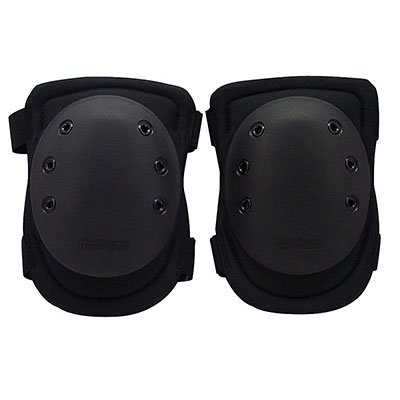 A truly outstanding product, the BLACKHAWK Advanced Tactical Knee Pads is the one piece of safety gear that will appeal to even the most hardcore airsoft players.
Not only are they comfortable and can be adjusted according to size but this particular product looks identical to the real deal it's named after.
Movement isn't restricted with these knee pads, no matter what you are doing. The material is soft with enough padding to protect the knee and act as a cushion in a fall. It's not a sleeve styled knee pad and can be used for skateboarding and most other outdoor sports as well.
Salient Features:
An injection-molded flex cap design
Features padded extensions that provide added comfort and much-improved strap positioning
When flexed, the gap between the bottom of the cap and the nylon carrier is minimized
Has a closed cell foam padding that provides excellent resistance against shock
Has the benefit of little or no moisture retention
A contoured interior ledge helps the pad from slipping downwards
Comes in the colors black, olive tan, coyote tan, and foliage green
Alta AltaCONTOUR Knee Protector Pad Review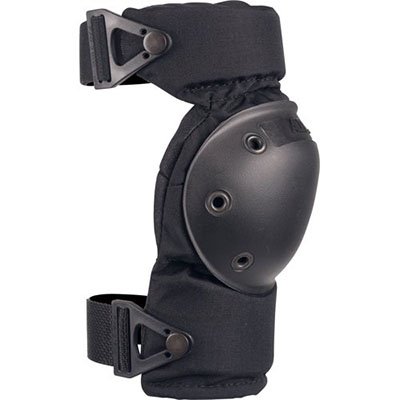 Offering players protection like never before and not seen on other knee pads, the Alta AltaCONTOUR Knee Protector Pad bends when you bend your knee. The technology and products that Alta Tactical is most famous for delivering is, after all, a result of 35 years of product research and development, all of which were taken into view when designing the Contour Knee Pad.
With its biometric design, users can now move any way they want while still being comfortable. Made from a durable material, the straps can be adjusted to fit most sizes quite comfortably.
For extra comfort, the knee pads also feature a dual strapping system that effectively deals with the issue of bunching as well as ensuring that no compromise is placed on easy mobility.
Salient Features:
The biomechanical design provides for better knee movement as well as a comfortable fit
Can be adjusted according to most sizes
A non-slip rubber slip on the back holds the entire piece together in the place
A finished and brushed tricot liner removes moisture and keeps out debris and dirt
Comes in the colors black, coyote, OD green and MultiCam
NoCry Professional Knee Pads Review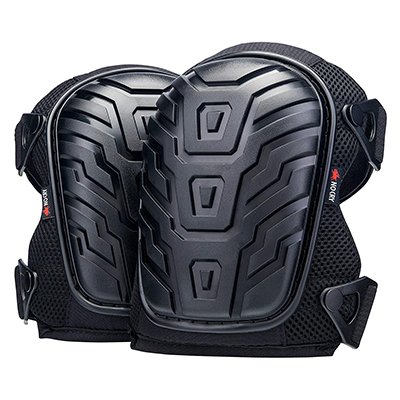 The NoCry Professional Knee Pads were designed with your safety in mind; they offer premium protection thanks to the durable EVA foam padding and soft gel core on the cushion, so they are great for sensitive knees.
Made with PVC, neoprene, 600D polyester, EVA foam, and soft gel, they are a perfect mix of sturdy and comfortable.
The adjustable straps offer secure, comfortable, and firm fit; these knee pads won't slip or slide as flexible neoprene straps keep your pads in one place, and the ergonomic design helps the pad hug your knee, giving you a superior fit.
The product has slip buckle clips with a quick release option that helps you quickly and easily put on and take off your pads.
These pads are great for many different purposes, no matter if you are a man or a woman; with them, you can work on linoleum, hardwood, and concrete floors, and you can do carpet and flooring installations, constriction work, even tiling the roof.
The 600D polyester mesh is breathable, providing further comfort, while the heavy-weight nylon thread gives it durability and long life.
Salient features
EVA foam and soft gel padding provide cushion
Features neoprene straps for locking everything into place
Unisex
Comes with 600D breathable mesh
Features nylon thread for durability
Upgraded metal rivets that won't pop off
Comes in black color
---
Last Updated: 2021-01-30 by Oğuz Tokatlı