Introduction
You more than likely came to this page in search of information on dart boards and other darting equipment as well as the history of darts, the rules of darts and more. It's a great thing that you came to the right place because we are dedicated to always providing the truth about everything and always providing the best top of the line products that there are. In fact everything on the market is not of good quality or worth the price listed. Being informed about what the best products are and why it's the best is what will make you or break you as a great darts player. Knowing the difference can even save you some money while providing you a ton of fun as well.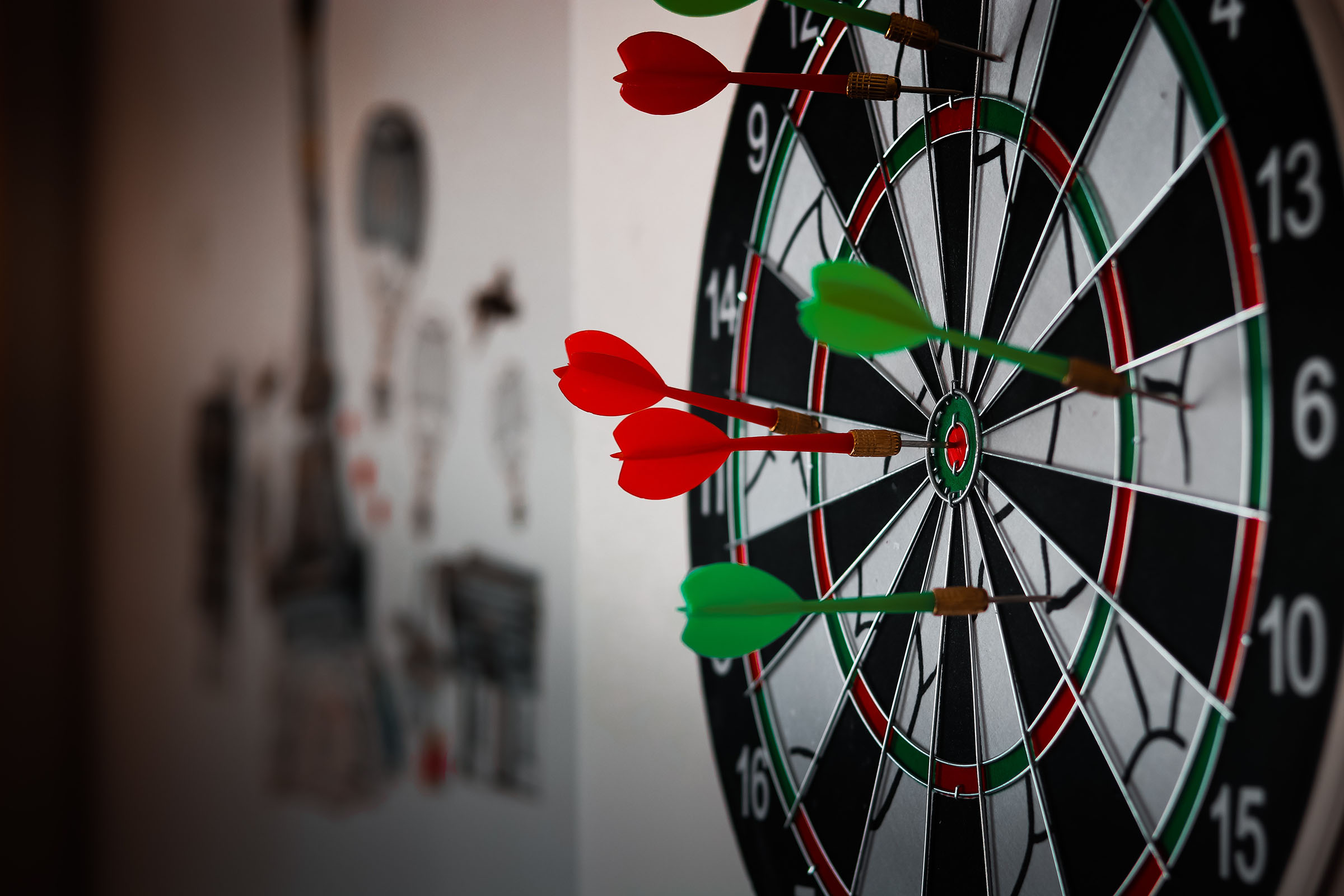 We created this post due to the massive amount of different companies that provide the entire different dart boards that there are and all of the other products that are out there. The amount of dart boards that are out there is high and the amount of the different kinds of dart boards for both the youth and the adults is even higher. There are dart boards for all ages because darts is meant to be played for fun as well as for competition or as a sport.
We found out that one of the major differences for determining what type of dart board is right for you is based on the type of wires used. For example there are some that are rounded and then there is some that are inputted at an angle. This slight difference is what makes the dart stay or no based on how fast you throw the dart and if it stays in or hits and bounces out. This is why our site is determined to get the information on all of this and more out on the art and game of darts.
What is Dart?
Darts is a game that has been around for centuries. Starting most likely as a form of archery, darts have been a favorite game all over the world. As with archery and targets, playing darts requires a target – the dart board. There are many different styles brands and variations of the dart board today.
Dart Board Types
Dart boards come in a variety of styles but are broken down into two groups; electronic or standard.
Standard dart board - Standard bristle dart boards are made from a material called sisal. Sisal is a threaded material similar to rope or wire that separates when hit by a dart and then moves back together when the dart is removed. Standard dart boards either have round wire or diamond wire separating the scoring sections. Round wired boards have the highest tendency for bounce outs but are cheaper making them idea for at home use. Diamond wiring is similar to round wires but the wire is placed at an angle deterring the amount of bounce outs if well maintained. This is the style of board most often used in bars. Round or diamond wires are usually pinned down with staples but a newer option is a board that uses strip blades. Strip blades are pieces of metal literally placed within the board separating the sections.
Electronic dart board - Electronic dart boards are faced with plastic covered with hundreds of tiny holes. The darts used when playing with an electric dart board are plastic or soft-tipped. When you throw these darts at the electric board the holes are cut so that the dart will stick into the board and the computer inside will read its location. These boards even keep score for you. Electric boards are nice for indoor use such as in bars or for kids.
Electronic vs. Bristle Dart Board?
When someone decides that they want to go out and purchase a dart board for their home or office they are faced with a couple of options. Electronic or bristle? Which is better?
If you are troubled by how to keep score with all the different segments with electronic boards you don't have to. They have automatic scoring systems that make it easier to keep up with who is winning. Entry level electronic dart boards usually only keep score for 2 players while higher level dart boards will keep score for 8 or more players.
Electronic dart boards offer ways to play lots of different games that are stored in the memory of the dart board's computer. Some electronic dart boards have 30 or more games.
Electronic dart boards are played with safer darts.
No one likes bounce outs and with electronic dart boards you are much more likely to have them. When a bounce out occurs on an electronic dart board it is not considered into the automatic scoring.
Electronic dart boards either have to be somewhere that they can be plugged in or have lots of replaceable batteries on hand.
Bristle dart boards are naturally restorative. The natural sisal fibers separate when pierced and move to the side. The organic oils found in the sisal heal themselves leaving less holes.
Bristle dart boards allow for the most precise dart throwing because unlike electronic boards with only so many holes, a dart can land in infinite locations on a bristle dart board.
You can have a prolonged life of a bristle board my simply rotating it. Areas such as the 20 typically see lots of use so my rotating the wiring you get even play on all segments of the board. This is something that cannot be done on electronic dart boards.
One downside to bristle dart boards is that they can be ruined if left exposed to the elements. Water or extreme humidity can compromise the dart board.
Which type of dart board is more preferred?
Although both electronic and bristle dart boards are bought all the time, the preferred dart board amongst players is still the bristle dart board. Players love the traditional feel and sound made by a dart hitting the natural sisal fibers found in a bristle board. The bristle dart board is what is used in regional and national competitions all over the world. Bristle dart boards are back and endorsed by world tournament leagues as well as the most oven seen boards on television. Bristle boards are also the most readily available.
The decision between electronic and bristle is ultimately yours but based on what most players like and the many benefits of bristle dart boards coupled with the many downsides to electronic says that you will most likely pick up a bristle dart board. Whatever you decide darts is a fun game to play alone, with family or with friends.
Dart Board Cabinets
Dart board cabinets are typically made of wood and are meant for holding dart boards. They can be used for any type of board. Most all cabinets have storage for your darts and bristle board cabinets will usually have an area to keep score on the door.
Brands
Some of the top dart board brands include
Top 3 Dart Boards
Arachnid Cricket Pro 750 Soft-Tip Dart Game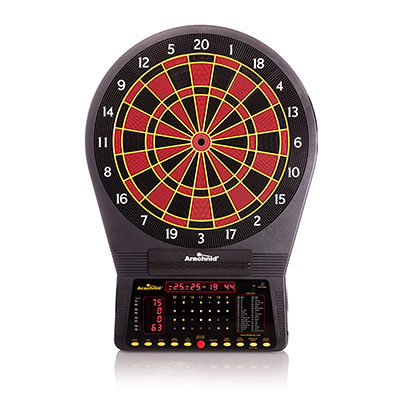 I have a neighbor that just moved in a bit ago and watching them move in was interesting because it looked like they were weird people based on what they had and for the most part there was trash everywhere and tons of different things in big black trash bags. But after they got settled my parents introduced themselves and they weren't that bad. At the time I had just started high and they were newly married. My parents would go over and have cook outs there or they would come over to my parents' house and there would be cook outs in my home. They had a big house built and because they were newly married and also a couple in their mid-twenties they had a lot of cool stuff. One night my best friend and I played Rock Band with them for hours and another night we all played darts throughout the night. It was the first time I had ever played darts and it was a lot of fun; he had this dart board, the Arachnid Cricket Pro 750 Soft-Tip Dart Game.
One of my favorite things about this dart board game was how it features an electronic voice that calls out the name of the player of whose turn it is. There can be up to eight players at once and there are settings for thirty six different games in it. The price for this item may seem a bit expensive compared to other dart board games but it is worth it. Everything you need to get started and more is included like the hardware to mount it and the darts art soft-tipped but extra tips come in the package as well. I think that this dart board is perfect for beginners who people who love to not have their darts bounce back off the board when it hits. I'm thinking about buying this one for my dad because he loves the one that my neighbor has so much.
Viper Hudson Collection All-In-One Dart Center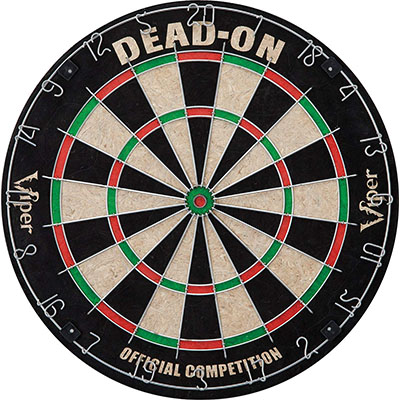 This dart board is the one that a friend of mine had in college. Everyone loved it and my friends place was always the place to hang out at after classes and especially on the weekends. It was like the place to party. To me this dart board was one of the best dart boards you could get and use. It hangs on the wall and has a dual sided cover that opens up, on one side is a chart in which you keep score and on the other side was a chart in which is designed for the game of cricket. When you are not using this dart board it closes up and looks well in almost any den or lounge and when it is open you are ready to play. The darts are stored on the inside of the game as well and the whole box is made out of pine and some mahogany which tends to make it look rather expensive.
However the actual price of this dart board is actually very affordable and personally is listed rather cheaply for what you get and how it works. I also really love how both of the charts on the inside of the doors are dry erasable, this way you always have a way of having a fresh start. The whole box itself is meant to look a little distressed and old hence it has some cracks in the wood and or the paint but this is just a normal part of the board. I think that this version of darts is one of my favorites and after I saw how much fun everyone had using it and how it brought everyone together and even got people to talk about stuff when they were down made me want to get one of my own. I am thinking of surprising my boyfriend this Christmas and getting him one of these as a gift; it is totally perfect and so worth it, I highly recommend it!
Winmau Blade 5 Dual Core Bristle Dartboard with Increased Scoring Area and Improved Dart Deflection for Reduced Bounce-Outs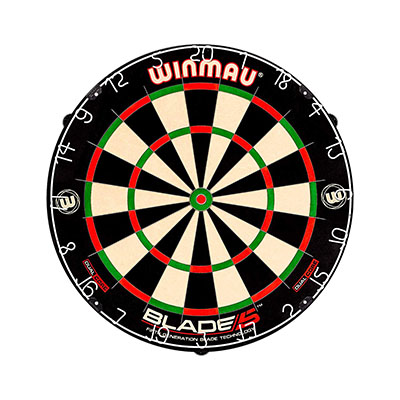 I have been looking at all of the different dart boards that there are and what all of the differences between them are; I never realized that there are so many different aspects that need to be taken into consideration when it comes to choosing what dart board is right for you, especially if you are really good at darts and it is something you do to earn money like as a hobby or as a side job even. If you go into stores like Walmart they have dart boards, but they are just plain and simple dart boards, they don't have anything extra to them.
This dart board, the Winmau Blade 5 Bristle Dartboard, is a dart board that may seem simple but it has a few added and positive features. This dart board is good for almost anyone to use it and it is known as being a professional level dart board. With that being said it is totally worth the price. I think that one of the best things about this dart board is that it helps to dramatically reduce the darts from bouncing out and it has triangular deflects set up in order each player to get access to having the best scoring potential available. The bristles in this dart board are extra deep and the whole thing is all very durable. I am thinking about getting this dart board for my nephew to use, I saw a friend of his had it and that he enjoyed playing with it so I figured he would really enjoy it if he had one of his own to use. This way he can have more time to play, he can get better at it and when he has friends over him and his friends will have something else to do that can make them all bond and become better and stronger friends. I think this is a great product and I really enjoy it and I know my nephew will as well.
Viper Shot King Regulation Bristle Steel Tip Dartboard Review
Viper Shot King Bristle Dart Board is one of the more popular boards currently on the market, and it's one of the boards my friend and I used to play on all the time. It has a reasonable price, quite a good quality, and it comes with six darts. While it isn't staple-free, it does have a staple-free bullseye. This reduces the chances of a dart bouncing out when hitting the bullseye, making it very precise. This is always a great addition, as there is nothing more annoying than hitting the center, but due to bounce-outs, the score isn't counted in. This dartboard is pretty standard in size. It is made to be adequate for tournaments, so it has a diameter of 18 inches, while the play area takes up 15.5 inches. The board itself is very straightforward to install, and there is a precise manual. The packaging includes a throw line, as well as a measuring tape so that you won't need any additional tools.
While it isn't staple-free, the galvanized radial wire looks relatively strong and durable. We didn't have too many problems with the bounce-outs, no matter where the dart would fall. One of the things that I really dislike about this dartboard is that it isn't self-healing so that any damage will be noticeable. However, the number ring is movable, allowing for a longer life-span. You can just take the board, rotate it, move the number ring, and it'll look like you have a brand new board! This is a nice way to make this fairly inexpensive dartboard last longer. The darts themselves are nice, but maybe you'd want to buy spare ones, as they are pretty soft and light and you can damage them easily. Overall, this is a fairly decent board for its price. The only thing that I'd like is for the board to be staple-free. Even though the wire is well-made and better than most others, I still prefer my boards to be differently made.
Conclusion
Best bristle: The best bristle board is the Winmau Blade 5. The Blade 5 is a professional level dart board with strip metal pinning that is guaranteed to cause almost no bounce outs when playing. The wiring on the Blade 5 by Winmau is super thin, 14 percent thinner than the wire used on the popular Blade 4.
Best electric: The best electric board is the Arachnid Cricket Pro 800. This electric dart board is a standard size and comes complete with 40 different game options. The Arachnid Cricket Pro 800 allows for up to 8 players to play at one time and has very thin segment dividers. This dart board comes with an AC adapter and darts.
Darts is a classic game that has been played on a plethora of boards over the years but the principles of the game have stayed the same. No matter which type of board you decide to use, you are guaranteed to have fun!
Last Updated: 12th Dec, 2020