Introduction
Since you are reading this, I am sure you are here to look for the best invisible fence for your dog. Well, let me tell you that you are in the right place.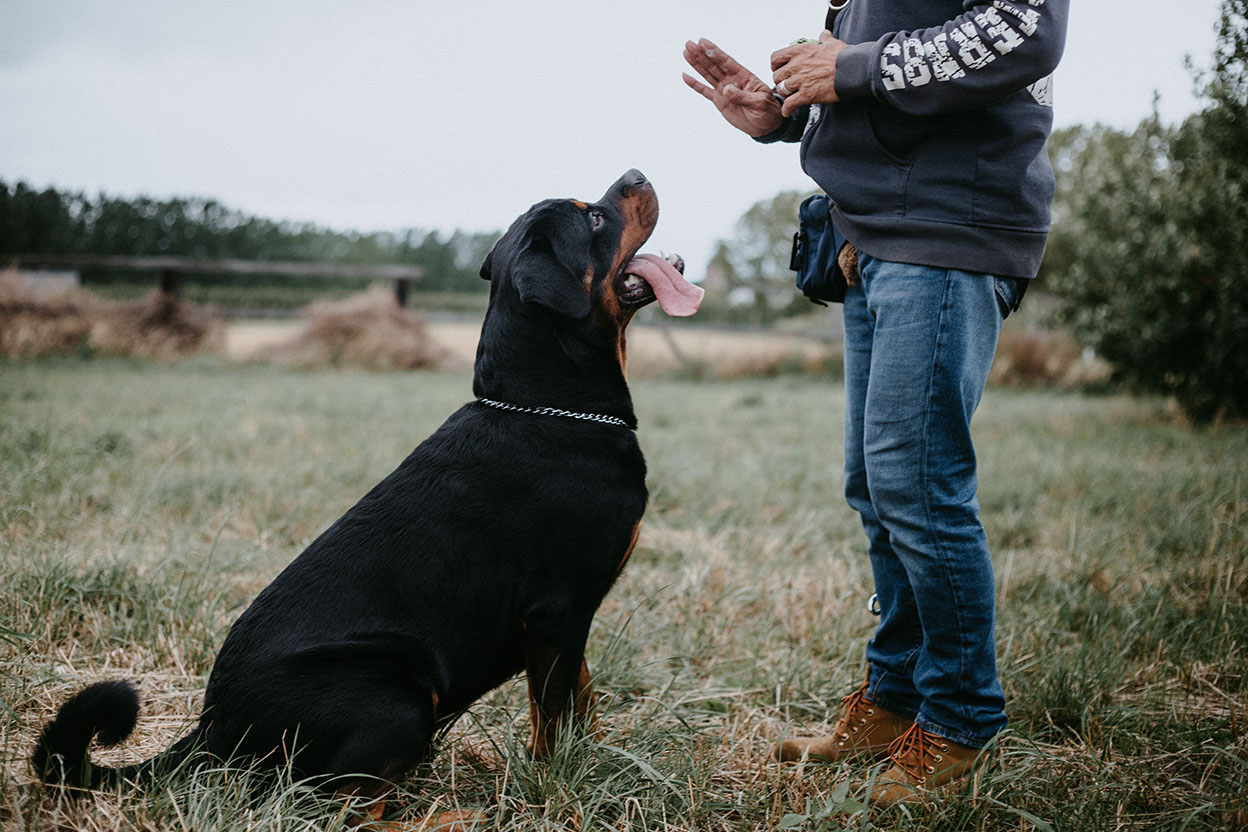 We all know, the dog is very adventurous as well as a curious animal that makes them perfect scape masters. And when they go a long way, we face some serious problems for sure. There comes the invisible dog fence.
The invisible fence not only prevents your dog from escaping but also teaches them the indoor manner as well as an outdoor manner. Who does not want a well-mannered dog, right?
In this article I am going to discuss how this fence works, why should you use this (though you already know why). I will tell you some more advantages), who should use this fence, some frequently asked questions, and, most importantly, some best invisible dog fences review that you are looking for. Just stay with me till the end. So without further talk, let's get started.
How Invisible Dog Fence Works?
First of all, let's talk about how does this invisible dog yard work?
There is a wire that is buried underground. The wire is the area or the boundary. A transmitter is connected to that buried wire, and the transmitter emits a radio signal which is transmitted throughout the wire.
In some other kinds of invisible fences, the boundary is made with the Wi-Fi signals. In that case, the radio delivers a radio signal that creates an invisible area or boundary.
The other main component of this system is a receiver. This receiver is set to the collar that is, in general, worn by your pet. When the dog comes close to the area or the boundary, the collar beeps. And if the dog comes closer, then the collar delivers a very gentle shock to the pet.
Maybe you think that the shock is inhuman, and this is a controversial issue, but the shock is very gentle and harmless. The closer the dog comes, the level of shock increases. This shock indicates the dog not to go far.
After a few times, the dog learns its area and starts respecting the area. This allows you to keep your dog in a particular area.
Why Should You Use an Invisible Fence?
It Keeps Your Dog Safe
Maybe you are looking for the best invisible fence for your dog just because you want to keep your dog inside your home area, but do you know it can keep them safe as well? If they run away from your home, it is quite possible that they have an accident, or someone gets afraid of your dog, and he attacked your dog.
Also, you might lose your puppy as well. On the other hand, if you have any pool, garbage place, or any other dangerous place in your house that can harm your puppy, then you can also prevent your dog from going those places by the invisible shape. That means the invisible fence will help you to keep your puppy safe and secure.
You Can Use It In an Irregular Shape
The best part about the invisible fence is that you can use the wire to create an irregular shape. No matter how big or small size your home or garden is, you can create a shape area according to your wish.
This will allow you to create a perfect shape of the boundary. With this benefit, you can also impede your dog to go to a specific area. As previously mentioned, if you want your puppy to not go to any dangerous place such as pool, garbage, or dustbin area, then you can also create a shape around that particular area.
It is Cheaper
Think about it. If you want to create a big boundary fence with wood or wire around your house, how much will it cost? Well, but if you use an invisible dog fence, then you can create the same size boundary at a cheap rate. This will do the same job.
On the other hand, maintenance is easy and inexpensive as well. Once you install the fence, you are done. What you need to do is to change the battery a few times a year. I am sure that it will not cost more.
As we are talking about installing, let's talk about the installation cost. If you want to create a fence around your house, you have to hire an expert that costs a lot for sure. On the contrary, you need no expert to install the invisible fence. You yourself can do it that will save you a lot of money.
It is More Discreet
We are talking about the invisible fence, right? That means the fence will be invisible since it is underground. It will definitely not impede the beauty of your house like it would if you install a wooden fence or wire fence around the house.
The invisible fence will allow you to enjoy the elegant view of your house without any obstacle.
It Makes Your Dog Happy
Maybe you think that since it delivers a shock, then how can this keep your dog happy, right?
Well, you know that dog needs space to play as well as exercise. Plenty of exercise and play make them happy and impulsive. Besides, regular exercise helps them to be stronger, intelligent, more agile, and less pone.
But how can you give them the space they need? There is a chance that they will go beyond the area and can reach the road or can enter into other's property.
But an invisible fence allows your dog to play in a certain area and enjoy its time. This will help them to be happy and emotionally stable.
There are a lot of other benefits of using an invisible fence, but I only mentioned a few. I hope you have understood why you should use the invisible dog fence.
Top 3 Invisible Fences for Your Dog
Since I am going to review t, I will not mention only good things about the product; rather, I will try to focus on all the problems it has as well.
Extreme Dog Fence Second Generation Electric Dog Fence Review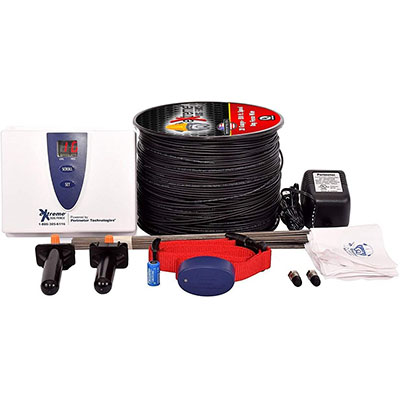 The Second Generation of Extreme Dog Fence is one of the best underground fences you will find in the market right now. This fence offers the most versatile features in the current time. The fence is made for keeping your dog safe and wellbeing.
This Extreme Dog Fence comes with High Tensile 20 Gauge Boundary Wire along with Heavily Protective Jacket, Collar Receiver w/ Battery, Digital Transmitter, Splice Kits, and Training Flags. The large boundary enables you to create a large shape, and the jacket help to protect the wire in any condition.
The digital transmitter is so rich that it can serve up to 25 acres. Can you imagine? Moreover, you can set the boundary from few inches to 32 feet in diameter. And the best part of this transmitter is that unlike any other fence's transmitter, which correction and warning zones shift in cold or hot weather, this rich and digital transmitter serves best in any situation.
Additionally, the training kits help you to train your dog and let him know the boundary it can go for. Also, you will get the collar. The best part about the collar is that it is waterproof. Unlike other collars who claim to be water-resistant, this one is completely waterproof. That means with this collar; your puppy can swim. And the good thing is it can submerge around 100 feet deep, and the collar will not be hampered.
You can cover Up to 25 Acres with this fence. These Updated Electronics fences are designed in such a way that they can be Compatible with the New Collar Options. Other than that, the fence is made in America. Not only the fence but also all of the single components of the fence are made in America. So you can easily imagine how good the quality is.
The thing I like most about the Extreme Dog Fence is its warranty and customer support. The company offers a one year guaranty for all electronics and a 2-year warranty for the strong fence. It also assures you that your dog will remain protected.
And you know, a company is as good as its customer support. The customer support of the Extreme Dog Fence is superb. They offer 24/7 customer support for not only solve your common problems but also for setting up your fence and training your dog.  Overall, I find this one very much effective, and that is why I put this on the top of my best invisible fence list.
Pros
Waterproof.
It comes with all the necessary kits.
It can cover a large area.
Good customer support.
Warranty.
Rich transmitter.
It comes with training kits.
Cons
Should come with a detailed manual.
Should come with a training manual.
PetSafe Free To Roam Wireless Dog and Cat Containment Fence Review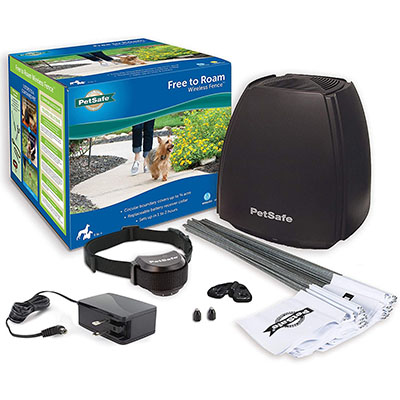 Now let's check out this wireless fence. But before reviewing this one, I want to tell you that the brand "PetSafe" is a reputable brand for providing good quality products for pet safety.
As the name implies, the PetSafe Wireless Dog and Cat Containment Fence are suitable for both dogs and cats. The invisible fence is invisible since there is no visible physical fence. As a result, you do not have to face any trouble to bury the wire. This ensures easy installation.
And the best part is it is portable. This means wherever you go, you can take this one with you. What you need to take is the transmitter. Just plug in the transmitter, and you are done. With this transmitter, you can cover up to 3/4 acre.
And with this one transmitter, you can control as many pets as you want, just adding the collar. The best thing is, like other fences in our list, that the collar is waterproof as well. The collar is suitable for the pets of over 5lbs and with 6-28 inches neck size.
Since you do not have to buy any wire, it is inexpensive than any other physical wire fence. Other than that, you will get a warranty if you buy the fence from an authorized dealer. Furthermore, it has 5 level of correction that allows you to train all kinds of dog and cat.
With this so many features, there are some problems. The fence is not suitable for a large area. If you want to cover a large area, then you have to buy an additional transmitter. Also, the range of the transmitter will vary for the terrain, metal objects, and topography. Moreover, you cannot customize the shape from a circle to a rectangle.
So if you have a small area and want to protect both cats and dogs, then this one will be a perfect option.
Pros
Wireless.
No need to bury.
Easy to install.
Portable.
Suitable for cat and dog.
5 level correction.
Waterproof.
Cons
Two months of battery life.
Not suitable in the rough area.
Not suitable for a large area.
It cannot change the shape of the area.
Inconsistent.
SportDOG 100-Acre In-Ground Pet Fence System Review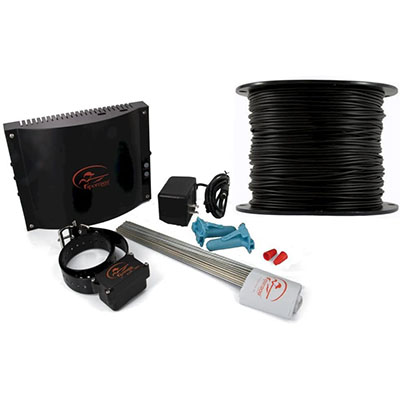 The SportDOG 100-Acre In-Ground Pet Fence System is another one of the best invisible fences that you can use for your dog. This is a great fence system for over 10lbs weighted dogs.
The wire of this fence is almost the same as professionals generally use. The SportDOG 100-Acre In-Ground Pet Fence System is proven to be secure, safe, and, most importantly, effective to protect your dog if that is over 10lbs.
The invisible dog fence comes with 100 training flags that help you train your dog. And the best part is, you will get the entire necessary guide to training your dog. The collar has an indicator light that will light up when the battery is down. It will help you to understand the current battery position.
And the interesting, important thing that I like so much is that it has lightning protection. You will find very few invisible fences in the market that has this feature. Additionally, you can expand the length of the wire if you need it by just adding some additional wire.
Overall, I find this one a good invisible fence. And if you check the feedback of this dog fence, then you will also understand how good it is to them who have been using this.
Pros
Easy to install.
Professional grade wire.
Safe and comfortable.
Lightning protected.
It comes with training flags as well as a complete training manual.
Cons
Not waterproof.
Customer service is not well enough.
Buying Guide
This is not mandatory to have all the features in one fence. But the more features it has, the better it is.
Range It Covers
The first thing you need to consider while searching for the best invisible dog fence is the range. If you have to cover a big area and you choose a fence that covers a small area, you will not get the benefit for sure.
So if you have a large space, then you should go for the underground fence and the one that can cover that large space. On the other hand, if you want to cover a small space, then you can go for either a wired or wireless fence.
Moreover, if you want to cover a particular area in your houses such as a pond, pool, or any garbage, then you have to buy an underground fence that has the ability to cover customize the area. So the range is very, very important.
The Size of Your Dog
As you have seen above that some fence can serve only when the dog is 10lbs or more, and some works in all types of dogs; it is important to consider your dog size while buying a fence. If your dog size is large, and you buy a fence that cannot prevent the dog from going outside the area, then your money will be wasted.
Number of Collars
Check out the number of collars the fence supports. In some cases, you might need to use the fence for multiple pets. And sometimes, you bring some new puppy to your home. So buying the additional fences for the additional pets is not possible for everyone.
And I think why will buy another one if there is an option of using the same fence for multiple pets, right? So check the number of collars. I will suggest going to the one that supports multiple collars. The more collars it supports, the better it is.
The Features of Collar
Now we have to the most important feature that you should check carefully every time you buy a fence.
Waterproof or not- the first feature is that it is waterproof or not. I think you regularly bathe your dog. So it will be good if the collar is waterproof. Otherwise, by any chance, if the collar gets in touch with water, it will be damaged and will not work.
Durability: since your dog will play wearing the collar, it has to be strong enough and durable. Otherwise, it can break down at any time.
Safety timeout: some collar has a safety timeout. That means the collar will not provide a top-level shock for a long time. This is important because long time shock can harm your puppy.
Battery warning: Does the collar have a battery warning? If not, then you will not be able to know the current battery status, and as a result, you will not know the collar is working or not.
Check out all the things of the collar.
Correction Level
The correction level is so much important to train your dog. If the collar does not have any correction level, it will provide the highest amount of shock to your beloved puppy. This amount of shock is not necessary for the dog if the dog is not aggressive.
On the other hand, if the collar does not have any level correction and delivers a smooth and gentle shock, then it will not work when your dog is aggressive for sure. So it is very much important to have the correction level.
Battery Types
There are two types of batteries that are rechargeable and non-rechargeable. I prefer rechargeable batteries all the time. The reason is that the rechargeable battery lasts long and save money. Moreover, it is environmentally friendly as well.
On the contrary, the non-rechargeable battery needs to be replaced every few months, and when you throw out the battery, it damages the environment. Also, it is expensive related to the rechargeable battery.
Training Components and Manual
Most of the fences buyers are not experts on the train their dogs for sure. As a result, they need proper training manual to train their dog. That is why choose the invisible fence that comes with a training manual.
But by what you will train your dog? You need training equipment. So pick up the fence that comes with training equipment as well. And of course, the best invisible fence comes with a training manual as well as training equipment.
If you check these things when buying the best fence, I hope you will get the best and perfect one. But remember, you will probably not find a fence that has all the features I have mentioned above. But try to select the one that has the maximum futures.
Well, now I think you have made up your mind and select the one you need. Now let's have a look at the frequently asked question. In these questions and answers, maybe you will get your answer as well.
FAQ
Q: What is the difference between wireless and invisible dog fence?
A: A wireless fence is an invisible fence, but an invisible fence is not always wireless. Any wire fence that is buried underground is the invisible fence.
Q: Are those fences effective?
A: Well, it depends. If you can buy a good invisible fence, then it will work for sure and keep your dog protected. But you can't buy the good one then it will not work for sure. Also, you need to select the fence based on the dog size, your area size, and some other factors that I have mentioned above.
Q: Are those fences safe?
A: It is safe in most cases. But if you buy a fence that does not have any correction level, then it might harm your puppy by delivering the highest level of shock all the time.
Q: Can I put the wire above the ground?
A: Well, you can. But it will not look good, and also it will be an obstacle for you.
Q: Will lightning affect the fence?
A: In some fences, it affects. But some fences are lightening protected.
Conclusion
An invisible dog fence is so much important to not only protect your beloved puppy but also keep your puppy happy, healthy, and charming. Also, it helps you to teach your doggy a proper manner.
Last Updated: 12th Dec, 2020