What are the types of sheds?
Storage sheds come in various materials, designs, and sizes. The main types of shed materials are:
Wood sheds: If you want to make your own shed from scratch, you will probably be building a wood shed. This material is the most common type of shed. It has good strength and a great appearance that fits with the trees and bushes in your backyard. But the cost of building your own shed can be pricey, and wood materials are prone to peeling, rot and decay over time.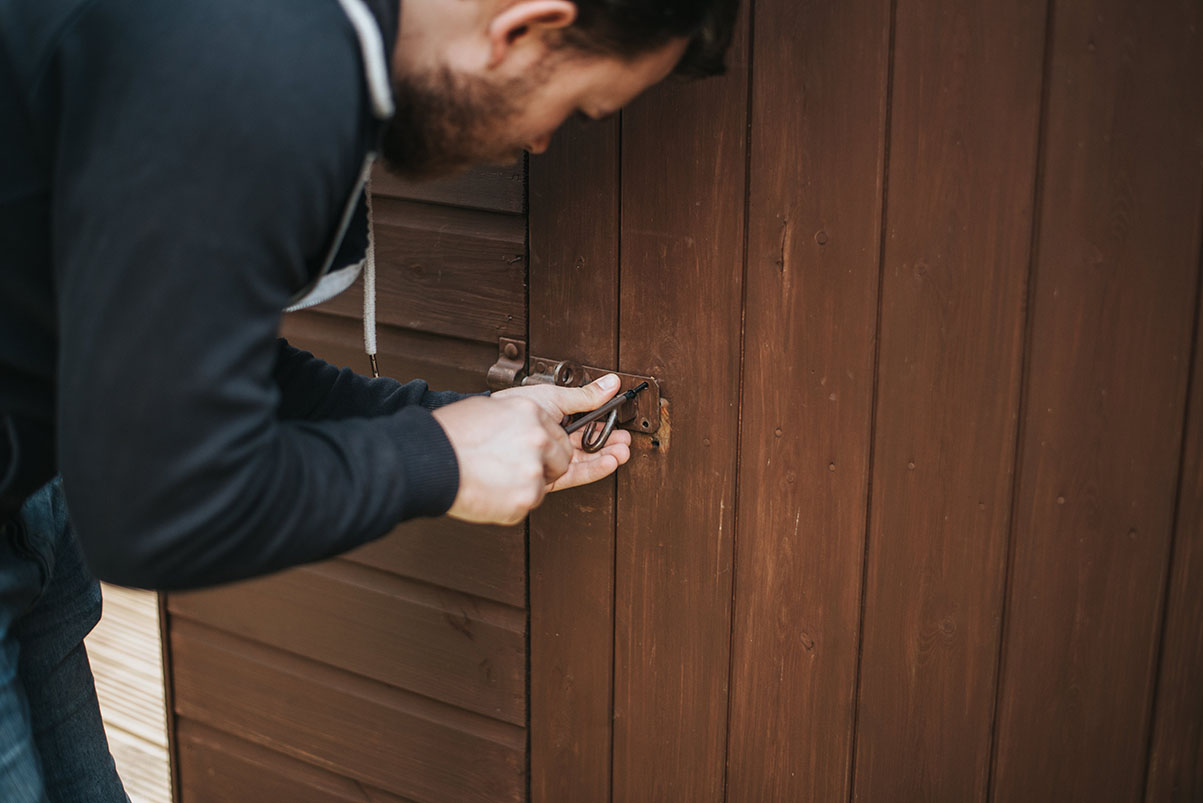 Metal sheds: The metal material provides the strongest and most durable type of shed. If you are using a shed to store heavy duty items, then a metal shed is the right fit. But the design of a metal shed often makes it look dull, and the cost of metal sheds can be quite expensive.
Plastic/resin sheds: If you want a good shed for the money, a plastic or resin shed may be what you need. These plastic resin sheds are not as durable as wood or metal although certain brands have proven to withstand storms with high-speed winds. Since these sheds are made from plastic, they often have more affordable prices compared to wood or metal sheds. The designs look good, and you can find many pre-built kits that are ready for you to assemble in your backyard.
Regardless of the type of shed you choose, you ought to build a foundation for the shed. It's possible to build a shed on level ground alone, but a wood foundation or concrete slab gives extra strength and stability. With a strong foundation, you can enjoy your shed for many years to come.
What are the best storage sheds to buy?
Living in a clean, neat and comfortable home is the dream of many families. As your family grows with the addition of new members, it makes sense that the amount of your belongings also grow. After some time, it feels that all these belongings need their own space inside or outside your home.
In a scenario like that, an outdoor storage shed could be the right solution for your needs. A storage shed building can give you plenty of extra space to store various belongings of various sizes. Some benefits of having a storage shed in your backyard are:
You can free up space in your garage while you renovate the garage
You can keep your gardening tools and equipment safe from harsh weather
You can store seasonal items (such as pool equipment) during when you don't use them
You can even use the shed as a workshop or chicken coop if it is large enough
Those are just some ideas on how you can use an outdoor storage shed. If you have a shed that is big enough, you can use it to store lawn mowers, snow blowers or generators. I've seen one person who uses his shed for storing a telescope in a makeshift observatory. You can get creative with how you use your shed, but the question that is on your mind right now is what is the best outdoor storage shed?
Best rated sheds – review of brands and price comparison
There are many brands that offer their models of the three types of sheds above. If you're wondering who makes the best wood, metal, or plastic storage sheds, then take a look at our brand and price reviews below.
Here are our top picks for best sheds according to several criteria:
Best shed for the money – Suncast 8' x 10' Tremont Storage Shed Review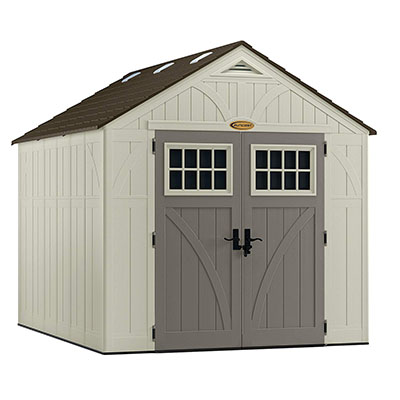 Suncast is one of the most popular brands of shed manufacturers. Among their best-sellers is the Tremont model that is one of the best-looking sheds. It takes as little as three hours to assemble this shed. The 8 x 10 size gives you 574 cu. ft. of space – enough for you to store a riding lawn mower inside the shed. One of the strongest features of this shed is that it can withstand extreme weather conditions, even surviving winds up to 65 mph!
Though the windows make this shed look beautiful, it can be a pain to install. Many buyers of this shed have a tough time installing the window panels correctly.
How long does it take to assemble the Suncast Tremont?
According to the official manual, it's recommended for two persons to assemble this shed. Assembly should take around 3-4 hours, not including the construction of the foundation. It's recommended you follow the guidelines to create a wood foundation, or create a concrete slab of your own. One user recommends you buy a metal base, lay treated plywood on top of it and use it as the foundation.
First, construct the wood or concrete foundation
Then, pre-assemble the parts (door, side panels, front and rear header)
Install the left front panel and continue clockwise with side panels
Install the double doors
Install the front header on top of the double doors, and the rear header
Assemble the roof reinforcement structure
Assemble the roof panels
For easy assembly, make sure you have all the parts necessary before you begin construction. The pre-assembly phase of building the shed is important as it makes it easy for you to build the shed. You can assemble this shed alone as many people have but having a friend or partner help you is better. Once you have pre-assembled the parts, the construction of the shed is easy.
One note about the windows: the windows do not open, and you can't see through them unless from up close. You can replace the tinted glass with fine mesh if you want better vision and sunlight in the shed.
What are the customer reviews of the Suncast Tremont Shed?
This shed receives one of the highest ratings in our review. The Suncast brand is a popular brand used by many people. There are some issues during assembly that may cause you inconvenience, but once the shed is built it is a good looking and sturdy shed.
Pros:
After pre-assembling the parts, one customer took three hours to build the shed
One customer reports that the shed withstood one of the worst winters they ever had
Another customer reports that the shed has held up to winds at 65 mph, storms, extreme cold weather, and extremely hot weather
One customer managed to fit in a riding mower, a pair of push mowers, a mini-tiller and other equipment and still have room left to move around
Cons:
One customer took three days to assemble this shed
Another customer worries that the floor is too soft to support heavy tools and equipment
One customer who has used this shed for three years reports that it starts to crack under hot weather
The most difficulty reported by many users is assembling the windows. Some customers took two hours just to assemble the windows alone. It's recommended to use super glue or a hot glue gun to fasten the plastic windows properly
Some customers report that there are missing pieces upon delivery. The good news is that the company is great and fast about sending replacement parts so you can immediately build this shed.
Best budget shed – Rubbermaid Big Max 7×7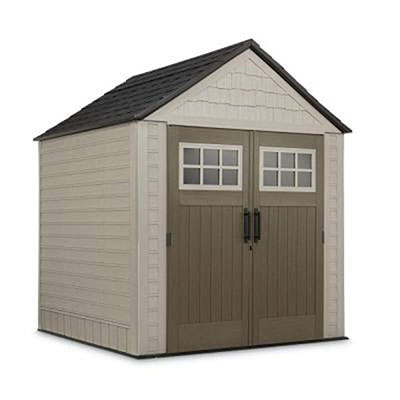 The Rubbermaid Big Max is a decent choice for an outdoor storage shed. It's not as big as the Suncast Tremont 8 x 10, but it still gives you 332 cu. ft. of capacity. The trade-off is that you can buy this shed at a more affordable price than the Suncast Alpine. You can assemble this shed in two and a half hours by yourself. Although it's small, this shed is quite sturdy – strong enough to survive a hurricane storm.
The downside to this shed is that it has no ventilation. Some buyers report that the shed warps when under hot weather. Even so, it doesn't get hot inside the shed when it is warm outside.
The features of this Rubbermaid Shed include:
332 cubic feet capacity
Lockable doors for added security
Leak, dent and weather resistance protection
Made for heavy duty use and easy to install
Durable, double wall surface construction
Rear window to let light inside the shed
This shed comes with a 10-year limited warranty. With this warranty, you can feel safe knowing that your shed is expected to last at least ten years in your home.
Customer Reviews of the Rubbermaid 7×7 Big Max Shed
In our research, we have found that this shed receives mostly favorable reviews. However, there are some problems with assembly that may turn you off this product:
Pros:
One user managed to assemble this shed by himself in just two and a half hours
For one user, this shed is sturdy enough to survive a hurricane storm
This shed can work in both cold and hot areas. Although the shed has no gable or roof vents, for users in hot areas, the temperature is not too hot inside the shed during daytime
Cons:
Many users report that you must create a perfectly level foundation before building the shed. If not, the doors will not close perfectly, and the roof won't fit easily
Ease of assembly depends on the size of your body and hands. Users report that people with short bodies or big hands have a more difficult time than others when assembling this shed
Because of these reasons, preparation before assembly is crucial to get it done fast and easy
Some users report that the shed warps when in the heat of the sun.
As a tip, you can build a solid foundation by building a wood or concrete base. According to official Rubbermaid guidelines, cement or patio surface, or a treated wood platform is recommended. If you are concerned about the temperature in your area, perhaps a metal shed would be a fitting choice.
To learn more about Rubbermaid Storage Sheds, follow this link.
Best looking shed – Keter Newton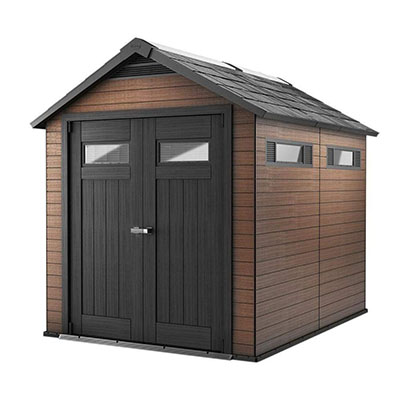 If you're looking for a shed that looks great in your backyard, then the Keter Newton Newton is your choice. Not only does it have a good looking appearance, but it's also made of wood and plastic composite (WPC). The wood and plastic composite give this shed the rich texture of wood and the weather resistance of plastic. Although this shed is not the biggest one regarding size, you still get enough space to stretch your arms to the ceiling and store many items.
There are not many downsides to this shed, except for this one minor inconvenience. Buyers of this shed report that there is an unpleasant odor from the material. Sometimes new home appliances do have a distinctive scent, but it can go away once you clean it and give it some time.
The features of the Keter Newton shed are:
Thick double-wall wood plastic composite structure
Easy to drill walls allow mounting options for extra storage
High ceiling to allow easy movement for adults inside the shed
Steel-reinforced tile roof to tolerate the weight of heavy snow
Full-length skylight provides natural light
Comes with four windows, two on each side, and ventilation
Pre-cut tongue and groove panels for easy assembly
The Newton shed has a padlock so you can lock it to keep your precious belongings safe. You can store your bicycle, lawnmower, and other valuable tools and items in the shed. This shed has ample lighting and ventilation, so you don't have to dig around looking for your tools in a dark, damp shed. It comes with a 10-year warranty, so you have protection for a long time.
How to assemble the Keter Newton shed?
According to the official Keter site, assembly should take two people around 5-6 hours. The assembly of this shed is slightly different from other sheds, especially assembling the walls.
First, assemble the floor panels
Then install the corner frames
Then begin to assemble the right front wall
Build the walls from bottom to top in a counter-clockwise manner
Install the front door frame and double doors
Install the front gable and then the rear gable
Assemble the roof reinforcement and install on top of the walls
Install the roof panels on top of the roof structure
Finish by installing the door handle and padlock
Of course, having a level base is important so that your shed is stable and easy to assemble. Here is a video from Keter showing a team of two people, a man and a woman, installing this shed in this video
What do the customer reviews say about the Keter Newton?
The Keter Newton Newton shed receives mostly favorable reviews with a few minor complaints:
Pros:
One customer was able to put together the shed in about five hours with one friend
A customer who is 6'2" tall reports the ceiling is high enough for him to stretch up his arms
A customer from Southern California reports the shed stood up to a very heavy downpour
Another customer reports that they were able to fit plenty of items into the shed: a snow blower, a mower, deck furniture, a leaf cooler, a wheelbarrow and even more – and they still have extra space.
Cons:
Even with ventilation, customers report there is an unpleasant odor from the material
One customer took nearly one day to install the shed and suggests, at least, two people build it
The material for the floor, skylight and door aren't of the highest quality
Some customers experienced a long delivery time – up to two weeks and more. One customer received many broken pieces and had to wait six weeks to get replacement pieces
When is the right time to buy a shed?
The sheds above are our top picks to show you the best brands and models on the market. If you want to save money, the best time and place to buy a shed is during a discount or sale at a store. You can buy from a local store near you or from an online store. Both local and online stores often offer fast delivery to your home. But the benefit of purchasing from an online store is that you can browse many brands and models and read positive and negative customer reviews without leaving the comfort of home.
Last Updated: 12th Dec, 2020