Introduction
A sump pump is an electronic device that is used in the basement of homes to help pump water from the basement to the exterior of the home in the event of moderate flooding. Basement flooding can occur for a number of reasons such as the basement being located below the water table level or below sewage lines, or places that are likely to flood in general. These pumps can sometimes pump the water directly outside or to the house's drainage pipe system. The sump pump is generally used in conjunction with a sump pit, a small hole dug into the floor of the basement to allow water to collect into it.
If the area you live in is prone to flooding or the foundations of your house are below the water table level, then you'll likely suffer from water regularly accumulating in your sump pit. A good pump will simply suck the water away from where it is being accumulated and deposit it elsewhere, ideally without you having to monitor it often.
Types of Sump Pumps
There are two types of sump pumps: submersible and pedestal. The Pedestal style sits over the pit and the Submersible style sits inside the pit. A submersible pump will be out of sight and quieter, however, it will likely not last as long as it comes into direct contact with water. It will typically last between 5 and 15 years. On the other hand, a pedestal pump remains out of the water and thus lasts longer – at around 25 to 30 years – and is easier to get to, however, it will remain in sight.
How to Choose the Best Sump Pump
What type of sump pump you choose should depend largely on how often you'll be needing it and for what type of water issues. If you live in an area where flooding or heavy storms are pretty frequent, for instance, then you might want to consider a sump pump that can be run on a generator in the event of a power outage. Here are some other factors to consider:
Sump pump cleaning and maintenance: How often you have to clean the sump pump should also be a consideration. If your basement is extremely prone to flooding then you'll want to clean your sump pump at least once a year. If it's not a common occurrence you can probably go about three to five years without cleaning the system. The Pedestal pump is the easiest to clean as it sits above the floor and it's easy to get to while the Submersible pump sits down in the sump pit and is generally encased to protect short-circuiting when the pit fills with water, making it more difficult to get to and clean.
Where the sump pump will be used: The most suitable sump pump for you will depend on your individual situation. If the area that is accumulating water is a usable living area, then a submersible will likely be best for you as it can remain out of sight and is quieter. It will also be safer around children. If these considerations aren't an issue then you may be better off with a pedestal pump as it will be easier to get to and likely to last longer, as mentioned previously.
The type of basement you have: If you have a finished basement that is used for entertaining or as an extra bedroom then you probably don't want a sump pump sitting in the room. They're not considered to be a highly decorative item and they do take up space, albeit not a great deal of space. If your basement is mostly used for storage purposes then you may as well use the pedestal style as it's easier to clean and won't present any aesthetic issues.
What sump pump features you want: Another factor you'll want to consider when looking for the best sump pump for you, is what features it has. Ideally, you want the pump to automatically come on as soon as the water starts to accumulate, and on the same note, know when to turn off automatically so as to avoid running dry. This way the pump can run automated with little interference from you. However, if the pump won't be in use on a regular enough basis to warrant having this feature, then you may prefer to have a manual pump.
You don't have to lose valuable items in your home or spend thousands of dollars on prevention and cleanup due to basement flooding. A simple somewhat preventative measure such as a sump pump will save you both the dollars and the headaches.
Best Sump Pumps in the Market
Zoeller M53 Mighty-mate Submersible Sump Pump Review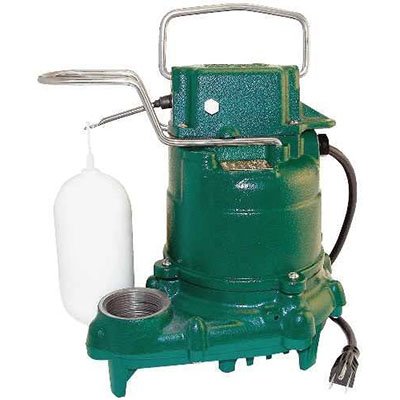 I've owned the M-53 ZOELLER Mighty Mate Sump Pump for a good 10 or 11 years now. The area I live in is quite prone to floods – even if it's not a major one – at least a couple of times per year. Needless to say, my basement was receiving the brunt of the damage and it wasn't quite the indoor swimming pool I've always dreamed of! Now, I actually wanted my basement to be a somewhat usable area so I knew that I needed a submersible sump pump as opposed to a pedestal one. After some extensive research, I settled on the ZOELLER M-53. Most professionals choose to install a Zoeller into their client's homes so I figured they must know something.
On the whole, I've been mightily impressed with the pump's performance. It's insanely quiet, much quieter than I anticipated. I know some of the pedestal pumps can be quite unbearable when it comes to noise but this one goes completely unnoticed. On the whole, the pump looks and feels of good quality with its stainless steel guard and handle. And ultimately, it works! It's done a great job of keeping my basement dry – as I say – for the last 10 or 11 years so I can't fault it there. There have been a few hiccups that I'll get to but overall, it does exactly what it's designed to do.
The main thing about the ZOELLER M-53 that appeals to me – and I think it should to anyone considering a sump pump – is that the product, in general, is a tried and true design. Pretty much the exact same design has been being manufactured for the last 20+ years. If that doesn't scream quality, then I don't know what does.
I also like the fact it has a backup battery, should the main power supply fail for any reason. This could happen for any number of legitimate reasons. As far as I know, the battery on mine has never needed to kick in for the entire time I've owned it, although I possibly wouldn't know if it had! It's just nice to know there's that backup.
The only real problem I've had and I've read of a few other people having a similar situation, is that the "built-in switch" isn't of the best quality. In the entire time that I've owned the pump, I've been through 2 of these switches. Yes, that's not great but I don't think it should put you off. They're about $30 to replace and at the end of the day, something like this will require maintenance. Frankly, that's all that I've had to repair it and it's easy and cheap enough to do.
Pros
Extremely quiet
It has a backup battery
It's a tried and true design that's been working for years
Cons
Not the best quality switch
It also has a plastic base as opposed to a steel one. Not a big issue but steel would be better.
Verdict
As you can see, it's pretty hard for me to fault the ZOELLER M-53. As I say, the only problem I've had in over 10 years of continuously using it is with the switch, and I think it would be wrong of me to hold that against what is, on the whole, a fantastic pump. If you need a sump pump, this is what you want.
Little Giant LG5MSP 1/6 HP Submersible Hydroponic Pump Review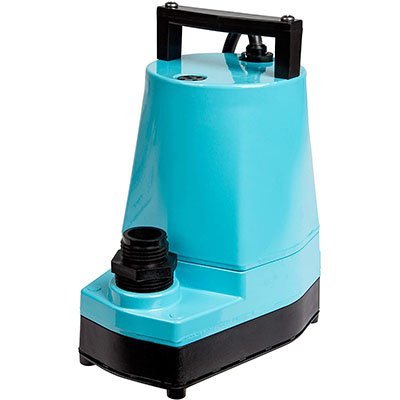 The Little Giant 5-MSP Submersible Utility Pump is a standby for me both in my business as a plumbing contractor and at home. This little workhorse of a utility sump pump will take care of almost any job quietly, quickly, and efficiently.
There is a removable inlet screen that makes the pump easy to keep clean- great for when I'm training a new apprentice! The sealed oil unit means I never have to replace the oil. I also like the 25-foot power cord, because it makes it much easier to use without using an extension cord.
I don't like to use extension cords for safety reasons, though of course, there are times when you just can't get around it. This awesome little pump also features an epoxy-coated, cast aluminum housing, which means it won't corrode with regular use. The Little Giant 5-MSP Submersible Utility Pump is meant to be used for continuous duty. That is another reason I like this pump.
I use this submersible water pump in my well to pump water to the house. I have another one that I use to pump water from my hot tub, so I can keep it clean. I also use it to pump water from my creek into my pond when it gets low in the summer. This keeps my fishing pleasant and productive, and gives my wife's ducks the water they need, too.
I also like the fact that this pump comes with a garden hose adapter, so it's easy for anyone to use, even my wife when she wants to clean out the hot tub herself. The only real problem: Sometimes the inlet screen will get stopped up with debris if there are leaves or other things in the mess I'm pumping out.
I just unplug the pump, lift it out, remove and clean the screen and it's ready to go again. If I'm pumping out large scales, or sometimes when I'm pumping water from the creek, it can be a little bit frustrating to have to stop and clean out the screen.
Pros
Easy to use
Heavy-duty construction meant for continuous use, either at home or work
Never needs oil
The inlet screen is easily removable to keep the pump clean
Works beautifully in almost any situation- plumbing, garden fountains, water pipe breaks. Extremely versatile!
Cons
The inlet screen sometimes gets stopped up. Easily fixed.
Occasionally have to use it with an extension cord for plumbing jobs.
Verdict
I even use the Little Giant 5-MSP Submersible Water Pump to pump the water out of large scales at junkyards and at concrete/aggregate companies when they need re-calibrating, without the worry of any debris ruining the pump because it never needs oil and the inlet screen protects the motor from getting gummed up or locked up with debris or dirt.
I've used this submersible water pump successfully at home and at work for years, and I would recommend it to anyone looking to make their home or their business a better place.
Wayne VIP50 1/2 HP Thermoplastic Portable Electric Water Removal Pump Review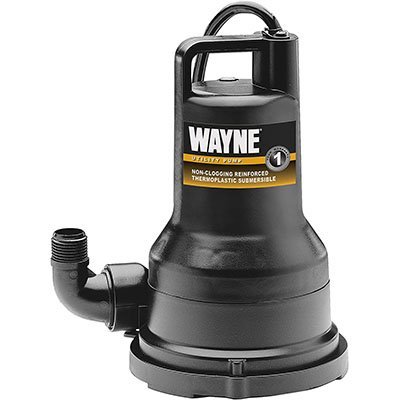 The Wayne VIP50 1/2 HP Thermoplastic Portable Electric Water Removal Pump is an excellent purchase. I have been an independent plumbing contractor for 20 years. Last year, I had to replace my old sump pump because the motor burned out. I purchased the Wayne Water Systems pump because this brand has always given me good service. It worked right out of the box, and that was a good thing.
I had a customer call me because the water pipes burst in the basement, and there was probably 3 feet of water standing in the basement by the time I arrived. I hooked the pump to the proper hose- a sump pump hose of about 1 and a quarter inches in diameter, and I had the basement pumped almost totally dry in roughly four hours! I pumped the water right out the basement window into the yard, and then replaced the pipes and the water heater.
I cannot complain about the effectiveness of the pump. I have three of these pumps. I use one in my business, and the other two I use at home. I pump water out of the pool to clean it, and I have a creek that runs by my house, which I pump water into my pond from during the summer months when it gets a little low.
The 1/2 Horsepower motor is powerful enough for just about any job. The fact that this sump pump from Wayne removes water to within 1/8 of an inch of the surface is a real time-saver at work! Getting that much of the water out of a basement is not easy, and leaving only that little bit of water makes cleanup much faster and easier than it was with some of the equipment I used when I started this business 20 years ago.
Not every pump has Glass-reinforced housing to prevent rusting. The ones that don't have that glass housing protection will wear out faster because the housing rusts out and then the motor goes, making you have to replace them more often.
I don't have that problem here. This pump will connect to a garden hose with a ¾ inch adjustable adapter. That is fine for people who might use this pump occasionally but tends to slow the flow down. Using the proper hose speeds water flow and saves a lot of time.
I've used this submersible water pump in basements and garages that were full of river silt and mud after big storms with no trouble – it even pumped out silt and thick mud without clogging!
The only time I have ever had a problem with the Wayne 1/2HP 2500 GPH Submersible Water Pump was when there were fairly fresh leaves that fell into the creek during a big storm that came up suddenly last summer.
The leaves had not had a chance to decompose yet, so they were too big/thick to go through the pump and it clogged. I had to take off the bottom cover and pull out the leaves. Once I had it unclogged, it was fine, and it's still working for me.
Pros
Completely submersible
Gets out water, mud, sand, and silt without clogging
Removes water to within 1/8 of an inch very quickly
Glass-reinforced housing prevents the pump from rusting out
Virtually indestructible, as long as you don't let the pump run dry.
Cons
Will clog if debris is more than 1/2 inch thick.
Not recommended to use with an extension cord.
Verdict
The Wayne VIP50 1/2 HP Thermoplastic Portable Electric Water Removal Pump is a great choice for either home use, or for use in my business as a plumbing contractor. The price is fair, and you get better service from Wayne Water Systems products than you actually pay for. I'll never use another brand. I highly recommend it!
Superior Pump 91250 1/4 HP Thermoplastic Utility Pump Review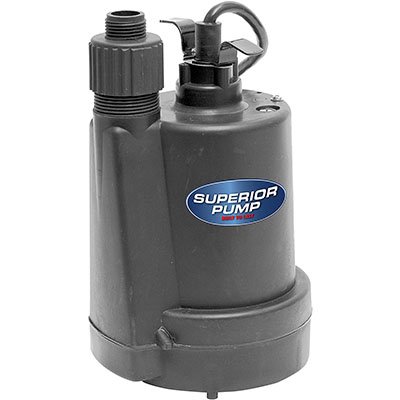 The Superior Pump 91250 1/4 HP Thermoplastic Utility Pump is a great little pump to have ready in emergencies, like broken water pipes, heavy rainstorms, or other reasons you might have a leak in your yard or basement.
I've been a plumbing contractor for more than 20 years. I'm picky about which pump I'll use in my house. The Superior Pump 91250 ¼ HP Thermoplastic Submersible Utility Pump is UL listed, has a completely waterproof electrical cord, and pumps water very quickly out of a basement, pool, or Koi pond.
I keep this submersible utility pump handy at home for cleaning out my Koi pond and adding fresh water at the same time. I bought one and installed it at my sister's in her garden fountain. This little workhorse is meant to run continuously, so the water in her fountain is constantly being circulated to keep algae and mosquitoes from growing in it.
I like the fact that the electrical cord is a full ten feet long, so if I need to, I can move it from one area to another fairly easily, and I rarely need an extension cord. I don't like to use extension cords if I can help it, especially with water.
It was a little difficult to prime the pump the first time I used it, but pinching the hose solved the problem easily, and it drained the water out of my basement after the rainstorms a few years ago down to only 1/8 of an inch of water.
That was quickly mopped up with no problems. The cord is pretty stiff because it's waterproof vinyl instead of rubber, but that isn't too big a problem. You just have to make sure you have room to set the pump down straight out from the outlet, rather than beside it or around some sort of corner. No biggie.
Pros
A sturdy motor that pumps a lot of water quickly
Thermoplastic housing resists corrosion very well
UL-Listed, waterproof cord
Drains water down to 1/8 of an inch
Cons
The cord is extra stiff
A little difficult to prime the pump
Verdict
The Superior Pump 91250 1/4 HP Thermoplastic Utility Pump is a great choice for home use because it has a good safety rating, is powerful, fairly quiet, and easy to use. It drains a basement or a pool or a fountain with ease, or it will recirculate the water in a garden fountain wonderfully.
This heavy-duty submersible utility pump is a great choice for your home or your business. Resists corrosion, does not get clogged easily at all, and is an energy-efficient workhorse of a pump for its small size. I'd recommend this pump to anyone looking for a good utility pump.
Simer 2305-04 Geyser II 1/4 HP Submersible Utility Pump Review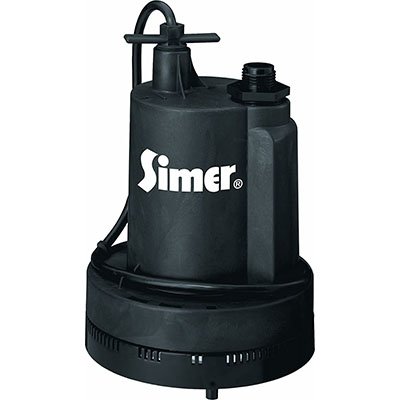 I was in a pretty desperate situation a year or so back and was frantically looking for a good pump. My basement had flooded significantly and I needed something a lot more substantial than mops and buckets! I came across the Simer 2305 Geyser II 1/4 HP Submersible Utility Pump online and I have to admit, was a little weary due to the low price. The last thing I wanted was to spend money on a product that wasn't going to help my situation, or even make it worse.
The pump arrived in 3 days (so very happy) and my initial impression exceeded my expectations considerably. It has a very tough, high quality feel to it with its thermoplastic body. It's also a good size, it's not too small but it is quite narrow so it's capable of getting in positions where many other pumps can't. Despite its relatively small stature, however, it has a good base on it keeping it in a very stable, upright standing position.
With its capability of pumping as much as 1,260 gallons per hour, it did a fantastic job of draining my basement. I've since used it for draining rainwater from an empty swimming pool and have lent it to numerous friends and neighbors for various tasks and they've always reported how effective it is.
The best thing in my opinion has got to be the ease of use. I don't think I've actually ever read the instructions that came with it but I've managed to work out how to use it with no problems.
The only "flaw" I would point out, and I've read of others experiencing the same problem, is that it doesn't actually pump water from quite as shallow as advertised (1/8"), but there is a solution. It will pump water from at least 3/4" and I've found that if you submerge it in deeper water just to get the pump "activated", then quickly switch it to the shallower water, it will suck up that last 1/8". It's more just a small inconvenience, but never the less, something to be aware of.
Pros
Extremely easy to use
Good, strong build quality
Stable, standing position
Very affordable
Cons
Does not pump water quite as low as advertised
Verdict
As you can see, there's really nothing "wrong" with this pump – just a small inconvenience – and overall you'd be hard-pressed to find a better alternative. If you want a good, reliable, easy to use the pump, then get the Simer 2305 Geyser II. Highly recommended.
How to Install a Sump Pump Basin
Sump pumps can be professionally installed by plumbers and other contractors. If you are brave enough and confident in your skills, here are some important guidelines.
Choose Sump Pump Location: Familiarize yourself with the layout of utility and water pipes under the foundation of your house when choosing the location in the basement for placement of the basement sump pump. Obtain a diagram if possible. Pump installation will require digging under the foundation and it isn't wise to risk hitting any access or connectors.
Mark Location: Once the location has been picked, place the basin turned upside down on the spot. Draw an outline of the basin with a permanent marker on the concrete floor using it as a guide. Make the outline about six to ten inches bigger all around than the actual basin. Chipping often occurs when digging into the floor of the foundation and can cause the opening to be larger than intended. It is strongly recommended that digging take place no closer to basement walls than 10 inches.
Hole Drilling: Jackhammer along the outline you drew around the pump basin. Go slowly to ensure accuracy. Once the outline has been cut, begin using the jackhammer in the middle using a smaller sized bit. You only want to break the concrete up enough to remove it. Don't try to hammer too deeply. Remove the loose concrete.
Basin Placement: Use a shovel to dig the dirt out of the cleared space to make a whole in which the basin can be placed once it is sufficiently deep. There should be a space of 1 to 1.5 inches between the basin top and the dirt floor. The hole should not be deep enough for the pump basin to be flush with the ground because concrete will be used to make the basement floor and the pump basin flush.
Gravel Filling: Use gravel to fill the space between the basin walls and the hole until the loose gravel meets the top of the dirt hole. This should cause the basin to stand upright in the hole. If not, gently rotate the basin to allow the gravel to shift into place.
Smoothing: Use a trowel or wooden float to smooth the dirt around the pump basin. While doing this, remove any chunks or debris remaining from the use of the jackhammer. Rocks or debris will cause the cement to dry improperly. There should be a space of 1 to 1.5 inches remaining between the basin top and the dirt floor.
Cement Application: Once the dirt is smoothed and the cement has been properly mixed, use a trowel to apply the cement. In evenly spreading the cement, the pump basin should become level with the cement floor. The cement floor should be allowed to completely dry before resuming the installation of the plumbing and pump.
An Introduction to Sump Pump Pits
When purchasing a new sump pump, the homeowner can find them at various prices starting at less than a couple of hundred dollars. Even the cheapest of sump pumps generally serve well for five years. The more bothersome and usually more expensive aspect of installing a new sump pump is the creation of the pit in which the pump is installed. The only good thing about having to make a pit for your sump pump is that it only needs to be done once.
Fortunate homeowners who have recently purchased a house built within the last twenty years will probably already have a basement equipped with an installed sump pump. For those who have to tackle the problem from scratch, there are some options. If you are comfortable and experienced with important home improvement projects, you may consider creating the pit and installing the pump yourself. Someone without experience or knowledge of creating a pump pit may not want to take this opportunity to be adventurous. It is effortless for a novice to cause irreparable harm to the house foundation with a seemingly small mistake. The process of creating the pump pit involves removing loads of broken concrete and displaced dirt, installing drain tiles, and applying gravel. Not only is work hard, but it also requires a surprising amount of precision.
Contracting an experienced professional in this field to build the pit is the most convenient and expedient choice, although costly. Building the pit for the sump pump installation can cost around five thousand dollars or more. This can be especially taxing for a person who just recently purchased the home unless concessions were made to either have the seller cover the cost, or it was offset by a lowered down payment.
If basement flooding appears to occur exclusively in a particular area of the basement, the installation of an isolated sump pump pit surrounded by gravel may alleviate the problem. The materials needed to complete this task include pipes, fittings, a sump pump, cement, and gravel. The materials will cost around two hundred dollars, significantly cheaper than what would be required to redo the complete basement. A professional contractor can be paid to perform the job and it will probably cost less than $500.
Installing the isolated pit is much less risky than tackling the entire basement floor especially for the inexperienced novice. The entire endeavor, regardless of the type of pit installed, is a very serious project and if the homeowner is not confident in their skills or knowledge, it is a project best handled by a professional. The cost of labor is only within a few hundred dollars more than the materials and that investment can save thousands of dollars in potential damage.
Submersible Sump Pumps – When You Should Use Them
The saying is that an ounce of prevention is worth a pound of cure and the same principle can be applied to the threat of basement flooding. Houses situated at the base of hills and on flat terrain are commonly susceptible to basement flooding. On flat terrain, melted snow and rain has nowhere to flow except into the soil which causes ground saturation. This increases the pressure exerted on the structure's foundation resulting in cracks through which water enters and causes the basement to flood.
The most effective protection against flooding in the basement is the installation of a submersible type sump pump. Because most water enters the basement at the lowest point, submersible pumps can start working on water removal before the basement floor even becomes wet. Submersible pumps are placed below the level of the basement floor and can therefore detect water seepage at the earliest possible opportunity.
There are basically two styles of basement sump pumps available for purchase:
Pedestal Style Sump Pump: This type stands above the waterline with the motor elevated because it is not designed for exposure to water. The pump is activated by the floater which signals the power to be turned on once the water attains a certain level. The pump removes water from the basement once powered on. Although less expensive than the submersible type, the pedestal pumps are considered to be noisy in comparison.
Submersible Style Sump Pump: This kind of pump is placed below the floor level and operates underwater in the event of water accumulation. The activation function is essentially the same as the pedestal with a floater sensor. This type is the most popular and widely used because of its quiet operation and safety features. The motor is more securely sealed and protected by a cover for the pump which keeps out debris and dirt.
Pump Maintenance
Sump pumps, like any other home appliance, require routine maintenance. The necessity of a properly operating pump is such that many people opt to pay for professional service to maintain or repair the submersible style sump pump. Failure to regularly examine and check the operation of the pump can result in disaster should heavy rains catch the homeowner off guard. The worst time to repair a sump pump is at the moment it is needed. These submersible style sump pumps usually come with instruction manuals suggesting ways to care for the pump and keep the security of your basement at peak level.
Because it is such an important piece of equipment, most people hire professional contractors to ensure the proper function of the submersible style pump. The majority find the peace of mind a professional's attention provides worth the additional cost. However, not all pump maintenance requires a professional level of expertise or even much mechanical inclination. Annual cleanings are easy for the layman to perform and the pump should be visibly examined, especially when harsh weather is forecasted, to be sure there is no debris or blockages that may hinder performance. The pump should be manually turned on to test it periodically.
Choosing to invest in the installation of a submersible style sump pump can prove a smart decision in the face of costly water damage basements that can sustain without one.
Using a Pedestal Sump Pump – Pros and Cons
A basement sump pump is made to pump water from the basement in which water has accumulated. The pedestal style sump pump design places it above the basement water line. When water accumulates to a certain level, the sensor within the pump automatically turns the power on and the pump starts to remove water from the outside of the structure. Sump pumps are necessary to prevent flooding and water damage to both the contents and structure of the basement. There are two basic kinds of pumps: submersible and pedestal. They serve the same function but have different designs.
While it prevents flooding, the basement sump pump protects the home and occupants from the health hazards that can result from collected moisture breeding bacteria and mold. Additionally, by preventing water from accumulating and sitting, the pedestal style sump pump helps to protect the structural integrity of the foundation by making it possible to avoid cracks which can be caused by the water. Sitting water can also damage important belongings that are stored in the basement as well as appliances such as washers, dryers, furnaces, and hot water heaters.
A drawback of the pedestal style pump is that it makes more noise than the pump designed for submersion which makes it the least popular between the two types. However, if the noise of the pedestal style is not a deterrent, the homeowner will benefit from the comparatively lower price than that of the submersible pump. Many people find a more cost-effective model to be a better investment because of its frequent use and are therefore motivated to purchase it more often.
An additional benefit that the pedestal style pump has over the submersible pump is its ease of maintenance. Standing above the established water line makes it easier to affect maintenance and repairs to the pedestal style pump. The submersible pump is less accessible and consumes more time and energy to fix when in need of repair and to maintain. Routine maintenance is required to ensure proper operation of either style of the pump so this may be a major consideration when making the purchase decision.
The cost and ease of maintenance and repair of the pedestal pump can be a major consideration when shopping through available sump pump models. Regardless of the type preferred, the sump pump installation in the home is essential for the safety of the people residing in the structure and the security of the home.
Water Powered Sump Pump – A Buyer's Guide
The basement of the house now serves many purposes. No longer solely designated as the storage catch-all, many people have turned the basement into a place of entertainment, relaxation, and family enjoyment. To enhance the usefulness of these basement-rooms, families install home theater equipment, various electronics, and cherished toys and hobby equipment. One downfall of utilizing the basement in these ways is that the majority of homeowners' insurance coverage does not include flooding as a part of the policy. This means that if that comfy basement floods, all of those expensive and cherished belongings are lost or damaged with no insurance to replace them. The possibility of losing much more than old strollers and bicycles has made many people decide to install sump pumps powered by water as a backup to their existing sump pump.
Sump pumps powered by water remove the water from the basement by forcing publicly supplied water through an ejector to decrease the pressure of the water flow coming in which causes it to be drawn from the pit and outside. It is an effective process serving a useful purpose.
There are many reasons for the basement's main sump pump failure. Unfortunately, the problem may not be exposed until the pump is needed to clear a flooded basement. One reason for the pump to fail is that severe weather while causing flood conditions, can cause a power outage that renders most sump pumps inoperable. Other electrical interruptions such as tripped circuit breakers or blown fuses can cut the power supply to the pump. Sump pumps also can be blocked by rocks, debris, or dirt. The main pump could also be knocked out by overwhelming amounts of water collecting in the pump pit. These issues may not even be discovered until the pump and the basement are covered by ankle-deep water.
These are the types of incidents in which a backup pump powered by water would save the basement and its contents. A sump pump powered by water has no need for batteries or electricity. It doesn't even have any moving parts that can jam. As long as the water is still being supplied by the municipality, a water-powered pump will still remove excess water from the basement.
The most significant drawback to the pump powered by water is the additional cost in water consumption when it has to run for a long period of time. This aspect of its operation can make it be less cost-efficient. However, it must be weighed against the fact that it will only be activated in the event of the main sump pump failure. In which case, the damage the water-powered pump prevents probably will outweigh the additional water consumption charges.
Installation of a sump pump powered by water can be accomplished with a minimum of plumbing knowledge and few tools. As with most critical household projects, proper installation is best ensured by the hiring of a professional contractor experienced in the process. Unless the homeowner is experienced in the field of plumbing, it is recommended that a professional contractor or plumber install and have a test run of the water-powered pump.
With the recent instances of unusually severe weather conditions all over the world, it is a logical decision to ensure the safety of the home and belongings with a backup pump powered by water. It can be viewed as additional insurance against loss and damage. In addition to providing security against the loss of property caused by flooding, the pump powered by water helps protect the occupants of the home from the hazards of mildew and mold growing in the basement in the wake of a flood.
Last Updated: 13th May, 2021