Introduction
No matter you have a small garden or large pasture, nature will always take its toll on the hard work you have done. For pastures, aimless wandering, and predators pose some serious threats to your livestock, that means your livelihood. For farms and gardens, wild hogs, deer, and other omnivorous or herbivorous pests pose some serious problems.
To avoid these problems, nowadays, a lot of people start using an electric fence. This electric fence creates a good deterrent that helps to keep out the animals you want or keep in the animals you wish to. Electric fence is less expensive, easy to install, and easy to maintain, and at the same time, it is very much effective.
But you know, no electric fence system can run without electric fence charger, and I am assuming that since you are here, you are searching for the best electric fence charger. You will find a lot of fence chargers available in the market, but find the best one is a little bit difficult. Besides, not all chargers are suitable for all purposes.
How to Choose the Best Electric Fence Charger that Suits You Best
Choosing the best electric fence charger is not so easy, especially if you are not an expert or if you have not used any charger before. Additionally, not all types of chargers are suitable for all types of fences. So you have to be careful before buying or ordering any electric fence charger for your electric fence. Here are some things you need to check before purchasing the one you have chosen.
Current: The first thing you need to consider before buying the electric fence charger is which power supply you are going to use. There are three types of fence chargers available in The first thing you need to consider before buying the electric fence charger is that which power market. Those are 110 volts or 220-volt plug-in chargers, solar-powered charger, and battery power charger.
110 Volt or 220-Volt Plug-in Charger: This 110 volts or 220-volt plug-in charger offers you continual power source, and it is the most cost-effective power source. Though a 110-volt plug-in charger can power most of the fence, if you want to power a longer fence, then you have to use the 220-volt charger. When you use a plug-in charger, you need access to an active electric outlet. It depends on your fence location because there electricity might not be available. One thing I want to mention that if the electricity goes out, then the fence will not work. It could be a wise decision to use a generator if you often face load shedding problem.
DC Battery Powered Charger: Battery powered charger is an excellent option for those people who do not have access to an electrical outlet. But since you have to recharge the batteries or charge the batteries after a few months or years, you have to spend a little bit of money. Which means it is a little bit expensive.
Solar Powered Charger: A solar power charger is a perfect option for those areas where there is an adequate amount of sunlight. But one thing you need to remember that it will not work as expected in the winter season, especially if your area receives snowfall. Also, if the sky is overcast frequently in your area, then you have to rely on battery power. So think wisely before take the solar-powered charger.
Impedance: 'Impedance' is another essential thing you need to consider before purchasing an electric fence charger. Different types of electric fence chargers have different types of impedance. And this affects the amount of power your charger needs to deliver. For example, poly tape, poly rope, and poly wire all are low resistance, which means they need less power, so for these fences, low resistance charger is suitable. On the other hand, if you use wire fencing such as steel wire that has a higher resistance compare to the aluminum wire, then you need a stronger charger to compare to the charger needed by an aluminum fence.
Fence Length: Before choosing the charger, you need to make sure that it is strong enough to power the fence you have. If you get a less powered charger, then it will not be able to supply power to your fence. So make sure you choose the right charger that is capable of powering your fence.
Types Of Animals: Your need will be very different for the electric fence when you are raising horses vs. when you are raising goats. And it will be different as well when you are trying to protect your garden from small nuisance animals. The reason is that larger animals need stronger shock where small animals need a weak shock. And that is why you need a stronger charger if your fence is for larger animals and in the same way you need a less powerful charger if your fence is for small animals. Let's have a look, what types of shocks you will need for what kinds of animals.

Cattle And Horses: These types of large domestic animals do not respond well to weaker shocks. As a consequence, they need stronger shocks. 3-8 joule output is enough to deliver strong shock you need for cattle and horses. So buy a charger that can provide that much joule.
Deer And Pets: Obviously, you do not always try to keep animals, but sometimes you need to keep animals out. For example, if you are an owner of the small garden, then you need to protect your plants from rabbits or deer or other small nuisance animals. These animals are a little bit timid. So you need a solid but not excessive amount of shocks to keep them out.
Predators: And lastly, the predators. Predators are the main bane of the owners of any kind of livestock.  The good news is the same charger that can be used to keep in cattle and horses can be used to keep the predators out. But there are two anomalies. They are bears and boars. They have an insatiable appetite, especially bears. If bears smell any kind of food, they want them to try to get that food anyway. And boars are similar to the rhino. They do not care about any obstacle. So these two animals need a solid and stronger shock. If you want to keep these animals away, then you need such a charger that can deliver the strongest shock. So check before buying.

Future Plan: If you have a plan to expand your fence in the future, then it will be a wise decision to take a powerful charger that can power a longer fence. The reason is when you expand the fence, you will not need to buy an additional charger to power the fence. On the contrary, if you purchase a low power charger and expand the fence in the future, you will need an additional powerful charger to power the fence. So as I said, it will be a wise decision to take a powerful charger if you have a plan to expand the fence you have current now.
Finally, take a little bit more time to make the decision. I know you need the charger as soon as possible, but if you think a little bit more to get the best electric fence charger, then it will serve a long time.
Brands
Best Electric Fence Charger
Zareba EAC50M-Z AC-Powered Low-Impedance 50-Mile-Range Electric Fence Charger Review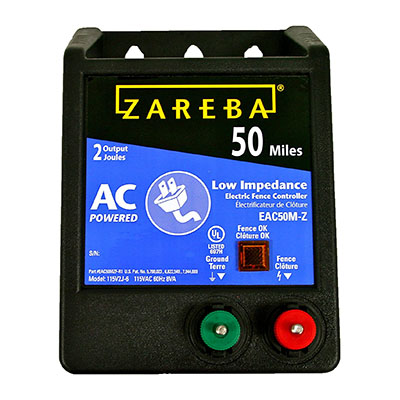 Zareba EAC50M-Z is the first of the three electric fence chargers on the list that comes from the brand 'Zareba' fairly known in the farming and ranching community. The brand is famous because of its good quality.
This charger comes with a 50-mile range, and it supports all types of AC supported electric fences, including poly wire, high tensile, and polytope. Besides, it is used to control almost all types of predators and livestock. That means you are getting all in one package.
This America made charger is UL listed. What that means is that it is safe to use, and the features the company mentions are true. So you do not have to worry about safety.
The best thing about this product is it comes with three years warranty which includes damages caused by lightning. It removes the concern you had in your mind. Moreover, it has an indicator light. It shows the charger is working or not.
The fuseless design makes the charger better. Furthermore, all of the internal components are moisture-resistant. It helps you reduce your concern about moisture. Additionally, it has other features include weather-resistant case, a rugged, 2-joule output at 75-ohm, 60 cycles, 115-volt, and pulsed output, which make the charger better than other chargers in the market.
Other than that, this AC-powered high-quality charger sustains the highest amount of energy on the fence, and it delivers effective but safe as well as high voltage shocks along with digital timing. And you will be happy to hear that it works excellently in heavily weeds condition. So if your pasture or garden is weedy, then this is undoubtedly the best choice for you.
Pros
Can work in weedy condition.
Three years warranty.
Fuseless design.
Digital timing.
It has an indicator light.
Cons
Zareba EAC25MZ 25 Miles AC Low Impedance Electric Fence Charger Review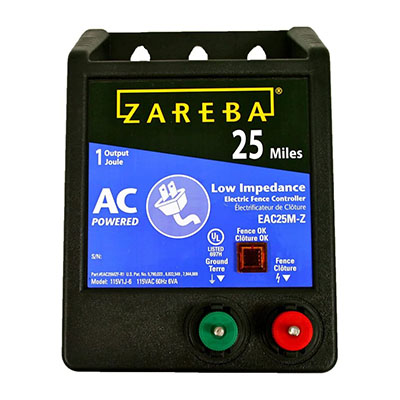 Do you have lots of weeds around your electric fence? Then Zareba EAC25MZ charger might be the option for you. This Zareba EAC25MZ electric fence charger works best in heavily weeds conditions. You can also use it for all types of animals like horses, cows, sheep, goats, and others, even predators as well.
Other than that, it can power all types of wire, including the high tensile, poly tape, and poly wire. Also, this charger can maintain the highest amount of energy in the long fences due to its low impedance and deliver safe but effective shocks along with the digital timing.
Like the previous one of the Zareba brand on our list, this one has the light indicator that indicates the charger is working or not. Also, it has a 'fence OK' light. What is the job of this light? Well, if this 'fence OK' light is on, then your fence is working. By this indicator, you can quickly check your fence status.
Maybe you think that with so many features, this one might not be easy to install. But let me prove you wrong about this. This one has easy-grip screws on the terminal knobs. Those help you to connect your live fence wire and ground-rods. Just connect your fence line to the charger's red terminal and, on the other hand, grounding line to the charger's green knob. You are done. Isn't it so simple to install?
When it comes to quality and safety, the charger is UL certified. I hope you have already known what that means. So you do not have to worry about quality and safety. Now let's see some interesting facts that will help you understand the quality.
The product has a 36 percent lower return than the competitors. Furthermore, this product is highly rated. Almost 85% of buyers give the 4 to the 5-star review. Not only that, but it is also one of the most popular electric fence chargers in the USA.
Overall, this one is one of the best electric fence chargers you will find in the market. If you are not satisfied with the features I have mentioned above, let me tell you more. It covers 25 miles, has weather resistance, durable case, 1-joule output, AC powered plug-in, has battery hooking line, and many others. So you can pick this one by closing your eyes. 
Pros
Weather resistance.
Light indicators.
UL certified.
Works on heavily weeds condition.
Easy to install, use, and maintain.
Cons
Not waterproof.
Expensive.
Parmak MARK8 Low Impedance 110/120-Volt 30-Mile Range Electric Fence Charger Review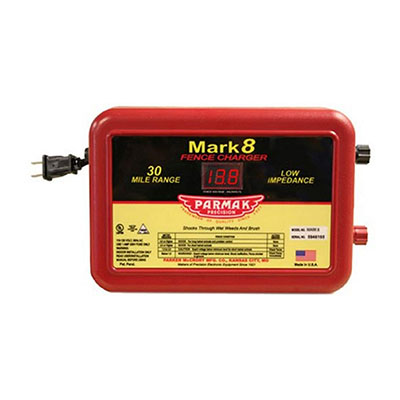 The brand new Parmak MARK8 makes its position on our list for its amazing and effective features. In this modern digital era, people want everything in digital form. And this Parmak MARK8 electric fence charger is fully digitalized.
This charger comes with a digital meter that shows the voltage on the fence that allows you to know how much voltage is flowing. This knowledge helps you to understand the number of shocks. And this digitalized fence charger is very much cost-effective. It only cost 7 cents per month at a rate of 7 cents per KW/H or less.
It can power up to 30 miles range, which is a perfect range for the medium pasture. And honestly, this one is designed for the small and medium garden as well as pasture. Additionally, the charger is suitable for all kinds of livestock along with predators.
It features a hundred percent solid states in addition to all-new low impedance, computer-controlled advanced circuitry. And the best part about the charger is that you can install it indoor. And it is perfect for using along with the high tensile single-wire fences or multi-wire fences as well.
The unique feature of this product is that it has fuse protection. Not only that, but also it has lightning arresters. It will surely relieve you from the tension about the charger of being destroyed by the lightning. Additionally, you will get two years warranty that covers the damages caused by the lighting.
And you will be glad to hear that it is UL listed in both the USA and Canada. So you easily imagine how the quality is and how safe it is to use.
Above all, it is simple to understand why this one is on our list. You do not have to be an expert to understand how good this one is.
Pros
It has a digital meter.
It has an advanced computer-controlled circuitry.
UL certified (Canada and America).
Inexpensive.
It's an ideal fence for small and medium pasture.
Built-in lightning arresters.
Cons
Not waterproof.
Not suitable for large pasture.
The voltage meter is not entirely accurate.
Patriot PE2 Electric Fence Energizer Review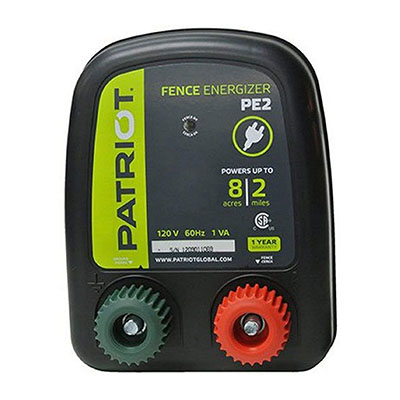 The Patriot PE2 Electric Fence Energizer is designed to provide energy to the end of your electric fence. This low impedance charger is a 110-volt AC plug-in 0.10 Joule model that is ideal for keeping pets and keeping out nuisance animals, especially small nuisance animals.
It can cover up to 2 miles or 8 acres and store energy up to 0.16 joule. To avoid interference, you should install the ground system at least 10 meters away from the electric or the telephone ground systems.
You know the moist soil manages the electricity far better than the dry soil. So if you can, install the ground system in a Moorish area. If the weather is dry, wet the land around the system keeping the soil moist.
Like the previous chargers on our list, this one has a light indicator that indicates the energizer is working or not. And the good thing is that it is very much easy and simple to install. This fence energizer will help to keep out the dogs from digging out of their pen and, at the same time, keep out the Rabbits as well as Deer out of the garden. To get the highest result, you need to combine the PE2 charger with a 250ft reel of Fi-Shock seventeen gauge alloy wire. It is best for use as an electric fence for the dog.
Pros
It has an indicator light.
You can use it as a dog fence.
Easy to install.
Cons
Not UL listed.
Not suitable for a medium or large garden.
Advantages of Buying The Electric Fence Charger
I think you have already known the advantages of using the product and that is why you want to buy the product since you have read the whole article and come here. But I want to share some more advantages that will help you determine why you should buy an electric fence charger.
Keep Animal Safe: The main and first benefits of buying the electric fence charger are that it keeps the animal safe and, at the same time keep the nuisance animals away that help you protect your pets or livestock. It also helps you to control your animals, and thus it helps the animals not getting lost. Smart people always go for the best option, and I hope you are an intelligent guy.
It is Safe: If you use direct AC to your electric fence, it will deliver a very much stronger shock, and as a result, your pets can get killed. On the other side, if you use an electric fence charger, it will deliver a moderate shock that helps you control and safely protect your livestock.
Easy to Find and Install: It is effortless to find the fence charger. You can get it online anytime from anywhere. And it is straightforward to install and maintain.
Can Use In The Remote Area: The best thing about an electric fence charger is that you can use it in remote areas where there is no electricity. So if you live in a small area or your pasture is in the remote location, and you want to protect or control your livestock, then these fence chargers are the best helpful thing.
Nature-friendly: These chargers are very much nature-friendly. It does not kill or destroy any kinds of plants around the fence. Even it does not hamper the growth of the plants or does not harm the plants anyway.
All in all, there are more advantages than I have mentioned above. So there should not be any kind of question regarding the advantages of an electric fence charger.
Frequently Ask Question About Electric Fence Charger
Q: How do I select the perfect charger for my fence?
A: Actually, it depends on many things. As I previously mentioned, it depends on the length of the fence, the animals you are going to keep in or out, the weather, and location. But it is better to choose the higher-powered charger than you think you need to. Getting a higher-powered charger will help you to face an unexpected problem such as vegetation and allows you to expand the fence in the future.
Q: Can I add the solar panel to my charger?
A: Yes, you can.
Q: Can I use two chargers in the same fence?
A: No, you can't.
Q: Do in need an expert or electrician to install my charger?
A: No, you don't. With proper instruction, you can install it by yourself, and it is elementary
Q: Can I use my car battery to the charger?
A: It depends, as well. If your charger is a 12-volt charger, then you can use the car battery.
Conclusion
Overall, the best electric fence charger is chosen more by your needs and situation than the quality of the charger. You can spend a lot of money to buy a high power charger from the market for controlling your chicken then you are wasting your money.
However, the chargers I have mentioned above are the best electric fence chargers in the market. And those are different in quality and use. I think one of those will suit your need. So choose any of those now and keep your pets, cattle, or horses safe.
Last Updated: 12th Dec, 2020