What is Daypack?
Let's face it, backpacks with two straps can be annoying; the straps often slip off of your shoulders and can be uneven, making the backpack uncomfortable. A single strap backpack can often be more stable and comfortable due to the single strap cutting across your body for extra security; they can also look more stylish than other backpacks.
Why should I get a Sling Backpack?
Single strap backpacks share the benefits of both messenger bags and backpacks, such as being more convenient and lightweight:
Security: An annoying feature of standard backpacks is that they are easy to steal as they can be pulled off your shoulders. One strap backpacks do not have this problem as your whole body secures the strap.
Convenience: One strap backpacks require less effort to put on, and they can also easily be shifted around to the front of your body if you need to pull anything out of the backpack while you are on the move. This makes them great for runners, cyclists, and other active people. This is also useful for school students who are constantly removing and putting things back in their backpack.
Fit Snugly: Sling backpacks fit more snugly against your body than standard backpacks; this makes them great for cyclists, motorcyclists, horse-riders, and other activities that require sitting on a saddle where a normal backpack can be uncomfortable. As a motorcyclist, I find this especially useful.
Style: Sling backpacks can be more stylish than standard backpacks as they look similar to a messenger bag and often have a more minimalistic look. They are also less bulky than standard backpacks and therefore do not protrude as much from your back, making them more subtle when you are trying to look smart.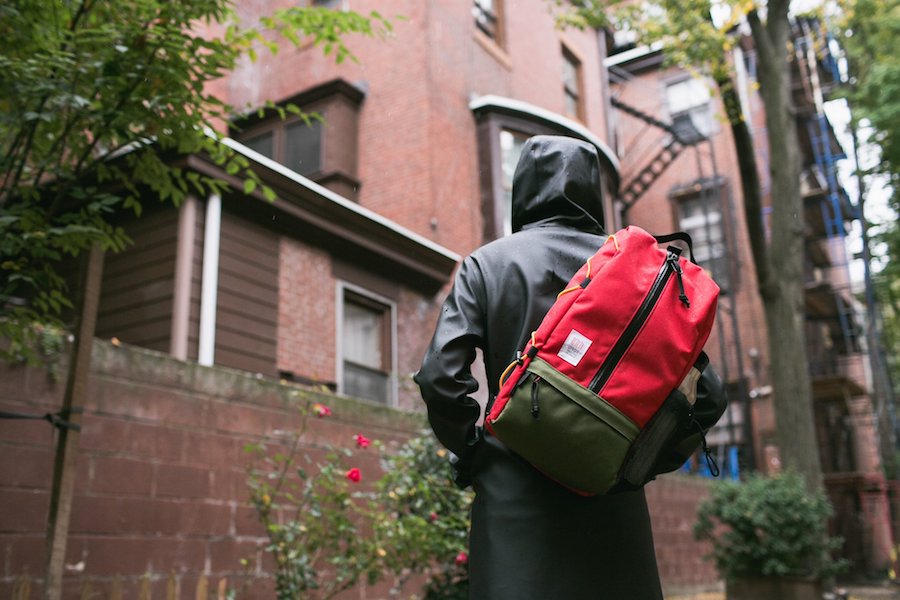 Below we have created a list of the best single strap backpacks, if you see one that you like on the list, click the "Check Price" button, and you will be taken to Amazon to find the best price. These backpacks are the best ones that you will find on the internet or in stores and are all very highly reviewed.
Brands
Pioneeryao
Men's Tactical
Best Sling Backpacks
Kavu Rope Backpack Review
The Kavu Rope Backpack is a very stylish and high-quality single strap backpack that uses a unique rope single strap. It is a smaller backpack but has lots of pockets, including a stash pocket on the back of the backpack, which is ideal for storing valuables that might get stolen.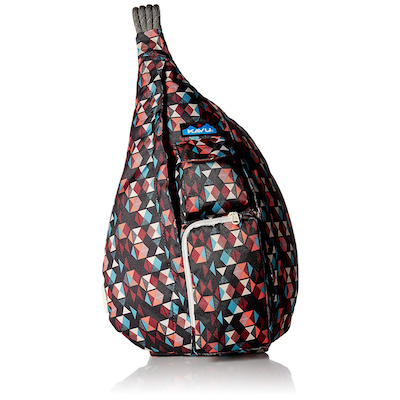 There is also a front pocket and two internal pockets for keeping your things organized. The backpack is available in a huge number of different colors and patterns, so you will almost certainly find one that suits your personality.
Under Armour Compel Sling 2.0 Backpack Review
This is one of the larger one strap backpacks and is great if you need to carry around more bulky items such as a laptop (this backpack has a laptop sleeve for laptops up to 15 inches in size).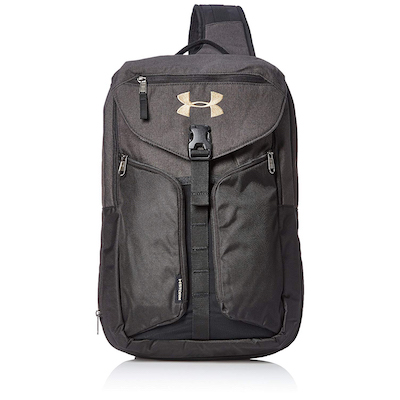 The backpack is water-resistant, so you should keep your laptop and other items dry in all but the heaviest of rain. It is also very comfortable with a wide padded strap that is very easy to fasten. This single strap backpack also has two front pockets for organizing your things and is available in three different colors.
OutdoorMaster Sling Backpack Review
The OutdoorMaster Sling Backpack is a versatile single strap backpack that is also one of the lower cost backpacks. Compared to many one strap backpacks, it is very spacious and can fit smaller laptops/tablets and books. The shoulder strap on this backpack is very comfortable and can even be reversed so that it can be used with either of your shoulders in-case one of your shoulders gets tired.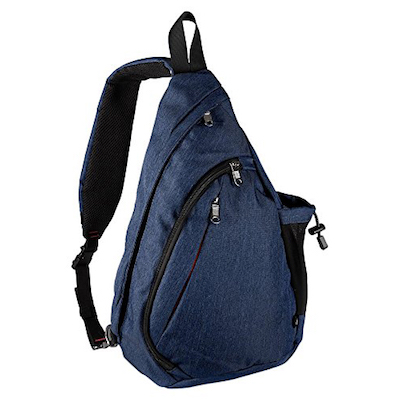 Another interesting feature for the security conscious among you is the hidden pocket that will help keep your possessions safe from thieves and numerous other pockets and a mesh side pocket for your water bottle.
Pioneeryao 9L Sling Bag Backpack Review
This is a very stylish and functional single strap backpack that is available in seven great looking colors. The single strap is well padded, comfortable, and adjusted to fit on either of your shoulders. The strap also contains a hidden pocket where you can safely store smaller cell phones, credit cards, cash, etc.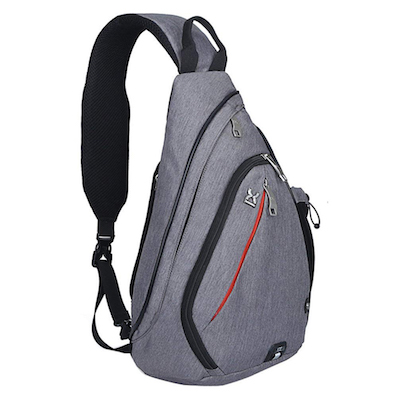 The Pioneeryao backpack has lots of pockets to keep your stuff organized, including two front pockets to the main compartment, a side pocket for your water bottle, and the previously mentioned anti-theft hidden pocket.
Men's Tactical Gear Molle Hydration Ready Sling Backpack Review
Suppose you are looking for a very durable single strap backpack with a lot of space to store your things and very functional design for people who enjoy cycling, hiking, and other sports. This backpack comes in a large number of colors and has a rugged, military-like design that, as someone who hikes a lot, I personally think looks great. Some of the color variations of this backpack even come with a compass!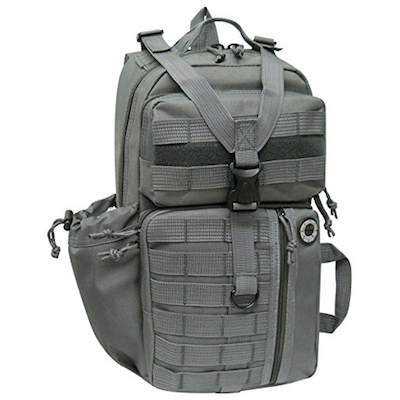 The backpack is made from 600 Denier Polyester, a solid form of polyester that should withstand a lot of abuse, and there are numerous pockets for safely keeping your stuff. The storage can be expanded further with the attachment points on the backpack. This one strap backpack can even hold a hydration bladder, making it perfect for use during outdoor exercise.
Vera Bradley Women's Recycled Lighten Up ReActive Sling Backpack Review
Vera Bradley's Women's ReActive Sling Backpack is a simple yet stylish backpack made of 100% polyester. It has a capacity of 9 liters, and it measures 19x9x3 inches. The strap is 39 inches, which is excellent for most people. The fabric is made from recycled bottles, so you can support a nature-friendly lifestyle by buying this product.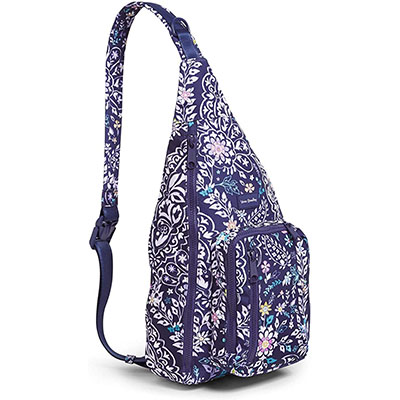 The fabric is waterproof, as well. Your belongings will stay safe even if you walk outside during rain. Also, the bag has two front zip pockets, a phone slip, a pen slip, a D-ring that you can keep your keys on, as well as the large, central zip pocket.
What should I be looking for in a single strap backpack?
A good one strap backpack can be hard to find as there are not as many of them on the market as normal backpacks with two straps. Here are a few features that you should look for:
Space
One strap backpacks are generally not as spacious as normal backpacks, so it is important to know how much you would like to carry in the backpack. Some single strap backpacks are large enough to carry a laptop and other items, whereas most will not be large enough. If you click on the links to the products above, you will find many more reviews of these backpacks where people often say what they have been able to fit into the backpack. Many single strap backpacks are somewhere around the 10L mark, which keeps them small but still useful enough to carry around items that you will regularly use. This size makes them lightweight and more comfortable when you are exercising, and in other situations, you might only need to carry around a few smaller items, e.g., a water bottle, some food, and a jacket.
Comfort
Again, this depends on how much you are likely to carry. If you only intend to be carrying a few lightweight items in your one strap backpack, then making sure that the strap has adequate padding isn't quite as important. But, if you intend to carry around heavier items, then a decent amount of padding on the single strap is necessary. Many one strap backpacks will also have padding on the back of the backpack and the strap, which can increase the comfort of the backpack greatly when carrying heavier items. Also, look for a backpack where the side of the strap can be changed so that if one of your shoulders starts to ache from carrying the single strap backpack, you can adjust the strap to use it on your other shoulder instead.
Pockets
Since you can't normally fit as much in a single strap backpack as a normal backpack, having a decent number of pockets can make your one strap backpack far more useful. Keeping your things well organized in the backpack will allow you to carry more items. Try to make sure that any single strap backpack you buy has more pockets than the main compartment. Many one strap backpacks also contain special pockets such as theft-proof pockets on the strap to keep your valuables such as your cell phone, credit cards, and keys safe. Others have media pockets to keep a tablet or small laptop; however, most single strap backpacks won't be large enough to store a full-size laptop, such as a 15 inch one.
Durability
We have checked one strap backpacks on this list for durability, but if you decide to go with a different single strap backpack, make sure that you check the reviews (both positive and negative) to make sure that the backpack is well built and made to last. While almost every backpack will have a few negative reviews, it may be worth buying a different backpack if there is a large number. Some single strap backpacks come with lifetime warranties, which is a sure sign of quality, as if the company is willing to sell the bag with one, they must have carried out a lot of testing on the bag and are confident that they will not see many returns.
My experiences with using a single strap backpack
As someone who cycles a lot and also rides a motorcycle, I often find that my normal backpacks are too bulky and hang too low, making them uncomfortable even on shorter rides. This is especially pronounced on my motorcycle as the rear seat is higher than the rider's seat, which means that the seat is always pushing on the backpack. I have found that using a one-strap backpack mitigates this effect and is much more comfortable. Whenever I am not carrying a larger amount of stuff, I now use a single strap backpack due to the increase in comfort and weight reduction.
Single Strap Backpack FAQ
Can wearing a single strap or sling backpack be bad for my back?
If a single strap or sling backpack is worn correctly, you should not have any issues with your back. Problems with single strap backpacks arise when they are not worn correctly. For example, messenger bags are generally worn loosely, and they hang off of your shoulder, which means that one shoulder is taking all of the weight. This is not the case with a single strap or sling backpacks as they hold the bag snugly against your body. To carry a sling bag correctly, it should be worn with the strap diagonally across your chest. If you wear it like this, then the backpack's weight will be evenly distributed, and the bag will be held snugly against your back.
How should a single strap or sling backpack fit?
As mentioned above, the backpack should fit snugly against your back with minimal movement. The strap should be diagonal across your chest as this will pull the backpack towards the bottom of your neck, keeping the backpack tightly against your back. As one strap backpacks tend to be held tighter against your back than normal backpacks, you must make sure that there isn't anything in your backpack that could dig into your back.
How should I pack my one sling backpack?
The main thing to remember with one strap backpacks is that they are generally not designed to carry heavy loads or bigger items. So, if you intend to carry around large or heavy items a lot, you probably should buy a normal backpack that would be better designed for this purpose. When you are packing your one strap backpack, try to put flat items against your back to prevent other items in the bag from digging into your back.
If you are going to be carrying clothes around with your or a raincoat, it is useful to also carry around a plastic bag with you to wrap up the clothes if they get wet to prevent other items in your backpack from getting wet.
How do I keep my one strap backpack organized?
As one-strap backpacks are generally smaller than normal backpacks, meaning that you will be carrying less, the organization is less of a problem. However, if you are carrying around lots of smaller items, make sure that you get a backpack with lots of internal pockets, making it far easier to keep items organized. If you need more pockets, you can also buy a backpack organizer.
Can I fit a laptop into a sling backpack, or will it be too small?
Many one-strap backpacks will be too small to fit a laptop in, especially larger laptops such as 15 inches in size or above. However, more and more people are carrying laptops around with them every day; manufacturers have started to accommodate laptop users by adding laptop compartments to some of the backpacks. One example is the Under Armor backpack reviewed above, a laptop compartment that can store laptops up to 15 inches in size. While most other one strap or sling backpacks do not have laptop compartments, if you have a smaller laptop, such as a 13-inch laptop, this may not be a problem as you can put it in a laptop sleeve to protect it, and should fit in most of the bags on this list without issue.
How can I keep items in my one strap backpack safe?
There are many ways in which you can keep items in your backpack safe:
Make use of the internal pockets – Internal pockets are harder for would-be thieves to get into as it takes more time and is more difficult than opening up one of the main outer pockets. Many will give up as it makes it more likely that they will be caught.
Consider a backpack with a security pocket – Some backpacks, such as the Pioneeryao 9L Sling Backpack that we reviewed above, have a hidden security pocket specially designed to be harder to access for thieves. Security pockets are usually situated in the padding where your back would be, and so are almost impossible for thieves to get into unless they know where the pocket is and the bag is removed.
Padlocks – One option to keep your items especially safe is to buy a small padlock to lock both of the zippers together. This will mean that the bag cannot be opened without cutting into it.
If you know any other backpacks that you think should be included on this list, please let us know in the comments below, and we will look into it!
Last Updated: 12th Dec, 2020