Introduction
Are you finally ready to give stand up paddle boarding a try? Have you been watching people do it and wondering if it is right for you?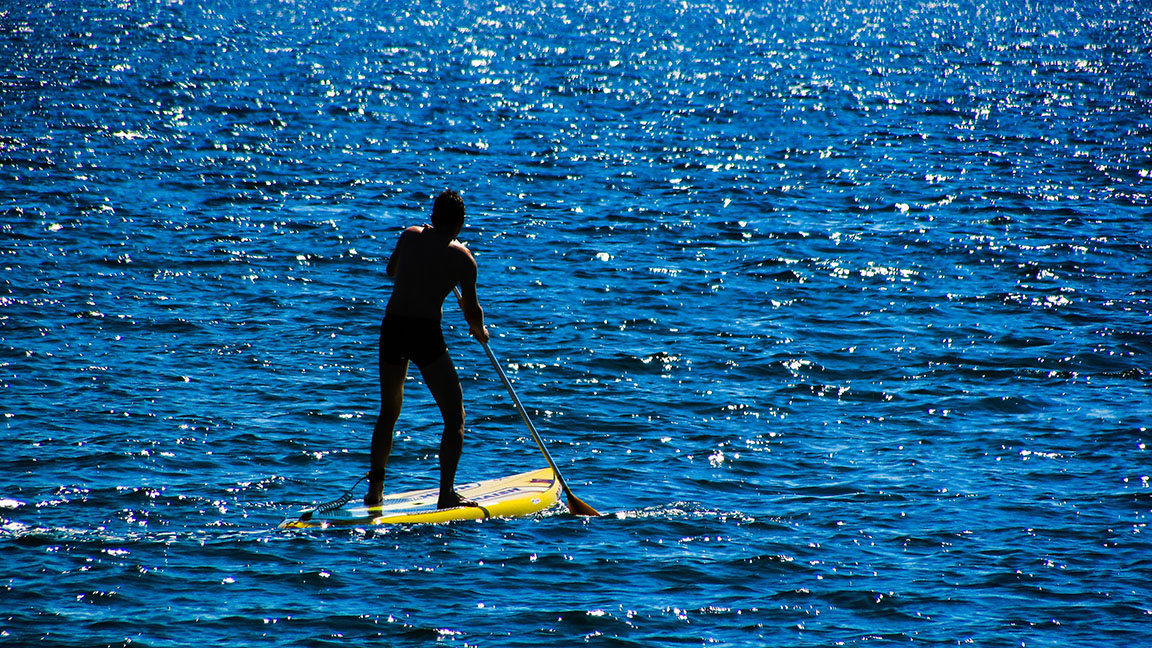 Use this guide to find the board that is going to be a best for you. Reading stand up paddle board reviews is going to an important for you moving forward.
Stand Up Paddle Boards 101: Finding the Best Paddle Board
A stand up paddle board offers a fun, relaxing way to play on the water.  A paddle consists of a shaft, a blade and a handle. Stand up paddle boarding, also known as beachboy boarding, uses the paddle to offer a special and unique experience when cutting way through the waters.
The paddle boards can range from about 9-feet up to 14-feet in length & are sized so as to accommodate the user's weight & skill level. The shapes may vary dramatically so as to meet different user expectations. The varying degrees of rocker (that is, the upward curvature of the board that's viewed from the nose to the tail), thickness & shape of rails (the sides), and the overall width also usually determine the board's performance characteristics.
Most paddle boards are constructed of a foam core. The core is wrapped in fiber glass and epoxy skin. This is quite similar to traditional surfboard construction. However, some of the excellent paddle boards are usually built from molded plastics, wood & other materials.
Inflatable paddle boards are extremely durable and can be designed for white water rapids or people with limited storage space. Most paddle boards usually come well equipped with pre-installed or an integrated deck pad, that's essential for good grip and comfort.
A built in center handle will make transport to-and-from the water much easier. Low profile bungee cord deck rigging will provide a more secure means to lash down extra gear.
The sweet spot for "all around" boards is basically about 11 ft long by 34″ wide & about 5″ thick, with minimal rocker. These type of boards are easy to paddle, super stable and are capable of handling modest surf.
All around paddle boards are a great choice if you just started getting into this sport, or if you want a board to share amongst your friends and family members with different levels of skill & interest. The price can range mainly depending on the material and the design of the board.
As with the boards, SUP paddles vary in shape and size relative to the paddler's interests and needs. Most users typically choose paddles with smaller blades, while the long distance racers & fitness paddlers normally prefer the wider blades. The average blade has a width of about 8″ and it is similar in design to modern canoe paddles except for the length. In order to get the right length, choose a paddle that's 6″ to 8″ taller than the board paddler.
Alternatively, you may buy an adjustable paddle, that's convenient for sharing among paddlers of varying heights. Select a paddle that has a bent shaft (an angle between 7-and-12 degrees) so as to maximize the length of each stroke while on the water. Good paddles are usually made from Kevlar, plastic, wood, fiber glass, carbon fiber, or any combination of these.
It is best you look for paddles that are both durable and light, and you should also consider spending a few more dollars for a lighter paddle since it can make a great difference in regards to comfort & enjoyment when you are on the water.
Stand Up Paddle Board Buyer's Guide
Within the buying guide, we've included the following information and stand up paddle board reviews:
Stand up paddle board photos
Brand name and board type/model
Overall length of the board
Width of the board in inches
Board Thickness
Material (i.e. Polyethylene/EPS foam)
Best Paddle Board Reviews
Sun Dolphin Seaquest 10-Foot Stand Up Paddleboard Review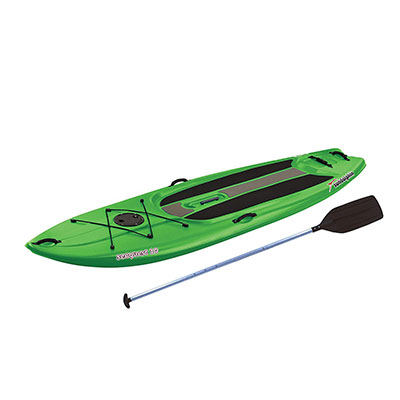 Summer is a very good season to take up a new sport or outdoor activity and it's definitely the best one when it comes to taking up water sports. The reason for that is of course that the weather is warm almost all the time and that the sun is shining practically every day.
When it comes to taking up water sports however, some people are a bit reluctant. The main reason for this, is the fact that they think that they are quite expensive. While that may be true for some sports, it certainly is not for one of the most popular: paddle boarding.
Paddle boarding has taken the world by storm and it has become the summer activity of choice for millions of people all over the world, including some really famous celebrities. The reason for that is simple: it's a very fun and exciting sport that is easy to pick up and very inexpensive since you only need a paddle and a board to get started.
This sport is so popular, that there are now hundreds of models and boards available for one to choose from, which can make finding the right one for you seem difficult or even nigh on impossible, especially if you don't know much about the sport. Well, have no fear, because we are here to lend you a helping hand. In this review, we will take a detailed look at one of the best paddle boards on the market, the Sun Dolphin Seaquest Stand-Up Paddle Board. Wanna find out what makes it so special? Keep on reading my review, then!
Overview
What makes the Sun Dolphin Seaquest Stand-Up Paddle Board stand out from the competition, is the fact that it has been designed to be used safely by the whole family, adults and young children alike. Thanks to its size and design, it is extremely stable and easy to stand on. It's also really easy to keep your balance while standing on it, while its specially designed foot pads, will ensure that you or your children will not slip off the board and fall into the water.
Furthermore, it also comes equipped with a specially designed fin which allows it to effortlessly glide over the water. It also features a specially designed, water proof storage space that you can store water, drinks and other things that you may need while paddle-boarding. Finally, the Sun Dolphin Seaquest Stand-Up Paddle Board is also really lightweight and it comes with five carrying handles built-in, which makes it really easy to carry to and from the beach and the water.
Performance
Like I said above, the Sun Dolphin Seaquest Stand-Up Paddle Board has been designed for use by the entire family, which means that it is extremely stable and safe and not very fast, like some professional and more expensive paddle boards. It's the perfect entry level paddle board.
Pros and Cons
Pros:
It is extremely stable and safe.
It will provide everyone in your family with countless hours of fun and exercise.
It is really easy to carry around because it is very lightweight and it features built-in carrying handles.
It comes equipped with a waterproof storage space.
Cons:
It can't be turned into a kayak.
It is not inflatable which might make it a bit difficult to store and transport using your car
Bottom line
If you are looking for a good entry level paddle board for you and your family, then the Sun Dolphin Seaquest Stand-Up Paddle-board is definitely the best choice.
Advanced Elements Hula 11 Inflatable Paddle Board Review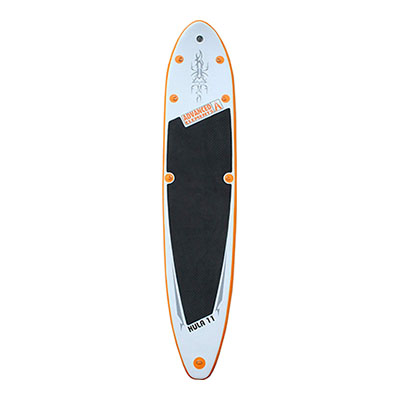 Looking for a really versatile water board? Here's the Advanced elements Hula 11 inflatable board.
Summer is without a doubt the favorite season of most people on the planet and one reason for that, apart from the nice weather and the lack of school for the youngsters, is the fact that it's the perfect time for water based sports and activities.
Sports like surfing, kayaking and paddle-boarding are extremely popular all over the world and there is a very good reason for that: they are very fun and really good for the body. There is a problem however, namely, that of the equipment needed for each of those sports being a bit expensive.
This has kind of changed though nowadays, thanks to the advent of so called "hybrid boards". A hybrid board is a board that can be used for many different water sports. Most of them can usually be used in a couple of different activities like surfing and paddle-boarding or paddle boarding and kayaking for example.
The most advanced models however, can be used in all three major water activities – paddle boarding, surfing and kayaking. In this review, we will take a look at one of the best and most versatile boards available on the market right now: the Advanced elements Hula 11 inflatable board. Let's find out what makes it so cool!
Overview
What sets the Advanced elements Hula 11 inflatable board apart from other boards, is its incredible versatility. Thanks to its special design, it can be used very effectively for kayaking, surfing and paddle-boarding, which means that essentially you are buying three boards for the price of one.
Another cool thing about this board, is the fact that it is inflatable. This means that it is really easy to store and carry to the beach. Also, thanks to the state of the art pump included in the package, you will be able to fully inflate the board and hit the waves, in no time flat. The package includes  the board, the specially designed pump, a repair kit, three removable fins (more on those later) and a valve adaptor. Unfortunately, the paddle and kayak seat needed to convert the board to a kayak, are sold separately.
Performance
This is where the Advanced elements Hula 11 inflatable board really shines! Despite the fact that it is inflatable, it becomes really stiff and solid once fully inflated, so much so i fact, that most people won't be able to tell that it is inflatable. Furthermore, it also comes equipped with a specially engineered traction pad which will make sure that you don't slip off the board, regardless of whether you are standing on it and paddling or surfing or whether you are using it as a kayak or you are paddling on your knees or on your belly.
Also, thanks to its three removable fins, you will be able to make it exactly as steady and maneuverable as you like. Finally, because of its design and size, standing and balancing on the Advanced elements Hula 11 inflatable board is practically effortless, which makes it ideal for people who are just getting into water sports.
Pros and Cons
Pros:
Extremely versatile, it can be used for all popular water sports.
It's inflatable, which makes it easy to carry and store.
Its size and design makes it ideal for beginners.
Cons:
The kayak seat and paddle are sold separately.
Bottom line
This is definitely one of the most versatile boards on the market, which makes it great for beginners. You will have to pony up some extra cash if you are into kayaking though.
ISLE Cruiser Soft Top Stand Up Paddle Board Review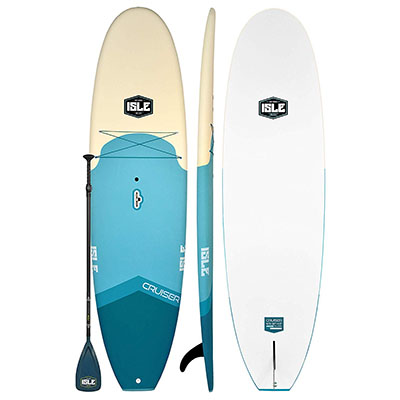 When the time to hit the water and paddle for fun, it does not matter what the weather is or how old the paddler is; just as long as they have with them a safe, dependable, and durable board like the ISLE paddle board which is built for performance and for use by riders of all skill levels and weights.
Measuring 31 inches long and 5 inches thick, this is one of the most highly rated stand up paddle boards because it is very stable in water and it has internal tri-wooden stingers that give it the rigidity for smooth and comfortable riding even in small turfs.
Overview
If you are a beginner, this paddle board is still an ideal companion to dash with to the sea. It features a surf-style shape, a non-slip deck surface, and soft rails that make it safe and versatile for a beginner and a comfortable ride for the seasoned riders. For such a steal price, the ISLE paddle board comes with an easy to lift carry handle, an adjustable alloy and a center box fin plastic paddle with a built-in paddle guard.
The ISLE board comes with an aluminum adjustable handle that is both strong and durable. The high-density polyethylene heat-laminated bottom is slick and strong enough to make the board comfortable and highly durable when supporting up to 275 lbs of weight.
The foam core is a 100 percent waterproof foam coated on a laminated wood stringers to make the board highly adaptable, durable, and lightweight. It looks good with a pro paddler handling it in the deep waters and just as beautiful with a little girl trying to learn to paddle on a shallow beach.
Pros and Cons
Pros:
It is lightweight, therefore easy to carry.
Beautiful surf-style design makes the board easy to maneuver and carry.
It is comfortable to stand and sit on for hours.
Great price and exceptional customer service.
High quality board and paddle construction.
Cons:
Poor protection on the top and sides.
Foam may scuff when the board is used on rocky shores.
Bottom line
Generally speaking, the ISLE Stand Up paddle board is an amazing but affordable equipment every paddling enthusiast—amateur or experienced—must give a try sometime. It is a beautifully designed board from a company reputed for offering great and swift services and with a superb customer care department.
Last Updated: 12th Dec, 2020