Introduction
Our amazing little website will give you the best stationary bike reviews all in one place. It's so hard to pick out a stationary bike, but this website makes it dramatically easier with our selection of stationary bike reviews, organized in multiple ways. We have extensive reviews, an informational overview article, a how-to guide, a comparison chart, a best-of list, and much, much more. If you were ever thinking of purchasing a stationary bike, simply look through this site, and you'll find exactly what you're looking for.
There are so many things to look at when you're thinking of purchasing a stationary bike like
Height adjustment capabilities and whether the bike fits your person,
The seat size, snugness, and comfort, pedals, adjustable intensity,
Heart rate monitor, weight rating, safety
Warranty, and price.
If you neglect any one of these factors, you could purchase the wrong stationary bike, and it's such an expensive purchase that you need to have a great website like this one to help you sift and sort through all the nitty-gritty details and arrive at the exercise bike that's just perfect for you. If you're not keen to the best stationary bikes already, then you have to use a website like this one.
Things to Consider When Buying a Stationary Bike
There is a ton of different stationary bikes out there and each one promises to give you the best workout of your life. If you are on the market for an exercise bike, read the things you need to consider below to ensure you purchase the best one for your fitness needs.
What Type of Exercise Bike Do You Need?
The most common stationary bikes are:
Recumbent Bike – this type of exercise equipment is great for people with back problems because it places the user in a reclined position. Aside from offering good back support, a recumbent bike comes with a wider seat for added comfort. The pedals are designed to cause very little pressure on the back.
Upright Bike – this bike is designed like a traditional road bike. You sit on a small seat that is placed higher than other bikes. You must lean forward and slightly bend your neck and back. I don't recommend this exercise equipment for those who have lower back issues.
Spinner Bike – a spinner bike is similar to a racing road bike. It has a higher seat position and it supports different riding positions. This type of bike is geared towards more advanced riders. Out of all 3 stationary bikes, the spinner bike provides the most intense workout.
What Are Your Fitness Goals?
It's extremely important to consider your purpose (lose weight, tone your legs, improve your leg strength, etc.) and how often you will exercise on your bike before making a big purchase. Don't get too excited and buy the most expensive one that comes with features you don't even need. Once you know what your goals are, it will be easier to make a realistic decision.
Features – Most (if not all) standard bikes come with 2 basic features: multiple resistance levels and adjustable seat height. If you just want a straightforward cardio workout then you'll make do with a standard bike. However, for an optimal workout experience, look for a stationary bike with features like heart rate monitor, LCD panel, and preset workout settings.
Safety and Stability – While it's always best to try the bike before purchasing it, not many of us have the luxury to go to the store. If you are going to order online, always read the reviews and see what users are saying about the bike's stability and safety features. The bike shouldn't wobble or shake when in use. My general rule of thumb is- the heavier the bike, the more stable it will be.
Price Point – Obviously, the fancier the features are the more expensive the exercise bike will be. If your budget is tight, you can go for a standard stationary bike. You can get one for as low as $129. For high-end bikes, you are going to spend anywhere between $300 and $1,390.
Top 3 Stationary Bike Reviews
Exerpeutic 400XL Folding Recumbent Bike with Performance Monitor Review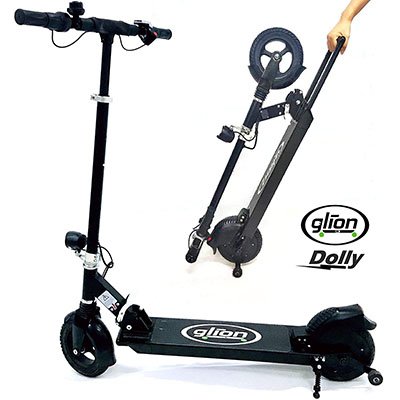 The Exerpeutic 400 XL Folding Semi-Recumbent Exercise Bike offers a great workout accessory. One of the problems that people have with this type of exercise equipment is that they tend to be bulky and they simply do not have room in their house for it.
This is not the case with this particular recumbent bike as it folds up so that it can be easily stored wherever you have space. It will fit in the corner or in your closet, wherever you want to keep it so that it is not in the way when not being used.
Precision Balanced Flywheel
The 400 XL has a lot to offer. It works with a double drive transmission system and a balanced flywheel. It is an extremely quiet piece of workout equipment. You can unfold it in front of your television or stereo and be able to hear everything going on around you as it makes very little noise when it is in use. In addition, the recumbent design of the bike makes it extremely comfortable, which is ideal for those that do not like upright bikes or if you are recovering from an injury.
Monitor your Progress
This great recumbent bicycle makes it very easy to monitor your workout progress through the large LCD display that is very easy to read. The screen will keep track of your calories burned, time, distance, speed, and will scan and keep track of your heart rate. Staying within a target heart rate range is important to maximize the benefits of your workout and this is easy to track on the great display of this particular stationary bicycle.
Key Features
Some of the great features of this stationary bike include:
Foldable
Quiet V-belt transmission system
8 level tension system that is adjustable
Precision-balanced flywheel
LCD screen that tracks your calories, time, speed, distance, and heart rate
Large seat cushion
Backrest
Semi-recumbent design
Customer Reviews and Scores
At the time of writing this review there was over 400 customers who offered their opinion about the Exerpeutic 400 XL. The average ranking was 4.5 stars out of 5. Almost 688 people mentioned that the bike was comfortable, compact, quiet, smooth, and sturdy. Customers also commented that it was easy to put together.
While most people have been happy with this bike, there have been some complaints about different parts of the bike not lasting. The bike does have a one year warranty, but a few people had difficulty getting the bike repaired through customer service.
Overall, the majority of the people who purchased this bike were happy with their purchase and would buy the bike again.
Conclusion
This stationary recumbent bike sells for about $149. For this price, you will get a piece of workout equipment that will fit into any room in your house. The compact size does not mean that the workout will not pack a punch. While this stationary bike does not offer a full-body workout, it does offer a solid workout that can be used in addition to other upper body workouts. For the price, this is a good piece of exercise equipment. Most of the people that purchased this particular recumbent stationary bike were very happy with their purchase.
Schwinn AD6 Airdyne Bike Review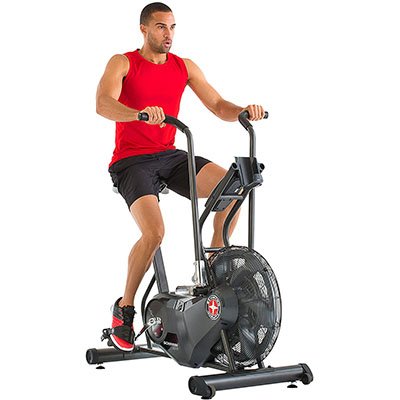 The Schwinn Airdyne AD6 Upright Exercise Bike offers a great way to save on your monthly gym membership fees as you can now get a full-body workout from the comfort of your own home. The upright exercise bike features a set of sturdy arms that allow for an upper body workout at the same time you are working out your legs.
The design of the bike offers a simulation of natural movement as your arms and legs will move at the same time. The air resistant system provides you with a stream of cool air while you are working out providing you comfort.
Comprehensive Computer System
One of the best features of the Airdyne AD6 is the complete computer system that comes with the bike. This system will keep track of your entire workout. You will know how many calories you are burning, the time and distance that you travel, your RPM, and your heart rate. When working out it is important to main a steady heart rate to maximize your results. The large LCD display makes all of this information clear and easy to read.
Air Resistance
The air resistance of the bike provides you with a great workout. You will get as much out of the bike as you put in. The chain drive system of the bike is extremely quiet. This allows you to listen to music or watch television during your workout without having to blow your speakers just to hear it.
The bike comes with a 30-year warranty for the frame and a three-year warranty for the electronics and other parts of the bike. This ensures that you are going to have a great piece of workout equipment for a good amount of time.
Key Features
Some of the best features of this stationary bike include:
Air resistance system
Offers as much resistance as the user can handle
Arm handles work upper body at the same time the lower body is worked through the pedals.
LCD display tracks calories, time, distance, RPM, and heart rate
Customer Reviews and Ratings
At the time of writing this there were almost 240 reviews available. There were 175 customers that gave this stationary bike a five-star rating. The average rating was 4.6 stars out of 5. Nearly sixty people commented about how great the upper body workout using the arms of the stationary bike was. Others commented on the quality of the equipment and how easy it was to put together.
There were only twelve one and two-star reviews of the bike. The biggest complaint was that the pedals and the pins of the upright exercise bike tend to strip easily.
Conclusion
Overall, this Schwinn exercise bike has received very high reviews. It sells for around $750 and is worth the money. This particular exercise bike provides you with a full-body workout. This is perfect for people that simply do not want to go to the gym on a regular basis.
The bike provides a great upper body workout for the arms and chest area and the air resistance provides you with a great workout for your legs. Schwinn is a very well-known manufacture of bicycles and is known for its quality. With a 30 year warranty for the frame and a three-year warranty for all other parts, you cannot go wrong with this exercise bike.
Sunny Health & Fitness SF-B1203 Chain Drive Indoor Cycling Trainer Review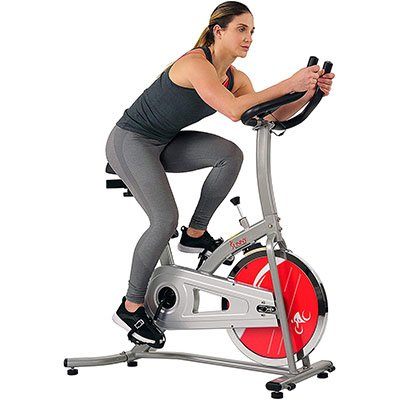 The Sunny Magnetic Upright Bike is a great stationary bike for those that are looking for a small piece of workout equipment for their home. This upright bike is compact and takes up very little room, which makes it ideal for those that do not have a lot of space. In addition, the bike is perfect for those that want to work out, but do not want to spend a lot of money on an expensive gym membership. This upright bike will allow you to work out in the comfort of your own home.
Magnetic Resistance System
The Sunny Magnetic stationary bike offers an eight-level resistance system. This is designed to help the user create a workout that is tailored to their particular needs. You can simply set up the resistance to provide you with the workout level that you are ready for. The lower levels will provide you with less resistance for a less intense workout. This stationary bike is great for beginners and advanced riders alike.
Large Display
The display of the bike will show your speed and distance as well as the calories that you are burning and the scan and time. The display will also show your pulse. Keeping track of your pulse while you are working out is important as it will help you maintain a pulse rate that is ideal for your age and fitness level so that you can burn the most calories and get the most effective workout possible.
Key Features
There are several great features of this particular upright bike including:
Magnetic resistance system with 8 levels
The seat is cushioned and adjustable
Meter function
The display shows distance, speed, scan, pulse, time, Calories, and ODO.
220 weight capacity
Customer Reviews and Scores
At the time of this review, there were almost 76 people who had purchased and reviewed this upright bicycle. The average score was 3.9 stars out of 5. Over half of the people that reviewed the bike gave it five stars and there were only a total of four one and two-star reviews.
The most positive statements about the bike were that it is easy to move, extremely sturdy, and does not take up a lot of space. People also stated that it was very easy to put together.
The people that gave the bike lower scores complained that the seat is quite hard. The person stated that it was hard to ride for more than ten minutes as it was quite uncomfortable. Another complaint was about the computer system not working, but this seemed to be an isolated incident as many of the other people that reviewed the product did not have any of these issues.
Conclusion
Overall, there were not a lot of reviews of this product to go with. However, of the people that did purchase and review the upright bicycle from Sunny, most were pleased with the product. The bike costs around $199. This is a very decent price for a small piece of exercise equipment for the home. The monitor does not keep track of your heart rate, which is a downfall for some people. In addition, some may find the seat a bit uncomfortable. However, for the most part, this seems to be a decent upright stationary bicycle for the price.
Marcy Recumbent Exercise Bike with Resistance ME-709 Review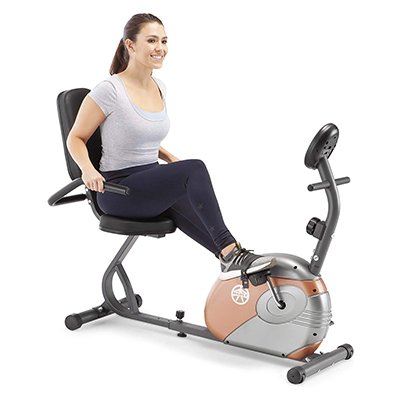 The Marcy Recumbent Exercise Bike with Resistance ME-709 is a good product if you want to feel like you're in a gym from your own home. While keeping an affordable price, the manufacturer tried to combine all the features of much more expensive stationary bikes in this one product.
This bike was designed to fit smaller exercise spaces, so it's a great option if your space is limited. It will allow you to lose weight and stay healthy without ever dealing with the fuss of going outside.
Smart Design
The Marcy ME-709 is a bike that is easy to mount and dismount thanks to its step-through design. Some bikes might be a bit difficult to climb on or get off, this bike reduces the chances of any possible injuries. You can just walk through and sit on it. If you are a senior that might have some trouble climbing on stationary bikes, this is a feature that will greatly benefit you. Also, this bike is manufactured with 14-gauge steel tubing that has a powder-coated finish. This makes it rather durable and robust.
Counterbalanced Pedals
Did it ever happen that you just feel like you don't have any control over the bike's pedals? This is one of the more annoying feeling that you can get while riding a stationary bike. Luckily, the Marcy ME-709 uses perfectly weighted counterbalanced pedals that allow you to retain complete control over your movements. They will also provide additional support to your feet. This bike also comes with adjustable foot straps that not only help you know what you're doing, but this will also reduce any chances of injury.
Key Features
This bike has several excellent features, including:
Easy-to-read LCD screen
Eight resistance levels
An ergonomically designed saddle that ensures you stay comfortable all the time
Foam covered handles give additional support and comfort
Customer Reviews and Ratings
At the moment this review was written, this stationary bike had over 12,000 ratings and an average rating of 4.5. Most people wrote how they were very satisfied with the purchase, and interestingly enough, a big percentage of customers seem to be older people. A huge amount of customers writes about how the bike was easy to assemble and how easy it is to climb on and off. Around 60% of people also wrote how the bike was lightweight and they could carry it up the stairs on their own.
Only around 6% of people gave it a rating of 1 or 2 stars. Most of those people complained about how the bike wasn't suitable for shorter people or how it produced a clicking sound that can't be fixed.
Conclusion
Overall, this is a great bike that is budget-friendly – it only costs around $171, which is less than most products we've reviewed. While it isn't perfect, it can provide you with great exercise, and it's suitable for older people as it's very easy to climb on. It offers you great control over the pedals and has eight resistance levels, allowing you to customize your workout routine. While the bike isn't the best for shorter people, it takes up as little space as possible, so you are sure to fit it into your apartment, no matter how small.
VIGBODY Exercise Bike Review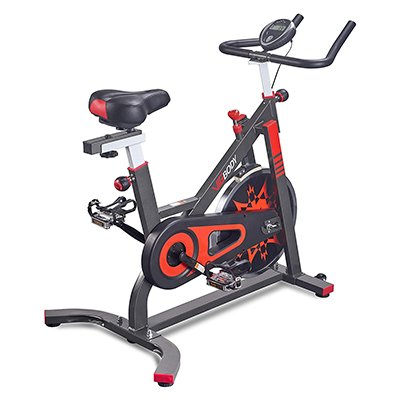 Whether you are a fitness fanatic who just wants to upgrade your home gym, a bike enthusiast who wants to be able to cycle at any time, or someone who just wants to lose some weight or stay in shape, the VIGBODY Exercise Bike might be the right bike for your needs. This bike has a positive reputation among cycling lovers due to its ability to fit most users.
Almost every part of this bike is adjustable, including the saddle's height, the distance between the saddle and the handlebars, handlebar height, and pedal toe clips. This is more than enough to satisfy users of all shapes and sizes.
Modern Design
This bike stands out from the rest as it doesn't look like a regular stationary bike. It has a sparse, minimalistic design that attracts the users to at least check it out. The red on black color scheme of the product catches the eye of everyone. All of this is made with the intent to make customers lean into their exercise regime. Sadly, the downside of this design is that it might not offer as much support as some other bikes do. Still, this is a rather sturdy bike that has a weight capacity of up to 330 lbs, which is quite good for a stationary bike.
Riding Experience
As is already mentioned, the VIGBODY Exercise Bike is almost entirely adjustable so people of all heights and proportions can fit it. The bike lacks a backrest, forcing you to lean forward, but with the high adjustability, this isn't really an issue. There is a strap on the pedals that can keep them in place while you are pedaling, which is a great feature many stationary bikes lack. However, they are a bit looser than most would find comfortable, but you can tighten them without any problems.
Key Features
Some of the great features of this stationary bike include:
Almost everything is adjustable
Heavy-duty construction
LCD screen that captures and displays all necessary information
12 months free part replacement
Straps on the pedals for keeping everything in place
Customer Reviews and Ratings
The bike comes at a price of $265, which is neither here nor there when it comes to products with similar features. When this review was written, VIGBODY Exercise Bike had around 1,400 reviews and an average rating of 4.3. 62% of customers gave this product five stars while praising its height and weight capacity. One user who weighs 220 lbs even stated that he uses the bike for months, without any damages or noise. Many were happy with the LCD screen and how well it showed all the necessary data.
Some users, however, reported that it can be a bit wobbly and that the pad tends to heat up so much it smells.
Conclusion
All in all, this is an excellent bike for people who have issues finding the stationary bike of the right size for them. Whether you are tall, short, or a bit on the heavier side, this bike probably can take it. From seat to pedals, everything is adjustable to fit your dimensions. Also, this is one of the quieter products on the market, despite all of those nuts and bolts.
YOSUDA Indoor Cycling Bike Stationary Review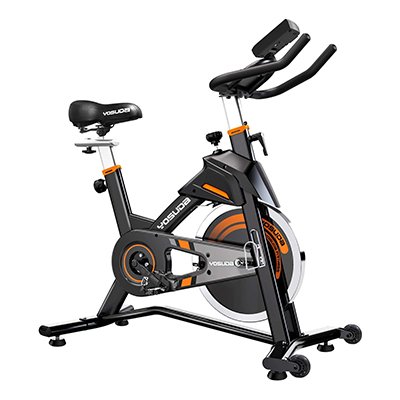 Sometimes, people tend to pick their products after looking at their brand or how popular the product is with other people. This is what initially makes many people pick the YOSUDA Indoor Cycling Bike Stationary, as this is one of the more sought-after stationary bikes in the latest months – despite the brand not being as big as one might think.
This is one of the more durable bikes you can get on the current market. It is constructed with heavy-duty steel and it can carry the weight of up to 270 lbs, which is a bit on the stronger side. If you are looking to lose some weight, then you probably should check this bike out.
Easy Assembly
While the bike doesn't come fully assembled, it does include a manual that lets you know exactly what to do. This makes the installation process rather straightforward. There even is a manual with pictures, so there won't be any dilemma about what goes where. You could probably assemble it in around 20 minutes, which is rather quick.
Comfortable Design
The padded seat is thick and very comfortable. It has four adjustable positions, which isn't a lot, but it can fit most people. Sadly, you do have to unscrew the seat before readjusting it, which does take some time. If several people from the same household are planning to use the bike, this can be a nuisance. The foam that covers the handlebars is just as comfortable as the seat, so nothing will feel out of place.
Key Features
Some of the key features of YOSUDA Indoor Cycling Bike Stationary are:
Durable steel frame
Adjustable handlebars and seat
Features an Ipad holder
There are cage pedals that keep you safe from a fast ride
All installation tools are included
Customer Reviews and Ratings
At the moment when this article was written, the YOSUDA Indoor Cycling Bike Stationary had around 7,200 ratings, and an average score of 4.4, which is above average. For a bike with a standard price of approximately $340, this is quite decent. 65% of reviews are positive, and most people praise the easy assembly and how quiet it is. Some noted that the digital display and an Ipad holder were a nice touch.
One of the bad things the 6% of reviewers who gave this bike one or two-star rating mentioned is how the seat, despite being comfortable, is a bit on the smaller size, so wider people can't really use it.
Conclusion
The YOSUDA Indoor Cycling Bike Stationary is a great bike for anyone who doesn't mind screwing and unscrewing things every time something needs to be adjusted. It has a weight capacity of 260 lbs, which is pretty good, and it can help you lose weight without having to go to the gym. It looks nice, features a strong frame, and offers quiet operation that is much needed for anyone exercising in a multi-family building. Just note that if you are on the bigger side, you might find the seat a bit uncomfortable.
Exerpeutic Folding Magnetic Upright Exercise Bike Review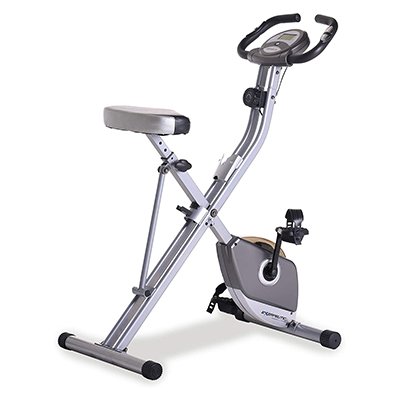 Variety is the key to success when it comes to fitness and fitness goals. If you don't implement several exercise types not only you might get bored but your body won't reach its full potential. The same goes for the stationary bikes that should be able to provide you a versatile cardio exercise even on days when you don't feel like going outside of your home.
The Exerpeutic Folding Magnetic Upright Exercise Bike stands out from the rest when it comes to versatility and comfort levels, making it the right choice for all fitness enthusiasts looking for a way to bring cardio exercises indoor.
Foldable Design
The Exerpeutic Folding Magnetic Upright Exercise Bike is one of those products that is designed to be used in confined spaces when there isn't enough place for a large exercise machine. It is foldable to ensure you always have enough free space in your home. It can be folded into half of its regular size, so you can just store it when you're not using it. This is a great feature that many other brands should consider implementing. While foldable bikes may not sound like the safest thing out there, the sturdy construction allows this bike a weight capacity of up to 300 lbs.
Stable
This stationary bike is lightweight, which additionally allows you to move it wherever you'd like. At the same time, to prevent everything from tipping over, the product has extended leg stabilizers that ensure everything stays in place. The pedals are large, and a safety strap keeps the feet from slipping.
Key Features
The Exerpeutic Folding Magnetic Upright Exercise Bike has many great features, such as:
Foldable design for space-saving
An easy to read LCD display
Weight capacity of up to 300 lbs
Eight level tension
Hand pulse sensors
Customer Reviews and Ratings
Currently, the bike has an amazing number of 14,700 reviews, and an average rating of 4.6 stars. This should be proof enough of its high quality. 75% of people gave this bike five stars. Most of the positive ratings praised the simple assembly process, as well as the great leg room. Some also mentioned how, no matter their size, they could fit onto this bike thanks to the adjustable seat and handstands.
The 700 people who gave this bike one-star mentioned how this isn't an upright bike, despite the bike's name. Some even complained about how the seat is too big for them, which is something that isn't heard often.
Conclusion
With thousands of positive reviews, Exerpeutic Folding Magnetic Upright Exercise Bike has proven to be one of the best stationary bikes on the market. While the perfect product doesn't exist, this bike gets close it. Despite being foldable, it's durable and stable, with one of the best weight capacities out there. It comes with a high-quality LCD screen that gives you all the vital information, as well as eight-level tension, which allows you to adjust the level of exercise you'd prefer.
---
Last Updated: 2021-01-30 by Oğuz Tokatlı