Introduction
If you are looking for a military/tactical styled watch which can effectively withstand even the most rugged, brutal and extreme conditions and abuses, then below, you can find the best watch that looks good as well as performs above your expectations.
Best Tactical Watches
SUUNTO Core All Black Military Men's Outdoor Sports Watch Review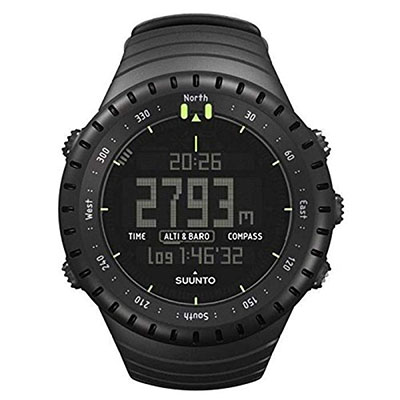 Following after the unbelievable success of the venerable Suunto Vector, this new addition to the Suunto family namely,
The Core will keep you informed of weather conditions and the like before they happen, which ensures for safe hiking, biking, or camping excursions.
A perfect companion for outdoor enthusiasts, this tactical watch fits the bill for every one of your outdoor needs; whether you are fond of mountaineering, backcountry skiing and even wilderness travel.
Going out hiking? This awesome digital computer features a barometer, a digital thermometer, a compass, and a weather trend indicator.
Salient Features:
A revolutionary wrist-top computer watch featuring an altimeter, a barometer, compass and weather indicator
Altimeter: Displays current elevation, records the session and shows ascent or decent of the wearer
Paired with an intelligent storm alarm which works by sensing air pressure drop
With a built-in weather trend indicator, the wearer will be informed of weather changes before they happen
All black finish and comes with a 2-year warranty
Measures up to 30 feet in depth accurately and weighs 2.25 ounces
Luminox Evo Navy Seal Blackout Men's Watch Review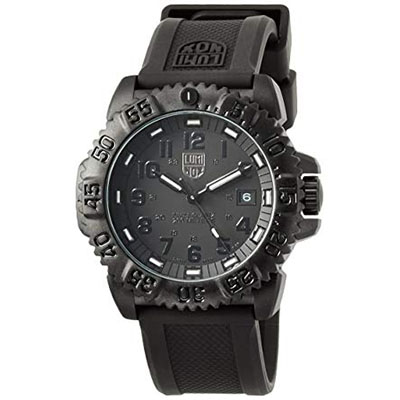 This tactical men's watch by Luminox has beaten every competition that was ever presented in front of this fine piece of gadgetry. Encased in black carbon-reinforced polymer, this watch is not only extremely durable but also water-resistant.
Moreover, its black rubber strapping ensures much more comfortable wear. Running on a Swiss quartz movement, the dial is scratch resistant due to being made with mineral crystal.
This analog designed tactical men's watch by Luminox is ideal for sportswear as well.
Salient Features:
Running with Swiss quartz movement
The highly durable mineral crystal protects from scratches
Is water-resistant to 660 feet
Case diameter is 45 mm
Polymer carbon-reinforced outer
Casio G-Shock X-Large Display Stealth Black Watch Review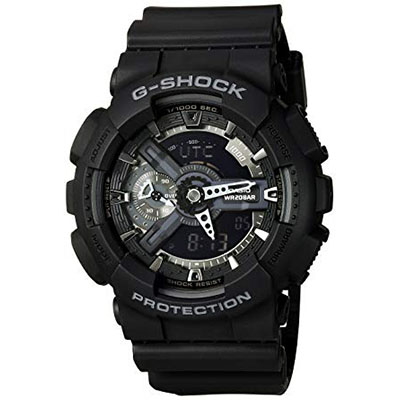 It has been 25 years and still, Casio's G-Shock digital watches are the best and toughest of watches that are available in the market today.
Best known for providing men's digital watches that can be used for every activity while being durable and waterproof, the G-Shock is the ultimate in the watch making the history of Casio.
The design team of the watch sought to create a watch with nearly 10 meter free-fall endurance, a 10 bar water resistance, and almost a 10-year battery life, and thus; the G-Shock was born.
Salient Features:
Features an adjustable band
Its water-resistant up to 200 meters
Band width: 11.5 inches
Timex Expedition Shock XL Watch Review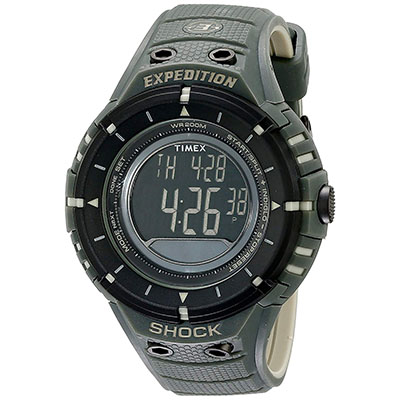 Even though this piece by Timex looks very much like a casual watch, the full-sized men's watch of Timex Expedition Shock XL has nothing casual about it and includes features that make it more ideal for outdoor pursuits and adventures; such as hiking, mountaineering, etc.
Encased in a large and highly durable plus lightweight resin material covering; this green and the black watch is as stylish as it is practical.
Salient Features:
Quartz movement with digital display
Acrylic crystal dial window
Featuring a resin material band with buckle closure
Made in the USA
Most suitable for recreational scuba diving
Casio Men's GD100-1BCR G-Shock X-Large Black Multi-Functional Digital Sport Watch Review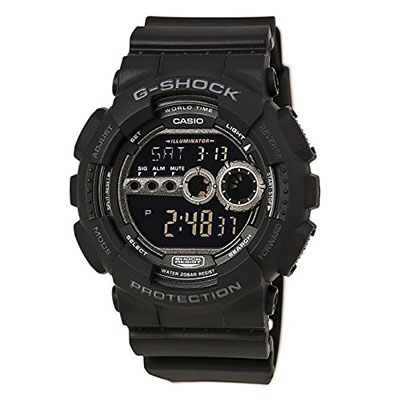 This amazing creation by G-Shock is as good as it gets. Reasonably priced, wearers will be astonished to discover that this particular piece of digital technology offers a plethora of amazing features; such as a count-down timer, different time zones feature, stop-watch, and auto backlight, etc.
One would certainly not expect so many features to be contained in the waterproof military-styled watch by G-Shock. Available in all black, you can make a fashion statement with this designer ware tactical watch.
Salient Features:
Imported
Water-resistant up to 200m
Stylish yet practical
Durable and shock-resistant
Comes in black
---
Last Updated: 2020-12-13 by Oğuz Tokatlı