Introduction
Although they do not play a very big part in the alternative medicine treatments that you will encounter today, essential oil diffusers are essential for specific treatments. They play an important role in preventive medicine because they promote a stress-free environment, purify the air, and allow your body to enjoy the full benefits of essential oils. Further than that, there are certain conditions like asthma, most types of colds, and headaches that can be more holistically treated with the use of essential oil diffusers.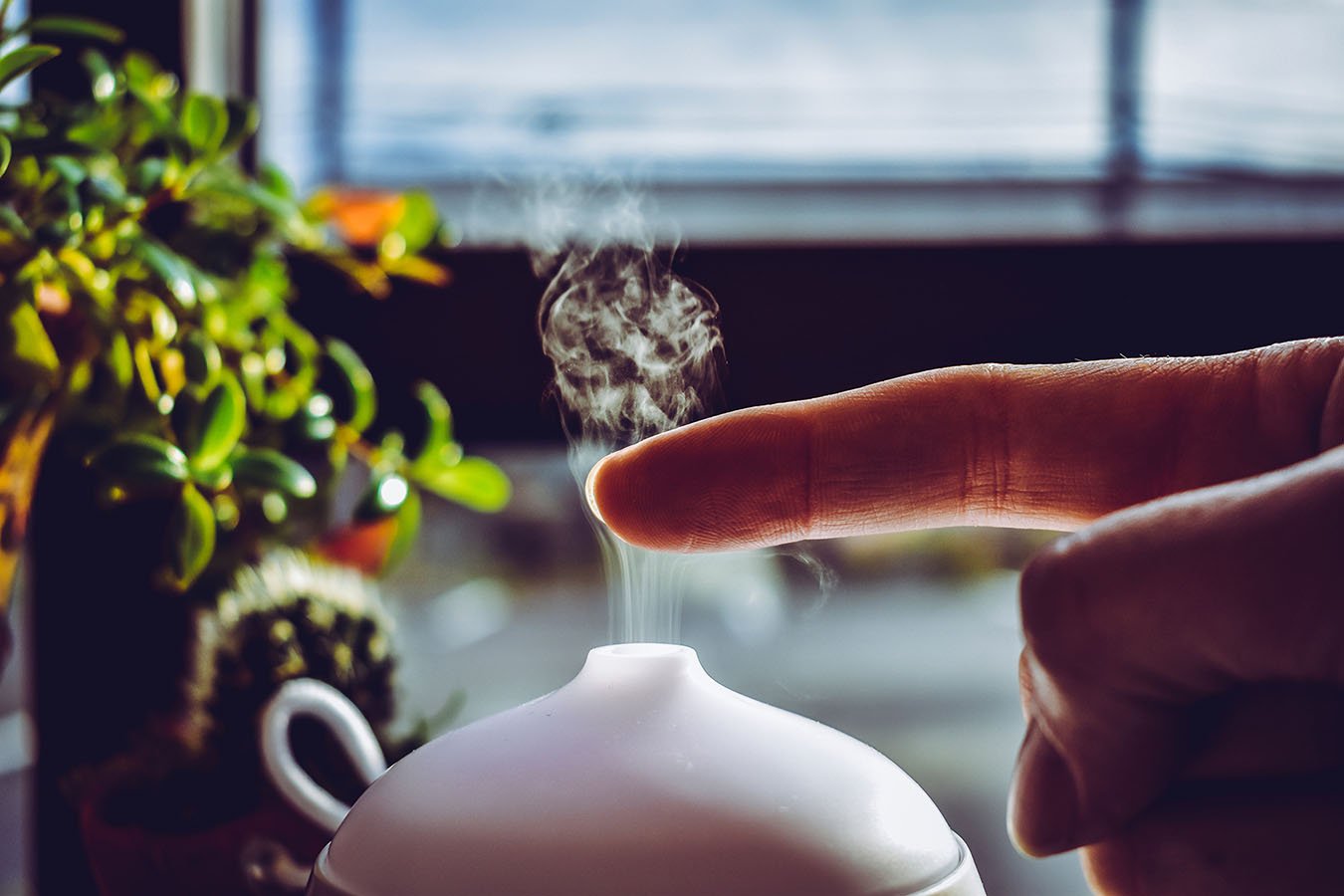 There are, in fact, several types of essential oil diffusers, some of which are better designed to use in alternative medicine, while others are just great for adding a beautiful fragrance to the environment without overpowering your senses. So we are going to start by giving you a detailed description of each of the essential oil diffusers currently on the market, as well as a rundown of the best product you can find, structured by the intended use, by the manufacture, and by the overall quality.
How do Essential Oil Diffusers Work?
Essential oil diffusers can be used in homes to bring on a fresh atmosphere using the process of heating up a special volatile oil, which gives out a nice pleasant smell and has a calming effect. If you have a very hectic schedule at work or doing whatever you do through the day and drive home thinking you could put your feet up on the couch and enjoy some relaxed moments, an essential oil diffuser is a right thing for you. These are small devices, which can just be accommodated on a mantlepiece or a corner of a table. Essential oil diffusers do not occupy much space. Nor do they require too much expenditure in terms of running them. They consume very little electricity. But you might still be interested in knowing how do essential diffusers work?
Understanding Oil Diffusers in Detail
Oil or essential oil diffusers come in a number of varieties and models. Each manufacturer brings out a new design and with added features for the benefit of the end-users. As the name indicates, you have two components, one the essential oil and then the diffuser. Both complement each other when supplied. The essential oil making company may not be making the diffuser. However, usually, you will get small vials with the oils along with the diffuser machine when you order them. After the first use, you are free to order for the essential oils directly from the oil makers.
The device itself has a provision to hold a small quantity, say 150 to 300ml of water. You add a few drops of the essential oil or even a mixture of oils to obtain the desired results. Once you connect the diffuser to the power source and switch it on, the oil receives the heat from the increasing water temperature, and vaporization takes place. The vapors that emanate can have a compelling effect on the air in the room where the oil diffuser is placed. With the change in the air quality and the medicinal properties of the oil and its vapor, there are clear changes brought about on the human body.
Common Types of Oil Diffusers
Ultrasonic Diffuser
Ultrasonic oil diffusers create sonic vibrations, which is to say extremely high frequency and fast movements in the water and essential oil mix so that they evaporate at a very fast rate. This type of electric diffuser is cost-effective, and prices never get too high. Most devices are simple to use, and ultrasonic devices double as humidifiers, which are perfect during winter months in many households.
On the other hand, the dilution of the essential oils with water makes these devices less potent. An ultrasonic oil diffuser releases fewer oil particles than a nebulizing diffuser, but it is also a lot more affordable. Also, you need to take into consideration the fact that citrus-based essential oils should never be used in an ultrasonic aroma diffuser as this can damage the machine.
Heat Diffuser
A heat diffuser uses electricity to heat essential oils to a relatively high temperature. After reaching the designated temperature, the oils will start to vaporize into the air. Electric diffusers are perhaps the simplest option for users. A simple switch activates the diffuser, and then it's ready to vaporize oils within minutes.
Such lamps are more affordable than other types of diffusers. It should be noted that electric diffusers are not as effective as nebulizing or ultrasonic diffusers. Still, they act as the perfect introduction to scent diffusers without costing too much money, so performance is more than adequate based on these factors.
Nebulizing Diffuser
A nebulizing diffuser takes advantage of an atomizer for maximum effectiveness. The atomizing technology was designed and is constantly improved in the automobile industry because gas comes in a liquid form, but in order to get the perfect bang, it needs to be quickly turned into a gas. An atomizer squeezes the liquid through such a narrow nozzle at high pressure so that it breaks down into a gas. That means no water or heat is necessary for this type of diffuser to work. When the atomizer is activated, it atomizes essential oils into fine particles that cascade into the air. The oils aren't diluted by water, which means that nebulizing devices release essential oils.
Diffusers that rely upon an atomizer do tend to burn through more oils than other options. Likewise, you might not enjoy the sound of the atomizer squirting out the oil every few minutes. A nebulizing oil diffuser is also somewhat on the expensive side too. It's hard to argue with the performance of these diffusers, though.
Evaporative Diffuser
Most evaporative diffusers take advantage of a fan that blows air through a membrane pad. The membrane pad is covered in a small layer of essential oils. As the air blows through the pad, oils evaporate faster than they normally would. This diffuses the oil particles and aromas throughout the room very efficiently.
Electric diffusers that rely upon an evaporative effect will always make some sort of noise that may become stressful in very quiet rooms. On top of that, compounds within essential oils are diffused at different speeds. However, you need to take into consideration the fact that essential oils are actually comprised of several different components, and the lighter ones evaporate first, and this can reduce the therapeutic effects of oil diffusers if you're big on aromatherapy.
Reed Diffuser
The reed diffuser is perhaps the simplest mechanism of diffusing essential oils. Small reeds, or sticks, are placed in a container of essential oils. After a few minutes, the reeds will absorb the essential oils and release their aromas throughout the surrounding area. It's a simple yet effective fragrance diffuser. Reed-based systems tend to cost very little money.
Reed diffusers take a little more time than electric oil diffusers, and the same goes for atomizer-based systems. Also, this option releases a large number of aromas, but other compounds in oils remain on the reeds. You won't want to pick up a reed diffuser if aromatherapy is your end goal.
Brands
Best Oil Diffusers Overall
InnoGear Upgraded Version Aromatherapy Essential Oil Diffuser Review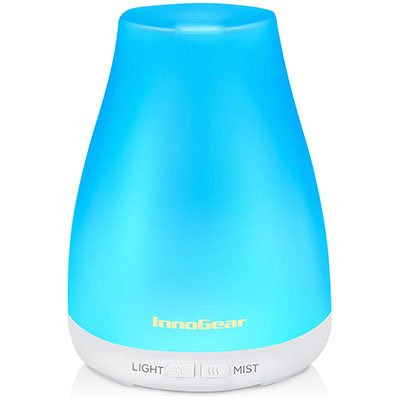 An interesting alternative to the PureSpa we have already talked about is the InnoGear Aromatherapy Oil Diffuser. It is an ultrasonic oil diffuser, so take part in it being an aromatherapy device with a grain of salt. You'll find that this diffuser does an excellent job of releasing essential oils into the air and humidifying a room. Auto-shutoff ensures that the unit stops after the water's gone, and intermittent diffusing modes ensure that the device lasts for many hours before requiring a refill. In most cases, these features are easy to use and easy to understand straight from the box.
A number of lights and settings are standard with the InnoGear scent diffuser. Operating the diffuser couldn't be easier, and you'll find that it's durable. With a streamlined design, this diffuser fits most decor settings without looking out of place. The humidifier can help with your health, and we've already mentioned the benefits of essential oils. If you're in the market for a larger unit, you'll want to look elsewhere because this one's on the small side.
Greenair Spa Vapor+ Instant Wellness Oil Diffuser Review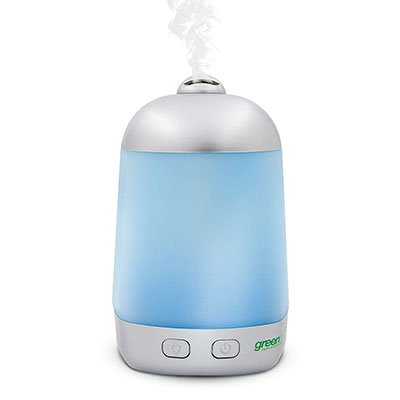 Although it's not the prettiest diffuser, the GreenAir SpaVapor+ is more durable than most units. Its mechanical bits are protected by extra anti-corrosion materials. Extra protection helps keep the unit running longer than comparable diffusers, and this one doesn't skimp on the features, either. Like similar units, the operation is simple due to excellent controls that aren't confusing in any way. Rotating LEDs atop the unit can be turned on or off at will, and they add to the ambiance of the diffusion.
You can expect four hours of runtime with this device, and its 150ml reservoir is somewhat on the small side. For medium rooms, the performance is adequate and slightly above average. You won't regret spending the money on this oil diffuser due to its extraneous features and performance capabilities. The Instant Wellness Oil Diffuser uses five to six drops of essential oil, so it does use a little more oil than the average unit, but the difference is negligible.
Victsing Essential Oil Diffuser Review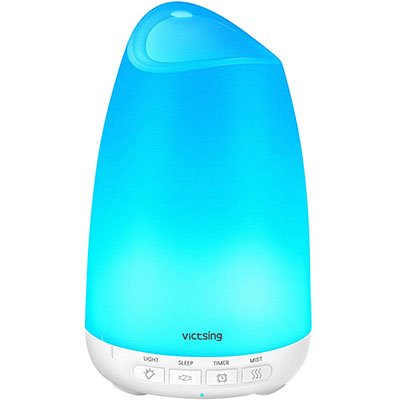 If you're looking for a unique design, then the VicTsing Oil Diffuser offers exactly that. A wood grain finish provides an extra air of elegance, making this perfect for luxury settings. Minimal water and the essential oil are required to produce hours of mist, which can purify and clean the air. Being an ultrasonic device is not that expensive, but the design, with a gorgeous wood grain insert, makes it look like a much more expensive device than it really is.
You'll find a colored LED atop the machine as well as features like Auto-Shutoff and more. The other great thing about it is the fact that it is very small and light so you can easily pack it up and take it with you wherever you go. For the most part, cleaning the unit itself is simple, and the cleaning power of the humidifier combined with essential oils is high. We really love this diffuser, and, on the design aspect alone, it is the one oil diffuser that we would recommend as the perfect gift.
ZAQ Allay Aroma Essential Oil Diffuser Review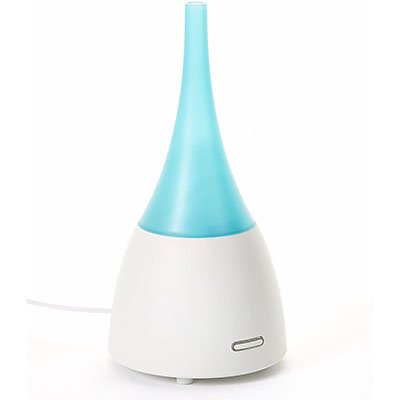 This mid-sized oil diffuser runs for 4 hours on the only 80ml of water, which is quite impressive from an efficiency standpoint. ZAQ Allay has created a unique looking diffuser that looks like an upside-down lamp more than anything else. From the base, a conical structure erupts and features a light that shines the color of the cone. If you don't fancy the light, it can be turned off with a simple switch. The LED lights are fairly soft and haven't proven a distraction to us, though.
It's hard to find such an efficient and attractive diffuser in one affordable package. ZAQ Allay's LightMist Aromatherapy system is ultra-quiet and diffuses essential oils in the most efficient manner possible. During each use, the oils are turned into mist without damaging the compounds within the oil that provide therapeutic benefits. We think you'll appreciate this unit for everything it offers, and the only thing that we would have liked to see improved was a larger oil tank.
Now Foods Ultrasonic Wood Grain Oil Diffuser Review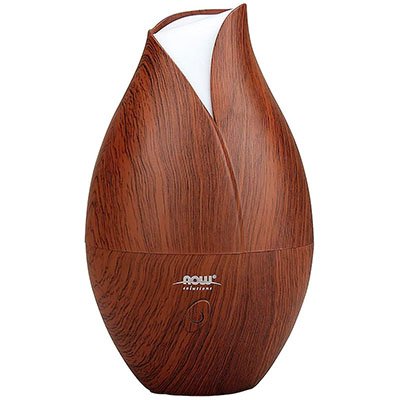 The Now Foods Ultrasonic Wood Grain Oil Diffuser costs just under $40, and we find that price more than reasonable. You're getting extra value by paying for a scent diffuser that's worth more money. For the price, you get an aromatherapy diffuser with excellent performance and proper diffusion of essential oils. A full eight hours of runtime on a rather large water reservoir is incredible for this price range, and cleaning the unit takes seconds.
Each Wood Grain Oil Diffuser is BPA-free and features an LED light that changes colors. The ultrasonic technology is highly efficient and puts more essential oils into each particle released. Since there's no heat involved here, you don't have to worry about burns or damage should the unit tip over and spill out. Other units under $50 aren't designed as well as this unit, and they often lack such a large water tank for extended usage times.
Orbis Nox Merus Aromatherapy Professional Grade Diffuser Review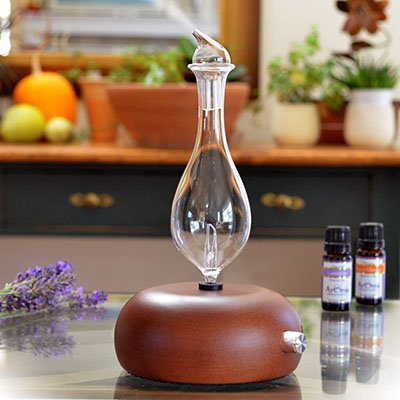 Given that the average price of an oil diffuser is somewhere in the $30 to $40 range, the Orbis Nox Merus Aromatherapy Diffuser Professional Grade can be thought of as one of the most expensive products of its kind on the market. However, it is well worth the money, and, as long as you can afford it, this is the one oil diffuser that really is better than anything else on the market today. For one, it is a nebulizing oil diffuser, which means it uses an atomizer to pulverize the essential oil into a fine mist. Given that the process does not alter the molecular structure of the oil, this is the perfect choice for aromatherapy, ayurvedic treatments. It does not need to heat the oil, nor does it use water, so the full structure of the essential oils is preserved.
We also love the design of the Orbis Nox Merus because it uses only wood and glass in its design, so, again, the oil is perfectly preserved and does not get oxidized by contact with iron, or does not pick up any nasty chemicals from contact with plastics. Its glass atomizer also has the added benefit of being a fascinating central piece in your home, as you can actually see the oil being atomized. It was actually funny to see different people coming over just to gaze at the atomizing process for several days while we were working on reviewing this diffuser.
RENWER Essential Oil Diffuser Review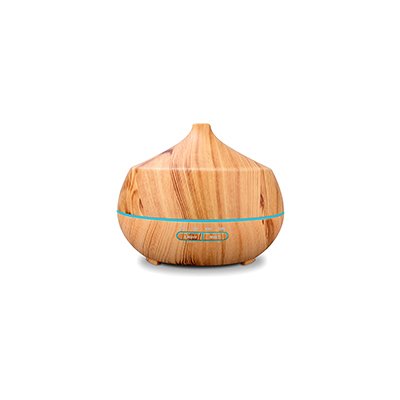 Pretty design and huge capacity are what makes RENWER Essential Oil Diffuser stand out from the rest. It looks like it is made from fine wood, with elegant, brightly colored details. It uses ultrasonic technology to disperse the aroma in the air, which will help you feel soothed and stress-relieved. This is a great humidifier if you want a product that will enable you to sleep better throughout the night. It's a bit larger than standard diffusers, but it is still lightweight so you can move it around.
This oil diffuser can work for up to 10 hours thanks to its 400ml capacity. It can generate between 30 and 50 ml of mist per hour, which is enough to refresh an entire larger office. It has an auto shut-off option that will turn the unit off five seconds after it runs out of water. This will not only protect the diffuser, but it will also keep you safe. Four timer settings and two mist modes make this product rather versatile. You can even turn off the light, which is important for some people.
Everlasting Comfort Essential Oil Diffuser Review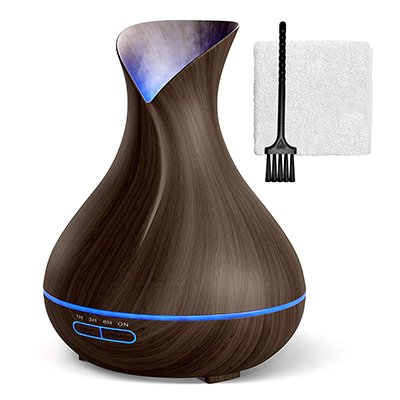 The Everlasting Comfort Essential Oil Diffuser is a great product if you're looking for a good unit for aromatherapy. With it, you can achieve a luxurious spa experience from the comfort of your home. Just add a drop or three of your favorite essential oil into this unit, and you'll feel the pleasant mist in just a few moments.
This essential oil diffuser has a capacity of 400ml, making it one of the bigger ones on our list. If you turn it on at low settings, it can provide you with up to 13 hours of pleasant aroma. The diffuser top is easy to remove, so you can clean everything up with ease. The LED lights have seven color options, as well as a carousel mode. Combined with the dark wood look of this humidifier, this gives the unit a modern yet elegant design. If you're not a fan of bright lights, you can dim them, making everything perfect for the night time. The unit also has an auto shut-off function, as well as several time options.
Are Oil Diffusers Harmful?
Oil diffusers have been adopted as the new way of making life a little more comfortable in a highly polluted atmosphere that we live in. At least the majority of people living in the metropolitan cities, where there is unfettered growth of concrete buildings and the number of automobiles on the streets, have to face this difficulty. As we keep hearing in the media reports, air pollution, carbon emissions, and other such threats to humanity are topics for debates and workshops throughout the world. Under such conditions, if you have a way of enjoying some purified air, which can also invigorate your flailing nerves a bit, you should feel happy about it. The essential oil diffusers, do exactly this. However, as with any good thing that comes up, there will be detractors who question the efficacy of these diffusers. So, Are Oil Diffusers Harmful? Definitely not! Let us examine how.
Essential Oil Diffusers Explained
Essential oil diffusers, generally work on electricity. The construction of these diffusers, which are of the size of a small flower vase, typically has a base receptacle where one can take normal water and then add a few drops of the essential oil and switch on the diffuser. The oil would slowly evaporate and spread a nice and pleasant aroma inside the room where you have kept it. This aroma or even a mist, if created, ensures that all bad odors in the room are removed, and by their chemical and intrinsic properties, the mist or odor can act on your body's nervous system. It can calm down your nerves, allow a sound sleep through the night, and remove all negative vibes in the atmosphere. The diffusers come with an inbuilt mechanism to switch itself off if the water goes empty in the receptacle or after a fixed time of say 6 hours. So it is difficult to say yes, to the question Are Oil Diffusers Harmful?
How Do The Effects Differ?
It is true that we are dealing here with certain chemicals extracted from naturally available elements, and in many cases, a certain perfume or scent might have been added before the essential oils are sold to the end customers. One has to also concede that most of the people who might be buying and using these diffusers could be doing so without any basic knowledge of how these oils function and from what basic sources these oils are extracted. In fact, there is a whole new medical procedure called aromatherapy behind the working of the diffuser technology. The oils are classified and graded depending on the particular aroma they can emit and the benefits it could give against specific symptoms.
Choose the Best Essential Oil
So going back to the question Are Oil Diffusers Harmful? It will all boil down to the essential oil you choose to use with the diffuser at your place. The wrong oil or a bad quality diffuser can be a cause of some discomfort and, if not checked and treated, can end in serious diseases. Ensure that you choose the most appropriate essential oil, and the diffuser is from a reliable manufacturer. No harm will come.
Are Oil Diffusers Good For You?
Oil diffusers are equipment we use in our homes to feel a bit relieved and relaxed at the end of a day's hard work. These diffusers popularly called essential oil diffusers use natural oils to send vapors into the atmosphere, thereby purifying the air around and also having a salutary effect on our nervous system. In terms of its therapeutic function, the essential oil diffusers are not very different from aromatherapy, where also, the symptom is addressed through appropriate smelling of a specific aroma. So the question is oil diffusers good for you? Has to be answered only with an emphatic yes.
Essential Oils and Diffusers
The essential oils and the diffusers they operate with will have three functions to perform. One, by spreading the pleasant smell in and around the room, any unpleasant smells you could be fighting with get eliminated. So the essential oil diffuser acts as a simple room freshener. Then, if you have chosen the right essential oil, its therapeutic properties will help in bringing relief to any discomfort you may be experiencing. These include headaches and nervous strains, and so on. This is the aromatherapy function being performed by the essential oil diffuser. And finally, you will be able to get a good night's sleep.
Many Models and Many Diffusers
You will also affirm in the positive to the question, are oil diffusers good for you? But before that, you should also get an idea of the types of essential oil diffusers that are available on the market. The common feature among almost all of them would be that they operate on electric current. Again, most will have a ceramic bowl-like structure at the bottom to hold water. It is in the top structure that the difference can be noticed. Some come with a small tent type cover made of translucent, heat resistant plastic sheet, which can throw colored light when the diffuser is switched on. A few models even have a color-changing feature depending on the user's choice. The standard oil diffuser would have the capacity to hold that much water, which can make the oil drops generate a pleasant odor for about six hours. The diffuser maker would have provided an automatic cut off feature, whereby either through a timer or a level sensor, the device would automatically cut off the power supply. This is either after six hours or if the water bowl or receptacle goes empty.
Now the Essential Oils
The key factor would be to select the correct essential oil for your diffuser. The manufacturer of the oil diffuser would make some recommendations based on their tie-up with the seller of the essential oils. While you can choose from an option of 3 or 4 flavors or oils found with the pack of the oil diffuser you ordered, for subsequent orders or refills, you are not bound with the supplier. You can order the oil from any good essential oil supplier. Go through their range, understand their effects and properties, and then order. Well, now, if you may ask, are oil diffusers good for you? Of course, they are!
Conclusion
Ultimately, you should take all the health claims of the Eastern Traditions with a grain of salt. They have been shown to work, and the traditional, Western medicine is constantly getting inspiration from these traditional treatments. However, perhaps the best thing about all essential oil diffusers is the fact that they put you back in charge of the substances you use to freshen up the air in your home or car. You can be sure that you are not breathing in nasty chemicals because you are the one deciding what you are going to use.
As you have probably noticed, most of the essential oil diffusers we have featured here are ultrasonic devices because those are the most affordable and yet provide the best quality; plus they double as humidifiers. The thing is that nebulizers are actually a better alternative, and we have given you 2 of the best choices on the market today, so, if you can afford them, we would dearly recommend going with them. Finally, you should not entirely discount the use of reed diffusers as they are quite efficient and fun, and this is just our opinion, but they also make the best display pieces on the market. Whatever choice you decide to go with, though, as long as you are bent on using a device that will change the fragrance of your home, we hope that you decide to go with the natural choices we have given you here.
Last Updated: 30th Jan, 2021