Introduction
A dehumidifier removes excess moisture from the air, reducing the humidity rate in any part of your home, like your basement, bathrooms, kitchen, or bedrooms. The water that a dehumidifier collects in the container is distilled water, making it perfect for your steam iron or car battery, but not suitable for human consumption. Dehumidifiers are even great at drying washed clothes indoors.
How Dehumidifiers Work
What they do is built-in use fans that blow the humid air over a refrigeration system resulting in the process of condensation, which then drips back into a collection bucket, which will need to be emptied after filling up. Most dehumidifiers have an automatic shut-off once the bucket is full.
Humidity starts getting uncomfortable once it reaches the 60-70% level. Hence, the main object of a Dehumidifier is to bring the humidity levels in the air to a much more comfortable 30-50% level. Below, 30% is not recommended as the air will get too dry.
What to look for in a Dehumidifier
Dehumidifiers come in many shapes, sizes, brands, and models. You should base the size of the unit on the condition of the area and size of the room. The most popular sizes are the ones with a capacity of 30 to 50 pints, which means that they can remove 30 to 50 pints of water in 24 hours. These medium-size units are ideal for most rooms.
Dehumidifiers for Basements
For basements, you should seriously consider the larger 65 or 70-pint capacity units because they are usually more energy-efficient since they are faster at removing water from the air. After all, basements are usually the most humid part of your home. For the bathroom or closet, a Mini dehumidifier may be the best bet.
Before buying your unit, first, determine the capacity you need. Most experts recommend a larger dehumidifier because it works faster and, therefore, more energy-efficient. Some dehumidifiers are Energy Star certified by the EPA (Environmental Protection Agency) when they meet certain energy efficiency criteria, so look for this rating when buying one.
You should also take into account the storage bucket capacity of each unit. The bucket serves as a collector of condensed water, and it varies in size from model to model. The smaller the bucket size, the more times you will have to empty it. Most units automatically switch off when the storage bucket fills up.
Most dehumidifier storage buckets also have a place where you can hook up a hose so the collected water can drain straight into a floor drain or pump. This feature frees you from having to remember to dump out the water once it fills up.
The good idea is to buy a unit with an adjustable humidistat to control the level of humidity in your home. This feature makes your dehumidifier turn on automatically when humidity levels in your home reach a certain point. If this feature is not built-in, another option is to purchase a separate hygrometer that will show the humidity level of the air. You can find one at your local hardware store.
Dehumidifiers do create some noise, some more than others. Noise can be annoying if you're inside the room when the dehumidifier is turned on. Look for a unit with different speed settings; a lower speed should be quieter. It's not advisable to leave babies or children inside rooms with dehumidifiers switched on.
Bear in mind that dehumidifiers are relatively heavy appliances, weighing anywhere from 30 to 60 lbs (mid to large capacity sized), so many people will have at least two or three portable dehumidifiers inside their home.
I have two dehumidifiers in my home. The first one I bought (a quite noisy General Electric) is 23 years old and still working like a charm. Eight years ago, I bought a second G.E. (a lot less noisy) unit to go for repairs last year. I guess the saying "they just don't make them like they used to" could be applied here.
10 Tips in Using Dehumidifiers
Place the dehumidifier away from walls and furniture so that air can circulate freely around the unit. This situation will result in better operation of the product.
Close doors and windows to space or room being dehumidified while the unit is running. Doing this will ensure that the room is dehumidified more efficiently.
When using the dehumidifier in your bedrooms, open closet doors, and draws to help dry your clothes.
Place the dehumidifier away from sources of dust and dirt, like woodworking equipment, which could clog coils and grills, resulting in overheating.
Make sure you observe all manufacturer warnings regarding electrical safety. In particular, never set up water drainage or disposal near electrical circuits or devices. Also, make sure the dehumidifier is connected to a properly grounded outlet. Keep drain hoses away from electrical cords and connections.
In case you are planning to use a hose to drain the dehumidifier's water bucket, make sure the unit is located near enough to the floor drain or sump to avoid the need for a long and unwieldy hose, which could create a tripping hazard!
If the air temperature directly around the unit is warmer than in surrounding areas, do not be alarmed. As a dehumidifier removes moisture from the air, it slightly warms the space around it.
Lots of dehumidifiers come with a simple electrostatic filter in the front grill area. It would help if you replaced or clean this filter periodically, like once or twice a year.
If the room temperature where you have your dehumidifier drops below 60º Fahrenheit, check the units coils for frost or ice build-up. You could have a problem if they are iced up.
Prolong the lifespan of your dehumidifier by never turning it off and then back on right away. After you turn it off, please wait at least 10-15 minutes before turning it on again. This allows the pressure in the refrigeration system to equalize.
Best Dehumidifier Reviews
De'Longhi DDX50PE 50 Pint Dehumidifier with Built-in Pump Review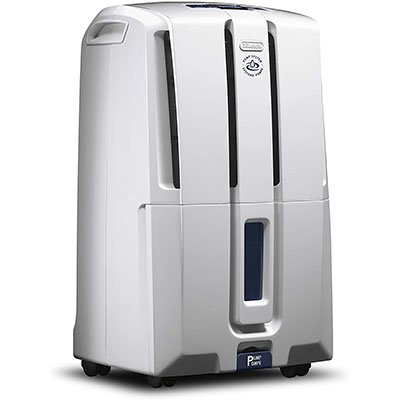 The DeLonghi DDX50PE Dehumidifier is a medium to a large capacity unit capable of extracting 50 pints of water every day with its internal condensate pumps. It has a low-temperature operation, which allows it to work in basements with temperatures as low as 41°F (5°C). The DeLonghi DDX50PE is cooled using the R410A refrigerant, an environmentally ozone-friendly refrigerant gas that has a very low toxicity level.
The DeLonghi DDX50PE comes with a digital LCD to make it easy to use and navigate. It has adjustable humidity levels ranging from 35-90% to suit your humidity preference. The unit comes with a washable air filter, two fan speeds to choose from, a thermostat regulator to ensure a constant temperature around your room.
The DeLonghi DDX50PE is also energy star-qualified, which means that you can save between 10 to 20% less energy than other non-certified products in its category. It also has a 24-hour programmable timer to automatically shut off after a while of use.
The DeLonghi 50-pint Dehumidifier features an auto-defrost function. Because water vapor is removed from the air by condensing it onto cold coils, ice can accumulate on these coils at temperatures from 65°F or lower. The formation of this ice can damage the unit, so the auto-defrost system stops the compressor to allow the flow of air to melt the ice. So as you can imagine, the cooler it gets, the more time it spends defrosting, and thereby the less effective it becomes.
So even though this DeLonghi dehumidifier can operate safely at temperatures as low as 41°F, it cannot be considered an ideal choice for cool areas that remain below 60°F for extended periods.
Despite the DeLonghi DDX50PE 50 Pint Dehumidifier weighing 40 lbs, it's very portable because it is installed with caster wheels, making it easy to slide around your home or basement.
Features
50 pints per day dehumidification
Energy Star qualified, meeting or exceeding federal guidelines for energy efficiency and helping money savings.
Uses Eco-friendly R-410A refrigerants
LCD Electronic display for monitoring the humidity and temperature
Low-temperature operation – as low as 41ºF
Frontally 14.8-pint tank and transparent water level window located.
Empty water three ways: patented pump system, through 3 ft. hose or directly into the tank
Washable Air Filter
Pump system with 16′ hose that can pump water upward to drain out a window or into a sink
Two fan speed for easy operation
Anti-frost design allowing use in rooms with temperatures as low as 41°.
Product Dimensions (W, H, Depth): 14.96″ x 24.02″ x 11.81″. Weight: 40lbs
Pros
Low operating temperature – The unit will work as low as 41 degrees F, and it has an automatic de-icing system.
The DDX50PE comes with a built-in auto-pump system with a 16-inch hose that can pump water upward to drain out a window or into a sink, which can be very convenient.
With its frontally located tank and transparent water level window, you can easily see how much water has been collected.
Using the timer button, you can control when the unit turns on and off. This function is very useful, allowing you to save money on your electric bill. For example, you can set the unit to run only at night when electric rates are lower.
Cons
It has only two fan speeds – one or two more speed options would be handy.
Some users felt the units were a bit noisy.
No auto-restart feature. When the power goes out, you have to go and turn the unit back on manually.
Conclusion
The Delonghi DDX50PE dehumidifier is great at removing humidity from spaces up to 1,000 square feet. It comes with a unique internal pump, making it almost completely hands-off, which justifies its price tag being a little more expensive than other similar units.
The stylish Italian designed DeLonghi DDX50PE is a well-featured dehumidifier and an excellent choice for your home or office.
Eva-Dry EDV-1100 Electric Petite Dehumidifier Review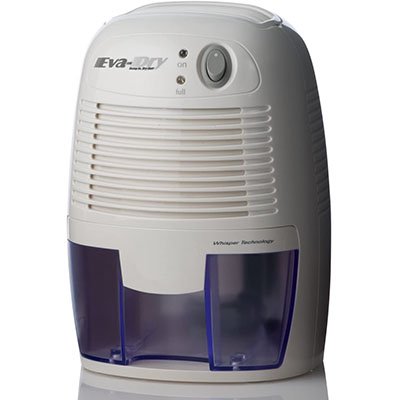 The Eva-Dry Electric Petite is a small, compact dehumidifier that uses Peltier Technology, meaning it has no compressor, which invariably makes it lighter and quieter. The unit is ideal for bathrooms, closets, or small-sized rooms with a humidity problem and helps preserve clothes and shoes that are often damaged by molds and mildews.
This small dehumidifier is often advertised as "almost silent." It does, however, have a fan, and some users have commented on the fan noise that many find intrusive. The Eva-Dry has low electricity consumption, but in absolute terms, it is much less energy efficient than medium or large units. It should be mentioned that when the Eva-Dry Electric Petite Dehumidifier is used in a closet, it will need a permanent electricity supply so a power cable will have to be run from the closet to a power socket, which means having to leave the closet door slightly open, therefore making it harder for the unit to dehumidify more efficiently.
The Eva-Dry comes with a switch that automatically turns the unit off once the water container is full and needs to be emptied. This unit container can hold approximately 16 oz. of water, making it easy to remove and empty in a sink or outside. Because of its small size, care must be taken when removing the water bucket to avoid spillage.
Features
The Eva-dry Electric Petite does not use a chemical substance to absorb moisture.
Air Filter
Transparent Detachable Water Tank
Easy to use Controls
Weight: 1 pound
It automatically turns off when the water tank is full.
Whisper quiet technology
Renewable reservoir
Compact size is perfect for bathrooms, closets, and R.V.s.
Low energy consumption
Dimensions: 6″ (W) x 8.5″ (H) x 4.5″ (D)
Pros
Small and light
Whisper Quiet
Energy Efficient
It is an environmentally friendly product.
Eliminates odors and fungus
Cons
Small water bucket
Not recommended for basements
Conclusion
The Eva-Dry is a Mini Dehumidifier will help keep the humidity level to a minimum and maintain the freshness and comfort of the room or closet. This unit is not designed for flooded basements or places with permanent water damage. Its best use is in a bathroom and closet because it's optimized with features to be low on power consumption, quiet, and effective for small areas.
Eva-Dry EDV-E-500 Mini Dehumidifier Review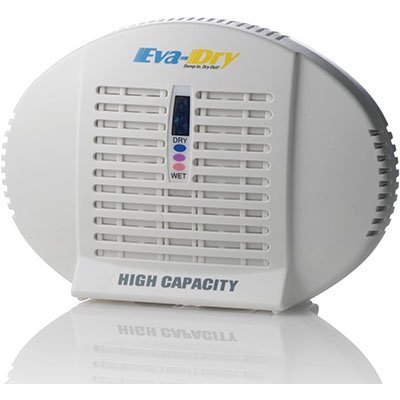 The Eva-Dry EDV-E-500 Mini Dehumidifier is different from any other cheap dehumidifier we have reviewed above. It was designed to absorb humidity from small enclosed areas like closets, gun safes, or travel trailers, helping to protect clothes, shoes, guns, and other valuables from the damaging effects of mold and moisture rot.
This small dehumidifier is completely silent, has no power source or moving parts, no batteries or cords to a plugin, so you'll never have to listen to this unit hum away in the background. Just place or hang the Eva-Dry in a closet or other small enclosed spaces, and it will start to absorb moisture.
There is an indicator window with special moisture meter crystals that are visible through a window that changes color from blue (when dry) to pink (when wet) to indicate when the unit needs to be "renewed." The Eva-Dry EDV-E-500 uses a specialized, engineered, crystallized silica gel that is odorless, non-toxic, and completely safe. These "silica gel crystals" will adsorb approximately 8-10 ounces of moisture over 6-8 weeks.
Once the Eva-Dry dehumidifier reaches its moisture capacity, it will be noticeably heavier. It will not leak or spill, at which time the indicator crystals turn pink, so it is time to "renew" the unit. You remove the unit from where it was placed and plug it into a power outlet or power strip in a well-ventilated area. The unit has a built-in heater that will warm the crystals allowing them to expand and release the moisture as water vapor into the outside air.
This process takes about 12-14 hours to completely "renew" the EDV-E-500. Once it is completely renewed, the indicator crystals will change back to blue. The unit is brand new again and ready to adsorb another 8-10 ounces of moisture once again. According to Eva-Dry, these crystals will remain active for ten years, and Amazon offers a five-year limited manufactures warranty on all EDV 500 units.
Features
The product is 100% wireless and 100% renewable.
It operates using silica gel crystals that turn from blue to pink as the unit absorbs moisture.
Moisture absorption capacity is around 8 to 10 ounces.
Requires around 12 to 14 hours for full renewal, by plugging it into a power outlet in a well-ventilated room
Is considered environmentally safe
It guarantees no messy spills or refills.
Is expected to stay working for at least ten years
Absorbs moisture in a completely silent way
Dimensions: 8 x 2.5 x 5.5 inches and weighs 3 pounds
Pros
Effectively collects moisture from the air in small enclosed areas like closets, campers, etc.
Reusable – Which can save you lots of money
Environmentally safe
Compact and Stylish – No messy containers of moisture control products to spill or change out.
Completely silent when operating
Ten-year lifespan
Cons
The recharge process gets the unit very hot, and it doesn't always sit well in an outlet without support. The problem can be solved by placing a prop under the EDV-E-500 during recharges.
The hook is fairly flimsy when hanging in a full or tight closet, and the unit can easily fall. Best to place it on the floor.
Conclusion
This amazing mini dehumidifier has the advantage of being wireless, silent, cheap, economical, convenient, and renewable every 6-8 weeks or so, depending on the humidity levels. It's great for people who don't want any hassle or noise around the house, and it lasts ten years!
The Effects of Humidity on Your Health
If the humidity levels in your home are over 50%, not only is it uncomfortable for you and the family, but it can even exacerbate allergies, asthma, and people living with arthritis, because mold, mildew, dust mites, and fungi thrive in humid conditions. In summer, the hot, sticky days reduce the rate of evaporation of sweat from our bodies. For that reason, our bodies need to work harder to cool down, which leaves us feeling sluggish and tired.
The combination of extreme heat and high humidity can be dangerous, as it disrupts our body's ability to cool down, which could lead to a heat stroke, so people with asthma symptoms or heart problems should be very careful in such conditions and find a much cooler and drier environment. Having a dehumidifier for your home will help tremendously under these circumstances.
Effects of Humidity on Your Home and Electronic Equipment
In summer, when humidity levels rise, moisture tends to build up on windows, water pipes, roofs, and walls, which, in extreme cases, can even cause the paint to blister and wallpaper to peel.
Water pipes and metals will begin to rust, and wood will warp, causing doors and draws to stick. Certain items need special care from the negative effects of humidity like books, documents, photos, paintings, electronic equipment, antiques, clothes, or even your old collection of VHS cassettes that you still have not converted to DVD, etc.
Humidity can create malfunctions in many electronic devices. What happens is that the humid air will create bad contacts on the printed circuit boards. You can solve this problem by removing the circuit boards and cleaning their contact points using a simple rubber eraser.
Those DIY people should only do this "cleaning the contacts" procedure with some understanding of how electronic devices work and should never forget to remove power from the wall socket. Sometimes the humidity can create internally, and the devices become irreparable.
Benefits of a Home Dehumidifier
A good dehumidifier will help reduce the humidity levels in your home to a much more comfortable 30-50% level. It should also reduce dust mites, pollens, fungi, and other insects that thrive in a high humidity environment. These harmful elements are the major causes of allergies and asthma, as well as other respiratory problems.
With a dehumidifier, you can control moisture in your home. An average family can create up to 15 liters of moisture per day through breathing, bathing, cooking, heating, and drying clothes. During the hot summer months, moisture builds up in wall linings, roofs, wood furniture, frames, photos, books, clothes, and anywhere it can be absorbed.
The long term effects of excess humidity can be quite horrific. Considering the harm that high humidity can do to your health and damage to your home, it's quite obvious that a dehumidifier is a necessity and could, in the long run, save you thousands of dollars from health and home repair bills, as well as bringing a lot more comfort and a better quality of life.
Even though dehumidifiers are one of the most underrated home appliances, there is no doubt that they are one of the most useful devices for your home. I would consider them indispensable if you live in humid, foggy, or coastal areas.
---
Last Updated: 2020-12-13 by Oğuz Tokatlı