Best Home Air Purifiers for 2020: Electrolux vs. Whirlpool
For Big Rooms
Alen BreatheSmart
Best Rated
Whirlpool Whispure 510
For Small Rooms
Winix FresHome P150
Introduction
Breathing. It's pretty important. A well-sealed house might be your worst enemy when it comes to holding in pollutants and irritants. When medical issues like allergies and asthma, along with the accompanying coughing, snorting, and hacking, rear their ugly heads, it's not uncommon for dinner table conversation to turn to the topic of air purifiers. With a host of models available at a range of prices, what should a consumer look for?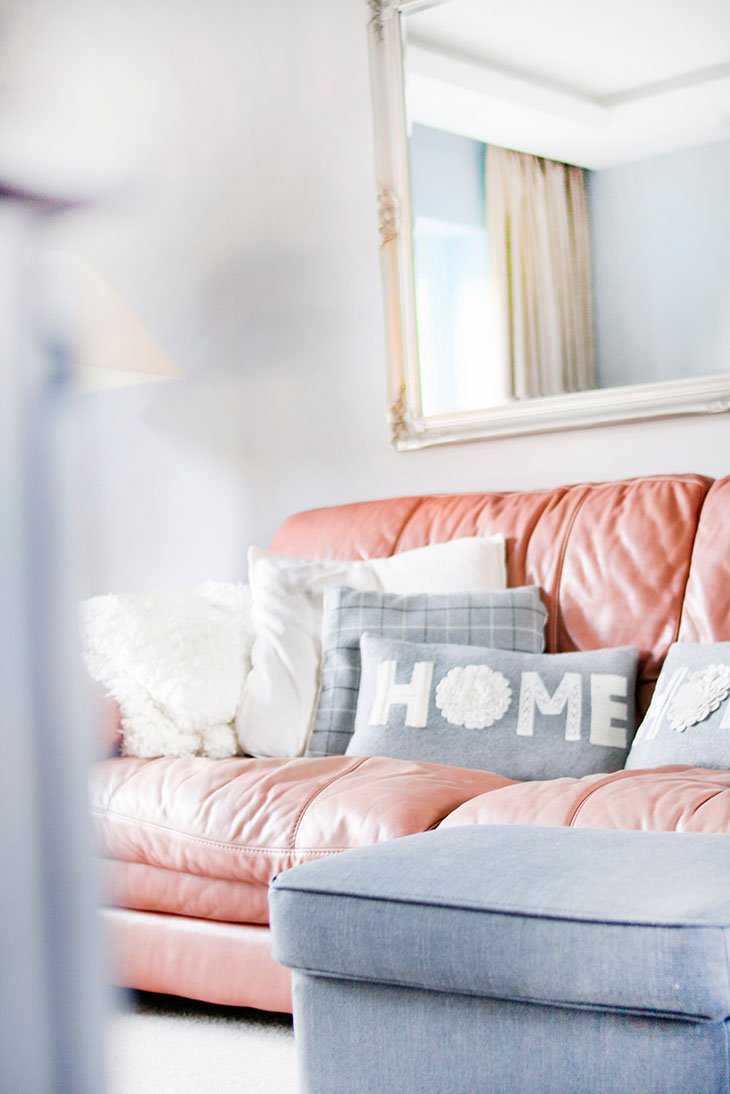 With so many air purifiers available on the market today, it can be tough to know which air purifier is best for your personal situation. It is for that reason that I decided to start this review. As a long time allergy sufferer, I've used more home air purifiers than I care to admit.
Brands
Our Picks: The Best Air Purifiers
Alen BreatheSmart HEPA Filter Air Purifier Review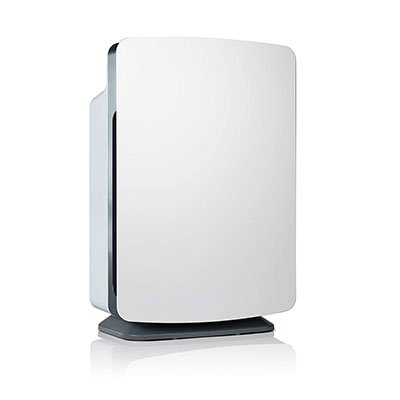 For those wanting an air purifier that can cover a large space, the Alen BreatheSmart HEPA is an excellent option. The BreatheSmart can filter and recirculate the air an 1100 square foot room in less than 2 hours while its WhisperMax technology keeps noise levels low.
The BreatheSmart is highly customizable. There are 14 color choices for the front panel, and 4 different HEPA filters that can be used depending on a user's needs (the unit comes with one).
The HEPA-Pure is best for most home environments and will reduce dust, pollen, dander, and other particles down to 0.3 microns at an efficiency of 99%. Also available is the HEPA-Silver which eliminates germs, the HEPA-FRESHPLUS which reduces airborne chemicals, and the HEPA-OdorCell for removing smoke and heavy odors.
The BreatheSmart has 4 manual speeds, including a turbo speed. Alternatively users can set it to run for 4, 8, or 12 hours. The BreatheSmart has an automatic mode that uses SmartSensor monitoring to adjust itself based on current air quality, which is displayed as a color code around the power button. This setting reduces energy use and prolongs filter life.
For maximum efficiency, the unit has an ozone-safe ionizer that can be turned on to help capture airborne particles. The air purifier has a Clean Air Delivery Rate of 300, which was verified by an ENERGY STAR independent test.
This home air purification system has a washable pre-filter, so the only thing that will need replacing is the HEPA filter, which lasts about 9 months. A panel light displays a yellow light when the filter is nearing the time for replacement.
The Alen BreatheSmart comes with a 60-day money-back guarantee as well as a lifetime limited warranty from the manufacturer.
Alen Breathesmart Benefits
For rooms up to 1,100 square feet
Energy Star Certified
Offers 4 Types of HEPA filters
SmartSensor that auto dectects and changes air quality
Exclusive Lifetime Warranty
OZone-safe Ionizer
Lifetime Warranty
Whirlpool Whispure 510 Air Purifier Review (AP51030K)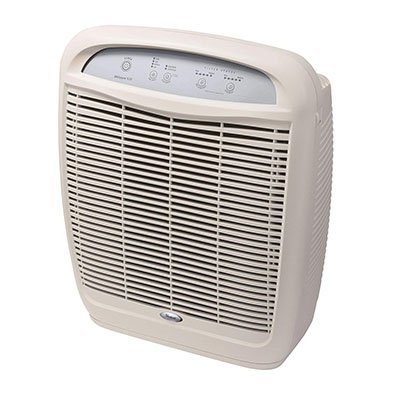 The Whirlpool Whispure 510 is a powerful, full-featured air purifier that is capable of filtering and recirculating the air in a 500 square foot room up to six times per hour.
The Whirlpool Whispure 510 has four fan speeds: low, medium, high, and turbo. It can also be put into a sleep mode, where the fan will run on low for eight hours then return to its previously-set speed. The controls can be locked to prevent accidental changes to the settings.
The Whispure home air purification system uses a pre-filter to capture larger particles and a true HEPA filter to remove 99.97% of particles down to 0.3 microns. This includes pet dander, dust, pollen, mold spores, and other allergens and irritants.
As of this writing, the Whispure 510 has a Clean Air Delivery Rate (CADR) of 335 for smoke and dust, and 290 for pollen. CADR ratings are independently verified by the Association of Home Appliance Manufacturers. Under normal use, the HEPA filter should be replaced once a year, and the pre-filter replaced about every three months. Lights on the unit will indicate when a filter needs changing.
For convenience, the Whispure 510 has a built-in handle and power cord storage. Because air enters the front and exits the top of the air purifier, it can be placed with its back against a wall for easy placement. It comes in black or white to accommodate various decors.
The Whispure 510 is ENERGY STAR qualified and built to run more quietly than other air purifiers, especially on lower fan speeds.
The manufacturer offers a thirty day money-back guarantee that if the Whispure 510 isn't quieter than the customer's last air purifier, they will fully refund the purchase price. Additionally, it comes with a five year warranty on the motor and a one year warranty for the whole unit.
Whirlpool Whispure Benefits
For rooms up to 500 sqaure feet.
True HEPA 0.3 micron air purifer
Energy Star Qualified
3 Stage air purifier
Filters air 4.8 times per hour
4 Fan speeds
Extra Modes: Sleep and Turbo
Quiet and easy to use electronic controls
Five Year Warranty
ElectroLux PureOxygen Air Purifier Review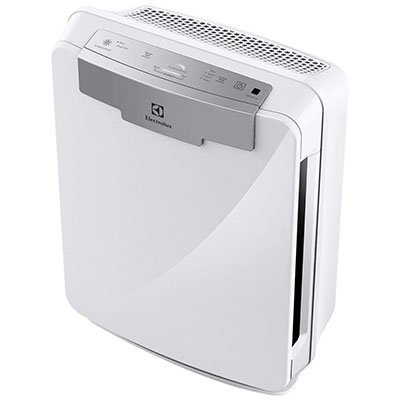 The Electrolux PureOxygen Air Purifier works efficienty to purifier the air through a state of the art 4-filtration stages and it has been AHAM certified for spaces measuring up to 300 square feet.
The Premium HEPA filtration process absorbs 99.97% of allergens, dust mites, pet dander, smoke and other air-borne pollutants down to 0.3 microns in terms of size.
The activated carbon filter is excellent in cutting down some gasses and unwanted odors in your home. The treated carbon filter comes with a Cleancel coating–which prevents molds and bacteria growth. A change in filter indicator is an automatic indicator that the filter replacement time is due.
Different from the majority of ion generators, the PlasmaWave Technology used in this home air purification system does not generate any harmful ozone. It has been awarded the prestigious California Air Resource Board (CARB) Seal of Approval and has also been listed among the California Certified Air Cleaning Devices. PlasmaWave Technology works by breaking up the potentially harmful molecules that contribute to naturally occurring water vapor and hydrogen.
In terms of the display, this is pretty well designed with everything else on the purifier being pretty intuitive. The 'My Favorites' button will automatically select the 3 cycles that you frequently choose the most. Part of the instruction manual is a chart that guides you on what options work with each of the cycles. For example, you can't operate max spin in case you are washing delicates.
For users who wish to go further than the standard set-it-and-forget-it cycle, this purifier has many ways of customizing. For example, when you hit the unit's temperature button, it allows you to pick from different settings such as eco-cold, cold, warm or hot. In addition, you may opt to go from no spin to maximum and also set the soil level between extra light and extra heavy.
Electrolux Pureoxygen Benefits
For Rooms Up To 300 sqaure feet
Premium HEPA air purifer
PlasmaWave Technology
Auto and Sleep Mode
Does not produce any harmful ozone
Includes 1 year supply of FREE air purifier filters (1 HEPA filter + 4 activated carbon filters)
Limited Warranty
Winix FresHome P150 True HEPA Filter Air Purifier Review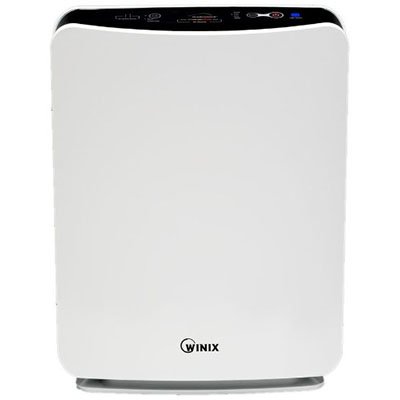 The Winix FresHome 150 home air purification system is yet another excellent addition to the list of the best air purifiers with pocket-friendly price tags. Designed in a compact body, it packs indispensable technology that clears 99.97% of airborne pollutants.
The Winix FresHome P150 comes in an all white body measuring 18.5 inches by 13.8 inches by 9.1 inches. Inside it packs a True HEPA certified filtration system that removes dust, smoke, pollen, mold spores, organic matter or pet dander as tiny as 0.3 microns. Additionally, it is reinforced with Plasma technology which further breaks down bad odor and chemical vapor in the air, leaving behind a clean and fresh environment.
That's not all, there are plenty other features like the set and forget automated controls worth writing about. The Winix FresHome P150 packs a list of smart sensors that detect light variation (day and night) to adjust the fan speeds accordingly.
When it's night time, the unit runs the fans at a quiet speed, ensuring you get the best air quality and a goodnight sleep. One more thing to mention is the 3 stage cleaning system that guarantees 99.97% pollutant free environment in your home.
Given its compact nature, this Winix FresHome P150 model is a great addition in tight bedroom spaces or a baby's sleeping area. It instantly takes away the bad odor or disease causing allergen that may otherwise harm your child.
If there is a construction site nearby that dreads you from opening windows or you don't want your guest to get flooded by kitchen odors in your studio apartment, this air filtration system should be your buddy.
The Winix FresHome P150 is relatively cheap when put side by side with other air filtration models in the market. At a wallet friendly price, it still does the job required of maintaining a clean fresh home.
Winix Freshome P150 Benefits
For rooms up to 150 square feet
True-HEPA 3-Stage air purifer
Utilizes PlasmaWave Technology
Cleans 99.97% of airborne pollutants
Energy Star Certified
Air Quality Sensor with Auto-Mode and Visual Indicator
1 Year Limited Warranrty
Tips For Choosing The Best Air Purifier For Your Home
An air purifier can be a great addition to your home, especially if any occupants suffer from allergies, asthma, or any sensitivities to things like chemicals or smoke. Even without these specific challenges, though, an air purifier will make your home healthier and may even make it smell better. There are many factors to consider when choosing an air purifier for you home. Here are some of the most important:
Your Specific Needs: While there are several excellent all-purpose air purifiers, there are also air purifiers designed specifically to handle common air irritant issues. If you or someone in your home has allergies, you should consider an air purifier with a HEPA filter that is designed specifically to eliminate common airborne allergens like pollen, mold spores, and pet dander. Similarly, there are air purifiers specifically designed for removing smoke or for filtering chemicals. If any of these specific needs apply to anyone in the home, it's a good idea to consider units designed specifically to serve these needs.
Size and Location in Home: It's important to consider the size of your home when purchasing an air purifier. Choose a unit that will cover the square footage of your home. You can also consider how frequently an air purifier will filter the entire space. If you want to ensure that the air is filtered frequently, you can choose your air purifier based on this feature.
Cost Plus Operating Costs: In addition to considering the cost of the unit itself, you should also consider the operating costs. Filters will need to be changed regularly. The cost of electricity consumption is also something to consider, which can be estimated by the wattage used. Choosing a unit that is more energy efficient will save you money.