What Is a Food Storage Container?
A food storage container, as the name suggests is a vessel that is used to keep foodstuff. This can be for purposes of easing out usage or keeping away the excess to be used later. Food storage containers have been in existence for a long time. The common types of these containers are glass, metal and plastic containers. Modern technology has led to the evolution of these and today, it is not just about metal or plastic. Several additions are included to improve the quality and diversify the uses.
Possessing a food storage container comes with several advantages such as saving you time and money.
Types of Food Storage Containers?
Food storage containers come in various designs and material. These makes them diverse in function and the user has several options to choose from.
Plastic Food Storage Containers
These are very popular in the market. There are various classes of plastic. Some can be hardened to a near-glass texture whereas others are made to be flexible and light. Generally plastic food containers are good for storage of dry foods. They are not so good with high temperatures therefore you will have to make informed decisions before using them in a microwave. Light plastic is also not good for very low temperatures–freezing has to be done with the heavy duty designs. Many restaurants use plastic food storage containers to sell take out foods.
Ordinary plastic can be difficult to wash after holding oily foods. It also tends to retain odors and tastes of previous foods. However, enhanced plastic like polypropylene can work to a great extent to curb these negative effects.
Glass Food Storage Containers
Food storage containers made of glass have several advantages. They are long lasting and can serve for a very long time compared to plastic. Glass is also good for preheating and freezing. There are improved versions of glass like Pyrex and tempered glass which make food storage containers very good for home use. The improved forms can resist shatter but because you are dealing with glass, you have to handle it with care.
Metallic Food Storage Containers
These are metal cans that are mainly used industrially to store canned foods. The foods in metal cans have a long shelf life because of the vacuuming involved prior to sealing. The cans also withstand harsh environmental conditions because of the sturdy nature of the metals. Metal cans are not commonly used in homes and the few used could be those that were initially bought containing canned foods.
Airtight Food Storage Containers
Airtight food storage containers have lids that clip onto the base so tightly and do not allow any further contact between the food and the external environment once it is closed. These containers are good for food preservation. This airtight seal literally captures the flavor of the food in the container. In case you stored moist foods, the moisture does not escape. Same for dry foods because they will not be hydrated by moisture from outside.
How to Choose the Right Food Storage Containers for You
Of course we all want to have our food stored well. This is achieved through employment of several food preservation methods. Freezers have been used for preserving food for a long time now and they are found virtually in all homes.  Storing food well needs initial packaging. This can be done using food storage containers. There are several of these being advertised everywhere and you might wonder which manufacturer is the best and which brand beats the rest. Here are some of the guidelines to help you choose the best food storage containers for you.
Look out For Durability
The best food saving containers should be the ones that serve you for a long period of time. This saves your money because you will not be looking for replacements after short periods of usage. Because of the nature of their functions, the containers can fall down on the floor or be exposed to extreme temperatures. This calls for durable material that can withstand the shocks and extreme conditions.
How easy is the Cleaning?
Before you settle for a food storage container, think about how you can wash it. Check out the washing properties and see if they are meant for you. If you hate doing manual washing, look for the containers that are dishwasher safe. The material that the container is made of also determines the ease of washing. Glass containers are generally easier to clean because they do not retain stains and odors. Plastic has different classes and if you want it badly, look for the one that is easy to wash and does not retain oils.
The Range of Function
You definitely have different foodstuffs at home that require storage. Therefore, a container that can serve multiple purposes is good for you. A food storage container should be suitable for storage of soup, stew and even solid foods equally well. This cuts on costs because you do not have to buy several specialized containers. The storage space for a single multipurpose container is obviously lesser than that needed by several.
Check Out the Lids
A container without a lid is like a house without a roof. It is hit by draught effect and the contents cannot stay at top quality. The lid of a container ought to be tightly fitting to prevent spillages and food contamination. Air tight seals are the best option for food preservation. The lids should be easy to open and close; avoid the very tight lids that call for a struggle before they yield.
How Much Space is needed?
Food containers are not the only utensils that you will need. There are other stuff that require space therefore, the containers should not come to occupy all the available space. Look out for those that can be stacked together to make them use compact space. Square containers also use up less space than rounded and rectangular ones of the same capacity.
Is that your Favorite Design?
Choose food containers that are designed with your preferences. For you to feel bossy at home, have the favorite colors in your cabinet. The shapes should also be what you like. This will encourage you to take good care of the containers and your cabinets will look better from your eyes. Here, no one decides for you. You know your tastes best and therefore go for what is your best.
Brands
Best Food Containers
The food containers you use at home or in a restaurant are crucial in determining the ease of food preparation, safety, and general dining mood. The following top 8 best food containers review provide holistic insights into top rated types with focus on establishing their designs, features, and effectiveness. Besides, the reviews also highlight the main pros and cons of each food storage container or set of storage containers to assist you make the right decisions. Read through each of them to select the most ideal for your home or restaurant.
Stainless Steel Food Storage Container Set Review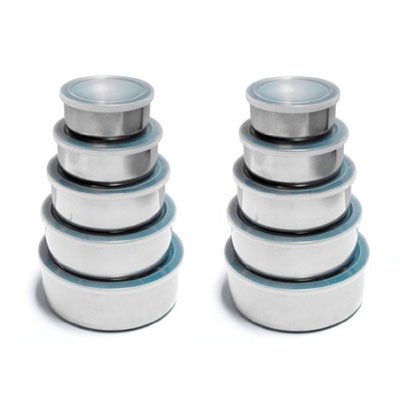 Stainless Steel Food Storage Container Sets are ideal for all types of food preparation in the kitchen. Whether you are preparing meals for your only kid or entire family, this kid is a perfect deal or you.
The inner surface is made of reflective stainless steel material that helps to keep food hot or cool for longer. The reflective surface will relay back all energy and heat to keep food at the right temperature for longer so that everybody can enjoy a lovely aroma and taste.
If you want to keep some of the food you prepared in the freezer, you will not need to look for an additional container. The stainless surface helps your frozen food stay for a long time without getting damaged.
Pros
The hardened stick-resistant material makes the bowls very strong and durable.
Sine the set has many containers of varying sizes; they can be used in multiple kitchen applications such as preparing food, mixing fruits, and even storage.
Since every piece comes with a perfectly fitting lid, you are sure of keeping food free from dust and germs easily.
Cons
The lids are very thin and might prove unstable if a heavier container is placed on top. This limits the sets use in the kitchen because no heavy items can come on top.
Conclusion
Stainless food storage sets are a must have for every kitchen owner because it has multipurpose applications, it is highly durable and easy to use. Getting it will make your kitchen and home more appealing, valuable, and enjoyable to all.
Rubbermaid Brilliance Storage 14-Piece Plastic Lids Review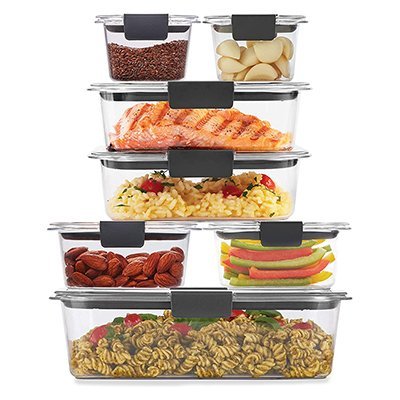 Rubbermaid Brilliance Storage 14-Piece Plastic Lids set is an excellent choice for anyone looking for 100% leak-proof food containers that are also airtight.
The set includes containers in four different sizes, making it a great option for various needs. Whether you want to store an entire meal for the work break, or if you want to bring a few separate types of food, you'll find a container of ideal size.
Rectangular and square shapes make it easy to carry the containers in your bag no matter where you go. Also, most can fit into one another, so you can effortlessly pack them when you're not using them without worrying if they'll take up too much space.
Pros
They are entirely leakproof and airtight, so you can be certain your food is safe inside them.
BPA-free glass-clear containers mean you can always see what's inside them.
All containers can be perfectly stacked to one another for convenient storage.
Cons
The plastic can hold odors if you don't clean them right away.
Not microwavable.
Conclusion
If you're looking for packaging of different sized plastic boxes that you can carry or store your food into, these containers might be great for you. They won't take up too much place and can serve many different purposes.
ChefLand 3-Compartment Microwave Safe Food Container Review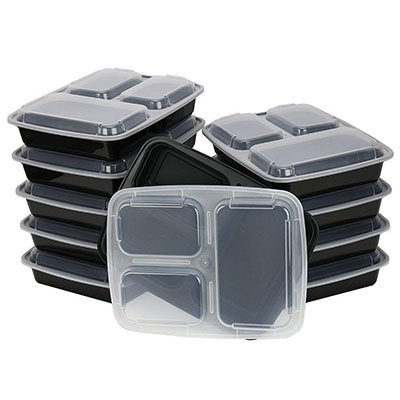 How do you serve a couple of friends in a stylish, classic, and appealing way? The best answer is using the ChefLand 3-Compartment Microwave Safe Food Container with Lid because of its great outlook and ease in use. The rectangular design makes the containers appealing and size-able to hold enough food to serve your guests.
A clear lid is a perfect finish that makes it easy to check food in the freezer, before placing in the microwave, and serving guests. Therefore, you can never go wrong on what you are serving to guests in your home.
Being able to withstand high temperatures makes this storage container easy to use when serving food because you do not have to keep changing dishes. Simply place the selected amount of food on the container and heat in the microwave before serving directly to visitors.
Pros
The storage containers come with lids that fit tightly to ensure your food remains fresh at all the time.
Materials used to design the containers are free from BPA. This gives you comp lete assurance of total safety, especially when heating in the microwave.
The containers are strongly designed to last longer. They cannot be damaged easily even by high temperatures in the microwave.
After use, the containers are easy to clean. The materials have a perfect and smooth finish on both inner and outer sections for easier cleaning using common detergents.
Cons
While the small size is a major advantage, it is also a disadvantage because you need to place a lot of containers on the microwave to serve a number of guests.
Conclusion
These food containers are ideal for people who want to enjoy every time food is served on the table. The design is truly appealing while the size allows you to only include the right amount of food for guests. You can never go wrong with these containers.
PackTOGO Leakproof Bento Lunch Box Container Set Review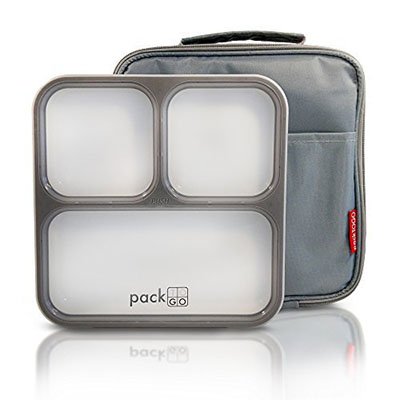 How many times have you found the lunch box leaking in your bag and messed your items or kid's books? Well, your problem is now resolved with the new Bento Boxes that are designed to ensure food is tightly sealed and cannot leak. The boxes are also designed with a number of compartments to ensure your food has the lovely appeal even after many hours of storage.
Bento boxes have opened a new opportunity for you to define the diet you want to enjoy after leaving home for work or school. A good lifestyle commences with good meals stored in BPA-free containers. To maintain the right diet for your children, cutting weight, or simply remaining fit, Bento Boxes are simply the best for your home.
Pros
Bento boxes are carefully designed with strong materials for utmost safety in the freezer and microwave.
The dishes are carefully designed to create the right eating mood. From tightly covering lid, compartments, to the entire container shape, you are sure of enjoying every meal.
The hardened materials used to make Bento Boxes are very smooth on all sides to make cleaning easy.
The boxes come in diverse colors to make it easy for you to match with other outfits, day's theme, or even mood.
Cons
Bento boxes are generally small and cannot be used to serve many people on the dinning or camping table. Another food container has to be used.
Conclusion
Bento boxes are ideal for foods served in small portions such as when away from home at work or school. The boxes are also useful when creating specific partying mood at home using the lovely design and colors. It is a great asset to be part of the kitchen.
Rubbermaid 2063704 Easy Find Vented Lids Food Storage Containers Review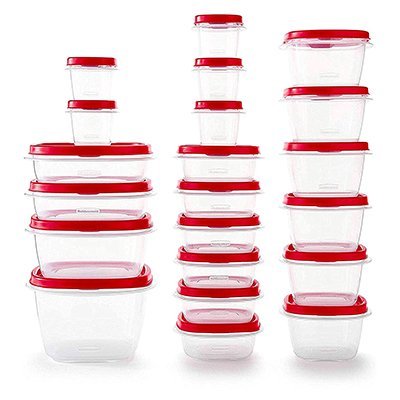 How many times did you think about how you could use just a few more food containers? Well, with Rubbermaid 2063704 Easy Find Vented Lids Food Storage, you can get just that! In this packaging, you'll get a set of 21 BPA-free plastic containers that come in six different sizes. This can help you get just enough containers of the right size, no matter the purpose.
Each clear container comes with a matching lid that snaps together at bases, reducing clutter to the minimum. Some sizes come with vented lids, keeping your food fresh and the container odor-free for a very long time. This also gives you more storage options.
Pros
They are dishwasher safe, so you won't have any issues cleaning them up.
Set includes 21 containers that come in sizes: 0.5 cup, 1.25 cup, 2 cup, 3 cup, 5 cup, and 7 cup.
Everything is made from thick, durable plastic that will likely last you for a very long time.
Cons
They aren't well packed once you order them
Conclusion
This is a great set of plastic storage boxes for everyone who needs to have containers of various sizes at hand at any given time. Also, as some lids have built-in vents while others don't, you can choose which food you'll storage where, making this a rather versatile product.
Popit Little Big Box Food Plastic Container Set, 8 Pack Review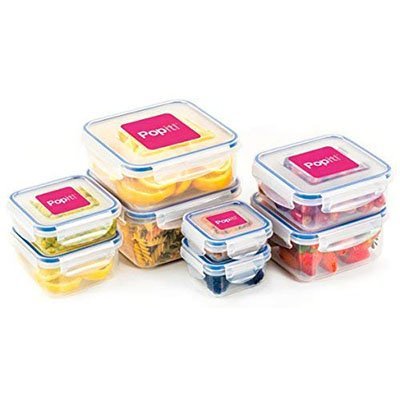 The popit containers are designed to give you complete flexibility for storing different items that are used in the kitchen. Often, you need to prepare and store different ingredients when making pizzas, cookies, or simply tea or breakfast. The set comes in eight different containers that help to hold and store all the food items that you need at any time when working in the kitchen.
Because they are of different sizes, you can use the larger ones to store food in the freezer while the smaller ones are used for service. Whether it is on the countertop in the kitchen or inside the freezer, the containers are firm and will not leak. Besides, you can also put them directly into the microwave to heat your food or working ingredients.
Pros
Because every set comes with a tight-fitting lid, the containers are leak proof. You can, therefore, keep them together with other items and not get worried of spillovers.
Unlike traditional containers, this design guarantees you additional strength and longer lifespan.
You are sure of keeping food fresh for a longer period when using these containers.
The containers are free of BPA and therefore safe to store food.
Cons
Though the largest size is large enough or serving a sizable group, it is still not large enough when preparing for a major party.
Conclusion
For a regular kitchen user, the Popit Container Sets come in handy to make every minute enjoyable. They are ideal for service, storage, and even meals preparation. Getting this is one of the best decisions you will always appreciate whenever you step into your kitchen.
Pyrex Simply Store 10-Piece Glass Food Storage Set Review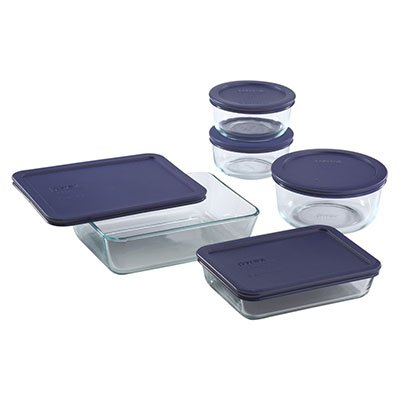 When you think of perfect storage container pieces, the Pyrex Ten Glasses provide the best solution. The dishes come in different sizes, round cup shape and rectangular outlook that makes them appealing and enjoyable to work with in the kitchen. You can store and prepare any type of food at home. Since the storage set is designed from glass, storing, heating, and even freezing food is easy. The glass is sturdy and cannot break easily in the process. You will find these dishes great companions at every moment when at home whether preparing or storing large or small food quantities.
Pros
Because every piece comes with a lid, it is easy to keep food safe for longer either in the shelf or freezer
The storage containers are made of nonporous glass that makes it difficult to get stained or absorb bad smells.
You can easily clean the glass set using common water and detergents without degrading it. The design is focused on ensuring you get longer lifespan from the storage sets.
Cons
Though this set is a great option to have at home, it is still risky to use in case of falls. It can be especially risky if handled by children.
Conclusion
The set creates a new way to look at storage container designs at home. It provides a new method that every person should try in order to make food storage and preparation more enjoyable.
Glasslock 18-Piece Assorted Oven Safe Container Set Review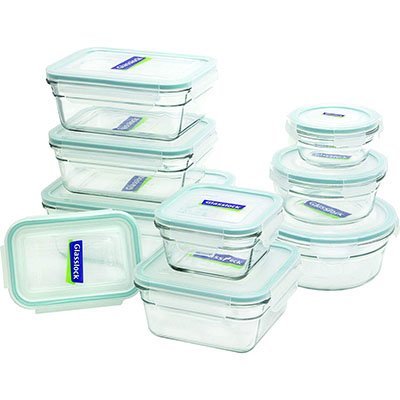 The Glasslock is a perfect set designed to give you greater value and enjoyable moments when storing and preparing meals at home.  The 18 piece set is designed from strong glass material to make it longer lasting and easy to use at home. You can see the state of your food stored in the freezer or heating in the microwave for assurance that everybody is getting what they wanted.
To guarantee you of total safety, the containers come with tight fitting lids to prevent leakages or entry of unwanted materials that can damage your food. Besides, they are BPA free so that every food you serve from them has the assurance of great taste and safety to all.
Pros
Since the set comes with many different sized containers, you are sure of enjoying them whether preparing a single person's dish or for a group of guests.
The design from clear glass is well thought of to make the food stored in the containers appealing.
The glass material used to make the set is study to give you a kitchen addition that will last longer and serve you or longer.
The surface does not attract dust and is easy to clean and maintain at home.
Cons
The glass design leaves the set a great risk of breaking especially from falls or collision with other metallic items.
Conclusion
This set gives every homeowner a sign of relief whether dealing with a few guests or larger numbers. You can simply use the larger container or a number of them to prepare, store, or heat their food before service. If you are looking for a perfect set to fit your food storage and preparation needs, consider ordering this set right away.
Why You Need Food Storage Containers?
Do you really need food storage containers? The answer is yes. If you haven't got yourself the containers, find out what you are missing.
They save Time
How many trips do make to the stores when you are looking for food? This is because you do not have stocked food in your house. Stocking can save you the time you use to run to the groceries for exhausted foodstuff. How then do you stock food? You can choose to use several methods but all in all, you need food stored in an orderly way. This is why you need to have food storage containers. They provide good storage for foods, sealing them in a compact way and can hold many kinds of foods.
Avoid Food Spoilage
After you have had your nice meals, more often than not, there are left overs. These are not waste material at this moment. You can make good use of them only if you preserve them in the right way. You need food storage containers to preserve the foods. Even if you want to put them in a freezer, the foods are best packed in a sealed food storage container. This way, the food remains fresh for a longer time due to the physical barrier that is provided to keep out microorganisms and arrest freshness inside.
Improvement of Your Feeding Habits
Do you have bad eating habits? The storage containers can be a great practice tool for attaining good eating habits. If you leave food unfinished, having a storage container is the best way to train yourself. In fact, just feed from the container then keep it in the freezer and try to set time limits. By the end of the day, you should go back to the leftover food and finish it up. This way, you will get nutrients for your body supplied sufficiently and you will gradually find yourself on track.
Make Work Easier
With a good food storage container, you can move the food in a single container from the freezer to the microwave. After eating the food, cleaning of the container can be done using a dishwasher and this is how you find it easier with tasks at home.
Camping and Traveling Aids
If you go camping or you are a frequent traveler, then the food storage containers are your best friend. Sometimes, you need food that was well prepared at home and not the subpar and costly meals in restaurants. This is made possible by having the food in storage containers and moving with them wherever you go.
Conclusion
Food storage is an essential process that is carried out in all homes. People will go an extra mile to salvage excess foods. The use of food storage cans is a good addition to the food preservation options. Make good use of these containers by storing in foods and then putting them in a freezer if they easily go bad. The containers can also be used for keeping foods in the cabinet. Any other kitchen additives can be put in the containers to make work easy during cooking and all the coking processes.
The information on food storage containers in this site lays bare all the facts about food containers. Make a good decision today and buy the best set for you. Enjoy having meals that have been preserved for long yet they still retain a fresh flavor.
Last Updated: 27th Dec, 2020