Introduction
Consumers are always trying to find good ways to drink more water. Fortunately for them, there are many home water coolers on the market. These coolers provide all of the water a family needs for up to one month. They also come in various shapes, sizes, and designs. If you're searching for a quality home water cooler, you will find there are many available to choose from.
Most people want home water coolers that give them options. They want coolers which provide not only room temperature water, but also cold water. The majority of popular brands do provide this option for consumers, through dual taps. However, it will probably take a little research to find the model that is just right for you and your family's needs.
When choosing from the vast array of home water coolers, it is important to keep a few things in mind.
You must first consider the size cooler you can accommodate. If you've already picked a place for your cooler to reside, it may be smart to measure the space. Since these come in various sizes, you will want to pick one that fits into your home with ease.
You should also consider the size of your family, and the amount of water you want to consume. There are many sleek models of home water coolers, which provide enough cool water for a household of two for a month's time. Other larger coolers hold more water and accommodate for larger families. It all depends on what your specific needs are.
Outlet availability is another one of those important considerations. Does the space you've chosen for your water cooler have an accessible outlet? The majority of home water coolers require at least 115 volts, 60 Hz electrical outlets. These would be three-prong grounded outlets. If this is not available for your water cooler, alternate plug arrangements will need to be made. It may even be necessary to move the cooler to another location in your home.
Home water coolers today have been designed with some of the greatest detail. These modern coolers not only appeal visually, but are efficient. Their design takes into consideration the needs of the buyer in every detail. One great quality that most home water coolers have, is their removable drip tray.
Having this option in design, prevents spillage or stained floors. It also allows you to keep your cooler extra clean by washing the drip tray periodically. Coolers that offer two separate faucets are some of the most popular. This provides for the need of either cold or room temperature water. It also expands the owner's options for the use of their cooler.
Some trendy home water coolers have special additions to their design. These include things like LED light indicators, and even clocks built into the cooler. No matter what your specific tastes are, you will be able to find a cooler you like. The pricing of home water coolers ranges into almost any budget, which allows for flexibility in the models you may choose from.
Best Home Water Coolers
Oasis P8SBF VersaFiller Water Cooler and Bottle Filler Combination Review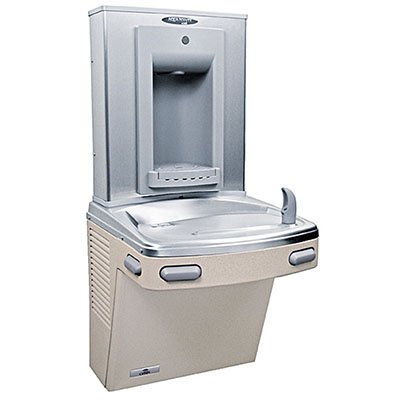 Oasis water coolers have truly made a mark in the field of water supply devices. This company offers a variety of water coolers in different series and designs. The diversity of Oasis products allows consumers the opportunity to choose which model fits their needs. The Oasis P8SBF is one of the company's popular sellers, however, it is only one in a long list of water cooler devices.
The Oasis P8SBF is unique in that it can provide 8 gallons of cold drinking water per hour. This particular model of Oasis water coolers, has a distinct draw to commercial locations. It is also a product that can be used and installed residentially. The dimensions of this model accommodates use by both adults and children.
The P8SBF meets the guidelines necessary for children. In fact the accessibility from floor to face is 30 inches or less. This cooler is also designed with the proper clear floor space similar products do. The design of this model, as well as, other Oasis products considers its specific use. The details of the P8SBF is attractive and efficient.
It has a stainless steel top, which is extremely eye catching. The cabinet component of the model is standard for cooler of this size. These cabinets have the sandstone powder appearance, on top of galvanized steel. The flexibility of its bubble guard is also a defining asset.
Buyers need not be concern about the sturdiness of this cooler. It is made with a substantial heavy frame which is long lasting. This product weighs approximately 59 pounds, but doesn't take up a lot of space. The most important quality of the P8SBF is its high efficiency, which is what consumers really want in a water cooler.
There are a couple of crucial components to enjoying this device, which are not included with the package. These will need to be purchased separately. One of these is an electrical outlet box. The other is draw trap and valve stop. Most suppliers will be able to order these items for you, along with your water cooler.
Other Oasis water coolers getting press right now are those specifically designed for residential or office use. These models include floor model designs, as well as, counter top models. Each cooler has its own unique appearance. Consumers looking for something a little different will especially love these choices.
The floor models come in a number of series, with their own look and feel. One floor series is called Nautica. Nautica water coolers can be purchased in either a round shape or a square one. Many of the floor models have the traditional frame one expects from residential coolers. However, there is enough diversity in them that you will be able to find the right one for you.
Igloo MWC496 Water Cooler Dispenser, Hot/Cold, White Review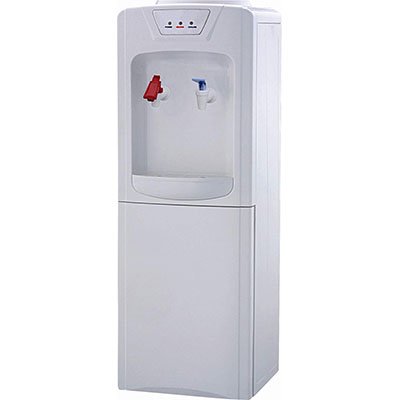 Igloo water coolers have come to be associated with quality water dispenser design. The Igloo company has long been known for its commercial work site water cooler products. They also make many other styles of these products. The Igloo MWC496 Water Cooler is one of the greatest water supply appliances the company makes.
It is diverse in both design and usage possibilities. The standing design of these types of Igloo water coolers is great for home use. They can easily fit into a kitchen and add to the overall room. Not only are these products fun to have, they also provide a healthy product that all families need.
Many offices are also looking for the right water cooler model for them. The Igloo MWC496 can be a good asset to any office environment. It provides wonderful tasting water, which can be used for various means. This water can be drunk during break time, or used to make cocoa or coffee. These devices have been known to enhance the overall work setting.
Igloo water coolers double as not only a cooler, but also a water dispense. Depending on the number of people you are trying to accommodate, you must consider the capabilities a device has. This particular model of Igloo, holds 3 or 5 gallon water bottles. As you are comparing products, you should also consider bottle delivery costs.
It doesn't matter whether you use 3 or 5 gallon bottles. Either will need to be delivered to your location on a regular basis. Finding the best service for the best price, may require a bit of research and bargain shopping. Fortunately for you, there are many companies offering this service at various prices.
The MWC496 model supplies both room temperature and cold water. This is a preference quality, obviously. It does make this cooler even more versatile for users however. Because of this feature, this model is often purchased for home usage. Room temperature water is often used with small children and even for families with babies.
Many shoppers will be searching for products that are energy efficient. This version is one of those designs. It works with 100w of cooling power. For those wanting to conserve energy this may be the water cooler for you.
Size is often the main consideration for consumers looking to purchase this type of appliance. They are want a cooler that not only provides great water, but also can fit into a specific space. The MCW496 measures 11.2 x 11.2 x 32 inches. This model also weighs right at 27 pounds. It may be particularly helpful to measure your storage area prior to making any purchase.
The details of this sleek model have convinced many consumers to give it a try. Its great storage compartment located underneath the cooler provides extra utility. The space can be used for storing water cups or supplies. This model also comes with color coded faucets, which allows for easy usage. The quality and detail of its design ensures that anyone can use it, and enjoy the good water it provides.
Elkay EZS8L Wall Mount Non-Filtered ADA Cooler Review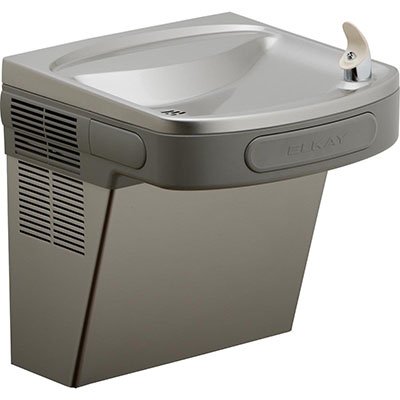 The Elkay EZS8L is a drinking fountain and ADA compliant bar free water cooler with a capacity for eight gallons per hour of refreshing, chilled water. Coming in a light gray granite color with a light gray finish, this fountain is powered through corded electric means. It has absolutely no lead whatsoever, making it a safe product. With its eight gallon per hour flow rate, it is sure to provide a steady flow of cool H2O whenever it is called for. It has a 115 volt, 60 hertz single phase motor and it is refrigerant type HFC-134a, with a calibrated capillary tube which controls the temperature. It provides water at a temperature of 50 degrees fahrenheit.
There are many positive features for a bar free water cooler such as this product. The Elkay EZS8L is considered a durable product that has been built to last. It is convenient and simple to use. Both adults and children should have no difficulties making this drinking fountain function with controls located on the front as well as both sides. It is sure to provide a refreshing drink whenever necessary. It is serviceable and comes in at a reasonable price under $500 with access to the product at a variety of places. The Elkay EZS8L is considered a reliable product and can apply to domestic as well as commercial settings. It is made of brass parts which ensures the absence of lead, vital for health concerns. It features a deep basin which results in less potential for splashing. By consisting of only one piece and a drain that is integrated, maintenance is simple. Its construction also makes it difficult to vandalize in public places. It can easily be installed into any plumbing system. At just over 50 pounds, it is a manageable weight to work with as well.
As with any product, there are some drawbacks to this product. The Elkay EZS8L mounts to the wall and therefore will only be available at one height which may require a step stool for young children, depending on how it is mounted, or uncomfortable bending for adults. It also means less flexibility for one who is disabled and is trying to access the Elkay EZS8L. It can only be shipped separately from other items per specifications of some providers, which may be an inconvenience. There is also the matter of ordering this cooler prepped for Glass Filler or unprepped with a necessity for factory preparation if the unprepped version is selected. This may cause some confusion and inconvenience if the proper version is not ordered. With its one piece construction, if there is a problem, there may be more difficulty in doing repairs. Rather than needing only one component, the whole cooler may need to be dismantled and serviced.
The Elkay EZS8L is a satisfying product according to one customer review.The customer was impressed by its consistent functioning and had no problems since it was installed over a year ago. Installing it in the office, fellow staff members provided their employer with a positive response, often choosing the water cooler to fill their water bottles and thermoses rather than at the sink because of the favorable temperature. It was considered a convenient feature that worked well for clients as well, providing them with refreshment while waiting for an appointment. The color was easy to work with, complementing the existing design scheme. When it came to height issues and accessibility, the consumer was able to mount it in a position that worked well for the setting at the buyer's place of business and it was highly recommended for others.
When in need of a water cooler that is considered trustworthy and by a manufacturer of good repute, this barrier free, universally designed product ranks high and is worth consideration. When compared to many other comparable products on the market, it is affordable in price and something consumers can depend on when needed. Its lead free feature also places it high with its competitors, putting the safety of consumers at the top of the company's priority list. A customer will get full value when selecting a drinking fountain with a large capacity for drinking like the Elkay EZS8L.
Last Updated: 30th Jan, 2021