Introduction
Electric scooters can be a lot of fun for kids. It is their first powered vehicle, one that is not powered by little feet alone. No pushing or shoving, unless it comes to who gets to ride first! However, everything is not fun and games. Children should wear safety gear as well as obey the rules when riding an electric scooter on a sidewalk or any public area.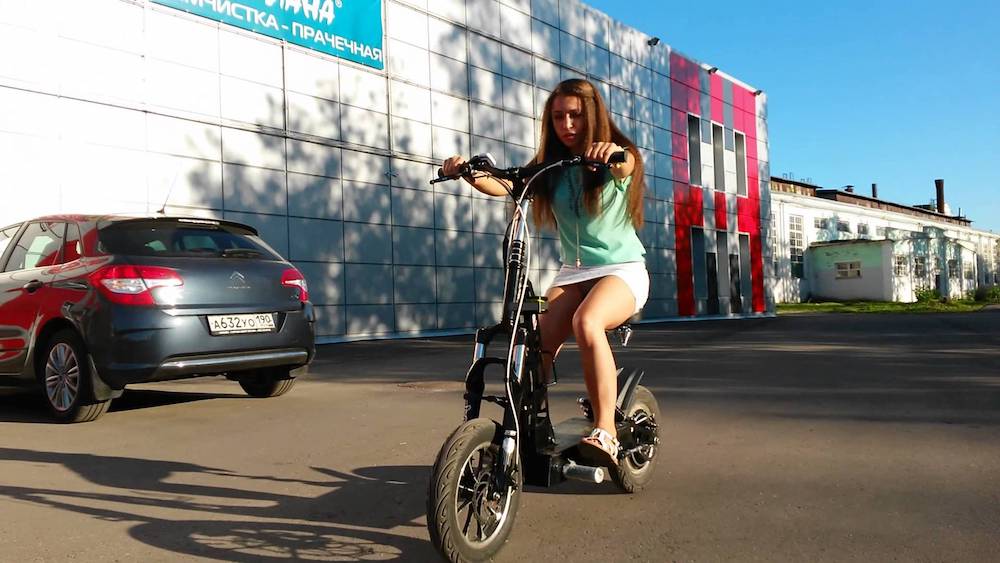 Smaller electric scooters for kids usually have no seat to sit on. Bigger electric scooters have seats that are either permanently attached to the frame or a seat that can be removed when you want to ride standing up. Here are a few of the best seated electric scooters for children.
Best Electric Scooters for Kids with Seat
Razor E200S Seated Electric Scooter
The Razor E200S is the same as the Razor E200 electric scooter (read our E200 review) except for the seat and seat post, which can be attached or removed as needed. Its motor is quiet and powerful enough on flat surfaces (top speed 12 miles per hour), but steep inclines will reduce its speed to a crawl. Still, it is fun to ride around on the scooter, and it makes a good Christmas gift for older boys or girls.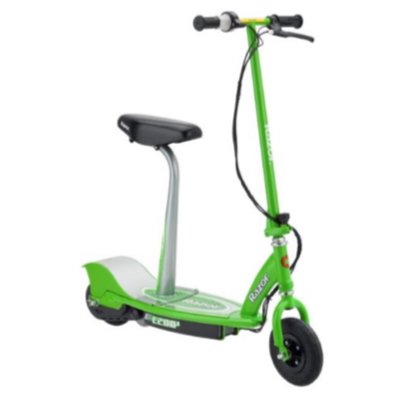 Assembling the scooter does not take long: screw on the handlebars and fasten the seat. The battery takes the longest to prepare since it needs to be charged for 8 to 12 hours before riding.
It does happen that the battery does not hold a charge, and then you will either have to contact the Razor company to get a replacement battery or buy a replacement battery from another seller. It might be worth purchasing an extra battery so that one is charging while your child is out riding and also as a backup should the original battery stop working. The battery charge lasts for about 30 minutes to 45 minutes, depending on the terrain and the weight of the rider.
It seems that this scooter is best suited for riders who weigh less than 150 pounds and who are 10 to 12-years-old. The seat isn't huge, so if your child is quite large for his age, the seat might be uncomfortable to sit on.
Some owners have complained about these scooters arriving in the box with small dents and scratches. The manufacturer's box in which it ships seems to be too thin to prevent damage when shipped to your doorstep. Be prepared for a scooter that might look less than new out of the box. If you are buying this as a present, then remember that the box is not plain but has the scooter information printed all over it, so it will spoil the surprise if your child opens the door for the delivery man.
Store the electric scooter inside the house or in the garage when not in use to protect it from rain and snow, and don't let your child ride through water puddles.
Pros
The frame of the scooter is sturdy and strong.
It comes with a seat that can be attached or taken off as needed.
10 to 12 miles per hour top speed is plenty fast for children (please wear a helmet).
This scooter is powerful enough to start from a stationary position without needing a push to get it going.
Cons
The chain of the chain drive will need tightening if it regularly falls off during riding.
The plastic chain guard can be annoying since it is very low and sometimes scrapes on the ground when turning sharply.
Batteries are sometimes dead on arrival or old, which causes decreased speed, power, range, and childhood disappointment.
Razor E300S Seated Electric Scooter
The Razor E300S is the seated version of the Razor E300 electric scooter (read our E300 review). It requires some assembly and charging the battery before going for a test run. Its battery takes about 8 hours to charge, and then it keeps the scooter running for up to 45 minutes before it needs to be recharged again. Keep in mind that these batteries will not last forever, and you will need to buy a replacement battery in about a year after heavy daily use. The charger might also need replacing after a year or two.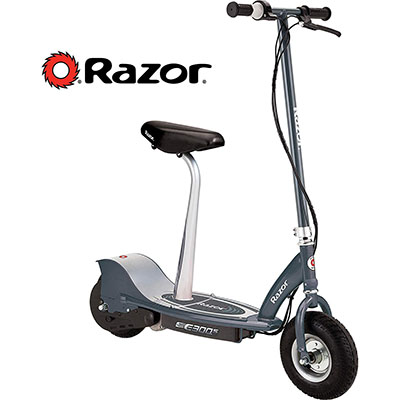 The E300S is usually recommended for children older than 12. It can reach a top speed of 15 miles per hour unless a high rider weight, loose road surface, steep incline or low battery charge decreases its performance.
The manufacturer suggests a maximum rider weight of 220 pounds, although any rider weighing more than 150 pounds may experience less speed and shorter riding times. The scooter has 10-inch pneumatic tires in the front and rear with a rear-brake engaged by the brake lever located on the handlebar.
This scooter is often bought as a birthday or Christmas present for older boys and girls. There are some complaints concerning inadequate packaging and shipping. Somewhere along the line, the product gets scratched or damaged, so it sometimes does not look new.
Pros
The seat can be added or removed as needed.
Fun to ride until the battery needs to be recharged
The E300S has enough ground clearance to ride on gravel or grass.
Cons
The removable seat cannot be adjusted to accommodate riders of different height.
The box the scooter is shipped in is bull-flimsy, which might explain the small scratches, dents, and missing screws that some owners complain about.
Razor Pocket Mod Miniature Euro Electric Scooter
The Razor Pocket Mod is an adorable little scooter. Its battery lasts for around 45 minutes of riding before it needs to be recharged. The scooter is not too big and can be stored out of the way in the garage, where it can also be recharged with the included battery charger.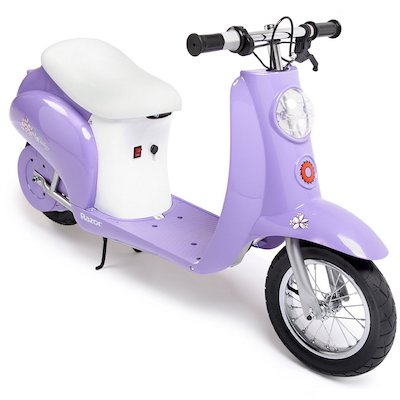 It comes in 8 different color options: Betty(Purple), Hot Mod(Red), Little Red, Navy, Purple, Sweet Pea(pink), Vapor(Black), and White.
Its top speed is around 15 miles per hour, and the rider should wear at least a bicycle helmet and shoes when riding this scooter. Knee pads and elbow pads are also recommended to prevent injury should an accident occur at top speed.
Getting the scooter ready to ride out of the box is not too difficult. The front wheel and the handlebars have to be put onto the scooter. Then the 12-volt battery needs to be charged for about 12 hours. The seat height is about 21 inches off the ground, and some parents have bought it for children that are between 8-12 years-old.
Pros
It is fun to ride, and even parents can't resist taking it for a spin!
It looks like a smaller version of a European-style petrol scooter.
It has a permanent padded seat with a small storage compartment underneath.
Cons
It does not have a variable-speed throttle, so its either full power or no power.
Driving this scooter on dirt roads may cause the pneumatic tires to go flat because of possible punctures.
Remember that this scooter is not street legal, so it is limited to riding on private property, camping grounds, and sidewalks.
Conclusion
These electric scooters with seats are all made by Razor. Razor is the most popular brand when it comes to electric scooters for children. The Razor E200S and Razor Pocket Mod are better for children that are around 10 to 12 years old. The Razor E300S is better for children that are older than 13 years.
Last Updated: 12th Dec, 2020