Introduction
Many gym goers overlook the importance of using a weight lifting belt. The best weight lifting belt won't necessarily make you as strong as the Hulk and able to lift a 2 ton barbell. But it does support your spine, making it more stable even as you lift a heavy load. It can also help improve your strength and endurance especially if you're doing lower body exercises like the squat. This article will teach you how to choose a weight lifting belt, and suggest some of the best rated models available online.
What are the Benefits of Using Weight Lifting Belt?
There are several benefits of wearing a weight lifting belt while working out. Perhaps the most important is that it reduces stress on the spine while supporting the back. Studies have shown that wearing a belt while lifting weights can reduce compression of the intervertebral discs by as much as 50 percent.
Another benefit of wearing a weight lifting belt is that it enables the body to use more power from the legs instead of the back. There have also been studies suggesting that wearing a lifting belt can increase muscle activity of the quads and hamstrings during exercises like squats.
Buying Guide
You would be surprised at the number of weight lifting belts available online. The sheer number of models to choose from may also overwhelm you.
In selecting the right weight lifting belt, there are several things that you should look for:
One is the width of the belt. The weight lifting belt should be thick enough to support your back and abs, but not too thick that it can irritate you when you are doing lower body exercises like squats.
Men of average height should go with a 4 inch belt. If you're taller than the average or you have a long torso, then buy a belt that is at least six inches wide.
The material from which the belt is made of should also matter. Leather is generally considered thicker and stiffer. On the other hand, nylon is more flexible and allows more movement.
Weight lifting belts also have different clasps or closures. Pin type closures are ideal for pure strength training wherein you wouldn't want to loosen or tighten the belt. Heavy duty pin type closures on the other hand provide more stability.
Regardless of the type of closure you choose, you should get one that won't easily snap under pressure.
Brands
5 Best Weight Lifting Belts
RDX Cow Hide Leather 4" Weight Lifting Gym Belt Training Back Support Fitness Exercise Bodybuilding Review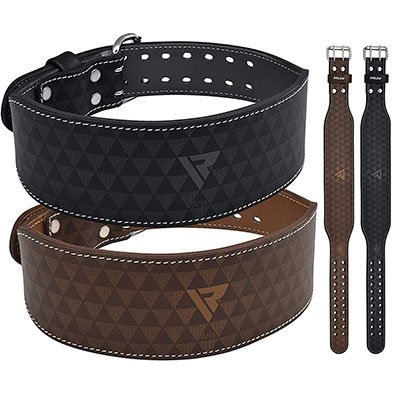 This is a top-rated weight lifting belt that is made of authentic buffalo leather. With a width of 4 inches, this belt is ideal for most men and women bodybuilders. It has been getting a lot of rave reviews for being easy to fasten and tighten as well.
This belt has also been getting a lot of good reviews for being competitively priced. Many reviewers on Amazon.com say they were surprised that this belt is priced lower than its competitors. Despite the price, it is still well made. This is one weight lifting belt that you should consider getting.
Features
This belt is made of original cow hide leather, which enhances its durability. It has reinforced stitching as well to ensure its long life, aside from sweat-wicking ability. It has a double pronged roller buckle that would let you grip it better. The interior, meanwhile, is lined with authentic cow hide leather so that users will have enough cushion for their spine despite heavy pressure.
Pros
Quality craftsmanship. Many reviewers on Amazon.com say that the belt is well-made. They point out that the material, buffalo leather, is strong and thick.
It has a stylish look. It is colored blue, which is different from the traditional blue and black colors used in most weight lifting belts.
The double loops design is effective in keeping the belt against your body, and not in the way while you lift.
Can be used by both male and female bodybuilders
It is not hard to tighten and loosen, so you can immediately work out
It has a very reasonable price
Double stitching not only ensures durability and long life of the belt; but also prevents bacterial buildup
It is very comfortable to wear
Cons
The leather on the belly flap and loops were a bit dry; customers suggest putting some leather oil to it.
Some reviewers say that the XL size of this belt is still too small for them
This weight lifting belt has gotten a lot of positive reviews for being very durable and well-made. The color is also nice as it is different from the traditional weight lifting colors of black and brown. The price is very competitive.
Dark Iron Fitness Genuine Leather Pro Weight Lifting Belt for Men and Women Review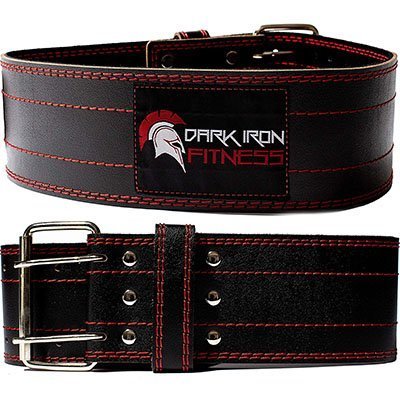 This is another reasonably price weight lifting belt that is built to last. It is made of premium reinforced leather so you can bet it won't easily break or tear unlike other inferior weight lifting belts. It is also very compact so you won't need to worry about this one taking up a lot of space in your gym bag. Moreover, the manufacturer backs it up with a lifetime replacement guarantee. Yes, that means that in case your belt breaks, the manufacturer will replace it free of charge.
Features
It is made of premium reinforced leather that is a lot more superior that plastic and nylon
Lightweight at just 1.5 pounds, so you could roll it up and put in the gym bag without worrying of additional load
Made of heavy duty metal buckle with extra holes so you can achieve the perfect fit
It has a width of 4 inches which makes it ideal for most men and women weight lifters
Sleek red and black design
Adjustable non-slip fit so no need to worry about the belt coming loose while you lift weights
Pros
Very good customer service as the company honors it lifetime replacement guarantee
Very strong and sturdy that it likely won't pop or break
It has a very sleek red and black design
It is compact and lightweight that you won't hesitate in rolling it up and putting it in your gym bag
It is made of high quality leather
Despite being made of leather, it is not too rigid to wear even while you are dead lifting
Users say it helps their core engaged while doing squats and other lower body exercises
The holes are about one inch apart which makes it easier to find the right fit for users
Cons
Some users complain that it can leave a mark or dye on light colored clothes
There's a weird smell coming from the leather especially the first time you open the package
There's no denying that this is one of the top weight lifting belts on the Internet today. It is made of premium quality leather. It has a stylish design, and there's a good chance you'll find the perfect fit with this belt.
Ader Leather Power Lifting Weight Belt - 4" Black Review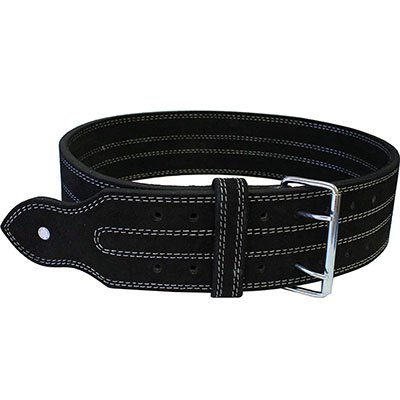 This is another solid, well-made weight lifting belt that should be in your short list. Like other belts in this list, this one is made of premium leather. It is also 4 inches wide hence it should fit most weight lifters. It also has an easy to use closure system thus it is unlikely you'll spend a lot of time fastening or loosening this belt. It has a nice black colored design.
Features
3/8 inches thick, 4 inches wide
Made of top quality leather
With a soft suede lining for superior comfort
Has a closure system that's easy to use, with a double-prong seamless roller buckle that secures the belt
Colored black
Pros
This 4-inch wide belt should fit most weight lifters, both male and female
Price is very reasonable
The leather is thick, sturdy, and of good quality
It is durable and well-made/assembled
The hole spacing is well-thought of, meaning you could alter it if you tend to add or lose some weight which is common for weight lifters going through cut/bulk cycles
The double prong design ensures that the belt won't get loose when you are lifting weights
Many reviewers say it doesn't require a break-in period
It gives solid back support
It is moldable meaning you can loosen up the belt
Won't get in the way when you do deadlifts and squats
The dye doesn't wear off on your shirt
Comfortable to wear
Cons
Some reviewers felt that it is difficult to unlatch the buckle when removing it
Similar to the two other items preceding it, this 4-inch wide belt gets a lot of good reviews for being very affordable. Despite the price, the belt is made of quality leather that can prolong its lifespan. As suggested by many reviews on Amazon.com, this belt can last for a long time.
Another common comment is that this belt has well-spaced holes. The holes are designed in such a way that users will more than likely find the right fit for them. While there are complaints that the buckle is difficult to unlatch, the consensus among Amazon.com reviewers is that this is a good weight lifting belt.
Serious Steel Fitness Leather Weight Lifting Belt | Powerlifting, Weightlifting & Exercise Belt Review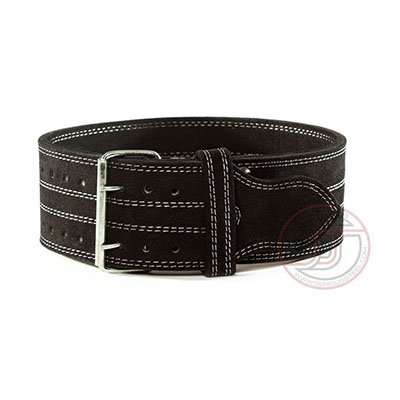 This black colored weight lifting belt is another highly recommended weight lifting product on Amazon.com. Like most of the units in this list, the belt is made of high quality leather. It also has a very budget-friendly price tag. The belt is also rigid and not padded. This one should maximize support to your spine while you lift weights.
This belt is available in different sizes. The small sized one is designed for a 26 to 32 inch waist, with the largest one fit for individuals with 38 to 44 inch waists.
The manufacturer also advises potential buyers to measure their actual waist size so they would know which size to get. It adds that customers should wear their typical gym clothes when they measure their waist size. It specifically mentions that pant size is not an indication of the size of the belt needed by customers.
Features
Comes in multiple sizes
Double prong
Made of genuine leather
Pros
It has a budget-friendly price tag
It is sturdy and durable
It has the right thickness to support heavy squats and deadlifts
Some reviewers on Amazon.com say that it doesn't need break-in
Stitching is very good with many users say it doesn't appear like it won't easily wear off
The black design is very attractive
Very lightweight
Manufacturer gets a lot of positive feedback for its good customer service
Cons
Some reviewers warn that it can leave some bruising especially when the first time it is used
Those who comment that this leather belt would need some break-in say that the break-in period is not as long as other weight lifting belts
The Serious Steel Fitness weight lifting belt is another solid choice if you have a limited budget for a weight lifting belt. This model has a very pocket-friendly price tag. But you may not even realize that it is affordable because of the high quality leather from which it is made of. This weight lifting belt has a double prong to minimize the risks of it loosening while you lift weights. This is a well-made, durable, and affordable leather weight lifting belt that you should give a second look.
Element 26 Self-Locking Weight Lifting Belt Review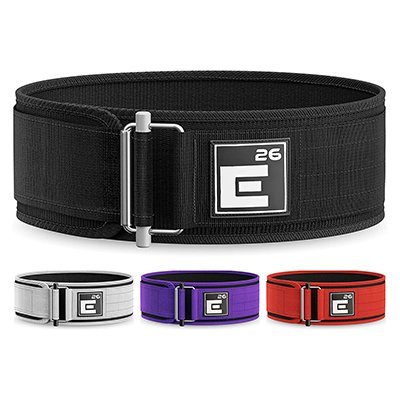 Element 26 is a fairly new online company that produces versatile and unique nylon belts for professional and amateur strength athletes. This is one of their best-seller items that many professionals swear on.
This 4-inch wide belts provides adequate stability thanks to the thick Velcro strap enhanced with the self-locking mechanism, which is something that you don't see every day when it comes to belts. While nylon isn't as rigid and durable as genuine leather, this belt still proves to be able to withstand all strength trainings and to stay up even on those rare occasions when Velcro popped off.
Features
It closes with Velcro that has a self-locking security system, something that is a rare sight among belts
The width of 4 inches has proven to be the best option for weight lifting belts
The belt is fully approved to be used both in Olympic fitness and functional fitness competitions.
Made from 100% premium nylon, while the self-locking buckle is entirely made from metal
The belt comes in five different colors and designs
Pros
Great customer protection, as the manufacturer offers a lifetime warranty
Great comfort level thanks to softer nylon edges
The self-locking mechanism ensures the belt will stay on all the time
Great material quality
Durable and sturdy, can last for a long while
True to the size
Cons
The Velcro can sometimes pop off, but this is where the self-locking mechanism comes into play
Not as durable as leather belts
Can be annoying to put on
Overall, this is quite a decent belt for anyone who doesn't want to worry about their belt unbuckling in the middle of an exercise. While it isn't as durable as leather belts, the Velcro is a great choice and something that is rarely seen.
Schiek Lifting Original Nylon Belt Review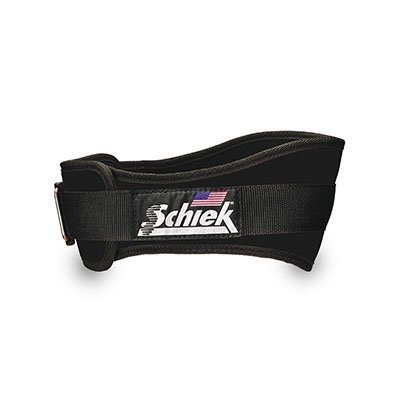 Obviously, this belt differs from the other products in this list as it is made of nylon. It is designed to fit the body of the user. It also features a Velcro closure with a patented downward angle that fits the natural shape of our back. Moreover, this nylon belt is easy to clean. This product is backed by a two year warranty.
Features
Patented downward angle that fits the natural shape of the back
Hip and rib contour for superior comfort
One-way Velcro for perfect fit
Dual closure system with a heavy duty, stainless steel slide bar buckle
The belts widen up front to provide superior abdominal support
Washable by hand
Backed by two year warranty
Available in different sizes/colors
Pros
Provides very good support to the back/spine
Has a two-year warranty
Well-assembled; made in the USA
Cheap/affordable
Design allows for exact adjustment to correct tightness
One-way Velcro allows users to get the right fit
It conforms to the hips and ribs of its users
There's no smell that is often associated with leather weight lifting belts
There's also no itchiness that some users complain about when they wear leather belts
It is easy to get on/off
It is also very easy to adjust
It is easy to clean
It is compact and lightweight; won't take up a lot of space in your gym bag
Cons
It is not as sturdy as leather belts
The Velcro has a tendency to slip after a few months of using this belt
Some users wish that the back support was a bit larger
This nylon belt may be different from the other products in this list, but it doesn't mean that you should not consider this one at all. For one, the price of this belt is also very reasonable. Aside from that, there are many reviews on Amazon.com suggesting that the Velcro system makes it very easy for users to get it on/off.
Many reviewers also say that the nylon belt conforms very well to the hips and ribs of its users. And because it is made in the United States, you can be assured of the quality of assembly of this belt.
Final Verdict
If you've never used a weight lifting belt before, then it is now time to consider wearing one the next time you lift weights. You can maximize your exercises, particularly when doing deadlifts, squats, and presses, when you wear a weight lifting belt. Any experienced weight lifter will vouch for the benefits of wearing a weight lifting belt particularly in improving your core strength and preventing injuries.
These are five of the top rated weight lifting belts that you can find on the Internet today. All of these five belts are excellent choices if you are shopping for an affordable, reliable, and durable weight lifting belt.
Since these belts are all highly rated on Amazon.com, you might have to base your selection on factors like the size availability and even the price of the belts. Regardless of the belt you buy, it is unlikely you'll regret making a purchase.
Last Updated: 30th Jan, 2021