Introduction
Using a guitar pedal is easy- just connect the device between the electric guitar and the amp, and stomp on it when the need arises. It's a simple enough device, but it is one that revolutionized the whole face of the music industry as we know it today. From jazz to rock, electronica to pop, this essential guitarist tool has already seen successful use in a wide variety of musical genres.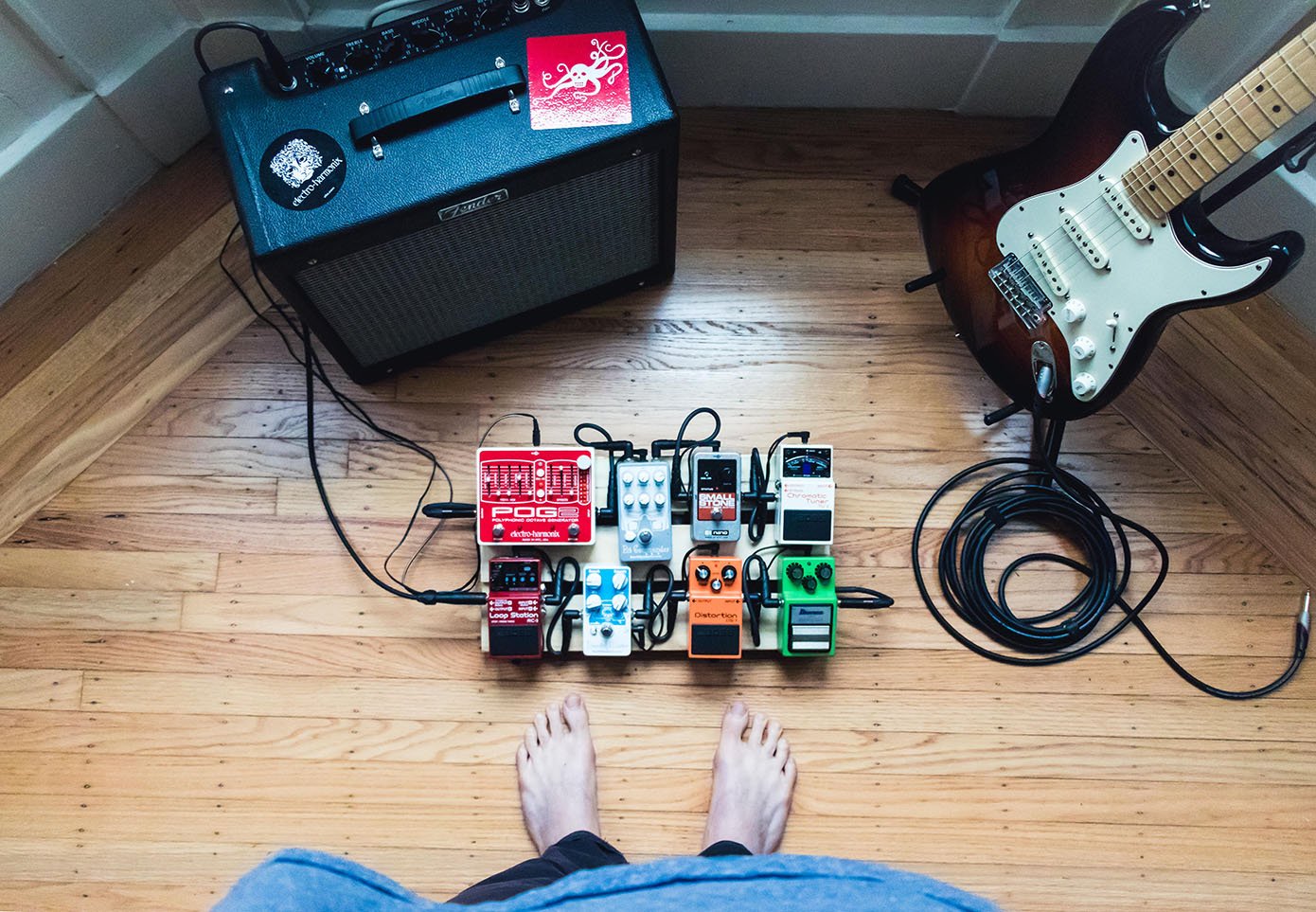 A Brief History
The early decades of the 20th century saw the increasing use of electronics in altering the sound of musical instruments. One of the most prominent breakthroughs was the electric guitar. While known for being a staple instrument in rock, the instrument actually traces its roots to 1930s jazz. Guitarists back then were having a hard time getting heard over the overwhelming cacophony of the horn section, and as such, would often find ways to improvise. The first major innovation was the magnetic pickup- these devices were plugged into primitive amplifiers of the time, thereby considerably increasing the volume output of the guitar.
Over time, musicians would discover that fiddling around with the electronic components in the guitar and amplifier would give them a wide variety of sounds and effects that can't be replicated by any other instrument. In one famous example, Dave Davies of The Kinks slashed the cones of his amplifier with a razor blade to get that warm, distorted sound on "You Really Got Me." Earlier still, was Link Wray stabbing a hole in his speaker for his 1958 recording of "Rumble." Of course, studios didn't appreciate the fact that their equipment was getting mutilated for the sake of these new sounds. Hence the guitar pedal was born.
Influence on Rock Music
In the early 1960s, rock was becoming more and more ingrained in the public consciousness. Rock musicians then were the first to adapt guitar effect pedals in their repertoire, often using these tools to replicate amp distortion.
The Maestro Fuzz-Tone was probably the first guitar pedal to achieve mainstream success. Produced and marketed by Gibson, the pedal was a favorite of Keith Richards of the Rolling Stones, and has been featured prominently in their 1965 hit "(I Can't Get No) Satisfaction." Other musicians who liberally experimented with pedals include Pete Townshend of The Who, Jimi Hendrix, Jeff Beck, and Jimmy Page of Led Zeppelin.
Why Musicians Love Guitar Pedals (And Why You Should, Too)
Up to the present day, lots of guitarists and musicians use guitar effect pedals for their recordings and performances. Not only does the guitar pedal provide an easy and convenient way for them to incorporate unique effects in their songs, it's also a canvas for them to unleash their creativity.
The guitar effect pedal not only pushed the boundaries of the guitar as a musical instrument, but it also ushered in a whole new musical genre. Just imagine famous rock musicians like Jimi Hendrix or Slash without their electric guitars, amps, and pedals- everything just wouldn't sound the same. Effect pedals gave these guitarists a lot of options with which to play around with their music, thereby giving them the opportunity to cultivate their own "signature sound" that each was known for.
Brands
Best Guitar Pedals
Morley Vai-2 Bad Horsie Contour Wah Pedal Review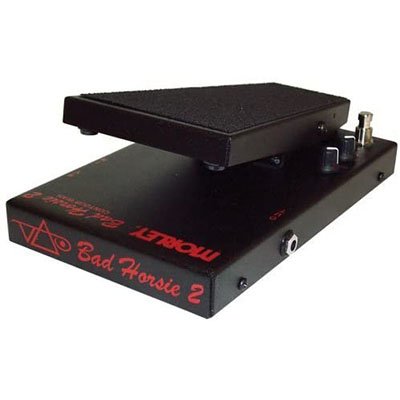 Passionate guitarists had been waiting for a pedal that would fulfill most of their wildest fantasies, so when the Morley Vai-2 Bad Horsie debuted into the guitar pedals market; they considered it an answer to their prayers.
A switchless engage design is one of the exceptional features that you will find on the guitar pedal. Since the treadle is loaded with a spring, the pedal flicks back to its heel-down position whenever it's not in use. At the heel-down position, the device is in buffered by-pass and Off mode. Therefore, moving the treadle turns on the wah.
It's difficult to unknowingly switch it on or leave it on after use, courtesy of the LED indicator lights. You'll definitely know whether it's On or Off.
Whenever the wah is switched on, a one-minute delay usually occurs. For this reason, you'll be compelled to start it at the lowest level of the sweep.
Unlike its predecessors, this particular guitar pedal consists of a contour, a feature that offers you so much value for money.
The guitar pedal allows you to conveniently make adjustments to the effect level as well as the frequency range. Additionally, you're at liberty to make use of the switch found on the pedal's left-hand-side to change into Contour mode. This exceptional feature gives you the freedom of tweaking your wah, thus enabling you to create treble screech or mid range quack, among others.
The guitar pedal is built according to Steve Vai's exact specifications. If you really adore your guitar, then acquiring the pedal is one of the best decisions that you'll ever make.
The Clear Tone Buffer-Circuitry ensures that no signal loading occurs. Additionally, it provides high quality wah tonality.
With other guitar pedals, you may find it difficult to control volume whilst actively using the device. In any case, you need both hands whenever you're playing the guitar. However, this particular guitar pedal was designed with an easily accessible volume pedal. Make use of the pedal to adjust the volume in the middle of your song, fade in or fade out.
You can use the Boost control to enhance the guitar signal's output strength before it reaches the amp. It allows you to apply less gain incase you want to distort your amp's tone. You can also make use of the Boost control to increase volume during solos or fatten up your sound.
Summary of the Features
Made in accordance with Steve Vai's specifications.
LED indicators that let you know whether the pedal is On or Off.
Switchless
Clear tone buffer-circuit
Contour wah switch that activates level and wah frequency.
TC Electronics Hyper Gravity Compressor Pedal Review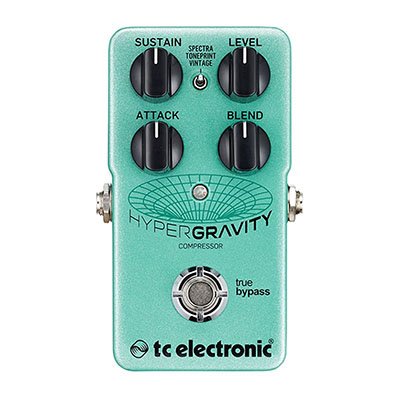 Are you aware that Hyper Gravity Compressor Pedal could be the missing link that has been preventing you from producing that great tone? It offers multiple compression modes that are all remarkable, including an amazing multi-band compressor, a classic compressor as well as infinite compression combinations via TonePrint technology. Therefore, it's the key that can enable you get professional tones coupled with even dynamics that you have always dreamed of.
Compress Without Concession
The pedal has a state-of-the-art multiband dynamics algorithm, the same algorithm found in TC Electronics' System 6000, a masterpiece that has been preferred by nearly all the world's leading music producers for more than a decade.
The pedal's technologically superior engine makes use of perfectly customized compression for highs, lows as well as mids, thus leaving you with substantial musical compression that can't be attained with conventional single band compressors.
It's therefore possible for you to transition from gentle airy shimmers to full blown straightjacket tone holds, without necessarily affecting your original tone.
Squeeze Into Tight Tones
You can directly jump into those classic compression tones that your forefathers loved, courtesy of the guitar pedal's warm vintage mode. It offers you endless squash and squeeze, along with the extra presence that's usually produced by vintage stompbox compressors. The pedal is ideal for percussive country sounds, tasty Gilmour sustain as well as tight funk tones.
Customized Compression
The Hyper Gravity Compressor boasts of a proprietary TonePrint Technology that can effectively bring out all the potential hidden inside you, especially if you are still a novice. The TonePrint Editor (which is provided free-of-charge) and its multiple parameters allow you to customize compression tones to fulfill all the desires that you may have.
Backstage Pass
You can make use of Sustain to determine how much compression you'd like to exert. Maximum level, for instance, gives you unlimited squash and squeeze as well as infinite sustain. Attack allows you to determine the speed at which the compression pedal is used. Max gives you punchy and open tones, whereas Min offers you extremely fast chicken-picking attack. True Bypass makes sure that there's absolutely no tone coloration, thus enabling you to shine throughout.
Use the Mini-Toggle to move from a super-transparent tone to a classic squash almost instantaneously. Activation of the TonePrint mode, on the other hand, produces a compression tone that can be customized to meet your specific needs.
Level allows you to exercise control over the whole signal range. You can also make use of Blend to ensure there's a perfect blend of the compression signal and dry sound.
Summary Of The Features
True bypass.
Three remarkable compression modes; Studio Quality Multi-Band Compressor, TonePrint enabled and Vintage Mode for traditional stompbox compression.
Compact design.
Wampler Latitude Tremolo Deluxe Pedal Review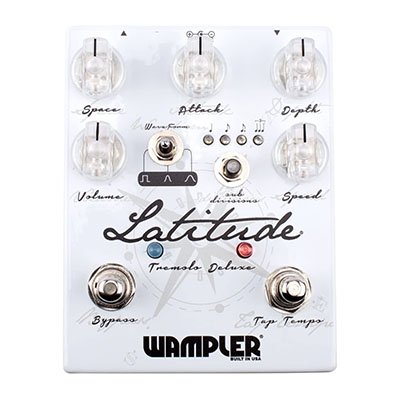 Tremolo pedals haven't changed much since the days of the DeArmond Tremolo Control that first debuted towards the end of the 1940s. The first device had only two knobs for intensity and speed. However, these two elements laid the foundation for most of the modern-day tremolo pedals and amps.
There is something particularly attractive and pure about tremolo, even in its most simple form. However, extra color and accuracy is sometimes required to make a pedal stand out from the rest. Latitude Tremolo Deluxe from Wampler is a pedal that aims at the tinkerer; a remarkably adjustable effect that is capable of imitating the legendary throb. It's also capable of creating chopped and synchronized syncopations. Additionally, the pedal delivers varying waveform shapes, tap tempo control as well as subdivision options.
Navigating the Waves
This pedal allows you to shape your signal using any of the seven controls. If you have ever laid your hands on an onboard tremolo, then you obviously know how to create a wobble with both depth and speed.
The pedal's space and attack functions open up unlimited opportunities for you, especially if you love tinkering and venturing into unchartered territories.
Make use of the waveform toggle-switch to transition to and from square waves, bell-shaped waves or peak waves. You can also make use of tap tempo control to make changes to the fly rate, especially since Latitude Tremolo Deluxe boasts of an additional sub-division selector switch.
A simple tap on one of the buttons scales up the tap tempo with remarkable quarter notes, triplets, eighth notes as well as dotted eighth notes. It's quite easy to fine tune the device so as to fit a specific rhythmic base.
Summary of the Features
Built in the USA.
Speed Control, Level Control, Depth Control, Space Control as well as Attack Control.
Made using high quality parts that were specially chosen because of their exceptional response and sound.
Choose among three waveforms; Square, Peak or Sine.
Relay true bypass & soft switch.
Tap tempo with 3 subdivisions.
Input and Output jacks mounted at the top.
30mA power.
Powered by 9 volt AC power jack or DC battery.
If you have been avoiding tremolo pedals because of the belief that that they're difficult to manage or that they have limited capabilities, then you really need to try out Wampler's Tremolo Deluxe pedal. It can open up numerous possibilities for you.
Tap Tempo control, for instance, allows you to deal with the most unpredictable rhythm sections. Attack & space controls, on the other hand, allow your guitar to perform exceptionally well outside the boundaries of classic amp tremolo.
Even though the price tag is quite steep, you can be assured of getting value for money. This guitar pedal is worth every dime.
Xotic Effects XW-1 Wah Pedal Review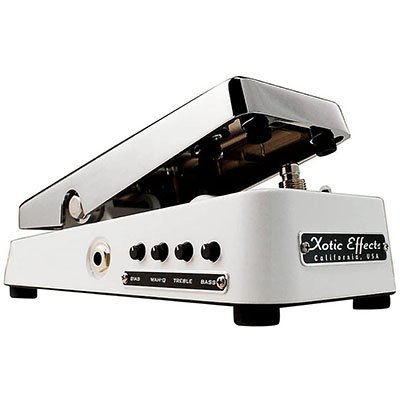 Years 1967 and 1969 were (and still are) undoubtedly Holy Grails of vintage wah tone. Lucky guitarists who were fortunate enough to try out one of the legendary guitar pedals can bear testimony to this fact. Over the years, many guitar pedals have come and gone, but very few of them can be remotely compared to the iconic Clyde McCoy pedals of the 1960s. The most notable pedal that is actually better than the legendary Clyde McCoy pedals is the Xotic Effects XW-1.
The exceptionally designed guitar pedal boasts  a wide range of features. They include a nylon bushing pivot that can lubricate itself, gold contact true bypass, multiple internal controls, fuzz responsive buffering-circuit as well as a comparatively smaller footprint, among other remarkable features.
Sound and Performance
When you unpack it for the first time, you'll discover that all the knobs are set at 12 o'clock to capture the iconic 1968 Clyde McCoy wah sound. When the settings are at default, the Xotic Effects XW produces a remarkably flawless wah sound as well as legendary style wah effects.
Wah-Q plays an important role of defining the wah sound. It sounds great when set at 12 o'clock, although turning it in clockwise direction produces a wider-variety, vocal sweep for an even more spectacular wah effect.
Bias control can give the pedal a spectacularly different feel and sound. Setting it at maximum level, for instance, leads to the creation of an extremely aggressive, hot and loud tone. On the other hand, reducing the Bias adds more clarity, and is therefore suitable for guitarists who love clean and flawless wahs.
Summary of the Features
Nylon bushing pivot that can self-lubricate itself for flawless and quiet operation coupled with fully adaptable rocker pedal tension.
Powered by either 9VDC adapter or 9V battery.
Gold contact true bypass that allows transparent by pass tone.
Internal controls that include switches for the following; Toe Down, Wah Q Frequency, Range, Presence Cut as well as Input Gain.
Reliable switching with an infinite life cycle.
Fuzz-responsive buffering circuit that assures you of exceptional wah tone with fuzz pedals that you'll definitely love.
The footprint is 20% smaller than standard wah pedals.
Fully adaptable Wah-Q & Bias controls, as well as 2-band equalizer with plus/minus 15 decibels center detent potentiometers that maximize voicing for varying gear and playing styles.
The Xotic Effects XW-1 is among the world's most versatile guitar pedals. Unlike many other single pedals, it's capable of producing a wide range of both classic and contemporary wah sounds. If you want value for money, then you should buy this guitar pedal.
Wampler Ego-Compressor Essentials Pedal Review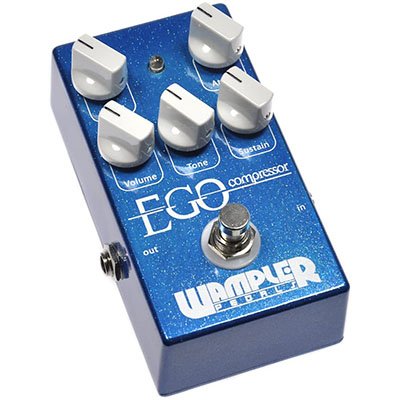 The archetypal MXR Dyna Comp and Ross Compressors are classic compression pedals characterized by a unique compression sound that many guitarists fell (and still fall) in love with. However, the classic pedals had certain limitations, including; tonal coloration, signal noise and unavailable parameter control, among other limitations.
Over the years, many guitar pedal builders have tried to make improvements on their products with varying levels of success. However, one of the devices that have captured the interest of guitarists is the Wampler Ego-Compressor Essentials Pedal.
It is an Operational Transconductance Amplifier pedal that is suitable for nearly all guitar models. Unlike its predecessors, the Ego Compressor has Attack, Tone and Blend controls, in addition to the Sustain and Level controls.
Whereas its predecessors had input and output jacks mounted on the sides, the Ego Compressor's input and output jacks are fixed on the top surface to make it suitable for modern-day guitarists who prefer to use smaller pedals for their tightly wired and crowded guitar pedal boards.
The device boasts of a footswitch with true bypass, a quality that many guitar users look out for when shopping for pedals. Additionally, the switching is quiet because the relay is of high quality.
There are premium film caps and a top-grade switching relay inside the guitar pedal. SMT construction on a thick PCB board makes everything inside look tidy.
Sound and Performance
The Ego Compressor has a unique way of reinforcing the bond between the amp and the guitar. It's among the most transparent compression pedals that you'll ever come across.
One of the difficulties that builders face when designing OTA compressors is how to maintain signal integrity during compression. Usually, there is a particular dulling effect that can suck life out of the tone by over coloring the guitar sound and making your high-ends blunt.
Whilst the Ego Compressor addresses this problem by making use of high quality components such as resistors and film capacitors, it is the Tone control that plays the most important role in preserving treble frequencies of the guitar's tonal range.
Summary of the Features
Hand-crafted in the United States of America.
Volume control, blend control, sustain control, tone control and attack control as well.
High quality film capacitors as well as resistors chosen because of their exceptional response and sound.
Securely packed pedal boards, courtesy of top-mounted jacks.
True bypass through long-lasting relay switches.
9 volt power jack and battery connection.
Wampler Ego-Compressor Essentials pedal is among the best compression pedals available in the market today, mainly because of its versatility and capacity to preserve your guitar's intrinsic tone. It is the gold standard against which other OTA compression pedals are measured against.
Boss RC-3 Loop Station Pedal Review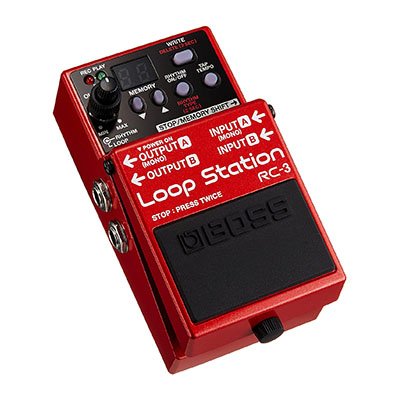 The
RC-3 Pedal
is a powerfully equipped looper pedal that offers you substantial stereo recording time of up to 3 hours, USB compatibility, storage for nearly 100 loops as well as a comprehensive rhythm guide.
Marathon Looping
With the RC-3, you can record stereo for about 180 minutes directly to the pedal's internal memory. Do not worry that you may run out of memory; just record for any length of time.
You can create multiple ideas and phrases and save all of them, courtesy of the ninety-nine memory locations. The guitar pedal's True Stereo I/O gives you the liberty of connecting it to other stereo-effects devices.
AUX Input
Apart from recording your bass and guitar performances and converting them into loops, Boss RC-3 also allows you to record stereo audio from external sources through the AUX In. For example, sound from an audio player that is connected to the AUX In can be recorded and converted into a loop without any difficulty.
Auto Record
Boss RC-3 boasts of an Auto Recording function that automatically starts recording immediately you start playing the guitar, or when you start an audio player connected to the pedal. It gives you the liberty of redoing or undoing. With a recording time of up to 180 minutes, there's nothing that can stop you from fully enjoying yourself.
USB Connectivity
It's possible to connect the Boss RC-3 to your laptop or desktop computer using an ordinary USB cable. USB connectivity enables you to create a backup for the recordings in a secondary device for safekeeping. Additionally, it's possible to directly transfer WAV files from the PC to your RC-3. The pedal accepts transfer and storage of 16 bit/ 44.1 Kilohertz WAV files that don't exceed 1.7GB.
Comprehensive Rhythm Guide
To ensure your loops remain tight, you can easily play along with any of the standard rhythmic patterns in the guitar pedal's onboard library as recording goes on. You'll find ten forms of rhythm types, including; Rock, Latin, Pop, Rhythm & Blues, Funk and Shuffle, among others. Use the dedicated knob to adjust the rhythm's volume. Additionally, you can make use of the tap tempo to set your tempo.
With the Boss RC-3, specifying the time signature is very easy. You'd be pleased to know that time signature as well as rhythm type is saved whenever a corresponding phrase is saved.
Summary of the Features
Extremely powerful and solid stereo stompbox- looper.
Limited 5-year warranty.
Enormous internal memory that allows up to 3 hours of recording time.
AC power supply or single 9V battery.
Ninety-nine onboard memories where you can store loops.
Electro-Harmonix Big Muff Pi Review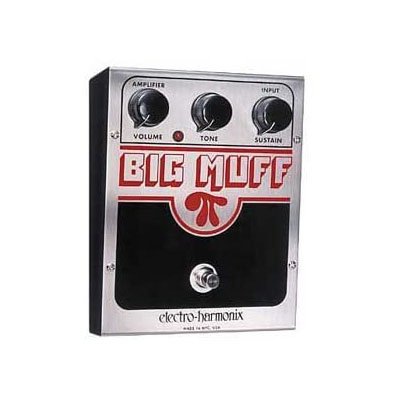 Guitarists unique fuzz-like distortion which can't be produced by many other guitar pedals in the market. The Volume, Sustain and Tone controls are quite simple to use. You'll find it extremely easy to set the output, enhance saturation and color your sound as well. Use the True Bypass Footswitch to pull the monster out of the powerful signal chain whenever it isn't engaged for a pure and uncolored guitar tone. Apart from the 9V adapter, the guitar pedal can also be powered by a DC battery.
Sound and General Performance
If you start by setting the knob at 12 o'clock and switch it on, an enormous distortion wave will instantaneously hit your ears. The guitar pedal is ideal for producing high pitch tones, indie rock styles as well as grungy rhythms.
Sustain is significantly enhanced for both single notes and chords. There's absolutely no doubt that you'll love the even sound compression. The tone control can effectively brighten things up and/or darken the effect, depending on what your needs are. Therefore, you can create the perfect lead sound without much difficulty. A simple adjustment allows you to find the right setting for cutting through the mix. If you aren't careful, the Sustain control can make you go a little insane. You only need to set the knob at 3 o'clock. The result will be outstanding sustain and saturation, ideal for creating epic solos. If you push the Sustain Control and Volume Control knobs to the limit, you'll be surprised with the unruly monster that will be released, even though that may be exactly what you want to achieve.
With the right settings, you can easily conjure up exceptional distortion and also create tasty tones.
Summary of the Features
Delivers all the legendary sounds of the pioneer NYC Big-Muff Pi, among other sounds.
True Bypass for optimum signal-path integrity.
Footswitchable MIDS function that enables you to cut through during live playing or recordings.
Expression pedal input that allows real-time sweeping of the MIDS.
MIDS section consists of four controls that allow you to fine tune or cut your mid-range boost.
Switchable Bass-Boost for extra boom whenever you need it.
Noise gate with adaptable Gate-Control that gets rid of humming and any other noise whilst conserving your original tone and attack.
Adjustable Attack-Control that ensures all chords and single tones have punch.
The EHX Big Muff Pi is an exceptional pedal that is still extremely popular, despite the fact that it has been in use for many years. It doesn't matter whether you need chaotic sounds or refined lead tones, the pedal can help fulfill all your desires with ease.
Eventide H9 Harmonizer Stompbox Review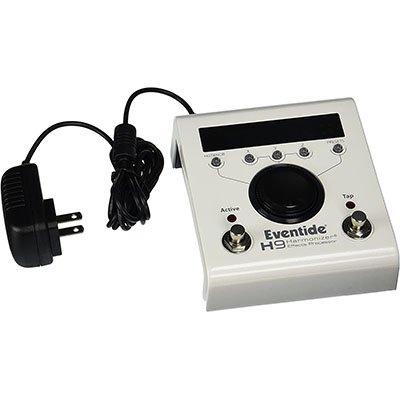 After producing a series of stompboxes, all of which seem to fit within the budget of a regular guitarist, Eventide upped the ante by making the H9 Harmonizer. The H9 is capable of producing sounds from ModFactor, PitchFactor, Space, and TimeFactor in addition to having its unique sound.
All harmonizers from Eventide have gained popularity in the studios due to their ability to produce time-based effects. The H9, however, in addition to these capabilities has more added features, which make it highly impressive. Here is a comprehensive Eventide H9 Harmonizer Stompbox Review.
Fewer Physical Controls
Unlike the previous stompboxes from Eventide, the H9 has fewer physical controls. However, the company made control and editing easier. They added Bluetooth and a TRS Jack, which is placed at the back of the unit. With Bluetooth, you can connect the H9 Harmonizer with an iPod or iPad by simply downloading the free Eventide app. Similarly, if you have an apple a Mac computer, you can connect via USB.
Innovative yet Simple Design
The H9 Harmonizer features a sleek looking form factor, which is housed in a futuristic white enclosure and it can easily make analog-minded players feel intimidated. Under the LED is a row of hot knobs labeled x, y, and z, all of which are intentionally vague and potentially daunting. Below these preset knobs is a huge multi-function control knob that you can use to scroll through the presets or manipulating the expression settings of the hot knobs. It also features active and taps footswitches and an inbuilt tuner.
Inbuilt Controls
You can easily pair your H9 with its control app and access all its interface options and virtual controls. However, if you are not a fun of scrolling screens, then it can easily get you worked up. The good news is that once you manage to handle it, you will become pretty easier. 
Additionally, pairing it with your iPhone might take you a little while.
Extra Cost for Other Stompbox Sounds
The H9 price does not include the other Eventide stompboxes sounds, and you have to pay more to get these. Each of the stompboxes has approximately 10 algorithms, and the H9 has about 40 with each containing 10-30 presets.
Additional algorithms go for about $19.99 each with five minutes audition before purchase. Although you can only use one algorithm at a time, each algorithm can have multiple effects.
Boss DS-1X Distortion Pedal Review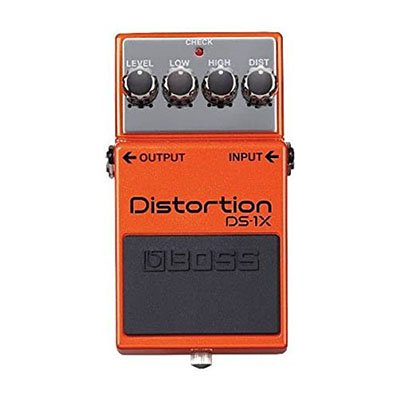 When it comes to guitar pedals, Boss has been a leader for over 35 years. They have been at the forefront of guitar pedal technology since 1977. The technology has evolved and quality improved with the Boss DS-1X Distortion Pedal that is equipped with Multi-Dimensional Processing technology that produces a clearer sound. The resurrected or reengineered DS-1X has not undergone any facelifts to make it look fancy or aesthetically pleasing. It does not pretend to be anything that it isn't but it would surprise many people who have encountered and used the previous incarnations of the DS-1X. This is an entirely different kind of beast to the DS-1 pedal.
Summary of the Features
The Chassis of the Boss DS-1X Distortion pedal has chrome ratchet-style knobs, a control plate made with chrome, and a nice looking screw that keeps the battery encased. That is as cool as you can expect to get with this pedal. Otherwise the pedals are still the same robust, no-nonsense indestructible pedals that have been used by musicians for over three decades. The DS-1X pedals come with a nine-volt jack as well as an on and off LED switch that can also be used as a power level indicator.
Performance
The DS-1X compact pedals have distinctive personalities and delivers the best tones. Regardless of the type of guitar they are hooked up to or the amp used. The Boss DS-1X Distortion pedal delivers smooth, complex and clear tones. The pedal allows your guitar and amp to remain mid-range to produce an overall thick sound. The equalizer controls boost the bass and treble and can go beyond the range that most amps get to. With these pedals the tone never sounds shrilly or muddy. The distortion control can be set to give a light boost or tame the treble to levels that you desire. The EQ controls provide a wider range of tones. It can take a player from the razor-sharp guitar sound that metal music players like and can be cranked up to sound even meaner. The knobs can be rolled back to deliver smoother tones.
Verdict
The Boss DS-1X Distortion pedal delivers a more complex sound that is smoother and carries clearer overtones and harmonics. This guitar pedal is responsive it can pick up playing dynamics with much ease and picks up volume changes better than its predecessor, the DS-1. The music world has a lot of distortion pedals and any serious guitarist has heard or experienced a Boss pedal. The robust design ensures that the guitar pedal will last for long making it a great investment.
Electro-Harmonix Canyon Delay and Looper Pedal Review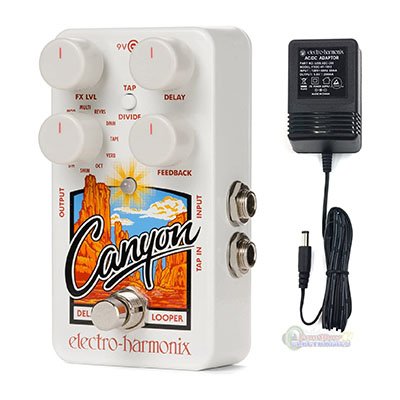 Would you like to buy a looper pedal, but you're finding it difficult to make the right choice? The Electro Harmonix Canyon offers more than what you'll see on the surface. When you explore the device, you will discover that it's designed with multiple time based effects, including Deluxe Memory Man.
The guitar pedal offers numerous control functions to suit all your needs, including a sixty two second looper. All the functions can be controlled using an onboard tap tempo.
The device comprises of four main control knobs; FX Level, Effect Selector, Delay as well as Feedback knob. You may never find a guitar pedal with an equivalent number of tones. Would you like to have plenty of ambient power generated by a small pedal board? If you do, then you should consider getting an Electro Harmonix Canyon.
Summary of the Features
The guitar pedal is specially designed with the following exceptional features:
Multiple time base effects housed in a pedal-board friendly size.
On-the-go tap tempo.
Eight onboard types of delay such as Tape, Reverse and Deluxe Memory Man, among others.
Knobs that give you power to control modulation as well as other secondary features.
Looper function that provides up to sixty-two seconds of loop length.
Tap & Divide button that allows you to select rhythmic sub-sections for your preferred tap tempo.
Powerful Delay Pedal
Considering its diminutive size, the EHX-Canyon is more powerful than what it appears to be. A simple adjustment of the device's selector knob allows you to choose from a range of eight delay sounds, including Shimmer Setting, Modulated Delay as well as Tape like Delay. A tap and divide button allows you to select from a variety of rhythmic subdivisions. To achieve this, you'll only need to tap the tempo. If you hold it down, you can change the control knob functions for deep-editing options like the tape age and modulation of the repeated signal, among others.
Sixty-two Second Looper
The guitar pedal boasts of a sixty-two second looper that makes it suitable for practicing, carrying out live performances as well as song writing. To achieve this, you'll only need to adjust the loop option and then step on the device's footswitch to start, erase, stop and/or overdub your loops.
Additionally, it can give you a loop length of up to sixty-two seconds. Apart from the EHX-Canyon, very few devices can give you a similar or almost similar amount of time.
Other Features
You'll be pleasantly surprised to discover that the guitar pedal also comprises of a reverb that sounds great. In addition, it can be customized to provide you with hall, spring or room sound. The quick delay and low repeats will bring you fond memories of slap back tones that were popular in the 1950s. Most buyers are choosing the Electro Harmonix Canyon. What are you waiting for?
Line 6 M5 Stompbox Modeller Review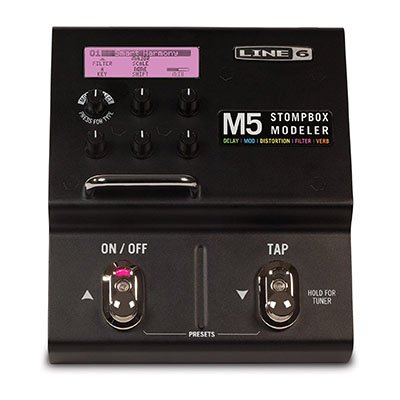 Money, being the youngest in a family of processors usually has its benefits. Although it's relatively smaller than its predecessors, the Line 6 M5 offers more than a hundred effects in delay, reverb, modulation, filter, distortion as well as compressor/ EQ categories in one package.
The uninitiated may get the impression that it's a pedal with a definite identity crisis. However, the connoisseurs would agree that it's an absolute Swiss Army knife, the perfect solution for guitar players' needs. Let's examine it.
How Does It Look?
Packaged in a rugged metal chassis, it's a perfect study for effective design. There are Stereo In& Out jacks, DC power input as well as expression pedal input at the back. Additionally, there are MIDI in& out jacks on the device' left hand side, a Tap switch on the right and an On/ Off switch at the top.
The Line 6 M5 boasts of 6 multi-function knobs as well as backlit LCD display above the switches. The former shows chosen effects and function of each of the rotary knobs for the respective effects.
How Well Does It Work?
The pedal makes it extremely easy for you to produce great sound. When you push down the model-select knob, effect category swiftly changes. Once you choose the desired category, you'll only need to rotate the knob so as to select a particular effect.
The Line 6 M5 gives you an exceptional hits package. Some of the effects that you'll definitely enjoy include Tube Echo (EP1 style tone) and Jet Fuzz.
The pedal makes it easy for you to store twenty-four effects as pre-sets. To access the pre-sets, you only need to scroll through the wide range of choices using your foot. The scrolling feature can be accessed by simultaneously stepping on the Tap and On/ Off switches.
There are absolutely no menus. Whenever you switch it on, you'll get the settings at the same point where you left. Additionally, the in-built tuner is easily accessible and also accurate.
Summary of the Features
Compact size. Remember that less is more.
Absolutely pro- tap tempo, full stereo, expression pedal option as well as MIDI capable, among others.
More than a hundred effects in delay, reverb, modulation, filter, distortion as well as compressor/ EQ categories in one package.
Stompbox simple- no one wants to learn a completely new language for his/ her old favorites.
VOX STOMPLAB2G Modeling Guitar Multi-Effects Pedal Review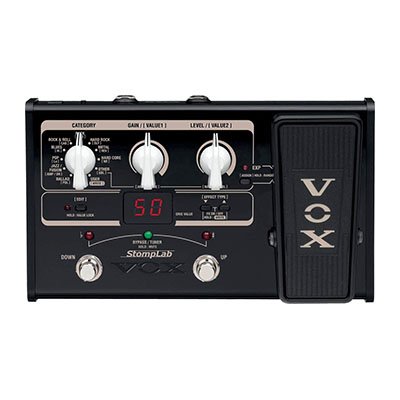 The VOX STOMPLAB2G is the perfect solution for anyone who's been looking for a versatile guitar pedal. It offers 100 Preset programs such as rock, pop and blues, amid other settings. The pedal has an extremely user-friendly interface, an expression pedal as well as many other features.
Exceptional Sounds
The VOX STOMPLAB2G produces a wide range of sound types right across the spectrum. Having a wide range of sounds is advantageous to any user, although a beginner may be overwhelmed by this at the initial stages.
All programs are categorized in accordance with their respective musical styles. For this reason, you can easily find your preferred sound without necessarily bothering with particular effect names.
Musical styles are classified into 10 different types, and the classification covers nearly everything, from traditional to modern. Since each category has ten different variations, you can be assured of finding all the sounds you love. Since the pedal is user friendly, it can't give anyone, including novices, any difficulty.
Inbuilt Chromatic Tuner and Other Functions
Given that the pedal has an inbuilt chromatic tuner, you won't have to purchase one separately. Additionally, your audience won't hear or see you fumbling because the mute function allows you to tune discreetly. There's a headphone input jack, so you can plug in your headphones and listen at maximum volume without bothering your family members or neighbors.
Create Original Sounds
Although playing the preset sound will make you feel great, creating your own sounds will give you even greater joy. The VOX STOMPLAB2G has a hundred and four modelling effect types that are classified as pedal, reverb, amp, delay, drive, modulation and cabinet as well.
Real-Time Control
You can make use of the expression pedal to increase, reduce or adjust volume and other effects in real-time.
Great Physical Appearance
Unlike many other guitar pedals that you may have come across in your lifetime, the STOMPLAB2G guitar pedal looks very attractive. It's a great reminder of the classic VOX Wah pedals that everyone used to love in the years gone by.
Additionally, it's compact. The small size allows you to conveniently carry it along whenever you need to move from one place to another.
Summary of the Features
One hundred Preset programs classified as rock, pop, blues and metal, among other styles.
Can use either Alternating Current (AC) or Direct Current (DC).
User-friendly interface that allows anyone, including learners, to instantaneously gain access to any type of sound.
Expression pedal that gives you control over a wide range of effects such as volume.
More than a hundred modeling effect types.
Sophisticated design that was inconceivable for older versions.
Each effect model comes with a powerful sound engine distilled from VT+ modeling amps series and the ToneLab multi-effect series as well. The former is one of the world's best selling modeling amps series.
Up to 8 effect models of the pedal can be used at the same time.
You can edit and also save twenty personal user programs.
If you have been looking for a good and economic multi-effects pedal, but your efforts haven't been bearing fruits, you don't have to look any further. The VOX STOMPLAB2G is the right pedal for you.
Zoom G3X Multi-Effects Processor Review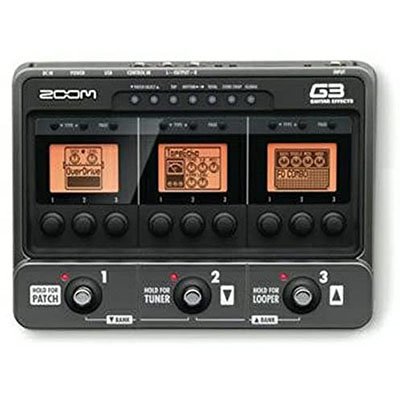 If you'd like to start creating a variety of sounds from your guitar within a few minutes, then you should try out the Zoom G3X. It's exceptionally designed with features such as; ultrafast patch-changing speed, 435- 445 tune ranger, at least six effects that can be utilized simultaneously, onboard chromatic tuner that supports all the standard guitar tunings and user created patches that can be stored in any of the a hundred memory locations.
Other features include: all-patch parameters that can be automatically saved using the auto-save function, one hundred factory-preset patches and storage as well as swapping functions that facilitate organization of patches.
Ease of Use and Great Power
The pedal is intuitively designed to allow smooth navigation in studio settings as well as live recordings. As a result, creation, rearrangement and saving can be achieved with great ease. Three LCD screens that are all armed with matching parameter knobs and footswitches create an extensive graphical interface which enables you to carry out real-time viewing and editing.
High-tech Editing
If you purchase Zoom G3X, you'll be rewarded with Steinberg's Cubase LE production software download license. This allows you to do amazing things with it, such as creating exceptional guitar sounds. Since the high tech software is used by renowned music creators globally, you'll have an opportunity of taking your music recordings to a higher and more professional level.
Connect It to Your Computer
Zoom G3X Multi-Effects pedal has a USB port that allows connection with any computer that uses Windows or Mac OS. The connection allows G3X to work like a two-output/ two-input audio interface. During recording sessions, direct monitoring ensures that there's little or absolutely no latency, thus enabling you to overdub with great ease.
Express Yourself
Use Zoom G3X Multi-Effects pedal to adjust parameters like delay time, pitch bend and modulation speed. It allows you to independently adjust pedal range for every patch. In addition, you can reverse-pedal by simply setting the maximum value at a lower level than the minimum value. With the simple calibration procedure, you can conveniently customize pedal sensitivity, thus enabling the Zoom G3X adjust to your preferred pedaling style.
Summary of the Features
More than 90 effects. They include; distortion, reverb, compression, delay and modulation, among others.
Passive & Active switch.
22 amp models.
Input jack that allows use of normal mono-guitar cable.
Inbuilt expression pedal that can be used to control volume and other parameters.
Can be efficiently incorporated into any pedal board.
Three LCDs (backlit) consisting of contrast control.
Forty-one inbuilt rhythmic patterns that you can use together with the aforementioned looper
Intuitive user interface.
Looper that allows you to capture 40 seconds of high quality phrase-recording
The Zoom G3X is a reasonably priced multi effects processor that has a lot of the tools than higher end processors have.
Last Updated: 30th Jan, 2021