Why Do You Need A Backup Camera?
There are many reasons you would go to the trouble and cost of adding an aftermarket backup camera to your vehicle, but the greatest of these is backed by data provided by the child advocacy group Kids and Cars who state that 50 children are hit by a car moving in reverse each week and that 2 of these accidents end in a fatality. It's not news to anyone that every car on the road has spots where the driver cannot see, called blind spots, but the average size of U.S. vehicles are larger than normal which increases the size of the blind spots; especially in SUVs and larger pickup trucks which extend 2o feet to the vehicle's rear. Backup cameras are a critical piece of technology developed in recent years that nearly eliminates these types of accidents.
Do I Really Need a Backup Camera?
Recent designs in cars have made them look sleek from the outside, but have made them very dangerous to drive, causing visibility problems on the inside. Car-styling trends are making it more difficult for drivers to see what's around them. It causes issues not only in traffic but also in driveways and parking lots. Wide rear pillars and smaller back windows make it very hard to see out the back of a car, even when you turn around to look.
Consumer Reports tested rear visibility on four cars using an orange cone. They sat the cone behind the car and move it back until the driver could see the top of the cone. Here are the results:
Hyundai Sonata Sedan has a blind zone of 21 feet.
Toyota Sienna minivan has a blind zone of 22 feet.
Dodge Durango SUV has a blind zone of 37 feet.
Land Rover LR4 has a blind zone of 38 feet.
Ford Fusion has a blind zone of 40 feet.
Chevy Avalanche pickup truck has a blind zone of 50 feet! That means anything behind this vehicle the same height or shorter than the cone is not seen by the driver.
These numbers are very frightening and the very reason that rearview cameras will be required in cars from 2014 and after. But what do we do about the millions of cars on the road already? It's up to those individuals to take action themselves. The backup camera industry has made many affordable options for owners of older model cars and trucks, but there are many of those systems that will only add frustration and disappointment. Be sure that you review the options carefully and make the right buying decision for your situation.
What's the Best Backup Camera System?
You're always on the go and have a need to see what's behind you before you back your load… I get that. Your mirrors are there but almost useless at times and nobody wants a spotter behind them all the time; that's just silly. No matter if you drive a pickup truck or a 40 ft diesel pusher, you need a simple, yet reliable, device to show you what's behind you before you back your cargo into that unseen telephone pole or other objects, vehicle, or even a child.
However, finding the best aftermarket backup camera system can be tough, so we've put together this resource – a one-stop-shop, all-inclusive guide to help you find the backup camera for your vehicle. Whether you're looking for a wireless backup camera, a GPS with a backup camera, an RV backup camera, or any variation therein, we've got you covered.
Can I Install a Backup Camera Myself?
Of course, you can! Installing a backup camera is really very easy. It requires very basic tools and just a couple of hours for a novice. Have a look at the video below which will demonstrate the installation of a very common camera system.
What Should I Look For In a Backup Camera System?
Buying a backup camera system will make your every day driving much safer, but all systems are not made equally. What should you look for in an aftermarket backup camera system?
Video Quality: many of the systems on the market do not come with a monitor, and those that do aren't necessarily the best quality picture. Generally speaking, the units that do not come with a monitor have a superior resolution.
Accessories: make sure to look at the accessories that are included with each unit before purchasing it. Sometimes it's the small things that make all the difference in your satisfaction with a product, and many of the kits come with different accessories; many better than the others. These accessories can improve the installation experience, daily use, control, etc.
Camera Features: You'll want to ensure the camera system you choose not only has a clear picture but also displays an image wide enough to include all that is behind your vehicle in order to backup safely.
Weatherproof: It seems obvious that a camera that will be exposed to the elements needs to be weatherproof, and most manufacturers do a decent job with this. However, you'll need to consider where the camera will be installed and be sure to buy a kit that is rugged enough for that location.
Support And Documentation: Installing your new backup camera system, whether it be wired or wireless, is of the utmost importance. The very best units provide detailed documentation as well as online support resources and support by phone. Their products are also included with a better warranty.
Backup Camera Manufacturers
With the increasing popularity of backup cameras, there have been more and more companies trying to ride the heels of success. However, only a few companies stand out in the consumer-grade aftermarket realm.
Our Picks - Best Backup Camera Systems
Rear View Safety Backup Camera System with 7" Display (Black) RVS-770613 Review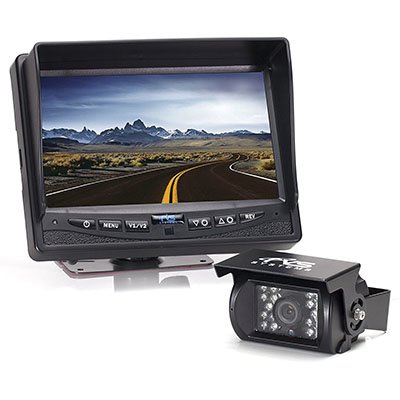 For the money, you won't find a better aftermarket backup camera system. This unit is extremely well built and has the highest quality camera, just the same as the million-dollar motorhomes you see driving down the road.
Rearview mirrors are useless in a Class A motorhome, so the mirror feature would not be used. Also in Class A, the windshield is typically too far away from the driver and in the sun which washes out the picture. You might have to buy a separate 7″ LCD monitor to display the picture. Even with the added expense of an LCD monitor, you still won't find a unit of this quality for the overall price.
The system is complete with 4.2″ Color TFT LCD Rear View Mirror Display with Mirror Image Capability. Universal Clip-on Mirror Display Attaches to Existing Vehicle's Rear-View Mirror, a 3 channel Multiplexer (Can Connect a DVD Player or Other Cameras) with Automatic System switch, 130° CCD Camera with 50 Foot Infra-red Night Vision and all the Wires, Connectors and Mounts You Will Need. The system is completely Weather Proof with an IP68 rating, Strong and Reliable, Shock Resistant with a 10G impact rating and Comes with a "Full Year Warranty".
Pros and Cons
Pros: One of the highest quality systems on the market, the RVS-770613 will not disappoint. With 1/4 sharp color CCD - 250k pixels - 2.1 mm wide lens with 130° angle. Infrared night vision to 50 feet and a high grain built-in microphone. This unit was very well designed and will outperform the most competition. Yes, it cost more than your standard $100-$125 unit, but you literally get what you pay for with the RVS-770613.
Cons: Rearview mirrors are useless in a Class A motorhome, so the mirror feature would not be used. Also in Class A, the windshield is typically too far away from the driver and in the sun which washes out the picture. You might have to buy a separate 7" LCD monitor to display the picture.
Camera
1/4 sharp color CCD, 250k pixels, 2.1 mm wide lens with 130° angle, 420 TV lines (which means the best quality image with no blind spots)
18 automatic Infra-red night vision illuminates = 50 feet of vision in the darkest night. With built-in foam around lens (so you are guaranteed not to have any glare from the IR's)
Built-In High Gain Microphone
Extremely strong weatherproof casing, as well as a screw base and waterproof sleeve connection with an IP68 rating.
The camera boasts 20G shock and 100G vibration rating (highest in the industry)
Monitor
4.2″ color TFT LCD Mirror Monitor with 16:9 widescreen with the selectable option from the monitor for 4:3 (super sharp image 1440×234)
Distance Grid Lines
Built-in speakers
Remote control (all functions can be controlled from the monitor)
Multiplexer and System
3 channels allowing you to connect additional cameras or DVD player (can be selected from monitor or remote)
Mirror imaging so you can see proper side
Automatic switch (option to automatically have the system turn on when in reverse)
Allows 12-24 dc power
All cables and connectors are weatherproof
The package is Complete With
1 Color CCD infra-red weatherproof camera
1 7″ TFT LCD color monitor with universal mount/stand and wire
1 3 channel multiplexer control unit
1 66' extension cable for camera
1 Remote control
1 Power connection wire
1 Double RCA + power converter, (to connect external audio, video, and power)
1 Screw kit for installation
Warranty
Rear View Safety Inc. warrants this product against material defects for a period of one (1) year from the date of purchase. We reserve the right to repair or replace any such defective unit at our sole discretion. Rear View Safety Inc. is not responsible for a defect in this system as a result of misuse, improper installation, damage or mishandling of the electronic components.
Peak PKC0RG Small Rearview Mirror with 3.5-Inch Backup Camera Review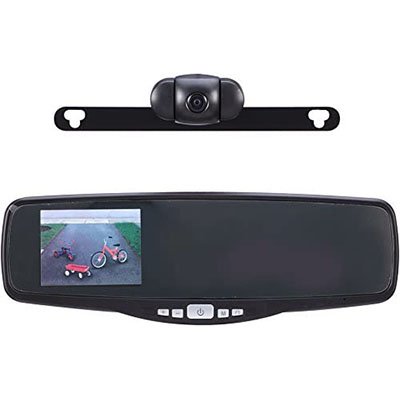 The Peak PKC0RG Small Rear View Mirror with 3.5″ Backup Camera consists of an attachable rearview mirror with a built-in 3.5-inch monitor–no need to have another dash-mounted monitor. Features include standby with auto on mode when the camera is on, a new weatherproof camera housing, a new swivel camera with wide view angle, and a wireless transmitter. The camera mounts to the license plate and causes no interference with information on the plate. Installs on any vehicle in minutes.
Peak, the brand you associate with quality car care products, introduces the new Wireless Back-Up Camera with color 3.5-inch Rearview Mirror display. In this new model, Peak has expanded its popular line of back up cameras by integrating the monitor into your rearview mirror. Using a patented mirror tinting technology, the 3.5″ color LCD display is invisible under normal conditions, but when the car is shifted into reverse a full-color display of the rear of your vehicle appears. Reduce the possibility of damaging your car or injuring a pedestrian by using the Peak PKC0RG Rearview Mirror Back-Up Camera system. It's a safer way to back-up.
Back up camera functionality integrated into your rearview mirror equals safety at home and on the road, as well as dashboard convenience.
Pros and Cons
Pros: The kit comes with everything you need to install it, and it's relatively easy to do so. With a pretty good quality camera and solid instructions, you'll be backing up in no time! Overall, this unit is a better buy than it's sub $100 counterparts.
Cons: The mirror is rather heavy, so when you hit a big bump in the road the mirror adjusts downward sometimes. As well, the mirror is subject to interference (especially in neighborhoods) and goes to a blue screen.
Easy installation
The rearview mirror assembly installs easily over your existing rearview mirror with spring-loaded brackets. There are no tools required to install your new mirror and it will not damage your existing mirror. The camera and wireless transmitter are nearly as simple to install. Powered by your reverse tail lights, the back-up camera fits over your license plate and the transmitter is housed in your trunk. This portion of the assembly does require a few simple tools, but along with the included mounting hardware, it can be installed by most users in just minutes.
Who Should Buy This Backup Camera?
Families with children or pets and
Car, SUV and truck owners
Vans, RVs and camper owners
Semi-Truck Drivers
Towing Boats or trailers
90 Day Limited Warranty
Warranty
Manufacturer warrants to the original consumer, or purchaser, that the Peak Back-up Camera System will be free from defects in material and workmanship for ninety (90) days from the date of sale to the original purchaser. Manufacturer hereby excludes and disclaims any and all other warranties expressed or implied, beyond those warranties specified above. Manufacturer excludes any implied warranty of merchantability or fitness for a particular purpose.
The Brand - PEAK
PEAK is a subsidiary of Old World Industries. For over 50 years, Old World Industries has been a leader in the development and distribution of automotive products of the highest quality. Old World's insistence on quality and craftsmanship, and expertise in high technology and marketing, ensure that people around the world know Old World's products provide the highest level of protection. Old World Industries' commitment to quality is second to none. All Old World/Peak products go through rigorous testing at every level of production to ensure that they meet or exceed the performance requirements of every major car and truck manufacturer.
What's Included
Camera & video cord
Transmitter & power cord
Mirror with LCD
2 bolts, nuts, and washers
4 wire splicers (nice!)
2 velcro straps for mounting the mirror
2 power cords for the mirror (1 cigarette lighter and one to be hard-wired into the existing wiring, whichever install you choose)
The Good
The install was relatively easy and the product comes with every part you need to install it successfully on the vehicle
The camera is good quality
The instructions are straight forward and easy to follow
The Bad
The wireless LCD mirror is a good idea but gets interference as you're driving through neighborhoods, so the screen turns on randomly to a blue screen
The mirror is HEAVY, so every bump you hit in the road has the potential to swivel the mirror down
The mirror is pretty dark (that's the patented tinting they describe in their product overview), which makes it difficult to see anything at night and even in the day time
They don't offer any wiring tips in their instructions, so it's up to you to figure out which wire is the 'reverse light wire'.
Rear View Safety Backup Camera System with Side Cameras RVS-770616NM Review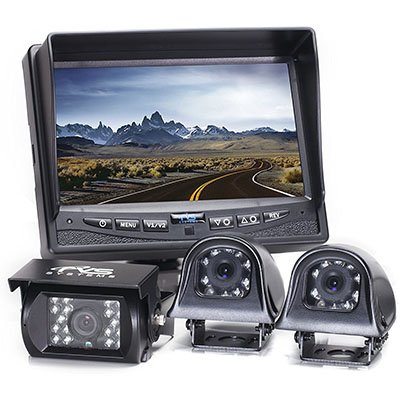 This backup camera system is complete with a crystal clear 7″ digital TFT LCD color monitor with mirror image capability, a 3 channel multiplexer (can connect a DVD player or other cameras) with automatic system switch. It also features a 130° SHARP CCD backup camera with a 50-foot infra-red night vision.
The kit comes with 66′ feet of cable, making it a superb choice for a wired RV/camper system as well.
The rearview camera system is completely weatherproof with an IP69K rating, strong and reliable, shock resistant with a 15G impact rating (highest in the industry) and comes with a full one year warranty.
Pros and Cons
Pros: This backup camera has a superb image and high-quality audio. It's well built and the weatherproofing is superb.
Cons: Because the sun shield/camera mating only has "fixed" screw locations, you are limited in the exact aiming to one of 6 fixed positions. The product's documentation lacks detail.
Features
Commercial grade – weather & shock resistant
7″ THIN COLOR LCD monitor – Mirror-image capability
3 channel multiplexer which allows you to add 2 additional cameras
130° CCD camera with 18 infra-red illuminators night vision
Automatic system switch – Microphone – See & Hear what's behind you
Technical Details
Monitor size: 7″
Camera: 1/4 Sharp CCD
Resolution: 1440 x 234
Signal to Noise Ratio: 48dB
Viewing angle: 130°
Focal length: 2.1
Power: DC 12V-24V
Pyle Backup Rear View Car Camera Monitor Screen System PLCM4500 Review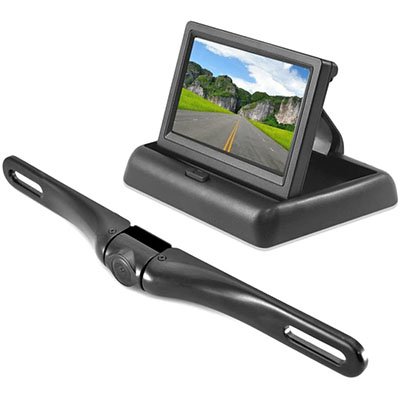 The Pyle PLCM4500 easily retracts from the housing when the monitor is needed, and then easily folds back down when not. The preferred mounting location the actual camera is above the license plate and has two mounting options: flush mount and bracket mount.
The 17′ cable included with this package is typically just long enough for a standard full-size pickup and will be long enough for SUVs and sedans.
Pros and Cons
Pros: The Pyle PLCM4500 has really good reviews from those who have purchased and there is a consensus that the unit has outstanding video quality for a very reasonable price if you're willing to run the necessary wiring.
Cons: While the level is acceptable, this kit could be better in low light conditions.
Features
Low Lux Enhanced Night Viewing for Low Light Applications
Waterproof (Ip67), Fog Resistant
TFT-LCD Monitor
Video Color System: NTSC
17 Foot male to male RCA Video Cable
Technical Details
Monitor size: 4.3″
Resolution: 420 lines
Signal to Noise Ratio: 40dB
Viewing angle: 170°
Focal length:
Power Supply: DC 12V 200mA
Video Output: 1.0V PP-75 Ohm
Pyle Wireless Backup Car Camera Rearview Monitor System PLCM34WIR Review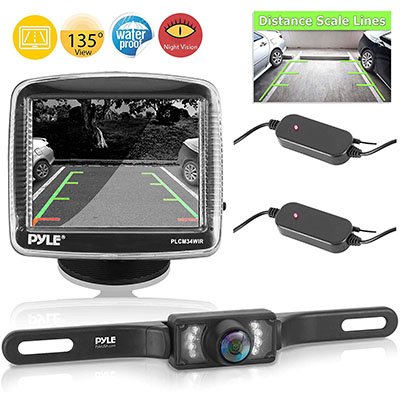 The Pyle PLCM34WIR can be installed with ease on your license plate mounting bracket and is suitable for all cars, trucks and small trailers. The camera itself also has RCA video output in order to connect to other source inputs. Use the camera with a rearview mirror monitor, or possibly an existing in-dash television, DVD, or other RCA compatible video input.
Pros and Cons
Pros: There's not much good that can be said about this unit other than it's inexpensive.
Cons: Bad experience after bad experience is what you'll find when talking to consumers that have purchased this PYLE unit. Most of the sub $100 wireless units are not worth their money, and this unit is no different.
Features
Wireless Back-Up Rear View Camera – NTSC/PAL System Auto-Switching – Camera: – Night Vision Low Light Compatible (The monitor and camera are connected wirelessly, however, there are wires associated with the unit)
3.5" Slim TFT-LCD Stand Wireless Monitor – Brightness: 200 cD/m –
Waterproof License Plate Mounting
Image Sensor: OV7910 Color CMOS – Video Output: 1.0 Vpp-75 Ohm
Automatically Switched On When Reversing
1 yr warranty
Technical Details
(Actual) Monitor size: 3.5″
Camera type: CMOS
Resolution: 480 x 320
Signal to Noise Ration: 40db
Viewing angle: 170°
Focal length: .75
Power: DC 12V 200 mA
Voyager WVOS511 Wireless Back-Up Observation System with 5.6" Color LCD Review
The Voyager WVOS511 featuring WiSight™ is the ultimate in wireless backup cameras and far exceeds the performance of any analog wireless observation system on the market. The latest in wireless backup technology, the Digi-Lock system eliminates interference that accompanies most other typical analog wireless systems. The camera's transmitter is digitally locked to the monitor's receiver, ignoring outside signals, resulting in a sharp, clear wireless display through the walls of the RV up to 90 ft away. The monitor mounts with a suction cup and 12V DC power plug which allows for portability.
The WiSight™ package includes all the necessary items to eliminate blind spots through digital technology; a 5.6 LCD color monitor with the integrated receiver, one 12-volt accessory plug, a suction cup monitor mount, one rear color camera with the integrated transmitter, stainless steel hardware, and non-corrosive camera mounting bracket.
In addition to the premium video display, this unit also has superb audio. The camera itself is connected to the taillights or running lights on the RV or camper.
Pros and Cons
Pros: The groundbreaking WiSight™ technology allows the camera's transmitter to be digitally locked to the monitor's receiver and is not interfered with by any other devices. With top-notch video, superb audio, and a range of up to 90 ft, you will not find a better unit for your RV or camper.
Cons: The only con I could come up with for this stellar unit is the price. It's the highest price unit you will see recommended here but you definitely get what you pay for!
Technical Details
Monitor: 57/8W x 51/4″H x 25/8″D
Camera: 33/8W x 2″H x 35/8″D
Why Install a Backup Camera?
There are multiple reasons one might choose to go to the expense of a backup camera system. But the most compelling comes from the child advocacy group Kids and Cars who says at least 50 children are backed over by cars every single week, and at least two of those incidents are fatal. It's not new information that every car has a blind spot but the average size of vehicles in the U.S. is larger than normal, and the blind spot in larger pickups and SUVs extends to almost 20 feet behind the vehicle. Backup camera systems can be a big asset in helping to prevent backing over people, pets or objects in their blind spots.
Rearview cameras also improve one's ability to hook up a trailer to a vehicle, especially if there's no one with you to line you up.
In addition, if you're driving a motor home, RV or pulling a camping trailer, your ability to see behind you is impossible. Anyone who has driven a motorhome or vehicle pulling a camper knows how difficult it is to back into a spot at a campground or driveway, and the difficulty brought on by tasks as simple as changing lanes when driving. RV backup cameras make driving these tasks much safer and can monitor tow vehicles or other equipment that you may haul behind you.
In recent years, many vehicle manufacturers have put backup camera systems into their vehicles, but that's no reason to run out and buy a new car, truck, or RV. Aftermarket backup camera systems have become more prevalent and the technology has improved, making aftermarket backup camera kits a new must-have addition to used vehicles. These systems are now available from the complete camera and monitor packages to cameras that can be added to your car's existing video monitor in the dash or add-on to your video-capable GPS.
Types of Backup Cameras
In this particular section, we'll look at the different types of cameras. I'm not talking wired and wireless, but instead, we'll look at the camera unit itself. There are three general designs of aftermarket backup cameras that can be included in a kit or sold separately.
The most common design is a camera enclosed in a weatherproof housing and mounted on the exterior of the vehicle. These cameras typically feature a 170-degree viewing angle, LEDs for night-vision and an anti-glare shield. These cameras come with a universal mount that is typically attached to the license plate area and is durable, waterproof and made to last.
Another camera design is a flush-mounted "keyhole" camera which is much less obvious than traditional surface-mounted cameras. However, you'll want to be aware that keyhole cameras require a hole to be drilled somewhere in the rear of the vehicle. This may not be a good choice for many but for those that don't mind making this type of modification, the keyhole camera can be a really good option.
Many auto owners may not want to mount a larger piece of hardware onto their vehicle or drill a hole into the exterior, so several manufacturers offer 'license plate' cameras which are very easy to mount. Some, like the Boyo VTL375 pictured to the right, offer an entire frame for the license plate while others are only a piece that mounts across the top of the tag like the Pyle PLCM18BC. It's recommended that you check with your local state's vehicle laws, as some states forbid plate frames that may prevent full view of the plate.
Complete All In One Backup Camera Systems
If your vehicle doesn't already have a built-in video monitor or a GPS that support video inputs, then your only choice would be an all in one system. These systems come in two variations: wired and wireless. These systems come with a stand-alone LCD monitor which either mounts to the dash or suctions to the inside of the windshield as well as a waterproof camera, many of which illuminate for night-vision.
These systems are the most commonly used and come in a wide range of price and quality. It's very important that you pay close attention to the video quality, features, and accessories that come with the unit. It's also just as important to choose a manufacturer with a good reputation for quality and has detailed documentation as well as online and phone technical support. Reputable manufacturers will also provide a good warranty with their product.
Adding Just a Camera
Many newer vehicles may already have a factory navigation system with a screen. In these cases, you can often integrate an aftermarket backup camera instead of installing a separate LCD screen on the dash. Manufacturers such as Pacific Accessory Corporation and NAV-TV offer backup camera interfaces for many vehicles that will display images from the aftermarket backup camera to the vehicle's OEM navigation screen. In many cases, these OEM navigation systems provide accessory inputs to connect video sources such as portable DVD players or backup cameras.
These OEM interfaces are very specific to the head units on the vehicles, so it's recommended that you consult the manufacturer's website to confirm compatibility with your vehicle's navigation system. You may also want to consult a mobile electronics retailer.
A majority of the aftermarket backup cameras have a standard composite video output via RCA plugs that can connect to virtually any video display. However, if you have a head unit with an LCD screen from one of the major automakers, you may want to buy a backup camera of the same brand since they offer complementary features.
Backup Camera Features
Types of Cameras: There are two types of image sensor technologies when it comes to backup cameras: Charge-Coupled Device (CCD) and Complementary Metal Oxide Semiconductor (CMOS) sensors. CCD is what is used in most digital cameras is provides the best quality possible. CMOS sensors are typically lesser expensive because they are basically a camera on a chip and have inferior quality, especially in low light situations.
View Angle: The view angle (measured in degrees) is another feature you may want to be familiar with, as well as the low-light or night-vision abilities. The view angle is associated directly with the image sensor technology mentioned above. The larger the size of the image sensor area, the wider the shot you get on camera. Currently, the most highly used image sensor area sizes are 1/2″, 1/3″, and 1/4″. Typically, 1/2″ is not used in backup cameras on the consumer market due to their cost. You will most often see 1/3″ and 1/4″, and in most cases, 1/3″ supports the wider angle of view. Technically, 1/4″ has a smaller sensor area to support wide-angle lenses. However, when a 1/4″ image sensor is used with a special lens (described below), it will provide an even wider angle of view.
Camera Lens: Another factor that determines the view angle is the camera's lens, which is usually noted in "mm" (millimeters). The smaller the size (mm), the wider the view angle. The larger the size (mm), the further distance the camera can focus. The most popular lens sizes are 1.7mm, 2.8mm, 3.6mm, 6mm, 9.9mm, 20mm, 35mm, etc. Typically the 1.7 and 2.8mm camera would result in the widest angle of view. You must remember that the lens and image sensor area size BOTH impact the view angle. For example, if you have a 2.8mm lens with a 1/4″ image sensor, it won't result in a wider shot compared to a 1.7mm lens with a 1/4″ image sensor or 2.8mm lens with a 1/3″ sensor. Many of the cameras on the market use the fisheye lens to give a wider shot, but some of the higher quality backup cameras use technology to minimize the distortion.
Audio: Not all aftermarket backup cameras have audio capabilities. Audio is definitely a plus, especially when someone is assisting you backup your vehicle as you can hear them giving you instructions through the camera! Keep in mind that cameras with audio must have a microphone that is mounted in the camera body and, in some cases, not as weatherproof as to the camera. This flaw can allow water to get into areas of the camera that wouldn't otherwise.
If you are using an OEM navigation system as your monitor, it's important to know whether or not the system supports audio before you buy the camera. Many of them do not.
Lastly, most cameras also provide a reversed image to appear as a rearview mirror would, but some of the cameras offered to provide the ability to change this to a normal viewing mode. And, of course, a vast majority of the aftermarket backup cameras automagically turn on when the car's transmission to put into Reverse.
Backup Camera Voltage Rating
A vast majority of the aftermarket backup cameras on the market today work with 12V power, but some cameras and/or monitors require 24V or 32V power. A unit that is made specifically for automobiles is designed to operate with often changing voltage levels (with a normal range) which are produced by the automobile's battery and alternator. As a consumer, you need to stay away from security/surveillance cameras that are trying to be passed off as backup cameras. These cameras will not work on your vehicle easily.
Wired vs. Wireless Backup Camera
The Short Story
When choosing an aftermarket backup camera kit, this is the most common question people are asking. Should I get a wired or a wireless backup camera system? The answer can be as complex or as simple as you want it.
First, there's a single question you should ask yourself: Am I willing to give up quality for convenience? If the answer is "Yes, I don't really care as much about the quality of the picture as I do about an easy installation", then proceed to buy a wireless backup camera. If the answer is "No, quality of picture and reliable connectivity are far too important for me", then a wired backup camera should be your choice.
Regardless of your answer here, it's still a pretty good idea to continue reading the learn the details of the decision. It's important that you get the backup camera for your scenario to ensure you gain the most safety benefit from that decision.
The Long Story
Wireless Backup Cameras
Technology for wireless aftermarket backup cameras has come a long way in the past few years, but with an increasing number of wireless products that have hit the market, which includes Bluetooth phones, satellite radio, CB radios, and wireless Internet, it's likely that you will suffer some interference when using a wireless backup camera. This means that not only will it affect the quality of the picture coming through to the monitor, but the camera will also act a little funny as well. They will turn on at times they shouldn't, and sometimes you won't be able to get any picture at all. Additionally, there are more parts to a wireless backup camera than a wired backup camera with the inclusion of a transmitter. If the transmitter malfunctions, they can be difficult and expensive to replace.
Of course, wireless cameras are much easier to install, which is where we get the 'convenience' benefits since there is no need to run a cable from the rear of the vehicle to the monitor on the dashboard, and the antenna is typically built into the camera for an even simpler installation. Some wireless cameras have a separate antenna that can be positioned for better reception, but this does complicate the install slightly.
For car and truck owners, wiring a backup camera shouldn't take more than a couple of hours of work or $100-200 to hire a professional installation system done. However, this is not true for RV owners. The benefits of a wireless system are much greater due to the effort it would take to install a wired system in an RV, but the monitor is so far from the transmitter that the interference is no the only problem; now they have to worry about range as well. Very few wireless backup systems on the market today will provide you with comparable quality to a wired system with the range required of an RV, but there is one that stands out among the competition: The Voyager WVOS511 Digital Wireless Observation System. They Voyager WVOS511 features WiSight technology which eliminates interference by digitally locking to the monitor's receiver and ignoring outside signals. As well, it has a range that will cover 90ft, which is well beyond the length of any RV!
Wired Backup Cameras
As compared with a wireless camera, the wired systems provide a much higher quality picture and are extremely reliable. They are especially good for long vehicles such as RVs, but the installation can get quite hairy unless the RV is pre-wired for a camera. In a car or truck, the wired installation typically only takes a couple of hours or $100-200 for a professional installation. In an RV, this is complicated mainly by the length of the vehicle. Many RV owners run the cable underneath the unit and come in through the floor if in Class A, or to the hitch if a fifth wheel or travel trailer. For those with a fifth wheel or travel trailer, the wired system does mean that there's one more set of wires to remember to hook up when you connect the hitch. However, you'll never need to worry about your reception with a wired system.
How to Install a Backup Camera - Backup Camera Installation
Due to the immediate impact backup cameras have had on modern society, most of the new cars that roll of the assembly line these days are outfitted with one, and it will likely be required for cars by 2014. The view of what's behind your car before backing has not only lowered insurance claims, but it's saved the lives of many children in just a few years. Additionally, the device has made it much easier to parallel park.
But with that said, the average age of vehicles on the road today is 10.8 years; up from 8.4 in 1995. This means that most of the automobiles on the road do not have the advantage of this feature. If your plan is to keep your current car but still want the benefits and peace of mind that comes with a backup camera, then you're in luck! They are relatively inexpensive and are not very difficult to install yourself.
The manufacturers of backup cameras are producing a wide variety of DIY kits. Of course, the cost does vary based on a few key elements that determine the quality of the signal and picture the unit produces.
Last Updated: 30th Jan, 2021