Introduction
If you use a boat, car, RV or ATV, you know how hard it can be to find the right accessories for it. But among the hardest accessories to pick, you have the speakers. Right?
For that, we recommend searching among our best marine speakers reviews, and you may find the right product for your boat.
We made an amazing list of twelve of the best options out there with a superb build, excellent sound quality, and more.
Interested? Come and find out!
Brands
Our Marine Speaker Reviews
So you want to enjoy some sweet sound on your boat, and looking for great options? No doubt, the following marine speakers' review will help you out.
BOSS Audio Systems ATV20 Powersports Plug and Play Audio System with Weather Proof 6.5 Inch Component Speakers Review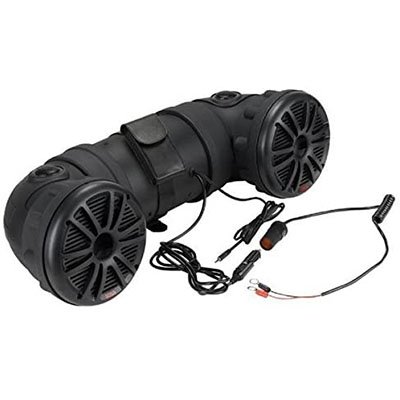 The weatherproof construction of the Boss ATV20 PowerSport Marine Component Speakers is outstanding. That's what this option stands out for; having one of the reliable and most resilient constructions out there.
These polypropylene carbon cone woofers at 6.5 inches with rubber surround have a perfect sounding capacity, and this also makes them really resistant. You can add the PIE soft dome tweeters for even better results.
You can plug these speakers to smartphones, mp3 players, or just anything with a 3.5 mm audio jack. The frequency goes from 45Hz to 25Khz which is really incredible for its size.
And when you consider that you can plug it to any 12v power source, this set of speakers becomes hugely versatile.
All of this with the built-in amplifier that adds top-notch quality to your music as it provides sharp sound at up to 450 watts of capacity in its amplifier. This makes it an outstanding choice for those who like loud audio.
The construction is entirely weatherproof using UV coatings, plastic surfaces, and exceptional coating protection for circuit boards and wires. This makes it highly reliable for long times while making it resistant to corrosion and all weather elements.
And to make this set even better, you get all the mounting hardware and wiring for easy installation wherever you want. You can mount it on your boat, car, RV, ATV, or even in a motorcycle and enjoy high-quality audio without issues.
Pros
Top-notch amplifier with 450 watts of sound power for better quality
Excellent weatherproof construction with plastic surfaces & UV coatings
Versatile operation with a 12v connector that works in all kinds of vehicles
Cons
Sounds may get a little distorted with really high volume
Rockville RWB80B Pair 8" Black 2 Way 600 Watt Marine Wakeboard Tower Speakers Review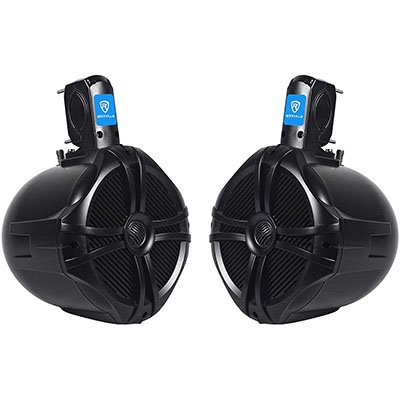 When you have a pair of speakers that give 600 watts of power together, you can say you have the best marine tower speakers for a loud sound. The capacity of this set to provide exceptional quality without leaving behind strength gives it a fantastic place on this list.
It is a pair of tower speakers at 8 inches in black color and ideal for anyone who wants something easy to install & versatile. They are not like other options that go inside the dashboard of the boat or over it.
Instead, you can hang them wherever you want with the nylon mounting bracket & embedded steel. You also have other parts made of stainless steel that works for mounting them wherever you want.
And of course, all this without mentioning how resistant they are. Add this to the marinized build that protects it against water, rust, salt, and rain – and you'll have a very reliable product entirely.
To all its build, you also need to consider the rubber gaskets that cover the terminals, alongside the injected cone with polypropylene and mica that make the pair even more resistant.
The Santoprene Surround comes along to increase the sound quality, making it easy to play distortion-free music.
The speakers have a Magnet Motor Structure with Y30 High-Density Magnets and 1.25-inches Kapton Voice Coil, this increases overall sound quality exponentially. Consider all this, and you have a product that doesn't disappoint.
Pros
High-quality & unique hanging design that fits all kinds of vehicles
Top-notch 300 watts of power in each speaker for excellent sound quality
Highly resistant and reliable construction for all types of weather & uses
Cons
Sound tends to distort heavily when using at high volumes
Rockford Fosgate R14X2 Prime 4-Inch Full Range Coaxial Speaker Review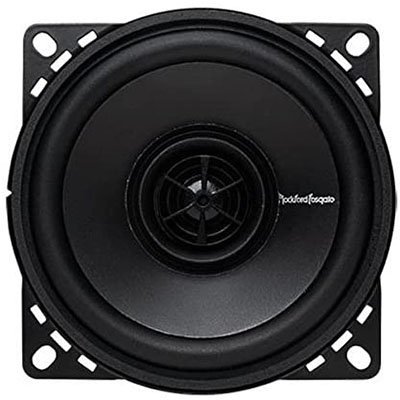 At 4-inches, the Rockford Fosgate R14X2 is a superb option for anyone who expects exceptional sound capacity with no distortion. Even though it offers only 30 watts of RMS, these speakers provide the chance to enjoy the clearest and most enjoyable music tones.
You can enjoy all its capacity almost anywhere you want, thanks to a high-quality mounting design with grilles and high-pass crossovers. The mounting hardware is also reliable, perfect for installing it in virtually any place without any issue.
These don't come precisely with a marinized build so you can keep them free of moisture or enjoy tremendous reliability in boats. However, they will still make pretty an excellent choice for anyone who's on a low budget.
The speakers are made of polypropylene in the cone, which means they offer decent resistance to all types of weather factors.
You can add the rubber surround to this outstanding build, which alongside the stamped steel basket and the silk dome tweeter achieve magnificent sound quality & reliability.
The frequency goes from 100 Hz to 20 kHz which is excellent for its size & capacity. You'll get very clear sound without leaving anything to be desired. The music may not be the loudest out there, but it will still be decent enough for your needs.
Overall, you couldn't say this set of speakers will blow your mind in quality and performance. But you could say it is a high-quality set of budget marine speakers for anyone who can't spend much. And for that, they deserved a good spot on this list.
Pros
Small & reliable design that fits almost anywhere without issues
Very resistant construction with rubber & polypropylene for decent marine application
Unbeatable price for its quality
Cons
Its bass doesn't have much to offer
Kicker KB6 2-Way Full Range Indoor Outdoor Speakers Review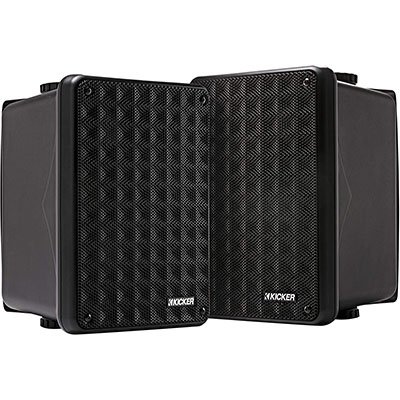 An outdoor speaker is always an excellent choice to consider if you want a marine option. But they aren't merely for outdoor use; the Kicker KB6 Pair of Speakers offers a wide array of benefits that you won't get over with.
Everyone knows Kicker for their small-budget quality capacity. They don't have to be expensive to still be among the most reliable and better-sounding options out there. These speakers can meet 150 watts of peak performance for a loud and clear capacity, using 8-Ohm for the bass.
You can use them where you want as well, due to the versatility mounting design. Whether it is on a wall, on the dashboard, in the ceiling, or wherever you want – these magnificent speakers won't let you down.
Thanks to their 6.5-inches woofer and the 2×5-inches size, you can expect a lot from them. The polypropylene cones and the surrounds with Santoprene offer the ideal mix between excellent weather resistance and superb sound quality.
The best of these speakers is the ability to emit sound through large distances which makes them even better. You can install them practically anywhere on your boat, and their sound capacity will reach all across the vehicle without problems.
You can expect a lot from these speakers, especially when considering their frequency at 55Hz to 21kHz, ideal for clear & still loud sound quality.
If you want something that doesn't disappoint and still manages even to surprise you – then the KB6 speakers are a choice not to overlook.
Pros
Outstanding sound quality for exceptional clearness & decent loudness
Very reliable build with polypropylene cones & Santoprene surrounds
Hugely versatile & easy to use mounting hardware for better results
Cons
Doesn't come with an amplifier so you'll have to get one
Pioneer TS-MR1640 6.5-Inch 2-Way Marine Speakers Review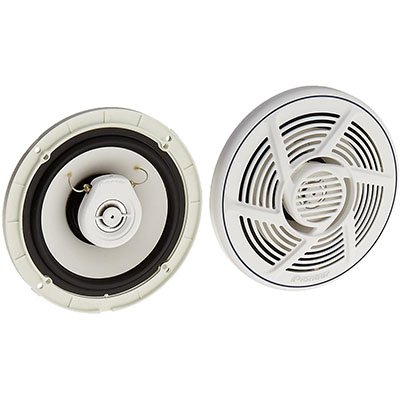 When we talk about Pioneer, we talk about one of the best brands in the sound industry. The clearness, reliability, and massive prestige behind this brand make it among the most sought-after options – and this set of marine speakers is not an exception.
We start with the IMPP composite cone construction, that not only helps with polypropylene to increase sound quality but also makes it outstandingly resistant to heat, salt water and all kinds of moisture.
Then you get the 1.15-inches poly-ether Imide dome tweeter, excellent for rich sound quality, especially with the highs. Still, it comes with magnetic fluid that not only improves the sound even more but makes the whole build even more resistant to humidity.
Alongside the cone & the tweeter, you also have the elastomer surround. It is ideal for marine use due to its hugely solid build, coming with anti-color-fading resistance.
Then you also have a glass fiber reinforced basket and a magnet cover, ideal for keeping them working for hours under challenging situations.
And surely, all this without mentioning the gold tinsel wire that improves overall current transfer, even under moist circumstances.
You won't ever experience a fault in connection or transmission, the AES grilles will never fade or change color, not even the rainiest or hottest day will damage these speakers. So you are getting not only tremendous quality only Pioneer can offer but also one of the most reliable options out there.
Pros
Fantastic sound quality with highs and lows with little distortion
Excellent build with polypropylene cones, poly-ether dome tweeter and elastomer surround
Hugely reliable magnet cover with reinforced basket & AES grilles
Cons
The sound could be louder
Rockville DWB80B Dual 8" Black 800 Watt Marine Wakeboard Tower Speaker System Review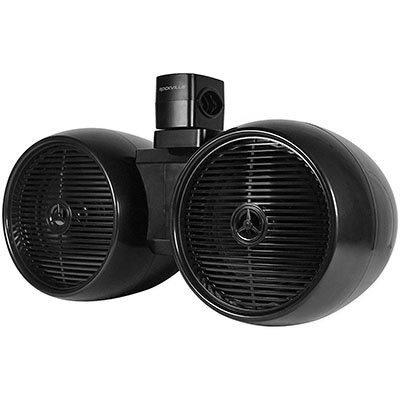 If you are looking for large speakers, then this tower system by Rockville will not disappoint you. This system is made for resisting even the hardest marine situations, with excellent UV rays, saltwater, freshwater, and overall humidity protection.
The construction of these speakers is based on a heavy duty ABS enclosure, supported with an adjustable nylon bracket for mounting.
Still, you get a titanium dome tweeter that lasts like no other. You can add the two-way crossover network that helps to resist even more & provide excellent sound.
All the terminals come with rubber gaskets. Then the polypropylene mica cones and the rubber surround help the set to be one of the most durable out there.
You can add the magnet motor structure for exceptional capacity.
You also need to consider the vast array of mounting options so you can install them on an ATV, a Jeep, a boat, or wherever there's a wakeboard. The superb small design and excellent sound quality will make these speakers very enjoyable.
And the sound quality doesn't stay behind. The DWB80B system comes with an 800-watt power handling that will make your boat rock with loud sound and excellent clarity.
Also, the frequency goes from 40 Hz to 20 kHz so you can hear extraordinary highs and still enjoy decent lows.
All this comes with the versatile mounting options, the attractive design with black color, and more. And the considerable resistance it offers will make your experience unbeatable.
You can enjoy a hugely reliable sound quality without having to spend a fortune either, ideal for budget users.
Pros
Superb power handling at 800 watts for better amplifying capacity
Top-notch marinized construction with ABS enclosure, polypropylene, and rubber
Extremely versatile installation with nylon bracket for mounting on any vehicle
Cons
Can be pretty significant and challenging to install in small boats
Kenwood KFC-2053MRW 8 Inch 300 Watt Powersports/Marine Boat White Speakers Review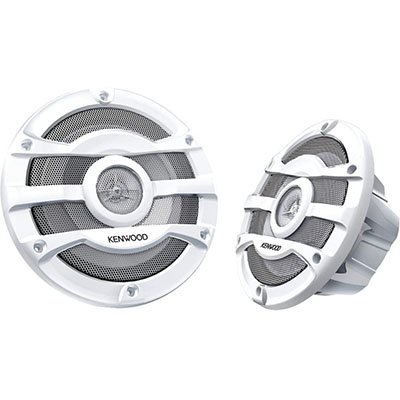 When it comes to marine speakers, only a few brands will offer what Kenwood is capable of. And the KFC-2053MRW Model is an 8-inches set that won't let you down.
The whole construction manages to deliver excellent water resistance, making it perfectly marinized for all kinds of boat installation. With a polypropylene cone and a rubber surround, you can enjoy an excellent build that lasts years and works without problems no matter the situation.
The whole build is outstandingly resistant to UV rays as well, including dust, and much more; thanks to a stainless steel grille that stands all kinds of uses.
You will also get large 8-inches speakers with a 1-inch dome tweeter; excellent for exceptional performance and ease of installation. Especially when you consider the ability to reach 300 watts of peak power handling, you get a set of speakers that will rock your boat entirely.
You may also add the 55 Hz to 20 kHz frequency response, excellent for a wide array of tones, making it sound perfectly at all times. Even the most challenging and loudest sounds will be ideal in this set of speakers.
For installation, you won't have to do much as it comes with all the screw sets, nuts, and more to make it pretty easy.
It fits a wide array of dashboards, and may also work in walls or ceilings if needed. What makes them so amazing is the capacity to deliver sound in a large space quickly.
Pros
Large 8-inches speakers for bigger boats and vehicles
Top-notch 300 watts power handling capacity for a louder amplified sound
Excellent construction for a more reliable & resistant performance
Cons
The tiny connector can be difficult to adjust on your boat
BOSS Audio ATV22C Amplified Sound System Review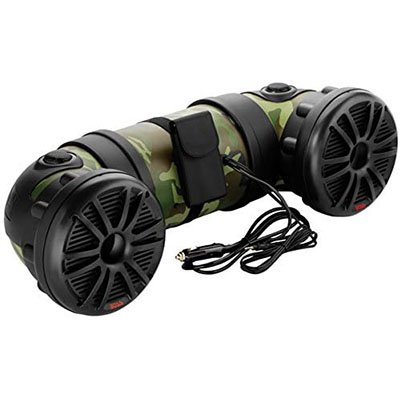 Boss is undoubtedly among the best brands in the market, and with the ATV22C, they come with the loudest marine speakers out there. The ability to provide top-notch audio quality with a two-way system is unique, especially with the 450 watts max amplifier capacity.
Further, you can enjoy a frequency response that goes from 15 Hz to 25 kHz. This means you can enjoy the superb sound without almost no downsides, keeping bass excellent & highs enjoyable. Things get even better with the 1.5-inches soft diaphragm tweeters that improve overall performance.
The speakers come with a cone design and with a 6.5 inches size, ideal for excellent sound without leaving quality behind. It comes with a superior AUX connector that you can use with smartphones and MP3 players using a 3.5mm jack.
The whole construction is made of high-quality materials for great results. It is entirely water resistant using polymer, excellent for better sound for years without leaving anything to be desired.
Every component is wholly marinized, ideal for making the speakers much more reliable over time and highly convenient even under difficult situations. They are either made with polymer, rubber, propylene or with a superb corrosion-resistant coating to prevent damage from humidity.
The installation system is based on only a Plug-N-Play method that you can enjoy without having to go over complicated steps to make the speakers work. Add this to the rest of the system, and you get one of the most beneficial speaker systems for marine use.
Pros
Superb 450 watts power handling capacity for excellent amplifying results
Versatile Plug-N-Play design with AUX port & straightforward installation system
Outstandingly reliable construction with polymer, propylene & rubber
Cons
Cable connections tend to produce distortions due to static
Kenwood KFC-1653MRW 6.5" 2-Way Marine Speakers Pair Review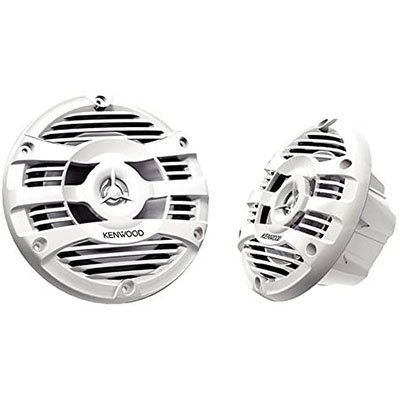 If you aren't looking for the loudest sound out there, you can get the KFC 1653MRW model from Kenwood and get exceptional results. A pair of two-way speakers at 6.5-inches will not let you down if what you're expecting is a decent performance.
They can even go to 150 watts of max power with an amplifier, which makes them decently loud for small and medium boats. To this, you may consider the 60 Hz to 20 kHz frequency response that delivers superb capacity, with low bass but excellent sound clarity.
You can add the 1-inch balanced dome tweeter alongside the polypropylene cone woofer, making a very well-made marinized set of speakers for great results.
Saltwater, freshwater, dust, sand, or even humidity will stay out of these speakers, so you have a very durable experience.
They fit anywhere as well, with a 6.5-inches size you can make them work in different kinds of boats without issues. You'll receive the perfect cone design for easy installation, and they demand little to no work. Just connect them to a component, and that's it.
If you aren't expecting too much of a performance but still want something decent, these high-quality speakers from Kenwood won't let you down.
Whether it is a large boat, an RV, or even a Jeep – the capacity to sound well enough and provide exceptional resistance is unique. So don't dismiss them.
Pros
Extremely well-made with polypropylene for a more resistant performance
Superb high-quality sound with little distortion
Completely straightforward installation system with cone design and size
Cons
Not the best sound at high volumes
JBL MS-6520 6-1/2'' Two-Way Coaxial Marine Speakers Loudspeaker Review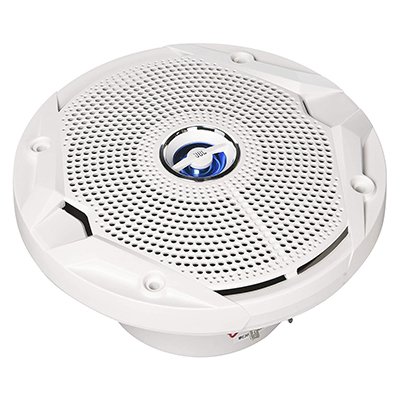 You cannot talk about speakers without mentioning JBL, and the brand didn't fail with the JBL MS-6520 6-1/2'' Two-Way Coaxial Marine Speakers Loudspeaker. With it, you'll get one of the best audio qualities out there.
The audio is very balanced and there isn't one particularly dominant frequency range, which is important for any speaker – especially marine speakers, where you might experience a lot of background noise.
The only downside of the sound quality is that highs can be too harsh. This may quickly cause ear fatigue.
The sensitivity of the MS-6520 speaker is 90 dB, which is pretty standard for most marine speakers. However, it is very loud. In fact, it is probably the loudest speaker on our list.
The continuous power handling of this product is 60 RMS watts, which is okay but it's far from great. Also, the peak power handling is 180 watts, which also isn't too impressive.
The polypropylene cones give this marine speaker more speaker-cone area than most other cones in this price range. As a result, this product has an increased low-frequency output, greater musical character, and higher sensitivity.
To top it all off, this speaker is very durable. It will last you for years.
Pros
Very loud, so you can hear it from afar
Balanced sound which is essential when on water
Easy to install in almost all vehicles
Cons
Weak power handling
Harsh high sounds
Considerations When Buying Marine Speakers
So you are looking for the best marine speakers possible, but you can't find the perfect choice according to your needs. This mainly happens when you aren't sure what to look for.
Here we explain all the critical factors to consider before buying one:
Size
You can find speakers of many different sizes according to the space you have on your boat as well as the performance you are expecting to get.
The first and smallest option is the 4-inches speaker. It is excellent for small boats with an engine not too loud so you can hear from the speakers well.
The 5.25-inches is another option and probably the most common, ideal for all kinds of boats but perfect for those who are looking for a reliable choice.
Then the 6.25 and 8 inches speakers can be pretty useful for those who want a powerful performance. They are large, so they need a lot of space for installation, yet they manage to offer exceptional sound quality most of the time.
Types of Speakers
Here you can find three significant classes; recessed speakers, tower speakers, and conical speakers. Each one offers its own set of advantages and disadvantages.
Recessed Speakers: These are often small (4 or 5.25 inches) and offer the chance to hang them on the walls, dashboard or ceiling of the boat. They aren't the loudest or with the highest-quality sound, but manage to offer great results for small boats with little installation options.
Tower Speakers: These can be pretty loud and powerful, and they usually go on wake towers of boats or specifically installed in places where they won't fall. You can find these of many different sizes, but most of them don't go over 8-inches.
Conical Speakers: If you see a speaker inside a square box, that's probably a conical one. They could also come like recessed speakers with only the part that makes the noise, but they tend to be much larger (up to 8 inches easily) and provide excellent loudness & sound quality.
Waterproof Build
A marine speaker needs to come with polypropylene cones and neoprene or similar surround. The metal parts should be resilient to corrosion and rust as well, made of stainless steel for the best results. And with the plastic parts, you should get something like polymer, resistant to UV rays.
This way, a marine speaker can offer the best experience possible without leaving behind durability. The whole purpose is to be able to use the product even in the most humid situations.
Still, you'll find several options out there with different types of build. Some may not even offer a marine construction but can always be pretty useful in humid situations. For the best results, however, pick something that stands in difficult weather.
Power Handling
This refers to how much power the speakers can use to produce sound. It is obvious that the more power the speaker uses, the louder and clearer the sound will be. But this also means you can use a larger and more powerful amplifier so the speaker can sound even better eventually.
For a marine speaker, anything between 50 watts and 250 watts would be enough. If you want the best experience not to let your boat engine, you may find the loudest & more powerful speakers at up to 450 watts.
Frequency Response
Most speakers have a frequency response to give away their audible frequency capacity. Here you won't obtain precisely the best results with the more significant numbers. Instead, you need to look for something that has great highs and lows.
Yes, the first number of a frequency typically goes between 20Hz and 60Hz. With something below 30Hz, you get excellent bass, but the sound doesn't offer that much quality.
At 20Hz, for example, you'll feel how the bass resounds your body, but the sound won't be that clear.
The higher frequency delivers almost all the other sounds in your speaker. If the number is high, it means you'll get a larger array of notes at a slightly higher volume. However, you need to compare this number to the first one.
If the speaker says 50 Hz – 25 kHz, you may have a very loud sound but not a decent bass. Otherwise, you may go for something with 30 Hz – 20 kHz that will have better bass but not that much volume or high notes.
If the range varies and goes lower in the low number and higher in the high number, the better your speakers will sound. To enjoy the high frequency, you should also take care of your speakers.
Installation
If you want the best set of speakers for your marine activities, we recommend they come with a reliable and still versatile installation system. Here we recommend a resistant-enough material such as stainless steel or polymer for the speakers.
You should also consider their size and how much space you have on the boat. It is common to need additional adjustments before finally installing your speakers.
Whatever you pick though, remember to go for the ones that come with all the installation items, especially wires & connectors.
How to Install Outdoor Speakers
When you're lying idle on your lawn hammock or having a backyard party, an outdoor speaker might be the best companion for you. With heavy beats and rhythms, they'll certainly give lives to the party!
But every good thing takes its toll of setting them up. And there is no exception with outdoor speakers as well.
In case you are new to this process, we've crafted a whole list of steps in this regard. Take a few minutes of break, and go through the whole process-
Step 1: Determine The Location of The Speaker
Before taking the first attempt to install an outdoor speaker, you need to figure out the right place. But, this might not be quite on your hands, as most of the speakers tell themselves about the type of place you should install it.
Based on the placement and location variation, there are a number of outdoor speakers. Have a look:
Wall of ceiling speakers.
Rock speakers.
In-ground speakers.
In general, the most useful kind is wall or ceiling speakers. So, we would pick that up for this discussion. Lawn, patio, outside wall, deck, etc are the right places for these sort of outdoor speakers.
Select the right place and move forward to the next step.
Step 2: Prepare The Opposite Side of The Wall
You are going to install the outdoor speaker right at the outer side of the wall. So, there will be drills and holes, creating dust and debris at the opposite side of the wall. So, take a drop cloth and cover the opposite floor of the wall. Make sure whatever comes out from the access holes, are caught onto the cloth.
Step 3: Create Wire-holes In The Wall
Once you're definitely with the right spot to set the speaker up, start drilling the wall to create holes to pass the wires.
If you want to connect the wires with a wall mount power socket, you might drill the holes horizontally. But in case you want to take the wire to the floor, you have to drill angled holes.
Step 4: Make The Both Ends Meet
What we mean is, you need to make sure that the drilled holes have equal size of openings on both sides of the wall. In order to do that, you might try drilling holes from both sides in the same direction.
But the best idea would be to drill with a machine that reaches all the way down to the other end of the wall. Otherwise, it's going to take a whole lot of guesswork.
Step 5: Pass The Power and Audio Cable Through The Hole
Once you're done with making a properly accessible hole, it's time to pass the essential wires through it. If the wall is made of wood, that might not be a tough task to go through. But if it's a cement wall, you might need some extra help.
What you can do is, you can take a strong but thin stick as a medium. Tying up the wires with the stick will help you to take the wires all the way through the wall holes.
Make sure to take both the power wires and the audio input jack at the same time.
Step 6: Create Covers For The Access Hole
No matter you've created one access hole or two, you just need to ensure that they are covered in a proper manner.
What's in the process of covering? Well, you can use a plastic or metal made blank at first place. This will secure the holding of the outdoor speaker as well.
To create even further insulation, you can use silica gun to create a waterproof, air-tight seal on the holes. While applying the silica get, make it certain that the wires are not harmed at all.
Step 7: Make Sure That There Is Enough of The Extra Cable
Although, you should be careful at this point before, you might have made it checked already. We are talking about keeping enough of the extra cable inside the wall.
Now, how long of the cable you have to keep inside? A rule of thumb is, keep that much length of cable through which you can create at least a few drip loops.
Drip look is a U-shaped jog on the cable that you can make between the wall surface and the speaker terminals. Drip loops help to run the water(from outside) down to the cable and drip off the bottom of the loop.
Step 8: Staple Down The Wire Run
Of course, your wires are going to be twisted and messed up unless you staple them up. Also, tangled and loosely hung wires can be a source of accidents.
Use a heavy duty staple gun to square off the whole wiring. Make the stapling at the equal interval and keep any kind of strain off the system.
Step 9: House The Speaker
We are almost at the end of our process. By now, you should be done with all the hassles regarded to wiring. Now, take the speaker and make a proper housing for it. Make sure to keep it on such a space where it's protected from dust and rain.
Step 10: Double Check The Connections And Power Up The Speaker
The final step is to power up the whole system. In case you have not checked the wire connections by now, make sure to check them once again.
Don't let any loose connection or loose stapling stay as they are. Use sealants like silica wherever you can. And if possible, stick the whole wire system to the wall. In this way, it won't create any extra tangling or loops on the floor.
The process that we've narrated was for AC powered speakers. If you want to avoid all these hassles regarding wiring, you can move one step forward for portable outdoor speakers. They might not give you the best bass and boost of music, but the installation process is, of course, simpler and quicker.
Why Trust Us
Our whole purpose is to give ideas on what is and what's not the right product to pick. When it comes to the best marine speakers, you can find thousands of options that won't meet your standards, so we made it easier for you with a review of twelve options that won't let you down.
We are expert in what we do. For us, it's not about choosing whatever product offers a high price but instead picking the ones that do it all to promote a more reliable and enjoyable performance without letting anything to be desired.
We've been in business for years, so we know exactly what you are looking for in terms of quality and capacity.
Whether you are an enthusiast or someone just looking for a reliable set of speakers for the boat – this guide is the perfect option to learn and to buy the right product.
Conclusion
It has little importance if you are a first-timer with sound items in your boat, or if you are already experienced with years buying these products.
With the best marine speakers, you'll have exceptional choices to pick from without having to waste a fortune. You just need to pick the one that fits your needs and your budget, and that's it.
The different options you have here will make you meet your requirements, even if you are a demanding person. So just choose the one you like the most, and you'll have a product that will make your boat ride better.
---
Last Updated: 2021-01-30 by Tumay Kilinc