Introduction
Finding the right backpack or daypack for traveling can be tough, you need to make sure that it has enough space for everything that you need to take traveling with you, it needs to be comfortable, and small enough for taking on planes and public transport. To make life easier for you, we have compiled a list of the best travel backpacks, based on the below criteria.
Things to consider
Space
A tiny backpack is useless for travel, unless you are an extreme minimalist! A great backpack for travel should ideally have at least 20 liters of space at a minimum. Some backpacks that have been especially designed for travel fold in on themselves so that you can store them away easily or to take them in your suitcase when traveling on a plane so that you don't have to pay to take as much luggage!
Comfort
When traveling, you are often carrying lots of stuff with you while walking long distances, so a comfortable backpack is a must. The travel backpacks that we are reviewing here all have lots of padding on both the shoulder straps and the back of the backpack to avoid discomfort to your shoulders and back. While not mandatory, waist and chest straps can be useful, especially if you are going to be hiking on your travels.
Pockets
A well organized system of pockets in a backpack for traveling can be a lifesaver, especially when you are rushing for a flight and having you go through all your stuff to look for your passport. Also look for a backpack with a laptop sleeve that will protect your laptop or tablet if you decide to take it with you while traveling. Some of the backpacks for travel that we are reviewing also have extra security features that make it harder for thieves to access items in the compartments of your backpacks.
Style
Not the most important thing, but if you are going to be wearing your backpack all day you might as well get one that looks good!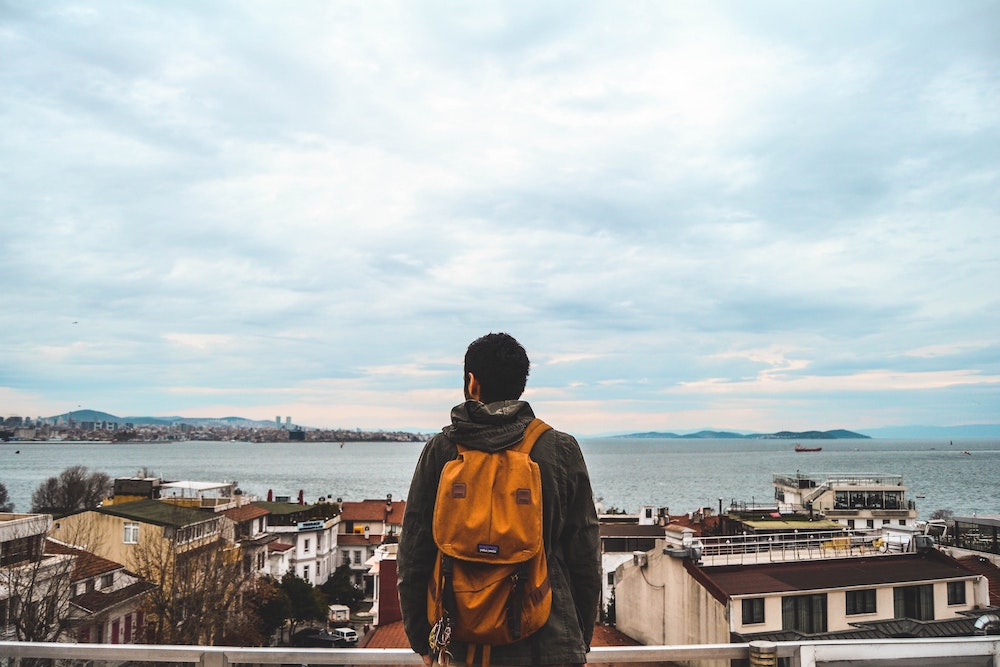 Best Daypacks for Travel
The New Outlander Travel Daypack
The New Outlander Travel Daypack is a great backpack that is available in multiple sizes to fit your needs, the 20 liter size is great for shorter trips, while the 33 liter size is ideal for longer vacations. This backpack comes in 9 different colors and is very reasonably priced. To take up less space when you are not using it, this backpack can be folded in to one of the inner pockets, which is great if you want to take it on a plane in a larger bag and then use this one for carrying smaller loads when you arrive at your destination. This backpack comes with a lifetime warranty, which is quite rare for a backpack in this price range, so you know that you are buying quality.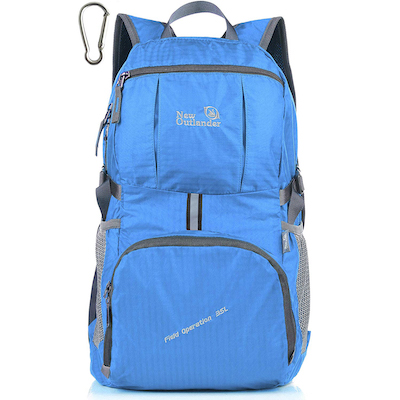 There are many different pockets on this backpack including two large compartments, a front pocket and side mesh pockets that you can use for water bottles, though one negative is that the main compartment does not have a laptop sleeve.
This is a comfortable backpack with plenty of padding on the straps, making it comfortable for most trips, though due to the lack of chest or waist straps we do not recommend this backpack if you are planning on taking this backpack on long hikes.
Overall, this is a fantastic backpack for traveling with and we highly recommend it.
SwissGear Travel Gear 1900 Scansmart TSA Laptop Backpack
The SwissGear Travel Gear 1900 Scansmart TSA Laptop Backpack is one of the best backpacks around for traveling with, especially if you fly a lot as it has many unique features that were created with frequent flyers in mind such as the easily accessible laptop compartment that can be accessed without removing all of your luggage and is designed to make getting your backpack through TSA checkpoints, including your laptop, as easily as possible. This is quite a stylish bag, and is available in four different colors.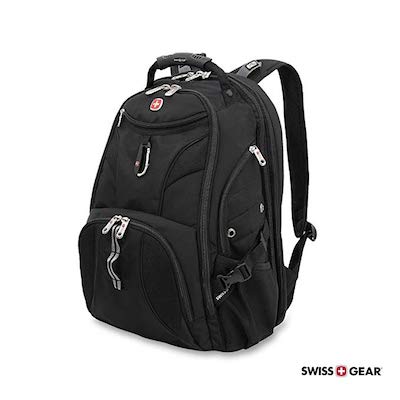 With a capacity of 31 liters, this backpack has lots of room to pack everything that you need for your vacation or trip such as clothing, books and toiletries. It even stores laptops up to 17 inches in size inside the easy access laptop compartment. There are a huge number of pockets to organize your possessions in and there is even a headphone port so that you can keep your phone or mp3 player safely in your backpack and still listen to music. If all of that storage space isn't enough then the SwissGear backpack also includes a carabiner to attach other items onto the outside of the backpack and side pockets for water bottles.
The backpack is extremely comfortable with generous padding on both the shoulder straps, and the back of the bag. It would have been nice for this backpack to have chest and waist straps for extra support when carrying heavy loads, however it is still very comfortable. The straps also use webbing to allow air to pass through so that your shoulders do not become too sweaty.
Venture Pal Lightweight Durable Travel Backpack
This is a high quality and high capacity backpack designed for traveling, that with a capacity of 35 liters, is great for longer trips where you need to carry a lot of stuff with you. Similarly to the New Outlander backpack, the Venture Pal can be folded in on itself to make it very small for easy storage, which is perfect for high capacity backpacks like this one that would otherwise take up a lot of space when not being used.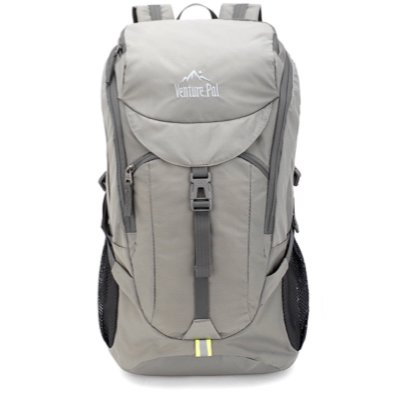 The Venture Pal is made from high quality water resistant and tear resistant fabric that is also lightweight. There are lots of compartments both internal and external including an internal laptop sleeve, two front pockets, and two side pockets that are ideal for items such as water bottles.
The straps are comfortable and have a mesh covering to top you from getting as sweaty while carrying the backpack and there is also a chest strap which makes the backpack for more stable when you are carrying larger or heavier loads while you are traveling.
While not the most stylish backpack around, it certainly doesn't look bad, and it is available in five different colors. Overall, this is a great and highly practical backpack for travel.
Kopack Business Travel Laptop Backpack
This is one of the smaller backpacks that are designed for travel and so is ideal if you are traveling on a shorter city break or traveling for business. If you like to carry your laptop with you when traveling, then this is one of the best backpacks around for keeping your laptop safe and secure as instead of using a sleeve in the main compartment like most backpacks, this backpacks's laptop compartment opens from the back of the backpack, which will stop people stealing it while you are wearing the backpack. The laptop compartment fit laptops up to 15.6 inches in size, and is very well padded, and also TSA compliant. There is also another version of the backpack that can fit laptops up to 17 inches in size. There are also zips that have hooks on them that you can put a padlock on to stop thieves from getting into the other compartments. The Kopack Business Travel Laptop Backpack looks stylish and professional and is available in grey and red.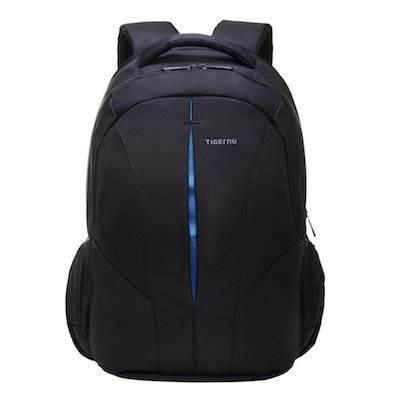 There is a lot of padding on both the shoulder straps and the back, making the Kopack a very comfortable backpack and it also includes lots of internal pockets that you can use for storing smaller items that may get lost in the larger compartments.
Coreal Large 35L Lightweight Packable Travel Hiking Backpack
With a volume of 35 Liters, the Coreal backpack is highly spacious and ideal for travel. Similarly to some of the other travel backpacks I have reviewed here, it can be folded in on itself and packed away when not in use.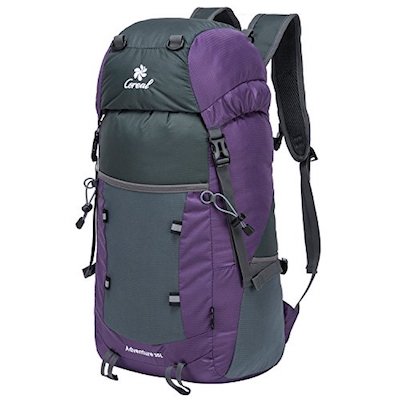 This backpack is both water and tear resistant, making it great for more challenging environments and climates and can also be used for hiking. The main compartment is tightened using a drawstring which makes this backpack very easy to unload and load and a flap is used to keep the rain out. Backpacks which use drawstrings and flaps to cover the main compartment are usually more water resistant than backpacks that use zips as water usually gets into the backpack through the zip.
The backpack is comfortable with plenty of padding on the shoulder straps and it also includes a chest strap to improve the stability of the backpack while you are carrying it. It is available in several different colors.
Mardingtop 50 Liter Hiking Backpack
If you are looking to carry a lot of stuff with you on your travels, then with capacity of 50 Liters, the Mardingtop backpack is ideal. This backpack is mainly designed with hiking in mind, but hiking backpacks are great for traveling with whenever you are bulky or heavy items as they are designed to be comfortable when trekking long distances and carrying heavy camping equipment.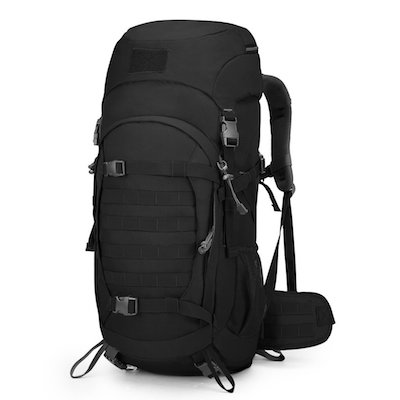 The backpack has two roomy main compartments and you can use the included compression straps to make the backpack smaller if you are not using it to it's full capacity. The main compartment can also be accessed from the bottom of the backpack which is very useful if you are storing a lot of stuff in your backpack and need to get to something at the bottom quickly, without removing the items at the top.
The shoulder straps and the padding on the back of the backpack are extremely comfortable and spread the weight of the bag well. There is also a chest strap and a waist strap to increase the stability of the backpack (a necessity with a backpack of this size).
The Mardingtop backpack is available in several different colors and also has reflective strips on the back to make you more visible at night. Overall, this backpack is great value for money and has much of the functionality of more expensive backpacks.
Tzowla Travel Laptop Backpack Water Resistant Anti-Theft Bag
This travel laptop backpack has many features that make it stand out from the rest. It has numerous pockets, allowing it to have as much storage as possible. In the main compartment, you can bring a laptop or MacBook ranging in size from 13 inches to 15.6 inches. Next to it, you have a spacious pocket for daily necessities, such as lunch, tech accessories, chargers, and similar. The front compartment alone has many pockets, as well as a pen compartment and a hook for the key fob. This way, you can keep everything organized.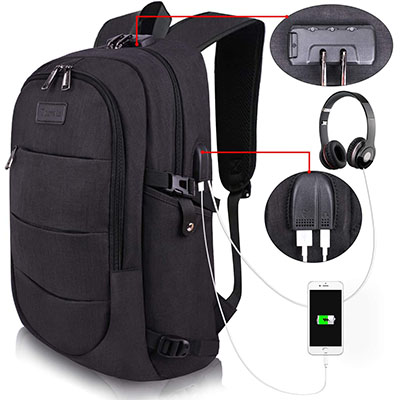 Another great feature this bag has is the USB and headphone port design. This way, you can quickly charge your device just by connecting your power bank. The headset port allows you to enjoy music without using your hands.
There is a lock that requires a password to open, making the backpack difficult to rob. The zippers are durable, making everything even safer. No thief could ever easily open the pack, let alone without you noticing him.
The backpack is made from polyester, making it very durable and practical. In short, this backpack is excellent for many different purposes. No matter if you need a school backpack or something to travel with, you should consider getting this bag.
ZOMAKE Ultra Lightweight Packable Backpack Small Water Resistant Travel Hiking Daypack
If you need a new travel backpack, you should consider purchasing this bag. It can easily fold, and you can even carry it in your pocket! This makes it a great additional bag that doesn't take up too much space. It isn't small – in fact, it has a 20L capacity, which is more than enough. Its main compartment is closed with two zips, and you can carry anything inside of it, from your laptop to food. It also has one decent front pocket, as well as two side pockets. This way, you can be organized no matter where you go.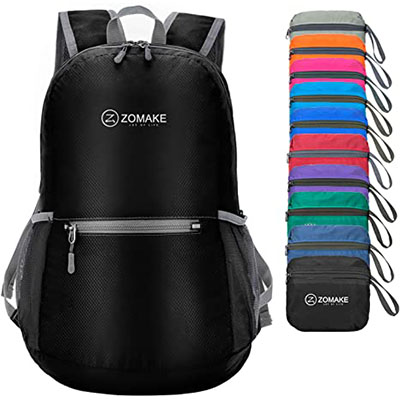 This backpack is water-resistant, so there's no need to worry about bad weather. It also has abrasion-resistant zippers, as well as additional stitching makes everything even more durable. This makes it great for hiking trips! When empty, the backpack is very light, and you won't even feel carrying it around.
If this isn't enough for you, the bag comes with a 100% satisfaction guarantee. In other words, you have 90% to report anything wrong with the bag, and you'll get a replacement one. This lets you know how confident Zomake is in the quality of its products.
Last Updated: 12th Dec, 2020