Complete Buying Guide for Best Baby Swings: Graco Vs. Fisher Price
Best Battery Powered
Graco Glider LX
Most Versatile
Graco Duet Soothe
Most Comfortable
Fisher-Price Snugabunny
What is the Best Baby Swing to Buy on the Market?
Using a baby swing can make all the difference in the world for the stressed out parents who are out there today. These swings can allow parents to lull their babies to sleep in a gentle but subtle way. When the swings are portable, parents are going to have an easier time with them in general. Sometimes, the best baby swing is also going to be able to easily convert into a rocker, and this is going to make it easier for parents to get the greatest amount of use out of the product.
The best baby swing is also going to have a lot of great features that parents and kids can both enjoy, and which will help make both of their lives easier in general.
Baby swings provide a simulation of the gentle and rhythmic motion babies experience in the mother's womb. A swing is an indispensable tool to parents especially when dealing with a colicky new baby. Swings also offer relief and ease in breathing for babies experiencing breathing impairments or a stuffy nose. Swings allow them to be in a fairly upright position while sleeping to alleviate sinus pressure. My recommendations and reviews will definitely help you choose the best baby swing for your little one.
Types of Baby Swings You can Buy for Your Little Angel
The main considerations in choosing a best swing to purchase are whether you need it to be portable and where you intend to place it in your home. With these 2 considerations in mind, there are two swing types to consider:
Full Size Swings: This style is for use indoors and for babies newly born up to a weight of 30 pounds, which depends on model specifications. The frame of this type is made of metal tubes and the legs stand far apart. The seat is suspended by two arms attached at the top middle of the frame.
Portable Swings: These swings are made for travel and popular with parents who need to take their baby with them throughout the home or to various locations. It is easy to assemble and sits low to the surface on which it is placed.
What are the Benefits of Buying Portable Baby Swing for Your Baby?
The beauty of portable baby swings is that most models include some music and plush toys for baby to entertain him or herself with. The fabric is also machine washable so if baby has a diaper accident, any of the portable baby swings being offered will be as good as new after a round of laundry.
The best portable baby swing is going to have enough settings that the baby is going to fall asleep easily. It will also be comfortable for the baby. Its features will be such that parents are going to have an easy time with getting their babies to feel at ease, and the swing is going to be easy for the parents themselves to use.
Purchasing best portable baby swing in store or online is easy. Shipping is sometimes included during some sales but even if it is not, the convenience of having a box shipped right to the front door is worth it. Assembly is easy, too. From box to baby, portable baby swings are a must have item for any parent – newbie or seasoned and for any baby from here to across the world.
Do You Need a Best Baby Swing for Sleeping to Be a Comfortable Enough to Sleep?
Babies need to be comfortable enough to sleep. Some baby swings are going to have natural vibration features that will allow babies to feel as if they are being rocked gently, even if the machine is doing all the work. This is going to allow the babies to really get into a pleasant state and a pleasant mood, so baby swings should have features of that nature.
How to Choose the Best Baby Swing for Your Little Baby?
Evaluate all the features with an eye toward safety and comfort for the baby. This is the list of features to be considered while shopping and choosing the best baby swing for your little baby boy or baby girl.
Features to consider
Frame: In the full-size style, make sure the posts are sturdy and that the distance between them offers enough stability to avoid tipping while the baby is awake and active. Look for ease of storage and assembly.
Accessibility: More current models of swings feature the "open-top design" which differs from past models in that there is no crossbar at the top of the frame. This innovation allows the parent access to the child from over-head as opposed to having to stoop down and remove the child from the swing while keeping clear of the bar. This design is infinitely preferable to the older models and will make using your swing much easier.
Seat Cover: The cover should be soft and padded as well as machine washable. It is best to have an infant head support that is removable. Other than that, it's a matter of personal taste and preference.
Seat Settings: There should be a minimum of three positions to be set for the baby's reclining. You will need this flexibility if you want the baby to be able to sleep in the swing. Some models also have height settings that can be adjusted to a raised setting to accommodate newborns and lowered for infants who have become more active.
Speeds: Swings that are powered by electricity or batteries can have as many as eight speeds. Four speed settings are plenty. Faster speeds tend to excite babies more than relax them. It is best to try the slowest speed with your baby and gauge the reaction before trying faster settings. The more the baby weighs, the slower the swing will move, so plan on increasing the speed to achieve the same effect as time passes.
Entertainment: Many swings are equipped with enjoyable diversions for the baby such as toy bars, tray and mobiles. Babies usually have no interest in the toy bar until they reach the age of 3 months. Toys need to be securely attached with no removable parts that can cause choking. Some models come with cute extras like music, volume control, lights and storage receptacles attached.
Convertibility: Since swings can only be used for between 6 and 9 months, it may be practical to choose one that can convert to other purposes as the baby grows. Some can transform to a bouncy seat, a rocker or to a portable carrier for the baby by removing the seat. Although convertibility translates to a higher price, it can save space in the home from the storage of extra gear. The amount of use you can get out of one pricier item may save more expense and hassle later on.
Buying recommendations
Never purchase a used baby swing. Parts could be missing, the restraint can be inadequate or certain parts could be broken. The risk for injury to your child is too great to gamble on an old swing.
Sturdiness and stability are the key factors in the frame that you want to find. The legs should stand far enough apart to prevent the possibility of tipping, but not so far apart that they protrude too far out to avoid tripping over them. The seat should have good padding and a 3 to 5 point safety harness. The seat should also offer reclining options to facilitate sleeping as well as an upright position.
Cradle-type models should be mounted firmly underneath and the frame connections should not be flimsy or loose. Look for safety certifications on the packaging. Allow for 30 minutes to construct the swing. Before you place your baby in the swing for the first time, operate it while pressing your hand down in the seat some to check for stability.
Brands
Best Baby Swing Reviews to Help You Choose the Right One
We provide top notch reviews of the best baby swings which are available for purchase today- as you may have guessed from the title! I take great time and care to thoroughly research every product which I write a review of in order to provide you with a detailed and honest view of the swing in question. All of this effort shall hopefully help you choose which swing is the right one for you and your young ones.
Graco Glider LX Gliding Swing, Affinia Review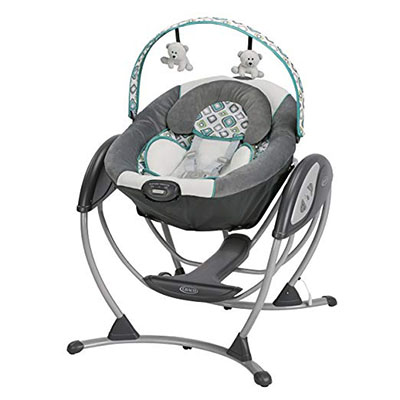 People who are looking for the best baby swing should really look into this one in particular. It really is the sort of stylish device that seems just as fancy as it is. It was designed to give parents and kids a lot of options. It should be comfortable for almost all babies. Parents can save money and energy using it. It's a solid product.
Features
Battery Powered
Can be plugged in with ac adapter
Two different vibrating settings
Three recline positions
Pros
This is a swing that uses an estimated forty percent less space than many of the other swings on the market today, so parents are going to have an easier time storing it.
Lots of people will love the smooth style of this product, which looks very different from many of the similar products on the market aesthetically.
The vibration settings work well, and people have options with them.
People can plug in this product and they can also use the batteries depending on their needs and on their desire to save money on power, which means that they are going to have a lot of options and they don't need to worry about wasting power.
Babies can pick between three different recline positions.
This is a much roomier swing than many of the others, so it is going to be comfortable for more babies.
This is a rare swing that works very well for older and younger babies.
This is a swing that is very easy for people to assemble in general.
Cons
This swing lacks the pre-programmed sounds and songs that a lot of people really love.
Some people might hear some clicking sounds with this swing that they might not like.
Fisher-Price Sweet Snugapuppy Dreams Cradle 'n Swing Review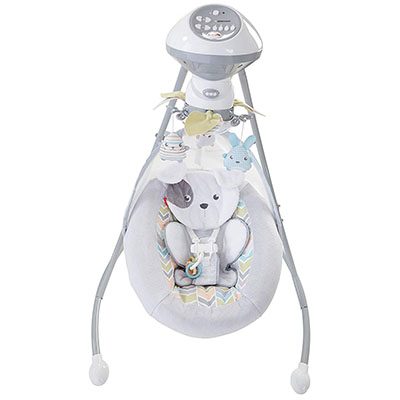 This is a swing that is going to make things a lot easier for parents in general. They are going to really be able to take it easy themselves with something like this. It has sixteen songs, so it is able to rock the children and 'sing' to them in its own right, and those are not the sorts of benefits that parents are going to be able to get in general from just anything. This is a device that is really going to help parents when they are the ones who are feeling tired and stressed. If you are looking for the best best baby swings that plug in then Sweet Little Snugapuppy is a great choice.
Features
Six swing speeds
Sixteen songs
Mobilized motor
Two speeds
Machine washable seat cover
Pros
With the six swing speeds, it is going to be easier and easier for babies to be able to get into the speed level that they want, so parents are going to have a simpler time when it comes to getting the babies comfortable.
There are sixteen different songs associated with this rocker and swing, and so the babies are going to have an easier time when it comes to getting to sleep and they will probably have some songs that they will like. Parents aren't going to have to do all of the work of rocking and singing themselves.
The motor is mobilized, and this is going to make it easier for the baby to get comfortable and it is going to be easier for parents to use this device in general.
There are two different swinging motions that are going to be used in order to lull the baby into a comfortable position, and this is going to make it easier for the parents who are trying to get their babies to sleep using lots of different styles.
The seat cover can be washed in a machine, and that means that the whole thing is going to be a lot easier for parents to clean and to take care of in general.
Cons
Some parents might find the songs grating eventually, especially if the kids really take to them and they end up hearing them all the time.
Parents are going to have to make sure that they clean the swing regularly, or mold and other problems can start to arise in some cases.
Graco Duet Soothe Swing Rocker Winslet Review
This is an adorable swing and rocker that is really going to allow a lot of parents to get the most out of the product. They are going to be able to lull their babies to sleep very well, and this is going to create a situation where they can truly get their babies comfortable without having to feel like they are exhausted themselves. This is an adorable rocker and swing that is going to look darling in any baby room as well, and this is going to help a lot of parents with the decorating process.
Features
Metal and plastic composition
Three seating positions
Two positions
Vibration with two speeds
Pros
This is a swing that can be easily modified in order to become a rocker, which is going to make it much more versatile for the parents who are trying to save money on baby supplies.
There are three seating positions, so babies are going to have an easier time getting comfortable and parents should find something that is going to work for them.
People can plug in this product or use batteries, which is going to give them more options and which is going to stop situations where they are going to run out of power any minute and it is time for the baby's nap.
The vibration with two speeds will really allow people to get their babies to relax without them having to rock the babies themselves, which can get somewhat tiring for a lot of new parents.
This is a product that is really adorable and that a lot of people are going to want in their baby's room.
The detachable features are going to make this product really easy to use.
Cons
This product might be too small or not strong enough for some babies, and it is particularly useful for the younger babies.
The rocker itself is somewhat heavy and people who are not very strong are going to have a very hard time when it comes to actually getting it around the house in most cases.
Fisher-Price Snugabunny Cradle 'n Swing with Smart Swing Technology Review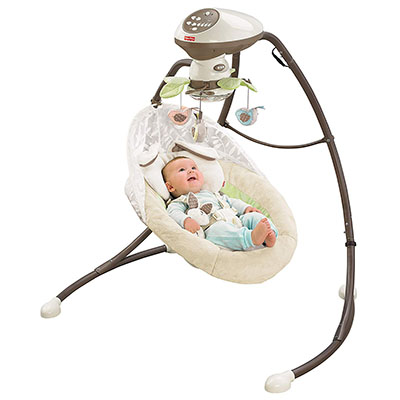 Snugabunny Cradle Swing from Fisher-Price is going to allow a lot of people to feel better, and that includes the parents and the babies. They will all be able to relax, because this is a swing that promotes relaxation. This swing is really easy to clean. Parents are going to be able to get their babies to relax thanks to this swing as well. Kids are really going to feel better, and parents will know that the kids are using a safe product. You may consider this swing if you would like to have a best baby swing that plug in because it comes with 120 volt ac adapter that you can plug in directly to save batteries.
Features
Machine washable head support and seat pad
Sixteen different programmed songs
Converts to different positions
Removable tray
Pros
The sixteen songs here are really going to help parents when it comes to keeping their babies entertained and making them much more relaxed.
A lot of people are really going to like the style of this very gentle and darling cradle swing.
Pressing and turning everything will easily allow people to convert this swing into a lot of different positions, and this is going to make it easier for parents to get their full use out of this swing in general.
The head support and the seat pad can both be removed and washed, and this is going to make it easier for people to be able to really feel as if they can let their kids use it without worry, since the product will be easy to clean.
Kids are going to love to grab the canopy in general, making this the sort of toy that is going to help to stimulate developing minds while allowing them to relax at the same time.
This is a swing that is very safe and easy to use in general for most people.
Cons
Some people might have a hard time setting the product up initially.
Some customers have had some problems with the customer service at Fisher Price.
Our Verdict
The Graco Glider LX Gliding Swing, Affinia is truly one of the best baby swings that people are going to find on the market today. On the basis of style, efficacy, space-saving, energy-saving, and ease of use alone, this is a great product. While theFisher-Price Spacesaver Cradle N Swing may not be as pretty, it does have more songs than the Graco Glider LX Gliding Swing, and it has many of the other great qualities. People who want to be able to get the best baby swing should consider either of these, and they are not going to be able to go wrong from there.