Introduction
Are you looking for a new Slow Cooker? There has never been a better opportunity to purchase a new Crock-Pot or Slow Cooker. With dozens of different manufacturers producing a plethora of different models, you'll be able to find the perfect appliance for your needs.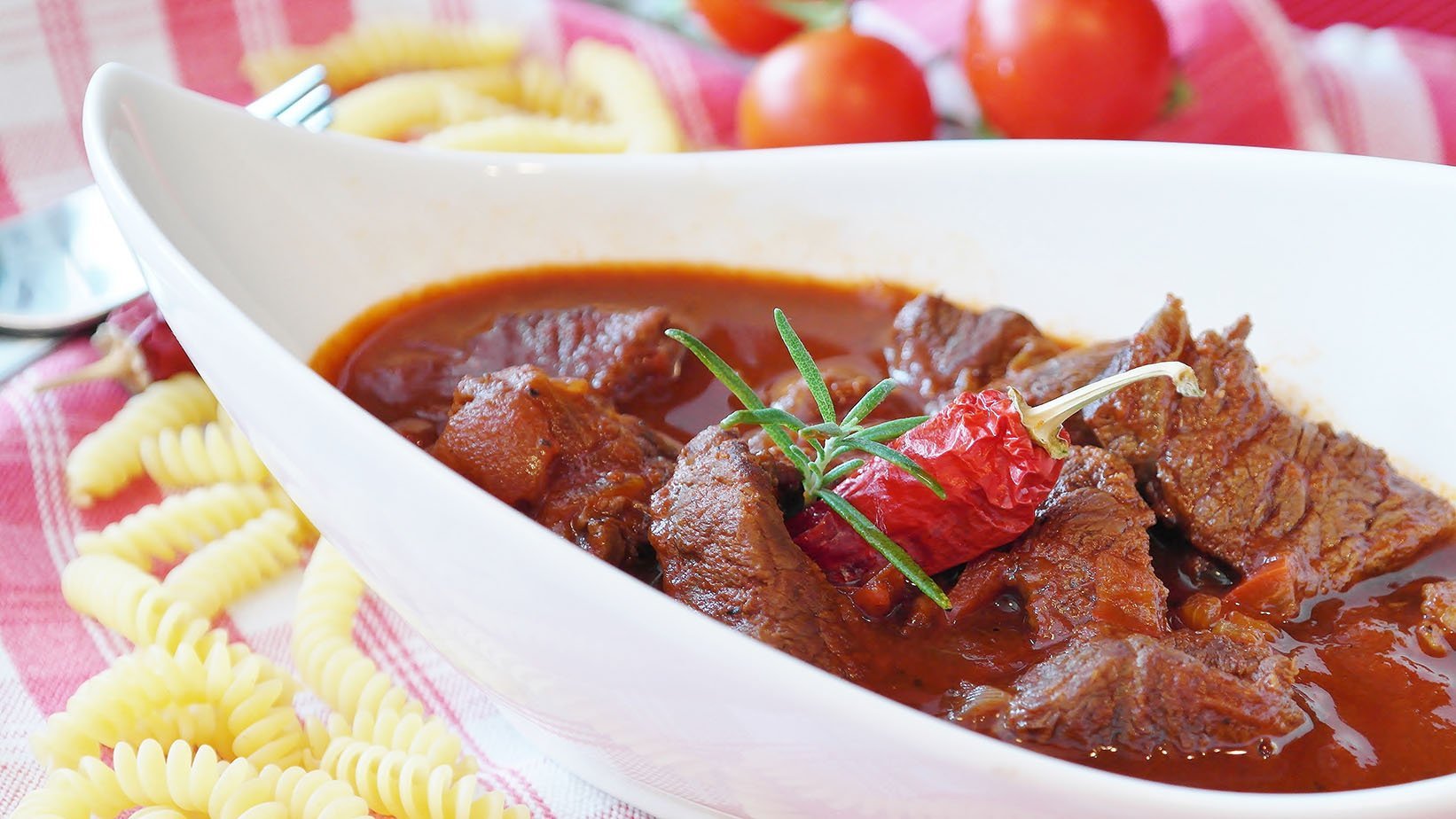 Time and time again, we're asked the infamous question, "What is the best slow cooker? ". Unfortunately, it's entirely down to you and your needs, and not to mention your budget. Typical Slow Cookers range from $20 – $200, and as with anything in life, the more you pay, the better quality you're going to get. Fortunately for you, we've compiled a list of our top Slow Cooker Reviews to help you make an educated choice.
Brands
Best Slow Cooker Reviews: Our Top Picks for 2021
Hamilton Beach Set 'n Forget Programmable Slow Cooker With Temperature Probe, 6-Quart (33969) Review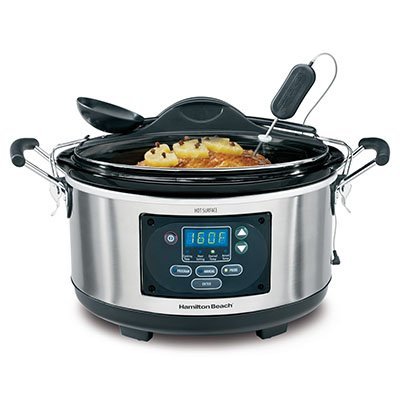 Cancel your reservations for the night and enjoy a home-cooked meal at home without having to make it. The Hamilton Beach 33967 programmable slow cooker can cook on your behalf while you are away and serve delicious hot steaming food by the time you return. Making dinner time less taxing it offers three modes of cooking, namely, a manual mode, probe mode, and a program mode. For days when you are busy, just set the program mode, select your choice of recipe, and get cooking. All you need to do is prepare beforehand by cutting up the meat, slicing veggies, sautéing ingredients and such. For meat recipes that need precise temperatures to cook well, you can use the probe mode along with the probe accessory. Once the desired temperature is reached, this slow cooker will shut off and switch to an auto keep-warm mode. It's a perfect combination of traditional slow cooking with modern advancements. Just like traditional slow cookers, you can set the temperature to low, high, or medium and set a time. Now, if you prefer cooking for parties and pot lucks, Hamilton Beach 33967 will let you take along meals on the road. P a travel-friendly design, the lid secures with a clip and latch to the cooker with a tight seal, preventing anything from dirtying your car.
Slow cookers are our favorite kitchen appliances for a reason. Unlike a pressure cooker or a rice cooker, where you have to be present during the preparation and cooking stage, a decent slow cooker eliminates the need to stand around. In the two weeks that we have had the Hamilton Beach 33967, we seldom ever spent time around the slow cooker unless it was for preparation purposes. Since this particular model is a 6-quart capacity and comes with a probe unit, we never felt the need to slice and dice the meat into tiny pieces. Making meat recipes was much easier for us in this cooker than ever before. Why may you ask? Well, because the large size let us put in a large cut of meat and the probe let us cook the meat until the inside of it reached a particular temperature. And best of all, once cooking completes, either because the timer runs out or because the probe reads the established temperature cutoff, the Hamilton Beach 33967 automatically switches over to the keep warm mode. In this mode, food is not heated but is maintained at a simmering temperature, which will not overcook food. It can continue warming food for a total of 12 hours, which in our view, is more than enough.
Design-wise, all the buttons are ergonomically 33966 models; it lets you make dishes without any extra effort.
We particularly loved its simple nature. Not at all hard to clean after use, plenty of programmed features to automatically select and cook with, and a large 6-quart capacity are a few of the things we appreciated in the Hamilton Beach 33967. And, the one thing that we found lacking in this slow cooker was the design of the lid. Although it has clips on it and is supposed to transport friendly, too much movement seems to spill a bit of the recipe out of the vent.
Hamilton Beach 33967 Features & Parts
110 Volt operation with 6-quart capacity and LED digital panel.
Three options of cooking with automatic keep warm feature – probe mode, manual and program mode.
Clip-on spoon, tight sealing lid design, safe dishwasher components, and user manual with recipes provided.
Stoneware pot and tempered glass lid.
Features a one-year limited period warranty.
As far as slow cooking goes, the Hamilton Beach 33967 couldn't have been made any better. Its got the right technology, gear, and power input to work wonders with any recipe. Plus, being a probe-based design, it is better at cooking meat recipes. For those who prefer cooking traditionally, it got an option of selecting, high, medium, and low heat with a timer. And for those who prefer not using their heads too much, preset options will take care of their needs.
Overall, Hamilton Beach 33967 appears to be a worthwhile investment with sufficient features and benefits.
Cuisinart MSC-600 Review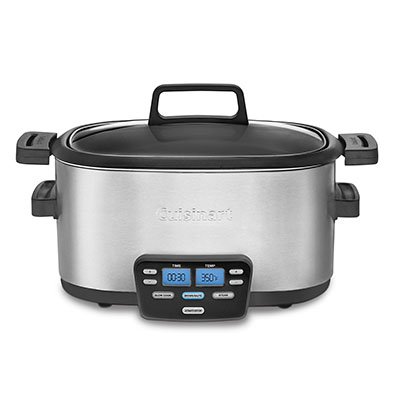 The Cuisinart MSC-600 3-in-1 Cook Central 6-Quart Multi-Cooker is not just your average slow cooker but also a multi-cooker by design. It's a kitchen chef on its own with programmable controls and functions that let you do more than just cook. You can saute ingredients, brown meats and prepare all your favorite recipes in a single pot. It features a 6-quart oval design with non-stick coating on the inner pot that lets you saute and brown with ease. Moreover, once cooking is done, it switches to the keep warm mode, automatically letting you serve up straight from the pot. Cleaning up is also easy thanks to the steaming rack, pot, and lid all being dishwasher compatible. In the slow cooking option, you get a choice between high, low, and simmer temperatures. This specification is ideal for preparing varied recipes, some that need to sit for over 10 hours and others that must be cooked in under 3.
Moreover, a 24 hours delay timer takes care of when you want to start late. With the steaming rack, you can steam your greens and even prepare shrimp, fish, and whatnot. Just add 2 quarts of water or any liquid that you choose, cover the lid and let the steaming complete. The Cuisinart MSC-600 also sautés and browns, as mentioned before. Whether its a skillet dish or a simple family recipe, choose to saute or brown at 350 degrees until ingredients are soft, perfect, and ready.
Our first item on the menu was a pot roast for the Cuisinart MSC-600 3-in-1 Cook Central 6-Quart Multi-Cooker. It wasn't our first time, and so we knew what to do. Having read through the manual for this slow cooker, understood its temperature settings and various functions, we decided to go ahead and brown the meat, braise it directly in the slow cooker and cook till finish in it. The end result was an excellent taste and splendid texture. Best of all, cleanup was rather easy after we devoured the roast. It is worth purchasing since many crock-pots in the market have failed to deliver when they tend to multitask. The Cuisinart MSC-600, however, doesn't seem to fail at either of its triple functions.
We feel that this slow cooker is capable of managing three to four uses in a week. Although it is a slow cooker, by no means, does it take ages to complete? The low-temperature setting is just high enough to complete the most delicate tasks in under 5 hours. And as for the high-temperature setting, it's like cooking at 375 to 400 degrees F. This is why the Cuisinart MSC-600 can cook recipes in under 3 hours at high-temperature setting. Plus, it's kind of attractive, looking with its sleek outer stainless steel surface and pot insert. The glass lid with handles, additional handles on the crock-pot and the bottom positioned control panel all give it a futuristic appeal. It's not all designs with this slow cooker. For starters, either of the handles never gets hot, and neither does the rim of the glass lid. This specification is great as it means you can carry it to the dinner table the moment it's done cooking.
Moreover, washing it is not at all hard. Although the use of non-stick coating means that you can't use a dishwasher, at least cleaning it by hand does not take much time. Plus, dried food seems to come off real easy without any scrubbing necessary.
If we were to highlight its one standout feature, we would go for its browning and sauteing multi-function. We never have to dirty other dishes, take out the skillet to brown or braise meat. Moreover, we did not find anything in particular that we disliked. It is well made, designed to perform, and has a long warranty coverage to satisfy the most cautious of buyers.
Cuisinart MSC-600 Features & Parts
Combination cooking for recipes that require special treatment.
Removable stoneware pot with 6-quart capacity.
LCD backlit display with temperature and timer readouts.
Cool-touch handles on the glass lid helps in easy handling.
Steaming rack, pot, and lid are all dishwasher safe and removable.
Features a three-year limited period warranty.
Think of a slow cooker, and you immediately realize all the preparation that goes into making a dish in it. Now, the Cuisinart MSC-600 3-in-1 Cook Central 6-Quart Multi-Cooker differs in this respect as it manages to multitask as a skillet and steaming machine. So, instead of using too many dishes and ending up cooking in the slow cooker, you prepare all your preliminary ingredients right in the slow cooker's stoneware pot. And then add in all remaining ingredients, cap the glass lid, and set the cooking time with appropriate temperature. It's easy, simple, and effective.
Crock-Pot SCVT650-PS Review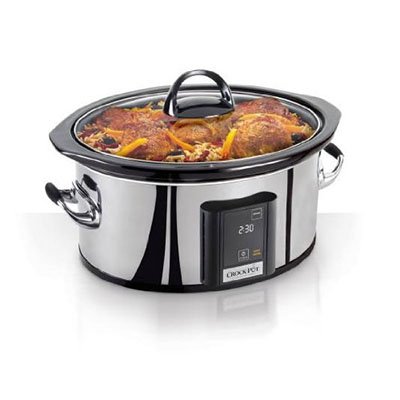 Whether you plan on making a 7-pound large roast or a huge batch of soup for a large family occasion, the Crock-Pot SCVT650-PS programmable slow cooker will be more than sufficient with its 6.5-quart capacity. The touch screen control panel provides easy access to all the controls of the crock-pot, such as a low cook setting, a warm and high cook setting. This range is its temperature selection range. Then there is a time setting options, start button, and up/downtime selection switches with a power icon and power switch. The delay timer can operate up to 20 hours late and starts from 30 minutes. It comes with automatic shut down and keeps warm modes. With an ample amount of delay timing, you can cook overnight, refrigerate leftovers in the morning and tuck in at night.
The size and its features let the Crock-Pot SCVT650 prepare food for a large family once for the entire day. Its the perfect solution to a busy life. Auto keeps warm lets the food simmer until you return home, maintaining its texture and flavors without burning it. Design-wise it features a metallic finish with metal side handles fitted with silicone for comfortable and secure gripping. The shape is oval to accommodate a large cut of meat with ease while the lid and stoneware pot makes it easy to clean and serve with.
Our experience with the Crock-Pot SCVT650-PS has been good. This slow cooker is not your average slow cooker that is unusable in the low-temperature setting, nor is it too high at the high temperature setting to burn any recipe. It doesn't feature a hinged lid, and neither is it expensive. These, according to us, were the standout features in this slow cooker. Having experienced cheap supermarket grade slow cookers in the past, that managed to nuke our food. We wanted something a bit more beefy, with more juice and reliability than before.
Now in our three weeks of experience, we came across plenty of pros and few cons for the Crock-Pot SCVT650-PS. First, if you set the unit at low, then expect a simmering of dishes, which is perfect for recipes such as dahl, curries and Indian lentils. The low-temperature setting is also useful for making Chili Verde, Beef stew, soups, stocks, and even baked beans. Usually, on the low setting, 10 hours or so cooking time works well. Since food cooks very slowly in this setting, there is no chance of getting hot spots, burns, and sticky food.
Moreover, the stoneware pot does seem to dissipate heat evenly, regardless of whether you use it in the low or high-temperature setting. Plus, its stainless steel styling does bode well with our modern looking metal-filled kitchen. At least, it doesn't look flimsy like many other brands.
Coming to things that need a bit of improvement, the control pad isn't exactly user friendly. Numbers are kind of hard to read, and you need to look at it closely to figure out what settings have been used. Moreover, being digital, the heat from the unit may damage the circuits after a while. Not sure if this will ever happen, but we have witnessed this in other models. Besides, the pot does seem to heat up quite a bit when used extensively. Although it's not much to worry about, you may want to keep your fingers protected by sticking to the handles only.
Thing is there aren't many other slow cookers for under $100 like the Crock-Pot SCVT650-PS that features good quality construction, decent functions, and good customer support. So, overall its a dependable and useful slow cooker to have around.
Crock-Pot SCVT650-PS Features & Parts
Both the stoneware pot and glass lid are dishwasher safe.
6.5 Quart capacity, removable stoneware pot with an oval design.
Stainless steel finishing with silicone fitted metallic side handles.
Touch screen controls, an automatic shut down and keep warm feature, programmable timer.
Features a one-year limited period warranty.
Not everyone is used to slow cooking. Those who have tried this art usually end up making recipes on the stove-top simply because of the time it takes. Now the Crock-Pot SCVT650-PS does not make things fast. In fact, for a slow cooker, it takes a lot more time than usual. Ten hours on low setting and 4 hours on high setting is kind of snail pace. However, this also means that food never really gets burnt, stuck to the pot surface or develop hot spots. Hence, folks who enjoy slow cooking and recipes, particularly designed for crock-pots, will love this equipment. Its also a good starting point for people learning the art of slow cooking as the chances of going wrong are limited with the Crock-Pot SCVT650-PS.
Crock-Pot SCCPVL610-S-A 6-Quart Cook & Carry Programmable Slow Cooker with Digital Timer Review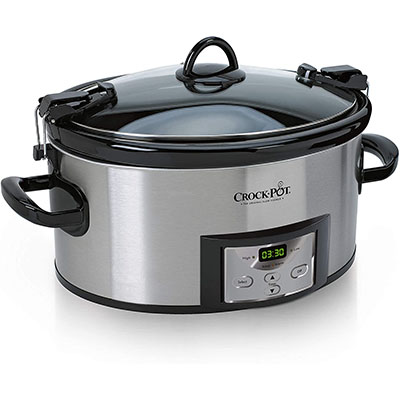 Crock-Pot is one of the pioneers when it comes to slow cooker brands. They offer solutions for working families who want to create healthy, wholesome meals. Crock-Pot SCCPVL610-S-A-6-Quart Cook & Carry is one of their newer models that has much to offer. This is another of those cookers that help you make your cooking experience more entertaining and straightforward. It has a secure locking gasket lid to ensure all the steam remains inside and help you create delicious meals without creating any mess. It has a 6-quart capacity, which is ideal for most slow-cooker recipes. The cooker comes with programmable time settings so that it can accommodate both your schedule and individual recipes. The oval stoneware is removable so that you can clean it without any issues.
The product comes with a big digital panel with various settings that can help you create a perfect meal for up to seven people. On it, you can adjust the temperature anywhere from low, high, to warm. You can also set the timer for anywhere between half an hour and 20 hours, so you have plenty of time on your hands. Once the food is prepared, the cooker will automatically shift the settings to 'warm' for the next six hours, so you can always have a fresh, hot meal. Crock-Pot SCCPVL610-S-A-6-Quart Cook & Carry also has entirely dishwasher-safe components, so you don't have to worry too much about cleaning it afterward. Also, the food won't stick to the bottom of the pot or its sides. Everything is designed to help you spend as little time as possible in the kitchen and spend that extra time with your family.
And if you prefer to take your meals with you on the road, Crock-Pot SCCPVL610-S-A-6-Quart Cook & Carry can help you with that. Its rubber gasket with a tight and secure locking lid can keep all the food inside. The seal it creates prevents anything from spilling, even when you're driving on a rocky road. The only time when you have to worry about making a mess is while you're eating, and nothing else.
Another good feature of Crock-Pot SCCPVL610-S-A-6-Quart Cook & Carry is that its sleek design allows you to store it in most regular cabinets. It won't take up too much space when you're not using it. Also, it has oversized handles so you can carry it wherever you'd like with ease. This is another situation where its gasket lid is very useful.
The biggest downside of this product we've found is that, no matter how carefully you wash it, hairline cracks will appear. These are mostly just an aesthetical issue, but over time this can turn into ugly burn marks that can even become a hazard. Still, if you take good care of your slow cooker, it can last for quite a while.
Crock-Pot SCCPVL610-S-A-6-Quart Cook & Carry Features and Parts
120 volts operation with 6-quarts capacity and digital display.
Three cooking options – low, high, and automatic warm feature.
Tight, rubber gasket lid that creates a seal, preventing food and liquid from spilling.
Easy-to-clean design – dishwasher-safe components, removable oval stoneware, non-stick bottom, and sides.
Comes with a 1-year limited warranty
When it comes to slow cookers, the Crock-Pot has once again shown us why it is among the best brands out there. The Crock-Pot SCCPVL610-S-A-6-Quart Cook & Carry is a powerful tool that is great for creating tasty meals for your entire family. It is durable and very efficient while at the same time remaining extremely easy to clean – although hairline cracks are likely to show up after some time of using and washing it.
Overall, Crock-Pot SCCPVL610-S-A-6-Quart Cook & Carry is one of the best slow cookers if you're looking for a product that can help you create tasty meals for travels.
Crock-Pot SCV800-S Oval Manual 8 quart Slow Cooker Review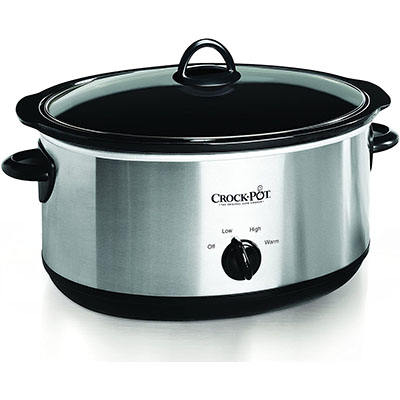 If you're someone who loves to prepare family dinners for many people, then Crock-Pot SCV800-S Manual Slow Cooker might be for you. It has an amazing capacity of 8 quarts, which is more than enough for ten people to have a luxurious home-made meal. This makes it ideal for any occasion. It has two cook settings, high and low, so you can choose adequately at which temperatures you want your meal cooked. Of course, it has a warm setting, which will keep your food warm for many hours after it's cooked. This enables you to enjoy a warm meal for a long time after it's prepared.
This versatile cooker also has a pretty design and glass lid that does a great job keeping steam and warmth inside the pot. The cover creates a vacuum, so it won't open when it shouldn't. While it isn't as spill-safe as Crock-Pot SCCPVL610-S-A-6-Quart Cook & Carry, Crock-Pot SCV800-S Manual Slow Cooker still does a good job of keeping all your food safe and your kitchen mess-free. Keep in mind, though, that if you intend to place this pot in the oven, the lid isn't suitable for such an environment. You'll have to take it off before you use the cooker in such a way.
The stoneware is removable, so you can reach it easily and clean it without any hassle. In fact, almost every part of Crock-Pot SCV800-S Manual Slow Cooker is dishwasher-friendly, so cleaning is pretty straightforward. With it, you can focus on enjoying a tasty family dish instead of preparing the meal and cleaning the mess.
The product is designed to help you get your meal ready without having to get your fingers dirty. The only thing you should do is place the ingredients inside the pot, turn the Crock-Pot SCV800-S Manual Slow Cooker on, and let it do the rest. It can cook food for up to 20 hours, so you can even let it cook food while you're outside. With it, preparing stews, soups, as well as any tender meats or even ribs, is no problem at all. Even if you're not a fan of the kitchen, this product will make you appreciate home-made meals.
The pot has a digital display that allows you to set the cooking time, as well as to monitor how much time you have left. You can adjust the time if you end up thinking you've got it wrongly the first time. The oval design makes it perfect for many various meals, even the larger ones such as rotisserie chicken.
Keep in mind that the pot is fairly large. It stands at 9.50 x 15.30 x 15.40 inches, so it might be a bit difficult to store. Also, despite being stainless steel in color, it is made of stoneware. This can influence its quality a little bit, but nothing drastic.
Crock-Pot SCV800-S Manual Slow Cooker Feature & Parts
Glass lid and stainless-steel colored pot body
8-quart in size – perfect for a big meal for ten people or more
Two cooking options – high and low, as well as automatic warm settings
Dishwasher-safe stoneware and lid, non-stick bottom and sides
Comes with a 1-year limited warranty
For large families, or for people who tend to prepare home-made meals for large groups of people, Crock-Pot SCV800-S Manual Slow Cooker might be the best product you can get. It utilizes modern technology in a simple yet effective way to create tasty food. The oval design allows you to make almost any kind of food with it, and it's big enough for an entire chicken and potatoes on the sides! The timer is precise, and you can adjust it over time if, for any reason, you have to change it once it's set.
All in all, Crock-Pot SCV800-S Manual Slow Cooker is a very decent product with one of the largest capacities out there.
Hamilton Beach Portable 6-Quart Set & Forget Digital Programmable Slow Cooker Review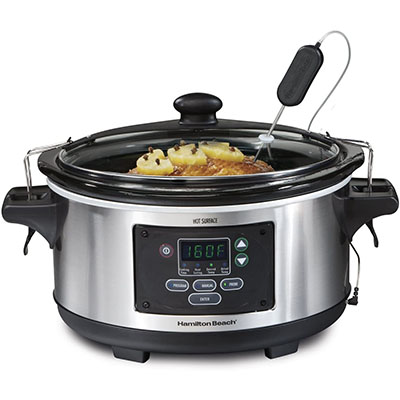 With over a century of experience with small household appliances, Hamilton Beach is one of those brands that can hardly disappoint. The Hamilton Beach Portable 6-Quart Set & Forget Slow Cooker is one of its products that leaves us with high expectations after reading its title; however, it allowed us to do just that – leave ingredients in the pot, go outside to work, and come back to a prepared dinner.
This slow cooker uses smart technology to give us great results and tasty meals. It won't burn meals, and it won't under-cook them. On the contrary, everything will stay well-prepared. It comes with a temperature probe that ensures everything stays at an adequate temperature – hot enough to cook, but not too hot for the food to burn. If you want to adjust the temperature on your own, you can set the low, medium, or high temperature. This gives you complete control over the cooking temperature. Like most slow cookers, the Hamilton Beach Portable 6-Quart Set & Forget Slow Cooker has an automatic warm setting that turns on once the food is done cooking – or you can set the temperature you want it to keep your food at. When you come back home, the meal will wait for you at the temperature you desire.
Everything you do appears on the big digital display on the side of the pot. This includes the digital timer that shows you how much cooking time you have left, selected food temperature, as well as the current internal temperature in case you're using a probe. This gives you a good overview of what is going on inside the pot, as well as when you can expect your dinner or lunch. Another feature that impressed us was the power-interrupt protection. It allows the appliance to return to the same settings, both heat and time, after a short, five-second power outage. If you have electricity problems, this will reduce the chances of coming back home to a half-cooked meal.
This cooker was designed for people on the go. It's very light, especially for a 6-quart slow cooker that can prepare meals for up to seven people, and its handles are made of plastic so that they will remain cold to the touch. The gasket lid with latches minimizes the chances of your food spilling during the ride, so you can safely carry it to your friend's house without making a mess all over your car. However, this lightweight design also has a few downsides. The main one is its thin stainless steel casing that dents easily. Also, the digital screen is a bit hard to read as it isn't as bright as some other models.
Still, these inconveniences are minor for the Hamilton Beach Portable 6-Quart Set & Forget Slow Cooker's overall performance. If everything we've listed didn't make you buy it – you should also know that this cooker is very easy to clean. The glass lid and the ceramic insert are dishwasher-safe, but you can easily wash them by hand due to their lightness.
Hamilton Beach Portable 6-Quart Set & Forget Slow Cooker Features & Parts
It comes with an integrated temperature probe that will track the temperature of your food.
Three cooking functions – low, medium, and high, as well as the automatic warm settings.
6-quart in size – great for creating meals for up to seven people.
Removable gasket glass lid and safe crock that is dishwasher safe.
1-year limited warranty
For people who prepare meals for travel or who hate carrying around heavy pots, Hamilton Beach Portable 6-Quart Set & Forget Slow Cooker might be the right product for them. It is lightweight and easy to take with you everywhere. The temperature probe ensures you've got the correct temperature of the meal, and you can check everything on the big digital screen. The cooker is large enough for you to make a nice family meal for up to seven people, which is more than most people usually have to make. Just ensure you're not bumping it around too much.
All in all, Hamilton Beach Portable 6-Quart Set & Forget Slow Cooker is a great product for various different purposes at an affordable price.
Instant Pot Duo Mini 7-in-1 Electric Pressure Cooker Review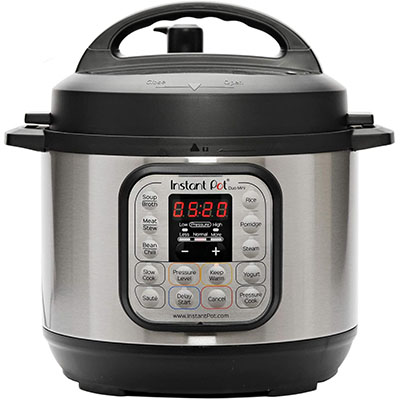 The Instant Pot Duo Mini 7-in-1 Electric Pressure Cooker is more than just an electric slow cooker. In fact, it performs seven different cooking functions, so it will make your life – or at least your cooking – much easier. While this product is mainly a pressure cooker, it does a great job as a slow cooker, as well.
The Instant Pot Duo Mini 7-in-1 Electric Pressure Cooker comes in four sizes: 3-quarts, 6-quarts, 8-quarts, and 10-quarts. This enables you to pick the size according to your needs and preferences. If you live alone or have a small family, 3-quarts will be more than enough for all your needs. On the other hand, if you often prepare food for six people or more, 6 or even 8-quarts will enable you to complete everything at once. If you plan to use this pot as a slow cooker, you just have to disable pressure usage and open the steam. However, suppose you prefer using it exclusively as a slow cooker. In that case, we suggest buying a glass lid as it will do a better job. While the original lid seal is strong, you'd want something that can heat up fast enough so it won't leave your food uncooked.
You can also use this pot as a rice cooker, sautéing, steamer, food warmer, and even a yogurt-maker! These options can be great if you want to enrich your slow cooker experience. For example, you can use the sautéing option to prepare starter dishes or to thicken the sauce at the end of meal preparation. Still, as its name suggests, Instant Pot Duo Mini 7-in-1 Electric Pressure Cooker does the best job when pressure cooking. However, pressure cooking is a bit more limited compared to slow cooking, as some meats, such as chicken breasts, don't end up as tasty when pressure cooked. The same goes for many dry vegetables. This is why we prefer using it as a slow cooker instead of a pressure cooker.
When you use it as a slow cooker, you can use the timer to set everything to cook for a certain period of time. Also, there is a delayed cooking function, if you'd like your meal to be prepared at some exact moment. In fact, as we've mentioned before, the slow cooking option works excellent with sauté mode. This way, you won't have to fry brown ingredients or onions in a pan before placing them into this product.
While Instant Pot Duo Mini 7-in-1 Electric Pressure Cooker in 8 and 10-quarts is quite big, keep in mind that it completes the work of several other small appliances and pots. So, while it does take a lot of space in your cabinet, you won't have to buy any other devices. This means that you'll actually save some space! Also, there are several accessories you can buy for this product to make it work even better. These include cake tins, yogurt pots, steamer baskets, ceramic inner pots, as well as various steam vents.
Instant Pot Duo Mini 7-in-1 Electric Pressure Cooker Features & Parts
It comes in four sizes - 3-quarts, 6-quarts, 8-quarts, and 10-quarts.
Serves as a pressure cooker, slow cooker, yoghurt maker, sautéing device, steamer, food warmer, and a rice cooker.
Comes with 10+ safety features so you will not only not burn your food, but you don't have to worry about pressure damage
Easy to clean – comes with a dishwasher-friendly stainless steel cooking pot
Cooks up to 70% faster than regular cookers
While this product is primarily a pressure cooker, Instant Pot Duo Mini 7-in-1 Electric Pressure Cooker does a great job as a slow cooker, as well. Several other cooking modes can help you create the best slow-cooked meal out there, without the need to reach for other appliances. Also, for the service it does, it comes at a very reasonable price. Not only will this product save you time, but it will also save you a lot of money. And you can even pick the size you'd prefer.
In conclusion, Instant Pot Duo Mini 7-in-1 Electric Pressure Cooker is a great product that can help you create all sorts of meals with no effort.
When shopping for Slow Cookers, it's important to consider a few important facts
Time-Saving. The Slow Cooker you decide to purchase should ultimately help contribute to saving your time. The whole purpose of a Slow Cooker is to help you save time on the whole cooking process.
Simplicity. The best slow cookers are the ones that are extremely simple to use. It's always best, where possible, to invest in an appliance with an LCD screen as you'll be able to control the whole cooking process with the touch of a button.
Performance. Since you'll want extremely delicious food, we recommend searching for a slow cooker that incorporates powerful cooking functionalities into it. Some cheaper priced appliances simply lack the cooking power needed to cook meat properly.
Reliability. You'll want an appliance that is built to last for years to come. Check the warranty period on each appliance.
Reviews and Ratings. It's important to always get a second opinion before making a purchase. Apart from reading our Slow Cooker Reviews, ensure that you read "Amazon Verified Purchase" reviews directly from the product's page. These reviews indicate that the customer has purchased the appliance.
What Capacity Do You Need?
Remember that what you read on the box or in advertisements is, in most likelihood, not exact. So a six-liter slow cooker might have four and a half-liter capacity in reality. However, slow cookers, on average, provide around two-thirds of the total stated capacity to users. Using this norm, you should evaluate the size or capacity ideal for your requirements.
Usually, a large family of 5 or more members will find a six-liter crock pot perfect. It should feed up to eight hungry stomachs at once. Now for couples, a small 3.5-liter capacity will suffice.
A Brief Look At The Features Of Today's Slow Cookers
Removable Pot – This is a must-have feature today in all slow cookers. It lets you clean up easily afterward and even transport your creation to the dinner table or a pot luck party.
Glass Lid – Again, another must-have feature, good quality glass lids pack in the moisture and maintain optimum cooking pressure helping tenderize meat better and retain liquids more with reduced evaporation.
Temperature Settings – Not a vital requirement, but it's nice knowing what temperature the slow cooker is set at. This feature is excellent for recipes that call for a specific temperature to bring out subtle taste differences. Cooking at varying temperatures for different periods is only possible if your slow cooker has a precise thermostat and temperature settings.
Programmable Cooking – Whether it's for one hour or many hours, having the ability to program a slow cooker on the total time of cooking lets you concentrate on other stuff in life. This feature saves you effort and time. Once you add in the ingredients, set the timer, and program the slow cooker operations, you can leave it as it is. When it's done cooking, it will automatically switch to the keep warm feature, maintaining high temperatures to resist bacteria formation and preserve the taste.
Locking Lid – Having the ability to carry along your slow cooker to outdoor parties, roast sites, and camping grounds is a definite advantage. A locking lid helps by ensuring everything inside stays intact without any spills. This feature is also great when carrying the slow cooker from the kitchen to the dining table.
Additional Accessories – Not all that important as long as you get a decent slow cooker, some accessories can help out. For example, skillet based slow cooker designs let you use the pot for stove-top recipes, the slow cooker base as a skillet, and together they form a slow cooker. A spatula along with the slow cooker, interchangeable bowl sizes all help, but not that much.
Warranty – This is one feature that you must pay special attention to. Usually, slow cookers feature a year warranty, but some places like Amazon let you extend the warranty to two or even three years, which in turn safeguards your investment.
Final Verdict
We would thoroughly recommend looking into the Cuisinart MSC-600. While it's on the pricey side, it also doubles up as both a multi-cooker and a rice-cooker, meaning that you'll only need to invest in one appliance, instead of three – thus saving you money long-term. If you are on a budget, check our other slow cooker reviews, most of them are far below $100.
Last Updated: 12th Dec, 2020