Introduction
Wheelchair itself was a great technological invention. But the effort to make wheelchairs self propelled also began with the invention of wheelchairs. Electric wheelchair is the latest breakthrough in that race. They enable the user to navigate without any external help and provides speed and flexibility. A lot of brands today are making electric wheelchairs. But finding the best of them requires some research and experience. That is where this guide about the best electric wheelchair will help you. Our authors worked for hours to compile this article.
Electric wheelchairs have stiff rival competition from mobility scooters. But still electric wheelchairs are preferred more over mobility scooters. The use of electric chairs helps the users to navigate with out any physical efforts. This is very convenient for persons suffering from extreme disability and fatigue. Their structure is similar to conventional wheelchairs except the additional use of batteries and motor.
How to Choose the Best Electric Wheelchair for Your Use?
Electric wheelchairs are great for people with severe disability who cannot navigate using conventional wheelchairs. With electric wheelchairs the user just has to control a joystick to move freely. Most of the wheelchairs listed above can be used to travel almost any surfaces. The battery often provided will be lithium cells and will last long.With a single charge they can provide about 8-9 miles. The battery back up is one of the major factors to consider while buying product.
Factors to consider while buying electric wheel chairs
Below we have listed some of the major factors to consider before buying a power wheel chair.
Weight of the User
The weight of the person using the equipment is of utmost important. Since most wheelchairs supports average weighted persons special heavy duty wheelchairs are required for heavy persons. You should check for the maximum weight carrying capacity and seat length of the equipment.
Nature of the Usage
The terrain where the wheelchair is used is another factor. Many electric chairs can navigate through hard and grassy surface.Some are best for outdoor usage providing more power and torque while others are good for indoors providing better control and steering. Always choose the one suited for your purpose.
Portability and Weight
The weight is another thing to consider since it affects the portability. Always chose one with foldable options for better portability. You can read our article below for better understanding.
Brands
Best Electric Wheelchairs Reviews
Here is top four list according to our research team:
Drive Medical Cirrus Plus Power Wheelchair Review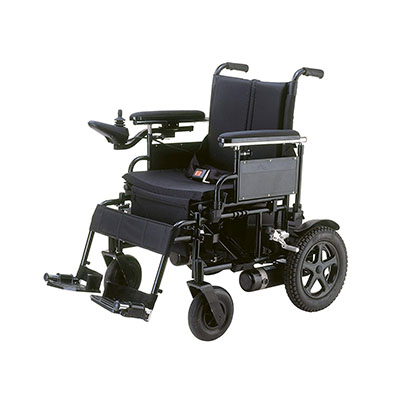 One of the best features of this wheelchair was the portability, fold ability and lightweight. It makes it excellent for transport and traveling. Attractive carbon frame gives it a premium finish. The seat belt provides extra security. Also the seat has a pouch for storage purposes. Also comes with additional features like calf strap, swing away foot rests, wheel locks, heel loops etc. The upholstery feels very comfortable. Another attractive feature is foldability, which means you can easily transport the wheelchair. The wheelchair also passed ANSI.
RESNA testing which means it's good quality wise.
Pros
Durability
Flexible and portable
Foldable type so can be easily transport
Feels well built and comfortable. Also very powerful
Cons
Rear wheel drive may feel little jerky on turns. Just slow down a bit
Foldawheel PW-1000XL Power Wheelchair Review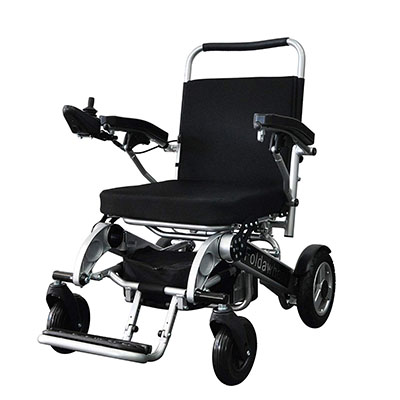 Foldawheel PW-1000XL is one of the heavy duty portable wheelchairs out there. They weighs about 50 lbs. and offers a maximum speed of about 5 miles/hr. Also the whole structure is foldable and can easily fit into your car trunk. Also the time taken for folding and opening is very less. It can carry a weight of about 355 lbs. and have ample room with 18 inch seats. The four spring suspension system along with great tires gives smooth riding comfort. This electric wheelchair can easily travel through heavy grass, gravel and sturdy surfaces. The battery charges fairly fast and can provide about 6 miles travel time with single charge. Overall this is a great wheelchair which can withstand rough usage and surfaces and also portable.
Pros
Easily foldable and transportable
Charges fast and good durability
Can travel on very rough surfaces
Great built quality
Cons
Footrest some times can be uncomfortable but a good leg support solves this easily
Golden Technologies GP162 LiteRider Review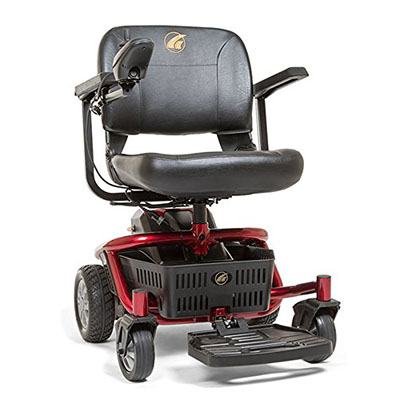 Golden technologies creates some of the most elegant wheelchair models. They are available in few great colors as well. Another great feature is the under seat basket which can be used to store a lot of items. The seats are also premium finish and comfortable also. The wheelchair can carry a weight of about 300 lbs. The entire product weighs around 67 lbs. and can be disassembled easily for transportation. The turning radius of 26 inch makes in great for indoor usage. It works great in narrow hallways and doorways. It dis assembles into three parts and can be easily fitted into a car trunk. Overall it is one of the best electric wheelchairs if you plan on using it mainly on indoors and works well with small spaces. Another important feature was that it can rotate itself on dime.
Pros
Great for indoor use
Basket under seat for storage
26" Rotate radius
Affordable
Cons
Not that good for hard outdoor surfaces
Only 300 lbs. weighing capacity
EZ Lite Cruiser Heavy Duty (HD) Deluxe DX12 Review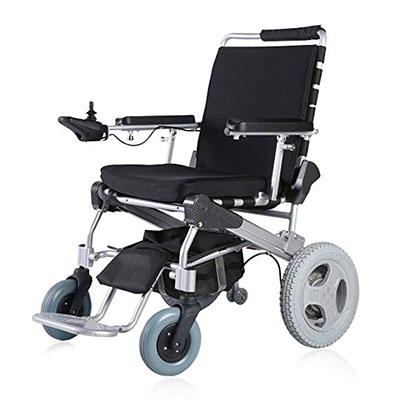 Ez lite cruiser was one of the leading products in electric wheelchair markets. They are rated very high even though they costs a little more than others. This wheelchair can be folded and unfolded very quickly. The wheelchair weighs only 58 lbs. with out the battery and 65 lbs. with battery. The back support has 5 reclining positions for better comfort. Offers 10 + miles with a single charge. Comes with 10 AH lithium battery which is very durable. The joystick can be also mounted on both of the arm rests so both left and right. This makes both left and right handlers to control joystick easily. Also you can combine two batteries for longer drive duration. The machine also has a lot of customization accessories that helps the usage. Also their customer support is very notable. Overall you can easily go for this is one of the best electric wheel chair we reviewed.
Pros
Lightweight and durable
Easy to transport
Reclined seat positions
Good customer service
Cons
Price is little bit higher but quality is good
Last Updated: 12th Dec, 2020