What is the benefit of Bridge Camera?
Consumers who are in the market for cameras need to choose between buying a point-and-shoot or digital single-lens reflex (DSLR) camera. Both cameras have their own pros and cons, leaving the consumers confused about which one to buy. Manufacturers have created the bridge camera to satisfy specific market needs by serving as the perfect middle ground between DSLR and compact system cameras.
Aptly named, it acts as a bridge that combines some of the manual settings, physical controls and quality of shots of an entry-level DSLR with the easy-to-use characteristic, convenience, and simplicity of a point-and-shoot camera. The build, physical size and over-all handling ergonomics of most bridge cameras resemble those of DSLRs.
This camera can be bulkier and heavier than a compact system camera, but the chunky handgrip, sizeable rear LCD display with continuous live view, large command dials and shooting mode wheels make the bridge camera comfortable to use with easy access to controls.
Some models have a three-inch LCD screen at the back that can be adjusted to different angles to accommodate complicated low or high-angle shots and improve visibility by diverting screen away from direct sunlight.
The difference between Bridge and Compact Camera
Aside from live-preview LCD, a smaller electronic viewfinder (EVF) also gives one hundred percent field of view while continuously showing the image generated by the sensor. This differentiates bridge cameras from compact system cameras. The lenses are like in point-and-shoot cameras that are fixed, but the bridge cameras' lens has a vastly expanded zoom range, giving a broad variety of framing and capture options.
Their smaller image sensors allow very large zoom ranges, from wide-angle, macro to telephoto, with just one lens. While some may view the lack of interchangeable lens as a disadvantage, a fixed lens prevents any problems concerning dust entering the camera's sensor and damaging photos. The wider focal ranges of bridge cameras require built-in optical or sensor-shift image stabilization to prevent blurring of pictures.
The optical zoom capability can be as much as 10 – 30 times without compromising photo quality. Because of their extended focal range, bridge cameras can also be referred to as "mega-zoom", "superzoom" or "ultrazoom". Majority of the bridge cameras today are digital, equipped with full manual controls over settings such as aperture, shutter speed, color balance, ISO sensitivity, metering patterns, and file formats similar to those of DSLRs.
Capture High-Quality Photos without Spending Too Much
These settings make a difference in image quality when printing pictures. The resolution of each shot is dependent on the number of megapixels, and the more megapixels, the better and clearer quality when enlarging pictures. Bridge cameras cannot produce the same quality as DSLRs because of their smaller sensors, but they are better than most compact system cameras.
Most cameras can also capture high definition videos with frame rates of 24, 25 or 30 fps with OIS to reduce shakiness and blurring. The stereo microphones placed on the sides or above the lens barrel and auxiliary flash contribute to cinematic-standard video capture.
The bridge camera was originally intended for consumers considering an entry-level DSLR as well as photography enthusiasts who appreciate the basic features of DSLR and the accessibility of consumer compact cameras without spending a fortune.
Because bridge cameras closely resemble DSLRs, when photography enthusiasts get the hang of shooting pictures, there might come a time when they would want to upgrade into DSLRs.
Reviews on Most Rated Bridge Cameras
Canon Powershot SX70 20.3MP Digital Camera 65x Optical Zoom Lens 4K Video 3-inch LCD Tilt Screen Review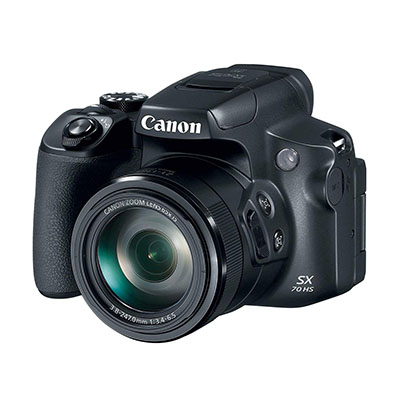 The Canon Powershot SX70 is considered to be the smallest superzoom camera that can deliver sharp images through its 1/2.3" BSI CMOS sensor with a resolution of 20.3 MP high sensitivity and 65x optical zoom with image stabilizer. It is perfect for capturing panoramic landscapes and interiors and zooming in to distant objects.
The DIGIC 8 sensor allows faster 10 fps continuous shooting and 4K video with decent stereo sound and added super slow motion and movie digest options. The Canon Powershot SX70 supports full manual control and automatic operation that can intelligently select proper settings from predefined shooting options. The framing assist button located at the lens barrel's left side can temporarily widen the lens' field of view while reacquiring the subject and can return to the desired zoom level when the button is released.
The camera comes with integrated Wi-Fi that allows Geo-tagging and quick, easy transfer of images and videos to Android or iOS device via the Canon CameraWindow app, or post directly to Facebook, Flickr, Twitter or YouTube.
PANASONIC Lumix FZ80 4K Digital Camera, 18.1 Megapixel Video Camera, 60X Zoom DC VARIO 20-1200mm Lens, F2.8-5.9 Aperture, Power O.I.S. Stabilization, Touch Enabled 3-Inch LCD, Wi-Fi, DC-FZ80K Review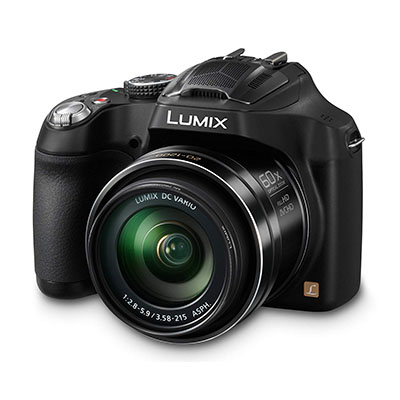 The Panasonic Lumix DC-FZ80K 18.1 MP Digital Camera artfully combines the convenience and the powerful lens. It can produce crisp resolution still images with its highly sensitive 18.1 megapixels & Venus Engine image processor. This combination allows expansion of the ISO sensitivity range from the usual 100-3200 to 6400.
The Venus Engine processor enables a wide shutter speed time of 8-1/2000 sec stills and shoots with 2 fps on continuous AF, 5 fps w/ one-shot AF as well as 9 fps w/ a 3-photo burst. The Lumix DC Vario 60x Optical zoom features the widest and longest zoom range of 3.58-215 mm perfect for capturing breathtaking sceneries, wildlife and landscapes. The f2.8-5.9 lens brightness and optical image stabilization ensure every video and photo to be sharp and bright even under low-light conditions.
It can also deliver full HD 1080/60i at 30 fps video recording with clear audio. The installed windshield zoom microphone matches the lens' zoom to focus on the sound source while eliminating ambient noise.
Sony Cyber-Shot DSC-HX400V Wi-Fi Digital Camera Review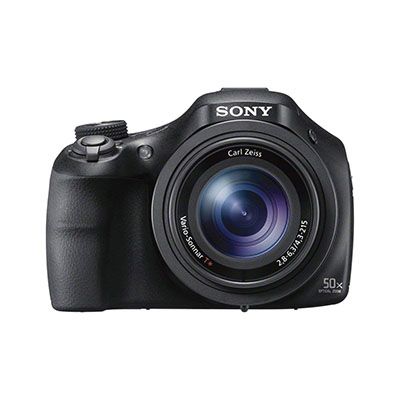 The Sony Cyber-Shot DSC-HX400V has an impressive 50x 24-1200 mm zoom lens, high sensitivity 20.4 MP 1/2.3 inches Exmor R CMOS sensor, strong optical SteadyShot image stabilization, and high-speed autofocus creates excellent picture quality for a bridge camera.
It can also record 1920×1080 50p full HD videos with stereo sound and watch it on the camera's tilting 921k-dots 3" LCD screen that can also be useful with eye-level or hip-level shooting. The Carl Zeiss Vario-Sonnar lens has a maximum aperture of f2.8 and f6.3 at extreme telephoto and is supported by a wide range of ISO settings from 80 to Superior Auto mode's 12800.
This powerful lens together with the camera's built-in essential digital filters like Sweep Panorama, HDR Painting, Miniature, Monochrome, Toy Camera features can help amateurs to shoot like a pro. Sony Cyber-Shot DSC-HX400V can capture an extensive range of subjects at a wide distance range without changing lenses or moving to pull off the desired framing.
Last Updated: 12th Dec, 2020