Introduction
Rolling luggage is indispensable when traveling. Lugging around luggage without wheels can become tiresome after a while and carrying a bag from terminal to terminal can get old. Rolling luggage makes going from point A to point B much more efficient and takes a lot of the hassle out of traveling.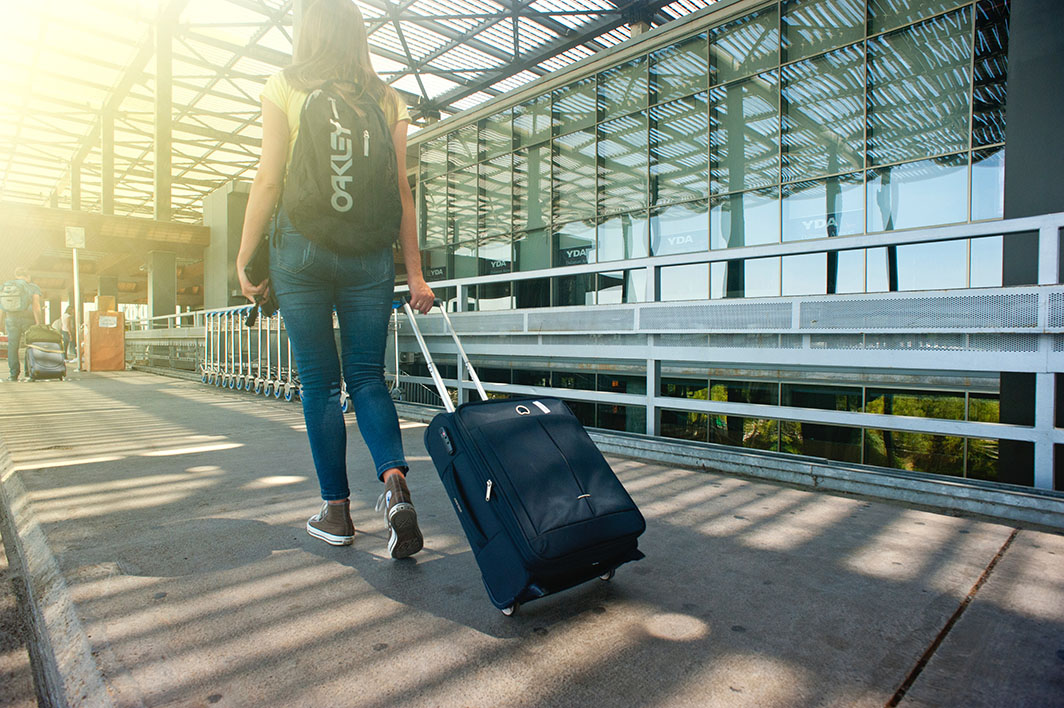 Choosing the right rolling luggage can seem overwhelming once you start getting down to the different models and types of rolling luggage available which is why we're here to help. In this guide, we'll go through each of the aspects you should consider when choosing the right rolling luggage for your needs to help you make the right choice for your new travel companion.
How to Choose the Right Size
Finding the travel luggage that is the right size for your needs is crucial to ensuring you aren't overwhelmed or searching for more space when packing. You don't want to end up with a bag too big for your belongings while at the same time, having to take multiple small bags to fit all of your things is no fun either. Here are the things to consider when choosing the size of your rolling luggage.
Carry-on or Checking?
If you're shopping for luggage to carry-on with you on the plane, you'll need to find something that meets airline rules. Currently, most airlines won't allow carry-on bags larger than 9"x14"x22" including the handles and wheels of the bag. Knowing whether you want to carry the bag on the plane with you will be an influential determining factor for choosing the size of the bag.
In regards to rolling luggage, the most common sizes can be broken down as follows:
18" Under seat carry-on
20" International carry-on
22" Domestic carry-on (U.S.)
24" Medium checked
26" Large checked
29" Extra-large checked
Materials Matter
Rolling luggage is made using a variety of different materials. The most common material you'll find luggage made out of is nylon because it is light and breathable while also inexpensive to produce. Other materials that more high-end luggage will be constructed with include leather and polycarbonate which are stronger than nylon and will last for more trips. These stronger materials come with a premium, and the price of the luggage will generally show the increase in quality.
Hardside vs. Softside Luggage
As the names would suggest, hard-side luggage is stiff on the outside while soft-side luggage is made of fabric and other synthetic materials such as nylon. Each has its own benefits and drawbacks and choosing which to go with comes down to personal preference, what you hope to get out of the luggage, and how much you're willing to pay.
Hardside Luggage
When it comes to hard-sided luggage, there are two options to consider: hard-sides and hard cases. Hard-sides are similar to standard luggage with an added shell on the outside of the bag to help protect the contents. They do have some flex and aren't utterly impervious to damage.
Hard cases, on the other hand, are very durable and don't usually bend or flex from drops or being stacked. They will provide substantial protection for your belongings and will hold up for years.
Hard luggage is generally waterproof, and stain resistant which helps with appearances and many models feature built-in TSA approved locks to keep your belongings safe. The main drawbacks are that they can be a bit heavier than other luggage and can also take up much more space when not in use.
Softside Luggage
Soft-side rolling luggage offers more flexibility and allows for expansion in many cases which is convenient if you know that you'll be going home with more than you brought with you. Additionally, soft-sided luggage is easily collapsible when storing the bag for later use and won't take up nearly as much space in your closet. Soft-sided luggage is generally lighter than hard-sided luggage, and in many cases, they can offer some sort of protection thanks to inner shells on the inside.
The main drawbacks of soft-sided luggage come in durability. You can't stack other heavy bags on top of soft-sided luggage and feel confident that your fragile belongings are safe which makes the baggage handling at airports a concern in some cases.
Spinner vs. Classic Two-Wheel Rolling Luggage
The two main types of rolling luggage are spinner luggage and traditional two-wheel rolling luggage. Choosing which one is best comes down to the amount of flexibility and the stability benefits you would like.
Spinner Luggage
Spinner luggage features four swivel wheels on the bottom of the bag and is intended to move while remaining upright. This luggage has 360 maneuverability which makes it essential for navigating crowded airports. Moving through tight spaces around the terminal and in the aisle of the plane are effortless. Spinner luggage can roll either alongside, behind, or in front of you. It offers additional benefits in the ability to stack other duffles, purses or backpacks on top because it remains upright.
Two-Wheel Rolling Luggage
Two-wheel rolling luggage is very common and chances are you've used them before. They feature a traditional push and pull system—simply grab the handle, tilt the bag back and start walking! This makes them incredibly stable over bumpy and uneven surfaces such as a sidewalk. They are also more resistant to tipping over than spinner luggage. The most significant drawback of two-wheel rolling luggage is that is sacrifices maneuverability in exchange for its stability. If this isn't an issue for you in your travels, you won't notice this as much.
Rolling luggage takes the hassle out of travel. It will make your experience that much more enjoyable so you can focus on more important things. Wheeled luggage will keep your items secure. Not every bag will meet everyone's individual needs, but this guide should help you make a more informed buying decision. Take a look at our other guides on this site for complete lists of our recommended rolling luggage. Each review contains links to purchase.
Best Rolling Luggages
Timbuk2 Co-Pilot Luggage Roller Review
What an impressive piece of luggage. The folks over at Timbuk2 spared no expense in design, to ensure the proper amount of functionality and style went into this bag. One of our favorite features of this rolling luggage is the handles on all sides of the bag, we've all been struck with that anxiety when our bag is coming down the baggage chute, of how we are going to fetch it in a crowded airport. Timbuk2 took the stress right out of it with those conveniently placed handles on the top, sides, and bottom. As for pockets, on the front of the bag there is a pocket large enough for a laptop, as well as access to the inner compartment from the top, this one is perfect for accessing the contents of your bag mid flight without having to pull your bag down from the overhead bin.
The main compartment features a large locking zipper that unzips around the bag allowing access to the clamshell that houses separate compartments inside. These compartments are great for separating different articles of clothing, shoes and toiletries. On to the functionality of the bags rolling capabilities, this bag features a sturdy aluminum handle that feels solid when pushing and pulling. The telescoping handle attaches to a base that rolls on durable skateboard wheels, these wheels have awesome bearings that allow you to glide through the airport, and also stay nice and stable on uneven surfaces like cracked concrete. This luggage is offered in small, medium and extra large sizes.
Samsonite Winfield 2 Fashion Hardside 3 Piece Set Review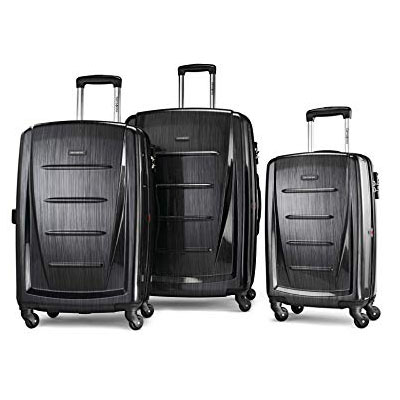 Who doesn't love a great rolling luggage set? There's one for Mama Bear, Papa Bear, and Baby Bear(Sorry Goldilocks). This Samsonite hardsided rolling case set comes with 20″, 24″, and 30″ sizes. The 24 and 30 inch luggage features top and side grab handles, with plastic feet opposite the side handle. The smallest bag of the set is suitable for a carry-on option, or is great for your little one's travel items. Each piece features Samsonite's 360 degree wheels, which means while upright the bag can be pushed forward, backward or sideways. The bags feature TSA approved locks the keep others out of your belongings, until you are able to retrieve your bag.
TUMI - V4 Short Trip Expandable 4 Wheeled Packing Class - Hardside Luggage for Men and Women Review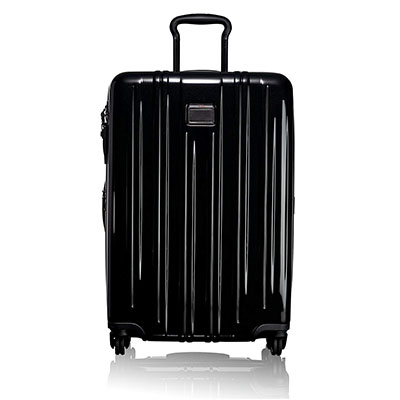 When it comes to luggage, TUMI is certainly up there in our top 3. This piece features a super durable polycarbonate alloy shell, which is ultra lightweight, and can typically stand up to aggressive baggage handlers. As for storage there's two sections when you open this bag up, one side is an open compartment with a compression strap that allows you to get your items nice and snug inside the bag. On the other side there is a large zipper compartment that features plenty of space for clothing, as well as a hanging bracket for a suit or dress.
This bracket allows you to keep your suit or dress on the hanger, fold it over and hang it inside the rolling luggage. This bag has top and side handles, TSA friendly locks, and TUMI Tracer. TUMI Tracer is a great feature that helps travelers reconnect with their lost luggage by allowing registration of the items in their database. These rollers are available in three different sizes and a multitude of colors and print.
Delsey Luggage Helium Aero Expandable Spinner Trolley Review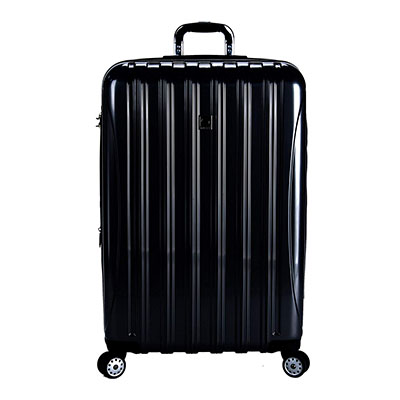 Delsey is known for making some of the best luggage, and this piece is no exception. The ribbed polycarbonate shell makes for a super durable lightweight bag. The great thing about this bag, it's expandable! Perfect for those trips where you come back with more than you brought. Souvenirs, extra shoes, more clothes for yourself, you name it, then unzip the expansion zipper and you've got a nice wealth of extra space. This bag rolls super smooth, and has wheels that rotate in a full circle. Top and side handles make this bag easy to retrieve, and the handles are soft just in case you need to carry the bag for longer than usual.
Dakine Carry On Roller Bag Review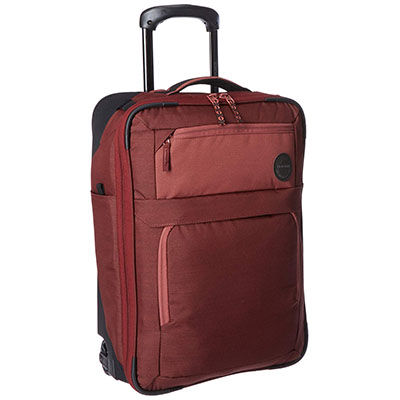 When it comes to transporting precious items Dakine knows a thing or two. Dakine specializes in sports apparel and baggage. This bag is the perfect carry-on roller to bring along side your checked sports gear. It features two front organizer pockets, which are perfect for those last minute items. It has a 15.5″ retractable handle which is a nice length for a carry-on, that won't require you to bend down while rolling this piece behind you. On the inside of the main compartment, there is a nice padded interior feature for those times when you are carrying somewhat fragile items. Also this rolling luggage features two replaceable smooth gliding urethane wheels.
Samsonite Flexis Expandable Softside Carry On Luggage Review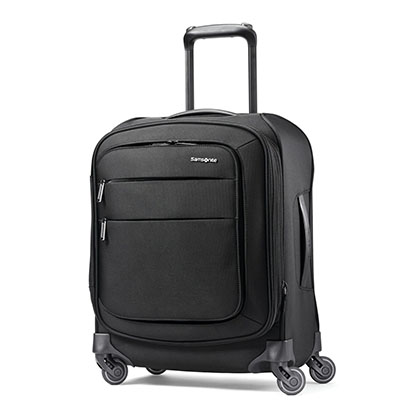 Here's a great carry-on roller from Samsonite. It has their new RADII WHEEL SYSTEM is a current engineering, so dragging is reduced, pivot instantly, and smooth roll on variable terrains. This bag has a super sturdy telescoping handle that comes out of the bag nice and smooth, which gives you much easier and hassle free operation. This carry-on easily fits into the verification bin at the airport, which translates to less time at the counter. Making it easier to get to your flight.
Briggs & Riley Baseline Domestic Carry-On Expandable Upright Review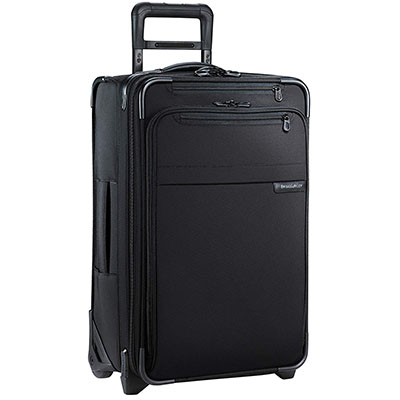 This Briggs & Riley Carry-on is made from a very durable ballistic nylon that will keep your items safe from sharp outside objects. What we really like about this bag is the outside telescoping handle housing. This will allow you to be able to pack your items in your bag nice and flat without any protrusion from the handle on the inside of the bag. This rolling carry-on features two wheels for angled pulling, as well as a top and side handle.
Since the handles are housed on the outside, they also included a pocket in between the handles on the outside of the bag, which is great for carrying a boarding pass, or other document you may need to gain access to quickly.
TUMI - Alpha 3 Medium Trip Expandable 4 Wheeled Packing Case Suitcase - Rolling Luggage for Men and Women - Anthracite Review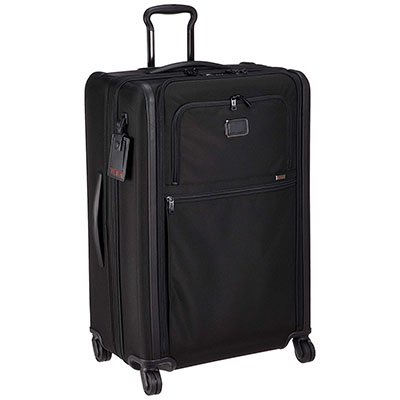 Believe it or not TUMI made the list 3 times this year. This highly customer reviewed bag features TUMI's built to last lightweight DuraFold construction. A redesigned telescoping handle made from aircraft aluminum with three different stop heights is a feature. Also this bag comes with the add a bag feature, which allows you to connect two TUMI bags together.
TUMI's iconic U shaped pocket expands into the bag, to keep you within the airlines guidelines for baggage size. This bag overall is a great pick for a trip across the states or even across the border.
Tumi Alpha 2 Worldwide Trip Expandable 4 Wheel Packing Case Review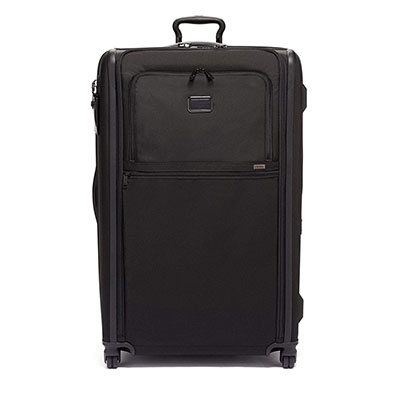 Here we have our final luggage review. This TUMI rolling luggage is perfect for the ULTRA traveler. This bag features a durable ballistic nylon outer covering. On the inside, you can fit plenty of clothing, shoes and hanging garments. This bag is perfect for trips that require extra space for the extra days. TUMI Tracer is also included with this bag in the event it is lost or stolen. This rolling luggage has a large zipper and TSA lock for ease of use. The durability and functionality of this bag, make it a clear choice for the long trip.
Last Updated: 12th Dec, 2020