Introduction
Many people love autumn because as the leaves begin to die with the coming of winter, they change into a warm palette of colors that can be breathtakingly beautiful. Of course, once those leaves fall to the ground, the magic quickly fades as you are now left with a fairly continuous stream of debris that you have to clean up. While raking may be the classic method of cleaning up fallen leaves, many people prefer the much easier method of using an electric leaf blower. In fact, electric leaf blowers can be used to help clean up all kinds of debris on the ground–so long as it is somewhat small and light or the electric leaf blower is fairly powerful.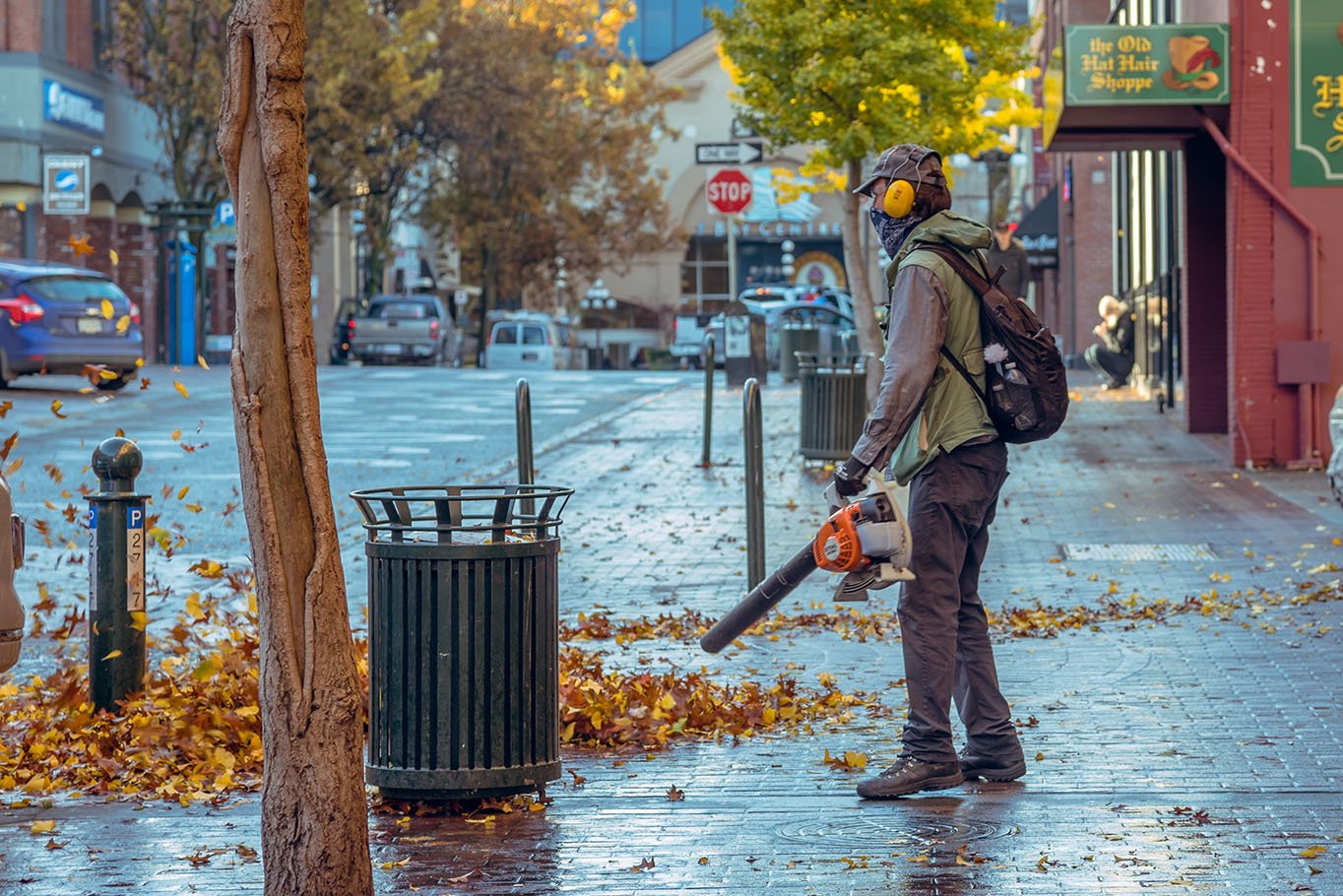 That said, it can be difficult figuring out which electric leaf blower is the best electric leaf blower for you. That is why we have put together a list of the 5 best electric leaf blowers, highlighting what each one does best. Then we provide a helpful buyer's guide, so you can find the best electric leaf blower to suit your needs.
Brands
Best Electric Leaf Blowers
WORX Turbine WG520 Review: Best Air Flow Electric Leaf Blower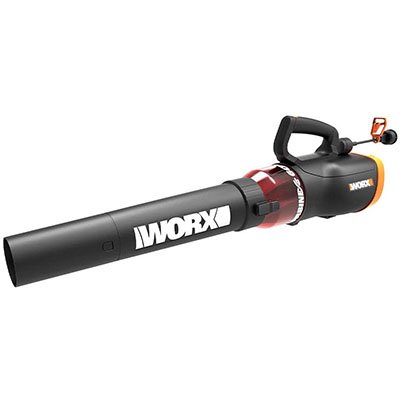 WORX is a brand that you may or may not have heard of, largely due to the fact that it is a little more than a decade and a half old.
That said, this brand, which posits itself squarely in the consumer-grade product market, is still able to provide some of the best values across their products that we have seen–even generating plenty of positive press from some of the most prestigious outlets around. WORX does not specialize in lawn care equipment specifically or even power tools more generally.
Power
When it comes to the WORX Turbine WG520, easily the best thing about this electric leaf blower is the sheer volume of air that it blows. In fact, the WORX Turbine WG520 is able to push an incredible 600 CFM which is by far the most on our list and is actually 50 percent more than the next closest competitor. It accomplishes this by using a turbine design with its fan to generate far more airflow than any other electric leaf blower we reviewed. Even better, the WORX Turbine WG520 has a 12 amp motor and while the 110 mph airspeed may not be the most, it is plenty when coupled with the airflow.
Options
Another nice thing about the WORX Turbine WG520 is the number of options that this electric leaf blower provides. Even before you put it to use, you have the choice between 2 different air flows–the lesser of which would still be the most on our list. Beyond the airflow options, the WORX Turbine WG520 also comes with variable speed control, so you do not have to worry about blowing everything off of your porch or patio. To top it off, the controls use a single slider, so it is incredibly easy and intuitive to use.
Pros
Has a powerful 12 amp motor
Has a 110 mph airspeed
Has a 600 CFM airflow
Uses turbine fan technology
Comes in 2 different airflows
Has an extra-large nozzle
Has variable speed control
Is easy to use
Is a decent weight
Cons
Is a more expensive electric leaf blower
Black+Decker BV5600 Review: Most Versatile Electric Leaf Blower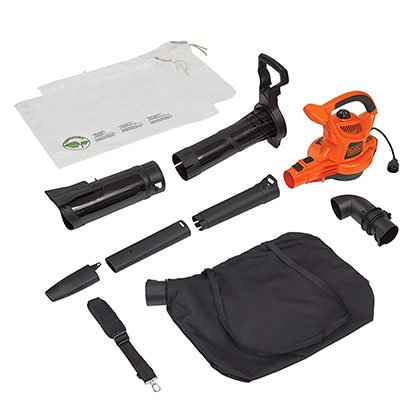 Despite how many commercials you might see or how well-known they might be, it will likely surprise some of you to hear that Black+Decker is actually a low-end power tool company that specializes in making less expensive consumer-grade power tools for homeowners and weekend warriors and is not that highly respected in the professional labor community. This only makes it all the more unusual that the Black+Decker BV5600 is not simply a solid electric leaf blower but could very well be the best electric leaf blower that we reviewed.
Versatility
By far one of the best qualities about the Black+Decker BV5600 is its versatility due to the fact that it can effortlessly transition from blowing your leaves away to vacuuming them up. This electric leaf blower can even engage a mulching function which is capable of mulching 16 bags of leaves into 1. That is an incredibly mulching ratio and makes this by far the best mulching electric leaf blower that we saw. It even comes with its own bag to carry the leaves or mulch that you vacuum.
Specs
This is the part that will likely shock some of the people more familiar with the Black+Decker brand. While it is not always the best, the Black+Decker BV5600 is actually either the top or the second-best in virtually every meaningful category. It is tied for having both the most powerful motor as well as the fastest airspeed, and the Black+Decker BV5600 has the second-best airflow at 400 CFM. On top of all this, the Black+Decker BV5600 is also the quietest electric leaf blower, generating only 68 dB of volume which is about as loud as a hairdryer.
Pros
Has a powerful 12 amp motor
Is extremely quiet at 68 dB
Has 2 different speed settings
Has a 250 mph airspeed
Has a 400 CFM airflow
Has a vacuum mode
Has a mulching mode
Has a cord retainer system
Comes with a complete kit
Cons
Is a more expensive electric leaf blower
Is the heaviest electric leaf blower reviewed
Greenworks 24012 Review: Best Budget Electric Leaf Blower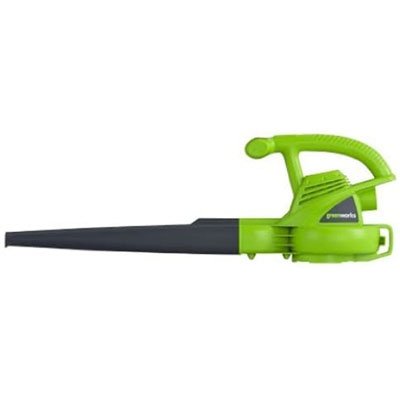 If you have not heard of Greenworks, you should not hold that against either yourself nor the brand. Having been in existence a little more than a decade, the company has not had the same amount of time to saturate the market like some of the other brands on our list, but they do have a unique position.
While Greenworks may not specialize in lawn care equipment, they do make it a point to specialize in electric power tools. Even better, they do so in a much more environmentally conscious manner than most power tool companies.
Value
The Greenworks 24012 distinguishes itself from many of the other electric leaf blowers on our list by providing incredible value. For one, this is easily the least expensive electric leaf blower that we reviewed and is even less expensive than the compact electric leaf blowers we saw. Thankfully, this low price does not mean that the Greenworks 24012 is a poor product as it also comes with an Energy Star rating which will allow you to continue saving money, compared to its competitors, throughout the life of its use. Finally, it is also fairly light, so using it for hours should not be an issue.
Drawbacks
Arguably one of the biggest letdowns of the Greenworks 24012 is that it is fairly underpowered compared to some of the other electric leaf blowers that we saw. While it is not egregiously underpowered, it is definitely a bit more limited in terms of application. This is not an electric leaf blower that you would want to use on a larger plot of land while trying to clean up leaves that have been soaked in rain and lay heavily on the ground. That said, for most general homeowner purposes, the power of the Greenworks 24012 should suit you just fine.
Pros
The least expensive electric leaf blower reviewed
Is a lighter electric leaf blower
Comes in 2 different amperages
Has a 160 mph airspeed
Is easy to use
Has a safety cord lock
Has a 150 CFM airflow
Only 97 dB of volume
Cons
Not as powerful as some
Poorly positioned intake
Toro 51621 UltraPlus Review: Fastest Electric Leaf Blower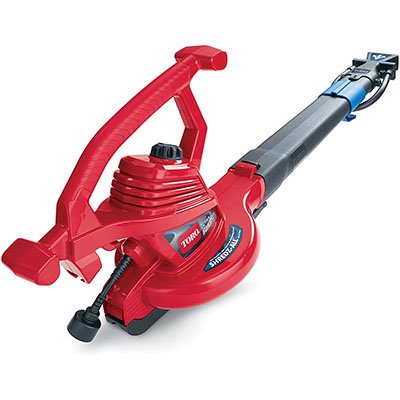 Of all the companies on our list, few have been around as long as Toro and none of them have put forth the years of dedication to lawn care equipment.
In fact, this is the only company on our list that specializes in lawn care equipment and even does so for some of the biggest and most important lawns around. In fact, Toro products are regularly used to care for the lawns of professional and semi-professional sports fields.
Power
Considering their focus and their prestige within the market, it should come as little surprise that the Toro 51621 provides some of the best power specs on our list. For instance, this electric leaf blower sports a 12 amp motor which is tied for the most powerful that we reviewed. On top of that, the Toro 51621 is also tied with having the fastest airspeed of 250 mph. While it may come in 3rd in terms of airflow at 350 CFM, this is still close to the next best making it an all-around powerful electric leaf blower.
Versatility
Another great quality about the Toro 51621 is that it can offer you numerous solutions to slightly different debris problems. For instance, if you do not feel like simply blowing the leaves into a pile you have to clean up, the Toro 51621 can function as a vacuum unit that even has a passive mulching system–though that is not as good as an active mulching system. This is also the only electric leaf blower we saw with an oscillating nozzle kit that increases the angle of the air stream with every pass. Finally, the variable speed control gives you fine-tuned precision to protect items you do not want to blow away.
Pros
Comes in 4 different airspeeds
Has a 350 CFM airflow
Has a powerful 12 amp motor
Comes with a complete kit
Has a vacuum mode
Has variable speed control
Has a mulching filter
Has an oscillating nozzle kit
Has a cord lock system
Cons
The most expensive electric leaf blower reviewed
Is a heavier electric leaf blower
Performance Tool W50069 Review: Best Compact Electric Leaf Blower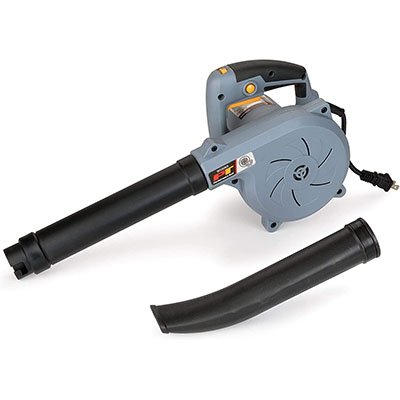 Though it may not necessarily be the most well-known brand on our list, Performance Tool actually has a fairly robust and storied history stretching back almost 5 decades. In fact, Performance Tool is actually a conglomerate of sorts that has 6 different brands under their corporate umbrella with the eponymous brand as their flagship. Though, it should be noted that Performance Tool does not specialize in lawn care equipment and even does not actually specialize in tools exclusively.
Profile
By far the best thing about the Performance Tool W50069 Electric Leaf Blower is its size. In fact, from virtually every perspective, this is by far the most compact electric leaf blower on our list. For one, this is the lightest electric leaf blower that we reviewed coming in at a low 3.3 pounds. However, this weight is only made easier to manage with a physical profile where none of the Performance Tool W50069's dimensions exceed 1'. This makes the Performance Tool W50069 able to be used for hours on end without fatiguing the user.
Drawbacks
Unfortunately, you simply cannot get the same kind of performance out of such a small package. While the Performance Tool W50069 may be great for smaller settings where maximum power is not necessary, this is still the least powerful electric leaf blower we reviewed. For one, the motor is only 5.8 amps. This translates to only 90 mph of airspeed, which is still generally okay for lighter applications. It also has the lowest airflow of 100 CFM, but again, this should not be much of an issue for its intended purpose.
Pros
Is a less expensive electric leaf blower
Comes in 2 different power ratings
Is the lightest electric leaf blower reviewed
Has a 90 mph airspeed
Has a 100 CFM airflow
Has a 98 dB volume
Is cETL certified
Has the smallest profile reviewed
Has variable speed control
Cons
Not the most durable
Not as powerful as some
Greenworks 24252 G-MAX 40V 150 MPH Variable Speed Cordless Leaf Blower Review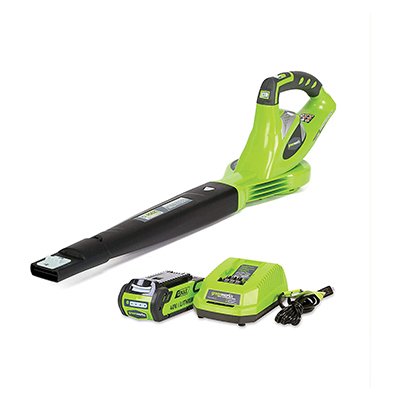 The Greenworks 24252 G-MAX 40V 150 MPH Variable Speed Cordless Leaf Blower is an excellent device for small to medium yard jobs such as sweeping leaves or gathering grass clippings.
While this might not be the product you see in all commercials, that doesn't make it any less valuable. This is one of the best affordable leaf blowers for many occasions, and its size and power is excellent for all but the biggest yard cleaning jobs.
Battery
One of the most notable features of this leaf blower is that it is battery-powered and it can work between 20 and 30 minutes before it runs out of power. The 50V Lithium battery, as well as the charger that comes with it, is interchangeable with any other Greenworks lawn tool that works on the same type of power, which is a great addition. You can fully charge it in just 90 minutes, which is much faster than many similarly-priced models. The battery can last around 2000 cycles before it loses power, so it will last you for a very long time.
AirSpeed and Air Flow
This leaf blower can work on both grass and hard surfaces thanks to its airspeed and flow. It has a maximum airspeed of 150 mph, while the maximum air flow is 135 CFM. Still, the best results can be seen when using it on the grass while collecting debris such as dry leaves and branches. You can adjust the airspeed using a variable 6-speed dial located on the handle. This will help you adjust everything according to the task ahead. Also, if you adjust it to the lower speed, you can prolong the battery life, so you will be able to clean the larger area.
Weight
This is one of the lightest leaf blowers on the market. You can carry it for a long time before it becomes uncomfortable. This also gives you more control over the blower, as you can easily point it in any direction you'd like.
Pros
Fairly quiet
Lightweight
Long battery life
The battery is interchangeable with other Greenworks products
Cordless
Clever design
Easy to remove the battery
Cons
Not suitable for larger jobs
Black+Decker Electric Leaf Blower LB700 7-AMP Review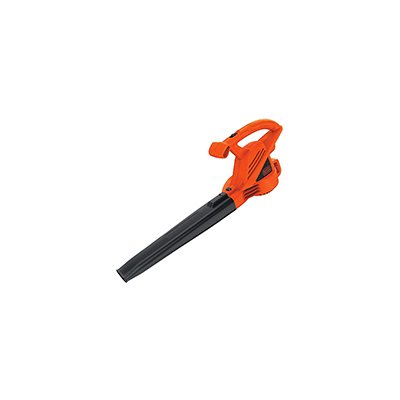 Black+Decker is a brand that manufactures products for homeowners and not professionals. This is proof of how some well-known brands don't need to have a great reputation in every field. The Black+Decker LB700 is one of those products that weekend warriors and homeowners swear upon, while professionals don't want to have anything to do with it. This is a simple leaf blower that, although far from being the most powerful one, gets the job done.
Power
The LB700 is powered by a 7-amp motor, which gives it the maximum blowing airspeed of 180 mph. This is just enough for light to medium work, but it isn't great for larger surfaces or a high amount of debris. It works on a cord instead of a battery, and the power cord isn't included in the packaging, so this is something you need to consider before making a purchase. However, it does have a plug receptacle for a three-prong plug, making it suitable for any extension cord you might already own.
Simplicity
This is one of those leaf blowers that are extremely easy to use. It has an on and off button and that's all you'll need to worry about. You can just assemble it, plug it into the power cord, and you can start with your cleaning. There are no annoying options and features that you're never going to use. One feature it does have is cord retention. This enables you to go rather far from the plug without worrying that you'll unplug it. If you do happen to go too far, you'll feel a slight tug that will be a signal you should go back a bit. The plug won't be pulled out that easily.
Noise
Leaf blowers tend to be one of the noisiest devices you can use, which can disturb both you and your neighbors. While an entirely silent leaf blower doesn't exist, some are quieter than others. This model has a noise rating of 86 dB, which is considered a standard for electric leaf blowers. While it is far from quiet, it won't hurt your ears or cause discomfort.
Pros
Easy to use
Cord lock mechanism
Cord retention
Simple design
Handheld
Affordable
Cons
The power cord isn't included
Not the most powerful
Best Electric Leaf Blower – Buyer's Guide
While it is not necessarily always the most important quality to consider when selecting an electric leaf blower, it quite often is and will almost certainly be near the top of the list. This is because there are only so many different design tweaks that a manufacturer can make to improve the force that their electric leaf blower can generate. The only exception to this involves the mechanics which are pretty much tied directly to the motor itself.
Power
One thing to keep in mind is that you should pay more attention to the amps than the watts. For one, the wattage rating may well be a peak power wattage rather than the continuous RMS wattage–and the fact that most electric leaf blower manufacturers do not differentiate between the two means judging by wattage is little more than a crapshoot. For amperage, on the other hand, you can feel fairly confident it is a true rating of power.
When it comes to the amps, while more is almost always better, that does not mean that you have to get the most powerful motor available. Depending on where you live and the type of property you intend to use your electric leaf blower on, a 12 amp electric leaf blower may be a bit overkill leaving you paying more for power that you do not actually need and are unlikely to put to meaningful use–though, it can still make the job easier, all other things considered.
Airspeed
Airspeed can be seen as the maximum amount of force generated by an electric leaf blower, but it is not simply enough that the electric leaf blower can blow air at incredibly fast speeds. If you blow a stream of air 250 mph but it is only as large as a straw, you will not be able to get much work done. This is where the other primary air rating, airflow, comes into play.
In terms of the two primary air ratings, this one is arguably not as important as airflow. This is because most electric leaf blowers generate an airspeed fast enough to blow virtually all leaves away. However, not all electric leaf blowers produce enough volume of the blown air to effectively move some of the larger of heavier items.
To use a firearm metaphor, the airspeed is essentially the power of a bullet. More powder will result in the bullet being fired faster. However, if the bullet is the size of a BB, it will not generate nearly as many results as a bullet fired half as quickly but that is twice the size. In this way, airspeed is important, but it should not be valued more than power or airflow. That said, the airspeed will generally determine what the maximum weight the electric leaf blower can move is.
Air Flow
In terms of appreciable effect, the airflow is by far the most important air rating of an electric leaf blower. This rating determines the amount of air that is being blown and is rated in cubic feet per minute or CFM. The greater the CFM, the easier it is to move large amounts of debris and detritus in a shorter amount of time. Though airflow is not the end all be all, few electric leaf blowers are so underpowered they simply cannot move leaves–though they might not be able to move debris much heavier.
Still, the airflow of an electric leaf blower can be seen a bit like a flood of water when it comes to understanding how it functions. Basically, the more water in a flood, the likelier that flood is to be able to move objects. For instance, if you shoot a jet stream of water at 40 mph, you may be able to do some localized damage, but you are far less likely to be able to move the object with any control or regularity–not to mention you will have to do this for more individual objects.
Conversely, if you have a river moving at 20 mph, the minimum force to move many objects has already been achieved. As such, the sheer amount of water traveling at 20 mph will be able to move objects much larger than with the jet stream traveling twice as fast. That said, even a large river traveling lazily will not be able to move many objects. Similarly, you want to make sure that the electric leaf blower reaches a basic minimum level of airspeed, otherwise, the most airflow will still not be able to move the leaves or other debris.
Weight
Electric leaf blowers are generally not nearly as powerful as gas-powered leaf blowers with there being a distinctive difference between a motor and an engine. In fact, most gas-powered leaf blowers come with a backpack that actually houses the engine as well as the gas tank with the leaf blowing component being little more than an additional attachment which directs the air being blown.
Since electric leaf blowers are generally more compact due to the absence of fuel as well as the ability of motors to generate power in a much more compact frame, they rarely come with a backpack. As such, the weight of an electric leaf blower can be a meaningful indicator in terms of which you should choose. This is especially true considering you will almost certainly have to carry the electric leaf blower by hand the entire time you are using it.
As such, you will likely want to make sure that the electric leaf blower in question is not too heavy for you to use over an extended period of time. Of course, this will also have a fair amount to do with how large of an area you intend to use the electric leaf blower. If you have a small yard or other smaller area, the weight may not be as much of a concern, since you are unlikely to use the electric leaf blower for any real extended period of time–especially if it also happens to be fairly powerful, which generally go together.
Volume
Whereas the airflow or CFM of an electric leaf blower relates to the volume of air blown, this kind of volume relates to what you most commonly think when you hear that term: audio levels. Basically, electric leaf blowers have a tendency to make plenty of noise, and that noise can actually be damaging to your hearing if it is too loud and you are exposed to it for a long enough period of time.
It should be noted that due to the way they generate power, electric leaf blowers are generally inherently quieter than gas-powered leaf blowers. The pistons of the motor in a gas-powered leaf blower will often make more noise than any other part of the leaf blower. However, an electric leaf blower, using a motor instead of an engine, can find numerous ways to reduce the volume.
Still, using an electric motor will almost always generate a high pitched hum, and the sound of the air as it is blown from the nozzle of the electric leaf blower will also often generate fairly loud volumes. As such, you will want to make sure that your setting does not have noise pollution laws and that you are wearing protective earplugs if the electric leaf blower is fairly loud.
Control
There are a couple of ways that you can approach an analysis of the control of an electric leaf blower. The first way is to examine what type of interface the electric leaf blower uses and how easy it is to change the electric leaf blower from one setting to another if the electric leaf blower has multiple settings. The second way to consider the quality of control is by determining literally how easy the electric leaf blower is to control while in use.
The first approach is by far the most straightforward as you can clearly see the control interface, and if you cannot, then that answers the question without issue. Still, sometimes the controls might be easy to see and easy to engage, but that does not necessarily mean that they will work quite as well in practice. Unfortunately, there is no way of knowing whether or not the controls are easy to engage beforehand without researching what others have said.
The second approach to control is a bit easier to pin down as you can often gauge a rough idea of how easy the electric leaf blower would be to control altogether by comparing its power to its weight. If the electric leaf blower is incredibly powerful as well as incredibly lightweight, then there is a good chance that it will be more difficult to control than an electric leaf blower that is either slightly less powerful or a little bit heavier. That said, this is a bit subjective and will depend on the strength of the user–not to mention you can adjust the controllability of the electric leaf blower through two different metrics.
Conclusion
As we can see, due to the various types of settings, the different types of debris needing to be cleaned, as well as the physical and financial capabilities of the buyer, there is no electric leaf blower that will be the best electric leaf blower for all people. That said, there are definitely a few that we have seen which stand out a bit above the rest.
For instance, if you are looking for an electric leaf blower that is essentially a one-man band in terms of lawn care maintenance, then we recommend the BLACK+DECKER BV5600. Aside from the fact that it actually sports some of the best air-based specs on our list, this is also the only product that we reviewed which not only blows the leaves but will vacuum them up and then mulch them all at the same time.
Of course, if all you need to do is clear leaves and other debris from the ground, then we would recommend you opt for the WORX TURBINE. While this electric leaf blower may not necessarily be able to generate the blistering speeds of some of the other products on our list, its airflow of 600 CFM is 50 percent greater than the next nearest competitor while its airspeed of 110 mph is generally more than enough to blow the debris on the ground.
Last Updated: 30th Jan, 2021