What is a Daypack?
Daypacks are backpacks that are intended for a days use, people often use them for short hikes, or other times where they might like the versatility, room, build quality and waterproofing of a hiking bag, but do not need a full size one, such as for commuting to the office by bike (my personal use for a daypack) or for short hikes.
Because of the many different uses for daypacks, it can sometimes be confusing to choose the right one for your needs, especially with all the different features that modern daypacks have, some examples are below:
Laptop Sleeves: Great for commuting to the office or college, but you may not need this for exercise or hiking use.
Hydration Systems: If you are going for a long bike ride or run this be be really useful as you won't have to stop and dig your water bottle out of your daypack when you get thirsty.
Rain Covers: If you live in a rainy climate, these can be extremely helpful, but if you live in Southern California then it will just add extra bulk and be less convenient when packing and unpacking your backpack.
Cooling compartment: Yes! Some daypacks even have cooling compartments! Fantastic if you are going on a longer hike and want to keep food cool (or a few beers for after the hike), but not that important if you are just using the bag for shorter runs.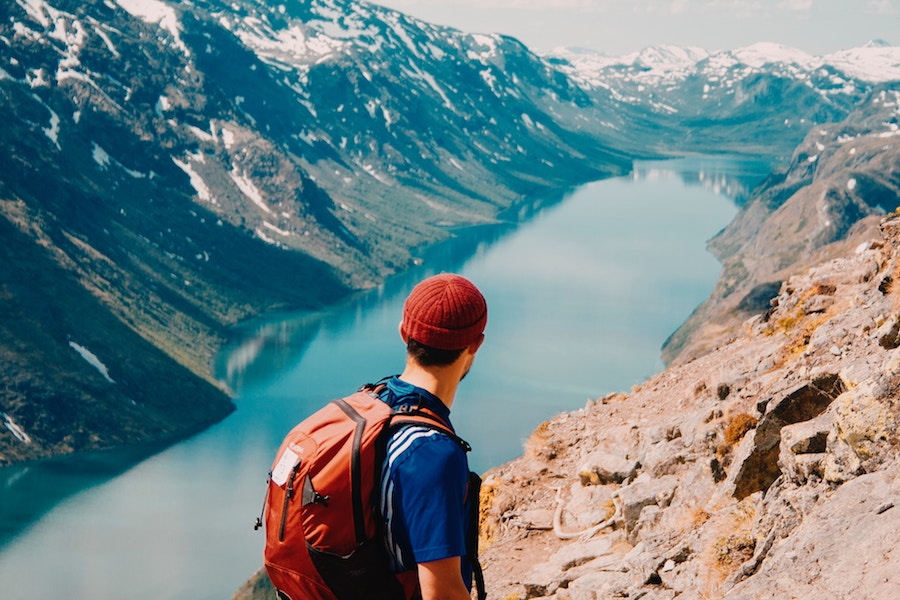 So Which Size Daypack Would Be Right For Me?
Most daypacks range in volume from 10 liters to 30 liters as between this range you will find a good compromise between the amount of stuff that you can carry in your daypack and the size, weight & convenience of the daypack.
The correct size ultimately depends on what you will be using the daypack for. If you are going to be using it for hiking, you probably should buy a larger daypack as you are likely to have more to carry with you, especially if you will be hiking all day. If you are planning to take it running or cycling then a smaller size would be better as you will not be using it for longer periods of time and a bulky daypack can be uncomfortable while exercising.
How Should a Daypack Fit?
The most important things to think about when you consider the fit of a daypack are comfort and stability. A good daypack will have wide shoulder straps to help evenly distribute the weight of the load that you are carrying, but shouldn't be so wide that they will dig into your armpits while you are walking. For maximum comfort, the padding on the straps should cover your chest and reach the bottom of your rib cage as this is where most of the weight will be distributed, and the padding will prevent the straps of your daypack from digging in and causing you discomfort.
For stability you should also look for a daypack with at least a hip-belt, and preferably also a sternum or chest belt. While you may not need this for shorter trips and lighter loads, it can make a massive difference to your comfort level when you are carrying a lot of weight, or you are doing any form of exercise which involves a lot of movement in your body, such as running.
Brands
Best Daypacks for Hiking
The Osprey Daylite Backpack Review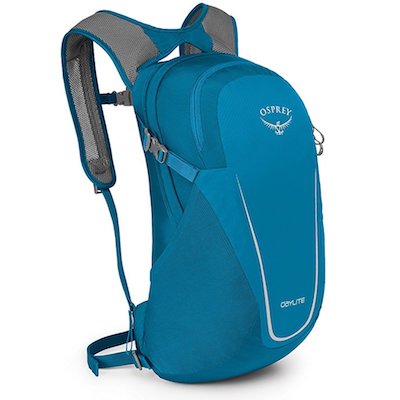 With over 300 five-star reviews on Amazon, Osprey certainly did something right with this backpack. This is one of the most comfortable backpacks around, and although it only holds 13 liters, the space is well organised, with a laptop sleeve, lots of pockets and even a hydration sleeve, though you do have to buy the bladder for holding the water separately.
In my experience, many of the more comfortable and functional daypacks are often lacking in style, but the Osprey Daylite Backpack looks great. It has a modern design, and is available in multiple colors, from black to orange and lime green if you want to stand out!
One of the most interesting things about the Osprey Daylight is that is modular, meaning that you can buy add-ons for the bag such as hydration bladders or and add-on to increase the capacity of the bag. This is a great idea as it means that you can modify the bag to your day to day needs rather than having multiple bags for different uses.
The North Face Jester Review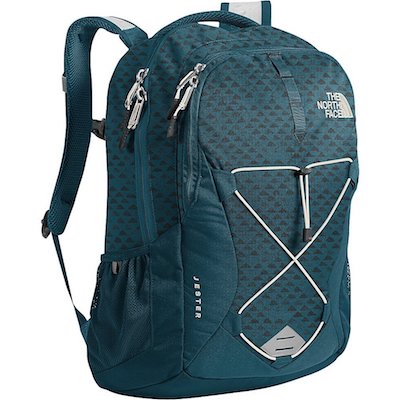 The North Face is a well established brand, and are well known to make high quality backpacks, so if you are looking for a great quality daypack, whether it is for hiking, cycling, or running then a daypack made by The North Face will almost always be a great option.
The North Face Jester is a decently sized backpack that can hold a more than you need for a day's hiking, with a volume of 26 liters, it also has an elastic bungee on the front for extra storage, which is extremely useful (I use this feature on my daypack all the time). It is currently available in 18 different colors and styles, so you can be sure that your new daypack is stylish and suits your personality.
This daypack is water resistant and should serve you well through many downpours and it has a laptop sleeve that can fit laptops up to 15 inches in size, so your laptop will be well protected. There is also plenty of pockets with once main compartment, a secondary compartment that also has lots of internal pockets and mesh pockets on the outside for water bottles, so you should have no trouble organizing your stuff.
This is a very comfortable daypack with lots of padding on the straps and back of the daypack, it also has a chest strap to stop it from moving around as much so you should have no problem if you use it while you are running.
The New Outlander Travel Daypack Review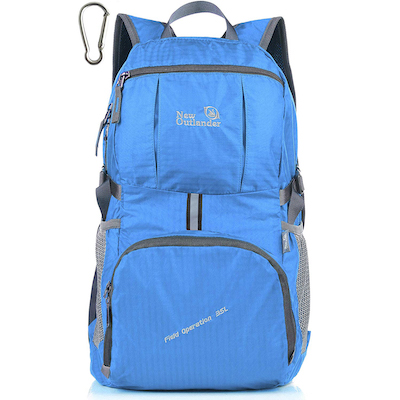 This highly rated backpack is available in two different sizes (20L & 33L) and comes in multiple colors. One of it's best features is that you can fold it in to it's inner pocket for storage, fantastic if you need to take it on a plane without paying for luggage! The daypack is very well made and is water and rip resistant. The New Outlander Travel Daypack even comes with a lifetime warranty, which is usually a sign of a company's faith in the quality of their product.
The bag does have multiple compartments and pockets, including mesh pockets on the sides of the bag for water bottles and other small items that need to be within easy reach, however, it does not have a laptop sleeve.
This daypack is quite light for it's size, at only 0.5 pounds and has fairly wide padding on the shoulder straps which makes it comfortable, however as there is no hip or sternum belt this bag isn't ideal for strenuous exercise like running.
TETON Sports Oasis 1100 Hydration Backpack Review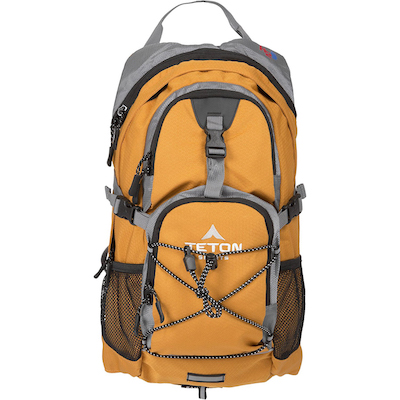 The TETON Sports Oasis 1100 Hydration Backpacks is an absolutely fantastic daypack designed primarily with hikers, runners, and cyclists in mind. Unlike most daypacks, the Taton Sports Oasis includes a 2L hydration pack with a tube connected so that you don't even need to stop to have a drink of water.
This daypack doesn't have the largest capacity around, at only 18L, however if you are a hiker, runner or cyclist you probably wouldn't want to be carrying around lots of stuff anyway as that would just slow you down. The bag includes hip and sternum belts to help improve the stability of the bag when you are doing any kind of strenuous exercise, and the padding on the straps and back of the bag is very generous and makes this daypack one of the most comfortable around. The padding also has mesh covering to improve breathability, to ensure that sweat is not a problem.
What this daypack loses in size, it makes up for with organization. There are plenty of pockets to stash all of your stuff in such as a butterfly storage space to stash your gear, a front zip pocket that includes both an organizer and key clip and mesh pockets on the side of the bag to store everything that you need to be within easy reach.
Naturehike 18L 25L Rainproof Ultralight Foldable Lightweight Packable Backpack Review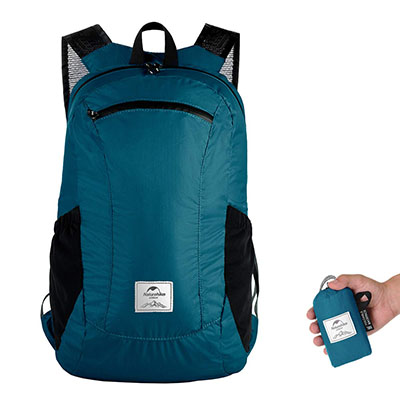 The Naturehike Rainproof Ultralight is very lightweight daypack, designed for shorter hikes, cycling & running. One of the great things about this bag (if you are a cyclist) is that it has a helmet net that you can put your bike helmet in so that you don't have to carry it around in your hands.
Besides the cycling benefits, this daypack has lots of padding on the shoulder straps and also includes chest and hip straps, making it perfect for longer hikes and running.
With a capacity of 18L, you can't fit a huge amount of stuff in this daypack, but it should be more than big enough for a day's hike and there are plenty of pockets to make organizing your things easy. The bag is made of water-resistant material that should keep your things dry in the rain, however the water-resistant material probably wouldn't stand up in extremely heavy rain.
Overall, this is a great backpack if you are a bit of a minimalist in that you don't tend to carry a lot with you, if you like to carry a lot of stuff around, then you should avoid this one.
Mardingtop 35L Outdoor Backpack Review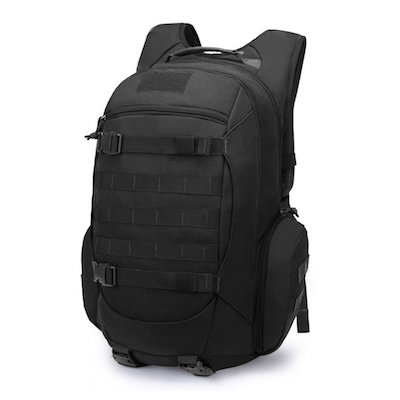 The Mardingtop 35L Outdoor Backpack is a great daypack for for outdoor persuits such as hiking, climbing, cycling & running with it's 30 liter capacity and lots of functionality. It is a nice, sporty looking bag and is available in 9 different colors.
As I mentioned above this bag holds 35 liters, so if you buy this daypack you will have plenty of room for your stuff and as this is the highest capacity daypack in this list, if you like to carry a lot with you then this may be the daypack for you. This daypack has two compartments as well as mesh pockets on the side for water bottles and the backpack has compression straps which you can use to compress the items in your daypack to make it smaller so that it is not as bulky when you are carrying it around, this means that it can also adapt in size when you are not carrying around a large number of items.
This daypack is comfortable for active use whether hiking, climbing, cycling or running and has a decent amount of padding on the shoulder straps as well as the back. There is also a chest strap and a waist strap to prevent the bag from moving around to much. Unlike the other daypacks on this list the Mardingtop 35L Outdoor Backpack also comes with a rain cover to increase the water resistance of the daypack in heavy rain.
The North Face Borealis Backpack Review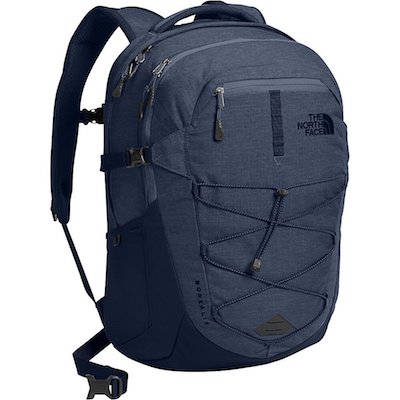 The North Face Borealis Backpack is a fantastic daypack and one that I am personally using right now! It is a larger daypack and can hold up to 28 liters of stuff, but is still very compact. The backpack is stylish and is available in a large number of different colors and designs, so you will definitely find one to suit your personality!
This daypack has a laptop sleeve, which offers good protection for your laptop, two large compartments and a third smaller compartment. You can also use the elastic bungee to expand the bag's storage, I have found that by using the bungee, you can easily carry something like another jacket or your bike helmet.
The second largest compartment also has more pockets and one zipped that are useful for safely carrying smaller items such as your cellphone, wallet or keys and there are also two mesh pockets on the sides of the backpack for carrying around water bottles.
This is a very comfortable daypack with well padded shoulder straps that have some mesh lining for breathability lots of padding on the back. There is also a chest strap and a waist strap to increase the stability of the bag for when you are moving quickly such as if you are running.
Last Updated: 12th Dec, 2020