Best Reciprocating Saws for Heavy Duty: DEWALT DC385B vs. Bosch RS7
Best Cordless
DEWALT Bare-Tool DC385B
Most Lightweight
BLACK&DECKER BDCR20B
Best Corded
Bosch RS7
Introduction
A reciprocating saw is a powerful machine, the usage of which is aimed at creating coarse cuts in materials used in buildings and for obliteration. The amount of power sent to the blade makes it capable of cutting hard materials such as metals, fiber glass, masonry, wood and plaster. For people indulged in activities like construction, plumbing, HVAC, electrical jobs, etc. a reciprocating saw is a must have equipment. However, the selection of a reciprocating saw depends on factors such as weight and size of the saw, accessibility, convenience, power supply to the motor, etc.
Buying Guide
There are some important characteristics of a best reciprocating saw that one must know while making a purchase. Considering the characteristics will definitely help in making the right choice.
Corded vs. Cordless
Corded reciprocating saws have a cord attached to it which when connected to the power socket gives power to the blade up to 15 amps. These are best suited when continuous maximum power is required. However, limited cord length and the all-time availability of power generator or outlet are its major drawbacks.
Cordless saws on other hand do not require a power outlet and is not limited by any kind of cord and hence expanding the area of operation. These are not as powerful as corded saws and therefore are suitable for sawing lighter materials.
Shoe adjustment
Shoe adjustment renders a better control over the saw and help in creating fine cuts by stabilizing the saw during its operation and eliminating any kind of unwanted movement.
Orbital maneuverability
Orbital maneuverability makes the saw work in both horizontal and vertical directions, plus it supplies a uniform cutting speed.
Tool less blade replacement
As the name suggests, tool-less blade replacement does not require any tool for changing the saw's blade making the whole process more commodious, easy and time saving.
Variable speed
Different materials require different and appropriate speed for being cut with accuracy. Not only will it give you a better control while operating the saw but also aid you in sawing the material with convenience and precision.
Auto stop brushes
This feature of the reciprocating saw is a self-executing process that aims at unmanned mechanical halting of the saw in cases when the brushes abrade because of friction and hence safeguarding the motor from any kind of damage.
Metal gear housing
The metal gear housing is an additional protective feature focused on preventing the motor of the saw from sweltering or burning because of extreme and heavy duty usage. This feature aims at providing protection to the motor and durability to the whole saw.
Speed regulation
Speed regulation system maintains and manages the speed of the saw. It ensures that the cutting speed does not decrease during its operation and even if it tends to happen, this feature will regulate and tune the mechanism to provide uniform speed.
Storage case
A storage case is inevitable when you own a reciprocating saw in order to ensure safety and protection against any possible damage or injury. A storage case that comes along with the saw not only safely accommodates the saw but also stores any kind of accessories that the operator may require on the work site.
How to Use a Reciprocating Saw?
There is no point in owning a reciprocating saw until and unless you know how to use it. One needs to understand certain techniques before using the saw in the right manner.
The best blade for the best job
Different kind of blades are required to cut different kind of materials depending on the hardness of the material and the type of cut required.
Coarse blades: Appropriate for cutting wood, plaster, ceiling boards, etc.
Fine blade: Suitable for cutting metals.
Toothless tungsten carbide-coated blade: Perfect choice for cutting ceramic tiles, stones, cast iron, etc.
Grabbing style and focus
Holding the saw in the right way ensures better control and efficiency of operation. One must grab the saw with both hands with one hand grabbing the handle and the other placed somewhere near the front.
Applying the right pressure
The amount of pressure applied on the cutting material should be adequate and balanced. It should neither be too high or too low. Using an old board for finding the right pressure is always recommended.
Start point and end point of cutting
The starting and finishing point both are important while cutting the material. For instance, if you are to saw plastic or metal pipes, it is necessary to make a small cut by carefully placing the blade at the position where you want to cut and then increasing the pace gradually. If you want to saw through a ceiling, closed doors, wooden doors, etc. it is recommended that you initiate the process by initially cutting a hole and then move ahead for sawing. The ending of the cut should always be done precisely and smoothly.
Movement of the body
Down and up motion is advised while sawing the material. However it should be taken care of that too much motion will leave you with uneven and coarse cuts. To ensure that your saw stays stable, place it on the working surface.
Brands
Best Reciprocating Saws
DEWALT Bare-Tool DC385B 18-Volt Cordless Reciprocating Saw Review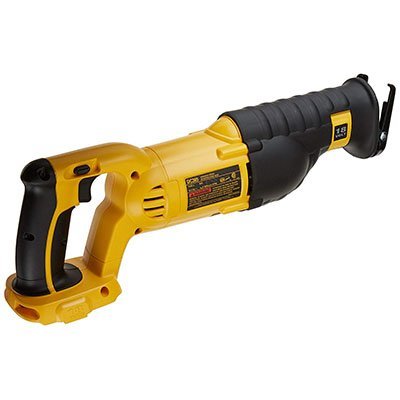 Features and Specifications
The DEWALT bare-tool DC385B is a cordless saw which runs on 18-volt batteries and is capable enough to perform efficiently the heavy duty jobs. The cutting pace provided by this model is very fast, nearly 2900 strokes per minute. Also, the length of the stroke is around 1 inch which also facilitates in fast sawing.
This model is equipped with an electric brake which acts as a protective feature that safeguards the blade from getting damaged. The anti-slip comfort grip provides the operator with a firm and comfortable grip over the saw. It has also got a 4-position keyless blade clamp which supports convenient and quick blade replacement.
Pros and Cons
This saw though runs on batteries but it is a very powerful machine. It also has a very good balance which is the result of the open top adjustable shoe. Also, it does not weigh too much and hence is convenient to work with. The motor installed in the saw has variable speed setting which can be customized accordingly. The quick and convenient blade replacement is big thumbs up. However, this saw doesn't have orbital cutting and adjustable stroke length. This model does not come with batteries so you'll need to buy them separately.
BLACK+DECKER BDCR20B 20V Max Lithium Bare Reciprocating Saw Review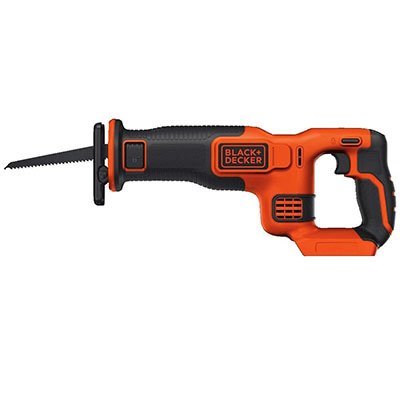 Features and Specifications
This Black and Decker saw is a cordless model which works on 20-volt batteries. It has the option of variable speed setting which can be customized. The maximum SPM provided by the saw is 3000 and the stroke length is 7/8 inch. It supports blade replacement without the use of tools which is an absolute boon and it also has a pivoting shoe to ensure stability.
Pros and Cons
This cordless saw is light in weight, it is powerful and it has great speed. It can cut almost everything you put through it. The speed setting option lets you adjust the speed of the blade in accordance with the material to be cut and type of cut to be made. Also, the tool-less blade replacement is such a relief. This model however, vibrates a lot which can prove to be a bit uncomfortable.
Bosch RS7 1-1/8-Inch 11 Amp Reciprocating Saw Review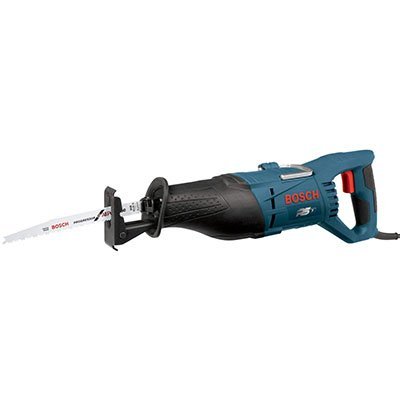 Features and Specifications
The Bosch RS7 is a powerful corded saw having an 11 Amp motor which provides stroke length of 1-1/8 inch. It has a dual LED lighting system which helps to light up the cutting area. The blade of this reciprocating saw can be easily changed because it has tool-less blade replacement system. It also has customizable speed setting and a very soft and comfortable saw handle.
Pros and Cons
Bosch RS7 is a very strong saw capable of performing effectively all the heavy duty tasks. It can cut plywood, cement board, metal and dimensional lumber with absolute ease. The dual LED feature brightens up the cutting area which helps the user in having a better vision while sawing. Its ergonomic handle is very soft and comfortable which extends the normal time usage of the saw. Its tool-less blade replacement on one hand is a good feature while the small tiny lever that releases the blade can sometimes become a headache. It comes with a carrying or tool-storage case which is made of cloth, this is a big thumbs down! It is powerful but at the same time it is very heavy and has no vibration control feature.
Conclusion
For people engaged in construction jobs, a reciprocating saw is inevitable. The market offers you with a wide range of reciprocating saws that have varying qualities and features. Depending on what kind of profession you are indulged in, what materials you usually have to cut, what features you want, what budget you have and certain other facets; by following this buying guide, you can buy your very own saw that is good enough to cater to all your needs and requirements.