Introduction
When a little girl reaches the toddler age (between 2-4 years old) she tends to start using more of her imagination and will start creative imagination play with others as well.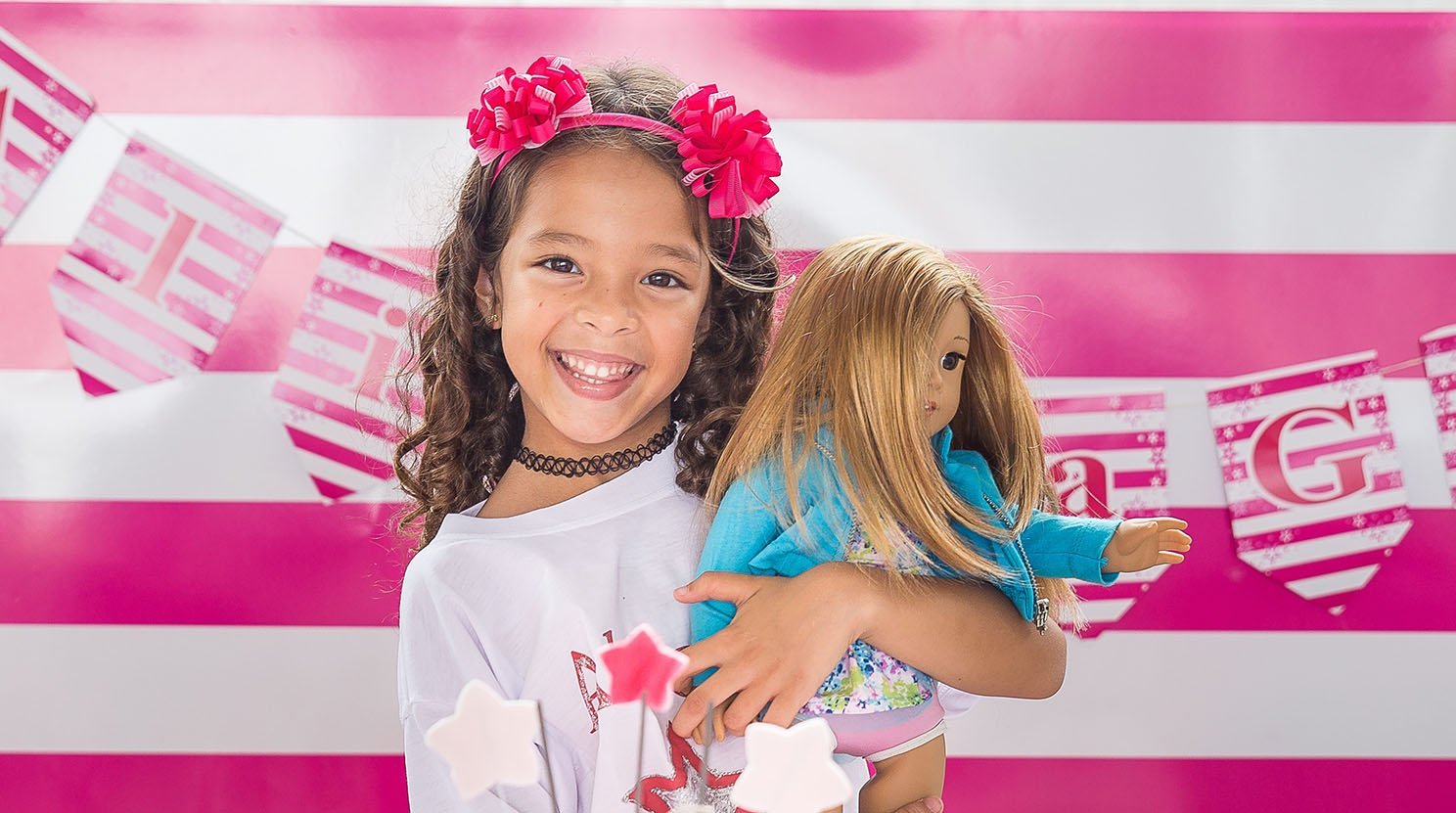 Baby dolls are a great way for toddlers to start using their imagination and pretend skills. Baby dolls are also a great way for young kids to learn nurturing skills as well as even practice for a little brother or sister who may be coming along soon.
I believe that baby dolls make great gifts for toddlers as there are all kinds of different way to play and spark their imagination.
These are my top choices for the best baby dolls for toddlers.
Corolle Mon Premier Calin Charming Baby Doll
Corolle dolls are known for being high quality dolls that are adorable and fun but won't cost you a ton of money like some other higher end toy dolls. The Calin Charming doll is one of the best "first baby dolls" that you can buy for your toddler. The size of 12″ long makes it the perfect size for a little girl's hands to play with.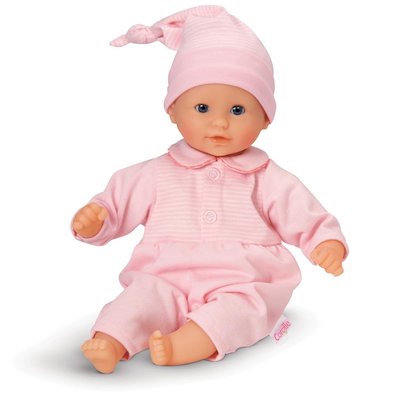 It has a soft beanbag body that is great for snuggling and hugging and even works great for posing the doll like a real baby. The head, arms and legs are made from a high quality vinyl that makes this baby doll pretty realistic looking.
The doll's eyes close when she is laid flat which is a pretty neat for toddlers. Another really neat thing about this doll is that it is lightly scented with a vanilla fragrance to appeal to a little one's senses as well.
There are a wide range of accessories and other clothing that is available for this doll so your little one can change it up and play all different kinds of ways with the doll.
Disney Princess Toddler Dolls
If you have a little girl who loves any of the Disney princesses, you need to check out the Disney princess toddler dolls. Below you see the Elsa toddler doll from the hit movie Froze, which is hugely popular right now. There are several other princess toddler dolls available as well including Anna from Frozen, Belle from Beauty and the Beast, Cinderella, Ariel from The Little Mermaid, Rapunzel from Tangled, and more.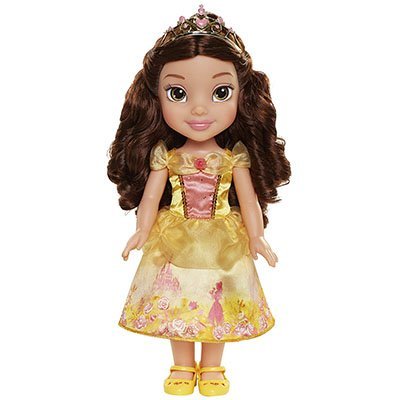 These dolls are made to look like the Disney princesses, but in a more child-like style specifically for toddlers. Each one comes with different accessories like a hair brush and even a small figurine as well as removable clothing and shoes. There are several different accessory sets and clothing options for each different doll.
The dolls measure approximately 14″ and are a nice size for a toddler to carry around and play with. These baby dolls are great for younger children who may not be ready for the small "Barbie-sized" princess dolls but still want a princess to play with. These dolls can be used for more than just being a princess doll as kids have great imaginations and will use them as a regular baby doll as well.
JC Toys La Newborn Baby Doll
This is a great baby doll if you are looking for a newborn-like doll that your little one can take care. It is recommended for kids ages 2 years and up and is a great smaller size at 15″ for younger children.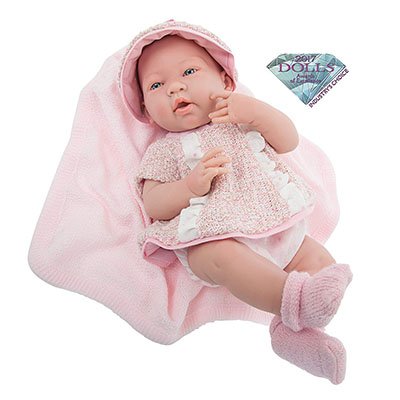 With this doll you not only get the realistic looking doll, but you also get two outfits, hat, booties, diaper and a hospital bracelet. This would be a cute doll to get a toddler that is expecting a baby brother or sister to get them used to a baby or so they have have a baby of their own. Or it simply could be a nice newborn baby doll to add to your toddler's toy collection.
There are other accessories and outfits that you can buy separately for the doll as well.
Linzy Plush 16" Educational Plush Doll Review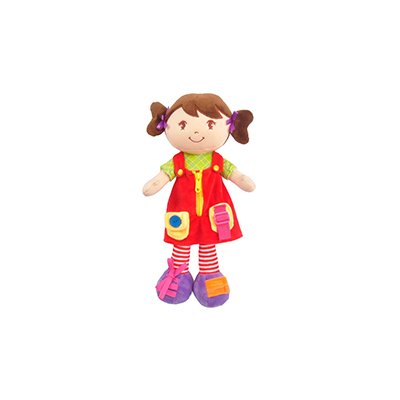 If you want to combine fun and playtime with learning and education, Linzy Plush 16'' Educational Plush Doll might be the right toy for your 2-year old.
This doll combines cute looks with many features that can help your toddler improve their motor skills. It has many zippers, buttons, buckles, self-stick tabs, and laces. This can help a child learn how to solve problems and it will keep them entertained for a long while. Your kid can even learn how to tie shoelaces or use Velcro with it! The outfit is removable, as well, making the doll as interactive as possible.
The doll itself is 16 inches tall, which is great for toddlers as it's large enough for them to enjoy it, yet small enough to keep it easy to carry. Everything is made from 100% polyester, making it safe and plushy. Your kid might even feel like sleeping with it.
Sesame Street Abby with Flowers Stuffed Animal Review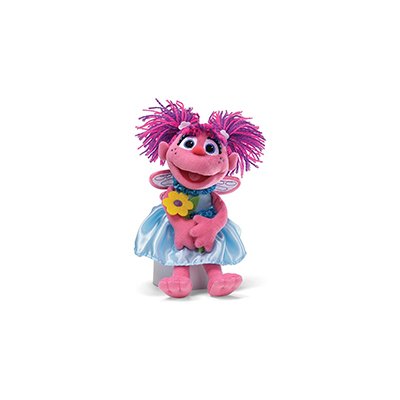 Do you or your toddler love Sesame Street? If you do, then this Abby Cadabby plush toy might be a great gift idea.
GUND and Sesame Street have joined forces to design this cute and huggable plush toy. This Abby Caddaby is made from soft material, as is typical of GUND. The character is accurately-made, and the manufacturer took care of every little detail. Even the flower is adorably designed not to stand out from the rest of the doll.
This toy is manufactured in the USA, which is additional insurance of its quality. It is long-lasting and safe for kids of ages 1+. The height of the doll is 11 inches, so it isn't too big for younger toddlers, but it isn't too small for older kids, as well. And the good news for the parents – it is machine-washable, so you can clean it with ease.
Little Mommy Bedtime Baby Doll
Not only this doll is a great play toy for a toddler, but it also makes a great bedtime snuggle friend for your little one as well. The doll has a soft body and comes all set for bedtime in a cute little baby sleeper.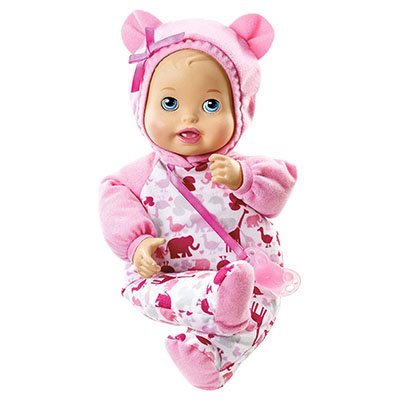 When you put the pacifier into the doll's mouth, her eyes will close and a lullaby will start playing while the pacifier sets off a light glow. When you take the pacifier out of the doll's mouth she wakes up and her eyes open. There are 3 different lullabies that the doll plays, which are soft and soothing for your little one as well.
This doll isn't just for nighttime though as she is fun to play with all day long and little girls will love putting their baby to sleep.
Melissa and Doug Jenna Baby Doll
This is one of the best inexpensive baby dolls for toddlers that works great as a little girl's first real baby doll. It is made by Melissa and Doug, who are known for their quality toys and since it is a smaller doll at 12″ it's great for younger toddlers, especially in the 1-3 year old range.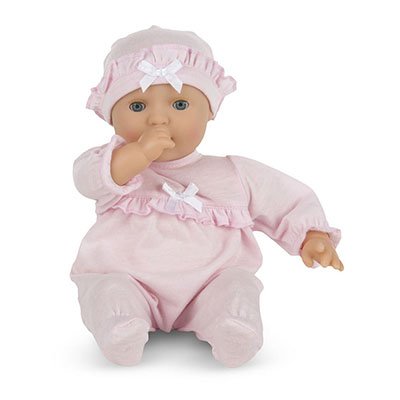 The doll's eyes open and close and she can also suck her thumb and the pacifier that comes with the toy. Her clothes are removable, so you can always buy 12″ doll clothes separately if you want different clothes for the baby. The doll doesn't have any hair so you don't have to worry about tangles or knots, which can be a problem for younger kids.
The Jenna Doll would be a good option for an inexpensive, basic baby doll that you can get your toddler started with and then move up to the more expensive ones just so you know she is ready to take care of a doll.
---
Last Updated: 2020-12-27 by Tumay Kilinc