Introduction
We all know that high-quality products are worth having, but what exactly determines a high-quality self-propelled lawnmower? We decided to tackle this question in two general areas: durability and design. Let's look at what long-lasting and thoughtful features are integrated into the best mowers on the market today.
What Determines a High-Quality Self-Propelled Lawn Mower?
Durability
The average maximum life expectancy of a well-maintained lawn mower is seven to ten years, with most people hitting about six years before changing to a newer model. Gas engines in consumer models last around ten years tops. That translates to about one hour per week of use for about six months every year.
Most mower manufacturers usually offer 1 to 3-year warranties. This one doesn't seem like much, but there are reasons for such a short term. Designs change, models get upgraded, and many companies don't want to be responsible for hanging on to old parts stock for years just in case someone might need a repair. It used to be that you could buy something backed by a long warranty because then you'd be confident that the product would last. Not so now. So how can you determine if a product will be durable?
The Sum of Its Parts
You know that old saying, "Keep it simple." Look for self-propelled lawn mowers that have fewer parts to break and lose. Avoid ones that need all sorts of accessories to change between discharging, mulching, and bagging. Stick to one-lever height changes instead of four levers for setting each wheel's height independently. Prefer button starters over ones that require a key, and avoid gas models that need priming and choking.
Finally, blades are a key part that you'll need to maintain and replace. Consider whether you'll bag or mulch more because different kinds of blades do each kind of work. Some self-propelled 3-in-1 models have both kinds of blades onboard, which raises the cost of maintenance. Some warranties require that you use only blades approved by the manufacturer.
Solid Like a Rock
Electric and cordless self-propelled mowers often have plastic decks or bodies. This specification makes them a lot lighter to move around. Plastic is not bad. Some manufacturers guarantee those plastic decks for the mower's lifetime because they are strong and will never rust. Meanwhile, you'll mostly see steel decks on gas mowers. Look for ones that are marked rust-resistant, but remember, you'll still need to keep them clean to protect them over the long run.
Respect for the Reputation
When in doubt, buy a mower from a company that's been making them for a good long while. If you don't find all the features you want in one of the big-name models, don't despair. Some manufacturers assemble their mowers with parts from other companies with great reputations for quality. For example, many gas mowers run on Briggs & Stratton engines. Honda has been making lawnmowers since 1979, and Toro since the 1980s. These companies make some of the best mowers on the market. GreenWorks brand has a place in that line-up which we will be reviewing their products in this article. 
Thoughtful Design
We just discussed having a lawnmower that will endure well. The second sign of a high-quality self-propelled lawnmower is thoughtful design. Is it made to be comfortable and easy to use?
Comfort
Self-propelled mowers make cutting the lawn a lot easier, but you still have to guide them. First off, look for mowers with adjustable cushioned handlebars. You'll want the bar to hit the right height for you to control the mower comfortably, especially if you have slopes or rough terrain. If the bars collapse down afterward for storage, that's even better. The cushioning is important, too, when you have to mow in 95-degree heat. That metal gets hot in the sun.
Concentrated Leverage
We're back to "keep it simple." The best-designed mowers have sturdy, well-marked adjustment levers in easy-to-reach places. Need to change from discharge to bagging? Flip the lever. Want to raise the blade a little higher? One lever clicks forward and backward. Need to go a little faster? Some self-propelled models use the bail handle to control the speed. Squeeze it and go faster. Others have a fixed throttle. If possible, see and touch (and even test-drive) the mowers you want to buy.
Options
The thoughtful design also means the operator has the most flexibility possible to accommodate their lawn's needs. Look for models that offer a good range of deck height adjustments, as well as plenty of speed settings. Think of it this way: you might have fescue in your yard now, so you'll be leaving it longer. Maybe your weather only hits the 80s in the summer, so you cut the whole yard quickly. But maybe next year you'll be living somewhere hot with centipede grass, which means you'll be cutting it short and possibly moving a little slower while you work. You'll be glad for all those deck heights and speeds at your command!
Cleanup
Finally, good design means that the manufacturer makes it easy to clean up after you mow. Keeping the machine clean will extend its lifetime. A washout port in the deck is a good example. All you have to do is connect a garden hose and let it run for a minute or two to wash out the clippings. A gas mower will have an easy way to drain the tank for winter storage. A cordless mower will have a simple battery to remove so that you'll have options for charging it wherever you have need. An electric mower will have hooks for storing the extension cord. If you have a small storage area, look for collapsible handlebars.
Get The Best You Can Afford
This mower will be your working companion each week for a good long chunk of the year. If you want a beautiful lawn but don't want to kill yourself whilemaintaining it, get a great mower. Get the best you can afford because, over the long run, it will save you time and money.
Best GreenWorks Self-Propelled Lawn Mower Reviews
GreenWorks 25142 10 Amp Corded 16-Inch Lawn Mower Review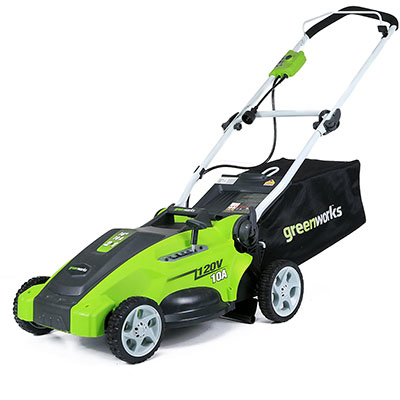 I can say that GreenWorks 25142 is a natural friendly lawnmower and not harmful to your health. Because of having a zero-carbon footprint, it is certified as an eco-friendly mower in the market.
The GreenWorks 25142 lawnmower is powered by a 10 Amp motor that provides a great experience of cutting tough grass. The lawnmower comes with seven different adjustable heights to give service to all types of grasses.
Moreover, this is an eco-friendly lawnmower with no maintenance cost. The wide cutting blades ensure to complete your grass cutting work within a short time. As you do not need any gas, oil, or tune-ups, you do not need to make an effort to operate the lawnmower.
The features of the GreenWorks lawn mower are efficient and amazing to the lawn owners. When you know the specifications, you will be delighted to go with the lawnmowers.
Powerful 10 Amp Motor Lawn Mower
This small lawnmower is powered by a 10 Amp motor to cut any size of grass in your mower. The small motor is enough to provide a good experience for any tough grass with its powerful deck.
16-In Strong Deck with seven Adjustable height level
Now cut tough grass with a large, strong deck quickly and comfortably because the model comes with a 16-inch cutting deck. Therefore, if you are in a hurry, you can still give a suitable size for your garden grass.
On the other hand, the height-adjustable level enables you to give shape to the garden's garden grass. Adjust the height size and run your deck to have a fine-looking grass in your garden at any time!
Durable & Lightweight
The GreenWorks 25142 is a good durable plastic body lawn mower for your garden. If you are not going to purchase any riding mower, this plastic body and the lightweight mower is the most perfect. The plastic design body looks amazing to watch with only 39 lbs weight.
Eco-Friendly with No Maintenance Cost
The mower comes with an eco-friendly certified because of not producing any carbon. As a result, this is one of the perfect mowers for people to work, as well. Just think you are working with a mower, and it produces carbon! You can't work for a long time, and surely you will face some health troubles. But, no risk with the mower!
Moreover, you do not need to take the mower to the nearest gas filling station or purchase oil from time to time. You do not need to spend any maintenance cost on the home mower.
Benefits
The lawnmower is beneficial for home owner's especially small garden owners. With some unique features and easy-to-use control, this GreenWorks is helpful to you.
It is a carbon-free lawnmower, so, not harmful to health and the environment.
With seven height level adjustability, it provides a secure way to start.
Easy to start and handle the mower to cut grass of your small garden
No maintenance fee ensures a good lawn experience.
Pros
There are a lot of things that go in favor of the GreenWorks 25142 10 Amp Corded 16-Inch Lawn Mower like:
Seven standard adjustable heights Level
16-Inch Motor Deck
Durable Plastic Body
No Maintenance Cost & Effortless
Cord Lock
Four-year warranty
Cons
The motor is not self-Propelled.
No multipack indicator
Conclusion
GreenWorks is a natural friendly lawnmower and not harmful to your health. Because of having a zero-carbon footprint, it is certified as an eco-friendly mower in the market.
A single push button enables the mower to start work and give an accurate size of grass within a short time. This one is the most suitable mower for small homeowners than other mowers because of its lightweight, durable design and other unique features.
GreenWorks 25302 Double Force G-MAX 40V Lawn Mower Review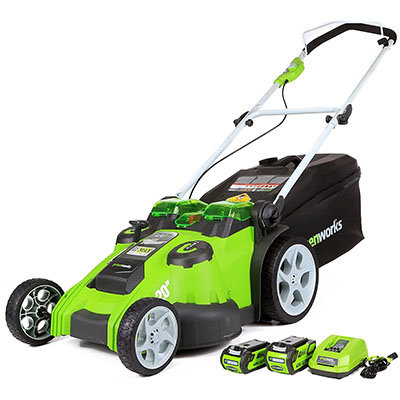 Greenworks 25302 comes with a resilient and large powered 40V chargeable Lithium-ion battery, which can be great as you can ideally charge that anywhere. It has any five slicing positions and height, which usually measures in 88 to 2.75 inches; you could easily adjust following how short you need your turf lawn could be like. It is possible to either put it to use for bagging and also mulching. Hence, gardening may be easy because all you have to do is perform the mower, and everything is all set.
GreenWorks 40V G-Max Lawn Mower delivers all of the power you have to get your yard looking perfect without the trouble of spilling gas or even extension cords.
Its ergonomic design provides various user soothe characteristics from easy, flexible handle, over-molded grip, 7 inch rear wheels along with 6-inch front wheels for superior control, and simple fold-up handles for suitable storage.
This particular 2-in-1 mower features high performance and is made with the new twin force double blade cutting action about enhanced cutting performance. Silent and easy to use, this mower provides the dependable performance and also dependability you require to get your lawn work done rapidly and effectively.
This mower comes with a dual blade design regarding higher slicing efficiency, employing two 10-inch metallic blades (supplying a 20-inch slicing deck). This mower features double motors to work all the 10-inch blades and a dual-battery design to boost run time regarding enhanced slicing capabilities. Get up to seventy minutes of work with all the G-MAX 40-volt high-powered four Ah and low capacity two Ah Lith-Ion Batteries (added to purchase).
Adding another G-MAX 40-volt high-capacity 4 Ah battery offers you almost a couple of hours regarding run time. You can easily operate the particular mower together with one battery simultaneously or together with two charged batteries for performance. The cutting-edge lithium-ion technology permits the mower to perform at full capacity to the last bar without memory after charging to get a lot.
Affordable price and sleek design
Greenworks 25302, the great Lawn Mower, comes at an affordable price and a sleek design. Everybody will be charmed with its attractive shape and size. It is durable and also easy to use.
Double Cutting blades, Batteries, and Motors: This is probably the walk powering lawn mower that delivers some type of double benefits inside the aspects regarding blade, battery power, and motor. Each blade is about 10 inches, and they work combined with motors and possess two specific batteries to power them.
3-In-1 Efficiency Perform
This lawnmower may come together with added capabilities, and they're really mulching, bagging, and aspect discharge. You'll be capable of using the particular mower to mulch the grass during spring to aid thicken the lawn. It is possible to use the particular bag offered to apparent leaves and debris inside of the fall.
Lithium-ion Technology
The cutting-edge lithium-ion technology allows the mower to perform at full capacity to the last bar without memory reflects after charging to get a longer battery power life cycle. This feature entails there's no more dependence on yearly servicing, hard to control pull cables, or spilling gas on your lawn.
Pros
Lightweight and user-friendly, this mower weighs about only forty-five lbs and starts using a push of your button, removing all fuel hassle.
Raise and lower the particular mower using a simple individual lever top adjustment including 1 3/8" to 3 3/8 ".
The GreenWorks Dual Force Mower can be a 2-in-1 together with mulching and also rear bagging features.
Make sure to obtain the entire category of tools to have your lawn work completed.
Progressive Smart cut technology sets for power good thickness of one's grass.
Battery power automatically switches once it is often drained, and it includes a four years warranty.
Cons
The principal complaint that has been registered revolved around not receiving all the hardware for your plow.
Conclusion
Greenworks 25302 comes with a resilient and large powered 40V chargeable Lithium-ion battery, which can be great as you can ideally charge that anywhere. Besides, it has any five slicing positions and height, which usually measures 88 to 2.75 inches; you could easily adjust following how short you need your turf lawn.
It is possible to either put it to use for bagging and also mulching. Hence, gardening may be easy because all you have to do is perform the mower, and everything is all set.
GreenWorks 25022 12 Amp Lawn Mower Review Review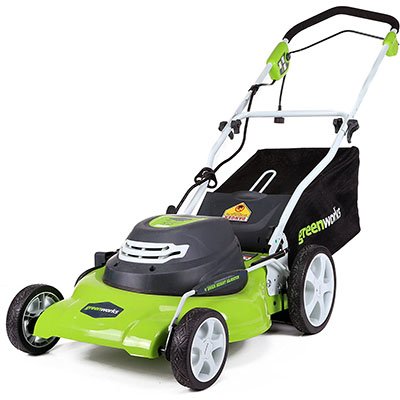 The almost all-electric operation with the Greenworks' distinct tools provide reliable efficiency and stability and give you a clean running substitute for gas power tools. Each Greenworks' tool includes a variety of performance and safety characteristics that assist you in finishing the same job right and promise a total carbon emanation free operation to get a cleaner environment.
The GreenWorks 25022 was created to help you look after your lawn without elevating any cloud regarding gas emissions, which is harmful to your requirements and the environment. It features a zero carbon dioxide footprint and supplies all the power you require without polluting air or forcing you to keep carting your fuel can for the nearest station.
This corded mower runs over a 12-ampere motor and comes with a durable metallic cutting deck using a wide slicing path that cuts 1-3/4 inch to 3-1/2 inch. It features a side launch chute plus a rear assortment bag.
Corded electrical power supply
The GreenWorks 25022 consists of a potent 12 Amp and 24V power providing adequate grunt to cut from the thickest and toughest grasses. Since the main electrical power powers it, you won't get having to replenish on fuel or being concerned about preserving batteries alive with charging cycles.
Large slicing area: Your lawnmower selection is frequently influenced by how big your garden is and just how quickly you need to cut the grass. With a 20" hard-wearing metallic deck, the 25022 model supplies a good-sized quick cut.
Variable height
All wheels' position may be changed, enabling an overall of 7 diverse cutting heights, including 1 ½ inch. So with that height, you can easily cut the grass or similar materials.
Compact and lightweight
The mindful thought, which includes went into the design with this mower, will be evident from your ease with which it could be deployed to its utilization. At only 56 lbs, the 25022 model is easy to maneuver, and the large 10" rear wheels and 7" top wheels ensure push never concerns shove.
Pros
3-in-1 cutting capabilities -mulching, raise collection, and also side launch
Integrated cable lock aids prevent unintended cord disconnects.
Powerful 12 Ampere motor provides challenging cutting and also mulching strength.
Twenty inches wide slicing path supplies a great equilibrium of maneuverability and cutting the convenience of mid measured areas.
Rugged rubber-stamped steel slicing deck gives added durability.
Cam lock handle for simple flip and safe-keeping of product
Cons
The noise stage is louder than other electric powered push mowers; however, not as loud as being a gas mower.
Cord holders which slide back and forth but can't hold virtually any cords
Conclusion
Mowing a more substantial lawn with the Greenworks 25022 can be quite a real hassle working with plenty of cables and extensions, constantly adjusting the particular cable, and accidentally unplugging a great extension. Having plenty of trees and also bushes or perhaps other unmovable objects within your yard may cause you plenty of frustration together with cord management along with a gas mower, or even a cordless electric powered mower is a better selection.
The Greenworks 25022 can be an excellent bang for your buck. It only feels solid if you are using that. I always desire to write since unbiased as I can and find almost nothing negative talks for itself. So this machine is perfect for you.
Why Should You Buy a Self-Propelled Lawn Mower?
Why would you want a self-propelled mower anyway? Aren't push mowers good enough? Well, that depends on a few things.
Self-propelled mowers make mowing easier because they only need guidance, not pushing.
They have more power to handle tall grass and give an even cut
Not everyone is up to a heavy-duty workout wrestling with a mower.
If you have a hilly yard, tough weeds, or another rough terrain, you'll save yourself a lot of energy and effort with a self-propelled mower.
Mowing will go faster, so you save time, too.
Make Mowing as Easy as Possible with Awesome Mower Features
Self-propelled mowers often have a lot of handy things built-in, like an electric start. That's true even of gas-powered models. And there are even more slick features that can make your lawn mowing easier.
For example, electric or cordless mowers are quiet enough to use early in the morning. This feature means you don't have to cut in the heat of the day.
Gas-powered self-propelled lawn mowers have 4-cylinder engines, so there's no need to pre-mix oil and gas. They have more torque, so they give a cleaner cut, and that protects your grass.
Many self-propelled mowers have 3-in-1 cutting systems, so you can choose to mulch, bag, or discharge the clippings. Switching between the options is as simple as flipping a lever, at least on the better models.
Rear, front, or 4-wheel drive gives you the choice of what works best for your lawn and your preferred mowing style. Rear-drive is the easiest to steer. Just tip the front wheels up and turn.
Blade override, or a blade brake, keep you working smoothly. With it, you can stop just the blade from cutting without turning off the motor. This feature is nice if you need to pause to move debris or toys.
The bail handle controls the drive—let go of it, and the mower stops moving forward. No runaway mowers here!
Variable cutting heights are essential for good lawn care. It's handy to be able to raise and lower the height with just one lever. Avoid mowers that want you to raise each wheel individually; you don't need the backache.
Deck wash ports make it easy to clean the blade and the mower's underside without having to tip it or lift it. Screw-in the garden hose and let it run for a minute to spray out debris. Now, if only cleaning the rest of the house was that easy!
Finally, the best self-propelled mowers have more than one speed to select—these range from a slow walking pace up to a brisk 4mph. A half-acre lawn may take 1-1/2 hours or more to cut with a push mower, but less than an hour with a self-propelled mower.
Spend Money Now to Save Big Later
Mowing with a push mower is a hot, sweaty, tiring job. You might be inclined to pay someone else to take care of it for you. The average cost of hiring a pro to mow a residential yard is $20 to $40 each time. If you like to keep your grass neat, that could mean a weekly cut. In just fifteen visits, you've paid out the same as you would for a sweet, new self-propelled mower loaded with extras. Invest the money in yourself and give the neighbors' tool envy.
Make Some Money on the Side
You may find that mowing is so easy with the new self-propelled mower that you'll offer to cut other people's lawns. Remember, that's $20 to $40 each time!
Be Prepared for the Future
You never know what curveball life will throw you. If your physical ability declines, you may still be able to enjoy yard work with a self-propelled mower. But if not, it will still have a higher resale value than a push mower.
Last Updated: 12th Dec, 2020