Introduction
Yes, you can have fun in the dirt with electric bikes. The Razor MX series offers just that. Three models that you should take note of are Razor MX350, Razor MX500, and Razor MX650.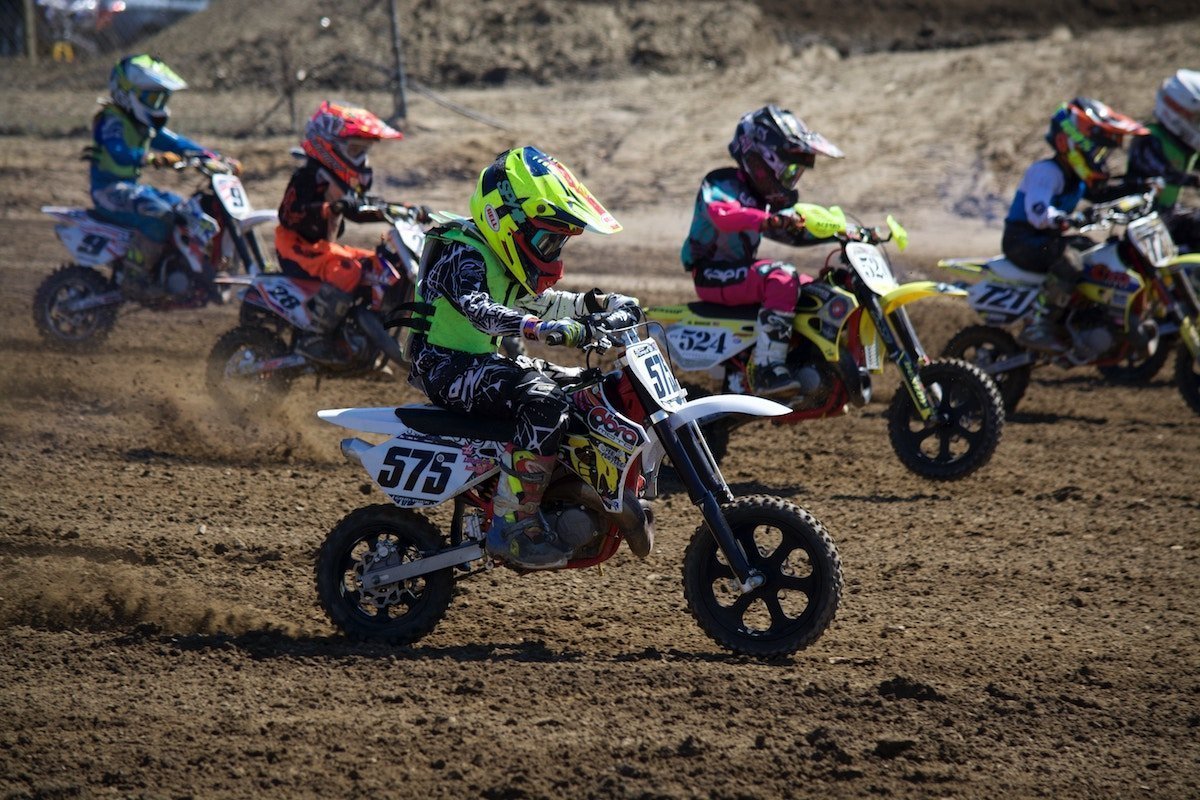 So let's dive in and see how they are rated.
Best Electric Dirt Bikes for Kids
Razor MX350 Dirt Rocket Review
The Razor MX350 Dirt Rocket electric motocross bike is recommended for kids that are at least 12 or 13-years-old. However, by that age, the child will be too big and heavy to ride this bike. The recommended age of 12 is misleading, and quite a few customers have been disappointed by the size of the bike. Parents mostly buy it for children that are 6 to 9-years-old. Read our review to find out whether the Razor MX350 rocks the dirt or gets dirt thrown in its face.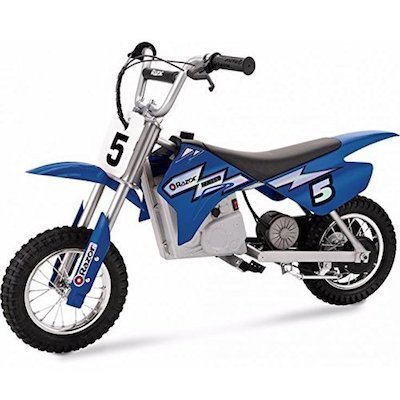 Age And Weight Suggestions
The maximum weight that this electric dirt bike can take is 140 pounds, although it is not recommended to let teenagers or adults ride it. The bike works best for riders that weigh less than 100 pounds. If the children are 10-years-old or if they are quite big or tall for their age, then a bigger electric dirt bike such as the Razor MX650 might be a better choice.
Putting It All Together
The tools needed for assembling the dirt bike are included in the box: an open wrench, screwdriver, spoke tightener, and two Allen wrenches.
It might take 30 minutes to an hour to assemble and set-up the dirt bike: attach the handlebars, front fender, and number plate. Tighten all the screws and bolts, check if the brake is working and inflate the tires to the correct PSI. The dirt bike has large knobby tires which can be inflated using a bicycle tire pump that is equipped for a Schrader valve. Then you have to charge the battery for 12 hours.
The assembled electric dirt bike is 44 inches long, and the handlebars are 31 inches tall. The seat height is about 19 inches off the ground. The dirt bike weighs about 65 pounds, which is not too heavy for a child to handle. If the dirt bike falls, the child should be able to pick it up again.
After the dirt bike is assembled and charged, you can take it outside to ride. Help your child to put on the necessary safety gear: dirt bike helmet, goggles, and gloves.
If the bike does not run or runs poorly, you can refer to the instruction manual and do some basic troubleshooting to get to the root of the problem. If you can't find or fix the problem yourself, then you will need to make a few phone calls to the seller you bought it from, the manufacturer (Razor USA), or a local mechanic.
Suspension Of Disbelief
Are you sitting down? Okay, here's the slightly shocking news: the MX350 does not have any shock absorbers. It has a solid frame without any rear or front suspension, and this makes it a bit hard on the behind, especially if you happen to ride through a hole or jump over a bump, and this might also make it a little harder to control on bumpy terrain. It is not made for doing backyard motocross bumps and jumps.
Razor MX350 Motor And Chain Drive
It is called the MX350 because it has a high-torque 350-watt electrical motor. The motor does not have much low-end torque, so it starts slowly. It does not have the immediate acceleration of a gas scooter. It does have enough high-end torque once it is up to speed.
It will do dirt, runs excellent on grass (which is softer should your child fall), but it will slow down when going up a hill. If the rider is too heavy or the hill is too steep, it might cause the motor to overheat and burn out a fuse. It won't go very far in deep sand before getting bogged down.
The electric motor drives the rear wheel with a chain that seems to stay on most of the time. If the chain falls off regularly, then either the chain tension or the rear wheel alignment needs to be adjusted. If the motor shaft gear is bent, it needs to be replaced. If the chain tensioner is broken, then it needs to be replaced. When the chain runs rough or sounds very noisy, you might want to check the lubrication, tension, and alignment of the chain.
Children Should Be Seen And Not Heard
The electric motor and chain drive is surprisingly quiet. Usually, a dirt bike is anything but quiet, but we are used to hearing loud motocross motorcycles that have petrol engines. The electric motor is less noisy than a gas engine, and your child won't wake up the neighborhood dogs while riding this bike.
Go faster!
The twist-grip throttle is not variable speed; it is a single speed controller that simply turns on or off. Since the low-end torque of the electric motor is weak, there is no sudden speedy jolt.
The top speed of this little dirt bike is 12 to 14 miles per hour, which is fast enough to make wearing a full-face helmet and shoes compulsory. Other safety gear might include gloves, knee and elbow pads, or even a riding suit. Keep in mind that these electric dirt bikes are not street legal, so do not let children drive it on public roads.
Slow Down!
The hand-operated rear brake lever might be a little hard to reach and squeeze for a 5-year-old child whose hands are still small. The manual has instructions for adjusting the brakes with a 10mm open wrench if the dirt bike does not stop when the lever is engaged.
Razor MX350 Battery
Recharging the 24V SLA battery pack with the charger for the first time will take 12 hours, after that it takes 8 to 12 hours per recharge. You might get somewhere between 30 to 45 minutes of continuous riding time on one battery charge before it needs to be recharged again. Remember that the dirt bike will use more battery power; the heavier the rider is.
Battery life is one to two years and might sometimes be a problem. Razor USA only gives a 90-day warranty on the dirt bike. If you are unlucky with the battery, you will have to get a new one from Razor's customer service or buy a new Razor MX350 battery. Once you have the new battery, you will need to put it in and solder the wires with a soldering iron.
Conclusion: Dirt Rocket Or Dirty Sock?
With a maximum speed of up to 12mph, the MX350 is a sweet little entry-level model for kids. With only one speed, there's no worrying about gears or anything else. Your kid can just get one and ride. Powered by a 350W electric motor, this has enough power to have some real fun on. The weight limit for this bike is 140 pounds, so it is not suitable for adults.
Most buyers are satisfied with their purchase of the Razor MX350 electric motocross bike. Their children love riding the dirt bike, and it is an excellent introduction to the world of off-road motorcycles. It can be fun and will get the children to spend some time outdoors. Just remember that this is not a true motocross bike: it is not made for jumps or muddy tracks. Keep it on the grass or dry paths.
A small percentage of owners are disappointed by their purchase due to the lack of suspension, the chain that falls off, and the misleading age recommendation of 12 years. Six to nine years is a more realistic age range when you consider its small size.
The Razor MX350 Dirt Rocket electric motocross bike is neither a dirt rocket or a dirty sock. It is a small electric dirt bike that has its limitations due to size and battery power. Within these limitations, there is still a lot of riding fun in it for your small child. Remember to let them wear a helmet, goggles, and gloves like a true dirt bike racer!
Included in the box with the Razor MX350 electric bike are a battery charger and some tools needed for assembling. Remember that the dirt bike ships in a box that has color pictures all over it, so keep that in mind if you want it to be a surprise for your children. Don't let them open the door for the delivery person.
Razor MX500 Dirt Rocket Review
The MX500 is an electric bike with a 500-watt variable speed motor and chain drive that can be fun for children aged between 10 and 15 to ride. Let's get right to it with an overview of its features, assembly, limits, batteries, do's, and don'ts.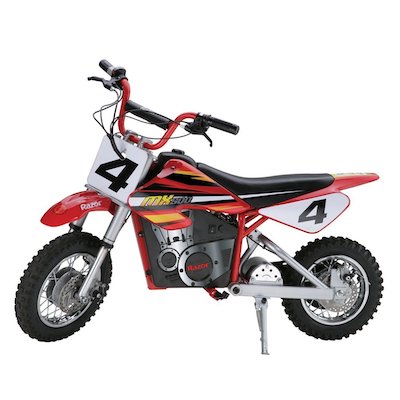 Razor MX500: Main Features
36-volt sealed lead-acid battery system.
500-watt electric motor.
Dirt bike weighs 98 lbs.
Dual suspension and adjustable riser handlebars
Folding metal footpegs
Good for around 40 minutes of continuous riding.
Hand-operated rear brake.
Max speed is about 15 to 17 miles per hour.
Pneumatic knobby tires: 16″ front tire and 14″ back tire.
The range is almost 10 miles on a single charge.
Rechargeable battery: initial charge needs at least 12 hours, after that 8 hours per recharge.
Retractable kickstand.
Tools included in the box: Allen wrenches, open wrenches, Philips screwdriver, and spike tightener.
Twist-grip throttle speed control.
UL approved battery charger.
Variable speed chain drive system.
What are the speed, age, and weight limits of the Razor MX500?
The maximum speed of the Razor MX500 electric dirt bike is about 15 miles per hour. Your child should wear at least a full-face helmet, gloves, and shoes because it goes pretty fast. You might consider adding in some elbow and knee pads as well.
The product manual recommends the MX500 for children that are 14 years old and older, but this number might be modified according to the individual rider's weight (175lbs maximum), height, or riding skill. Depending on such factors, it might fit children between the ages of 10 to 15 that weigh less than 175 pounds. It is too big for a child under ten years of age.
The seat height from ground to the seat is about 23 inches. The MX500 has a retractable kickstand, which keeps it in the upright position. It can be pushed out of the way before climbing on the bike and riding.
What are the riding limits of the Razor MX500?
It must not be used on streets or in public places like parks or parking lots, and it is limited to riding in your back yard.
You might get 40 minutes of riding time out of a fully charged battery before having to recharge it. The weight of the rider will have an impact on how long the battery can operate between recharging: the heavier the rider, the less riding time. Climbing to small hills will also decrease the riding time because it uses more power to climb inclines.
Is the Razor MX500 easy to put together, or is it a DIY nightmare?
It is not too difficult to assemble the bike. The owner's manual will show you what to do and what tools you will need. For example, you need to do the following things to put the electric dirt bike together:
Attach the handlebars.
Attach the front fender.
Attach the number plate.
Install the front wheel.
Inflate the tires.
Charge the battery for 12 hours.
Assembly is best done by an adult or under adult supervision. It might take about 30 minutes to attach all the loose parts and tighten all the bolts. The following tools are necessary for the assembly:
5mm and 6mm Allen wrenches (included in the box).
2.5mm Allen wrench (not included)
10mm, 14mm and 17mm open wrenches (included)
19mm open wrench (not included)
Philips screwdriver (included)
Spoke tightener (included)
Bicycle tire pump with pressure gauge for Schrader valve tires (not included)
Some of the necessary tools are not included in the box, so you will have to get it yourself if you don't have these tools lying around the garage.
Razor MX500 Dirt Bike Battery Pack
The MX500 is powered by a 36V (three 12V) sealed lead acid rechargeable battery system. Charge the batteries for at least 12 hours or more the first time, and this is important if you want to get the best performance out of the battery pack. After that, it takes 8 hours to recharge. The average battery life is only 1 to 2 years.
Some owners had problems with the battery from the beginning. Then they either had to contact the Razor company for a replacement battery (if it is still within the 90-day warranty period) or buy a new Razor MX500 battery set from an online seller or a local scooter shop.
The battery pack is where the maintenance costs for the MX500 electric dirt bike might start to escalate. If you need to buy a genuine Razor battery every year or two, then it is going to cost you more than $100 each time.
Razor MX500 Dirt Bike Battery Pack
The MX500 is powered by a 36V (three 12V) sealed lead acid rechargeable battery system. Charge the batteries for at least 12 hours or more the first time, and this is important if you want to get the best performance out of the battery pack. After that, it takes 8 hours to recharge. The average battery life is only 1 to 2 years.
Your child should at least wear a full-face helmet because it goes pretty fast at 15 to 17 mph. Gloves, knee and elbow pads are also recommended just to be safe. Don't forget the shoes. Flip-flop sandals might cause flip-flops on the bike, so make sure your child wears proper shoes while riding in the yard.
Do not ride the electric bike near water, through puddles, through mud or in the rain where it can get wet because it might stop working. It might start working again after the motor and components have dried out, but this is not the best way to treat an electric bike.
Store the dirt bike inside out of the way of the sun, rain, snow, and cold. Do not ride it in the winter in snow or icy weather. The battery does not like cold weather.
Conclusion
For the more adventurous, the MX500 is a nice model to consider if you feel that the MX350 doesn't have enough punch. This one has a 500W motor that can propel it to a speed of 15mph. The 175-pound weight limit is a considerable improvement over that of the smaller model. For older kids, this one will offer a lot more appeal.
The MX500 has a variable speed chain drive system powered by a 500-watt electric motor. Remember that an electric motor does not have the torque or speed of a gas-powered dirt bike. However, it is less noisy than a gas scooter, which makes it suitable for use in a quiet neighborhood.
It weighs almost 100 pounds, which makes it heavy to handle for a child younger than ten years old. The age range of 10 to 14 seems to be the sweet spot when it comes to the Razor MX500, although the official age recommendation is for children that are 14 years old and older.
Its description says "electric motocross bike," but electricity and the mud, muck, and water of true motocross-style riding do not go together at all. So keep this in mind. It will ride well on grass or level ground, but keep it out of the muddy waters.
Razor MX650 Dirt Rocket Review
The MX650 is the biggest bike in the Razor electric dirt bike range. It has a 650-watt, variable speed, chain-driven motor that can get a rider up to 17 miles per hour. However, it probably won't go up and down hills or jump like a jackrabbit, and this ain't no dirt eatin' pit bike. Here is an overview of its features, advantages, and disadvantages.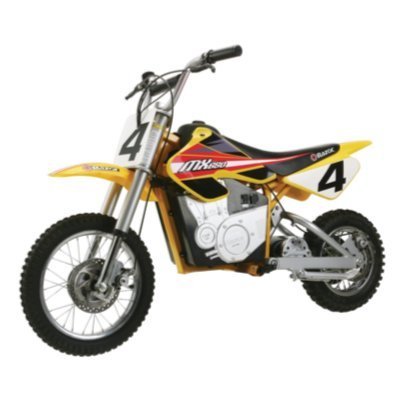 Razor MX650: Main Features
36V (three 12V) sealed lead acid rechargeable battery system
Assembled product dimensions: 56″ x 24.5″ x 36″
Battery charger included
Battery initial charge time: 12 hours
Battery recharge time: up to 12 hours
Double crown fork
Dual suspension and adjustable riser handlebars
The electric bike weighs 98 lbs.
Folding metal footpegs
Hand operated dual disc brakes.
Large 16″ front and 14″ rear pneumatic knobby tires
The maximum rider weight is 220 lbs.
Retractable kickstand
Speeds up to 17 mph
Steel construction
Twist-grip acceleration control
Up to 40 minutes of continuous use
Variable speed, high torque, chain-driven motor
Razor MX650: Overview
The MX650 has enough power due to its 650-watt motor, and this makes it much too powerful for kids younger than ten years old to use, which is probably why the manufacturer recommends it for ages 16 years and older. The problem with this age range is that the bike is rather small for teenagers older than 16 years old; This presents a problem. The bike has the power, but not the dimensions.
When it comes to size, it is more suitable for children younger than 16 to ride. Older teenagers can ride it, but it might look and feel too small.
Advantages
The electric motor is tranquil.
The top speed is about 15 to 17 miles per hour.
The disc brakes in the front and rear provide good stopping power.
Disadvantages
The MX650 weighs almost 100 pounds, which can be heavy to handle.
Some assembly and set-up are required (don't worry, it's not rocket science!).
The knobby tires provide better grip on grass or dirt than it does on the pavement.
Conclusion
Even though its full name, Razor MX650 Dirt Rocket electric motocross bike, includes the word "motocross," do not be fooled into thinking that it will ride well in sand, mud, water or jump over hills. It is made to look like a motocross bike, but it is not made to ride like a motocross bike.
So, there you are. It is an electric bike, not a petrol-powered pit bike. That does not mean it is not fun to ride. It is fun to ride and can be a good learning tool for the backyard without worrying about the noise of a gas bike.
Once your teenager can legally ride a gas bike, the MX650 will probably lose its appeal. Before that age, the Razor MX650 electric bike might be worth riding.
---
Last Updated: 2020-12-13 by Oğuz Tokatlı