Best Toaster Ovens to Buy in 2020: Convection vs. Compact vs. Countertop
Introduction
How many times do you fire up your conventional oven only to bake a few cupcakes for the kids? How many times do you spend half an hour to pre-heat the oven, then 10 more minutes reheating your lonely leftover pizza along with the rest of the unused space around it? It's quite inefficient a process in terms of energy and time consumption. It kills the happy hour you should have spent more on enjoying dinner with your family, friends or yourself than on throwing yourself in the kitchen.
It makes sense that you wouldn't want to cook in that way. No, you deserve better. A toaster oven is the perfect replacement. However, it is tough to find the best toaster oven. So we've got this resource together – a comprehensive chart including some of the best on the market to help you find the one fits your kitchen and your lifestyle.
What Is A Toaster Oven?
Toaster Oven, which is run by electricity, works mostly like an oven. Toaster ovens are usually larger than toasters, but can act as well as regular oven, even though much smaller in size. Although toasters and toaster ovens share the same toasting function, they are different appliance in your kitchen. If you want to toast 4 or more slices at one time and want more features than just toasting, then toaster oven will be your better choice. It comes with various functions besides toasting, such as roasting, baking, reheating, etc. to meet your needs of cooking.
Nowadays, toaster oven become much popular than a range oven does for small-size cooking since it requires less energy. New technologies applied to toaster ovens reduce the cooking time very much without compromising to the quality and taste. If you live a fast, modern life, and care about life quality, a toaster oven will be an all-in-one solution.
Advantages of Using a Toaster Oven
You're busy. There're no two ways about it: toaster oven cooks much faster than a conventional oven. The old-school oven takes as much as 15 minutes to pre-heat, while the toaster oven costs less than 5 minutes. Some model with convection feature can do this even 30% faster. It gets out of the question for cooking family-size meals with a toaster oven, by using which definitely allows you spending more time on enjoying your meals with your family and less time on cooking.
You live a green life. Less energy will be consumed by electrical toaster oven than ovens using gas. You will not even notice the bitty amount of electricity on your bill. It will be not necessary to heat up the entire kitchen in summer to cook a meal for only one or two. You will see how much the toaster oven saves you from the cooling bill at the end of summer. It does not just save your time, but also the energy and your money.
You care the value for money. Nonetheless, you still care about quality. Price of a basic model of the toaster oven starts around $25, which is at least 10% of the cost to purchase a basic full-size oven. Additionally, more and more buyers' testimonies tell the toaster oven cooks as well as the traditional oven. A well-engineered toaster oven will be definitely worth your money invested on it.
You don't like a lot of maintenance. Toaster ovens do not take up too much space in your kitchen. As a matter of fact, they can be perfectly settled on your counter top or under the cabinet. A well-designed stainless toaster oven with removable crumb tray will be very easy to clean and won't mess your kitchen.
Brands
Top 4 Toaster Oven Reviews
Breville BOV845BSS Smart Oven Pro 1800 W Convection Toaster Oven Review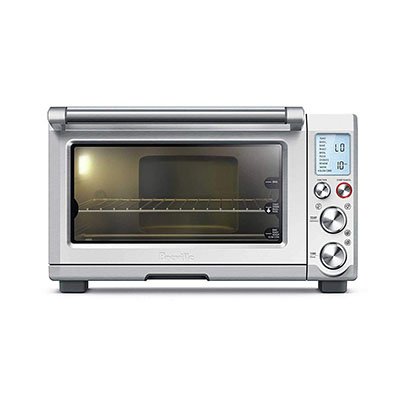 The Breville BOV845BSS Toast Oven is one of the best convection ovens on the market. It is the fact that agreed by most forums. We personally think it is the best Smart Oven with Element IQ, all things considered. The most important thing is the excellent cooking experiences it provides, such as toasting, broiling, baking, heating, etc.
Breville likes to brag about its "Element IQ" innovation, which basically allocates the power where it's needed most. The 10 pre-programed settings, Bagel, Bake, Broil, Cookies, Pizza, Reheat, Roast, Toast and Warm, keep down the need to fiddle with several controls to get what you want. The right power is output by the Element IQ technology at the right time for each of these 10 settings, and it even remembers when adjusted to taste. These features make Breville BOV845BSS Smart Oven really SMART as it states. Consequently, this "SMART" saves much more energy, using roughly 50% less electricity.
Additionally, the Auto-Rack Eject allows you to easily remove the hot items. It is the magnet that pulls the rack half way out when you open the door to get your food out. This great feature prevents you from reaching in and being burnt.
However, this model does not have an interior light since the 5 heating elements inside leave little room for another light. But this won't stop Breville BOV845BSS being the best convection toaster oven. As it is SMART, you can cook in the dark without any interior light. This well-engineered convection oven, which is far more than a standard toaster oven, is worth every penny you spent on. It should be with you in the kitchen for a long time.
Cuisinart TOB-135N Deluxe Convection Toaster Oven Review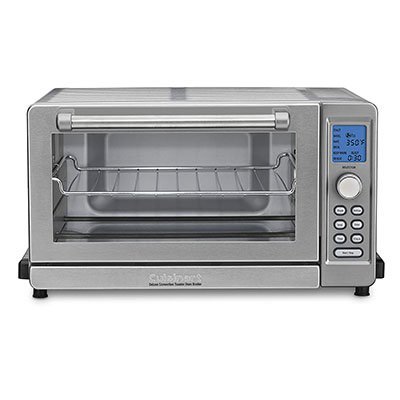 The Cuisinart TOB-135N Deluxe Toaster Oven made our list for its combination of price and quality. It is a convection oven from a reputable company supplying a series of toaster ovens. Most of the customers with plenty of cooking experiences must be aware of Cuisinart, which is one of the few big companies in this industry.
This model upgrades many features from the old ones, which are still popular in the market. The insulation keeps the sides from getting too hot, which is a big consideration of many buyers. The handle keeps a safe distance from the glass door, when the door gets hot during cooking. Cuisinart TOB-135N Deluxe whispers quietly during cooking. In addition, the friendly interface is easy to use. You do not have to worry about over-cooking since it shuts itself off when the timer has expired. Just simply set the temperature and timer, and then leave everything to Cuisinart TOB-135N Deluxe.
There were some complaints about the crumb tray, which is a pain to access from back, of another model Cuisinart TOB-195. Fortunately, the re-designed crumb tray of this model can be pulled out from the front easily. Many buyers prefer that Cuisinart has a 3 year warranty on this model, which maximizes their confidences of buying. However, it would be better to check out the size before purchasing this model since this is just a toaster oven that for small-size meal. Do not expect it can serve a dinner for very a big family as quickly as a range oven by its small size.
Panasonic FlashXpress Compact Toaster Oven Review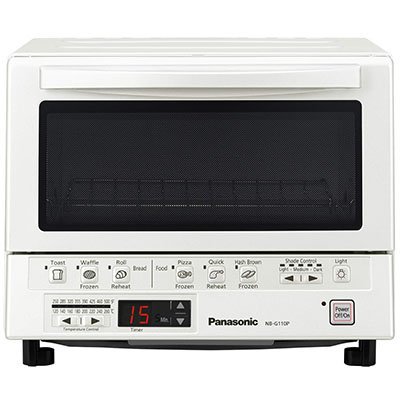 The Panasonic NB-G110PW FlashXpress Toaster Oven will be the toaster oven that cooks faster than any other you used. How does it make it? It is "FlashXpress" double infrared light that allows instant heat without preheating. As a result, it cooks up to 40% faster than a conventional oven. If you do not know much about this infrared technology, it can be simply understood as cooking fast and even without food burnt after cheese drips or something. Without the pre-heating process, it can even have frozen biscuits done perfectly in 20 minutes. When the oven is operating, the lights turn on and off, which might confuse a little when you really start to use it. But you will get used to it since what it does, it does a fantastic job.
Even if you have no cooking experience, it is not necessary to worry too much. Cooking time for various foods, such as Reheat (Leftovers, Breads), Frozen Food (Pizza) and Bread (Waffles, Bagels, Toast), is calculated automatically and programed to 6 illustrated preset buttons.
However, I have to say this model is NOT a replacement for a conventional oven. It is strongly recommended to check out other models in the above chart if you are looking for alternatives to your traditional oven. This Panasonic toaster oven is not a good choice to roast a chicken or bake a 12" pie. This does not stop this wonderful model being the best at the following items:
Baking cookies, biscuits
Making toast with whatever bread you like, however thick you like
Reheating pizza
Toasting muffins and bagels
Heating frozen appetizers
It will be an interesting experience to learn what works best with this oven by trial-and-error. And finally you will fall in love with its pre-set buttons, no-pre-heating functions, and more.
BLACK+DECKER 4-Slice Countertop Toaster Oven Review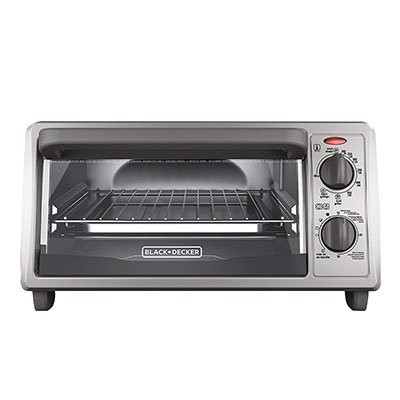 The Black & Decker 4-Slice Toaster Oven should be the best basic and simple toaster oven you can get below $50. This model provides good value for its low price. Due to the exclusive Even Toast Technology applied exclusively to this model, efficiency of heat distribution to toast is 30% more optimized than a regular oven.
Bake pan and broil rack are included, so you can start cooking the second you get it. The timer, which can be set to a 30 minute max, ticks quietly. If you want to bake or broil something requires longer, a "stay on" feature is there. The removable crumb tray makes the clean-up easy.
Actually, it is hard to tell any outstanding pros or cons. Black & Decker 4-Slice Toaster Oven just does its best for the price.