Introduction
Microwaves have become a common sight in kitchens across the world. The prices for such appliances have dropped so anyone can afford to buy this very useful device. Many manufacturers now invest in creating the best microwave in 2021 considering more and more people have less time to use a regular oven and prefer a time-saving solution. Picking the proper microwave can be difficult considering the vast number of options. Our experts have taken their time to test the highest rated products and make a list destined for customers who have no idea what characteristics they should be looking for in a microwave. All of the devices suggested below come with great features and offer great value for money. They also have some common specifications and abilities which are not to be missed.
The first thing to look at when checking out a microwave is the wattage. Microwaves should be fast so make sure you get enough power.
Secondly, you should go for a microwave oven which has some programmed settings. Look for preset modes like defrost, pizza, popcorn or vegetables. Each will provide perfect timing and energy levels to cook that particular food.
Look for a well-designed interior. A well-designed interior should be easy to clean and should come with a turntable in order to cook food evenly without you having to move it every once in a while.
Last but not least, you should consider volume. This will vary depending on the user but you will always be better off with more space.
Brands
Best Rated Microwave Reviews on the Market
Panasonic NN-SN651B Countertop with Inverter Technology and Genius Sensor Microwave Oven Review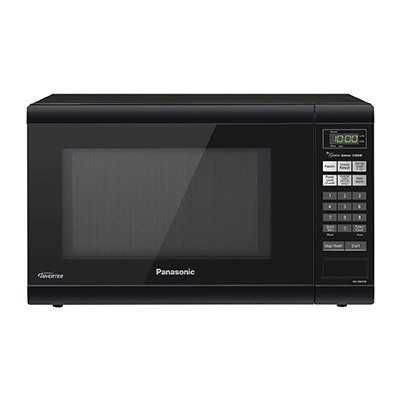 According to most microwave reviews of 2021, the Genius by Panasonic is a great choice to make. It is one of the most powerful ovens on the market. The 1200 Watts make it also the fastest device you will find. It will cook food twice as fast as a regular microwave oven. Even so, it is one of the most cost-efficient appliances you will have. It comes with a 13 ½ inch turntable and a lot of space for you to use. It incorporates modern technology which will save you a lot of time. The Genius concept will allow this device to work on its own. By measuring things like steam levels and heat, it will determine how long until the food is perfectly cooked. It will adjust power levels and it will increase or lower defrost time. One other great thing about the Genius is its keep warm feature. It will be able to maintain a constant temperature without cooking the food for 30 minutes. Other features include the Turbo Defrost, the one-touch buttons, the clock which is also a timer, and the child-safe design.
"The large capacity of this microwave was the main reason why I bought it. The preset options are easy to activate and I don't think anyone can have a problem with its menu. The display makes the timer easy visible and black design blends in perfectly with my kitchen decor. My opinion is that this microwave oven is of the highest quality." – Patricia Sellers
Nostalgia RMO770RED Retro 0.7 Cubic Foot Microwave Oven Review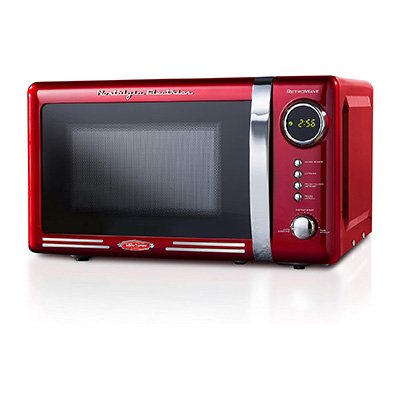 The Retro Series countertop oven by Nostalgia Electronics is a choice for those who want an appliance that stands out. The red shiny finish will attract a lot of attention. Even so, the design is not everything when it comes to this product. It comes with a decent price tag and several features that make it one of the top microwaves 2021. The outside has a really nice design which just as the names intend, takes you back a few decades when the first microwave was built. Even the LED display looks like out of a futuristic movie made back in the 50s. The 24-hour digital clock which acts as a timer will provide complete control over your food. This American Built product has a 700-watt cooking power and 12 programmed features to help you save time. All you have to do to defrost or heat something up is push a button. This comes in very handy during the morning when you don't have time to sit around the oven to see if things get cooked or heated properly.
"The retro design of this microwave certainly caught my attention and after I checked out its features I purchased it immediately. All the regular functions of a microwave are included in this model and I have found that all of them work properly. I conclude by giving this microwave a 5 star rating." – Tamara Estes
Danby DMW7700BLDB 0.7 cu. ft. Microwave Oven Review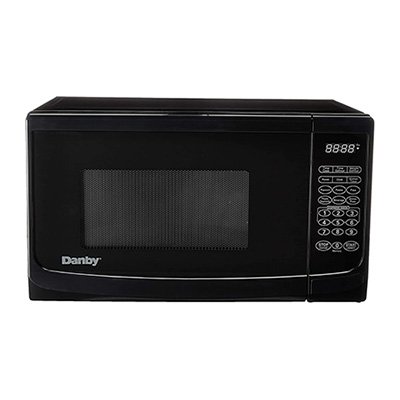 This is the most affordable device on the list. Despite the low price tag, it is still packed with all the basic features you will need from a microwave oven. It is also powerful enough in order to avoid taking too much time to cook a meal or defrost a piece of meat. It has a 0.7 cubic ft. cooking area and it is effortless to program and use. It is already designed with 6 different cooking modes which can become really useful. For other situations, you have the option of cooking or defrosting by weight. You can also activate the speed defrost feature which will quickly melt the water out of your soon to be dinner. The inside light is fully automated and it is activated by the turntable's moves. Besides excellent features, this device also offers excellent value for money. Its durable exterior and easy to clean interior will make it last for a really long time.
"I decided to get this microwave oven from Danby because it had the right size for my small kitchen which only had limited room to spare. I heat, defrost or cook a lot of different snacks or beverages with it and I'm pleased by the results. I have everything I want from this microwave." - Helga Howard
Last Updated: 30th Jan, 2021