Introduction
If you're planning to conduct a DIY project, one of the tools you'll be needing is a staple gun. A staple gun is essential especially when you are working with plastic, wood, and other materials. It is practically used in various applications especially in home repair as well as arts and crafts.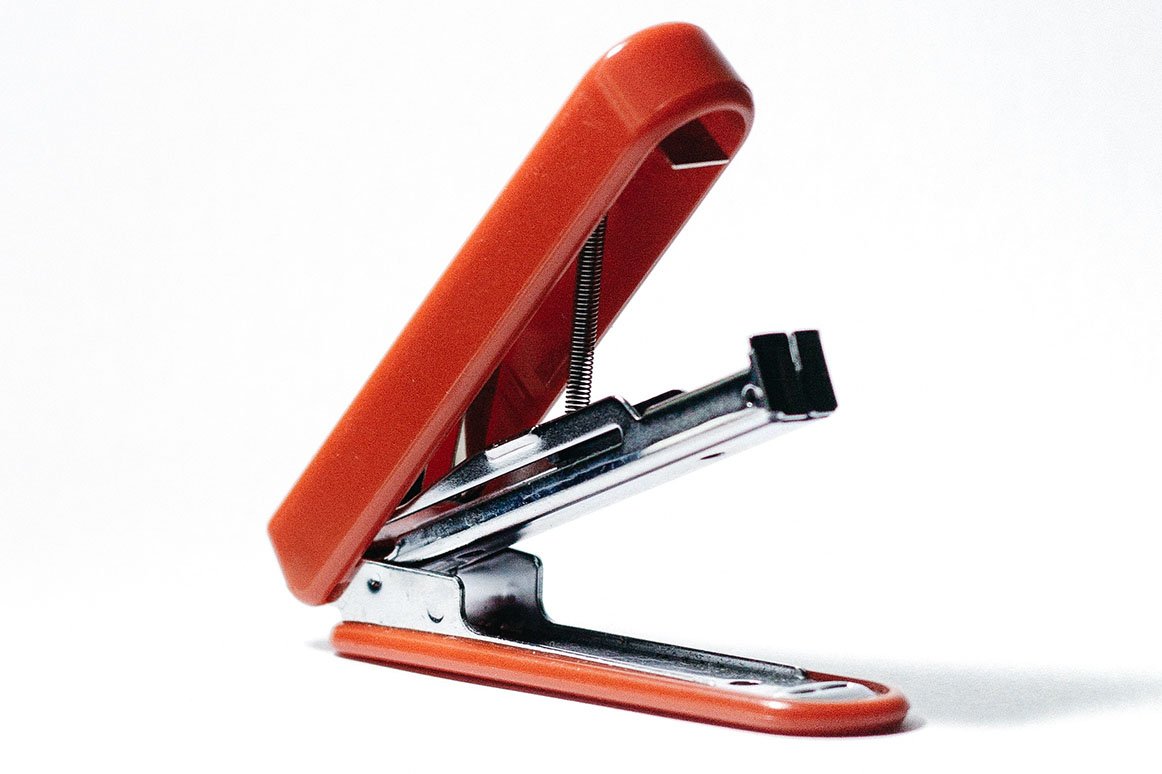 A staple gun comes in handy especially when you're trying to construct or attach certain objects around your household. If you're used to fixing things on your own, a strong and high-quality staple gun can do the job for you. Thus, we've gathered the best staple gun reviews including a list of things to consider to give you an idea on how to effectively utilize this tool for your DIY project.
Different Types of Staple Guns
Before you start punching your household items, let's identify the different types of staple guns. Basically, there are three types of staple guns which are categorized by a power source. These include manual, electric, and pneumatic.
Manual Staple Guns
A manual staple gun is a simplest and most inexpensive tool among all other staplers. It's very easy to use. All you need to do is press the trigger and the stapler's spring will automatically release a staple. It is handy, portable, and safe to use.
This tool is appropriate for light household projects. You can use it to seal boxes and affix piles of documents. However, it cannot be used for binding hard and thick materials.
Don't confuse this with an office stapler because it has a different mechanism. Unlike office staples, the staple wires don't bend inwards, instead, the sharp ends are embedded into the object that you are trying to attach.
Here are some examples where you can use a manual staple gun:
Tacking of carpet
Upholstery
Carpentry
Minor repairs
Hanging items
Binding two objects
Arts and crafts
Electric Staple Guns
An electric staple gun is powered by an electric cord or batteries. Compared to the pneumatic, an electric staple gun is smaller, lighter, more portable and much cheaper to buy. It is more advisable to use in household chores and home improvement projects.
This tool can produce several staples in a matter of seconds. However, since it is powered by electricity, using one will add to your electricity bills. Aside from staple wires, some electric staple guns are capable of using nails for heavy-duty home repairs.
Here are some examples where you can use an electric staple gun:
Fences
Installation of carpet
Re-upholstery
Molding
Carpentry
Major home repairs
Pneumatic Staple Guns
A pneumatic staple gun, on the other hand, is more commonly used in construction and is recommended for professional use. It works similar to a gun which is affixed with a trigger and a cartridge. This type of tool functions through a compressed air and also allows you also to work with staples, tacks or nails.
It is quite similar to an electric staple gun but they differ in an operational power source. A pneumatic staple gun acts as a high-performance tool. If you want to get the job done in lesser time, then this tool will suit you best.
This type of equipment is fairly east to maintain. However, since it operates on air compressors, it is heavier and bulkier making it more challenging to transport. When working this type of equipment, the user is required to wear security boots and protective earpieces.
This tool also requires the use of a housing system and a regular oil change to ensure that the gun is properly lubricated. Since this is a heavy-duty tool, it is more complicated to use compared to the other two types of staple guns. You can use a pneumatic staple gun similarly to the electric staple gun.
Here are some examples where you can use an electric staple gun:
Furniture manufacturing
Carpet and floor installation
Roofing
Heavy-duty repairs
What to Look for in a Staple Gun
After identifying the different types of staple guns, the next step is to determine the factors to consider in a staple gun. Here are some of the details you need to look for when buying a staple gun:
Staple Size – The staple size will determine what kind of gun you need to use for your project. A manual staple gun shoots a standard size of half an inch. Meanwhile, both electric and pneumatic tools have staples that can vary in size depending on your requirement.
Hand grip – Staple guns are created with different shapes and sizes. One of the most important factor to consider before making a purchase is how well you can grip the staple gun. After all, not all can fit your hand perfectly.

So, how do you determine if the grip is just right for you? Check the material of the staple gun. There are some products that are designed with rubber handling to keep sweaty palms from sliding the gun from your hands.
Typically, the best way to determine if the staple gun is right for you is to pick the one that gives you the least amount of soreness when you're handling it. The lesser the pain, the better your grip is.

Ease of use – Since a staple gun will be used for different projects, requirements, and purposes, make sure you pick one that is easy and convenient to use. You will practically use it on various occasions so choose a product that will make your task easier not harder.
Durable – When buying a new tool, it is better to invest in an equipment that you can rely on. A heavy-duty and high-quality tool should be on top of your checklist. It is better to buy a safe and durable product than cheaply made materials.

There are different types of staple guns that are built with plastic, metal or steel materials. Choose one that you can use for a long period of time.

Safety – This is an important factor that many tend to overlook. Since staple guns fire sharp objects with great force, always make sure you consider the safety features. Aside from this, make sure you also wear protective gear when using staple guns.
Warranty – When you are buying expensive staple guns, choose the product that offers the best warranty. Some tools may require numerous repairs throughout its lifespan that is why it is also important to consider the warranty of the product to help you save money and prevent you from overspending on costly repairs.
How to Use a Staple Gun
If it's your first time to use a staple gun, you don't have to feel scared and intimidated. Staple guns are not that complicated. As long as you know how to operate it correctly, you can use it fully to your advantage. However, these powerful tools can also be dangerous if used improperly. Here are some quick steps on how to use a staple gun:
Wear safety gear – Use safety goggles before you attempt to use a staple gun. Check the tool for locks to keep it secure and keep electric staple guns unplugged when not in use. Keep your hands away from the trigger to avoid accidents.
Insert the staples properly – Make sure the staples are inserted in the tray correctly. Place the tray into the staple gun until the latch is secure in place.
Make sure you operate it within a distance – If the staple gun is electric, plug it in and release the lock of the trigger. Position the gun above the object you are going to staple. Make sure the bottom remains flat against the item.
Gradually squeeze the trigger – Doing it slowly will keep the staple gun stable and in place. A manual staple gun requires firm pressure as opposed to an electric staple gun which needs very little pressure.
Lock the trigger and unplug the cord if it's an electric staple gun – Release the latch tray and take out the remaining staples. Put the staple gun in its casing.
The Best Staple Gun Reviews
The right kind of staple gun can significantly affect the success of your DIY project. We've rounded up different products to provide you with an in-depth look at how each item works. Here are some of the best staple gun reviews that are worth sharing:
Surebonder 9600AK Pneumatic Heavy Duty Standard T50 Type Stapler Review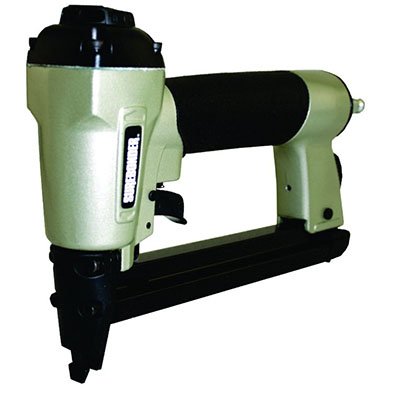 This pneumatic staple gun is one of the most notable upholstery staplers in 2021 and is equipped with numerous features and applications. It can accommodate staple sizes from ¼-inch up to 9/16-inch long, making it versatile to use for different projects.
Pros
It is built with a safety mechanism to avoid potential accidents including accidental firing or in some cases, stapling yourself.
A rubber cushioned handle is incorporated in the design of the staple gun to provide comfort, especially during extended usage. The rubber grip allows you to hold the gun evenly. This also minimizes the pain from continuously gripping the staple gun.
It has a quick release magazine for easy handling. This staple gun is also equipped with easy and fast reloading and refilling which is convenient especially if you are working under a time constraint.
This tool is lightweight, compact, sturdy, and reliable.
It has an indicator that tells you how many staples you have remaining. This way, you won't end up with an empty staple gun especially during times when you need it the most.
This staple gun uses the standard T50 staples which are easy to find.
Cons
This staple gun tends to fire staples quickly. In effect, you end up using more staples than you are required to which also means you need to refill the staples more often.
It works great especially for home improvement projects but it doesn't last for very long.
The arrow has the tendency to get jammed and is hard to retract.
In case some parts break down, it is relatively cheaper to buy a new stapler instead of purchasing new parts and having it fixed.
You still need to buy a separate air compressor.
Verdict
The Surebonder 9600AK Pneumatic Stapler works well on any surface. Even if you use it extensively, you can still rely on it to perform at its best. It's easy in the pocket which provides great value for your money.
Stanley TR150HL SharpShooter Heavy Duty Staple Gun Review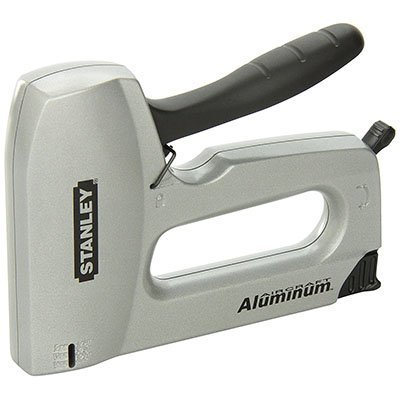 This staple gun is suitable for your daily stapling needs. It is equipped with a high and low power lever for both hard and soft materials as well as an easy slide staple load.
Pros
It is equipped with an anti-jam mechanism to avoid hassles and complications. This helps you save time and effort while working on your project.
The casing is built with a durable and heavy-duty aircraft aluminum material to withstand extensive and heavy use.
It provides a deep penetration and strong attachment.
The easy squeeze handle prevents you from having swollen and tired hands from gripping the handle.
It is easy to use and easy to load as well.
This staple gun is built with a high-power capability and does the job well.
If you want to use it as a temporary attachment, you can set it low so that you can easily remove the staple when needed.
Cons
The shape of the staple gun is more suitable for male hands. If you have small to medium fingers, it will be harder for you to properly grip and handle the gun.
The loading instructions can be improved to make it clearer for the user.
It doesn't have enough driving force. The staples have the tendency not to go through all the way. You may still need to follow it up with a hammer to seal the staple.
Verdict
The Stanley SharpShooter Heavy Duty Staple Gun is a sturdy and reliable tool to suit your home improvement needs. It is lightweight and easy to use. This tool simply does the job without the bells and whistles.
NuMax S2-118G2 18-Gauge 2-in-1 Brad Nailer and Stapler Review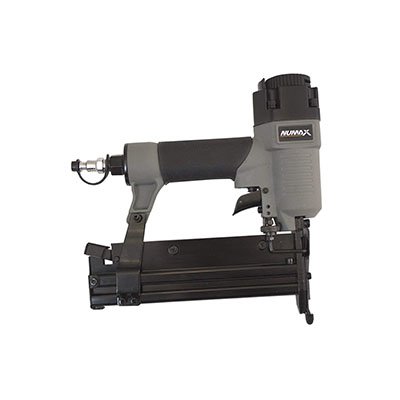 This versatile 2-in-1 equipment is equipped with two kinds of fasteners, an 18 gauge brad nails with a length of 1/8 inch up to 2 inches, and an 18 gauge ¼ inch narrow-crown staples with a length of the ½ inch up to 1 5/8 inches. It is built with an adjustable depth which makes it suitable for different applications. This tool is suitable for finishing of furniture trimmings and moldings.
Pros
The instructions are easy to follow and you can easily use this for any project.
Since it doesn't require much pressure, it won't leave a dent on your furniture.
This tool comes with an adjustable exhaust which leads the exhaust away from your face while you are using it.
It is sturdy, reliable, and can last you for many years.
This product comes at an affordable price point which is great if you are working on a budget.
Cons
It doesn't perform well under heavy-duty requirements.
When you use the nailer function, it may have the tendency to leave marks on your trimmings.
Verdict
The NuMax S2-118G2 works well for DIY projects and basic repair around your home but not for professional use. It is sold at a reasonable price point so you won't have to spend extra on this tool. You get your money's worth especially since it has two functions and can use both nails and staples.
BOSTITCH SX1838K 18-Gauge Narrow-crown Stapler Review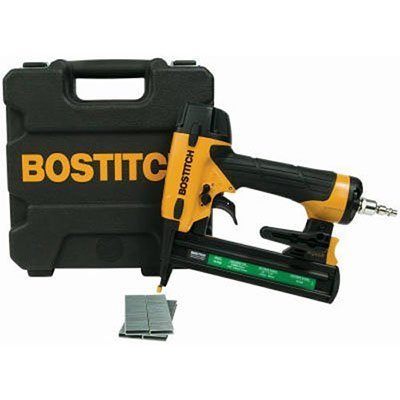 This stapler is designed for fastening narrow-crown staples from ½ inch to 1 ½ inches in length. It is built with lightweight materials in a strong and tough casing. This is specifically made for professional use in construction projects. The kit includes a stapler, staples, and a heavy-duty carry case.
Pros
It is designed with an oil-free engine and therefore it doesn't need maintenance. No more messy stains on your furniture.
This tool is equipped with a swivel air fitting with filtered air inlet which improves the handling.
It has an alert function that reminds you when it's time to reload your staples. This makes it convenient so you won't have to guess if your tool is loaded or not.
The air exhaust blows away from your face and runs in a quiet mode.
It has a pencil sharpener and a belt hook which makes it convenient to use especially when you are constantly moving around.
The crown staples hold up well.
Cons
The depth adjustment may be easy to adjust but the procedure is quite hard to understand.
The newer models may tend to break down easily compared to the older ones.
There is a possibility for the piston to get caught in a jam and may have a hard time retracting especially since it is made with plastic.
Verdict
The BOSTITCH Narrow-Crown Stapler may cost more than other competing products but it is well-built, durable, and you can use it for many occasions and years to come. This is a reliable tool that can do the job.
WEN 61710 3/8-Inch to 1-Inch 18 Gauge Narrow-crown Stapler Review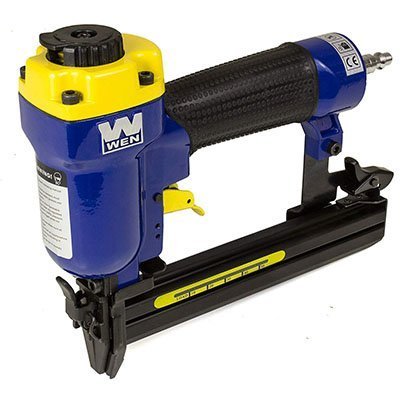 This tool is built with cast aluminum for a strong and durable casing. It is compact and shaped for a comfortable grip. This stapler has an 18-gauge staple and a 1/4–inch crown staple with a length of 3/8-inch to 1 inch. The kit comes with a stapler, plastic case, small bottle of air oil tool, two hex keys, and a manual guide.
Pros
A scale window tells you how many staples are left in the magazine.
It comes with an adjustable exhaust deflector which can be rotated and moved away from the user.
The staple gun works well without experiencing misfires.
It is quite easy to use. No complications.
In the case of jams, you can just press the quick release button.
The form is molded to provide a comfortable grip especially when you are using it for a long time. This reduces the possibility of hand fatigue.
Cons
It doesn't come with any staples. You still have to buy it separately.
The staple gun doesn't seem to fit well in the case.
It has the tendency to jam often.
Loading the staples takes getting used to.
Verdict
This tool is suitable for light to medium DIY projects. It fares well when compared to other high-priced competitors. The WEN Narrow-crown Stapler is affordable and yet it doesn't sacrifice the quality. It is a good starter kit especially if you are looking for a reliable product without the hefty price tag.
YEAHOME 4-in-1 Stapler Gun Review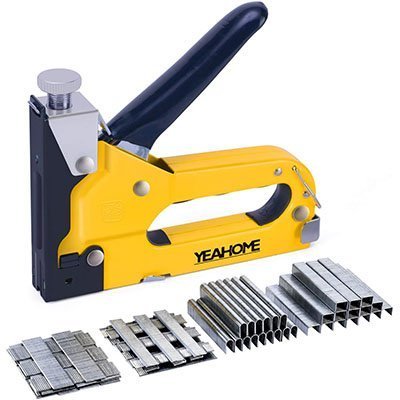 This manual stapler is noted as one of the best gifts for Father's Day on many gift websites. It is great for DIY projects where you might need to use a larger than the usual number of staples. This stapler accepts U-shaped, T-shaped, D-shaped, and Pin Staples.
Pros
This is one of the most versatile staplers out there, and it accepts four different kinds of staples – thus its name.
It is constructed from stainless steel with a chrome finish, making it rust-proof, durable, and strong. All YEHOME staple guns are tough and long-lasting, so this isn't a surprise.
Adjustable power settings enable you to control the pressure amount anywhere from low to high using the screw lever. With it, making different projects is easier than ever, as you don't have to worry about overpowering more fragile materials.
The steel handle has an over-molded grip, giving you the most comfortable usage possible, as well as an easy operation.
Upon purchase, it comes with a total of 4000 staples, so you can use it for a long while without having to repurchase more staples.
Comes with a 180-days return policy
Cons
The stapling itself isn't as smooth as it could be. Sometimes the process can be rather gritty and rough.
Some users reported the product arrived bent and unable to staple, but luckily it has a good return policy.
It is smaller than many other similar staples, so you might not be able to staple everything you'd like.
While it works great for softer materials, such as plastic or fabric, you might have some issues stapling harder materials, such as wood.
The Verdict
The YEAHOME 4-in-1 Stapler Gun is a decent, durable stapler that can support most kinds of staples, so you don't have to worry about which ones you purchase. It's lightweight but strong, and the adjustable power is a nice touch.
WETOLS Heavy Duty 3-in-1 Staple Gun Review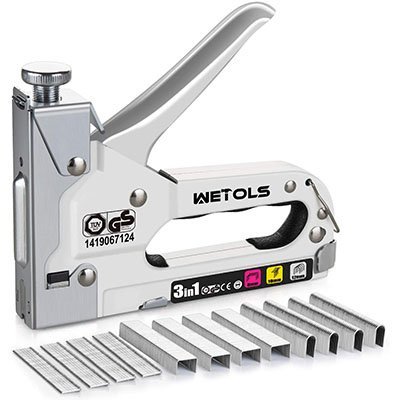 If you're someone who loves purchasing products for multiple-use, this might be the right stapler for you. It weighs 2.35 pounds and its size is 9.7 x 6.6 x 1.7 inches, making it just the right size for most home improvement projects you might plan on doing.
Pros
Suitable for three different kinds of staples (D-type, U-type, and T-type), making it rather versatile. It also comes with 3000 staples – 1000 of each type.
In case the staple gun nail gets jammed, you can easily remove it once you've pulled down the metal drive channel. This will help you ensure the nail gun works correctly.
This staple gun is constructed with heavy-duty carbon steel with the principle of spring-back impact. It will last you for a very long time.
It doesn't require many steps before you can use it, and the usage and installation themselves are rather straightforward. There are no unnecessary steps that will take away your time for no reason at all.
You can use this product for many various things, such as upholstery, carpentry, material repairs, furniture, decoration, and any other DIY project.
It feels really light in your hands and, despite it being a manual stapler, it doesn't require too much force to be used. This makes it suitable for teenagers, women, and the elderly, who might struggle with most regular staplers.
Cons
This staple gun is known to jam a bit more than it should, especially if you're working on heavy-duty materials.
The staples that come with the staple gun aren't as durable as the gun itself, and they can get crooked while working on thick materials.
Due to its small size, it doesn't fit an entire rack of staples. You have to snap it in half, instead.
The Verdict
This is a great stapler for those looking for a product that can help them with light fabrics and thinner materials. It is straightforward to use and it requires almost no installation whatsoever.
Conclusion
After reviewing the best staple gun reviews, we highly recommend the BOSTITCH Narrow-crown Stapler as the best tool and equipment to assist you in your DIY home improvement projects. Based on the factors and considerations we mentioned above, the BOSTITCH is packed with features and functions that will make your home repairs easier and faster to accomplish.
This tool is lightweight making it portable and easy to carry around. It is easy to maneuver with great handling. This stapler doesn't require much maintenance making it convenient to use.
A staple gun is a handy device that helps you get things done. You don't need a professional to do the job for you. Just follow the instructions and you can accomplish anything successfully. This way you can also save some bucks.
Before buying a staple gun, just make sure that you clearly identify where you plan to use it. Once you identify your requirements and determine what time of staple gun will best fit your needs, then it will help make your decision easier. No matter what type and what brand you buy, do not forget to always practice safety measures and wear protective gear.
Last Updated: 30th Jan, 2021