What are the Best Portable Hot Tubes: SaluSpa vs. Intex
Best Rated
Bestway Coleman
Best for 6-Person
Bestway Palm Springs
Best for Massage
Intex 77in PureSpa
Introduction
Owning a hot tub is like having a personal hot spring vacation right in your comfort zone, for perfect relaxing and easing of sore muscles and joints after a stressful day at work. Deciding on purchasing your hydrotherapy massage tub, choosing the right one is a bit difficult task with so many options on the market. This guide will provide an informed and confident purchase when buying a hot tub in 2020.
Brands
Best Hot Tubs
Bestway Coleman SaluSpa Inflatable Hot Tub Review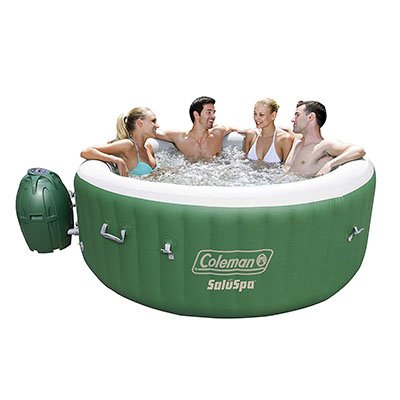 The Bestway Coleman SaluSpa Inflatable Hot Tub is among one of the best portable Jacuzzi that has attracted many customers on the global market. It is well known for its recognizable green color, as its trademark and used mostly in all their products. The Bestway Coleman SaluSpa Inflatable Hot Tub is a visually appealing, refreshing, durable, and long-lasting inflatable hot tub, with a nice design and incredible features and utilities that would undoubtedly help in the relief of stress workday. These features will provide you with a cool spot in relaxation after the day's job and can contain about 4-6 persons. However, it can fit into a family's budget because it is cheaper and affordable to buy in the market.
Specifications of the Bestway Coleman SaluSpa Inflatable Hot Tub
Capacity: 4-6 Adult persons
Actual water flowing: ≥ 320 Gal/hour.
Water capacity: 256 gallons of water (963L)
Certification: ETL approved
Inflated size: 77inch X 28inch
Gross Weight: 39.0 kg
Filled weight: 1,225kg
Maximum Heat Capacity: 104°F
Rating: 110 – 220Volts, 12Amperes at 68°F
Heat System: 2-3°C per hour
Bestway Palm Springs Inflatable Hot Tub Spa Review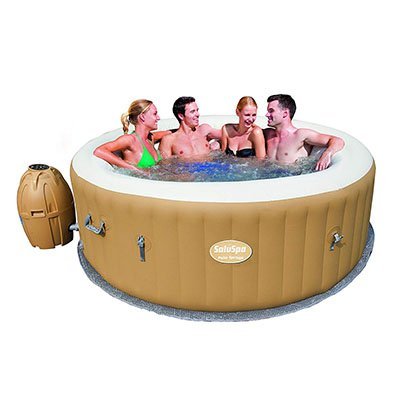 Bestway Palm Springs Inflatable Hot Tub Spa is one of the best hot tubs with full tranquility, comfort, and luxury, which makes it the perfect choice. This tub is the unbranded version of the Coleman SaluSpa Inflatable Hot Tub. Salu-Spa Palm spring hot tub comes with a premium leather look, mellow color, and leather that reflects its high-end specifications extra-luxurious features.
The Bestway Palm Springs has an easy setup and can be used either indoors or outdoor within a period. It has a digital control panel that makes operating easy, with an automatic on and off button for controlling the temperature. Bestway Palm hot tub has a maximum heating temperature of 104°F, with a high-quality massage system for relaxation and comfort, and is perfect for sore muscles. The Bestway Palm springs do not require tools or professional installations and have a more spacious room for movement.
The size of Bestway Palm spring is 28inch X 77inch X 77inch and weighs 1,225kg. Bestway has a capacity of 4-6 adults and a water capacity of 963L (254 gallons), with an actual water flow rate of more than 1,211L/hour. It has a gross weight of 37.8kg and is ETL approved. Also, it comes with a rapid heating system of approximately 2-3°F/hour. The Bestway has an electrical rating of 110-120V with a 60Hertz and a 12A at a temperature of 68°F.
Bestway Palm spring has a well-constructed wall that offers excellent and extra durability and strength, with a perfect resistant and made of I-Beam construction. This feature provides a better sitting position without the Spa bending, making this product superior to others. The Salu-Spa Palm spring air-jet inflatable 6-person hot tub comes with an insulated cover that maintains the optimal temperature and also prevents micro-organisms from entering. It possesses a high filter system with two filtered cartridges that provides filtration of water and a chemical floater that is used in the sterilization of water.
Intex 77in PureSpa Portable Bubble Massage Spa Set Review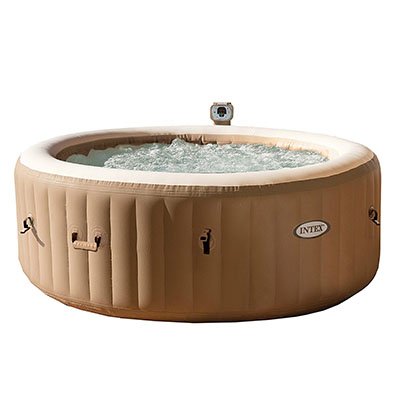 Intex 77in Pure-Spa Portable Bubble Massage Spa Set is among one of the best hot tub baths, its exterior is colored tan and has a light cream in the interior and round in shape. Thinking about relaxation, you can count on Intex 77in Pure-Spa Portable Bubble Massage Spa Set, which has a built-in hard water system that is well treated and has a soothing gentler experience on the skin.
The Pure-Spa can carry four adults, with a water capacity of 210 gallons (955 liters of water), and a maximum water temperature of 104°F. The Intex 77in Pure-Spa massage hot tub has a heating system of 1300 watts, with a temperature of 2-3°F that keeps the water warm, a 3-way test strip to check for the cleanliness of the water, and two cartridge filters that are changed daily after the removal of the water. It also has a simple digital control panel that contains the temperature control button and the on and off switch that is all covered by plastic. It comes with 120 heated bubble jets that help in the massage of the body and is located within the interior.
The Intex 77in Pure-Spa also contains an insulated cover that keeps the water warm and prevents it from micro-organisms contamination, which has a self-locking system. It has a floating chlorine pool dispenser that treats the water and kills micro-organisms'. The durability of the Intex 77in Pure-Spa is attributed to its high-quality fiber tech construction and puncture-resistant 3-ply laminated materials.
The Intex 77in Pure-Spa comes with a thermal ground cloth that is placed under the tub. An inflation hose that is used for a quick set of the hot tub, and a carrying bag (with dimensions of 14 X 14 X 34inch) that is used in the packing of the tub during winter storage or moving to a new location, with grab handles for comfort and easy transportation.
The Intex 77in Pure-Spa has a DVD complete installation package for easy installation and has a market name called the "Plug and Play Hot Tub." Intex 77in Pure-Spa has a flow rate of about 460 gallons/hour, with an Air bubble blower rate of 110-120 Volts. It has an approximated inflated size of 57inch X 77inch X 28inch and weighs about 87.2lbs.
Bestway SaluSpa 4-Person Inflatable Portable Spa 71 x 26 Inch Hot Tub Review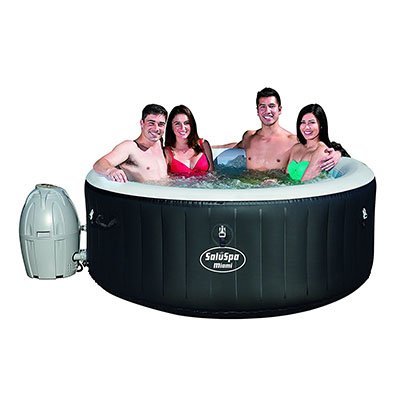 Bestway SaluSpa 4-Person Inflatable Portable Hot Tub is a low price hot tub which provides good relaxation after a long day at work. It gives comfortable support for individuals and eases to the neck and back muscle pain. The Bestway SaluSpa 4-Person Inflatable Portable is among the best hot tub that just entered the market recently and has attracted a lot of people due to its affordability and comfort you get.
The Bestway SaluSpa 4-Person Inflatable Portable has a capacity of accommodating four persons, with a water capacity of about 211 gallons, which is about 959.23L of water. The water maximum temperature range for this hot tub is from 68-104°F. It has a rapid heating system that helps keep the water warm in the hot tub and requires some time to heat the water. It weighs 70.6lbs without water in it and has a size of 18.11inch X 33.86inch X 23.62inch without been inflated, but when expanded, it covers the area with 26inch X 71inch. The led control panel made it easier to use in adjustment of temperature and check filtration status.
The Bestway SaluSpa 4-Person Inflatable Portable comes with a Salu-Spa massage which gives a cool massage on sore muscles, and also has an integrated water filtration system that is used in the cleaning and removing of used water from the tub. The Salu-Spa does not have seats, which means that there is more space for standing or sitting. Its drainage system is cool and comes with a cushioned floor that makes it easier to drain quickly, and comes with a floater that is adjusting and maintaining chemicals easier.
The Bestway SaluSpa 4-Person Inflatable Portable is made with a highly durable material that provides better comfort as a result of its sturdy wall. It requires a direct plugging to electricity and comes to a 110-120 volts plugins. It comes with a pump for pumping of water directly in the tub and a DVD for easy installation, which requires less than 20minutes. It has a pool cover and chemical floater that is used in both sterilizations of water and the prevention of micro-organisms from contaminating the water. It has an Air jet system with 120 bubble jets unique to that of the Lay-Z-Spa's I- beam technology and Tritech material to ensure strength. It is light and easy for transporting from one location to another, and a flat smooth place capable of uniformly supporting its filled weight.